This classic lasagne recipe made with homemade slow cooked Bolognese sauce, lasagne sheets and a creamy white sauce aka Bechamel is the epitome of comfort food.
Serve this with Basil Pesto Caprese Salad for a starter and you've got yourself an epic Italian feast! Finish the dinner with our Instant Amaretti Tiramisu.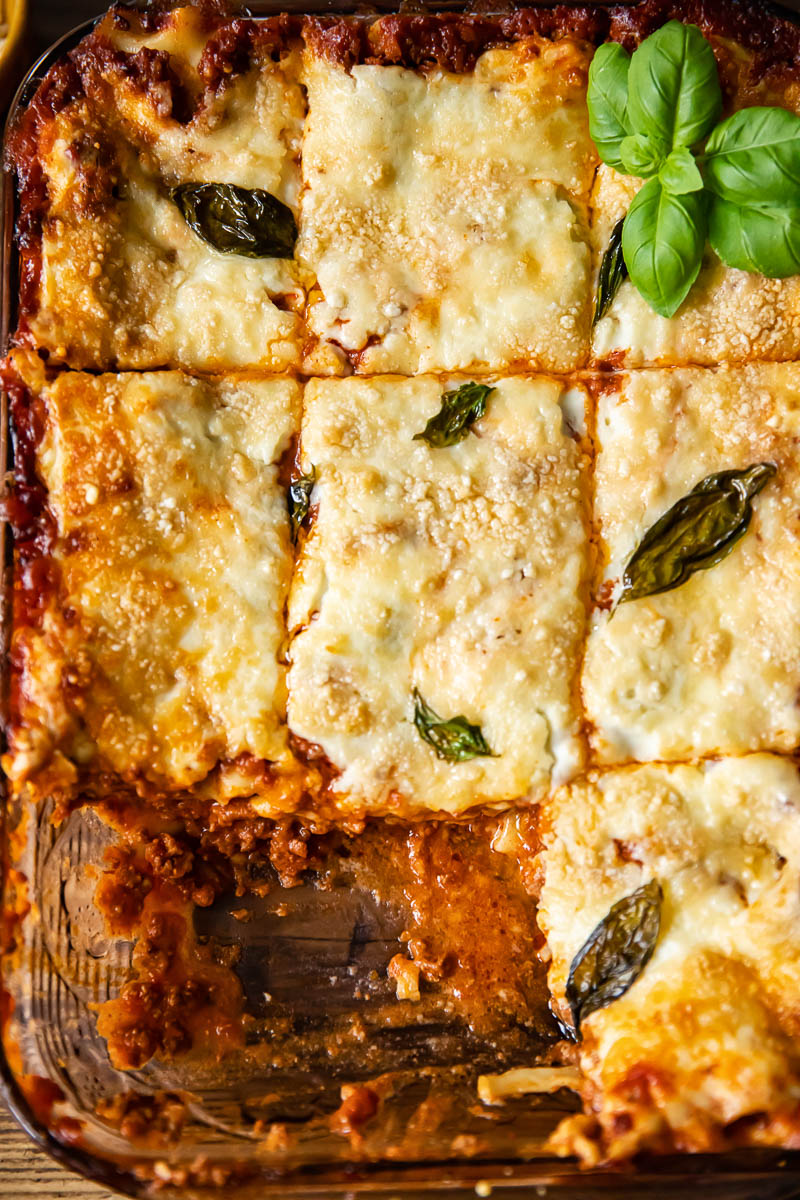 Every family has their own lasagne recipe they believe to be the best and I can never argue with that! After all, most of us grew up on this legendary pasta bake. So the recipe, that evokes sweet childhood memories will always win.
However, allow me to convince you to give this recipe a try. I've tried many variations on lasagne in my days. Some of them I shared with you like my Rustic Three Cheese Lasagna, that uses a slow cooked beef ragu instead of a beef mince.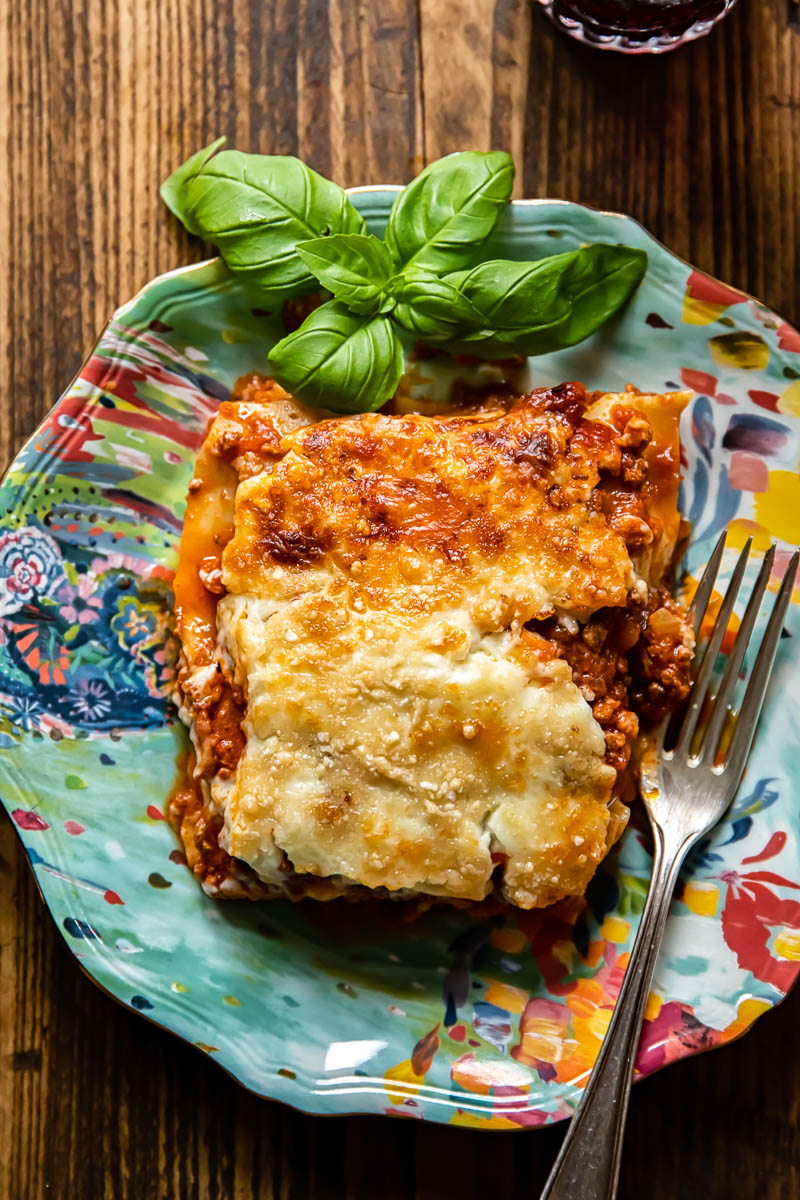 Or my Seafood Lasagna; a luxurious concoction of creamy layers of seafood and fresh pasta. I've loved them all if I am honest.
I also love the American version of lasagna, often made using layers of lasagna sheets, Bolognese sauce, ricotta cheese, spinach, then topped with creamy mozzarella. That's the version my husband has a real attachment to!
There are so many variations of lasagne and they are ALL delicious but let me introduce you to the classic Lasagne alla Bolognese.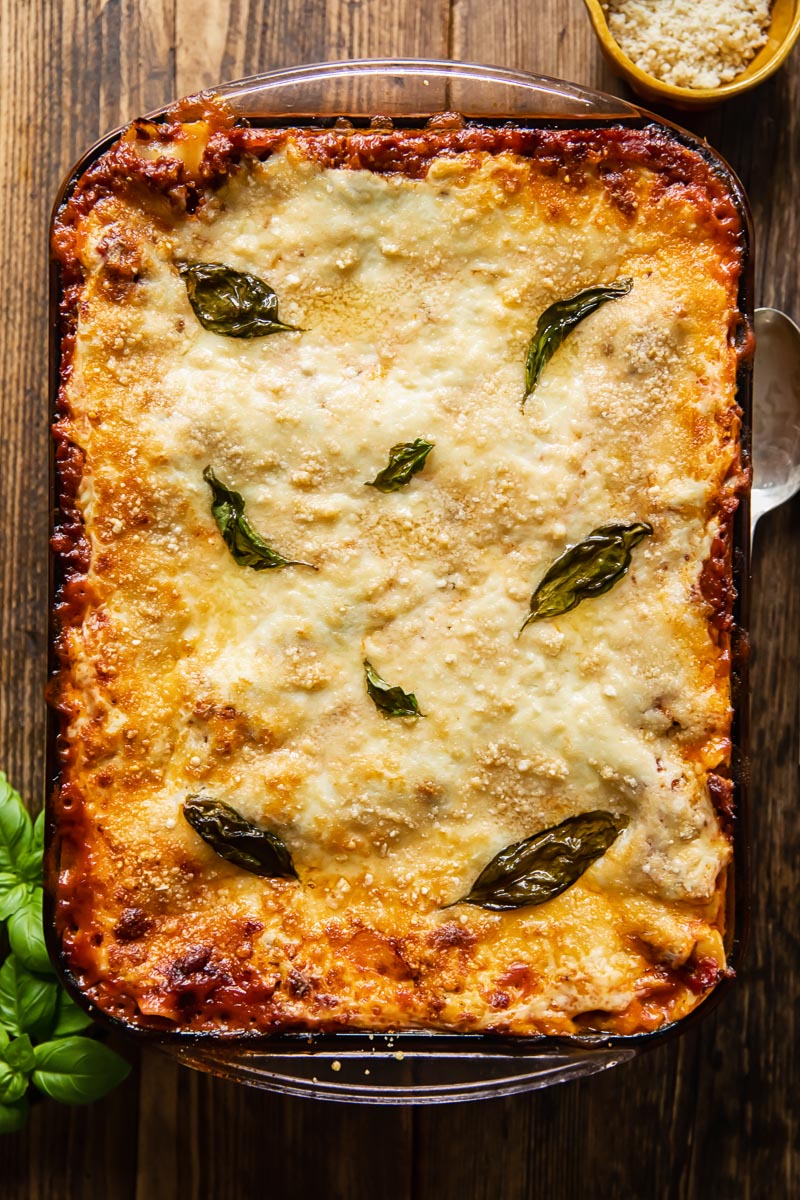 Traditional Lasagne Recipe
I never thought of lasagne being something crazy special when I was younger. The recipes I knew often called for pre-made sauces, so all we did was assemble.
My opinion changed drastically when my Italian friend Angela brought a proper homemade lasagne for our first Christmas in the UK. I knew right away it was something she laboured over for a couple of hours and it showed. That dish was truly spectacular.
It was also very simple. Layers of pasta sheets interspersed with slow cooked Bolognese sauce, white sauce aka Bechamel and loads of freshly grated Parmesan cheese. That's it. No ricotta, spinach or mozzarella.
That's how I learned the traditional Italian recipe didn't have those layers. And what we knew as lasagne was an American version of the dish.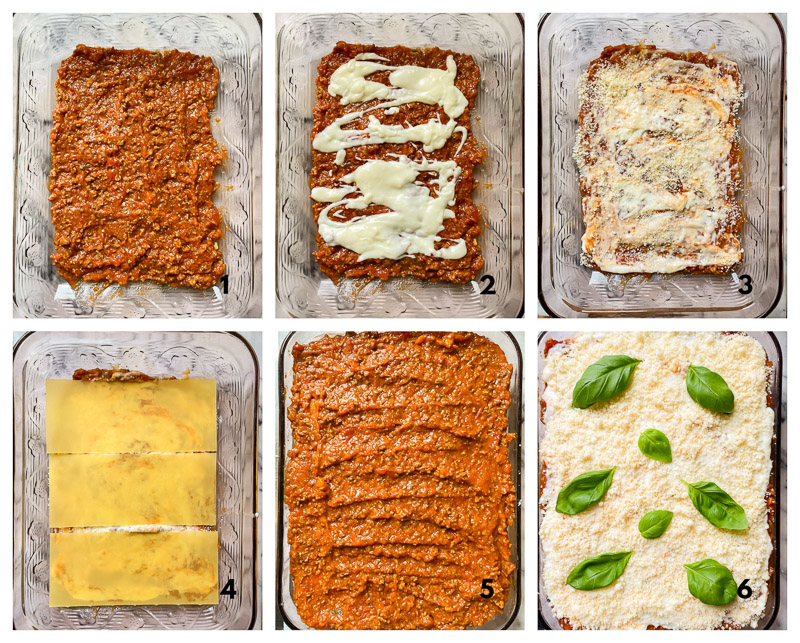 Recipe Tips and Notes
A great tasting Bolognese sauce is the anchor for the entire dish. If you want a truly authentic experience, don't go for those jars. Make your own. My recipe is based on years of tweaking it as well as an eye opening cooking class in Italy. You can watch me make the sauce in this video. There is also a recipe for slow cooker Bolognese sauce on my website if you find it easier.
I often make the sauce several days in advance since it takes a couple of hours to simmer. I store it in a fridge or freezer, then assemble and bake the lasagne whenever I am ready.
What gives this lasagne an incredible creamy feel is the Bechamel sauce. It is also known as the white sauce . The recipe is classic and is used in many ways around the world. The ingredients are simple.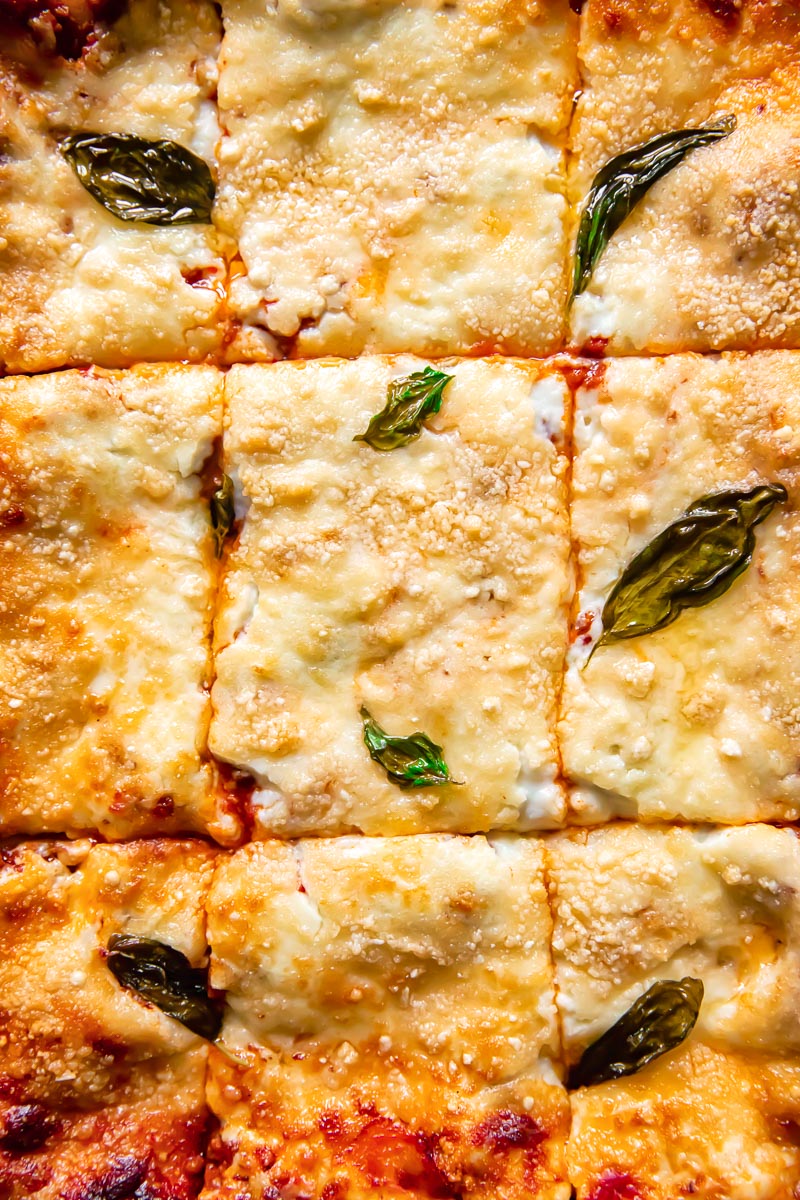 Butter, flour and milk. The first two thicken the milk and together they create a creamy, silky smooth sauce. As per tradition, I also added a pinch of nutmeg and seasoned it with salt. Very easy but you do need to stir it the entire time with a whisk to avoid lumps.
I always use oven ready lasagna sheets, which do not require pre-boiling. So much easier and they maintain al dente texture so much better.
Although it is tempting to use pre-grated Parmesan cheese, I beg you to avoid that stuff. It's dry and carries very little flavour, therefore you will need more of it. I prepare my own in a food processor. This way you save yourself some time and energy grating 2 cups of hard cheese.
Favourite Baked Pasta Recipes to Try: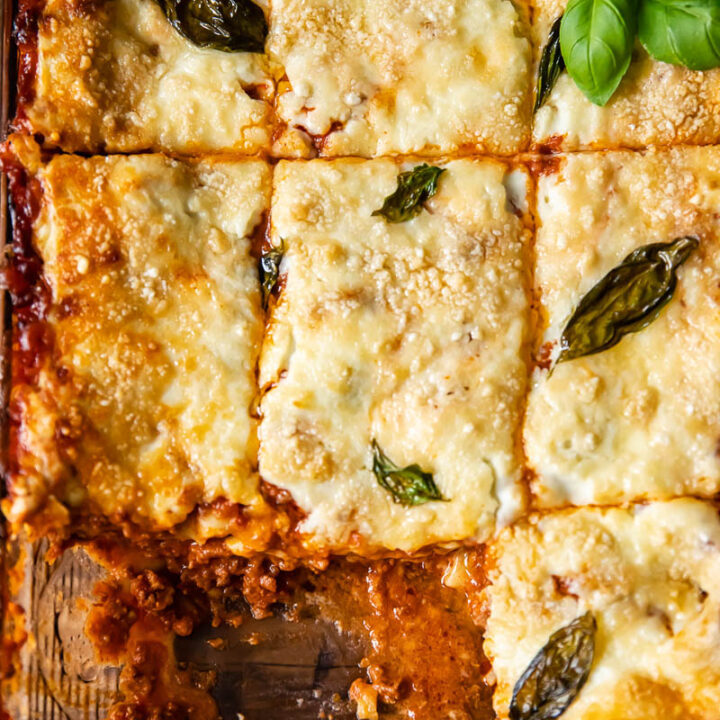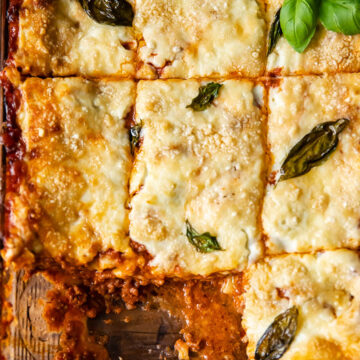 Best Lasagne Recipe
This classic lasagne recipe made with slow cooked Bolognese sauce, lasagna sheets and creamy Bechamel sauce is the epitome of comfort food.
Ingredients
For the Bolognese Sauce (can be made ahead)
50g/1.5 oz

pancetta

diced finely

1

tbsp

olive oil

1

onion

1

carrot

2

stalks

celery

2-3

cloves

garlic

5-6

fresh basil leaves or 2 tsp dried basil

2

tsp

dried oregano

400g/14 oz

canned diced tomatoes

500g/17 oz

tomato passata/crushed tomatoes

250ml/1 cup

water

750g/1.5 lbs

beef mince/ground beef

salt to taste
For the Bechamel Sauce
75g/1/3 cup

butter

75g/1/2 cup

flour

1 litre/4 cups

whole milk

¼

tsp

nutmeg

salt and pepper to taste

9

lasagna sheets

or enough for 3 layers

250g/2 cups

grated Parmesan cheese
Instructions
To make the Bolognese sauce, in a large and deep frying pan or a Dutch Oven heat 1 tbsp of olive oil and fry the diced pancetta or bacon, then add diced onions, carrots, celery, minced garlic and cook on low heat for 10 minutes without colouring the vegetables. Then add the ground beef and brown it until the beef is no longer pink inside while stirring the whole time and making sure to break up the beef. Pour in both types of canned tomatoes and water with a pinch of salt and pepper.

Sprinkle in some dried oregano and torn basil leaves (reserve a few small ones), bring everything to a boil. Then turn the heat down and let it simmer with a lid ajar for for 2-2.5 hours stirring it once in a while. You can make the sauce for up to 3 days ahead before assembling the lasagna.

Prepare the Bechamel sauce by melting the butter in a saucepan, then adding the flour. Stir to combine, then continue cooking the mixture while stirring until it smells slightly nutty. Gradually pour in milk while whisking to avoid lumps, season with salt, pepper and grated nutmeg. Cook the sauce over low heat until thickens for about 10 minutes. Set aside.

Preheat the oven to 180C/350F. To assemble the lasagne, spread a thin layer of the Bolognese sauce over the bottom of a 9X13 inch rectangular pan, which is deep enough to hold 3 layers of lasagne.

Then cover the sauce with the lasagna sheets followed by ⅓ of the Bolognese sauce and ⅓ of the Bechamel sauce directly on top the Bolognese. Then sprinkle the white sauce with 3-4 tablespoons of the freshly grated Parmesan cheese. Repeat this layering twice more finishing with the Bechamel sauce, grated Parmesan cheese and a few scattered basil leaves. (See process images for reference, you should have 3 layers in total.)

Cover the lasagne with aluminium foil and bake in the preheated oven for 30 minutes, then uncover and bake for 15 minutes longer or until the lasagne sheets are cooked all the way through and the top is golden. Let the lasagna sit for 20 minutes before cutting into it.
Nutrition
Calories:
565
kcal
Carbohydrates:
42
g
Protein:
40
g
Fat:
26
g
Saturated Fat:
14
g
Polyunsaturated Fat:
2
g
Monounsaturated Fat:
9
g
Trans Fat:
1
g
Cholesterol:
110
mg
Sodium:
1401
mg
Potassium:
817
mg
Fiber:
4
g
Sugar:
6
g
Vitamin A:
2044
IU
Vitamin C:
12
mg
Calcium:
423
mg
Iron:
5
mg