In this delicious spin on the classic baked Mac and Cheese we are combining creamy macaroni and cheese with rich Italian Bolognese meat sauce! It's comfort food taken to the next level!
If you love Italian food, why not check out our Slow Cooker Bolognese Sauce? Amazing flavours without the fuss!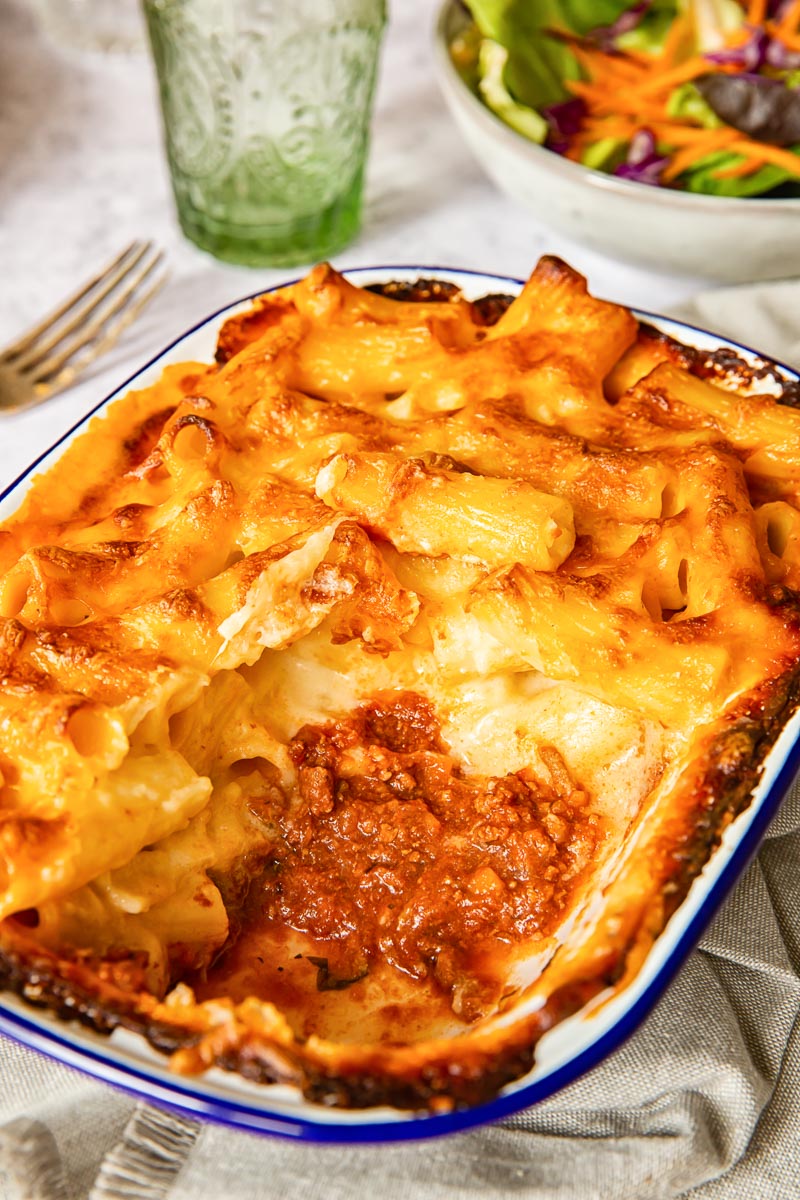 There are not too many people out there who don't see mac and cheese as the epitome of comfort food. Pasta swimming in creamy cheese sauce. What's not to love?! It's absolutely perfect as it is.
As great as macaroni and cheese might be, once in a while I get bored and I am drawn to experiment. That's how baked mac and cheese with an Italian twist was born.
It's absolutely magnificent! And how could it not be when two most loved dishes come together as one!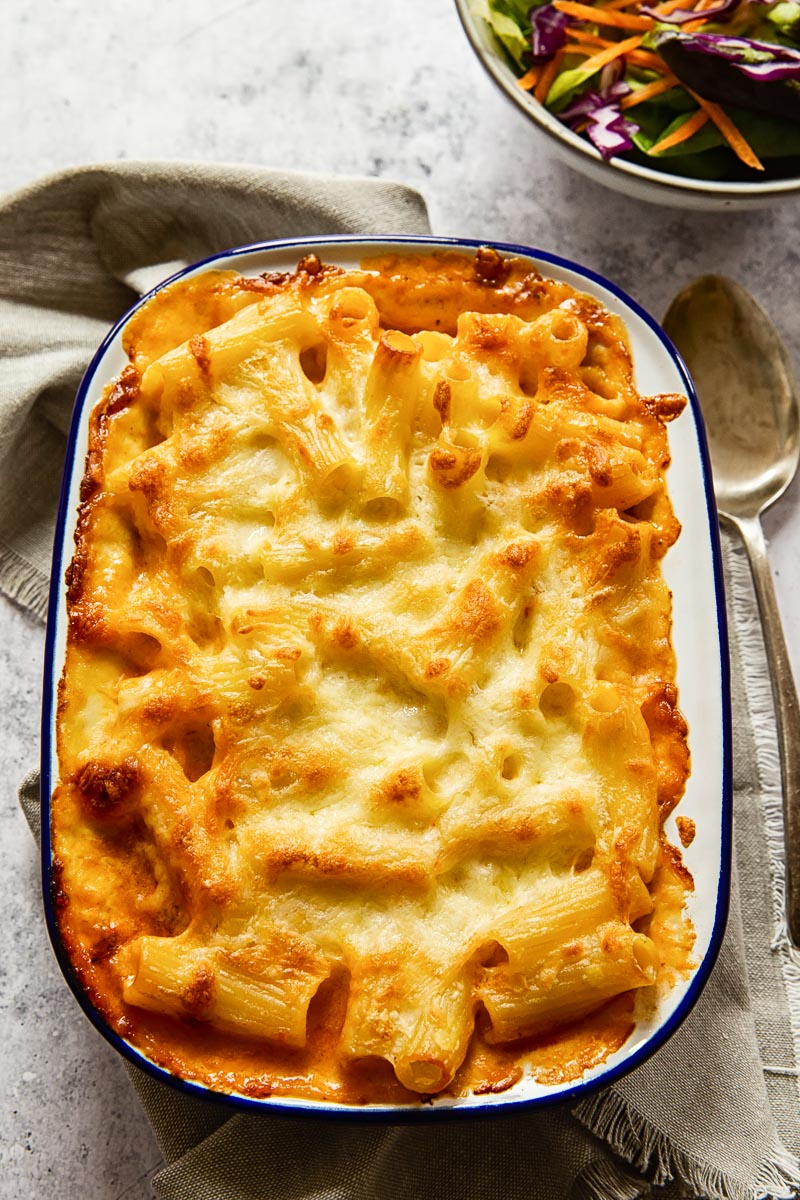 The recipe flavours
Imagine the creamiest lasagna you've ever tasted and you will be only half way there. On the surface this macaroni and cheese looks quite ordinary but everything changes as soon as you plunge a large spoon into it.
A big scoop of this creamy baked mac will reveal a bottom layer of rich bolognese sauce. An absolute heaven on earth if you ask me.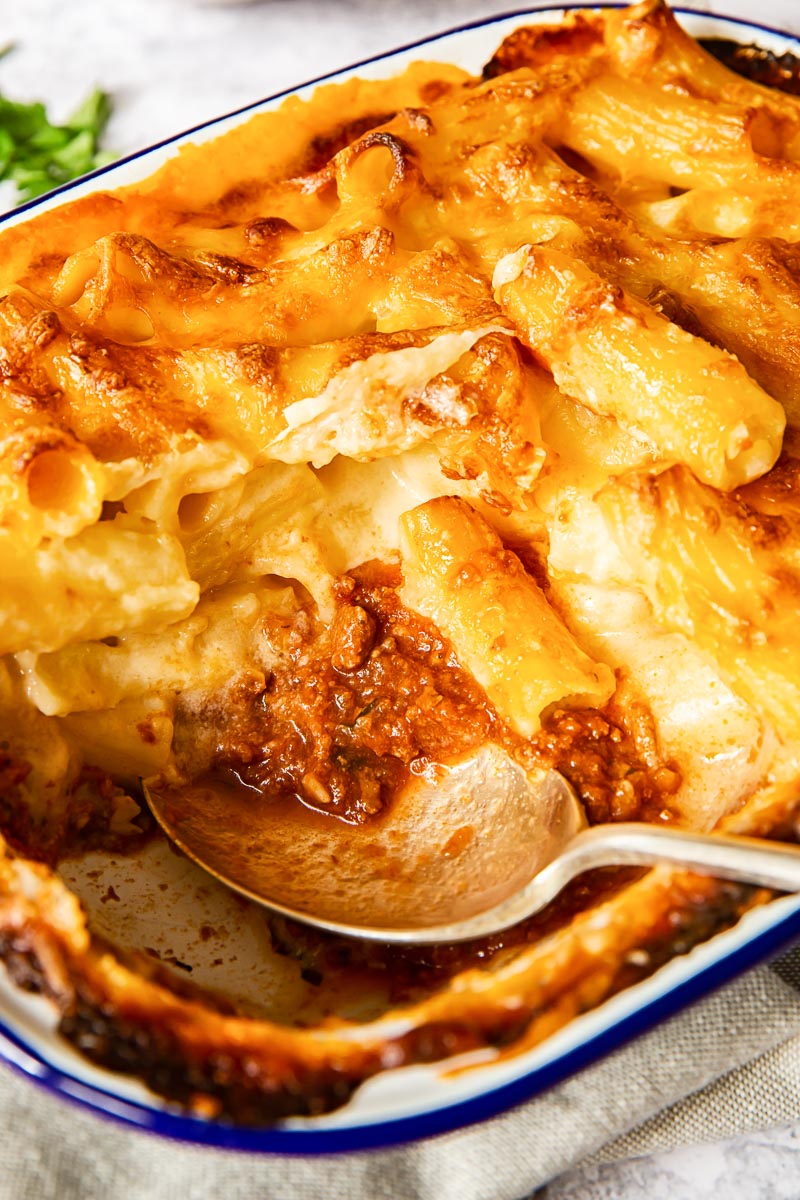 How to make it
You would have to start with the meat sauce. It's much quicker if you happen to have leftover Bolognese sauce like I did. I usually make a big batch and freeze half of it. But if not, making it from scratch is very easy.
All you need is a pound of ground beef, garlic, crushed tomatoes or passata and a couple of herbs like basil and oregano. You can also use your favourite brand of premade spaghetti sauce.
Cook the macaroni or any other short pasta like rigatoni 3-4 minutes less than your package instructs. That will prevent the pasta from going too soft when baked. While the pasta is cooking make the cheese sauce by combining melted butter with flour.
Then add whole milk while stirring with a whisk constantly, bring to a slow boil and simmer until thick. Keep stirring the whole time. This mixture will create a foundation of the cheese sauce.
Once you have your white sauce add sharp cheddar and mozzarella off the heat. Stir until both cheeses are melted and well incorporated into the sauce.
Combine the pasta with the cheese sauce and a little bit of pasta water, top the bolognese layer with the macaroni and cheese and sprinkle with more cheese on top. Bake.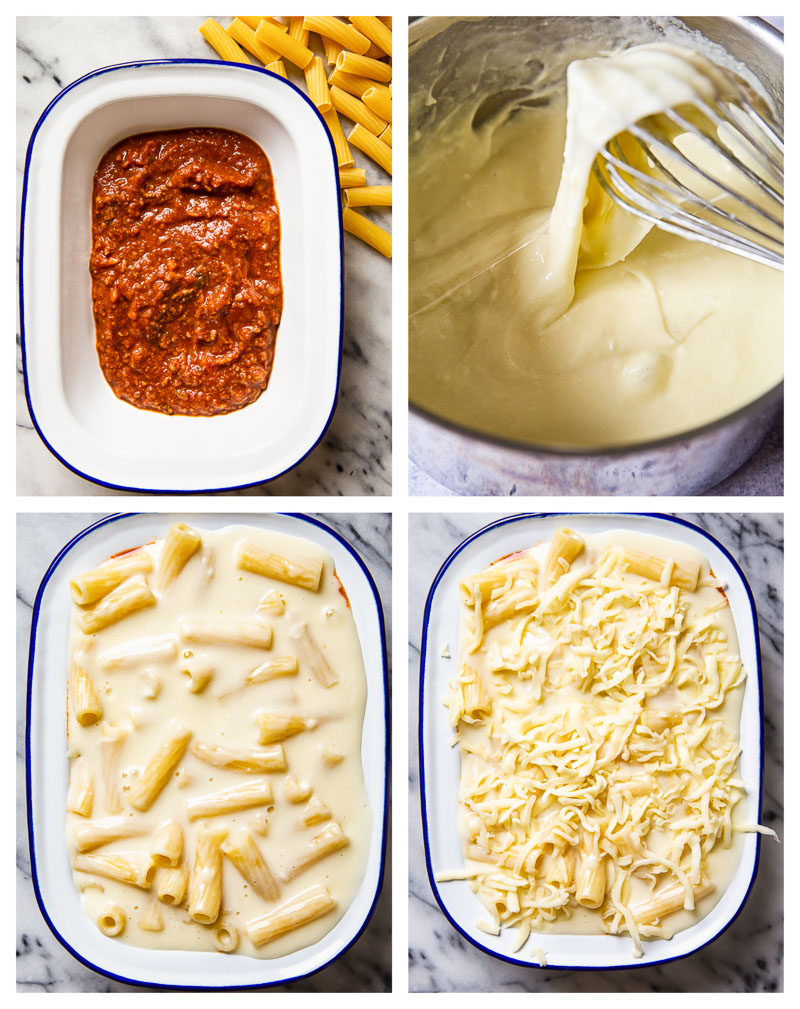 Baked mac and cheese vs stove top method
Admittedly baked macaroni and cheese takes longer than the stove top method. So the question we are all asking. Do you have to bake mac and cheese? Is it worth the extra work?
For my family the answer is always a big fat YES.
That top crunchy layer makes all the difference. Those crunchy bits are the bits my kids fight over and what I secretly make macaroni and cheese for.
One thing you have to remember when making baked macaroni cheese. You need more cheese sauce than a stove top version would require . Pasta will absorb liquid as it bakes leaving you with dry mac and cheese if you are not overdoing it on sauce.
Your macarani should be swimming in sauce before it goes in the oven. As demonstrated in the photo above.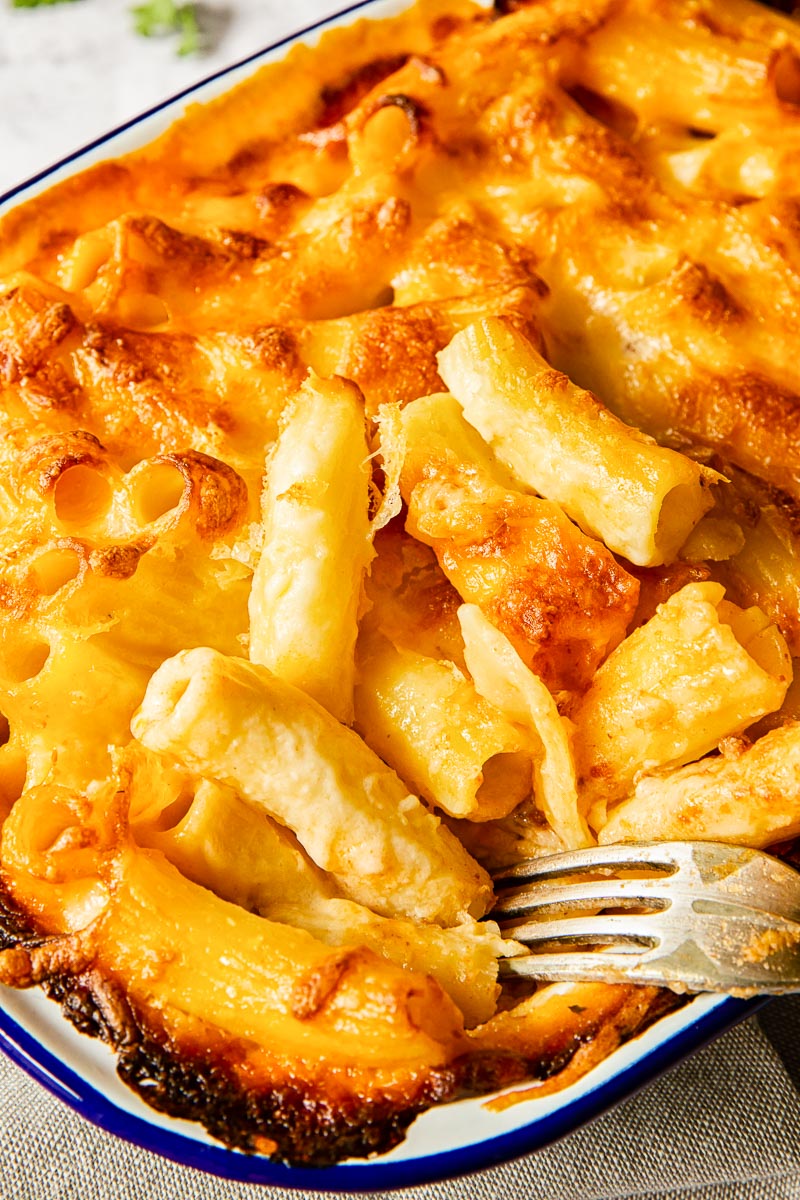 The best cheese to use
The cheeses I tend to use are the ones that have a strong enough taste to flavour the dish and melt well into a creamy cheese sauce.
Cheddar and aged/mature cheddar are my number one choices. I often go for a combination of two cheeses. Whatever cheese you choose, make sure you grate it yourself.
Store bought pre-grated cheese is coated in cornstarch to prevent it from clumping up. Using it result in grainy and less flavourful cheese sauce.
In this recipe for Italian inspired mac and cheese I went with mozzarella as my secondary cheese. I wanted the sauce to have that buttery taste and nice stretchy consistency we so love in lasagna and pizza.
Serving suggestions
I find a simple green salad with a vinaigrette dressing is an ideal companion to rich and creamy mac and cheese. Crunchy lettuce and vegetables in acidic dressing will give a perfect balance to the cheesy mac!
More favourite macaroni and cheese recipes to try: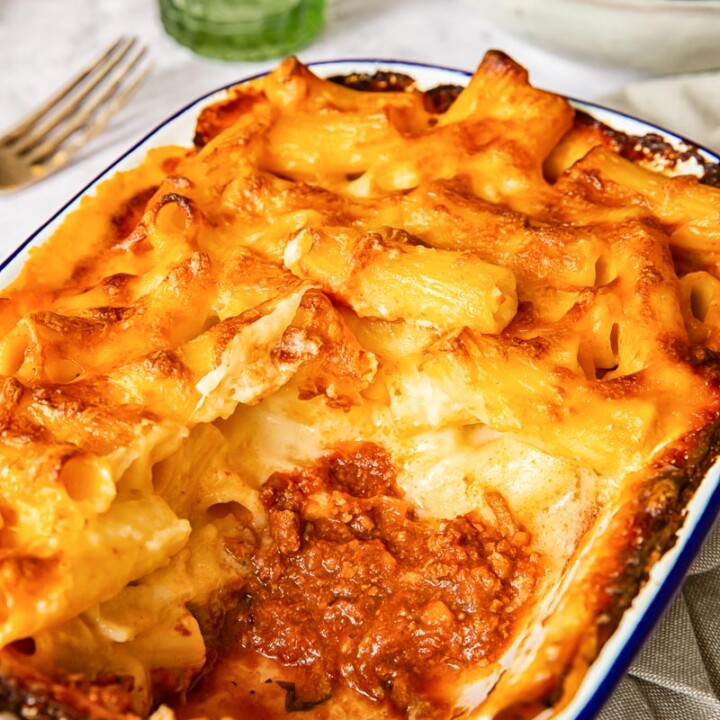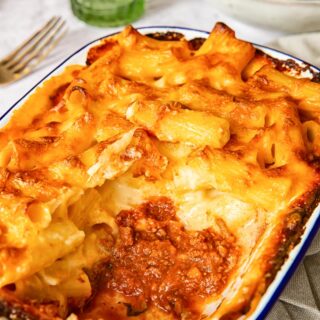 Layered Italian Baked Mac and Cheese
Deliciously creamy baked Mac and Cheese with a bottom layer of Italian bolognese meat sauce. Comfort food taken to the next level!
Ingredients
For the quick beef bolognese sauce
1

tbsp

olive oil

1

lbs

lean ground beef

3

cloves

garlic

1

tsp

dried basil

1

tsp

dried oregano

2X400g/14oz

canned chopped tomatoes/crushed tomatoes

or passata

salt to taste
For the cheese sauce
2

tbsp

butter

1

tbsp

flour, heaped

375ml/1.5 cups

whole milk or 2%

200g/1 cup

cheddar, grated

200g/1 cup

mozzarella, grated

salt to taste
Additionally
1

lbs

macaroni or rigatoni

1

tbsp

butter

100g/1/2 cup

mozzarella, grated
Instructions
For the quick beef bolognese sauce
Heat 1 tbsp of olive oil in a large pan, then brown the ground beef until no longer pink inside. Add crushed garlic, basil, oregano, canned tomatoes and bring to a boil, salt to taste. Simmer for 15-20 minutes.
Pasta
Preheat the oven to 190C/375F. Cook the pasta in salted boiling water 3 minutes less than package instructs. Drain while reserving ½ cup/125 ml pasta water. Coat macaroni with 1 tbsp of butter.
For the Cheese Sauce
While the pasta is cooking make the cheese sauce. Melt the butter in a small saucepan over medium heat, blend in flour with a wire whisk. Continue cooking for 2-3 minutes while stirring the entire time, then add milk and continue stirring until the sauce thickens.

Take it off the heat and stir in both cheeses gradually until they are melted and fully incorporated into the sauce. Add the cooked macaroni to the sauce with ½ cup of reserved pasta water.
To assemble baked Mac and Cheese
Butter a 9X13 inch rectangular casserole dish. Pour the bolognese sauce on the bottom of the dish.

Top with the macaroni and cheese and sprinkle with 100g/ ½ cup mozzarella cheese and bake in the oven for 25-30 minutes until the top is golden. If the cheese is not bubbly and golden at the end of baking time, broil it for 2 minutes.
Notes
Instead of making a quick beef bolognese sauce you can use ⅓ of Traditional Bolognese Recipe
You can also cook a pound of ground beef with a store bought Spaghetti sauce.
Nutrition
Calories:
808
kcal
Carbohydrates:
68
g
Protein:
49
g
Fat:
37
g
Saturated Fat:
21
g
Cholesterol:
143
mg
Sodium:
1619
mg
Potassium:
840
mg
Fiber:
4
g
Sugar:
9
g
Vitamin A:
1107
IU
Vitamin C:
13
mg
Calcium:
635
mg
Iron:
5
mg