This recipe for traditional spaghetti bolognese is a tasty and economical way to feed your family! Ground beef slowly braised in aromatic tomato sauce with onions, garlic, carrots and celery is what you want to serve with your pasta!
If you are a fan of white pasta sauce, try my Creamy Pasta Sauce with only 3 ingredients!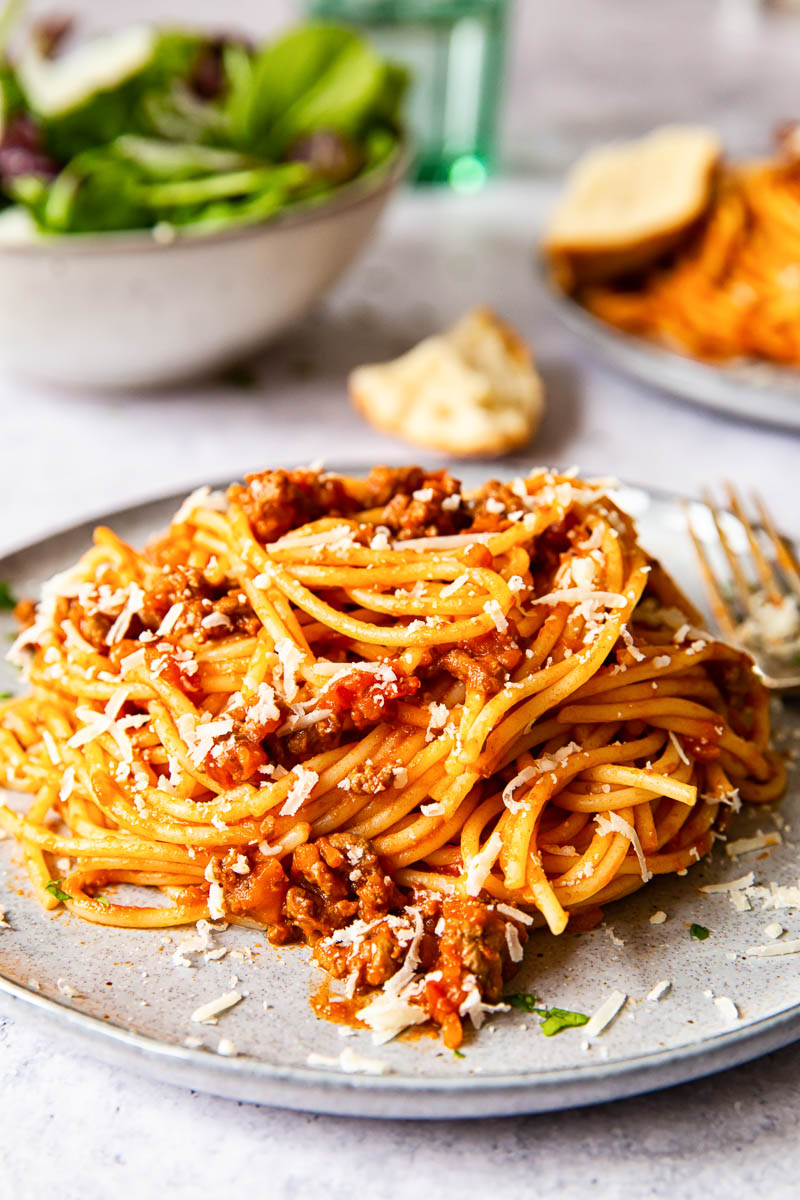 Comfort food, which is also healthy, is what we are after lately. What could I make to satisfy and please both adults and some little picky eaters?
Spaghetti Bolognese of course! Who doesn't love pasta drenched in a meaty tomato sauce! Easy and most of the cooking time is hands off.
Another option and a family favourite is Spaghetti Carbonara, which I also make often!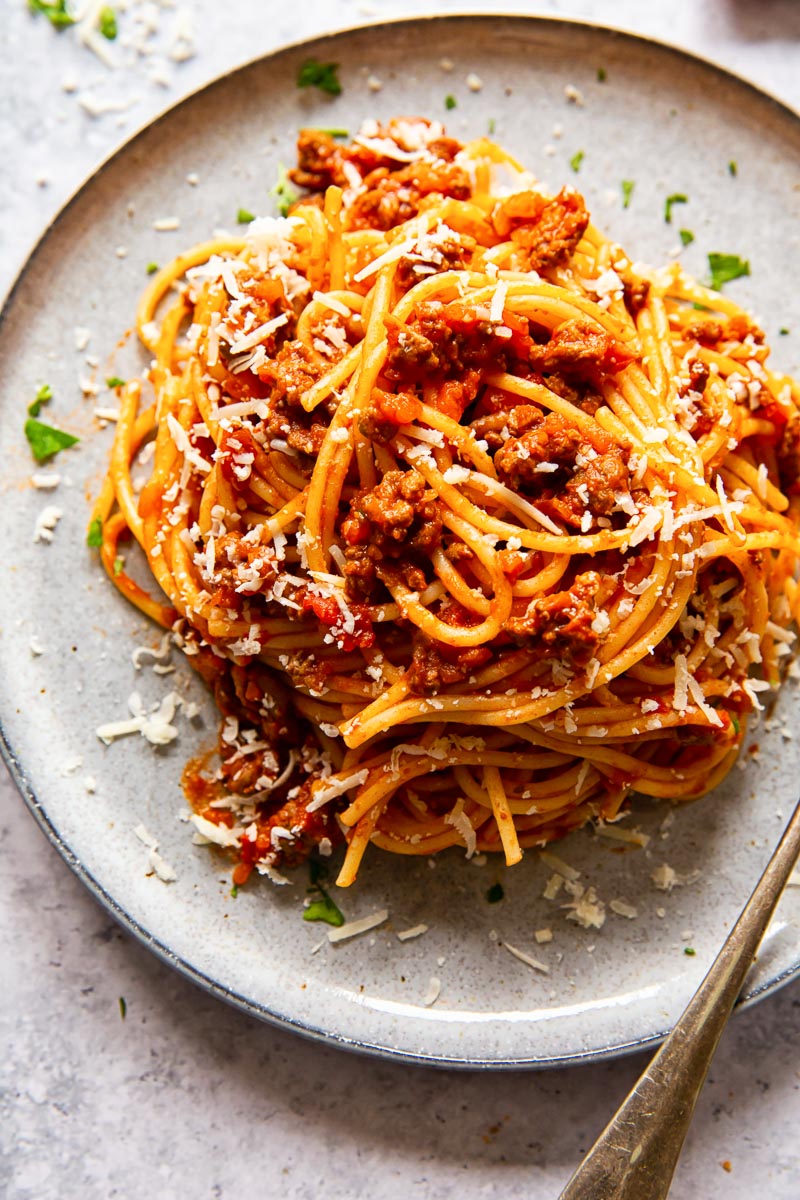 Spaghetti Bolognese Recipe
Spaghetti Bolognese is a classic everywhere in the world except for Italy, where it doesn't exist. Don't get me wrong the Bolognese sauce is as traditional as they get. It does comes from the city of Bologna.
However, it is served with thicker pasta like tagliatelle, fettuccine or pappardelle. Italians claim that flat and wider pasta is able to carry off this rich and meaty sauce far better than spaghetti.
So if you want to experience this delicious sauce in a true Italian way, don't forget this little tip and your dish will look like this!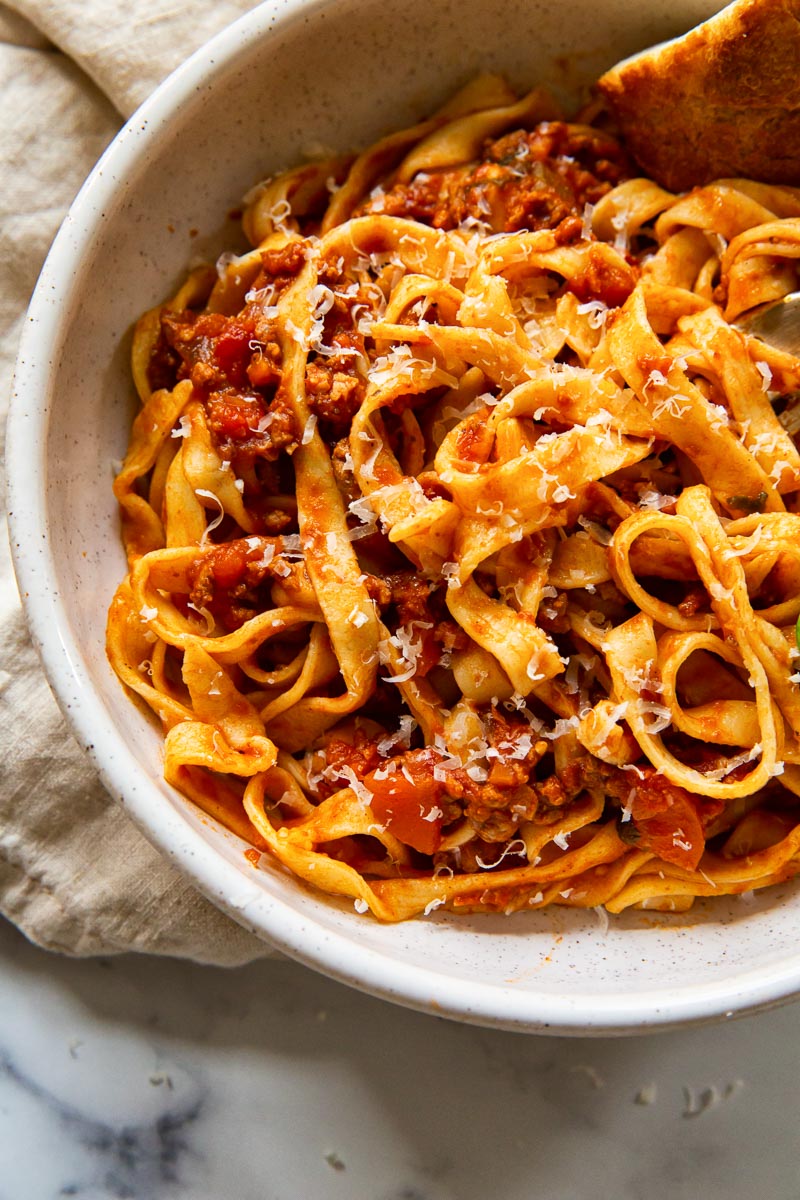 Whatever pasta you choose in the end, the Bolognese sauce is where the flavour is at. The homemade version is truly incredible. It's made from scratch, with no preservatives. You can feel good about feeding it to your family.
The main ingredients are inexpensive canned tomatoes, loads of healthy veggies, herbs and a pound of lean ground beef. Or you can use a combination of ground beef and pork.
It doesn't take a chef to master this delicious recipe. The technique is very simple. All you need is time. The best bolognese sauce is simmered over low heat for 2.5-3 hours. That's how long it takes for the flavours to blend.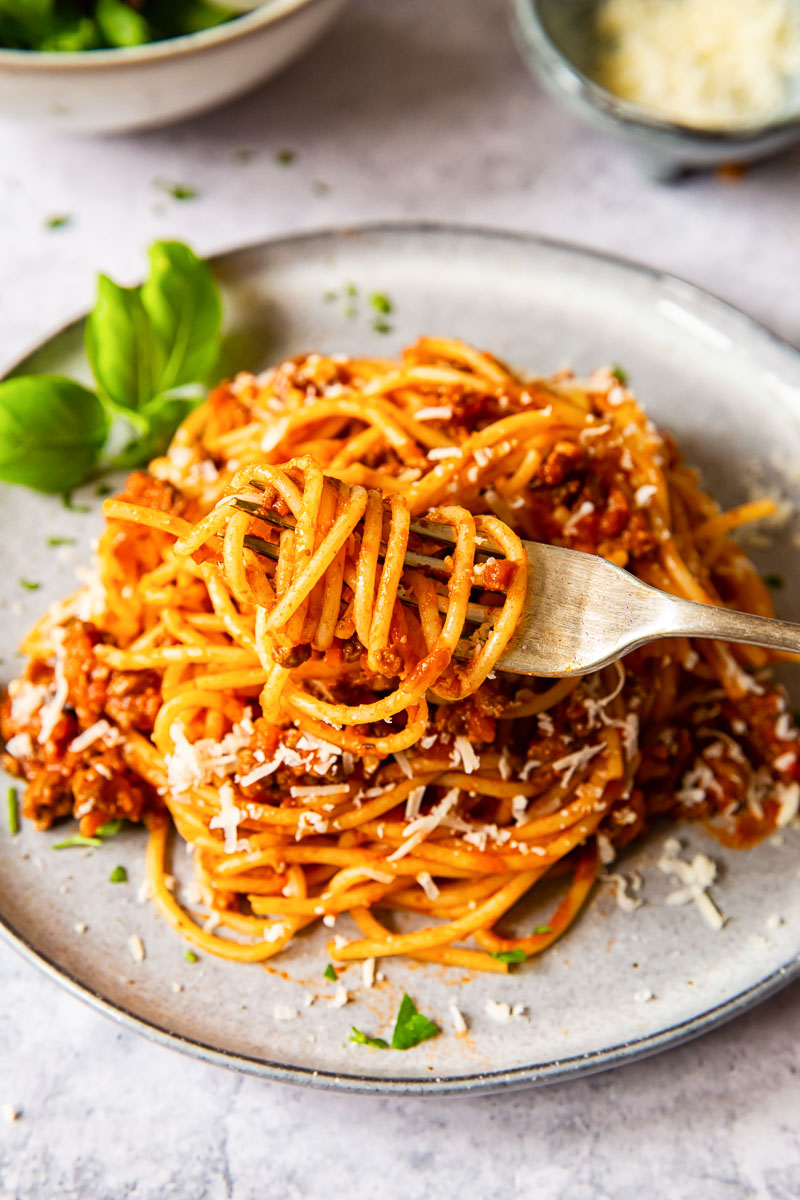 Secret to Best Bolognese Sauce
The recipe uses 1 tablespoons of olive oil, canned diced tomatoes and tomato passata along with 1 lbs of lean beef. Very wholesome ingredients.
The base for this sauce is made from a combination of diced onion, carrot and celery cooked in olive oil. Italians call it 'soffritto" and use it as a foundation for many sauces, soups and stews.
I've been making Bolognese sauce for many years and I've also changed it multiple times in pursuit of that perfect taste. The version I am sharing today is definitely my best one and final.
After years of travel to Italy and a cooking lesson that I took on the most recent trip I've picked up the necessary knowledge to recreate this authentic recipe at home. By the way, if you are looking for an authentic Italian white pasta sauce, take a look at my pasta cream sauce recipe.
Making this traditional Italian sauce is very easy and requires no special skills only time and patience. The end result is stunning and miles aways from store bought.
But if you want it quick and meatless, check out my tomato and basil pasta sauce, which is done in 20 minutes!
Can I make spaghetti sauce in a slow cooker?
Yes, you can! This sauce is actually absolutely perfect for your crock pot since it needs longer time to be delicious. I have developed a slow cooker beef bolognese sauce recipe specifically for you.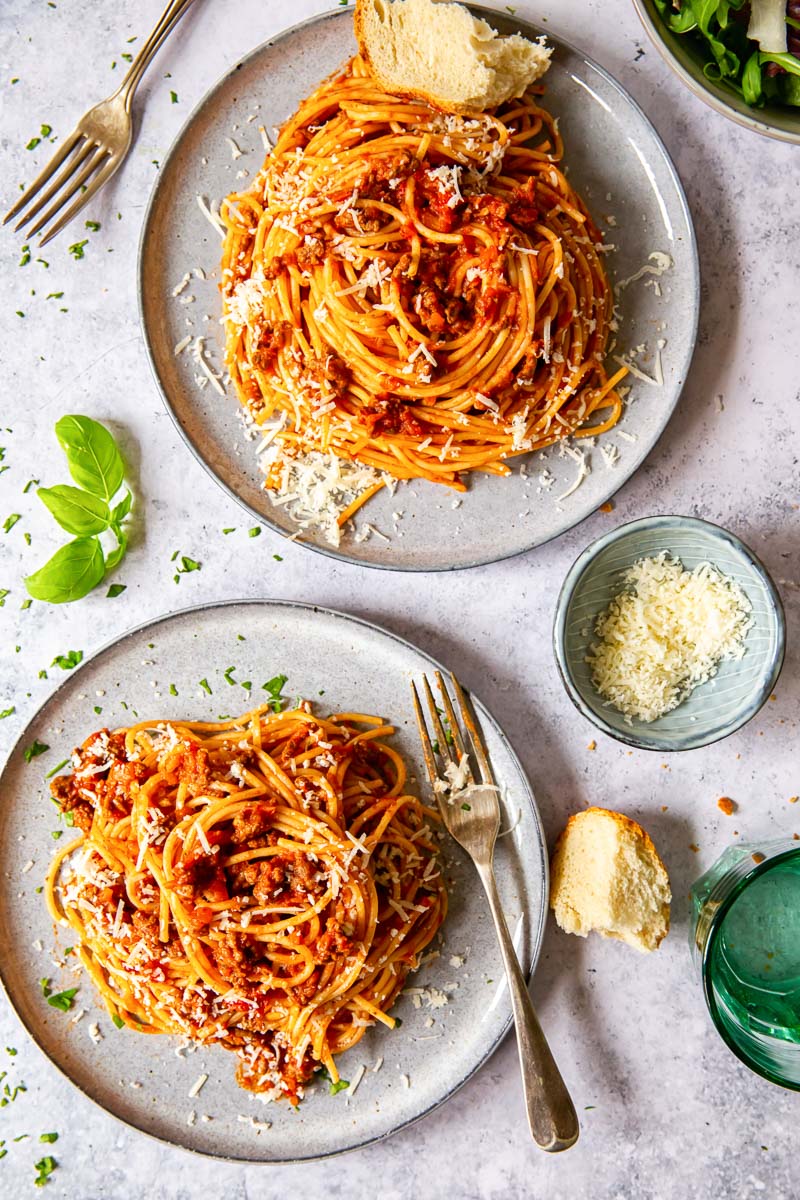 Serving Suggestions
Serve it with a favourite chopped salad or an easy Caprese Salad and a quick no knead crusty bread, which could be dipped in extra virgin olive oil and balsamic vinegar.
Take a break from garlic bread smothered in butter and choose the heart healthy olive oil. My kids absolutely love it.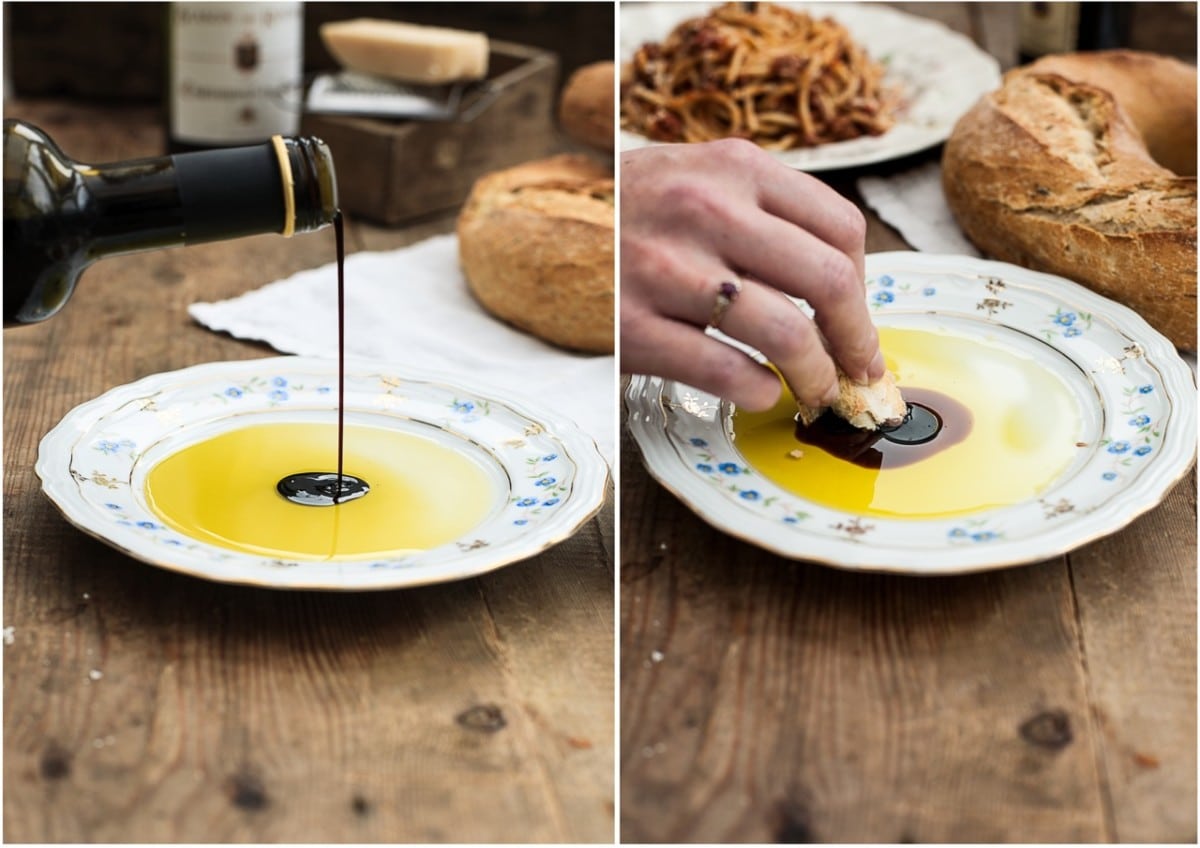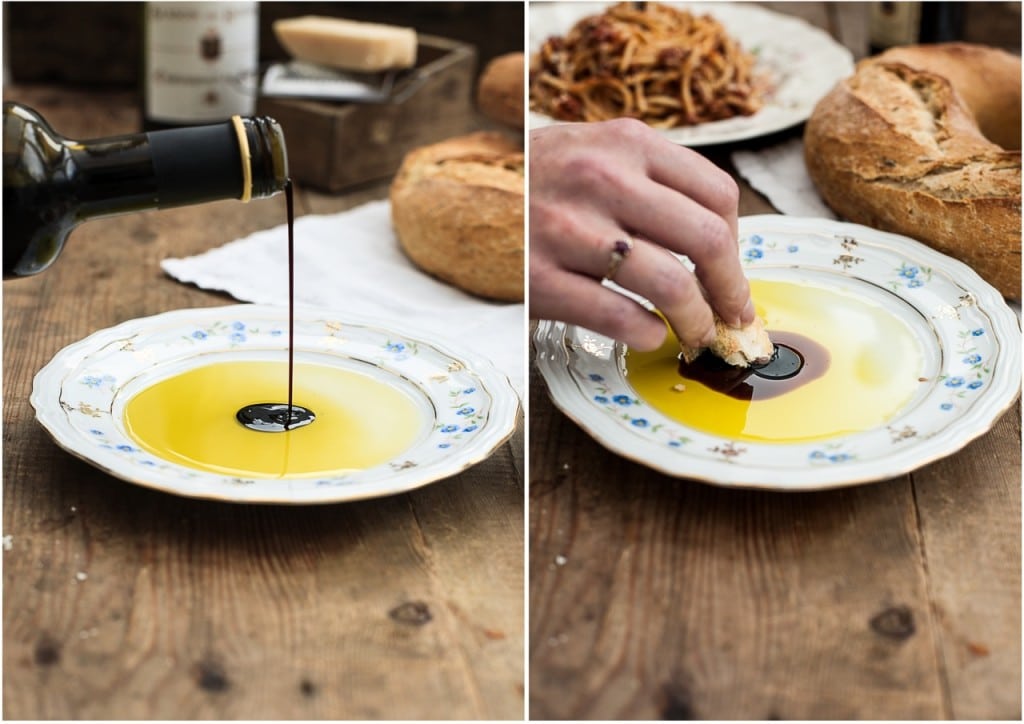 My time saving tips
Use food processor for chopping up all vegetables to save time! Processing your vegetables this way also makes for a smoother sauce.
When I have some time to spare or I just want to zone out in the kitchen without anyone bugging me I dice all vegetables by hand. Onions, carrots, celery. The lot.
But last night time was short, so I simply threw everything in the food processor and gave it a whirl.
Same flavour, less effort plus if you have picky eaters they will have no idea how many vitamins are hidden in that spaghetti sauce.
The recipe was originally published in 01/2014. Updated with new photos, recipe and text in 03/2020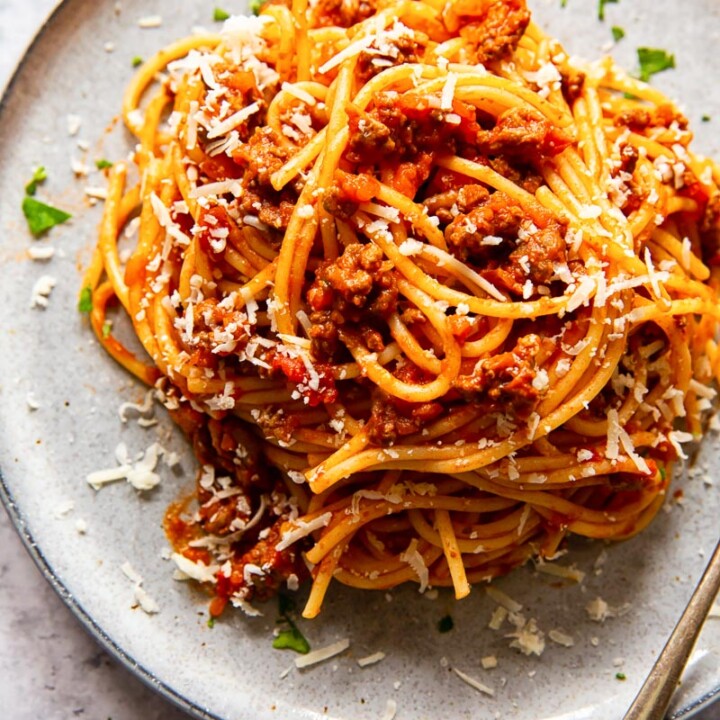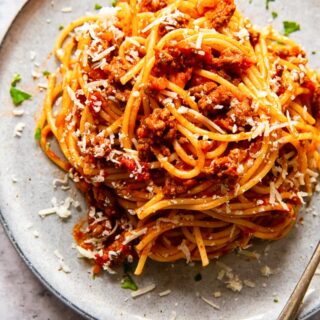 Spaghetti Bolognese
Ground beef slowly braised in aromatic tomato sauce with onions, garlic, carrots and celery this bolognese sauce is what you want to serve with your pasta!
Ingredients
1

tbsp

Olive oil

1

Onion

diced

2

Carrots

diced

2

Celery stalks

diced

2-3

cloves

Garlic

5-6

leaves

Fresh Basil or 2 tsp dried basil

400g/14oz

Canned Diced Tomatoes

500g/17oz

Tomato Passata/Crushed Tomatoes

250ml/1

cup

water

2

tsp

Dried Oregano

1

lbs

Ground Beef

extra lean

Salt and pepper to taste

1

lbs

Spaghetti
Instructions
In a large and deep frying pan or a Dutch Oven heat 1 tbsp of olive oil, then add diced onions, carrots, celery, minced garlic and cook on low heat for 10 minutes without colouring the vegetables. Then add ground beef and brown it until the beef is no longer pink inside while stirring the whole time and making sure to break up the beef. Pour in both types of canned tomatoes and water with a pinch of salt and pepper.

Sprinkle in some dried oregano and torn basil leaves (reserve a few small ones), bring everything to a boil. Then turn the heat down and let it simmer with a lid ajar for for 2.5-3 hours stirring it once in a while.

When your Bolognese is nearly done boil a large pot of water and cook spaghetti according to package directions. (I usually cook 2 min less than the package recommends, your pasta continues cooking when you combine it with sauce and you really don't want it overcooked!)

Drain your spaghetti and add your pasta to the sauce, stir gently and take off the heat. Top with reserved basil leaves. Serve with freshly grated Parmesan cheese.
Video
Nutrition
Calories:
414
kcal
Carbohydrates:
53
g
Protein:
19
g
Fat:
14
g
Saturated Fat:
5
g
Cholesterol:
40
mg
Sodium:
216
mg
Potassium:
658
mg
Fiber:
5
g
Sugar:
7
g
Vitamin A:
2810
IU
Vitamin C:
13
mg
Calcium:
80
mg
Iron:
3
mg