Do you make your own spaghetti sauce or do you buy it? This simple tomato based sauce flavoured with only garlic, fresh basil and a touch of oregano is as simple as it is delicious.
I stopped relying on mass produced stuff almost a decade ago once I discovered how easy it is to make my own!
For a spaghetti meat sauce, try my Spaghetti Bolognese.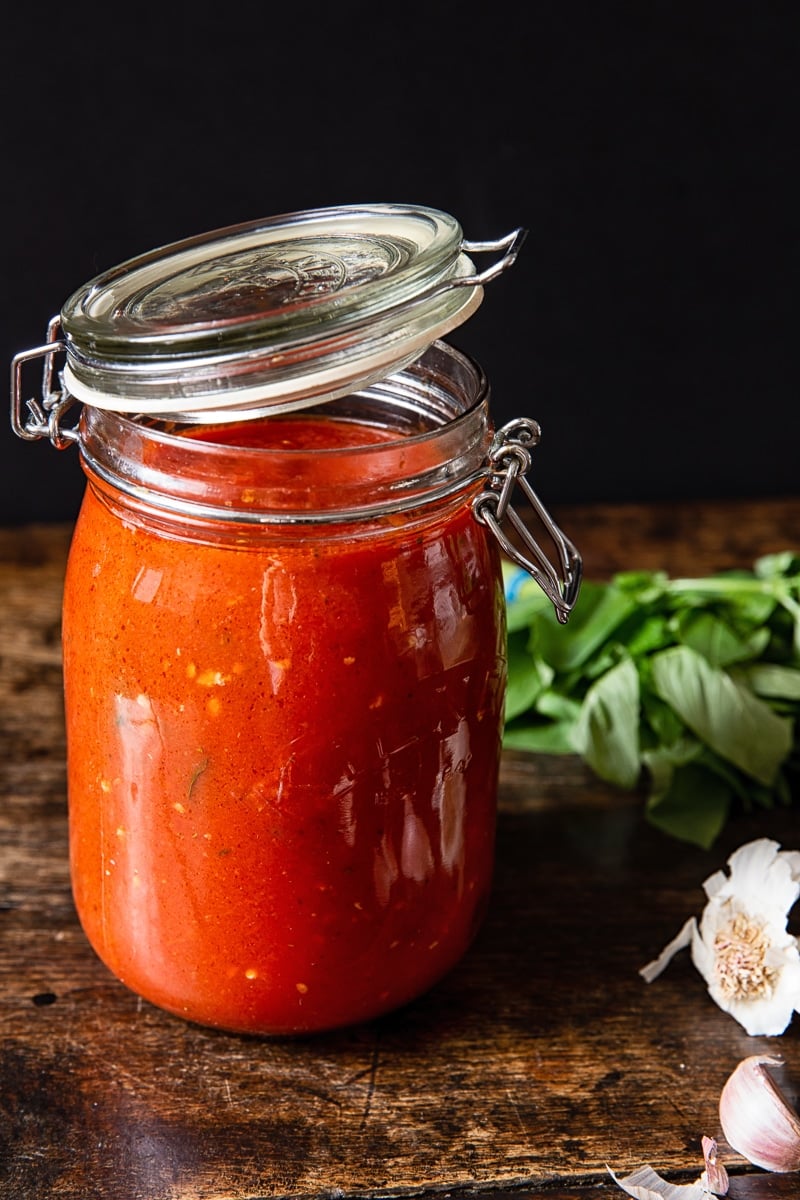 It's finally summertime and all types of fresh produce abound! It's true that tomatoes are not ripe yet for saucing but it doesn't hurt to be prepared!!
Besides this recipe uses good quality canned tomatoes for us city folks, who don't have access to homegrown tomatoes. Let's talk about spaghetti sauce. I can't believe it took me so long to share this recipe. I guess I always felt like it was so basic that it didn't deserve space on my blog. How wrong I was!!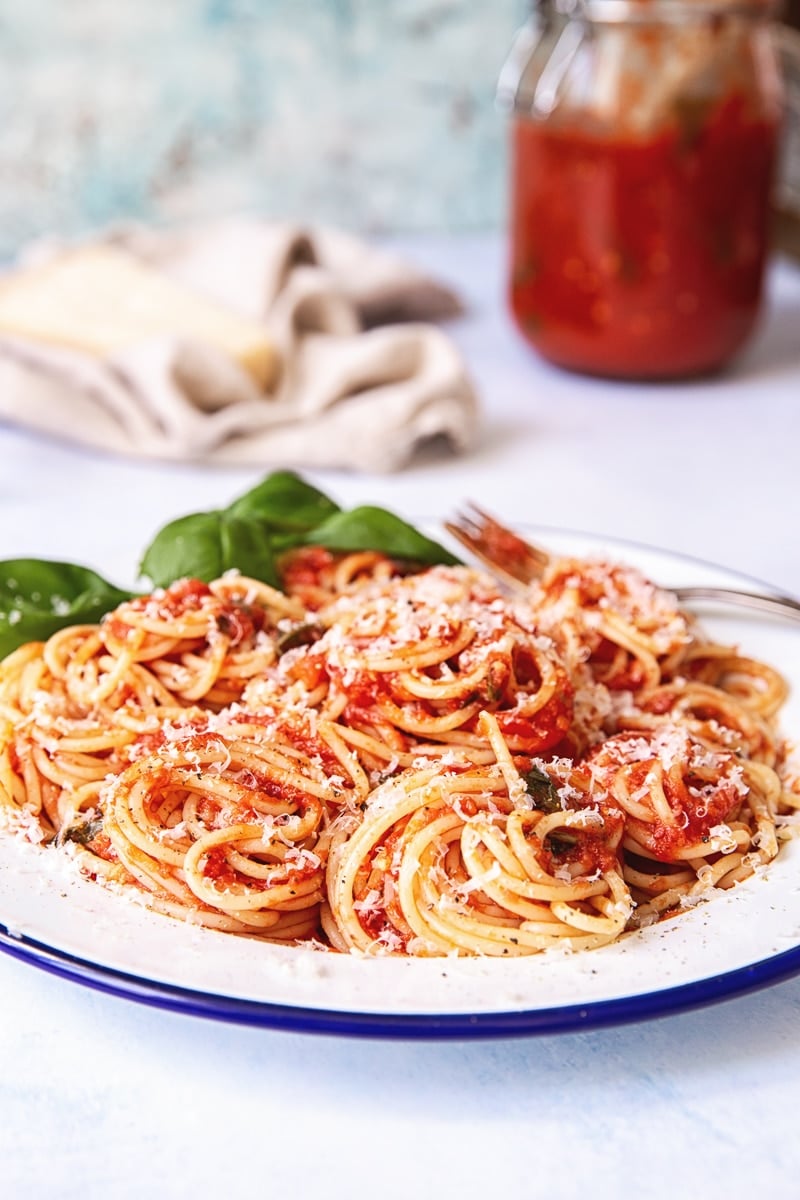 What made me realise this recipe is needed is visiting family in Canada this past February and seeing jars upon jars of store bought spaghetti sauce in their pantry. It used to be me.
Before we moved to the UK 8 years ago it would have never occurred to me to make my own spaghetti sauce because every time I tried it ended up tasting like straight up canned tomatoes. Harsh and acidic.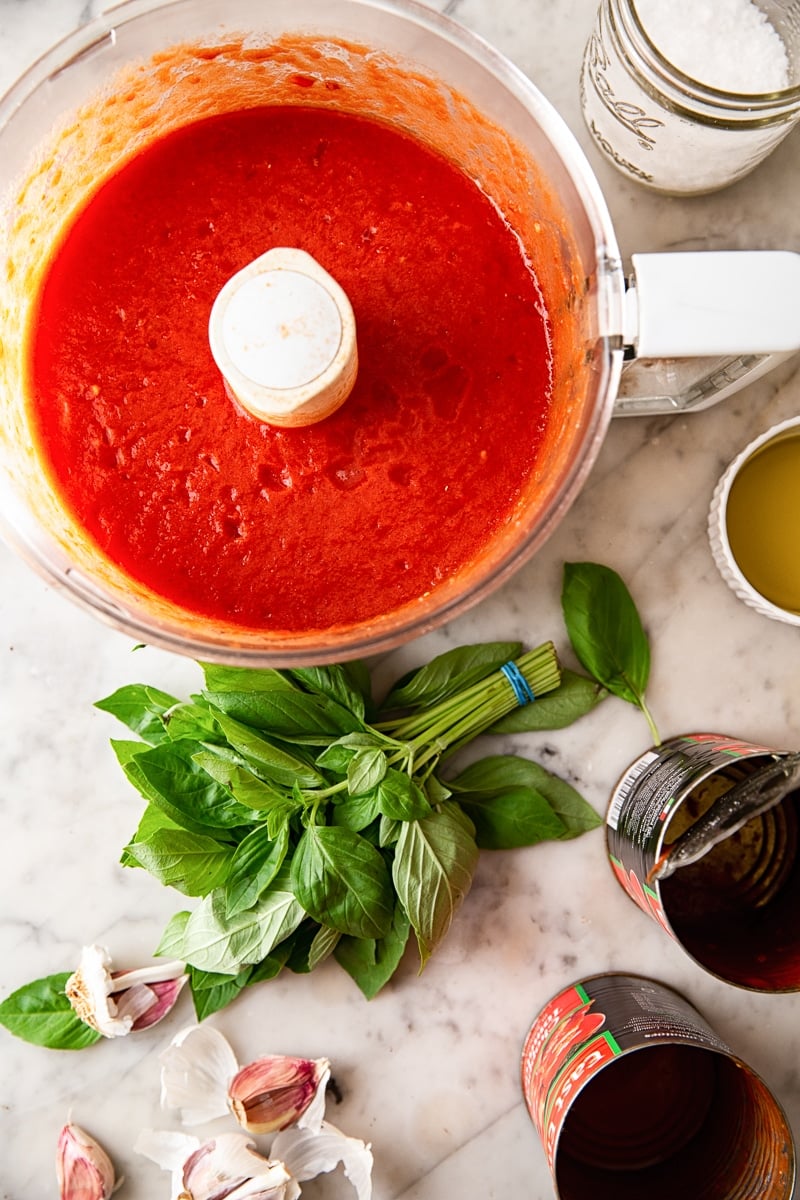 So what changed? Me! And tomatoes. Let me back track. My real revelation of how easy Italian cooking was came after our first visit to Italy about 9 years ago.
We were fortunate enough not only to see the country and eat deliciously authentic Italian food in restaurants but also witness it being made in Italian homes by home cooks.
My first experience of watching an Italian friend make a regular spaghetti sauce blew me away. Easier than easy! She barely used any ingredients. I tried to recreate it immediately upon our return home to Canada, which only left me disappointed, so I turned back to spaghetti sauce from supermarkets.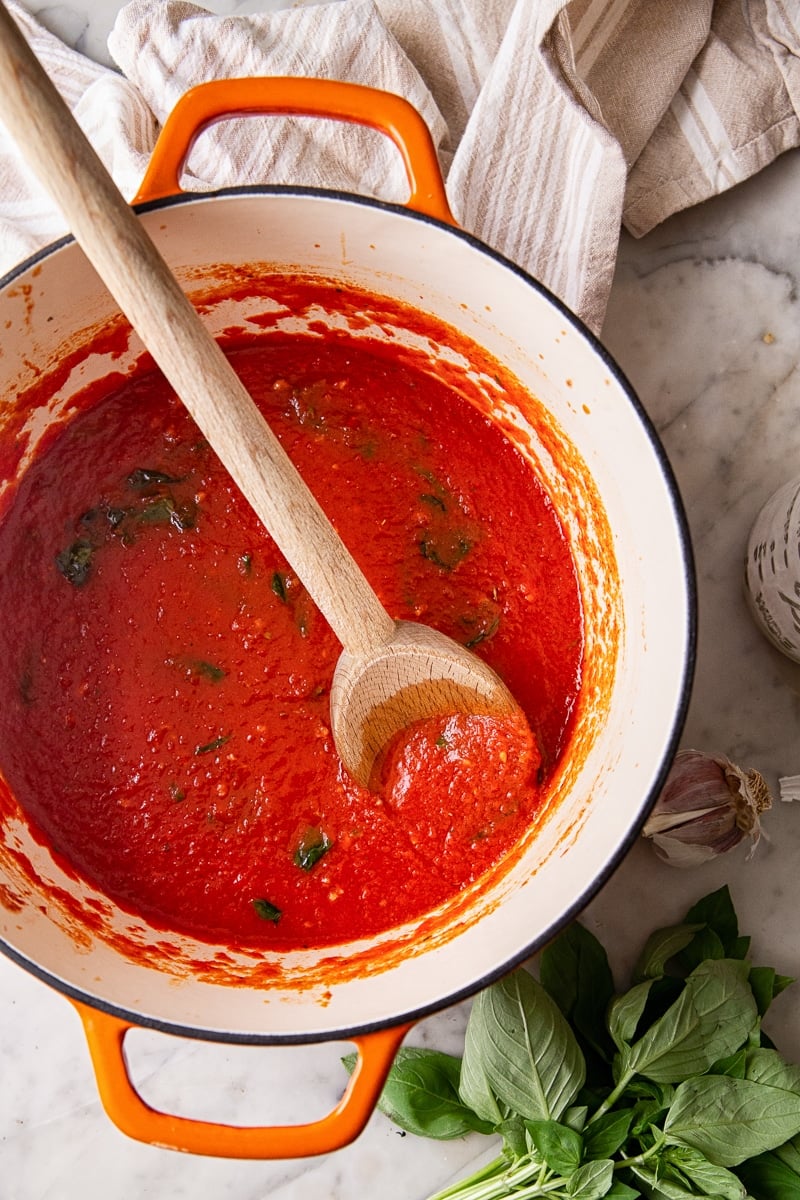 I didn't try making my own spaghetti sauce again until a year later when we permanently moved our life to London. At that point we were visiting Italy regularly due to work and I became determined to crack that simple yet elusive spaghetti sauce recipe.
But as soon as I tried it again, it was immediate success! I couldn't believe it as I didn't do anything differently.
The secret to the best tasting spaghetti sauce
Do you know what was different though? Tomatoes!!! Once we moved to the UK I started buying tomatoes that were available in my local supermarket and thanks to the EU trade agreement they happened to be grown under the hot Italian sun.
They were fully ripe and bursting with flavour, that all went into my sauce and made it off the scale delicious!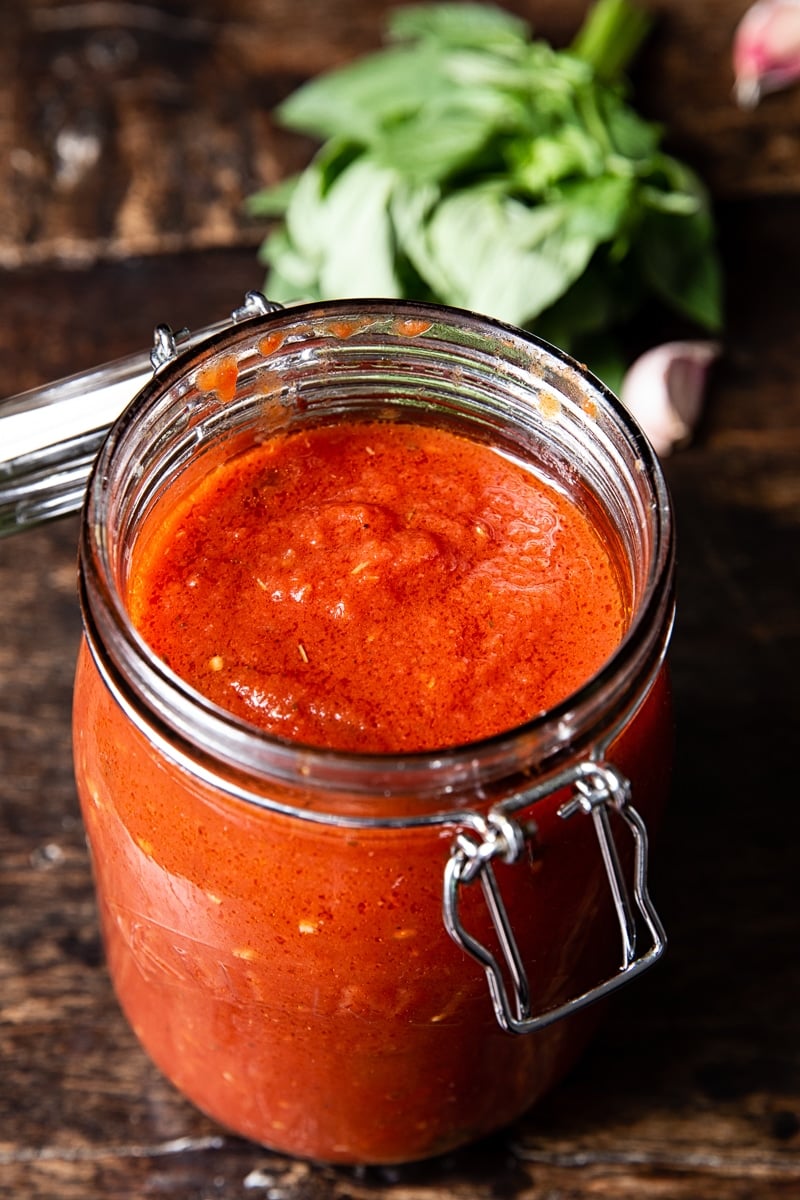 So what is the moral of this story? Move to Europe? Sure if that is what you want but you might not need to uproot your family to get the best tasting spaghetti sauce.
Just don't buy the cheapest canned tomatoes as I did! Be a bit more picky when it comes to your food, go for quality, not quantity and you will discover how much easier cooking is!
Truth is quality ingredients do all the cooking for you for you! It's truly magical.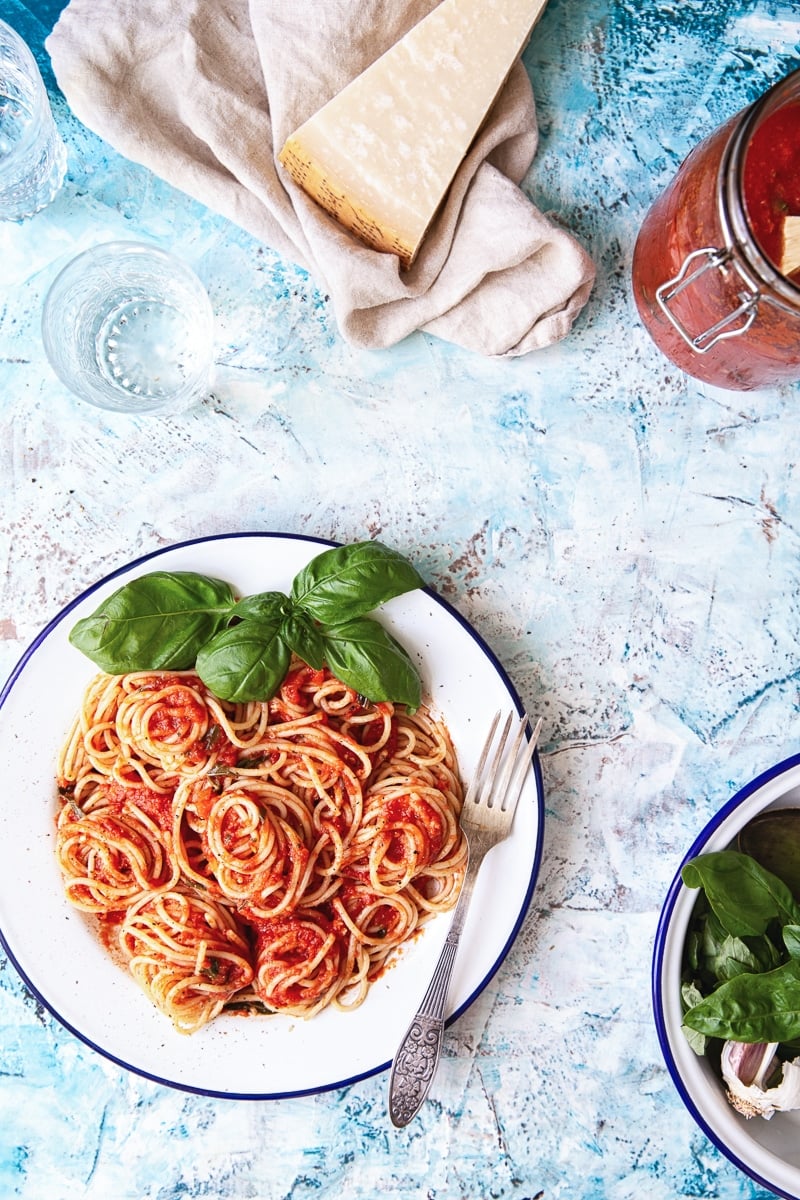 This spaghetti sauce I am sharing today is basic. Nothing fancy about. It only has 6 ingredients. It's sweet and fragrant with NO SUGAR added. Look at the nutritional label on your canned spaghetti sauce!
I guarantee it will have sugar in it as they don't use quality tomatoes they have to add sweetness to their sauces somehow. They simply add sugar.
I don't want added sugar in my spaghetti sauce. I want it to come naturally from sun-ripened tomatoes!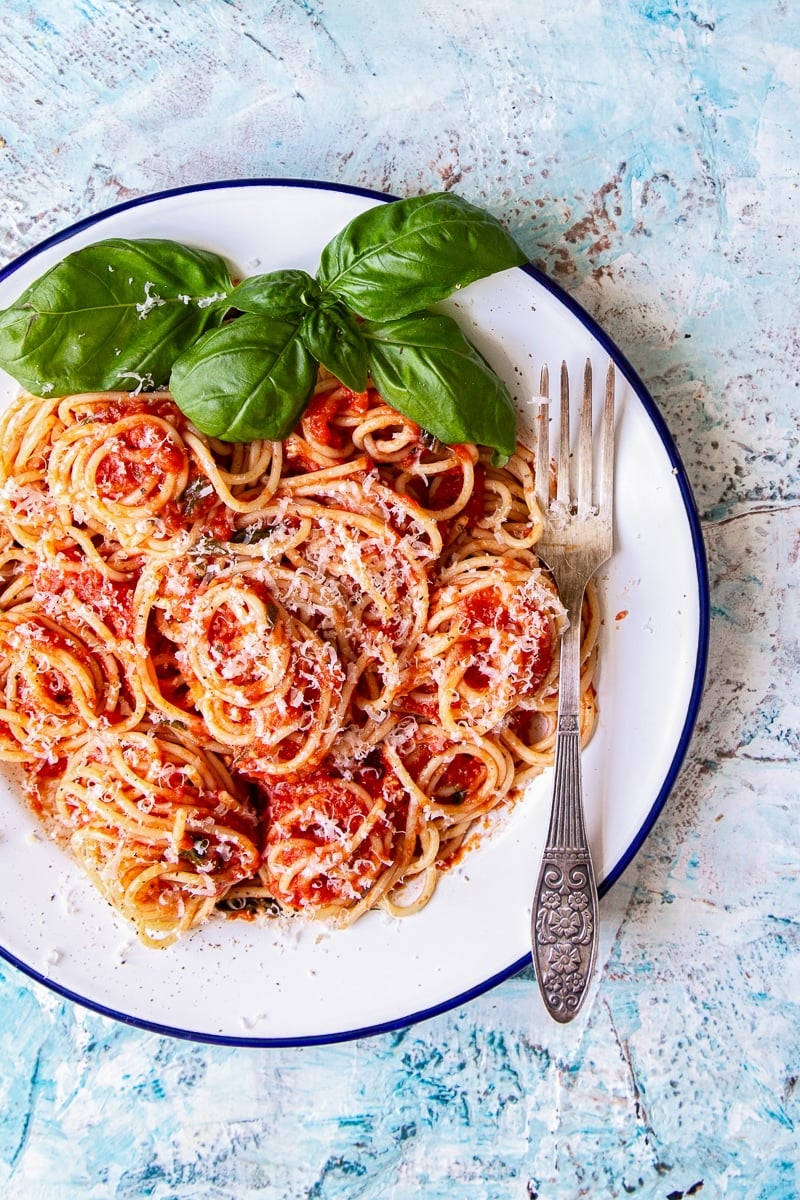 I really hope you give my simple spaghetti recipe a try and when you do SHARE your photos with me on Instagram! Just tag @vikalinka and I will see them!
For meaty spaghetti sauce check out my Slow Cooker Beef Bolognese Sauce.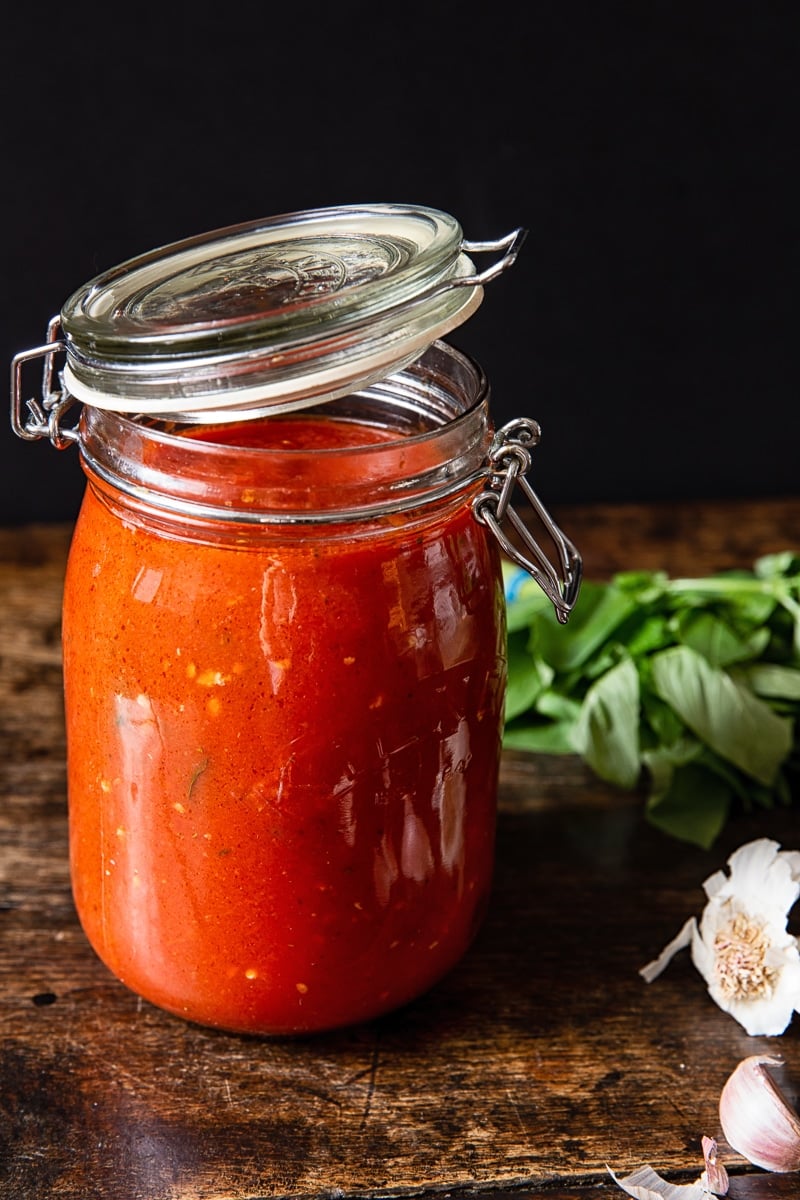 Ingredients
4

tbsp

olive oil

extra virgin

6

cloves

garlic

minced

¼ cup/ 25g

chopped basil leaves

fresh

1

tsp

dried oregano

3X14oz/400g

canned tomatoes

good quality

½

tsp

salt
Instructions
Process chopped tomatoes in a food processor for a smoother texture or use crushed tomatoes or passata. (Alternatively you can skip this step for a chunky spaghetti sauce.)

In a large pot heat the olive oil over low heat, add minced garlic and chopped basil and stir for no longer than 10-20 seconds. Do not let them burn or they will turn bitter.

Add tomatoes, dried oregano and salt, bring to a boil and let it simmer over very low heat for 7-10 minutes.

Cool and store in a clean jar or divide and freeze for a later use.
Nutrition Facts
Homemade Tomato and Basil Spaghetti Sauce
Amount Per Serving
Calories 43
Calories from Fat 36
% Daily Value*
Fat 4g6%
Sodium 97mg4%
Potassium 6mg0%
Vitamin C 0.5mg1%
Calcium 4mg0%
Iron 0.1mg1%
* Percent Daily Values are based on a 2000 calorie diet.