Do you make your own spaghetti sauce or do you buy it? This simple tomato based sauce flavoured with only garlic, fresh basil and a touch of oregano is as simple as it is delicious.
For a spaghetti meat sauce, try my Spaghetti Bolognese.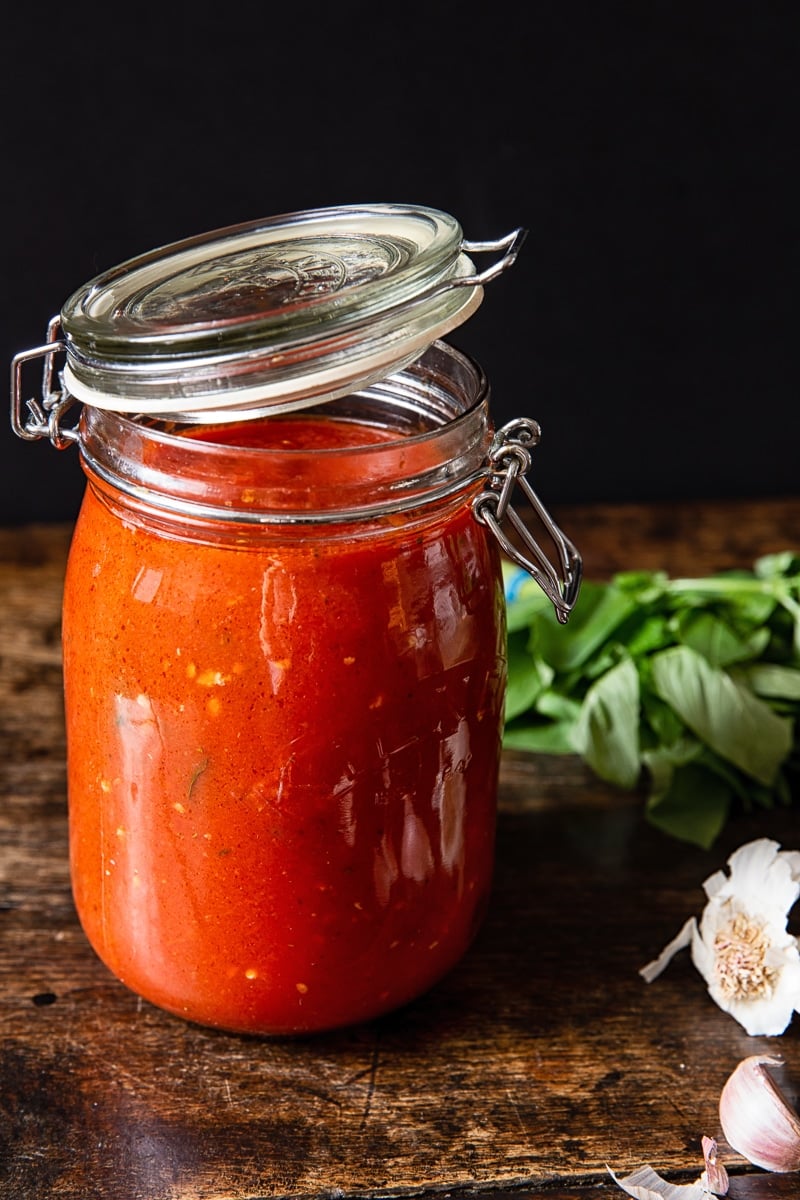 I stopped relying on mass produced spaghetti sauce almost a decade ago. All it took was discovering how easy it is to make my own!
I've had this recipe for a long time but didn't think to share it. I guess I always felt like it was so basic that it didn't deserve space on my blog. How wrong I was!!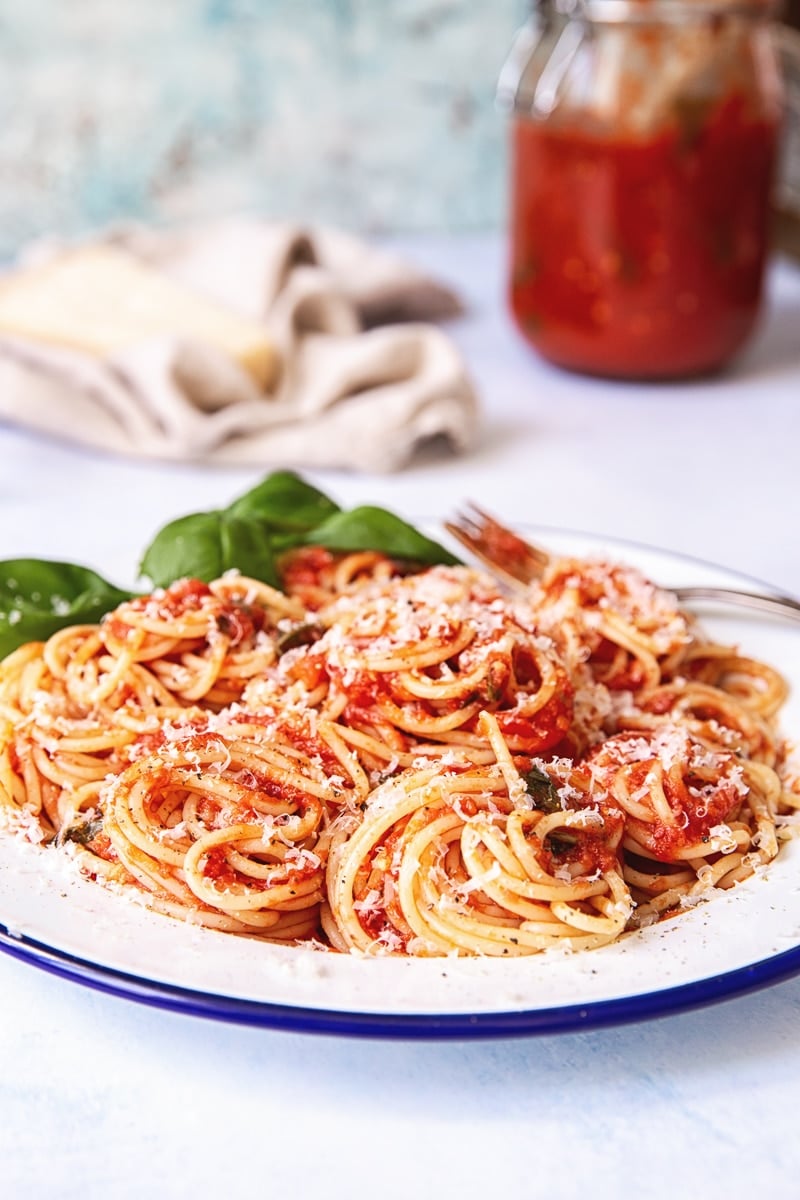 I realised that this recipe should be added to this site after seeing how many jars of store-bought sauce are in the average pantry. It used to be me.
Before spending time in Italy, it would have never occurred to me to make my own spaghetti sauce. Every time I tried it ended up tasting like straight up canned tomatoes, harsh and acidic.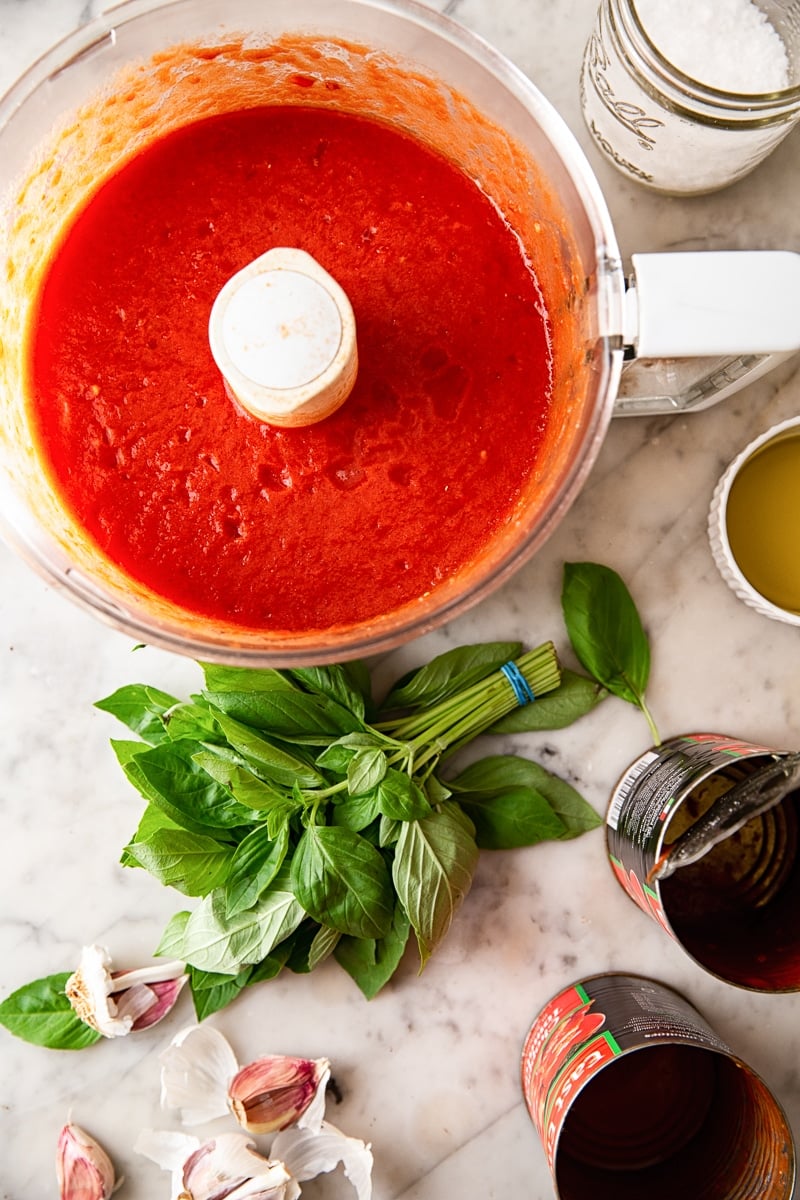 This changed after watching an Italian friend make regular spaghetti sauce. It blew me away because she made fresh tasting and flavourful sauce while barely using any ingredients.
I've learned to love Italian cooking in part because they make the most incredible food with a small number of basic ingredients. I've featured many of these recipes in my Italian Recipe Collection.
This recipe is a classic example. It is so good because it is true to the Italian cooking rule that the best food comes from the best ingredients!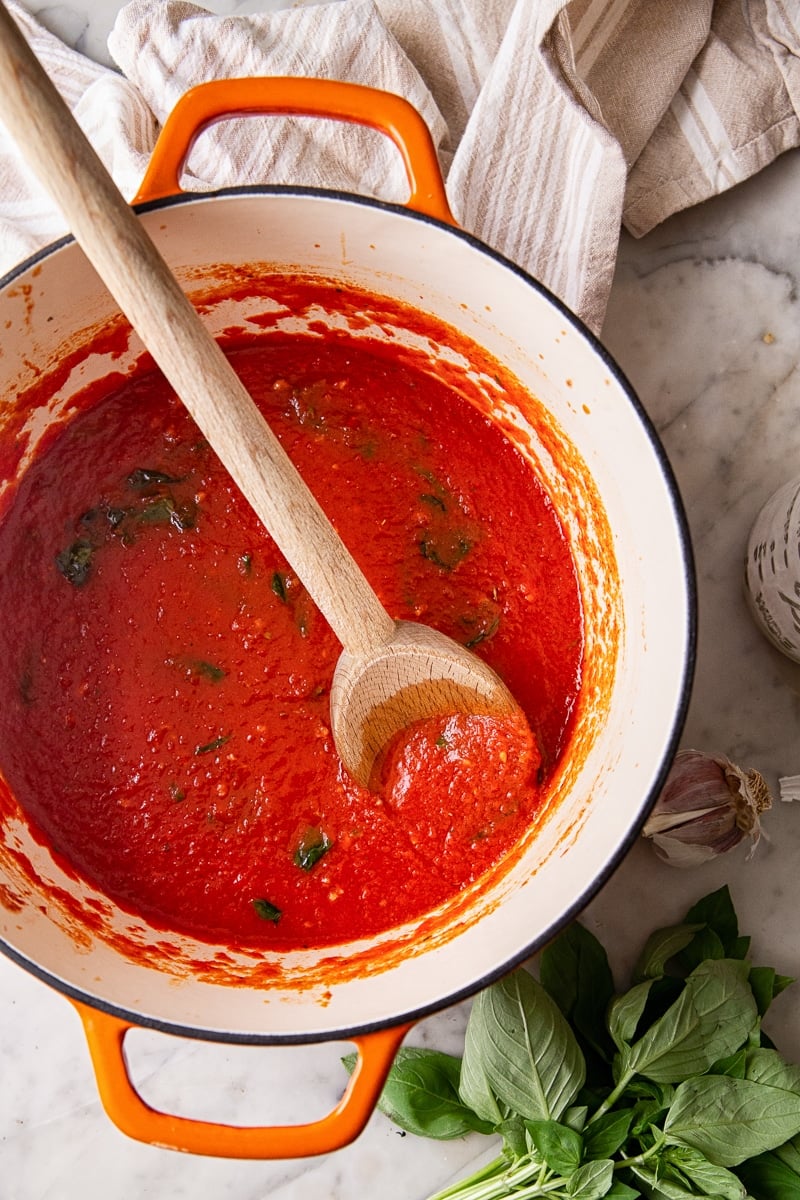 Secret to the best tasting sauce
Simple recipes like this make it so important to start with quality ingredients. If the canned tomatoes are not ripe or lacking flavour, the sauce will not be impressive.
The secret to good sauce, then, is the best quality canned tomatoes like the ones that come from Italy, where they use ripe and fresh tomatoes.
Tomatoes from the best quality cans are fully ripe and bursting with flavour, which will all go into your sauce and make it off the scale delicious!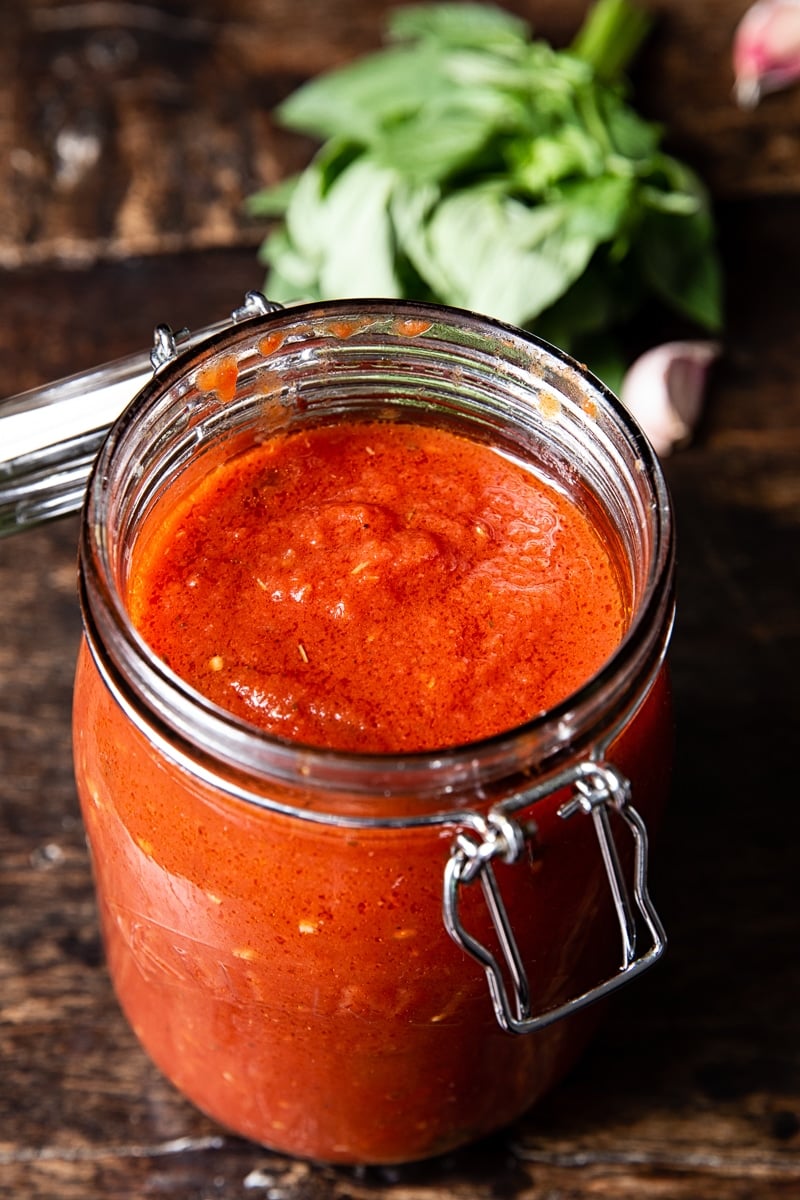 If you can afford it, don't buy the cheapest canned tomatoes! Be a bit more picky when it comes to your food, go for quality, not quantity and you will discover how much easier cooking is!
Truth is quality ingredients do all the cooking for you for you! It's truly magical.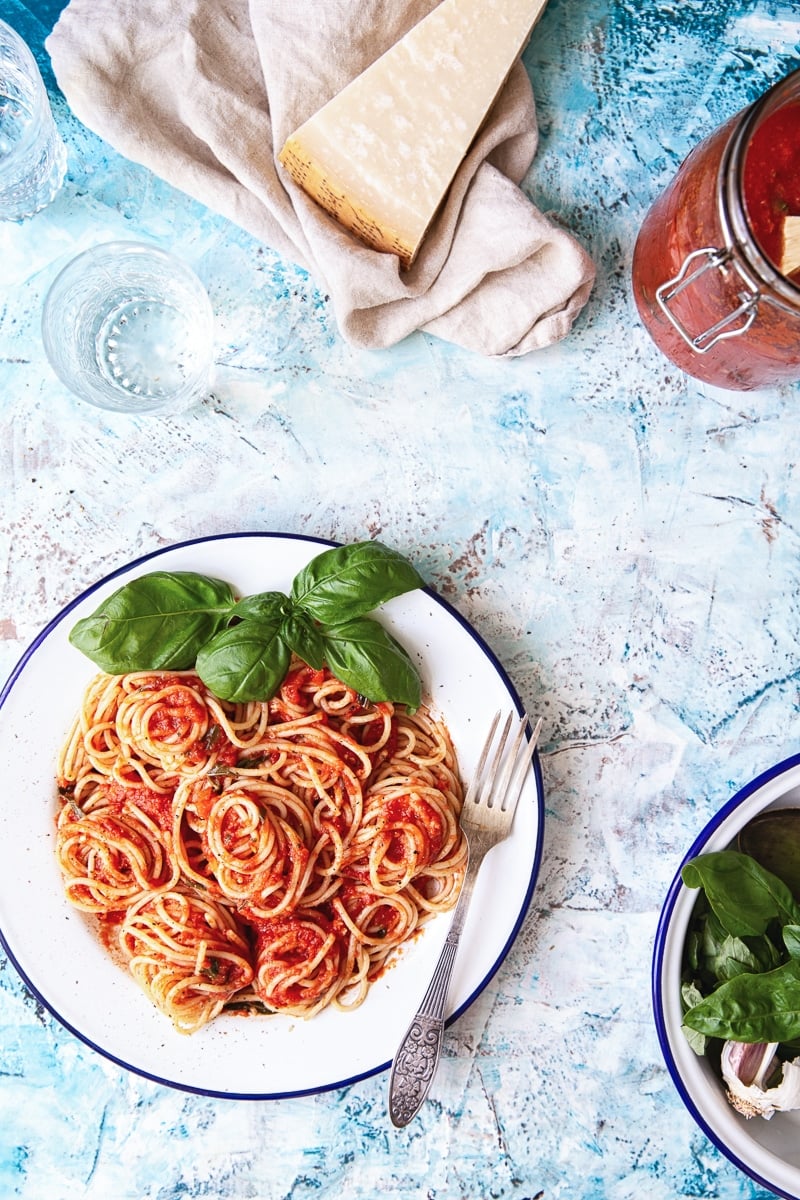 Homemade spaghetti sauce
The sauce I am sharing today is basic, with only 6 ingredients. It's sweet and fragrant with NO SUGAR added, which makes it so much better than most canned sauces!
So many store-bought causes have added sugar as they don't use quality tomatoes and have to add sweetness to their sauces somehow. Added sugar is used to compensate, but it's not a great approach.
I don't want added sugar in my spaghetti sauce. I want it to come naturally from sun-ripened tomatoes!
Once you have a sauce like this in your cupboard, there are an infinite number of uses for it. It will stand on its own when coating any pasta, or can be used with meatballs, chicken, or anything you want!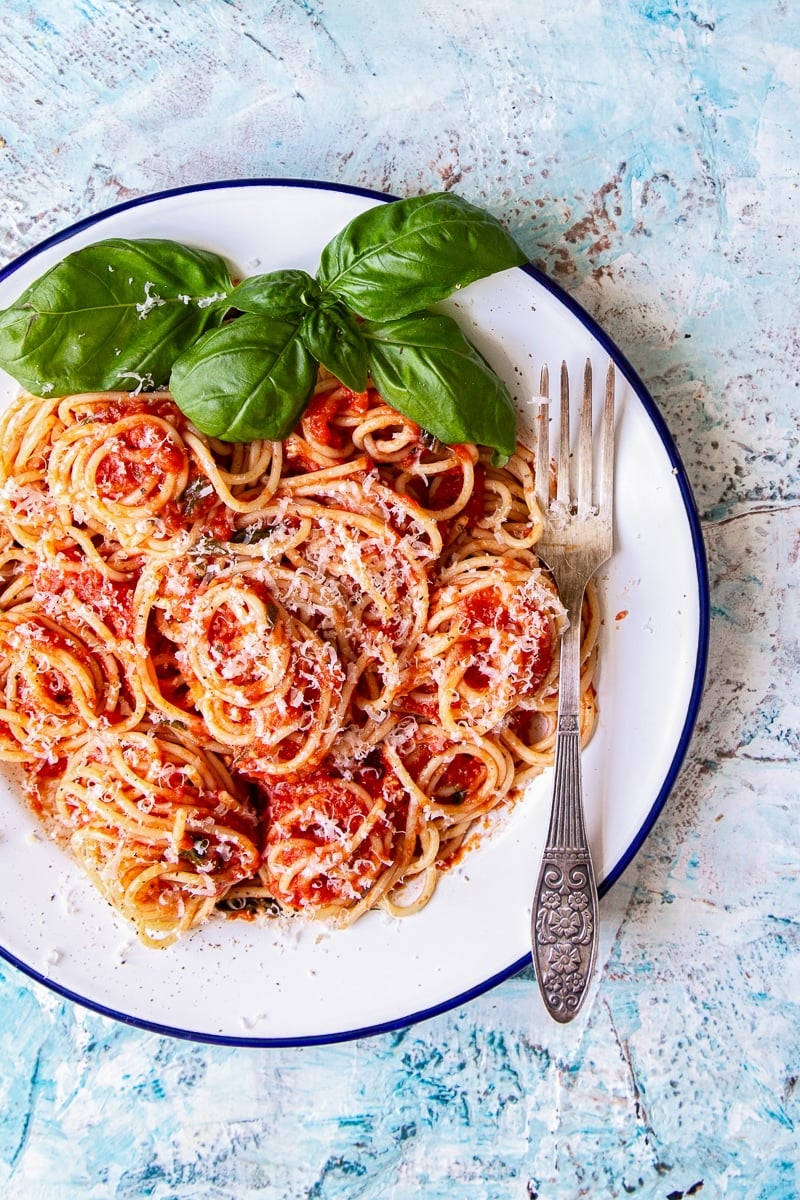 More pasta recipes
We have lots more fantastic pasta recipes including: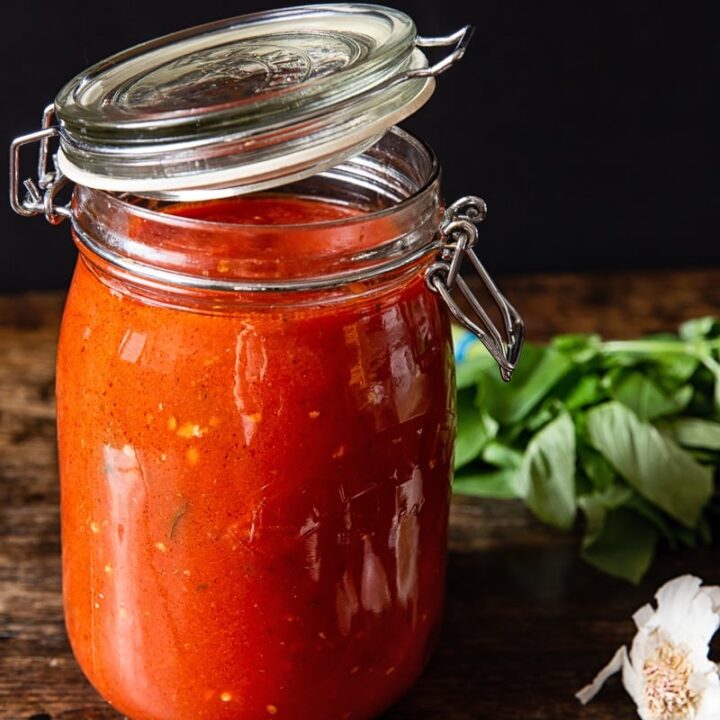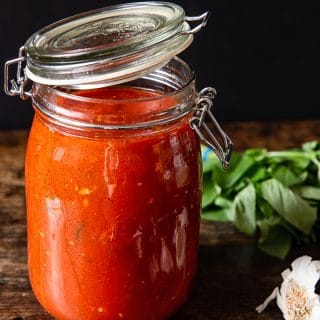 Homemade Tomato and Basil Spaghetti Sauce
Quick tomato and fresh basil pasta sauce.
Print
Pin
Rate
Ingredients
4

tbsp

olive oil

extra virgin

6

cloves

garlic

minced

¼ cup/ 25g

chopped basil leaves

fresh

1

tsp

dried oregano

3x14oz/400g

canned tomatoes

good quality

½

tsp

salt
Instructions
Process chopped tomatoes in a food processor for a smoother texture or use crushed tomatoes or passata. (Alternatively you can skip this step for a chunky spaghetti sauce.)

In a large pot heat the olive oil over low heat, add minced garlic and chopped basil and stir for no longer than 10-20 seconds. Do not let them burn or they will turn bitter.

Add tomatoes, dried oregano and salt, bring to a boil and let it simmer over very low heat for 7-10 minutes.

Cool and store in a clean jar or divide and freeze for a later use.
Nutrition
Calories:
43
kcal
|
Fat:
4
g
|
Sodium:
97
mg
|
Potassium:
6
mg
|
Vitamin C:
0.5
mg
|
Calcium:
4
mg
|
Iron:
0.1
mg