This 5 minute and 4 ingredient ravioli sauce will make you believe you are eating out in the best of restaurants. Creamy sauce flavoured with sun-dried tomato pesto, garlic and basil comes together in a flash!
If you are looking for an even easier recipe, check out my basic creamy pasta sauce.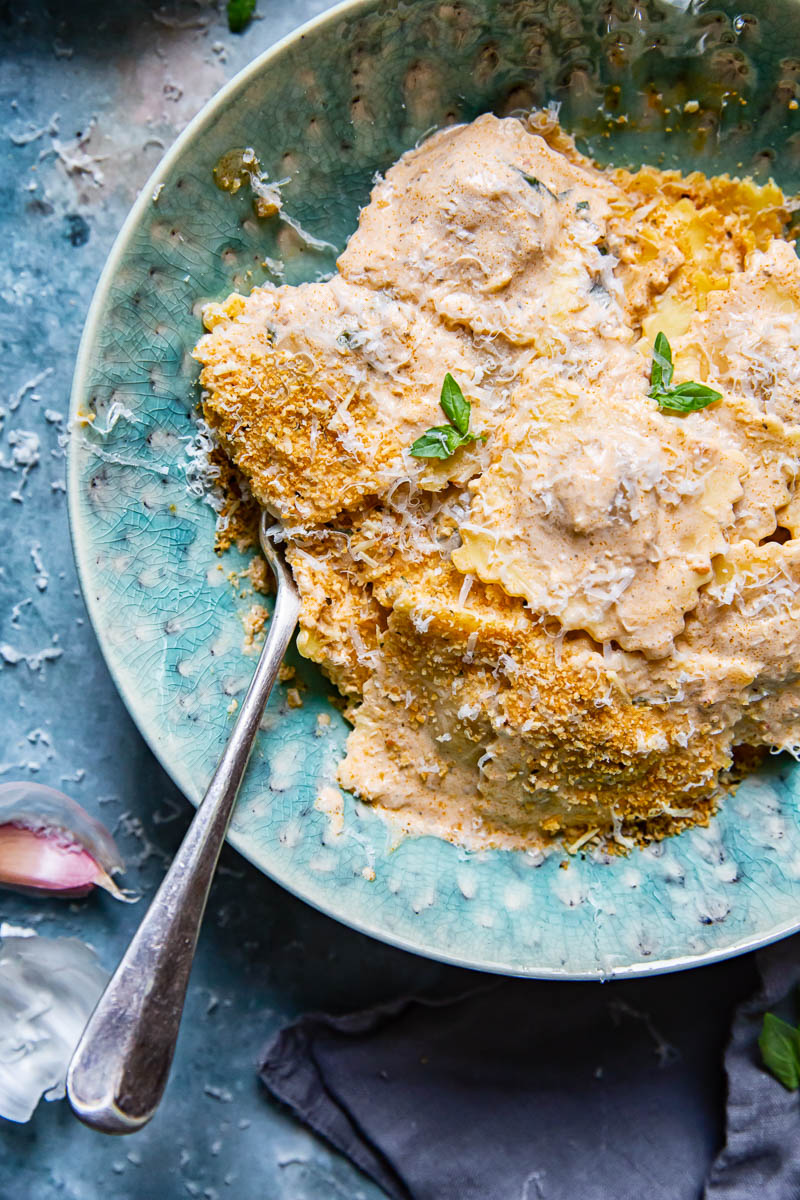 If you are anything like me, you rely on quick and filling pasta dishes on busy weeknights. They are delicious, always popular with kids and adults alike. They are also economical.
Filled pasta like ravioli and tortellini is even better since they are packed with flavour. Still it's nice to have a sauce to smother over, especially when it snowing or raining outside.
What kind of sauce goes with ravioli?
It really depends on your personal preference as well as the stuffing inside your ravioli.
For cheese stuffed ravioli like spinach and ricotta, which happens to be my son's favourite, I go for a simple cream sauce. 3 ingredients and everyone is thrilled with the result.
For meat stuffed ravioli, like bolognese ravioli, I usually make a quick tomato and basil sauce. Even cheaper and healthier.
I've also made a Butternut Squash Ravioli Sauce with an incredibly punchy flavour!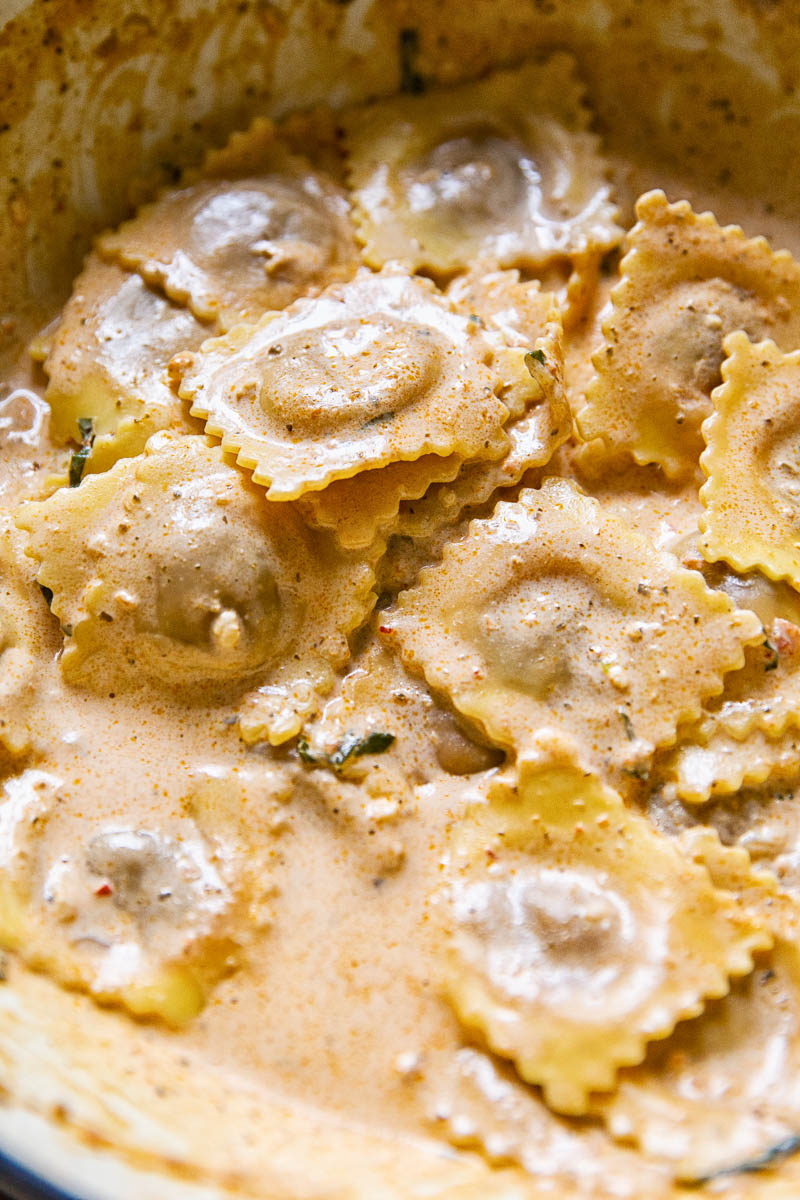 But what about those times when you can't decide and you want both. You want it creamy but not bland. You want a nice tomato, basil and garlic sauce but you still want it to be smooth and luxurious!
For those times I developed my favourite ravioli sauce. It combines the best of two worlds.
How to make quick ravioli sauce
As you might've guessed this sauce combines two classic sauces. Cream sauce and tomato sauce.
But to intensify the flavour even more, instead of using regular diced tomatoes I opted for a few tablespoons of sun-dried tomato pesto.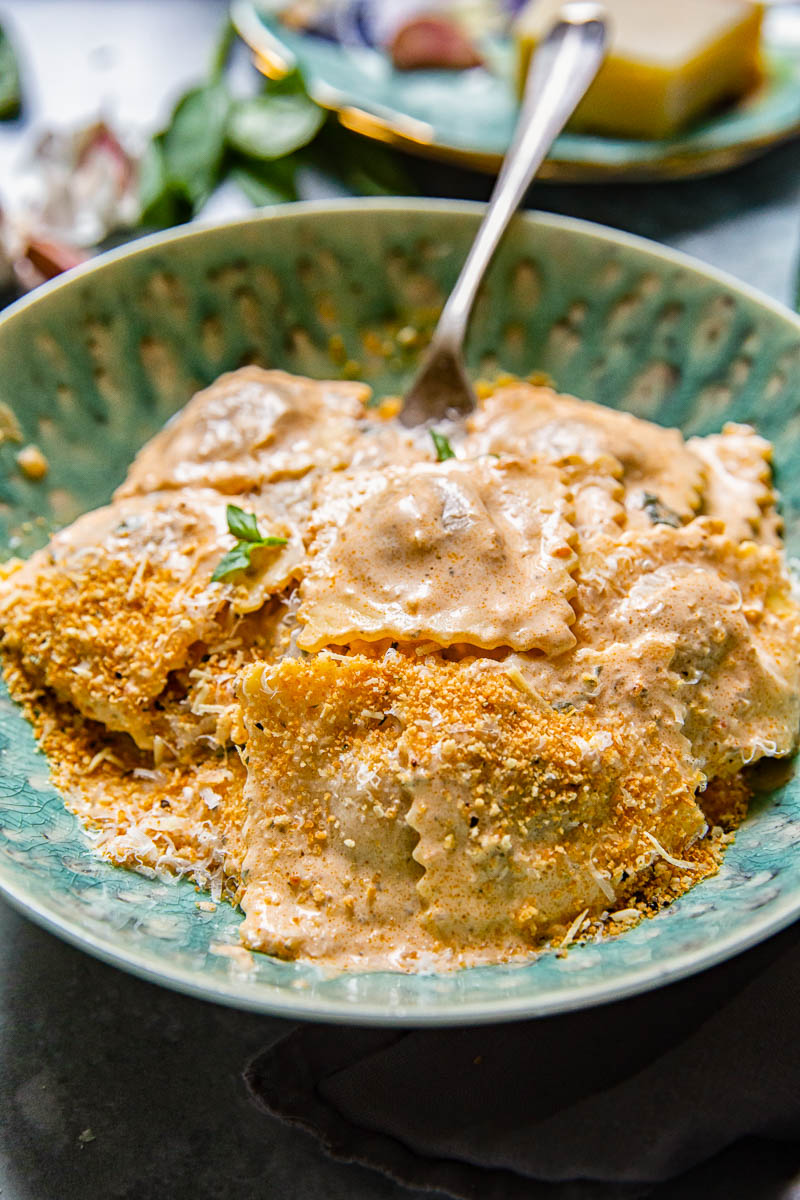 The beauty of this sauce is in its creamy yet slightly tangy flavour, perked up by a touch of garlic and fresh basil.
What is even more enticing about this sauce is how quick it is to make! No longer than 5 minutes. Just as long as you need to cook your fresh ravioli. Winner.
It is, of course suitable for any kind of filled pasta like tortellini, tortelloni, mezzelune, etc.
And if I am completely honest, you can use this sauce with chicken. With an addition of spinach or your favourite vegetable this simple recipe becomes a quick and protein-packed dinner in hurry.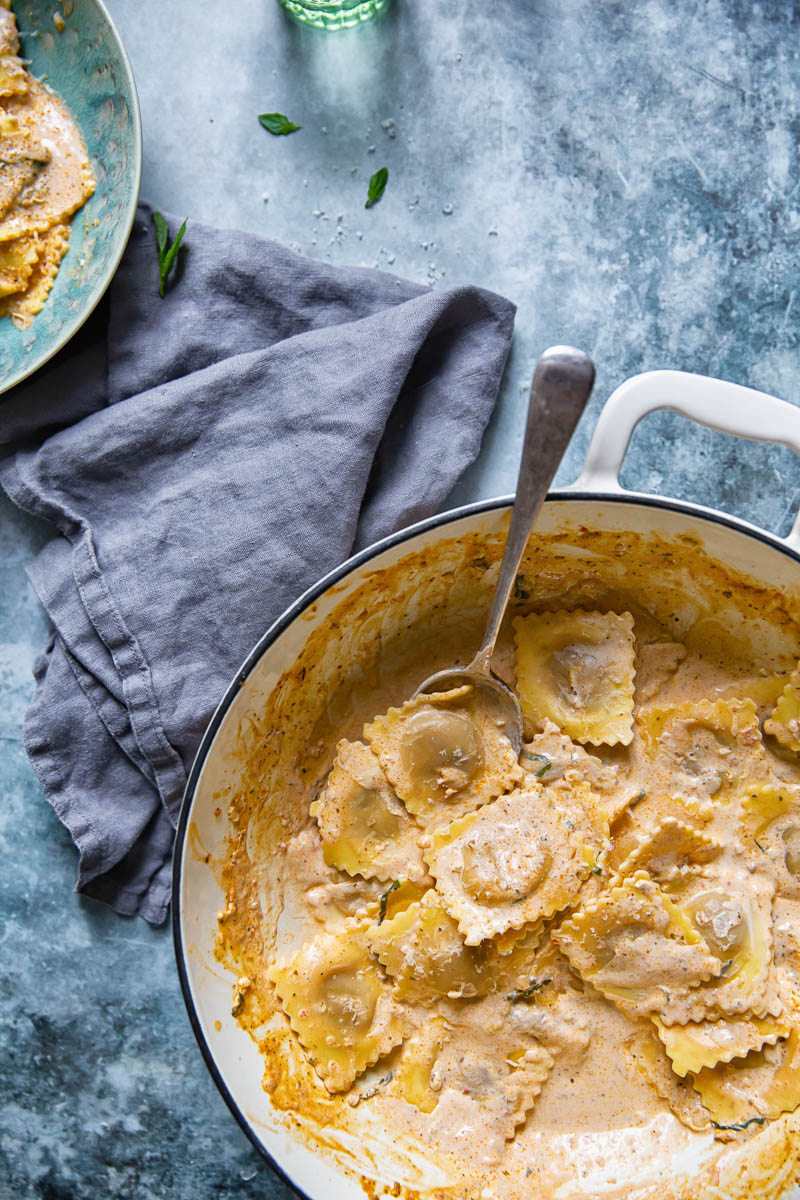 Variations and substitutions
You can use plain tomato paste or sun-dried tomato paste instead of sun-dried tomato pesto. Needless to say you are welcome to experiment with various pesto flavours, which will create endless variations. One of my favourites are basil pesto, Tuscan kale pesto or fiery red chilli pesto.
Dried basil can be used in place of fresh basil.
For a light ravioli sauce I use light/single cream. You can also successfully add heavy cream, creme fraiche or even Greek yogurt. If using creme fraiche or Greek yogurt, make sure to add them over very low heat to prevent the dairy from splitting.
Serving Suggestions
Italians eat their pasta as a first course, which is followed by a meat and vegetable course. This means their portions are much smaller to accommodate for a multi course dinner.
Ravioli is a hearty dish, especially with a creamy sauce, and filling all on its own. There's no need to add chicken or other meat on the side, especially if the ravioli have a meaty filling.
All this dish really needs is a fresh green salad on the side. Or make a complete Italian meal by serving with a lovely Caprese Salad!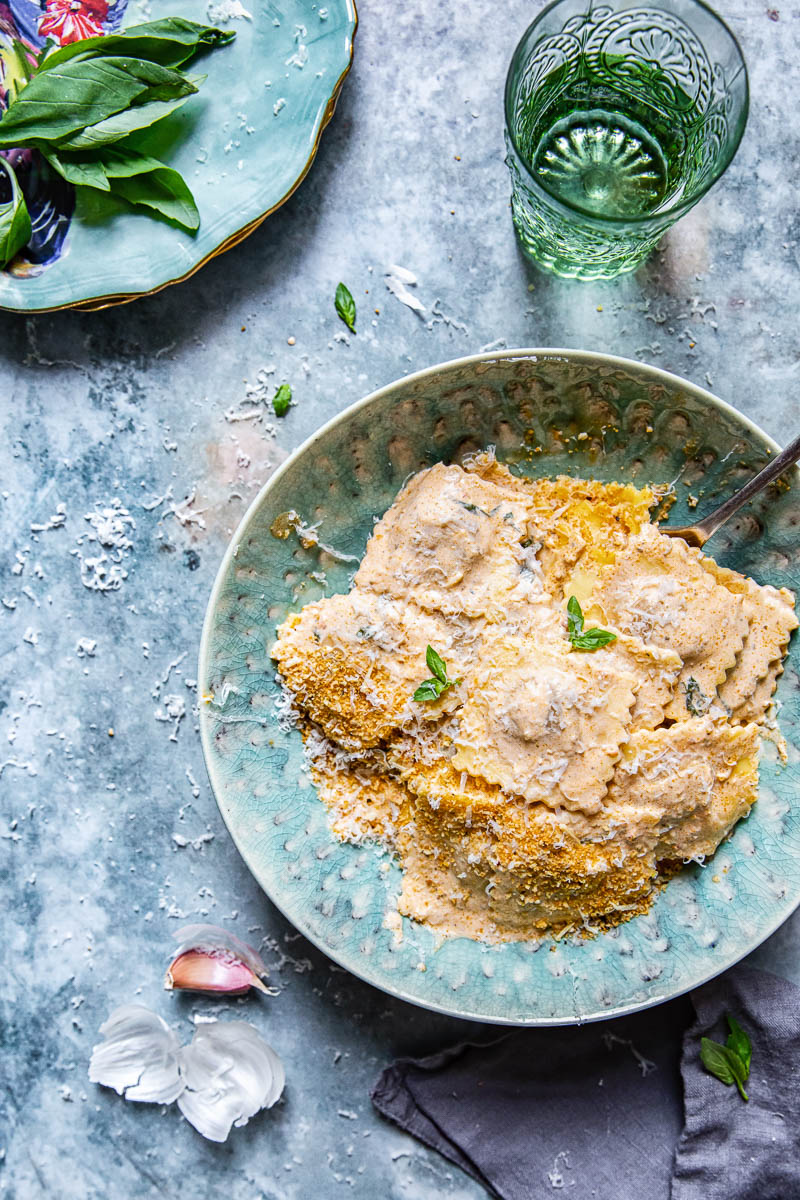 Serving restaurant style!
You can always dress up your plate a little not only to increase the visual appeal but also to intensify the taste and flavour.
You can do something very simple like grating fresh Parmesan cheese and adding fresh basil to each bowl of ravioli with some black pepper.
Or you can add a sprinkling of herb and garlic breadcrumbs or as Italians call them pangrattato, which elevates this dish to another level. Who doesn't love breadcrumbs in general but in this case, they add more flavour and texture!
More quick pasta recipes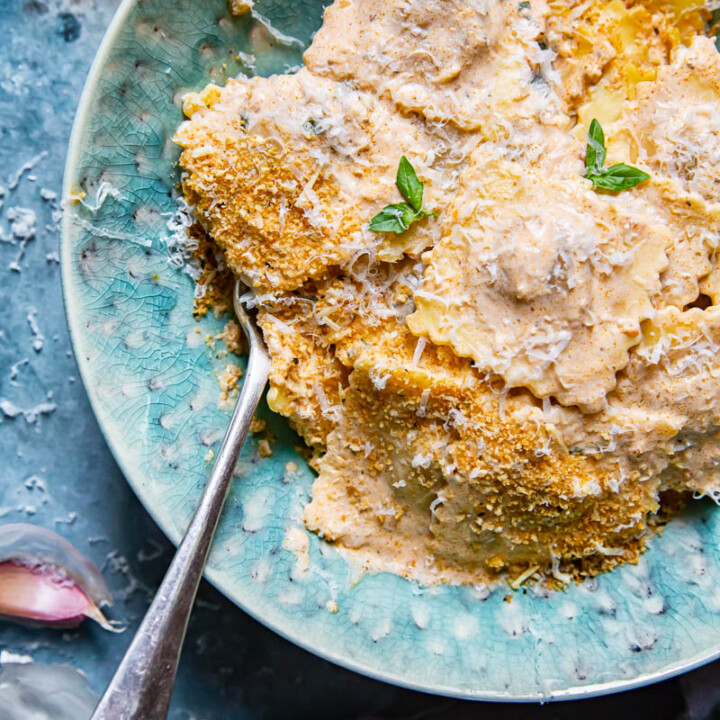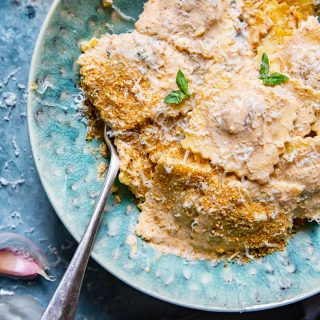 5 Minute Ravioli Sauce
This 5 minute and 4 ingredient ravioli sauce will make you believe you are eating out in the best Italian restaurant.
Ingredients
3

tbsp

sun-dried tomato pesto

I used Scala brand or Delallo in the US

1

clove

garlic

minced

3-4

fresh basil leaves

sliced

125ml/1/2 cup

light/single cream

20% fat content for US readers

125ml/1/2cup

reserved pasta water

salt

to taste

pepper

to taste

Parmesan cheese to serve
Instructions
Cook the ravioli according to package directions.

Start the sauce immediately after you add the ravioli to the boiling water. Add sun-dried tomato pesto and garlic to a frying pan over low heat, stir, then add sliced basil leaves and cream, let it simmer for 1-2 minutes.

When the ravioli is cooked, drain but reserve ½ cup of water. Add the ravioli with half of the water directly to the pan with the sauce. Toss to combine and season with salt and pepper to taste. Add the rest of the water only if the sauce is too dry. Serve with freshly grated Parmesan cheese.
Nutrition
Calories:
111
kcal
Carbohydrates:
3
g
Protein:
1
g
Fat:
11
g
Saturated Fat:
6
g
Cholesterol:
36
mg
Sodium:
116
mg
Potassium:
30
mg
Fiber:
1
g
Sugar:
1
g
Vitamin A:
405
IU
Vitamin C:
1
mg
Calcium:
32
mg
Iron:
1
mg