This quickly pan-fried salmon fillet pairs beautifully with homemade basil pesto. Fresh and vibrant combination of flavours!
Serve this dish with our Crispy Air Fryer Potatoes and roasted asparagus.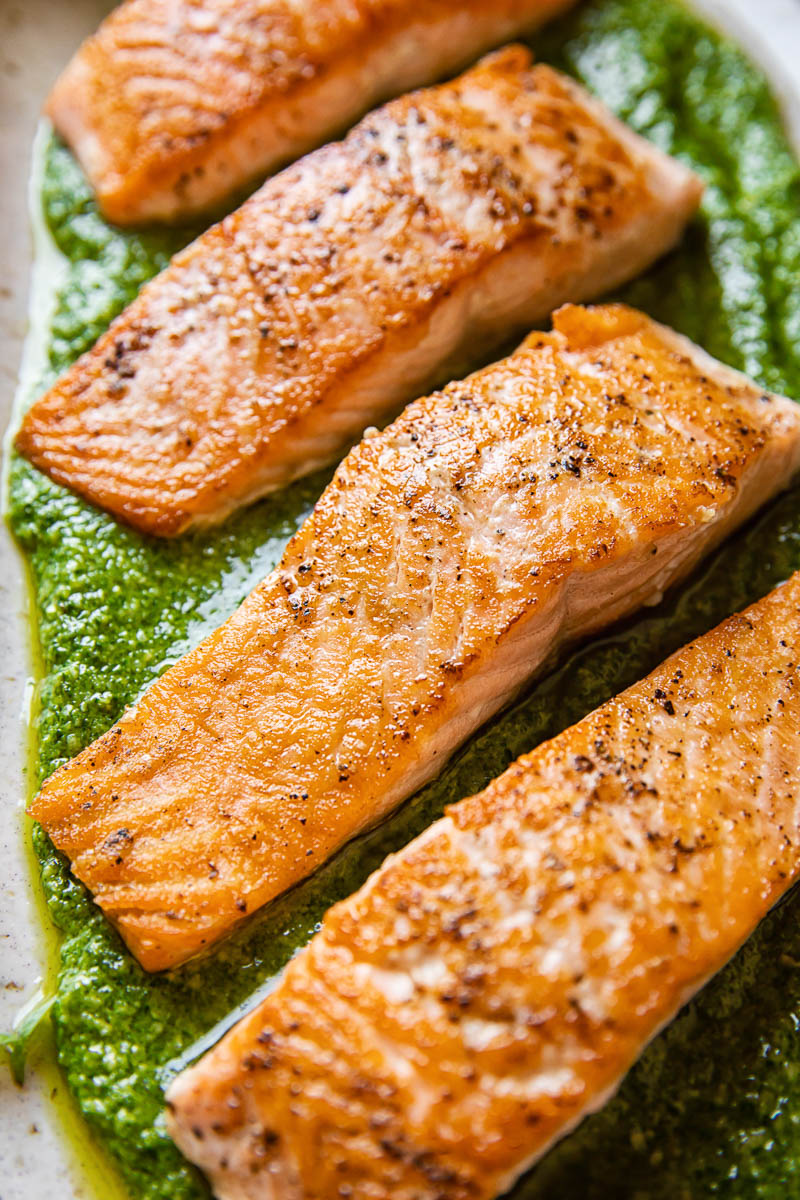 Let me introduce you to a quick weekday meal, that also wouldn't be out of place for special occasions! Pan-fried salmon fillets served with freshly made basil pesto. These two classic recipes compliment each other beautifully.
Salmon is often served with creamy sauces, which are delicious. But I also think fish, as rich in fatty acids as salmon, tastes great when paired with vibrant herb-based sauces. Pesto is a perfect example of such pairing, especially when it's freshly made at home.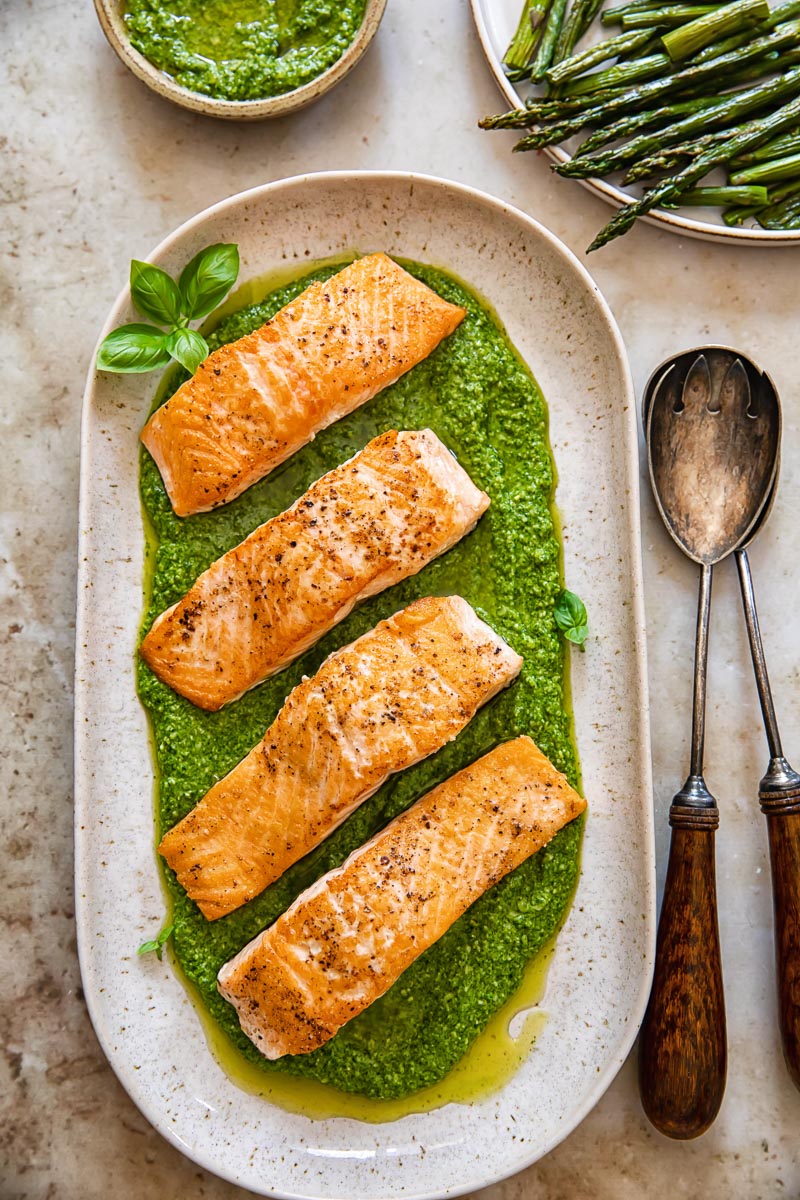 I have to admit I wasn't the first one to think of combining salmon and pesto together. Many recipe writers recommend slathering pesto on top of raw salmon, then baking it.
And while I think it tastes nice enough, I am not a fan of the texture of baked pesto. It turns into a greyish crust on top of the salmon. Not the most appetizing thing to look at!
Fresh pesto, on the other hand, is an eye candy and an absolute joy to pour over pretty much anything! It also takes about 5 minutes to make in a food processor or blender.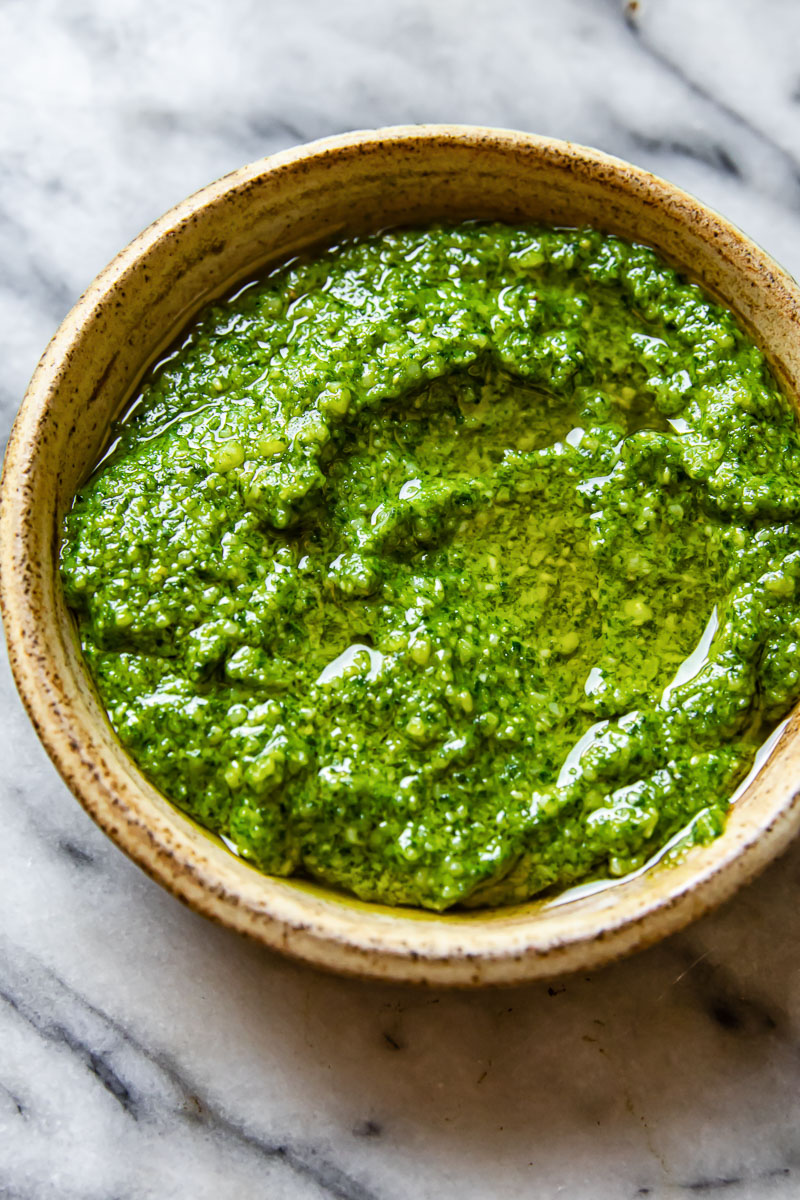 Pesto Recipe
The classic pesto recipe uses fresh basil, pine nuts and Parmesan cheese as anchor flavours. It's made into a sauce by adding lemon juice and generous amount of good quality olive oil. If you don't feel like making your own, jars of pesto are readily available in all supermarkets.
Basil pesto sauce is primarily used in pasta dishes. This Pesto Pasta with Grilled Chicken is a great example. You can vary the classic recipe a bit without altering the taste by using different nuts like almonds.
Using basil pesto to add flavour to chicken dishes is a great shortcut in the kitchen. So much flavour is packed in those little pesto jars. Just a few spoonfuls can alter the dish for the better.
But if you are feeling more adventurous, go ahead and change the recipe a lot! You can come up with something entirely different using the same basic pesto making principle.
That's how I came up with my Zesty Spinach Pesto. It could be used in the same way as basil pesto or you can use it to flavour a potato salad! Or you can make Mint Pistachio Pesto and serve it on top of a whipped feta dip.
Finally, let me mention my favourite cooking trick. Sun-dried tomato pesto, which has a completely different flavour profile. It also pairs well with fish.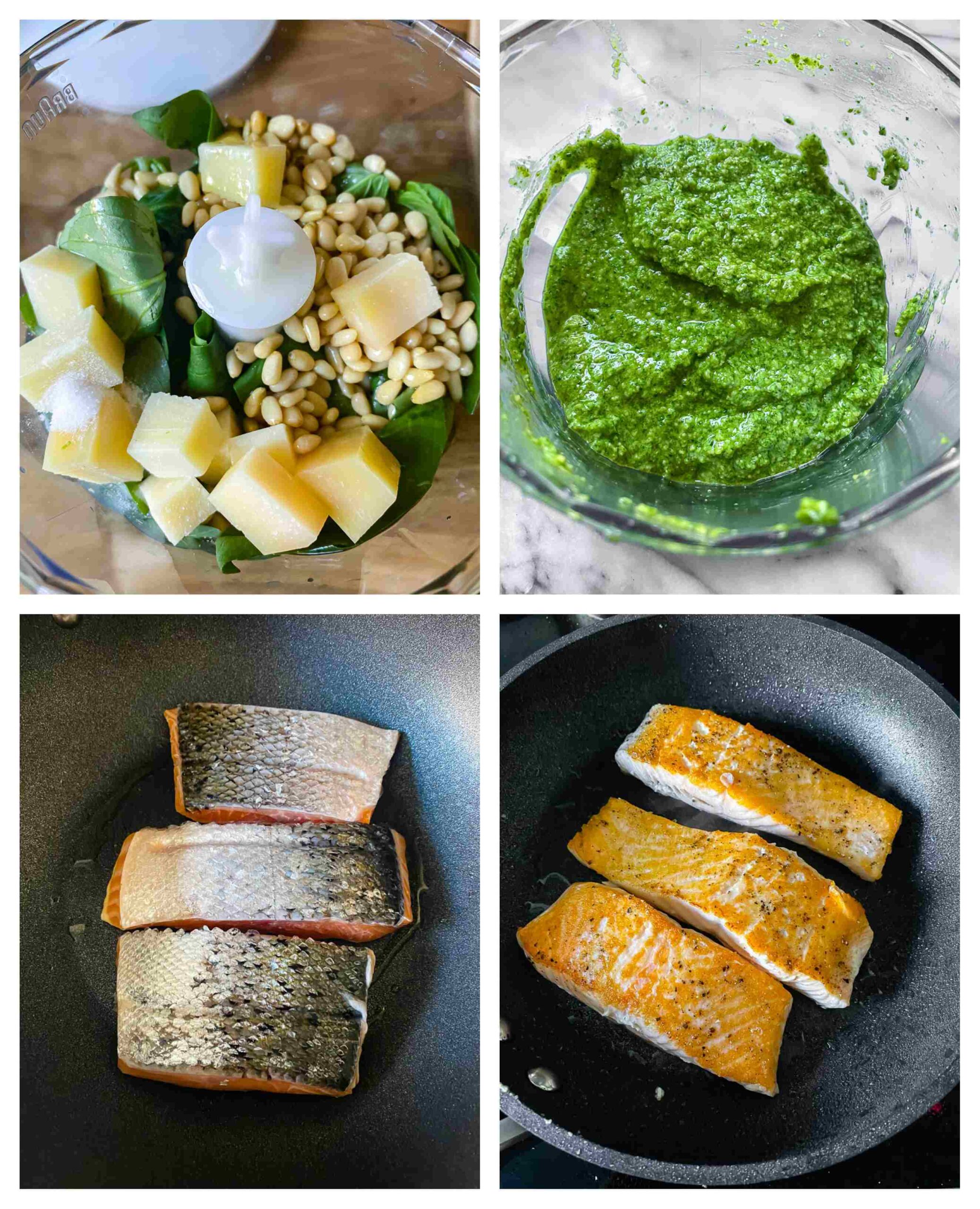 Recipe Tips and Notes
Although prepared pesto is ubiquitous in supermarkets, this recipe does need freshly made pesto to taste its best. In the very least, if you are pressed for time, purchase freshly made pesto in the deli section of your store. It will taste miles better than jarred pesto.
The same goes for the cheese. I beg you not to use pre-grated stuff. It just won't do.
If pine nuts are not available or too pricey, feel free to substitute them with almonds.
Don't be afraid to adjust the seasoning of pesto to your taste. I always start with a pinch of salt added to the food processor, then add more salt at the end.
Finally, pan frying salmon is a quick and easy way of preparing it. Pan-frying ensures you get that restaurant worthy, crispy exterior, which isn't the case when baking salmon in the oven.
Salmon fillets only take about 10 minutes to pan fry. If your pieces are particularly large and thick, they will take a bit longer. To speed up the process, cover your frying pan with a lid for a few minutes at the very end of cooking. If you don't have a lid for the pan, you can place a cookie sheet on top. The steam will finish the job for you.
Favourite Salmon Recipes to Try: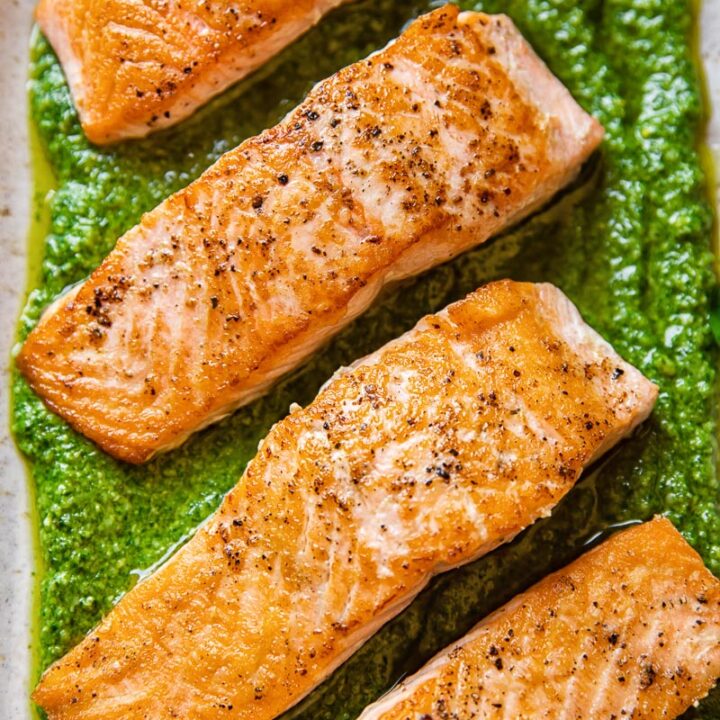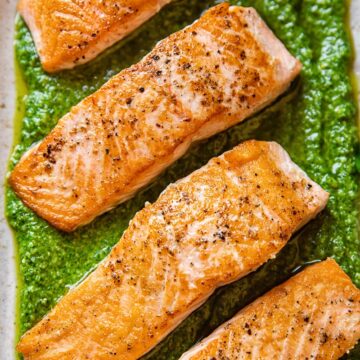 Salmon with Basil Pesto
This quickly pan-fried salmon fillet pairs beautifully with homemade basil pesto. Fresh and vibrant combination of flavours.
Equipment
1 food processor or blender
Ingredients
50g/2 ½ cups

fresh basil

50g/1/3 cup

pine nuts

50g/2 oz

Parmesan cheese

cubed

110ml/1/2 cup

extra virgin olive oil

1

lemon, juice only

1

clove

garlic

salt to taste

6

salmon fillets

salt and pepper

1

tbsp

olive oil for frying
Instructions
In a food processor or a blender combine the fresh basil, pine nuts, cubed Parmesan cheese, pressed garlic clove and the juice of one lemon. Process until smooth. With the motor of the food processor still running pour in the olive oil through a chute and process for 10-20 seconds longer. Turn the food processor off and taste the pesto, add a pinch of salt if necessary. Set aside till needed.

Season the salmon with salt and pepper on both sides. Heat 1 tbsp of olive oil in a non-stick frying pan. Place the salmon fillets in hot oil skin side up and sear on medium heat for 5 minutes or until the fish forms a crispy and golden crust, then flip it over with a pair of tongs and continue cooking for 4-5 minutes longer or until the salmon flesh looks opaque. If both sides are sufficiently crispy but the fish still looks undone, cover the pan with a lid and let it cook for 2-3 minutes, the steam will finish the job for you.

Spread half of the basil pesto on a serving platter, then place the pan-fried salmon fillets on top. Serve with lemon slices if desired. (Reserve the other half of the pesto for another use.)
Nutrition
Calories:
370
kcal
Carbohydrates:
1
g
Protein:
36
g
Fat:
24
g
Saturated Fat:
4
g
Polyunsaturated Fat:
7
g
Monounsaturated Fat:
11
g
Cholesterol:
96
mg
Sodium:
1305
mg
Potassium:
881
mg
Fiber:
1
g
Sugar:
1
g
Vitamin A:
322
IU
Vitamin C:
3
mg
Calcium:
80
mg
Iron:
2
mg