How about this fresh and exciting whipped feta and ricotta dip with mint pistachio pesto for your holiday table?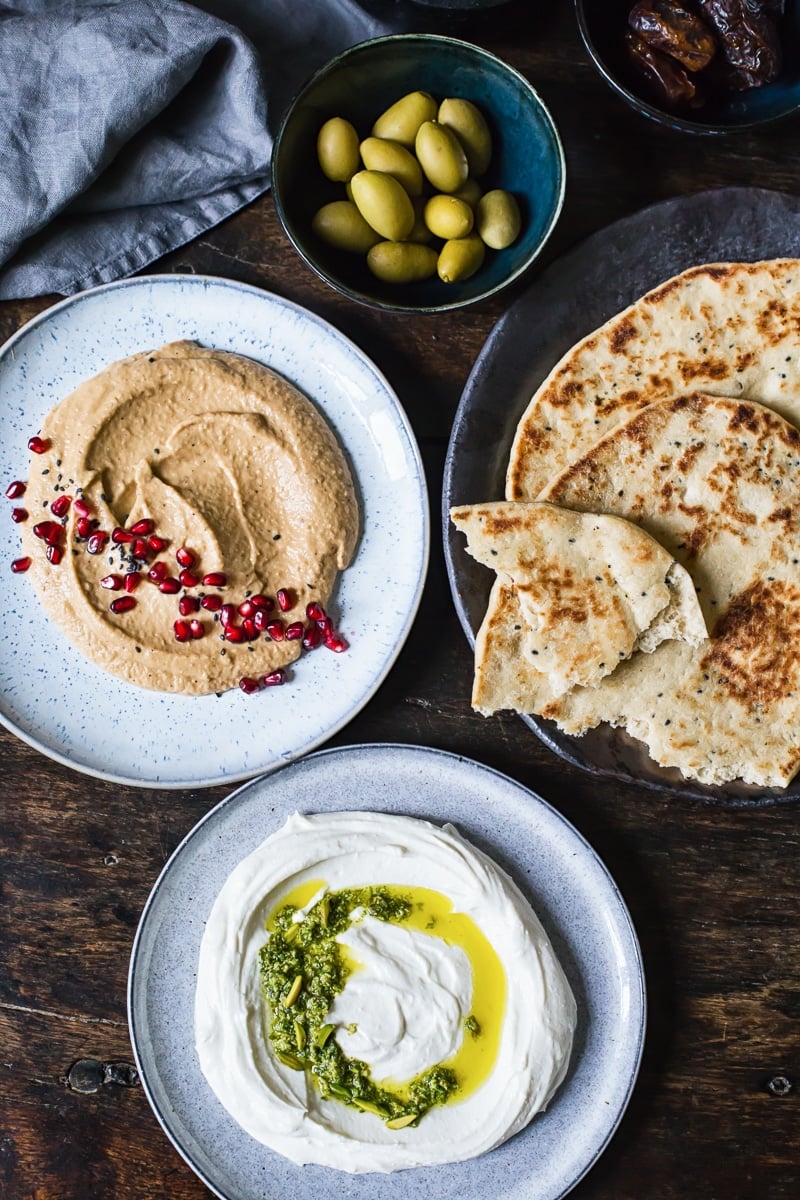 On Sunday I woke up with the realisation that the holiday season is upon us whether I am ready or not. I haven't done any Christmas shopping or planning and it's very much unlike me.
So in order to remedy the situation I reached out to you my readers, and asked what ideas you are looking for. I talked to you in my Facebook group and in my Instagram stories, and a lot of you said that you are looking for new appetizers and nibbles. Also, festive cocktails.
That made me almost giddy with excitement because tasty party food is what holidays are all about!
On that note, I decided to bring to you this Middle Eastern mezze spread. Middle Eastern food is everywhere in London and people can't get enough! And why would they?!!
Fresh and exciting flavours and a super fun way to eat since 'mezze' is another word for a small dish…an appetiser of sorts, widely used in Middle Eastern and Mediterranean cuisines, which cross over quite a bit by the way.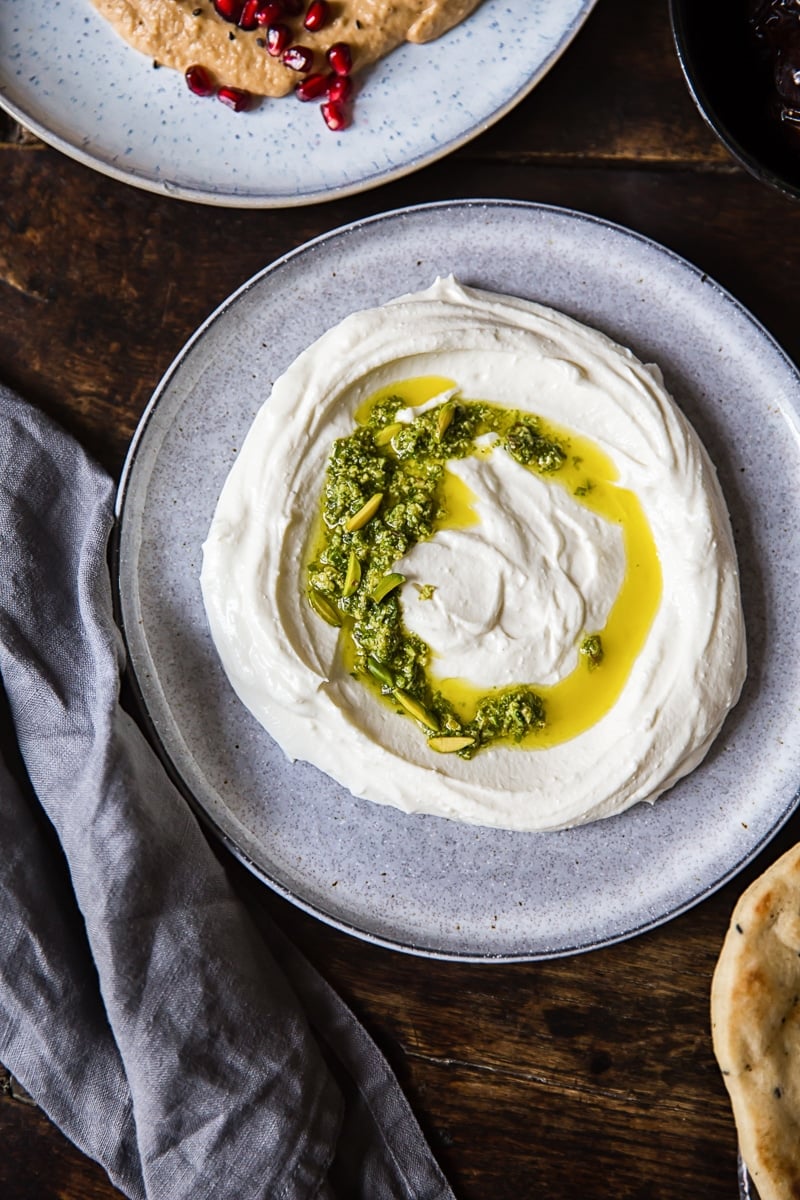 This kind of spread might sound a bit exotic but is easier to put together than you think! We all know and love hummus, right? Hummus definitely belongs here and here is one of my favourite recipes for it.
Another great mezze that would work here and the one you see in the photo is smoky baba ganoush. I've shared the recipe for it here and here. Just sprinkle it with a bit of pomegranate seeds for a festive touch and extra texture and flavour!
What I am sharing today is my newest favourite. Whipped Feta and Ricotta Dip with Mint Pistachio Pesto.
I tried something similar in a restaurant and was determined to recreate it at home. I don't think the version I tried had ricotta but I found it to be less astringent than adding plain yogurt.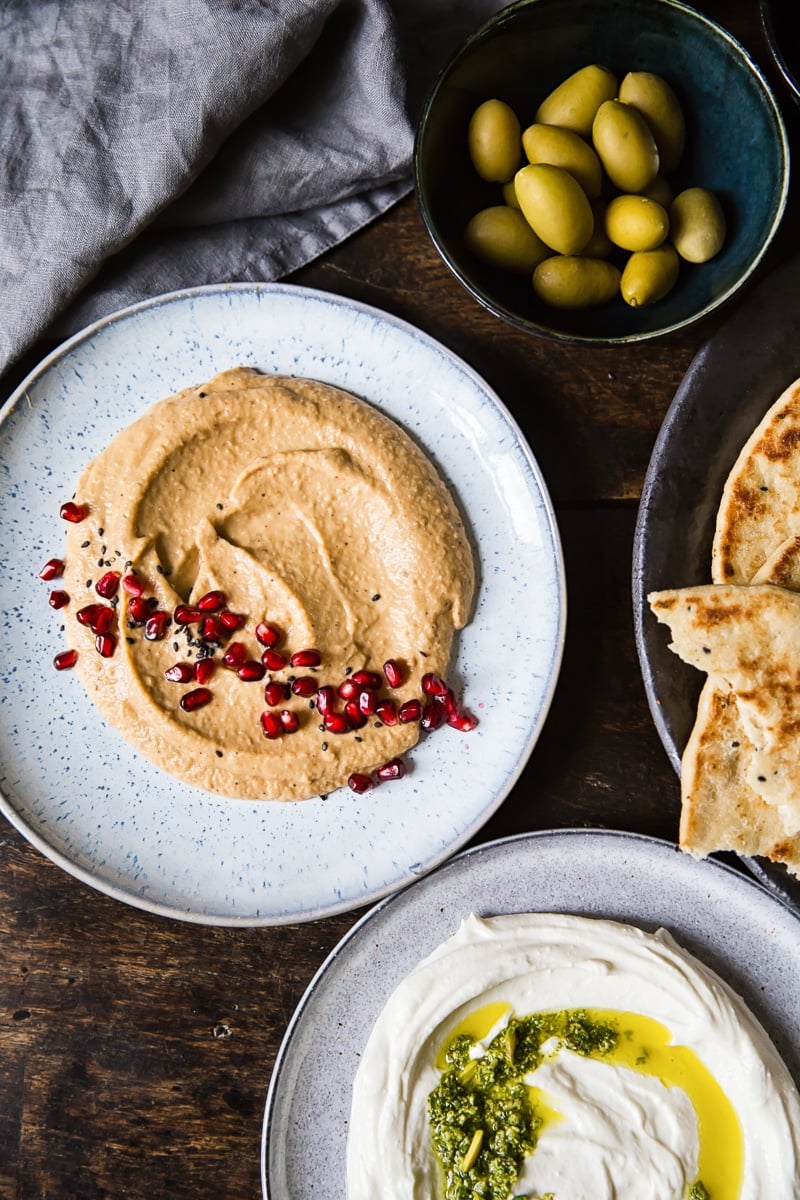 I love feta but I only ever use it as a salad topping, so not very adventurously. Two summers ago in Greece I noticed that feta was taking up a good third of a supermarket on one of our shopping trips. I figured there had to be more ways to include this delicious cheese in my recipes.
This dip is my first attempt to be more creative with feta. I also happened to have two and a half packages of it in my fridge that needed to be used up.
If you find the taste of feta to be too strong, this dip will reveal that feta is more than just salty. Combining it with creamy ricotta and topping with a flavourful mint and pistachio pesto opens up new flavour notes that were missed behind all the salt.
So creamy and velvety smooth this dip served with naan or any other flat bread will not disappoint!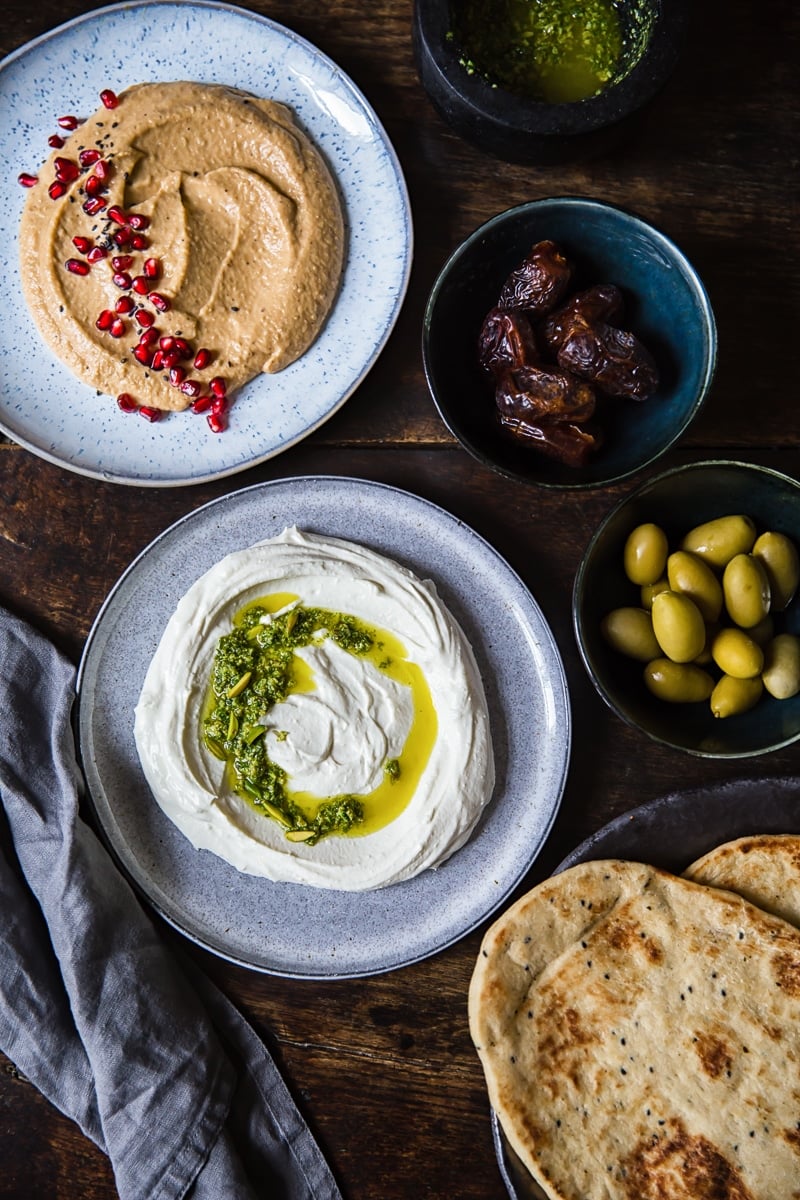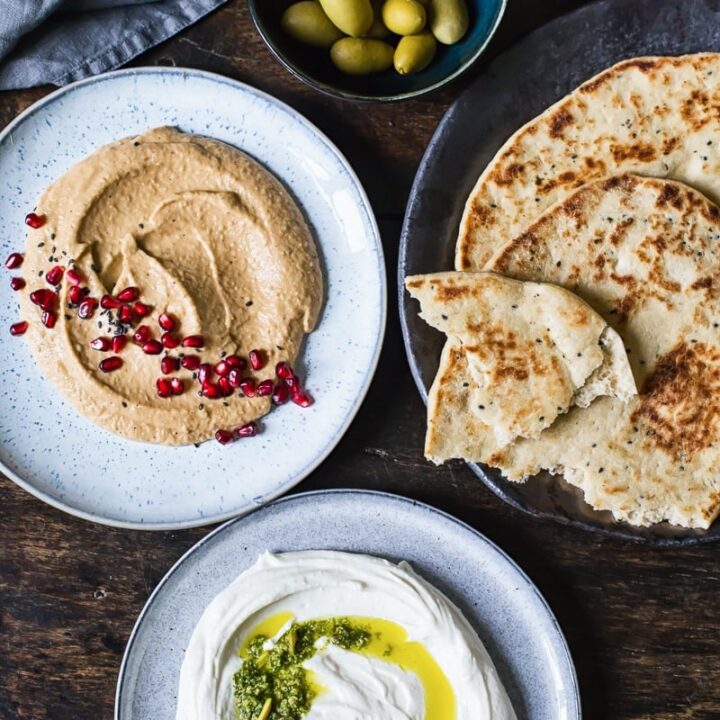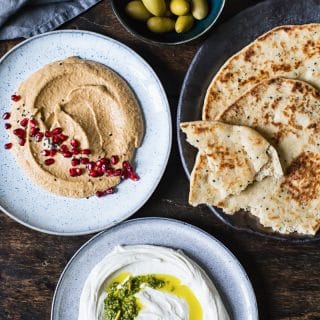 Ingredients
200

g/ 7oz feta

100

g/ 3.5oz ricotta

60

ml/1/4 cup Greek yogurt or sour cream

1

tbsp

fresh lemon juice

salt to taste
For the mint pistachio pesto
1

tbsp

fresh mint

chopped

1

tbsp

+ 1 tsp pistachios

chopped

1

tbsp

lemon juice

¼

tsp

coarse salt

3

tbsp

olive oil
Instructions
In a food processor or a blender combine all the dip ingredients and blend until smooth, salt to taste if needed. (Omit salt if your feta is very salty.)

To make the mint pistachio pesto, combine chopped mint, lemon juice, 1 tbsp pistachios and coarse salt in a mortar and turn them into a paste using a pestle or the back end of a rolling pin, add oil gradually while stirring until you have the consistency of a pesto.

To serve transfer the whipped feta and ricotta dip onto a plate and spoon the pesto over it, sprinkle with the remaining pistachios.