These zucchini fritters with feta are one of the best uses of that glut of zucchini in the summertime!
Serve them as a starter, side dish to your beef or chicken or on its own for a lovely vegetarian dinner.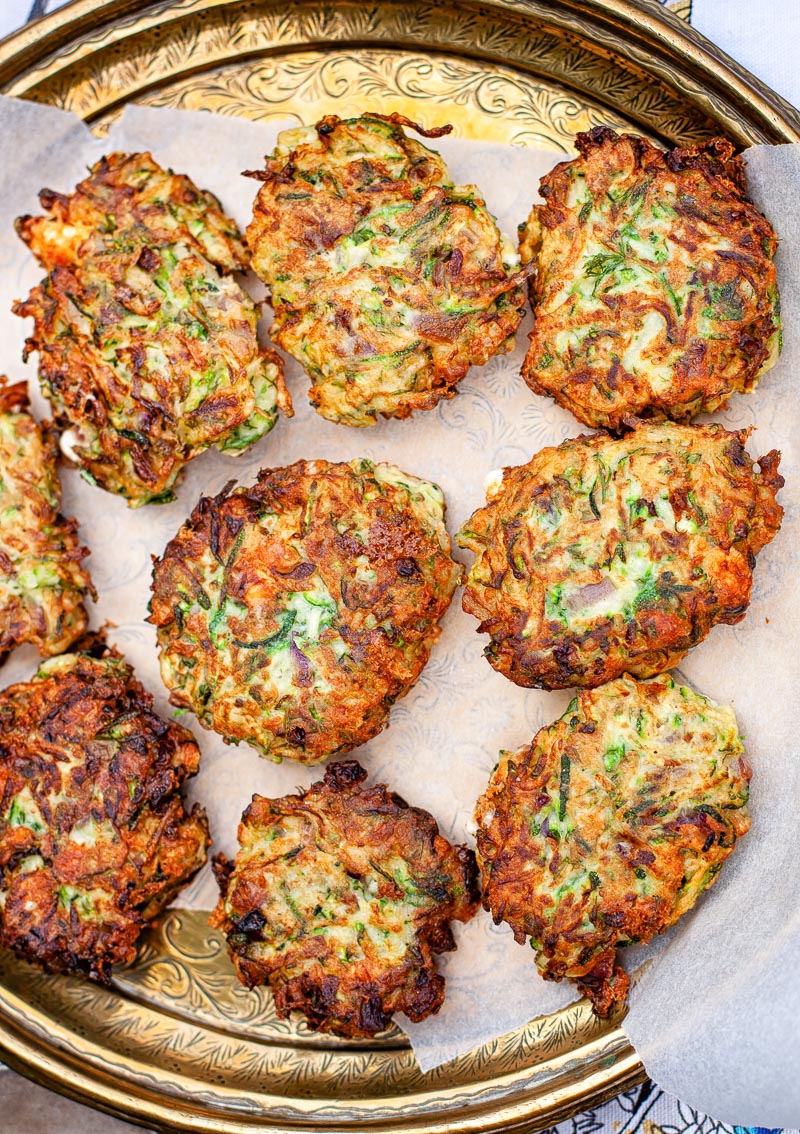 If you find yourself in the food rut, make my zucchini fritters. While zucchini is usually associated with summer food, we all know it is available all year round.
I often just saute it with a little garlic and salt but that gets boring very quickly. It is then when I pull out this recipe for zucchini and feta fritters. Crispy on the outside and studded with salty, briny feta cheese, these little guys are real joy.
You will thank me as soon as have your first bite of these flavour packed zucchini fritters. And again once you have them dipped in a zingy garlic yogurt sauce.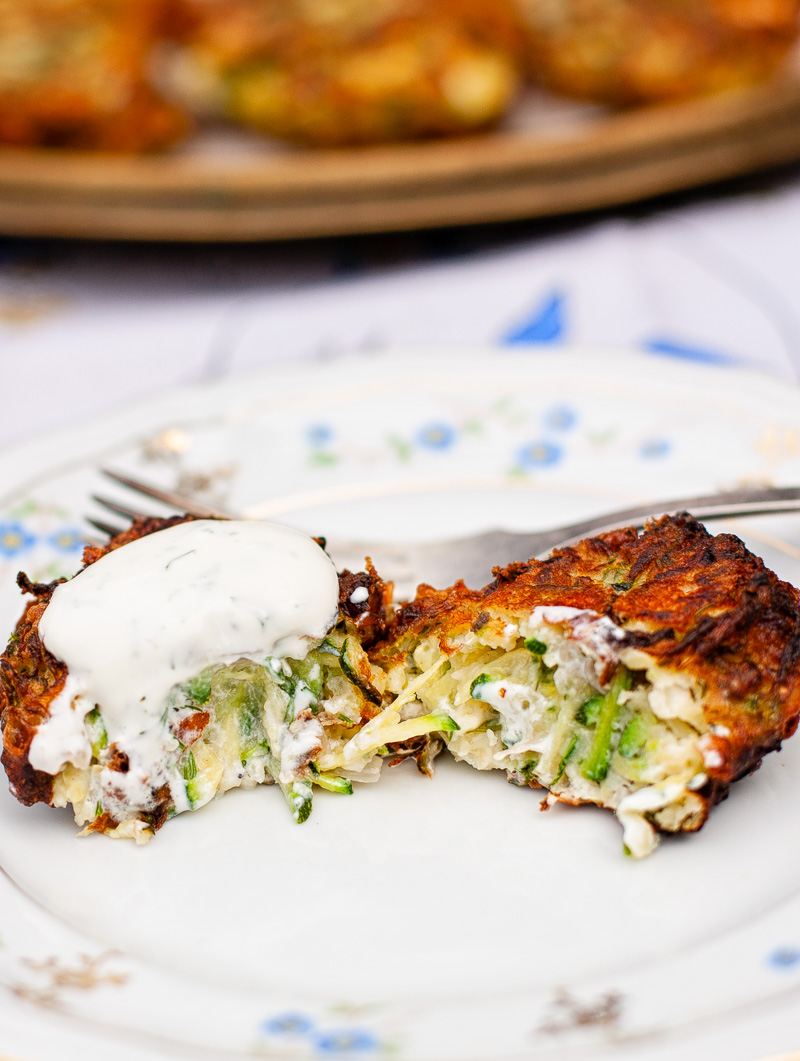 Zucchini Recipes
I love zucchini and use it in my recipes often. They are cheap, abundant in the summer and super versatile. I love that I can use them in both savoury and sweet recipes.
For a tasty and quick dinner I often make creamy Mediterranean pasta with zucchini. These pulled pork sandwiches with carrot and zucchini slaw are absolutely to die for!
My Zucchini Chocolate Muffins are a proof that delicious treats could also pack a healthy punch! The ame could be said about Greek Orzo Salad with Grilled Zucchini or Warm Zucchini Salad. Both are family favourites.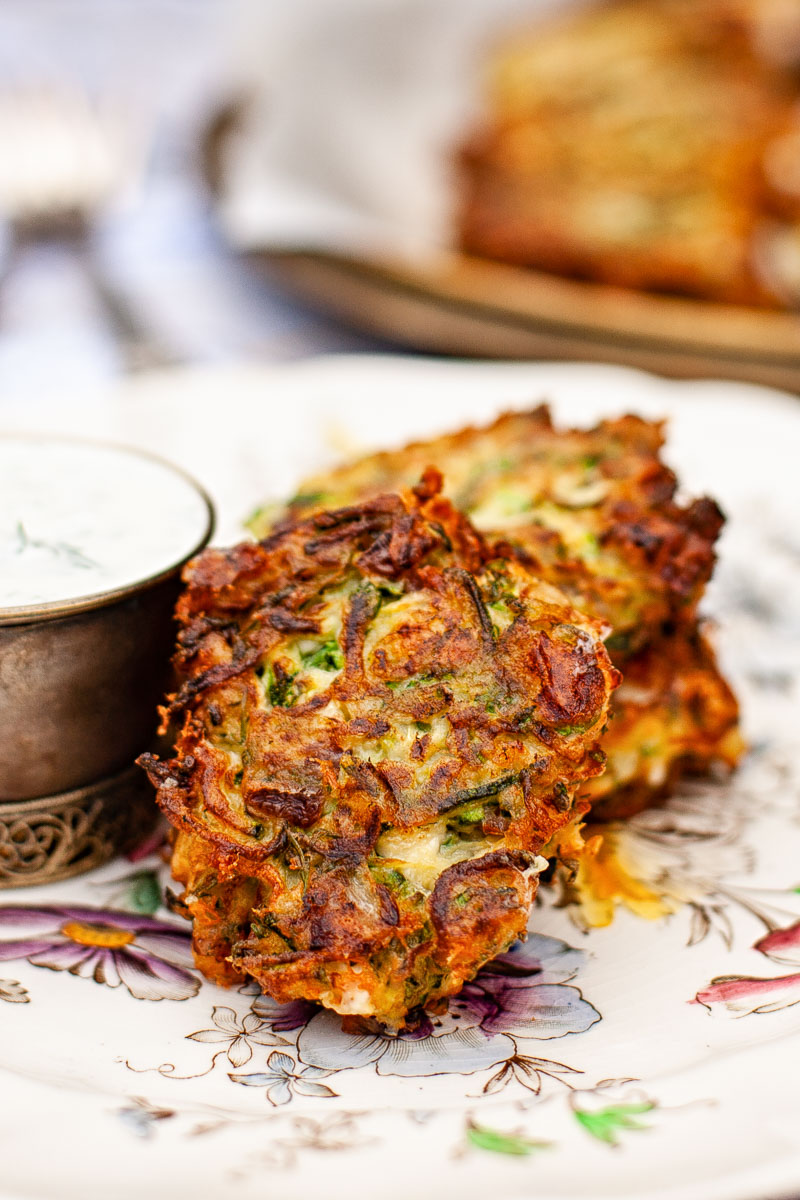 Zucchini Feta Fritters Recipe Tips
Grate and salt the zucchini and let it sit for 30 minutes. Salt will draw out the liquid.
Squeeze out the water very, very well. This is an important step, which will help making your fritters crispy.
Zucchini flavour is very mild on its own. Enhance the flavour by adding fresh herbs and cheese. I used dill and briny feta cheese. You can play with the flavours and add basil or mint if you don't like dill.
Follow the recipe exactly for the flour and egg quantities. These ingredients are what keep your fritters together.
Heat your oil before adding the fritters for a golden, crisp exterior.
If you want to make low fat fritters, use your air fryer!! Simply spray your zucchini fritters with a calorie reduced spray and air fry for 5-6 minutes on each side.
Don't skip the sauce!! You will need something creamy and punchy to dunk your crispy fritters in!
Serving Suggestions
These zucchini fritters are wonderful both as a side dish to your beef or chicken and as a vegetarian main course.
They are crispy on the outside and fluffy on the inside, tasting incredibly fresh with that undeniable zucchini flavours enhanced by feta and dill.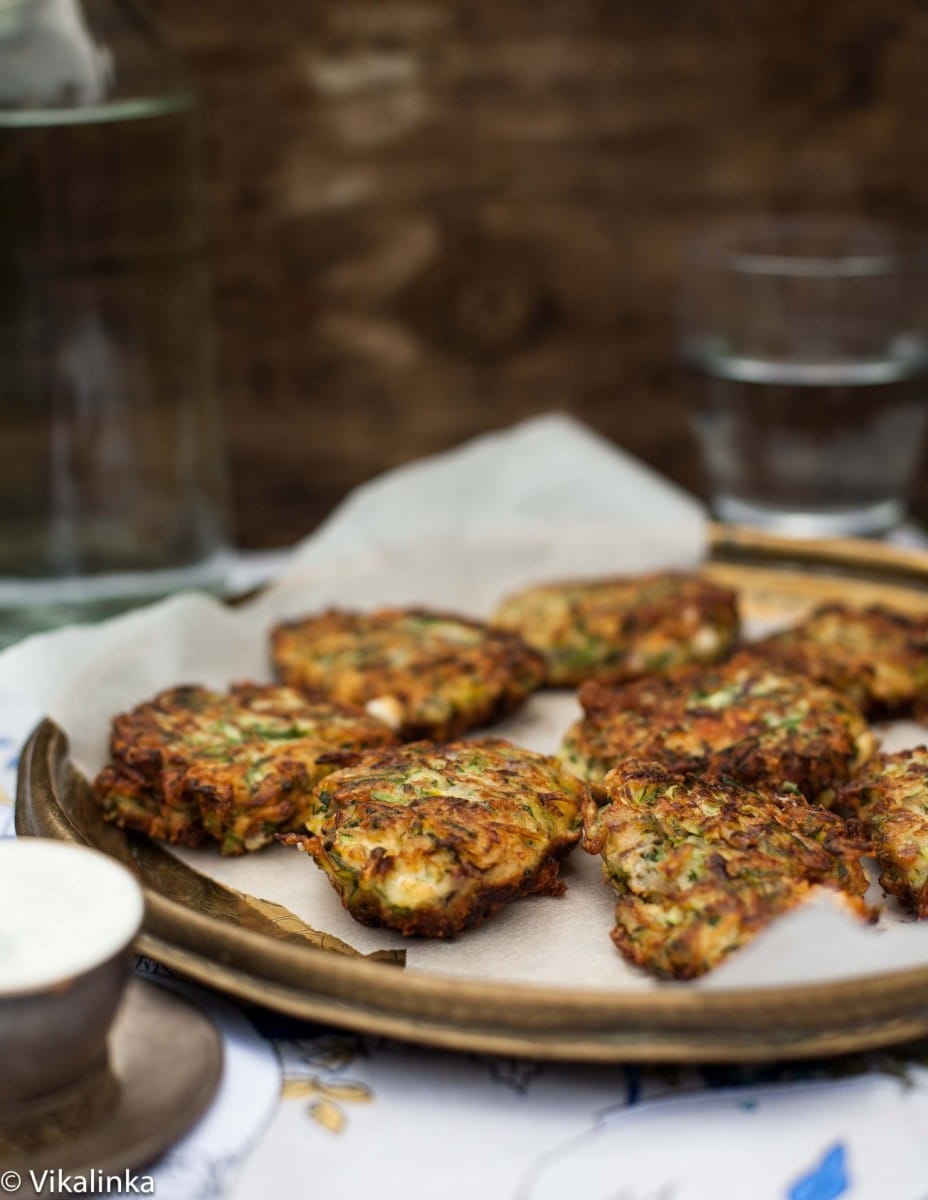 More Zucchini Recipes to Try:
This recipe was originally published in 07/2013. Updated and republished in 02/2021.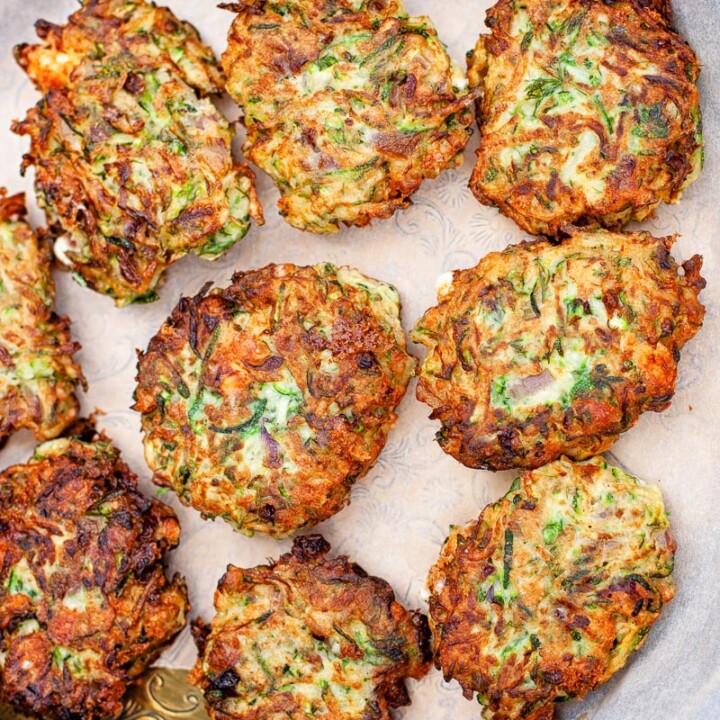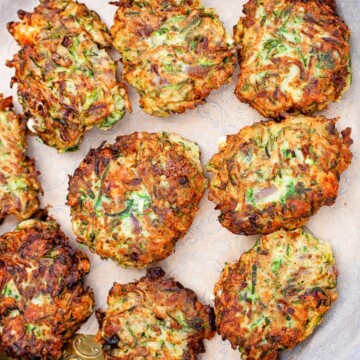 Feta and Zucchini Fritters with Garlic Yogurt Sauce
Zucchini fritters with feta cheese and dill.
Ingredients
3

zucchini

medium

1

tsp

salt.

1

onion

large

1

tbsp

butter

4

tbsp

fresh dill

200g/ 1 cup

feta cheese

crumbled

70g/ ½ cup

all purpose flour

2

eggs

½

tsp

black pepper

optional

oil for frying
For Garlic Yogurt Sauce:
250ml/1 cup

Greek yogurt

2

cloves

garlic

pressed

1

tbsp

fresh dill
Instructions
Grate zucchini and toss it with 1 tsp. of salt in a large colander, let it sit for 30 min. The salt will draw water out of zucchini. Squeeze the zucchini to remove the excess water and wrap it in two sheets of paper towel, squeeze again. Don't skip this step! Place zucchini in a large bowl.

Chop the onion and saute in butter or oil over low heat for about 5 minutes. Add the onion to the bowl of zucchini along with feta cheese and dill, mix to combine.

Whisk flour and eggs together, the mixture will be sticky and add to the zucchini mixture. Combine all the ingredients together. At this point you can add more salt and freshly ground pepper. I didn't add any more salt because feta is already quite salty.

Your zucchini mixture will look more like a zucchini salad rather than a pancake batter,

Add enough oil to the large skillet to come up about ½ inch and allow it to get very hot. Drop the zucchini mixture the size of a golf ball into the hot oil and flatten it a bit to form a patty. Fry until golden on both sides.

Mix yogurt, minced garlic and chopped dill to make the garlic yogurt sauce. Serve immediately and enjoy!
Nutrition
Calories:
160
kcal
Carbohydrates:
12
g
Protein:
9
g
Fat:
9
g
Saturated Fat:
4
g
Trans Fat:
1
g
Cholesterol:
63
mg
Sodium:
546
mg
Potassium:
298
mg
Fiber:
1
g
Sugar:
4
g
Vitamin A:
351
IU
Vitamin C:
15
mg
Calcium:
152
mg
Iron:
1
mg