Warm zucchini salad loaded with grilled red peppers, mushrooms, cherry tomatoes and fresh basil, dressed in a balsamic vinaigrette absolutely deserves your attention. I promise you will fall in love!
Serve it with my easy Grilled Chicken for a fabulous summer meal.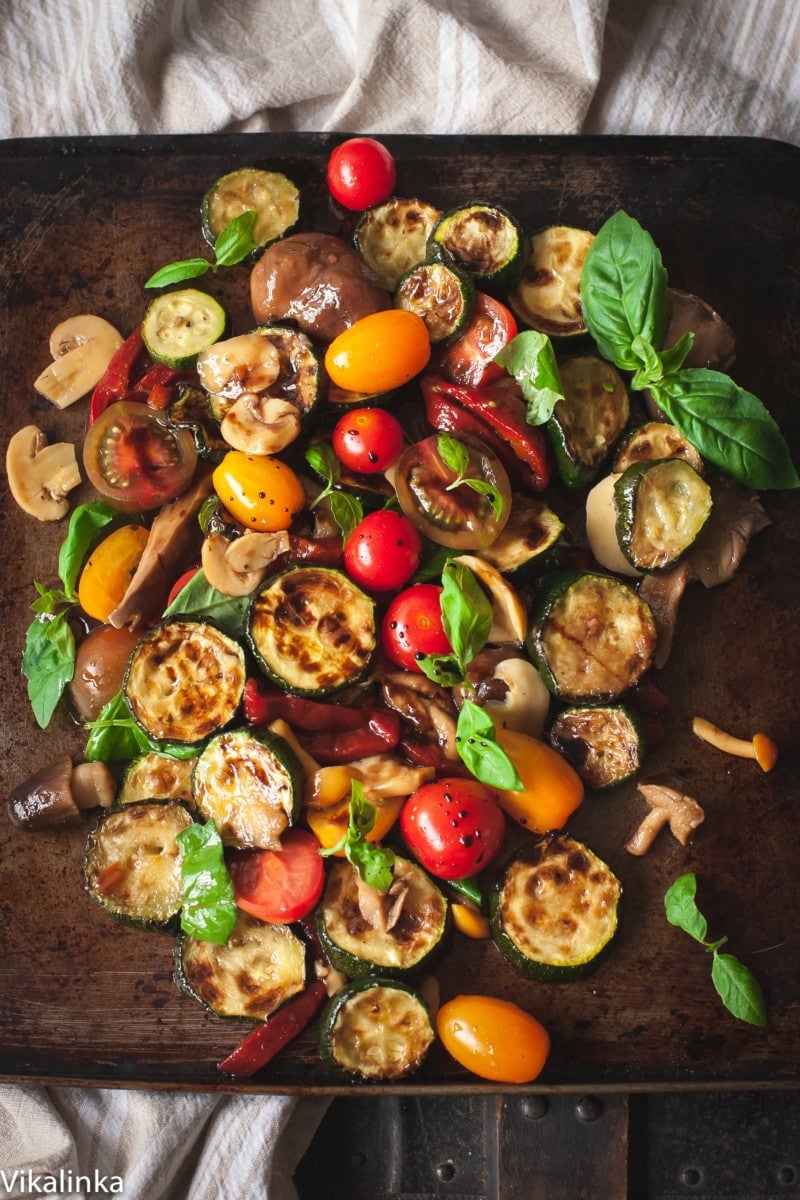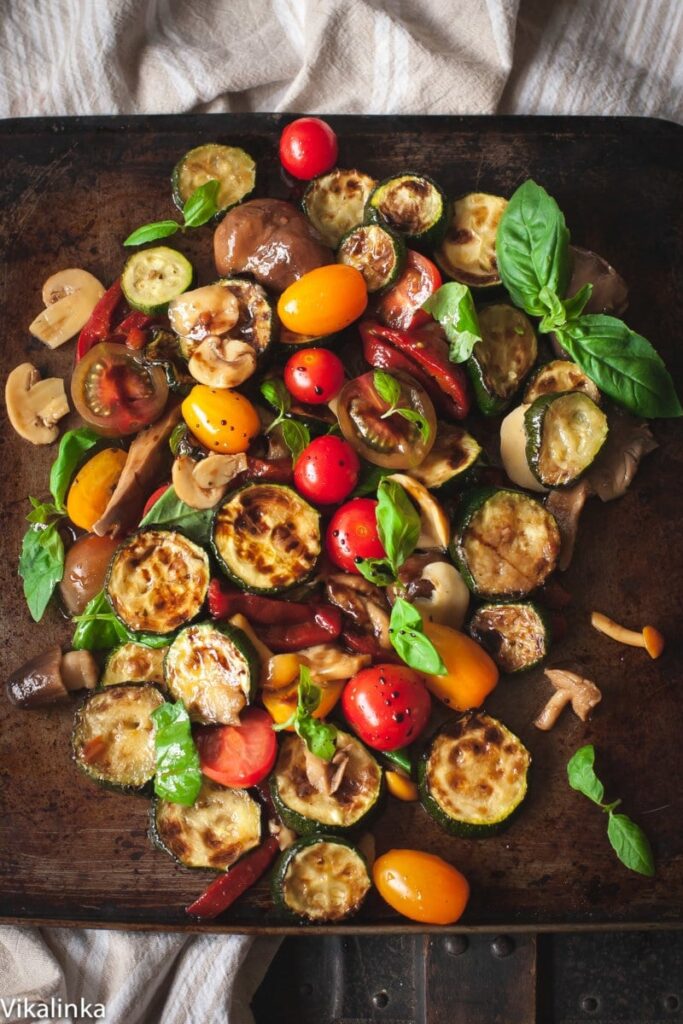 Vegetable Recipes
Do you love vegetables or do you merely tolerate them? When I met my husband his motto was borrowed from Homer Simpson's, the infamous "you don't make friends with salad". I am happy to report that a few 'properly' cooked vegetable dishes changed his opinion. He is now a fan of the greens.
I can eat vegetables in any form or shape, I will even eat them simply steamed with a pinch of salt and pepper or raw.
But if I am completely honest, I could not be inspired to write about them. Salads are too often associated with dieting, and therefore pain. And it's completely unfair! Vegetables could be so vibrant and lively if put together with a little bit of thought and care.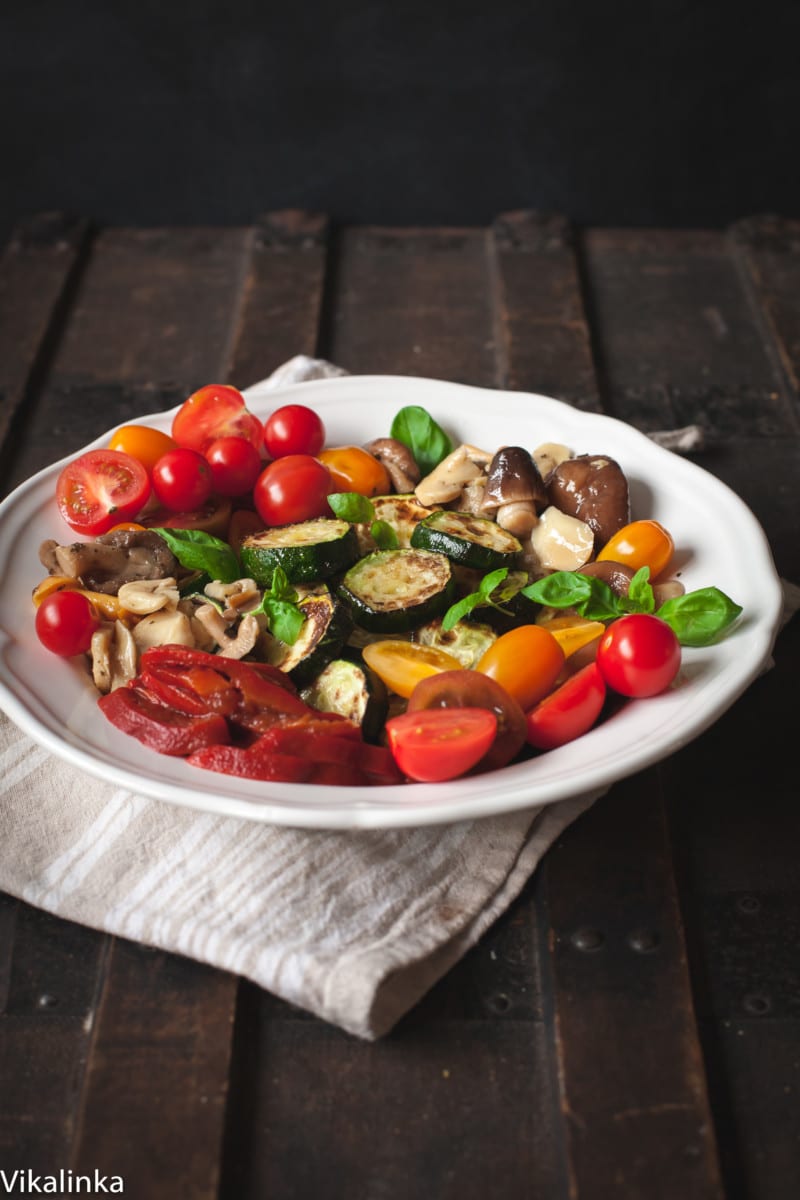 Zucchini Salad
Zucchini is a perfect vegetable for salads. Because of its neutral taste and spongy texture it soaks up flavours in the most amazing way. It could also be used raw or cooked. This Herby Salad with Olives, Cherry Tomatoes and Zucchini Ribbons is a good example where zucchini is used raw.
An example of cooked zucchini is this Warm Zucchini Salad, which shows up in our house regularly. And in many variations. It could be served as a side dish to your meat for dinner or on it's own for lunch. We love this salad served warm or cold. You can also add a few chunks of fresh mozzarella for a balanced veg + protein meal.
The flavours, that all ingredients produce together, is like a beautiful melody. It's so delicious and comforting. The type of meal that will transport you from a grey day in London to the Mediterranean seaside. This salad is pure magic!
This wonderful dish is as quick and simple as it sounds but there is nothing plain about the taste! It's complex and involved.
The sweetness of basil and zucchini balances the tangy taste of tomatoes and balsamic vinegar while a light taste of garlic adds a refreshing zing to the whole ensemble!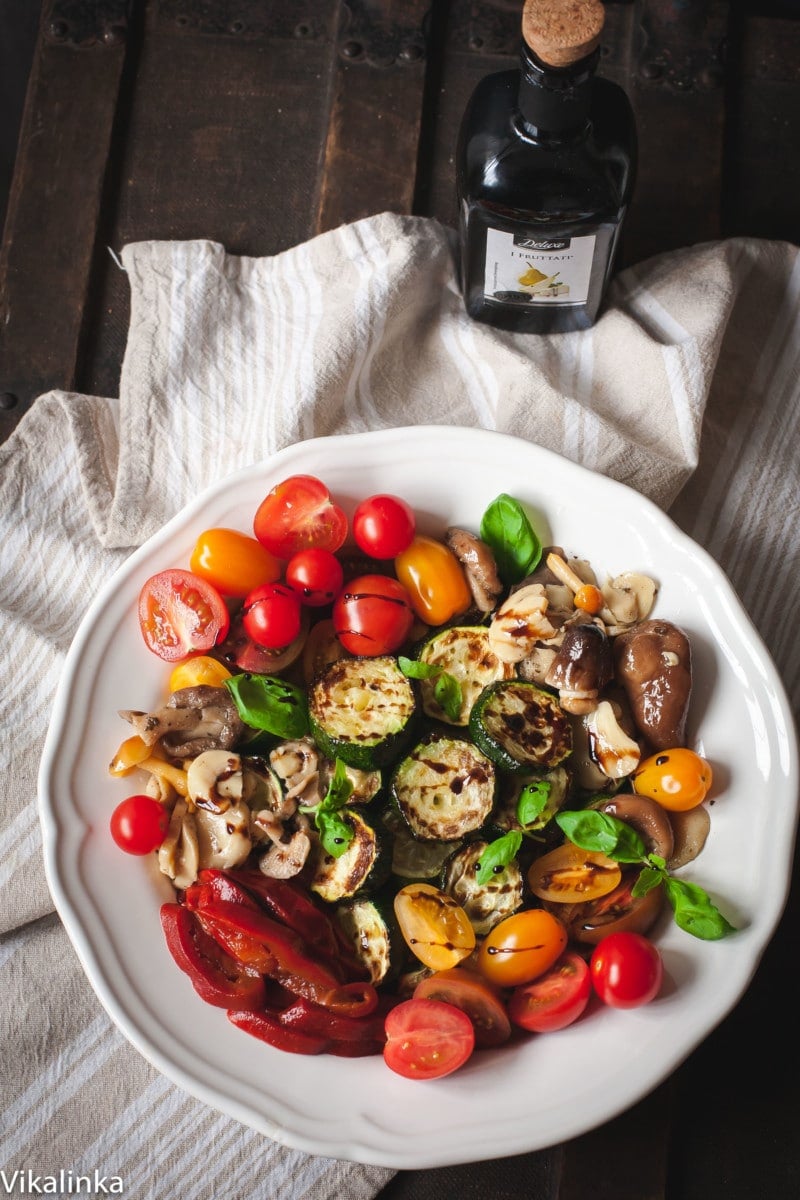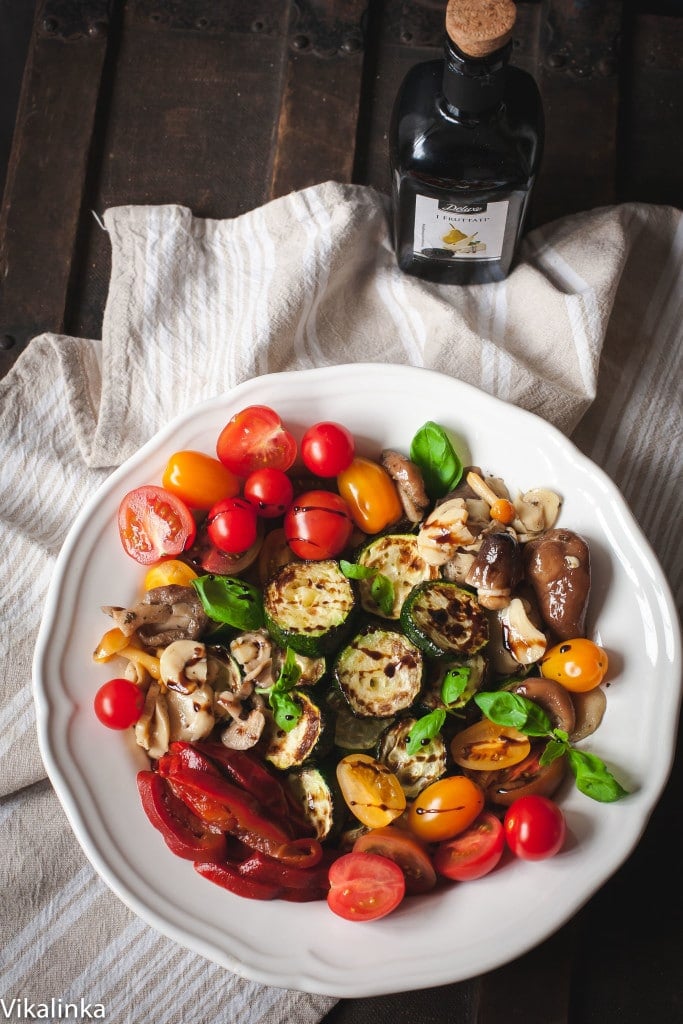 Zucchini Salad Recipe
As I mentioned earlier you can eat zucchini raw or cooked. And this salad works with both methods.
If I prepare it in a cold season, I slice zucchini in ¼ inch rounds and cook them in a little bit of olive oil.
If it's a hot summer day, I use my mandoline to slice them lengthwise into thin ribbons and toss them in my salad raw.
I dress my zucchini in balsamic vinaigrette whether the vegetable is cooked or raw. The acid dressing is wonderful with a neutral vegetable like zucchini. It perks it up!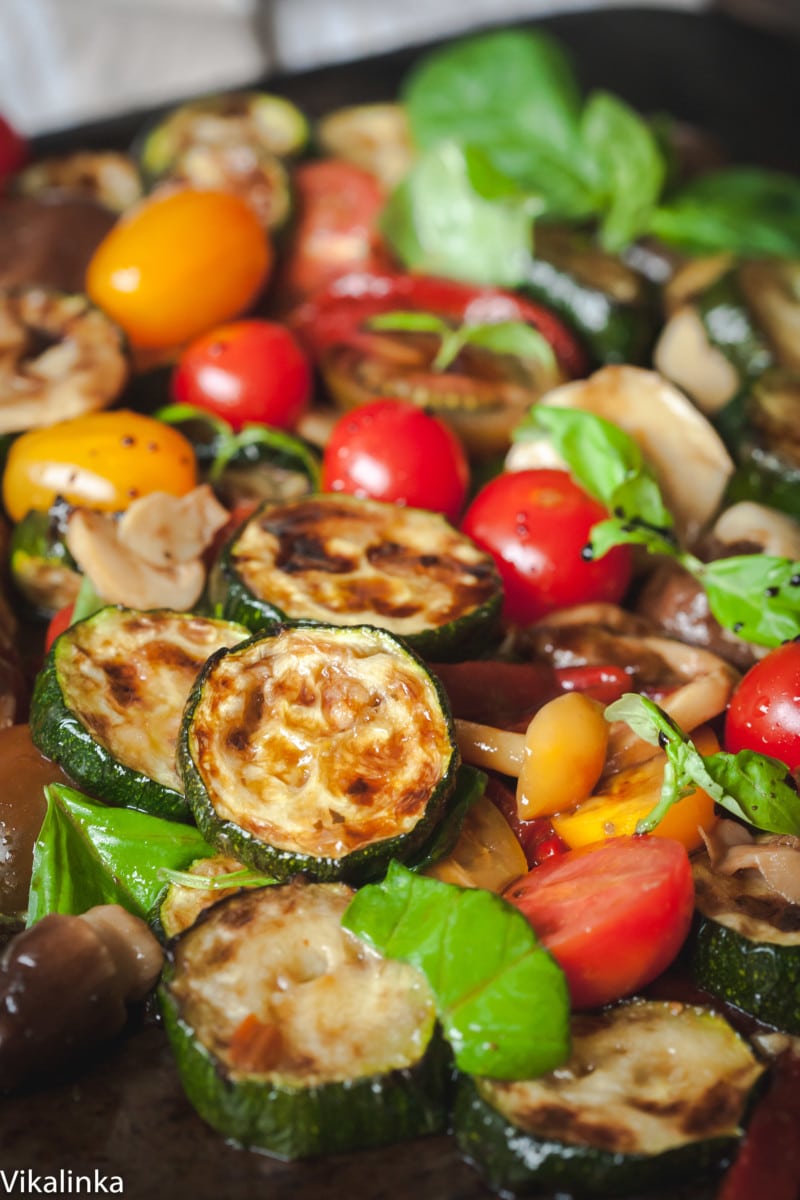 The rest of the ingredients is up to you but here are my favourites.
roasted red peppers from a jar
Italian marinated mushrooms (the kind you serve for antipasti)
cherry tomatoes (I love using them in different colours!)
fresh basil
good quality extra virgin olive oil
good quality balsamic vinegar
fresh mozzarella (optional)
I also think that roasted cauliflower or broccoli could be added to this salad to make it even more filling for colder months! Add or subtract ingredients according to your taste, preference and availability!
This recipe was first published in 02/2013. Updated and republished in 05/2020.
More Zucchini Recipes: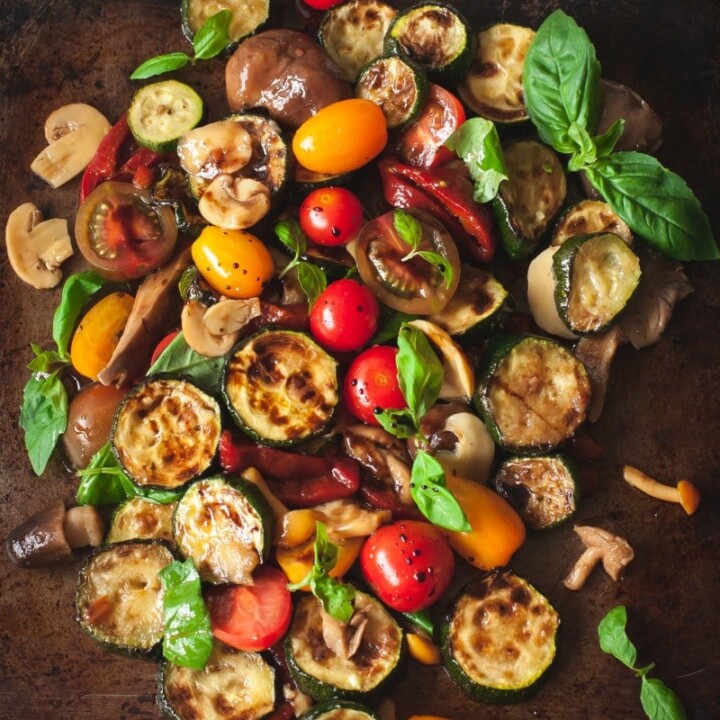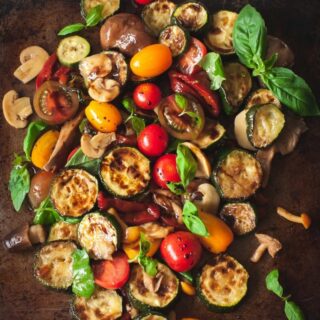 Warm Zucchini Salad
Warm zucchini salad loaded with grilled red peppers, mushrooms, cherry tomatoes and fresh basil dressed in balsamic vinaigrette absolutely deserves your attention.
Ingredients
2

tbsp

olive oil

4

zucchini

small

1-2

grilled red peppers

from a jar

5-6

cherry tomatoes

red and yellow

80g/1/2 cup

Italian marinated mushrooms

Italian antipasti

1

clove

garlic, crushed

5-6

leaves

basil

fresh or 1 tsp dried

1

tbsp

balsamic vinegar

salt and pepper to taste
Instructions
Slice the zucchini ¼ inch thick , sprinkle them with salt and pan fry them in olive oil on medium heat for 2-3 minutes on each side until golden. Alternatively you can broil them in the oven for 2-3 minutes on each side. (If using zucchini raw, slice them as thinly as possible lengthwise using a mandoline or a sharp knife.)

Remove the zucchini from the pan and put them in the salad bowl, squeeze 1 garlic clove directly over the zucchinem and tear a few basil leaves into the salad bowl to allow warm zucchini absorb the flavours.

Slice grilled peppers and tomatoes and add them to the bowl.

Mix in the mushrooms, drizzle a tablespoon of balsamic vinegar, mix everything carefully taking care not to mash up your delicate vegetables. Taste and add more salt and pepper if needed.
Notes
Thoroughly drain both jarred red peppers and mushrooms before adding to the salad.
If no jarred red peppers are available, use this recipe to make your own.
If no marinated mushrooms are available, substitute with sauteed mushrooms.
Nutrition
Calories:
119
kcal
Carbohydrates:
11
g
Protein:
3
g
Fat:
8
g
Saturated Fat:
1
g
Sodium:
53
mg
Potassium:
621
mg
Fiber:
3
g
Sugar:
7
g
Vitamin A:
1460
IU
Vitamin C:
78
mg
Calcium:
31
mg
Iron:
1
mg