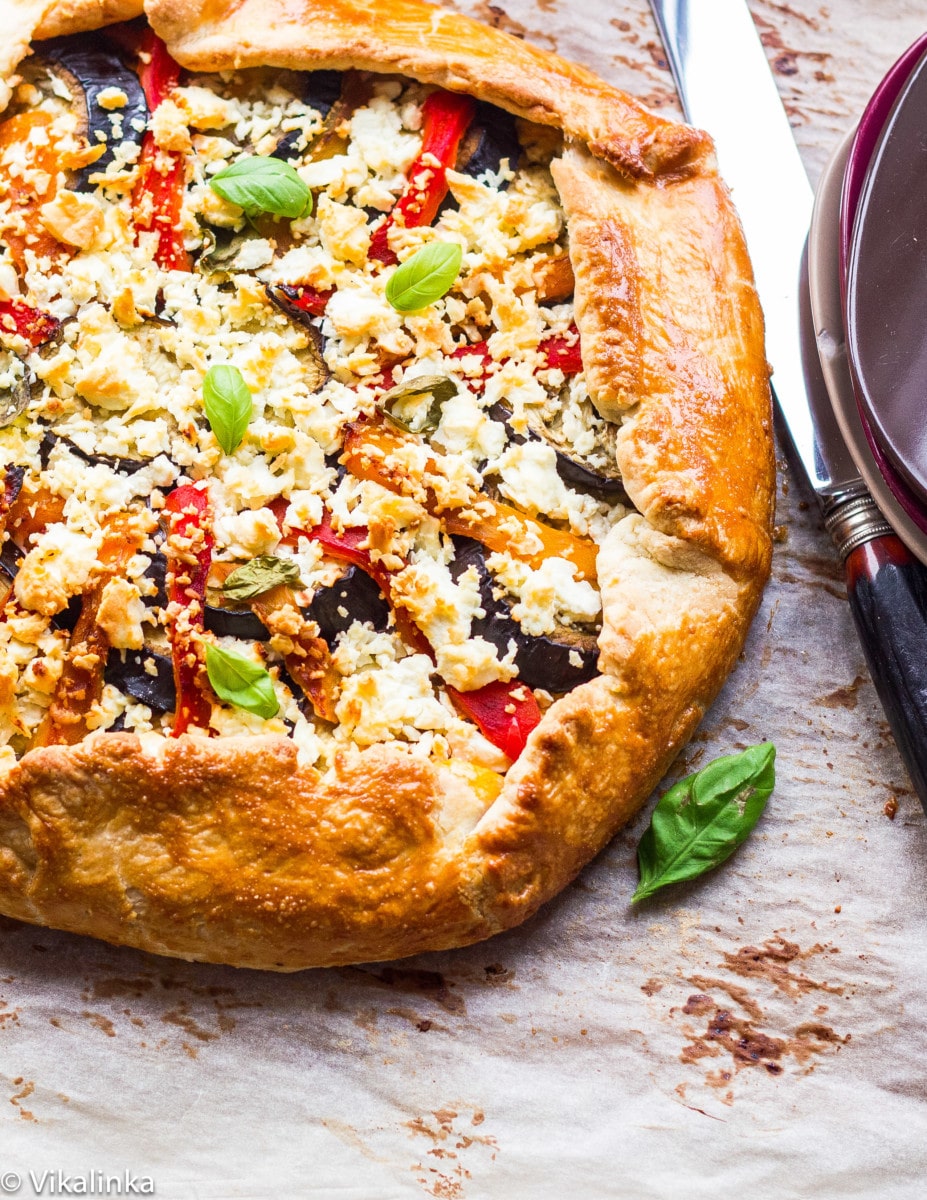 Not so long ago my friend Scott presented me with a challenge to devise a full-on vegetarian meal – a task not so easy for this meat-loving Russian. Don't take me wrong, I adore vegetables. I buy them and cook them in every way possible but they are always served as sides. It's almost impossible for me to go out for a meal and NOT order meat. I am sure all the vegetarians at this point stopped reading but if you are still with me you'd be happy to learn about this Eggplant, Red and Yellow Pepper and Feta Galette. It's full of flavour, you won't miss meat one bit! Galette is a basically a free-form tart, so easy to make and it's charm is in how rustic it looks, which means there is no need to worry over making it just perfect!
Ingredients:
Eggplant-2 medium
Bell Pepper-1 red and 1 yellow
Feta-150 gr (crumbled)
Sundried Tomato Pesto -2 tbsp (Feel free to use Basil Pesto if you prefer)
Pre-made pie crust (Jus-Rol or your favourite brand)-500 gr
Basil- 5-6 leaves or ½ tsp of dried basil
Salt and Pepper to taste
Olive Oil-1-2 tbsp.
Egg-1 (beaten)
Method:
Preheat the oven to 400F/ 200C and take your prepared pie crust out of the fridge.
Slice the eggplants ½″ thick, brush the slices with olive oil and arrange them on a parchment paper on a baking sheet. Grill until brown for 12-15 min. until soft all the way through and the eggplant lost it's spongy texture. Remove from the oven and place it on a plate and let it cool off.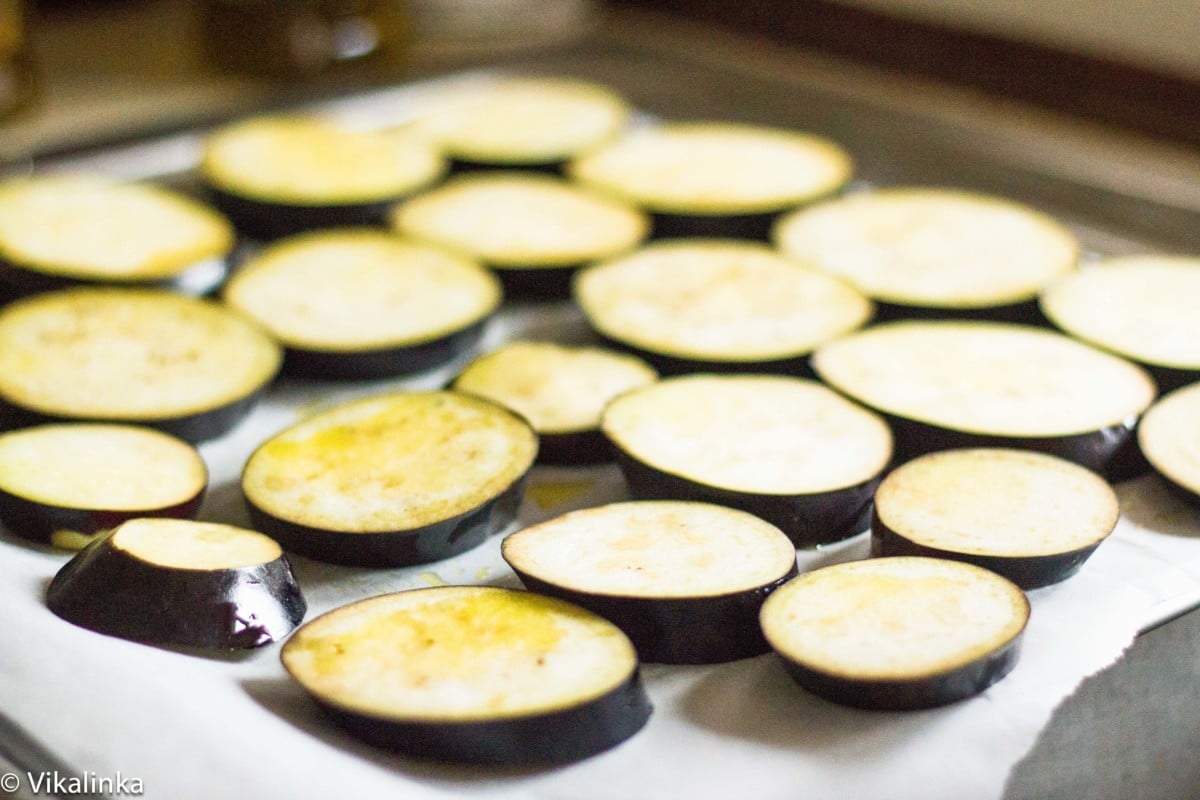 Grill peppers with skin side up. When peppers' skins are blackened and blistered, remove from heat. Put the peppers in a ziplock bag and close it, let them sweat. When they are cool enough to handle, take them out and remove blackened skin which should be pretty easy at that point.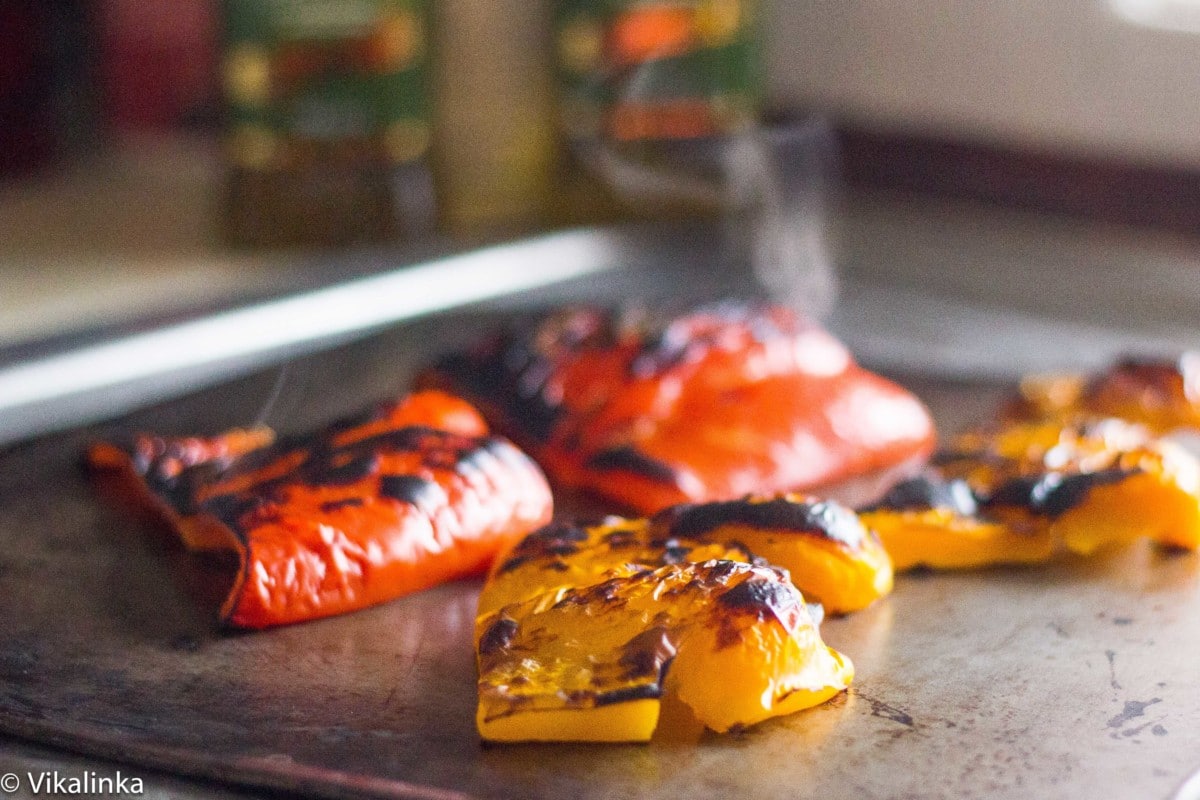 Slice the peppers.
Here are all the ingredients for your galette. Simple and delicious.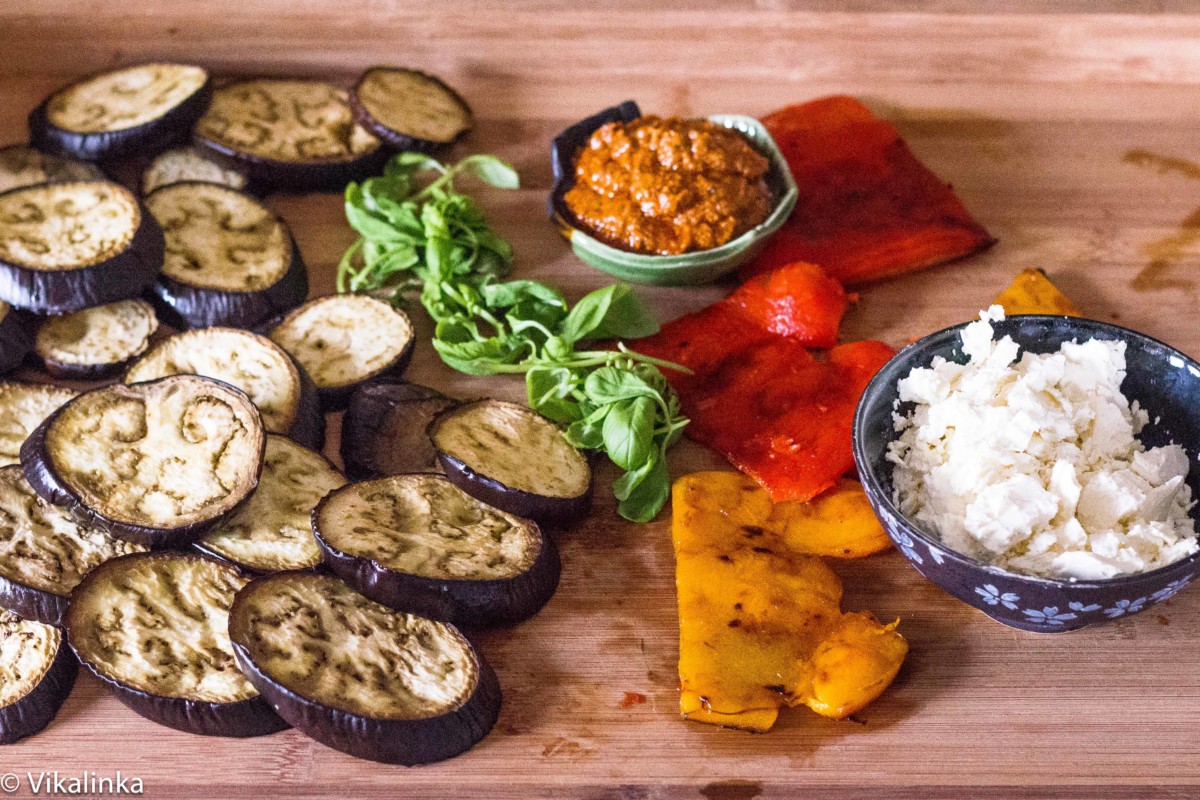 Dust your work surface with some flour and roll out your pie crust in a circle 14″/35 cm in diameter. Slide it over on the same parchment paper you baked eggplant on and spread pesto on it leaving about an inch border pesto-free. Arrange the eggplant slices overlapping in a circle, then put pepper slices on top in any fashion you like, then spread your torn basil leaves on top and finish with feta cheese. Fold the border over the vegetables while brushing the pleats with a beaten egg to seal it. Then brush the egg all over the crust which will give the galette a beautiful colour. Bake at 400F/200C for 20-30 min until the crust is golden and the cheese is slightly coloured.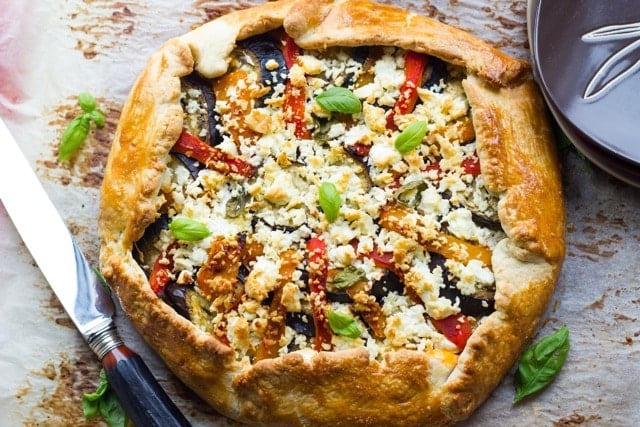 It's incredibly easy and fast, especially if you use a pre-made crust.