Revel in the ultimate winter warmer with this comforting steak pie, flavoured by ale and baked in shortcrust pastry.
Try serving with this delicious Traditional Colcannon recipe!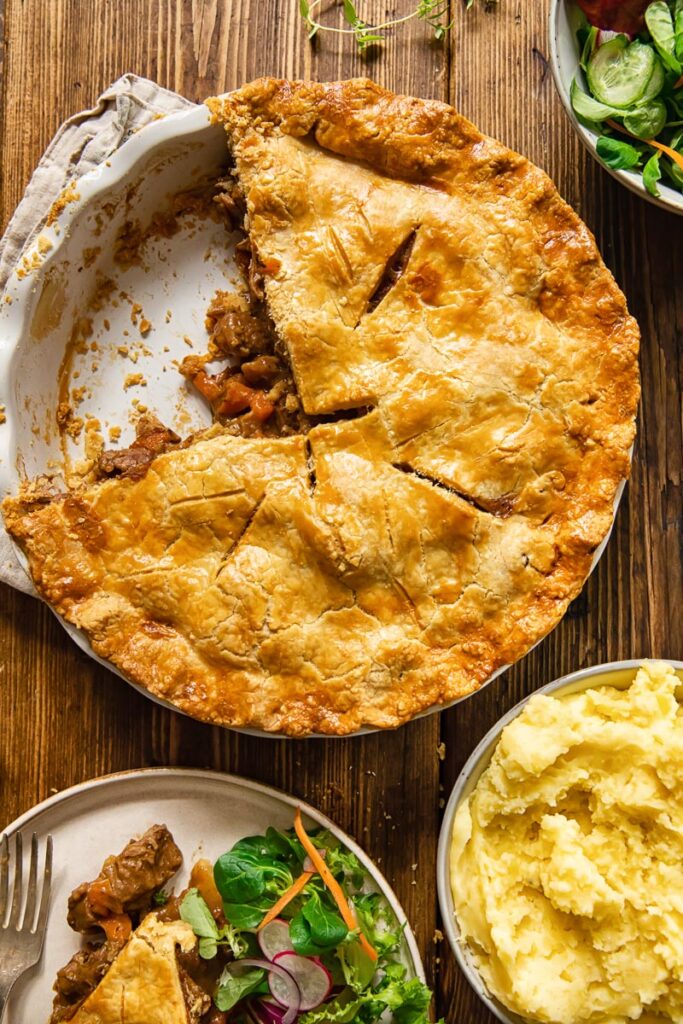 As soon as the weather changes, so does the food we crave. For me, a cold nip in the air makes me think about warming dishes like this stunning Steak and Ale Pie!
A good steak pie has tender meat cooked in a rich gravy, absolutely jammed full of rich flavour. It should also have a buttery, flaky pastry. It's the sort of meal that warms you from the inside out, perfect for colder months!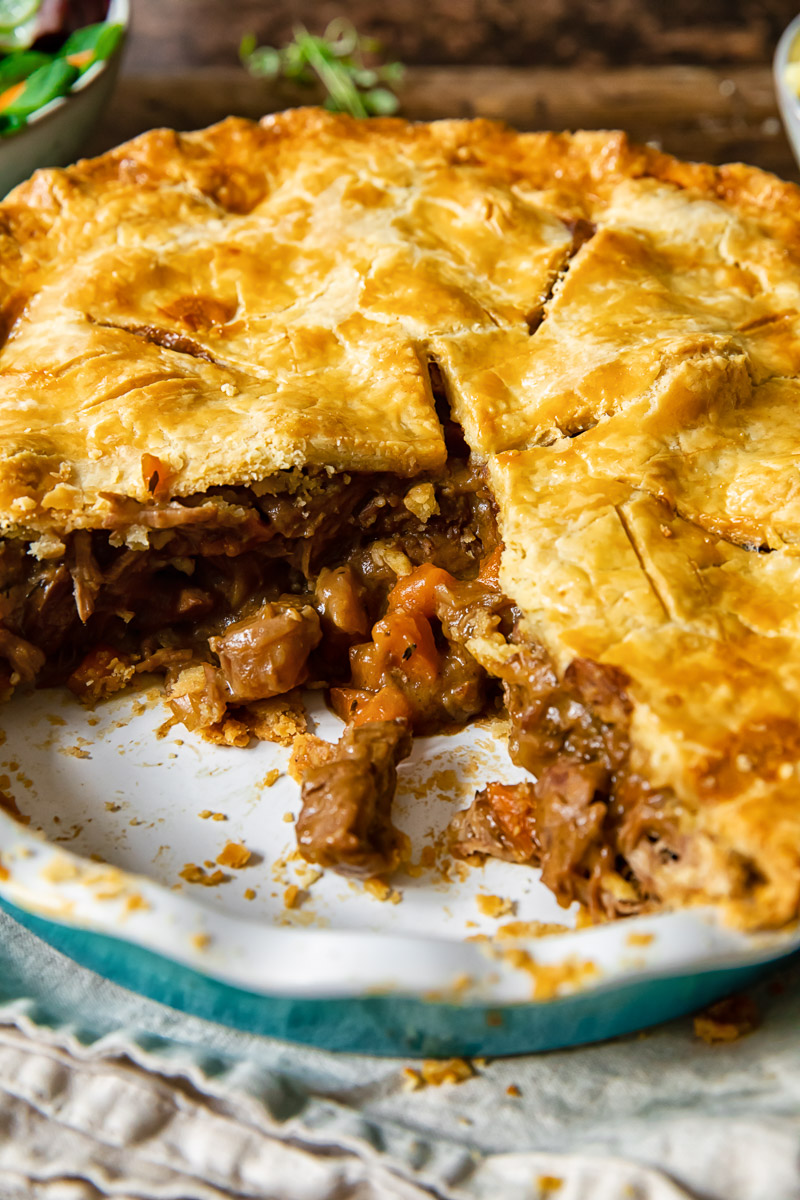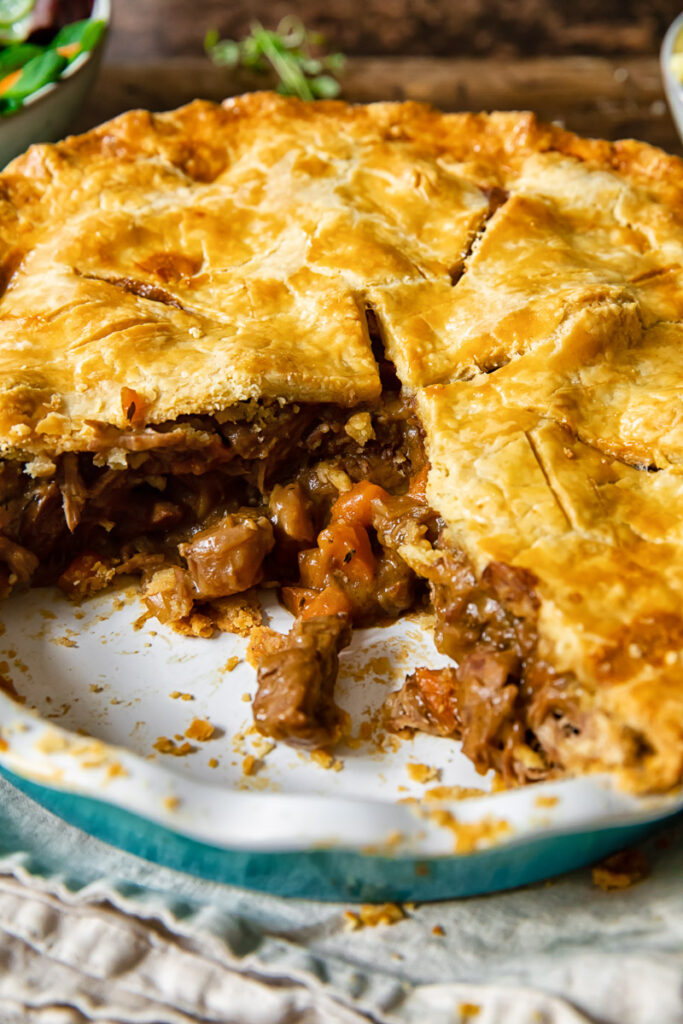 Why you'll love it
Although North Americans don't think of savoury when pies come up, meat pies are an essential part of British dining. Whether at a pub or eating at home in front of the TV, it's hard to think of better comfort food than this!
A classic meat pie is no different than, let's say, a chicken pot pie, which is also a staple in the US and Canada. It is, however, a little heartier and takes a bit more effort to prepare, which is well worth it, I can assure you.
A steak pie has all the goodness of a rich and delicious stew. The meat tenderises beautifully when slow cooked in the flavourful gravy and vegetables. Even better, it is wrapped in a buttery shortcrust pastry.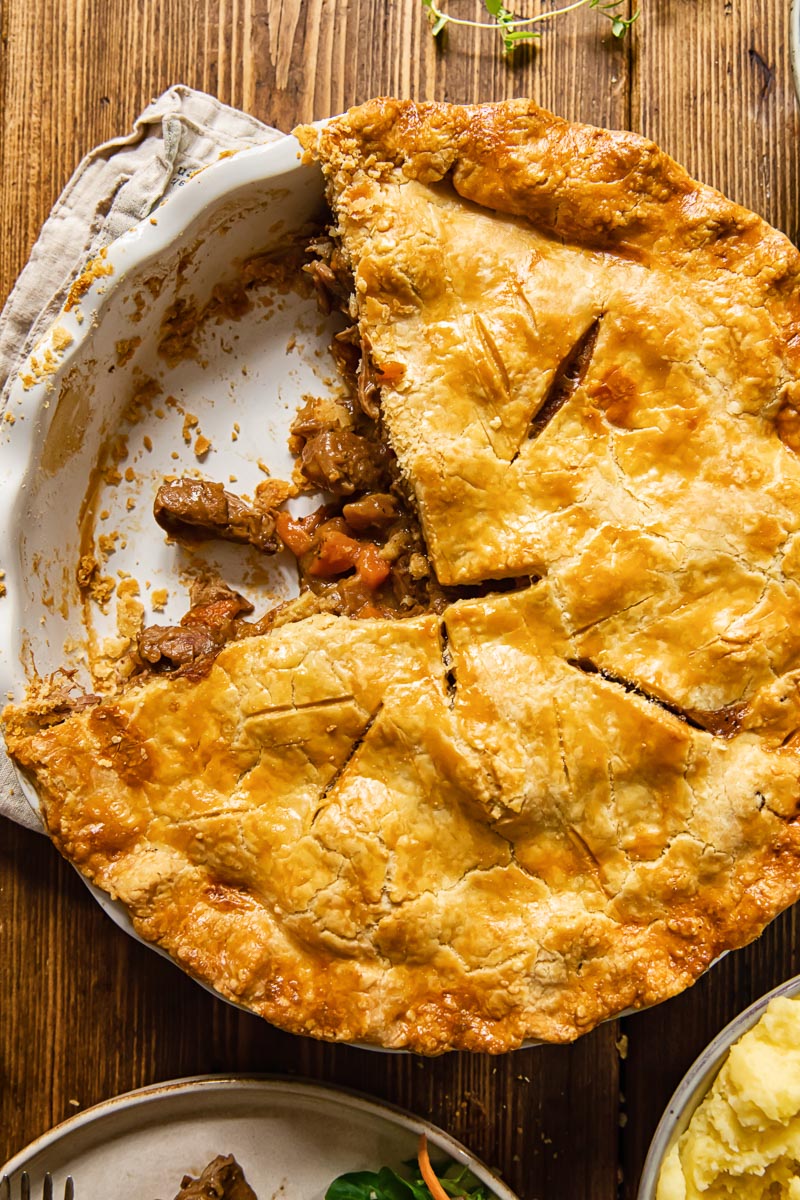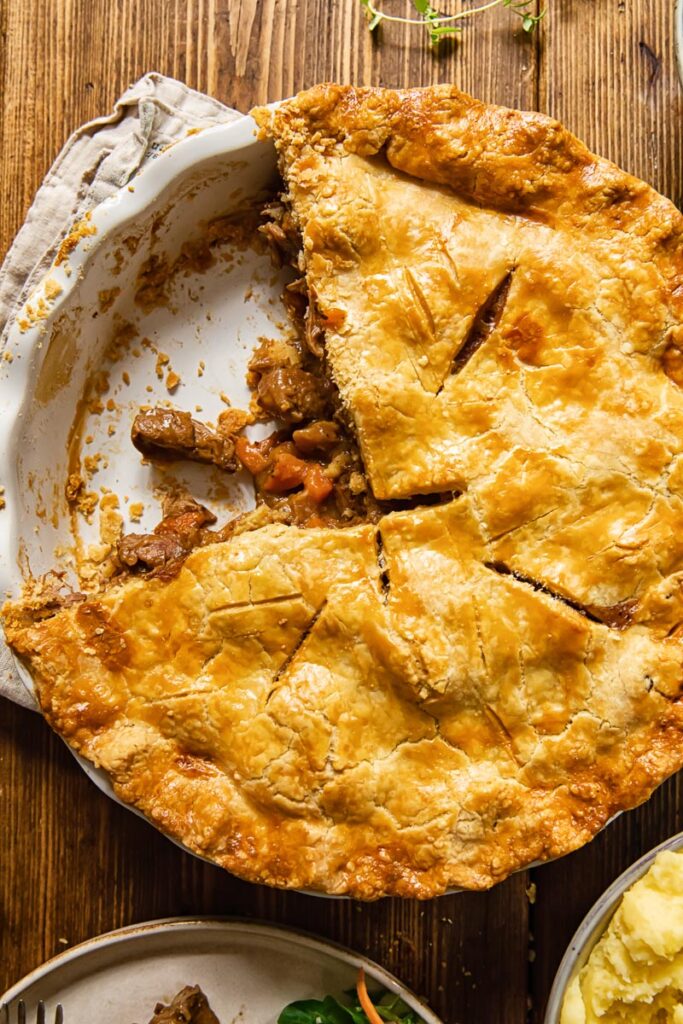 Shortcrust pastry
The pastry I recommend for this steak pie is a classic shortcrust. It is a thicker, richer pastry, which is able to support and compliment the hearty meat filling inside.
The pastry recipe is very simple. It calls for the double amount of flour to the amount of butter. A few of tablespoons of ice cold water bring the mixture together into workable pastry but only just! When you first mix it together it will still look like a pile of crumbs but don't be tempted to add more water. It will only make the end result tougher.
It is one of the tastier pastries out there but is also notoriously fussy to roll out. Fear not, it is more manageable after you chill it in the fridge. And no need to blind bake for this recipe.
I prefer making mine in a food processor. The less you touch it with your warm hands, the lighter and flakier the pastry will be. I wrote about the method in one of my recipes. Take a look for more detail.
Serving suggestions
A steak pie like this is great with mashed potato on the side. Traditional colcannon is a great place to start, or Champ (Irish Potato Mash). Mashed potatoes are perfect because they soak up the flavourful gravy within the pie.
It's a pretty rich dish, so a fresh and simple side salad will also pair very well and add some lightness to the meal. If not a salad, I would add vegetables like Lemon Garlic Green Beans.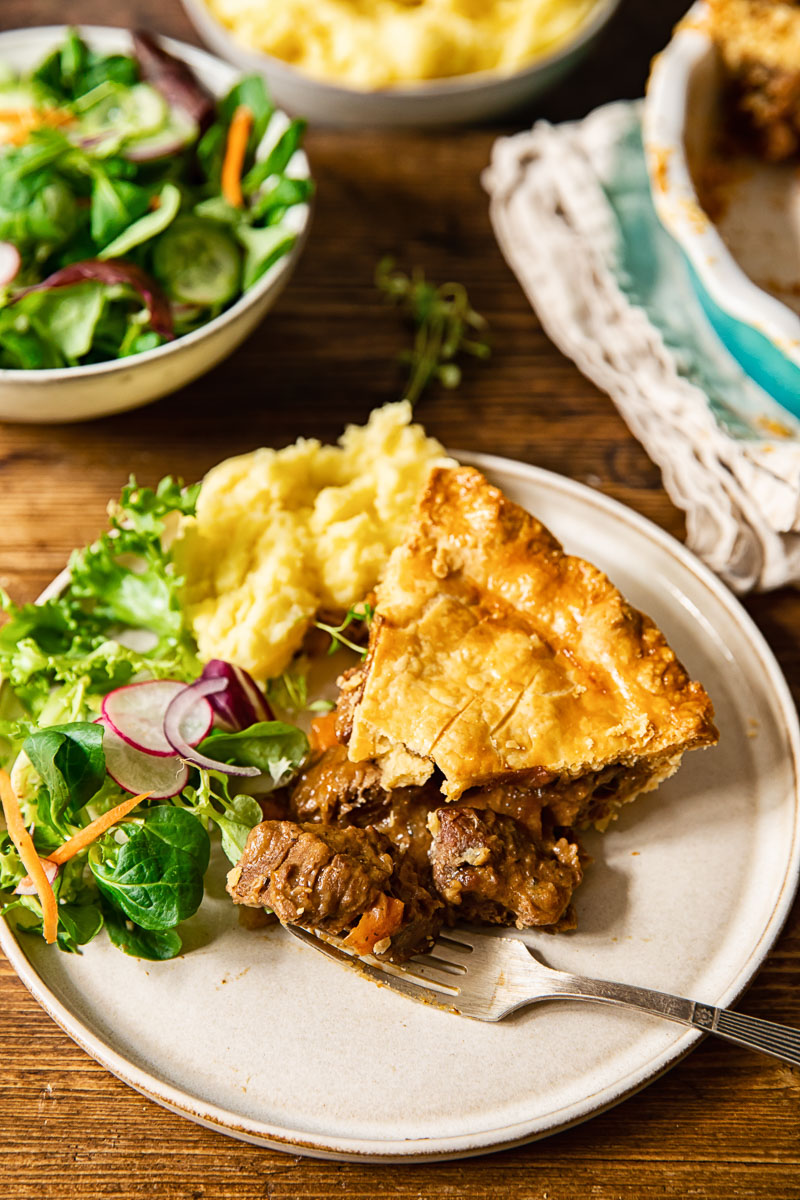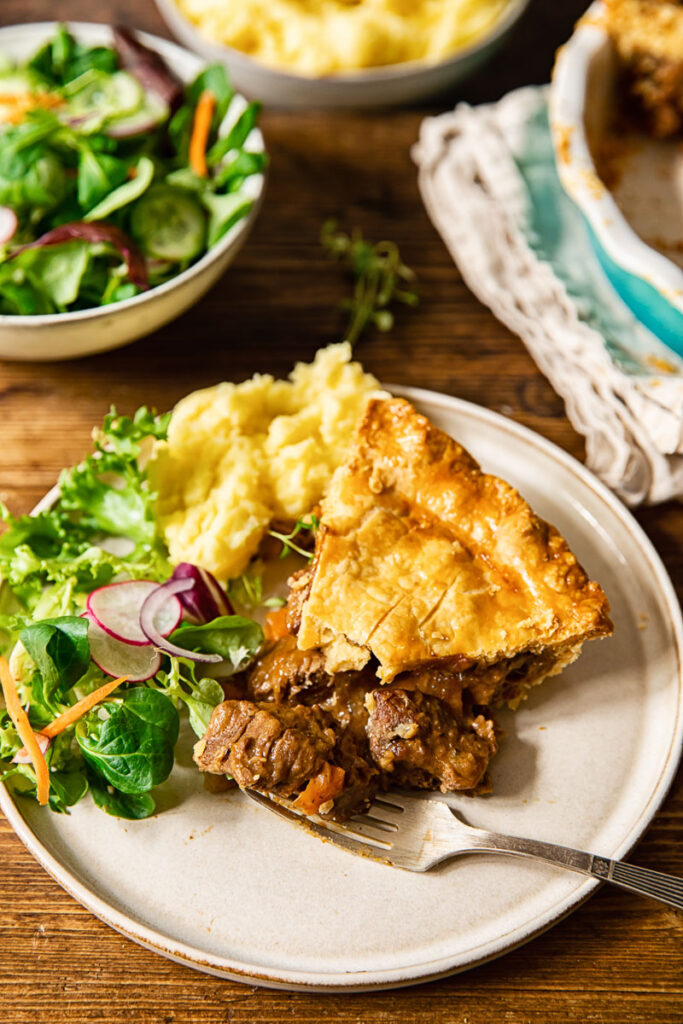 Leftovers and storage
If you end up with leftovers, let the pie cool slightly before placing into the fridge. It can be stored in an airtight container for up to five days.
I have also frozen leftover steak pie with good results when stored in an airtight container or wrapped in cling film. I would recommend cutting into pieces so that one piece can be taken out at a time for future meals.
To reheat, let it completely defrost and then place in a preheated oven for around 15 minutes, depending on the size of the piece. I would avoid microwaving as the crust will become soggy. Air fryers will work well, though, and will take about 5 minutes at 160C/320F.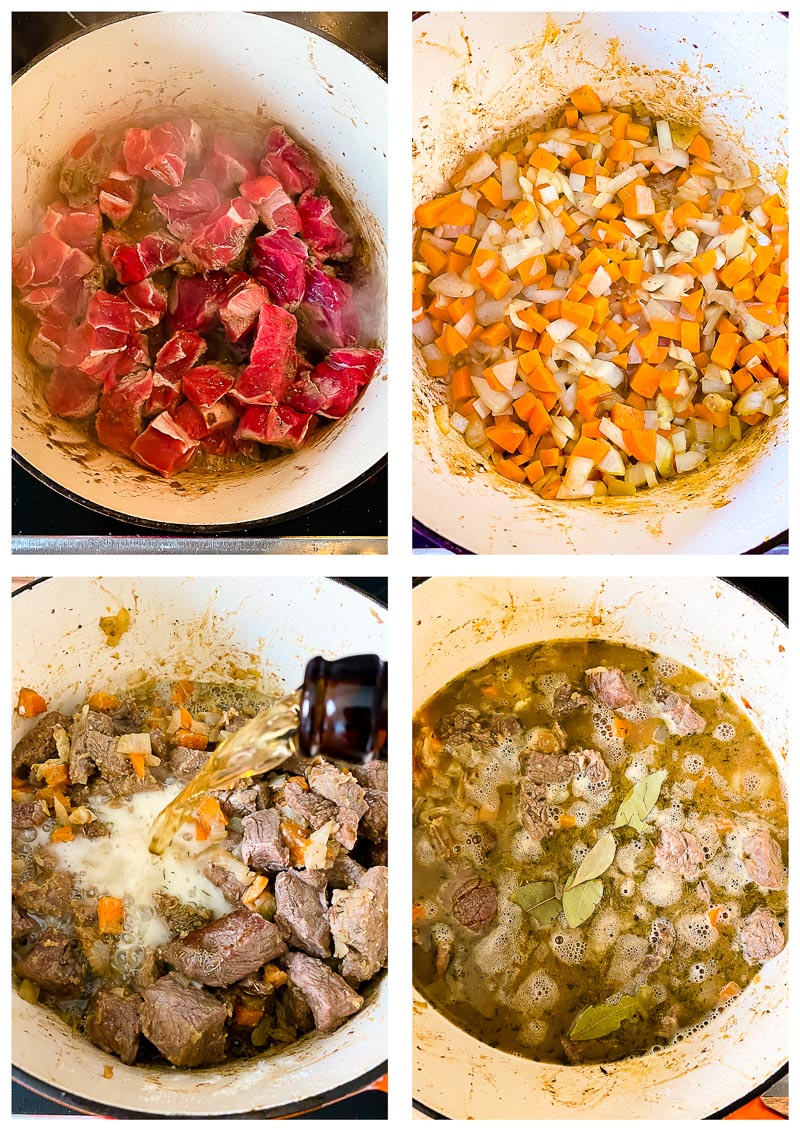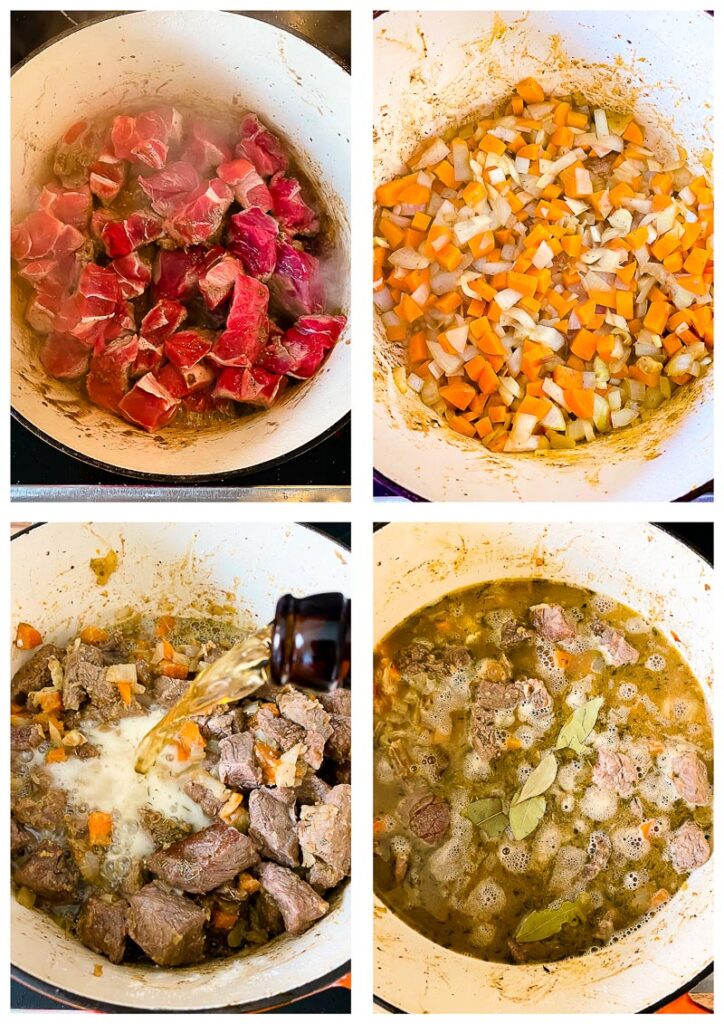 Recipe tips and tricks
To make preparation as easy as possible, make the shortcrust pastry a day in advance, or purchase a good quality pre-made pastry.
I actually make both the pastry and the filling in advance.
For a slightly more exotic dish, other lean red meat like bison or venison can be used.
The meat filling will need to cook for 2 hours before it goes in the pastry. It needs this long to be tender and succulent.
Allow for the meat filling to cool completely before incasing it in the pie crust. Better yet chill it in the fridge overnight. The cold, congealed filling is the best way to start assembling the pie with, otherwise it will make the crust soggy. (See the visuals in the photos below.)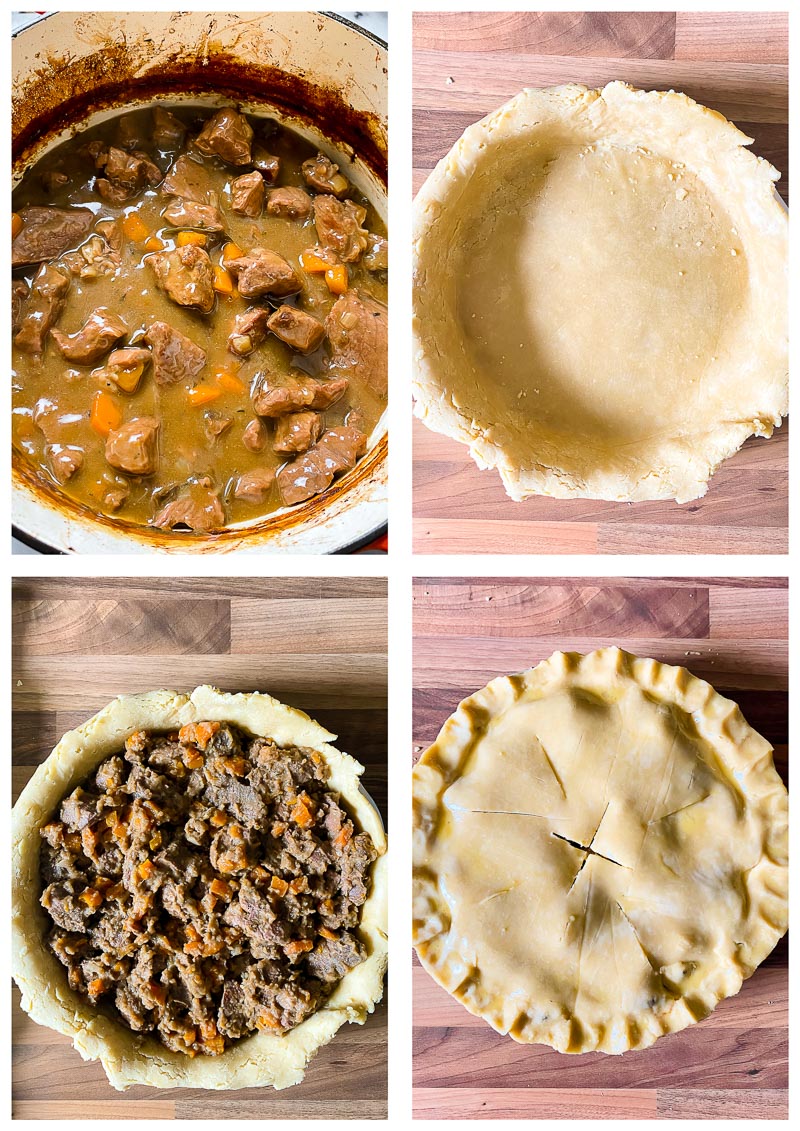 Make sure that slits are cut into the top of the pie pastry. This allows steam to escape when cooking, so it doesn't blow up the seams.
The best beer for this pie is a brown or red ale. A darker beer like a stout will also do just fine, like in my Instant Pot Brisket, although the final flavour will be slightly different. Avoid lagers or pilsners as they are too light for this recipe.
Allow the pie cool for 20 minutes before cutting and serving it.
More delicious beef recipes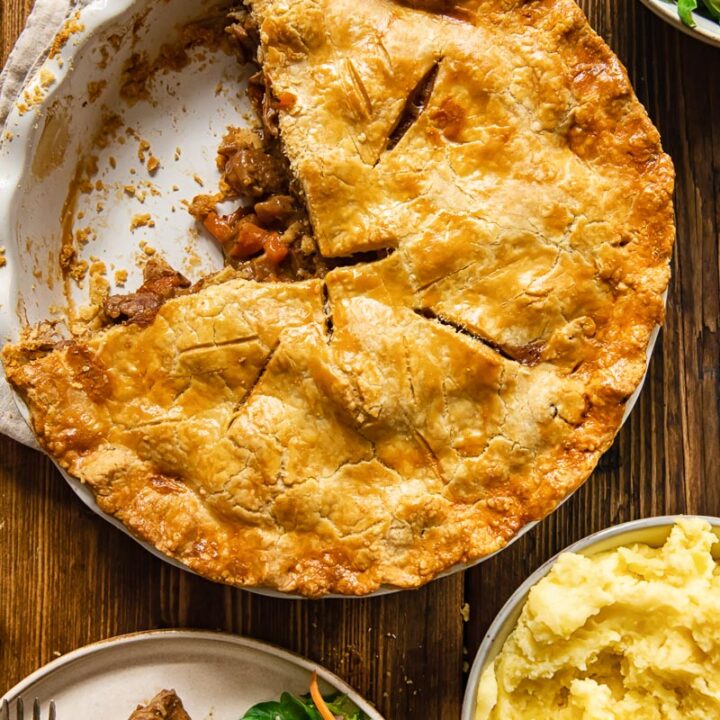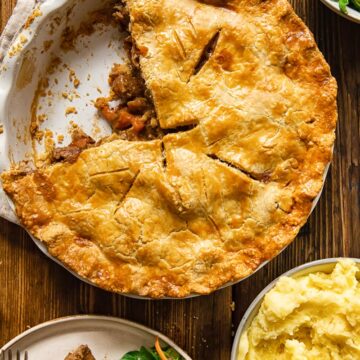 Steak and Ale Pie
Revel in warm and comforting steak pie, flavoured by ale and baked in shortcrust pastry.
Print
Pin
Rate
Ingredients
For the filling
3

tbsp

olive oil

divided

1.2

kg

/ 2.6lbs stewing steak

1

tsp

salt

1

tsp

pepper

2

onions

2

carrots

½

tsp

dried thyme

3

tbsp

flour

500

ml

/ 18oz ale

500

ml

2 cups beef stock

½

tsp

Worcestershire sauce

2

bay leaves
For the shortcrust pastry
500

g

/ 1.1lb plain flour

250

g

/1 cup cold unsalted butter

cubed

2

tsp

salt

6

tbsp

water

ice cold

1

egg for brushing
Instructions
Make the pastry. In a food processor combine the flour and cold cubed butter, pulse to process until the mixture resembles crumbs. Through the chute of a food processor add ice cold water one tablespoon at a time and pulse until the mixture feels a bit heavier. It will not come together just yet.

Remove the mixture from the food processor and empty into a large bowl. Bring the dough together with two hands, don't handle it too much, just enough to form a shaggy ball, then pinch off ⅓ of the pastry and form two balls. Wrap each of them in plastic wrap, then press the dough down with the palm of you hand to form a disk. Chill in a refrigerator for at least one hour or overnight.

Heat 2 tbsp of the oil in a large pan or a casserole dish, then brown the seasoned with salt and pepper beef in two batches to avoid overcrowding. Remove to a bowl and set aside till needed.

To the same pan add 1 tbsp of oil, then diced carrots and onions and cook over low heat for 10 minutes, stirring once in a while. Sprinkle the flour over the vegetables and stir to coat, then bring the beef back into the pan. Add the thyme and the Worcestershire sauce, then pour in the ale and beef stock. The liquid should just cover the meat. Top the mixture with the bay leaves, stir and bring to a boil, then take off the heat and cover with a lid.

Transfer the pan in the preheated to 150C/300F oven and cook for 1 hour, then uncover and cook for another hour. Cool the meat completely before adding it to the pie. It is best chilled overnight.

Take the shortcrust pastry from the refrigerator and let it come to room temperature for at least 20 minutes. Preheat the oven to 200C/400F. Roll out the larger pastry ball and lay it at the bottom of the pie plate with the sides slightly overhanging, then roll out the smaller balls to cover the top of the pie. Fill the pie with the cold meat mixture, then pinch the sides to seal it and make slits to allow the steam to escape. Brush with a beaten egg all over. Bake in the preheated oven for 45-50 minutes or until golden and bubbling through the slits.
Notes
•If you are not an experienced pie maker, refer to detailed notes in the post above.
Nutrition
Calories:
927
kcal
|
Carbohydrates:
62
g
|
Protein:
47
g
|
Fat:
53
g
|
Saturated Fat:
27
g
|
Polyunsaturated Fat:
3
g
|
Monounsaturated Fat:
21
g
|
Trans Fat:
1
g
|
Cholesterol:
159
mg
|
Sodium:
1916
mg
|
Potassium:
1472
mg
|
Fiber:
3
g
|
Sugar:
5
g
|
Vitamin A:
3357
IU
|
Vitamin C:
3
mg
|
Calcium:
84
mg
|
Iron:
7
mg