These beef short ribs, braised in red wine low and slow, deliver bold and robust flavours and the meat, that will melt in your mouth.
I love pairing this recipe with creamy mashed potatoes and some good bread to soak up the sauce.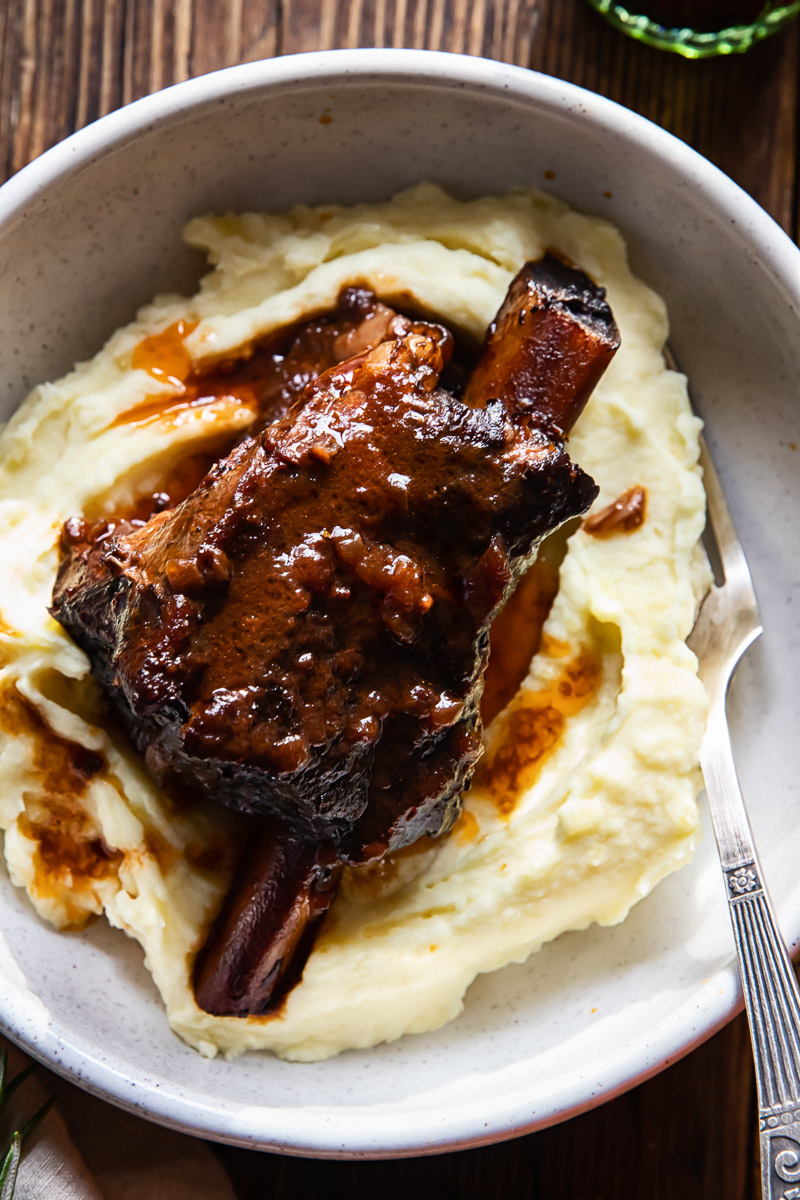 There is no doubt in my mind that the best way to cook short ribs is braising them for hours. And by hours I mean at least two and a half or three if you lower the temperature.
While it seems like it's going to be a fussy recipe, it's far from it. The recipe is extremely simple, and most of the cooking happens without your direct involvement.
All you have to do is to get the ribs into a preheated oven with a few flavourings of your choice. Then sit back and enjoy the aroma in anticipation of the coziest winter meal you can think of.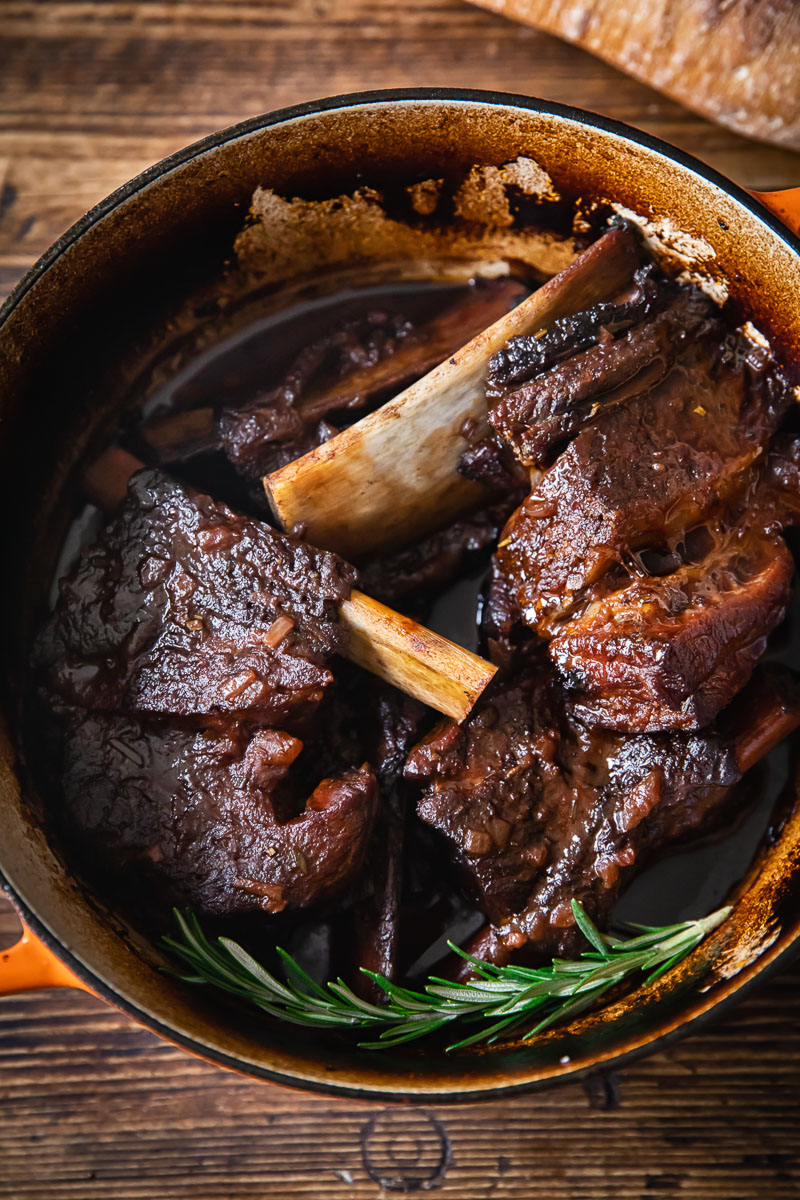 What is Braising?
Braising is one of those methods, that gets thrown around a lot by chefs and TV personalities. It sounds fancy but in reality your grandma and great grandad did it. And so did many cooks for centuries.
Braising was invented for tougher cuts of meat, which makes beef short ribs the perfect candidate. The method itself simply means cooking meat, partially submerged in a liquid over low temperature for a long periods of time until it's tender.
Beef is not the only meat, which benefits from braising. You can braise chicken, lamb or pork. However avoid the cuts, that are already tender like beef tenderloin.
The choice of liquid is up to you. It accomplishes two things. It tenderderises the meat but also flavours it. For the short ribs I chose a combination of dry red wine, tomato passata aka crushed tomatoes, flavoured with fried onions, garlic, bay leaves and rosemary. Simple yet effective.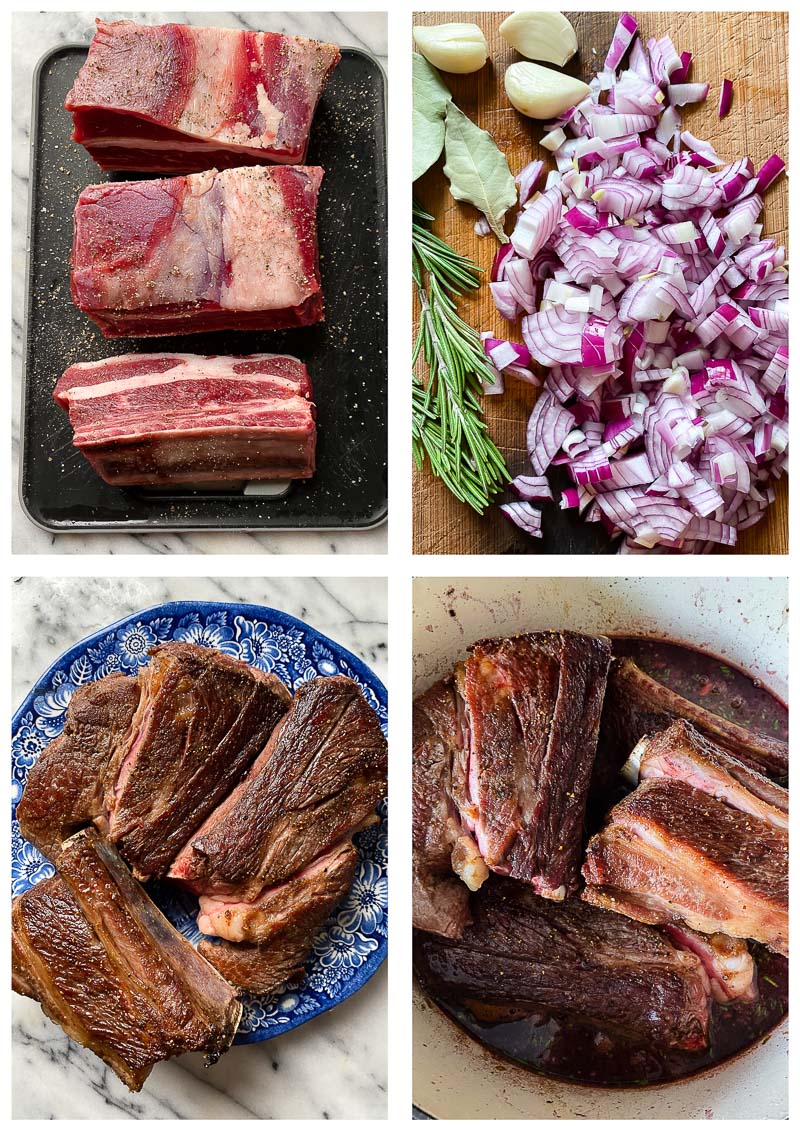 Recipe Tips and Notes
Let's talk about the size of short ribs. Generally, you should be able to serve 1 rib per person. However, the ones sold in the UK are very large; 3 short ribs weighing 1 kilo/2.2 pounds. If that is the case, you can take them off the bones and split each rib into two servings.
I recommend browning the ribs in oil on high heat before braising them. This extra step is a bit messy but including it means a deeper, more robust flavour of your meat.
This recipe calls for fresh rosemary and bay leaves for flavour. However, you can use fresh or dried thyme or a herb of your choice instead. Just make sure your herbs are still fragrant as they do lose their potency quickly when dried.
If you don't enjoy the flavour of the red wine. You can dilute it with beef stock. So instead of using 2 cups of red wine, you can use 1 cup red wine and 1 cup of the stock. Or adjust the proportion according to your taste.
I recommend using a cast iron pot aka Dutch Oven for its ability to retain heat. The meat braised in a Dutch oven comes out meltingly tender.
You can also choose to cook your ribs in a slow cooker instead of the oven. In that case, follow the recipe but put your meat in the slow cooker instead and cook on low for 8 hours.
Favourite Braised Meat Recipes: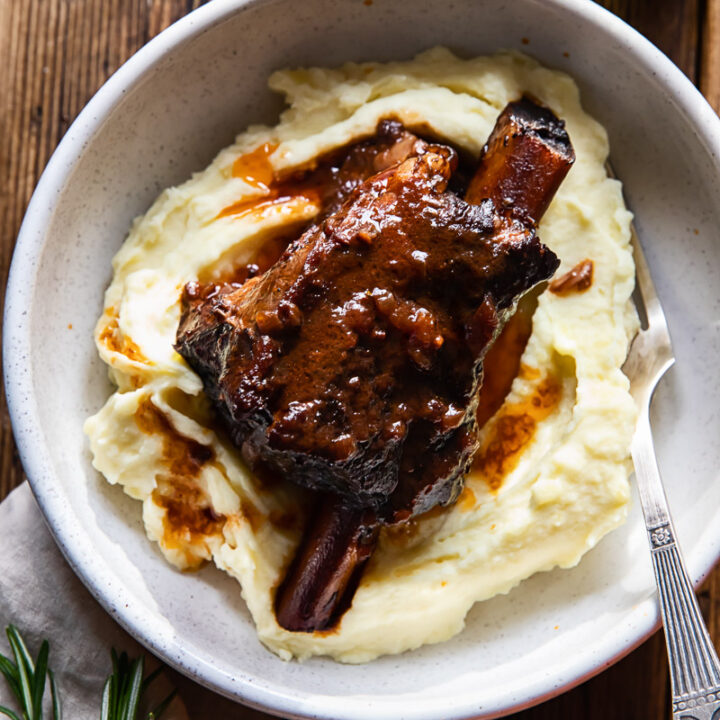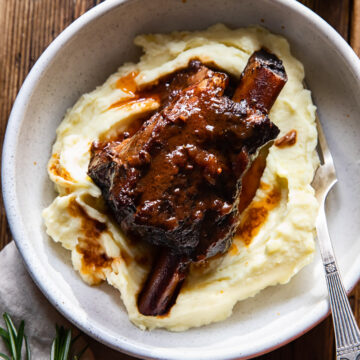 Braised Beef Short Ribs
These beef short ribs, braised in red wine low and slow, deliver bold and robust flavours and the meat, that will melt in your mouth.
Ingredients
salt and pepper

1

tbsp

olive oil

5

lbs

beef short ribs

1

onion

3

cloves

garlic

4

sprigs

fresh rosemary or 1 tsp dried rosemary

500ml/2 cups

dry red wine

250ml/1 cup

tomato passata/canned crushed tomatoes

2

bay leaves
Instructions
Preheat the oven to 180C/350F. Salt and pepper the short ribs. Heat the oil in a large and deep Dutch Oven, then brown the ribs all over on high heat. Remove to a plate.

To the same pot, add the diced onion and cook for 5 minutes over low heat, then add chopped rosemary and sliced garlic, cook for 30 seconds, add the wine, tomato passata (crushed tomatoes) and bay leaves. Return the short ribs back to the Dutch oven, the will be partially submerged in the liquid, cover and cook for 2.5 hours or until very tender and easily come off the bones.

Alternatively, you can cook these short ribs in slow cooker for 8 hours on LOW. Follow the recipe as written until the last part of putting the meat in the oven.
Nutrition
Calories:
590
kcal
Carbohydrates:
7
g
Protein:
54
g
Fat:
31
g
Saturated Fat:
12
g
Polyunsaturated Fat:
1
g
Monounsaturated Fat:
14
g
Cholesterol:
163
mg
Sodium:
1011
mg
Potassium:
1141
mg
Fiber:
1
g
Sugar:
3
g
Vitamin A:
94
IU
Vitamin C:
6
mg
Calcium:
44
mg
Iron:
7
mg