This recipe for ham and pea soup is easy, delicious and satisfying. Make a large batch on Sunday night and enjoy all week long for a quick and nutritious lunch!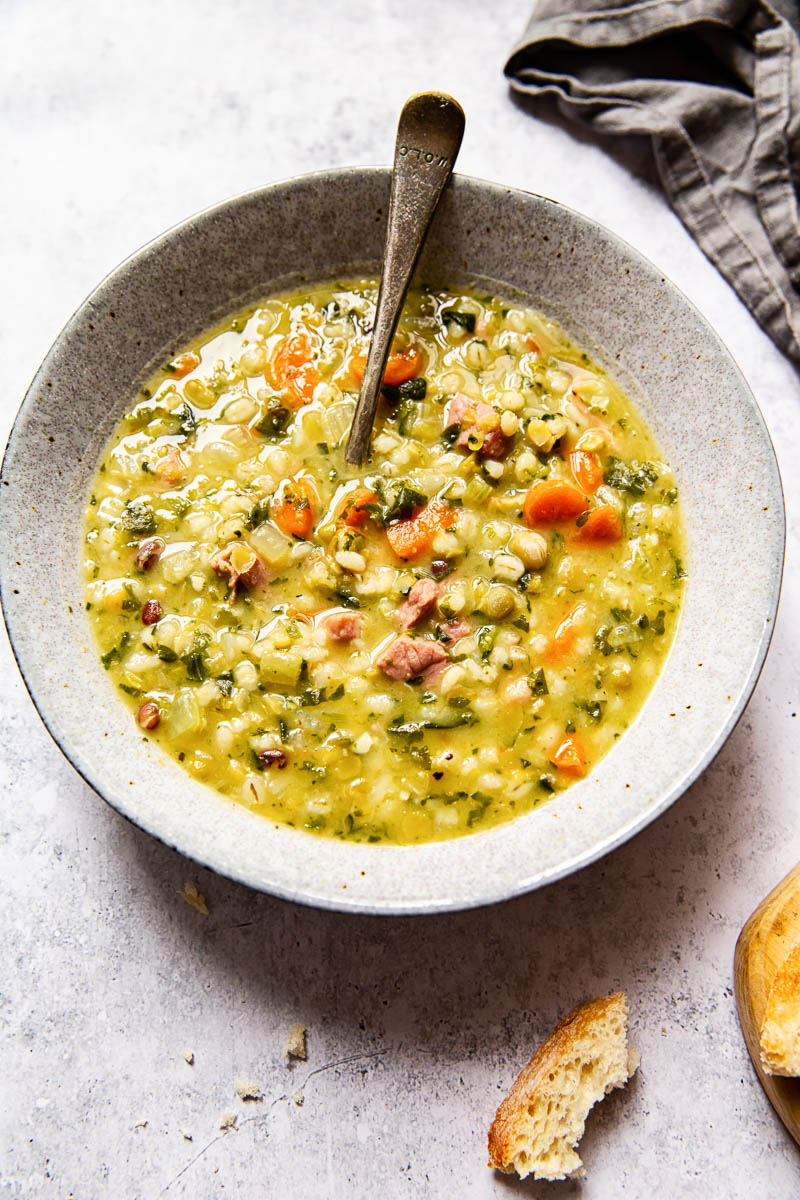 When I was growing up there was always a batch of soup in the fridge that lasted us from Monday to Friday. It was a quick after school lunch for us kids. Something simple yet wholesome. A meal that we could warm up on our own!
I didn't love all soups that my mum made but this ham and pea soup was my favourite. The recipe I am sharing today is a variation of my mother's. The great thing about this recipe is how easily you can customise it to suit your family's taste!
My secret weapon behind this recipe is a simple soup mix you can buy in your local supermarket.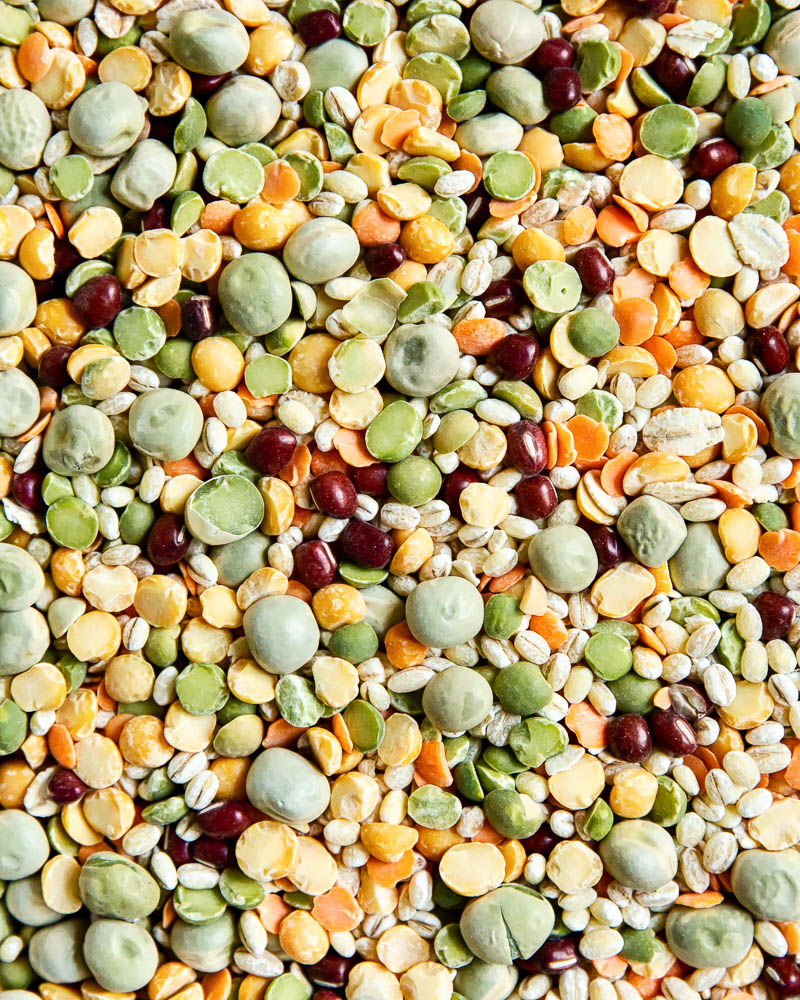 What is a soup mix?
Soup mix is quite simply a mix of most common soup ingredients namely beans, lentils, green and yellow split peas and barley. Some soup mixes also have dehydrated vegetables added for extra flavour.
Most soup mixes require an overnight soaking before they could be used. However, I find that 1 hour of slow simmering does the same in terms of softening them up as pre-soaking, granted all the soup mix ingredients are roughly the same size.
If your soup mix contains large dried beans, an overnight soaking is highly recommended.
If you don't think your supermarket carries soup mixes, I suggest looking more closely next time in your grain or legume aisle. That's usually where they are hiding!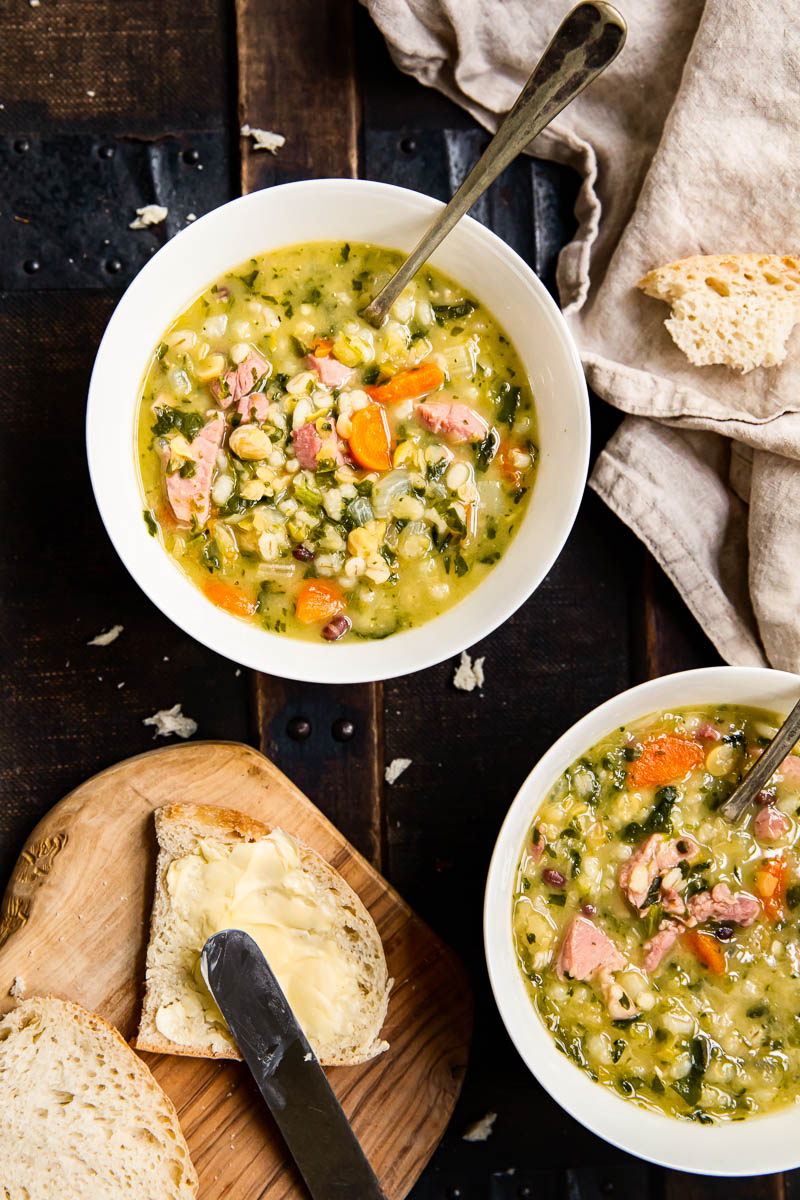 What I love about using a soup mix rather than just one ingredient like split peas or lentils is the mix gives soups far superior texture, not to mention nutritional value. Different soup mixes can bring variety to your soup recipe!
It also makes soups very hearty and satisfying. You can definitely serve them for dinner with some bread and butter, and no one will be left hungry!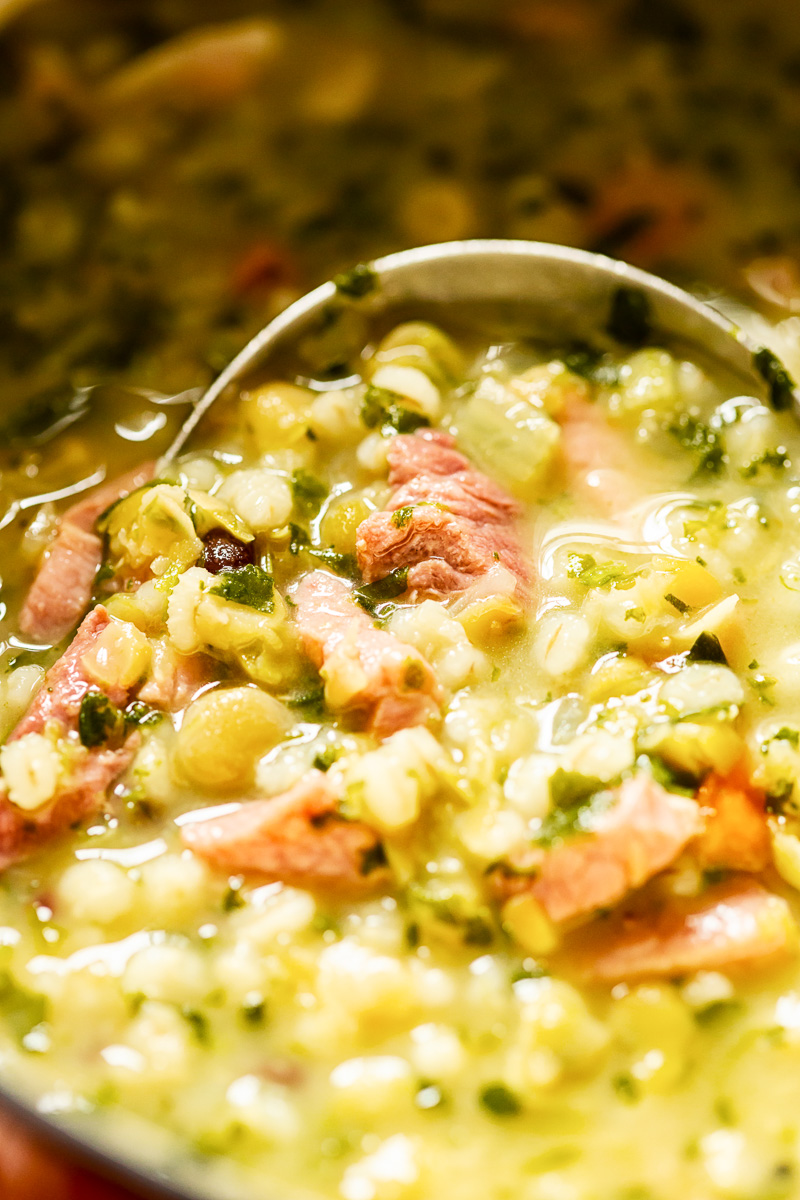 How do you make ham and pea soup?
If I make a quick soup with prepared stock, I always use the same simple formula.
Saute onion, celery and carrots with 1 tbsp of olive oil in a large soup pot.
Add the uncooked ham aka gammon and quickly cook it.
Pour in the stock and the soup mix of your choice (split peas, lentils, beans barley, etc.)
Stir in extra flavouring such as a bay leaf.
Simmer until done.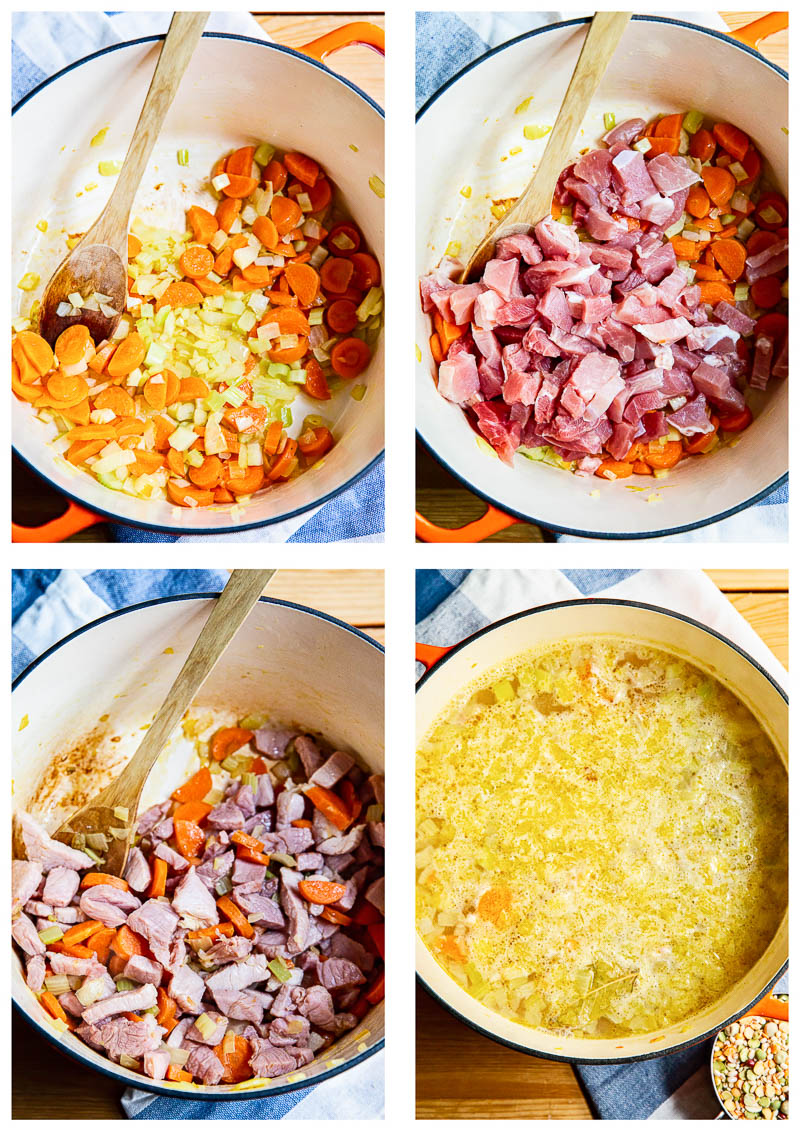 Why make this soup
Apart from being dense in nutrients, that come from all the legumes and ham, this soup is also relatively low in calories and very, very economical.
Every time I make a batch of soup I am amazed at how little meat can go such a long way to feed many people for several days. Our parents and grandparents certainly knew a thing or two about how to live frugally while providing healthy meals for their families.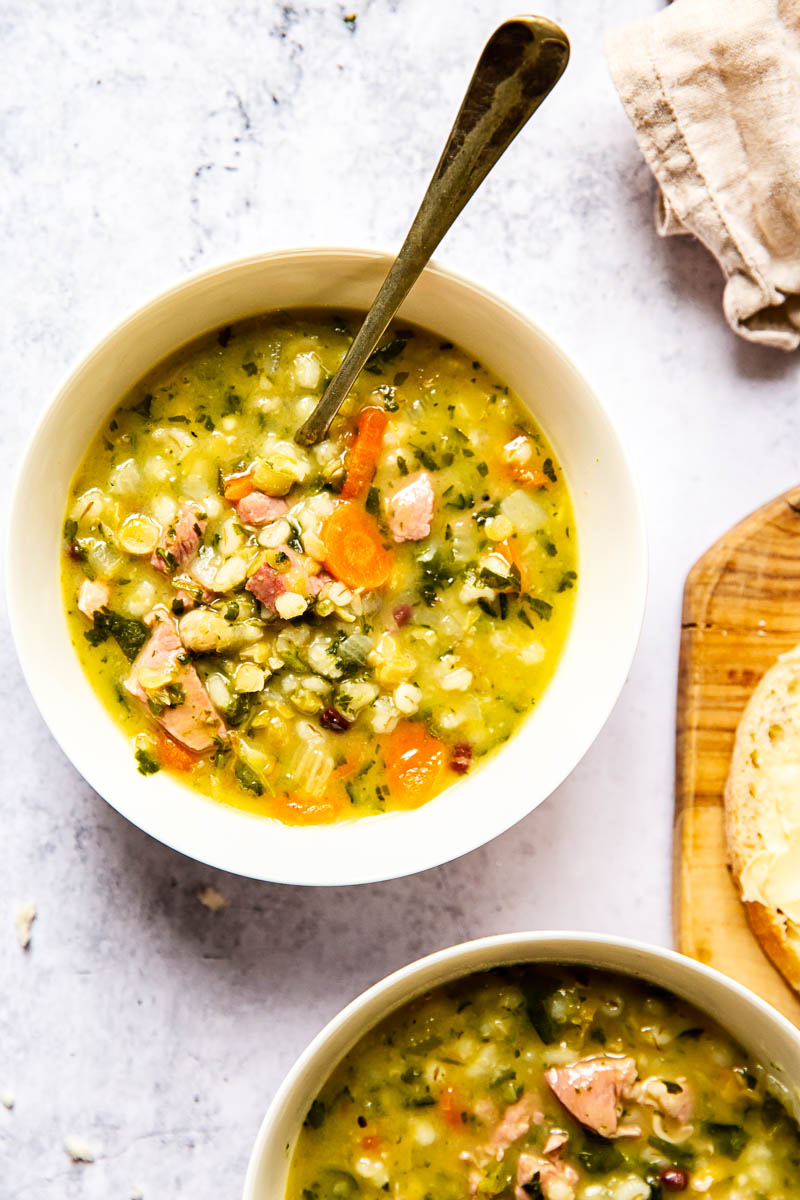 More healthy and filling soup recipes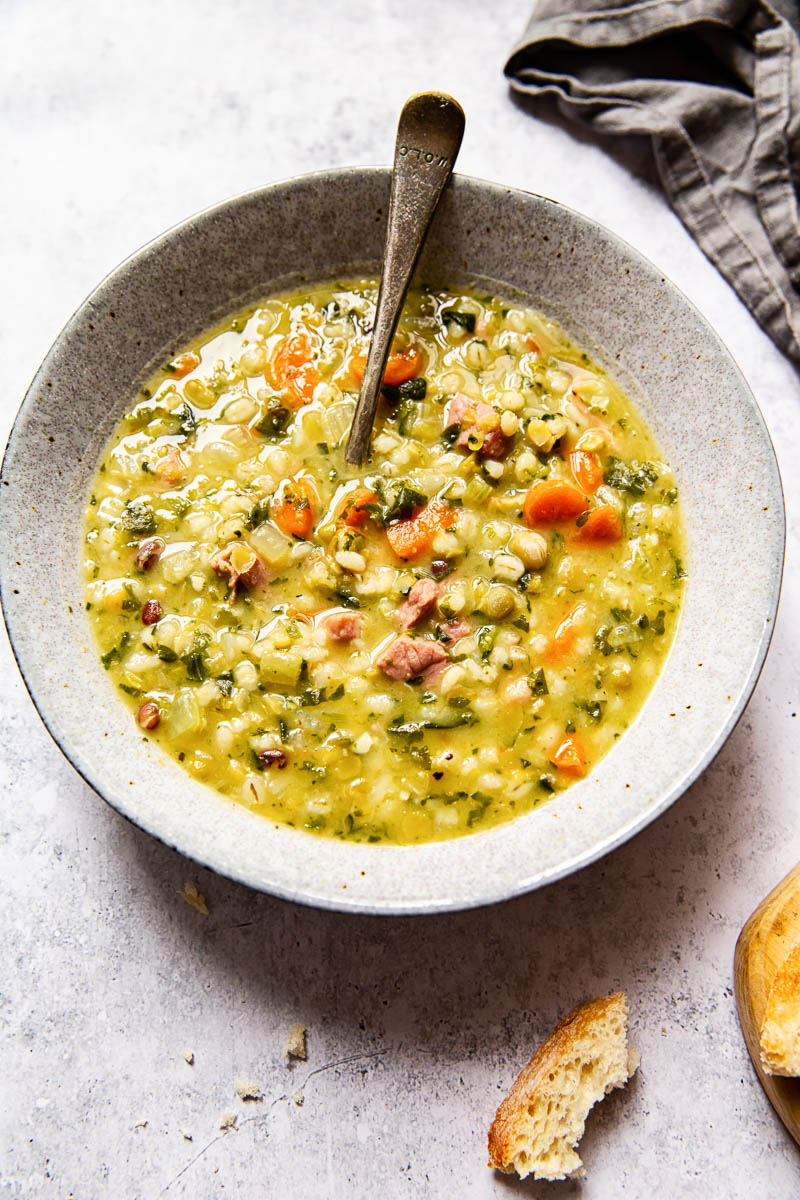 Ingredients
1

tbsp

olive oil

1

onion

diced

2

carrots

sliced

2

celery sticks

diced

400g/14oz

smoked gammon steaks or cooked ham if gammon not available

fat trimmed

1.5 litres/6 cups

chicken or vegetable stock

1

bay leaf

200g/1 cup

soup mix (lentils, split peas, barley, navy beans, etc)

3 cubes/2/3 cup

frozen spinach

salt to taste
Instructions
In a large soup pot saute onions, carrots and celery in 1 tbsp of olive oil over low heat for 7- 10 minutes. Add the gammon steaks cut in bite-sized chunks and cook for a couple of minutes while stirring.

Then add the stock, the soup mix ( a combination of lentils, split peas, barley, navy beans, etc) and 1 bay leaf, bring to a boil, then lower the heat and simmer for 1 hour covered. After an hour taste the beans to make sure they are soft enough. If not, add 10 more minutes of simmering. Then add the frozen spinach and let the soup come to a boil one more time. Taste and season with salt if necessary.
Notes
If gammon steaks are not available in your country, you can substitute with cooked ham. In that case, add the stock, soup mix and cut up ham at the same time.
Nutrition Facts
Ham and Pea Soup
Amount Per Serving
Calories 231
Calories from Fat 45
% Daily Value*
Fat 5g8%
Cholesterol 30mg10%
Sodium 866mg38%
Potassium 635mg18%
Carbohydrates 23g8%
Protein 21g42%
Vitamin A 3445IU69%
Vitamin C 24.7mg30%
Calcium 32mg3%
Iron 2.3mg13%
* Percent Daily Values are based on a 2000 calorie diet.