Everyone NEEDS an overnight, no knead farmhouse bread recipe in their arsenal because it's just that easy and you can't beat the aroma of freshly baked bread in your house!
For a quicker no knead bread recipe, check out my Dutch Oven Bread.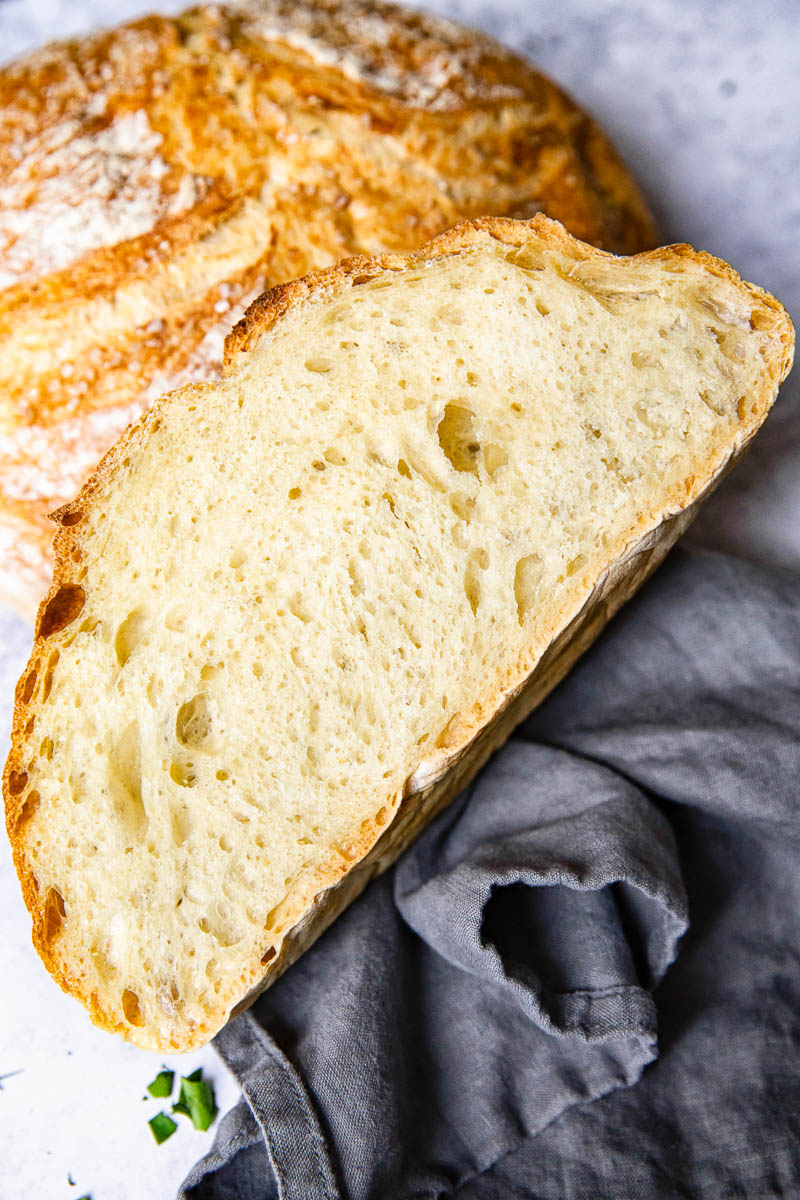 For years bread making has been my Everest. Always admired but never conquered. I am a pretty good baker and I make all kinds of baked goods, as you know if you follow me, but for some reason working with yeast has always scared me.
Such a shame, especially coming from a Russian family where bread is considered to be the essential part of any meal or, as the Russian proverb says, "Bread is the head of everything."
I come from a long dynasty of bread makers. Every woman in my family has made her own bread…except for me.
By nature I am an overcomer; I can't bare the fact that there is a skill I don't possess. It seriously drives me crazy. For example, I can only drive a car with an automatic transmission. Just not cool. It's on my to-do list.
I've had some practice of baking with yeast through pizza dough making, which is no different from bread so I figured it's time to overcome my fear and get right down to it.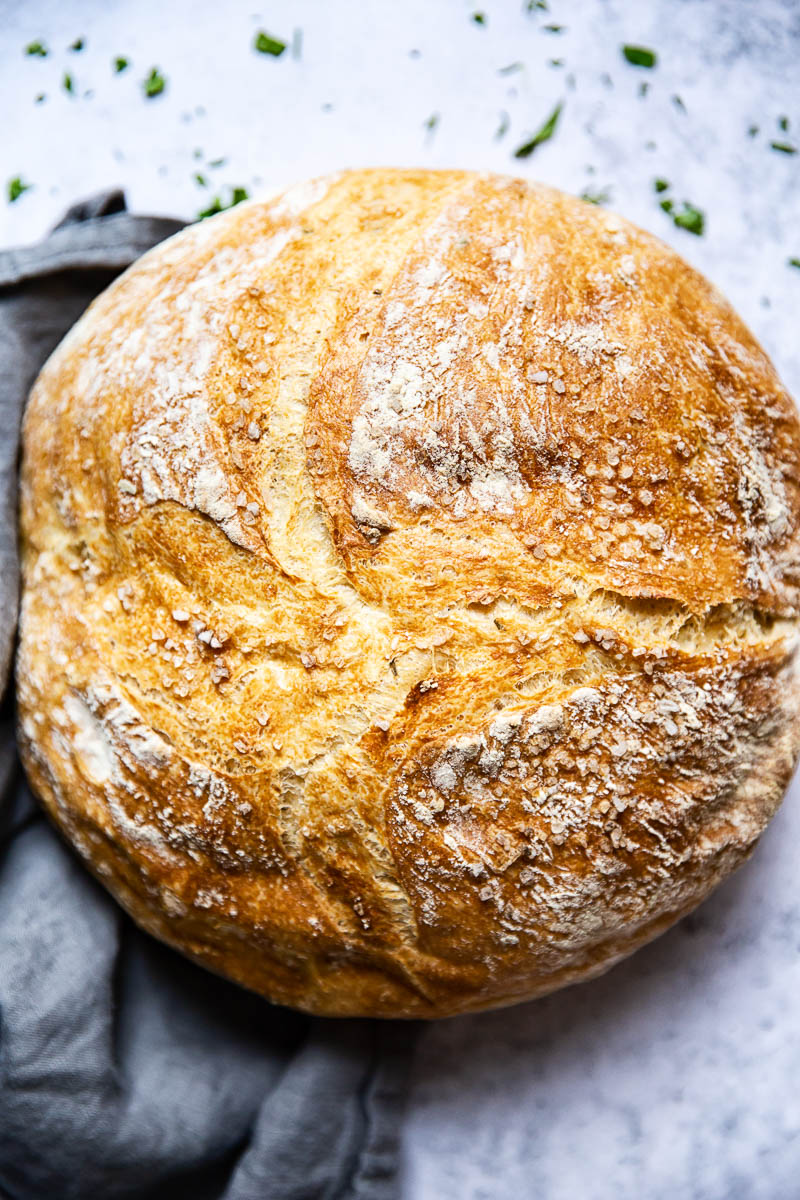 This loaf is actually my second one. That's right, I baked two loaves of bread in two days! My first attempt was hugely successful, which gave me a lot of confidence. I used a different recipe, which produced a gorgeous loaf of bread in 2 hours from start to finish.
Unfortunately for you, it was eaten so quickly I wasn't able to take any photos but I will be making it again soon. Stay tuned!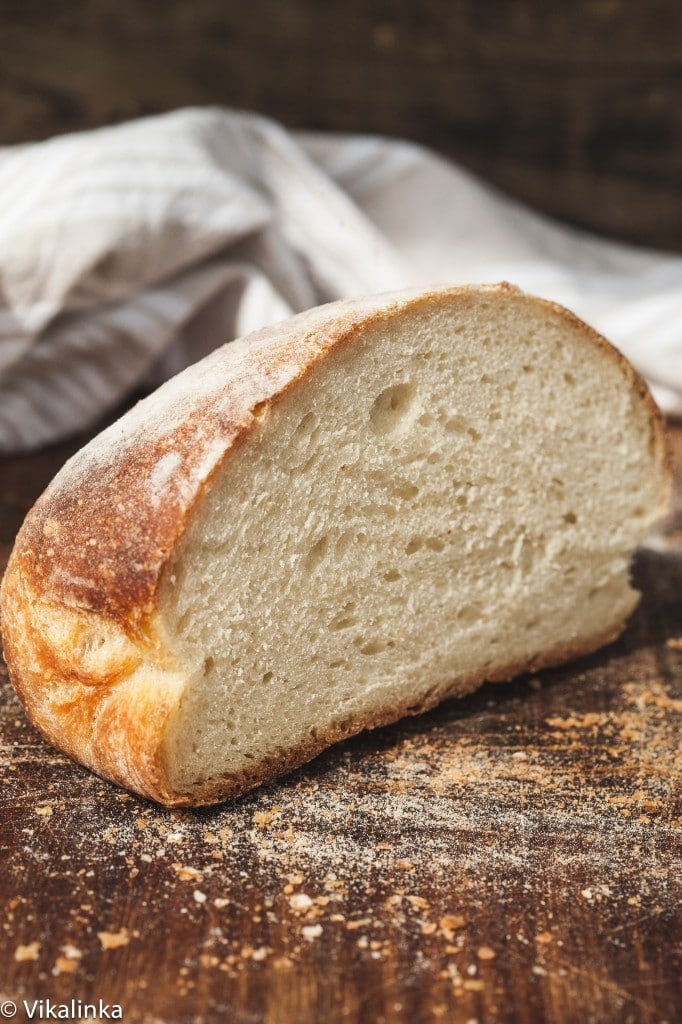 Who developed the recipe for no knead bread?
The recipe for this miracle bread is no secret. It was revealed by The New York Times in 2006 and has been all over the blogosphere ever since and for a very good reason.
The author Jim Lahey claimed a 6 year old could make a European bakery style bread, a claim tested by many and agreed upon. I figured it would be a good recipe to start with. As you can see, it required so little effort I didn't even have to roll up my sleeves!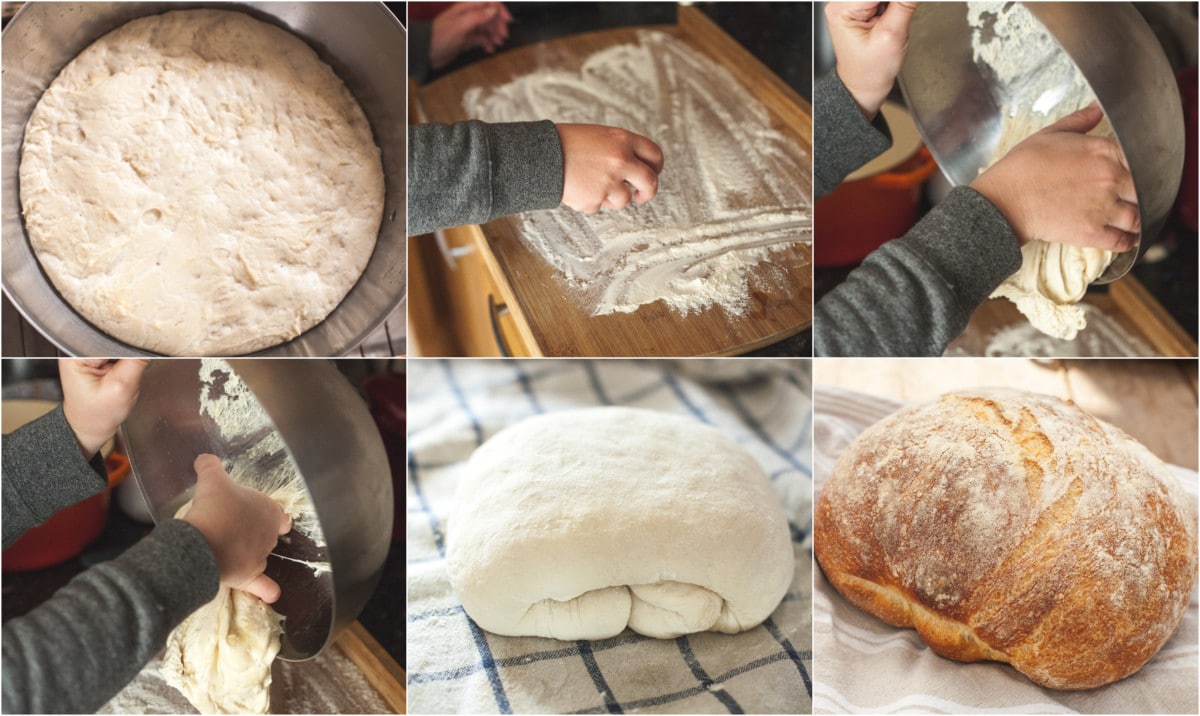 How do you make no knead bread?
As the title suggests, this particular bread recipe requires no kneading, the integral part in successful bread making. Instead of kneading the bread dough, this recipe utilises a long, 12-hour fermentation time to develop gluten.
Not only does it achieve the same result as kneading, it also develops much better bread flavour. You will be quite surprised if you have a side by side taste test with a grocery store loaf. Your homemade bread will be miles ahead in terms of flavour and texture.
How is no knead bread different from regular bread?
The best part for me personally is the thick and chewy crust that is the hallmark of any good European loaf, something I grew up eating and missed intensely during my years in North America.
Truth be told, I wish I knew about this recipe when we were still living in Canada because buying a similar loaf was impossible. Now I am privileged enough to buy any kind of bread I wish but still it's incredibly empowering to be able to bake my own!
This particular recipe reminded me of Pain de Campagne, a traditional French sourdough country bread which we buy most of the time.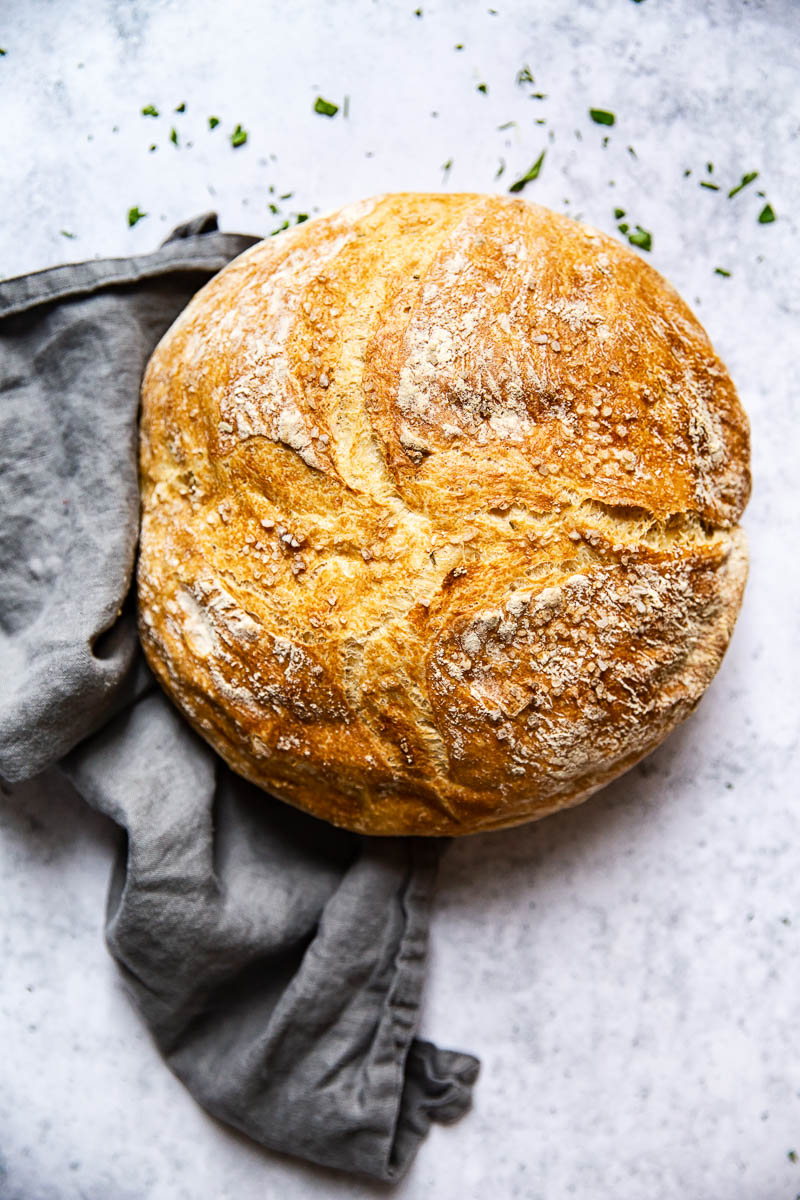 You might ask what sets this recipe apart from every other recipe out there. The main difference is the method of baking.
It's baked in a blazing hot oven inside a preheated dutch oven with a lid on which does 2 things – it creates moisture (and therefore a thick, chewy crust) and allows the bread to rise quickly.
Can you just take a look at that loaf?! How can you not fall in love immediately!
And that smell of a freshly baked loaf!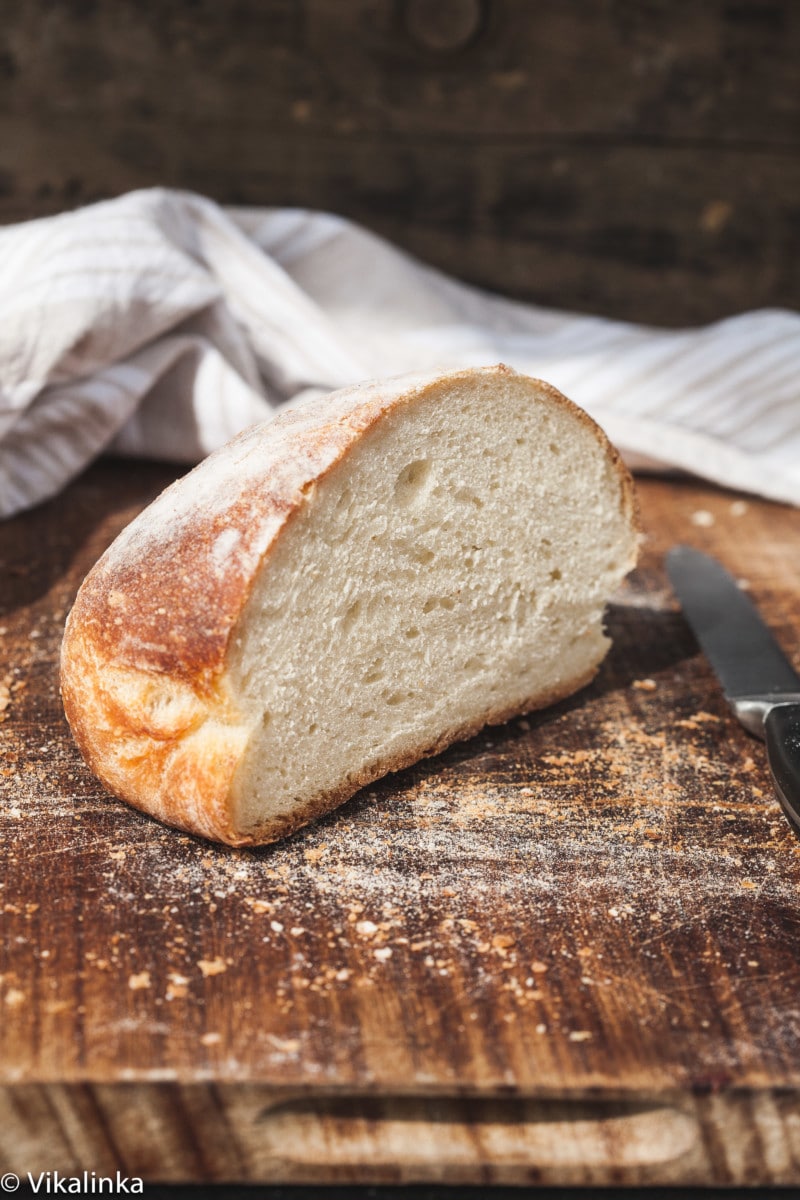 Originally published on 04/2014. Updated with more information and new photos.
If you like this bread, why not try more bread recipes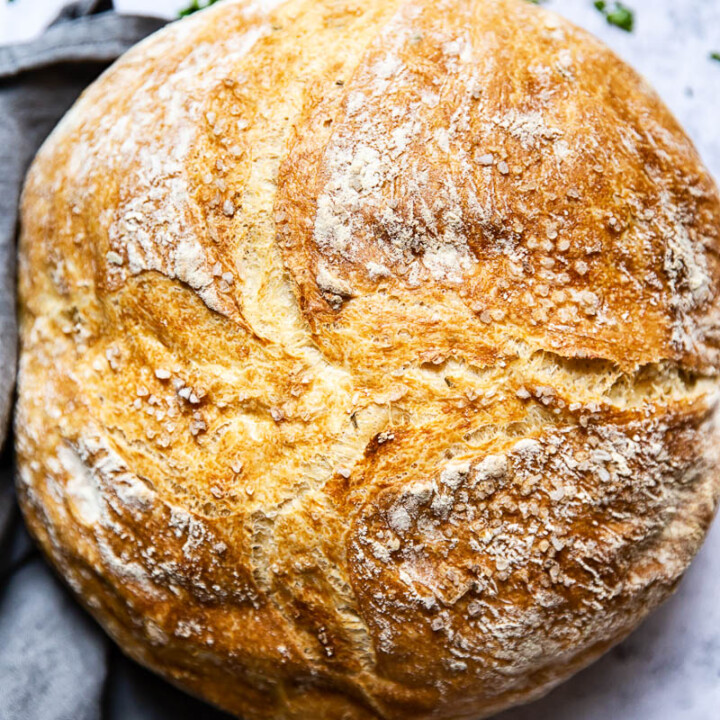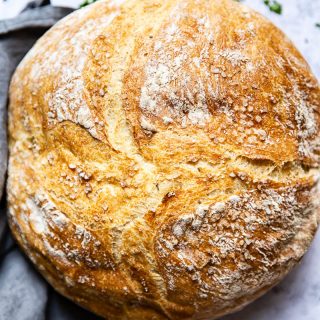 No Knead Farmhouse Bread
The recipe produces a 1.5 lbs loaf of bread.
Ingredients
3 to 3 ½

cups/400g to 450 g all-purpose or bread flour

more for dusting (I used 3 ½ cups)

¼

teaspoon

instant yeast

1¼

teaspoons

salt

1 ½

cups/ 375ml warm water

Flour for dusting
Instructions
Mix flour, yeast and salt in a large bowl.

Add warm water to the ingredients and mix until a sticky dough forms.

Cover with a towel and let it rise on the counter for 12 hours.

Preheat the oven to 500F/260C with dutch oven inside.

Turn your dough out on a floured surface, it will be flat, tuck all four sides in to form a ball and place it on a floured surface seam side down, sprinkle with more flour and cover with a towel. Don't be afraid to be generous with flour.

Let it rise for 20 minutes.

If you are short on time you can bake your bread after a 20 minute rise, and it will be a somewhat dense and hefty loaf yet still delicious. (Like mine in the pictures). Alternatively, you can let it rise for 2 more hours in order to produce a more airy loaf of bread.

Cut slits in the top of the loaf with a sharp knife approximately 1-2cm deep to allow steam to escape and create a better shaped loaf.

Take dutch oven out of the oven and carefully place your dough in it, cover with a lid and bake for 25 minutes.

Take the lid off and bake for 10-15 minutes longer to get more colour into your crust.
Notes
Since oven temperatures vary so much, I would recommend purchasing a small oven thermometer to monitor your oven's temps. If the crust colour of your loaf is not as dark after 10-15, increase your oven time for a thicker, deeper coloured crust.