Believe the hype about Dutch oven bread! It is real and it's easy. Just mix flour, yeast and water and let the magic happen. No kneading, no hard work!
For another easy bread recipe, check out my No Knead Farmhouse Bread.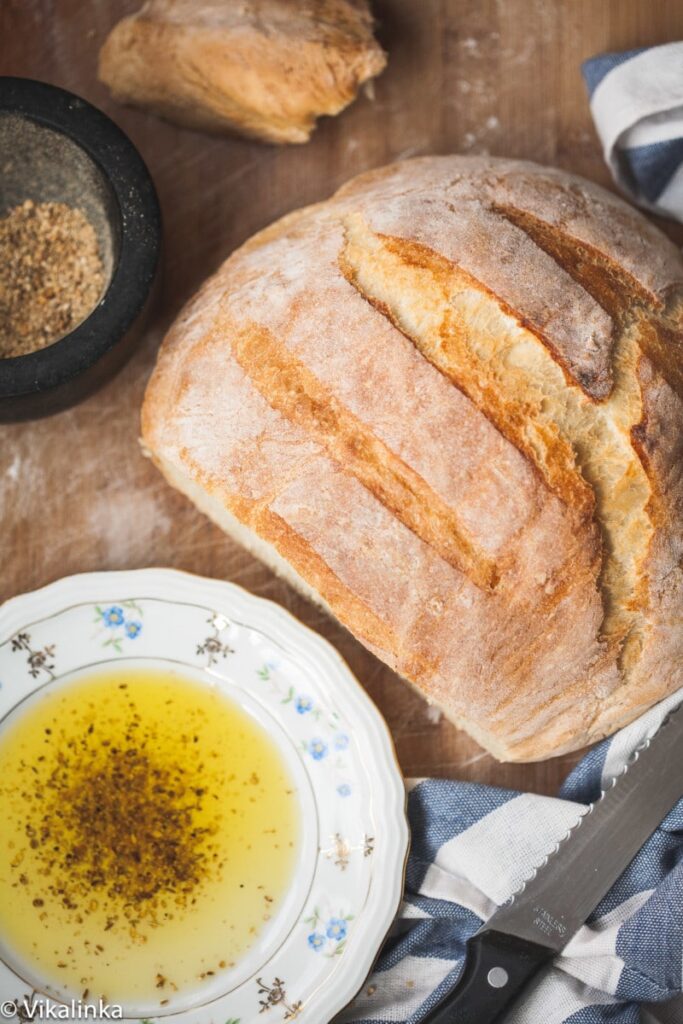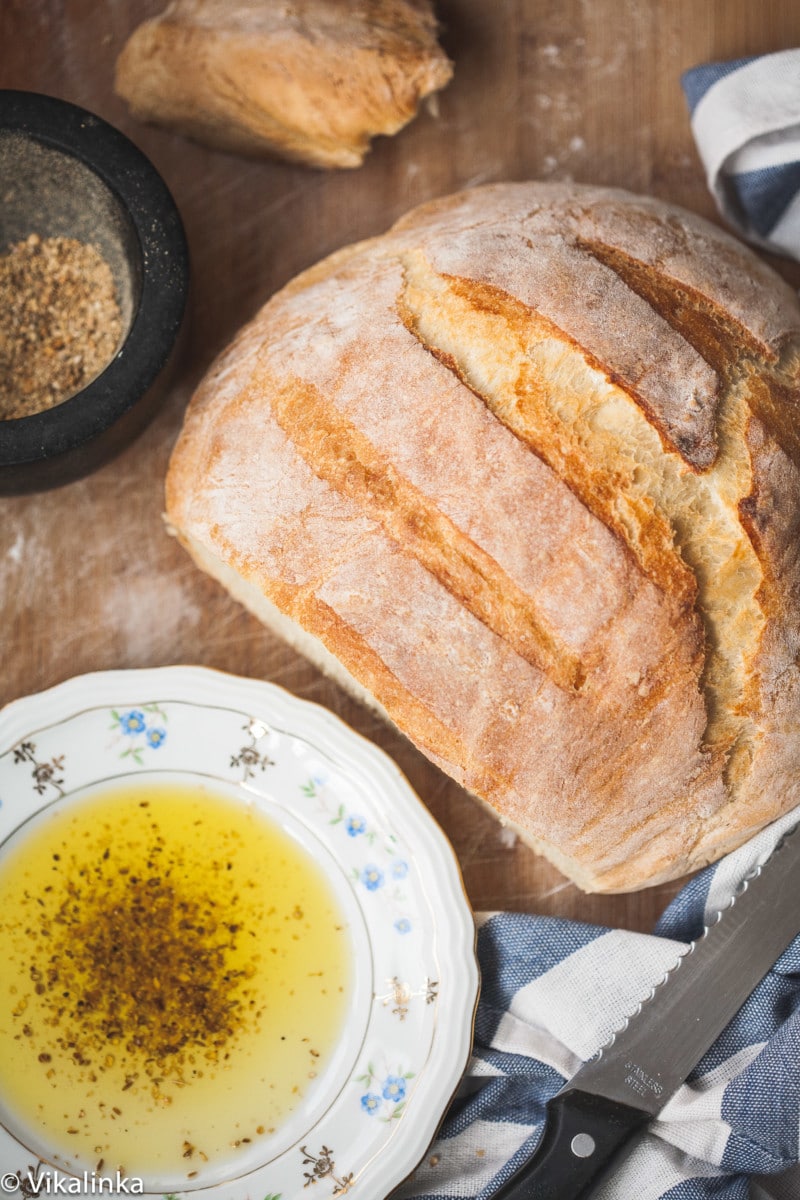 It's a well known truth that nothing warms up a house as much as the smell of fresh bread. It is the perfect antidote to a miserable day or a rough week.
It's a shame that bread had a reputation for not being worth the effort. Anyone who has bitten into a warm, home fresh loaf knows that's not true. Fortunately we have recipes like this to make it amazingly easy!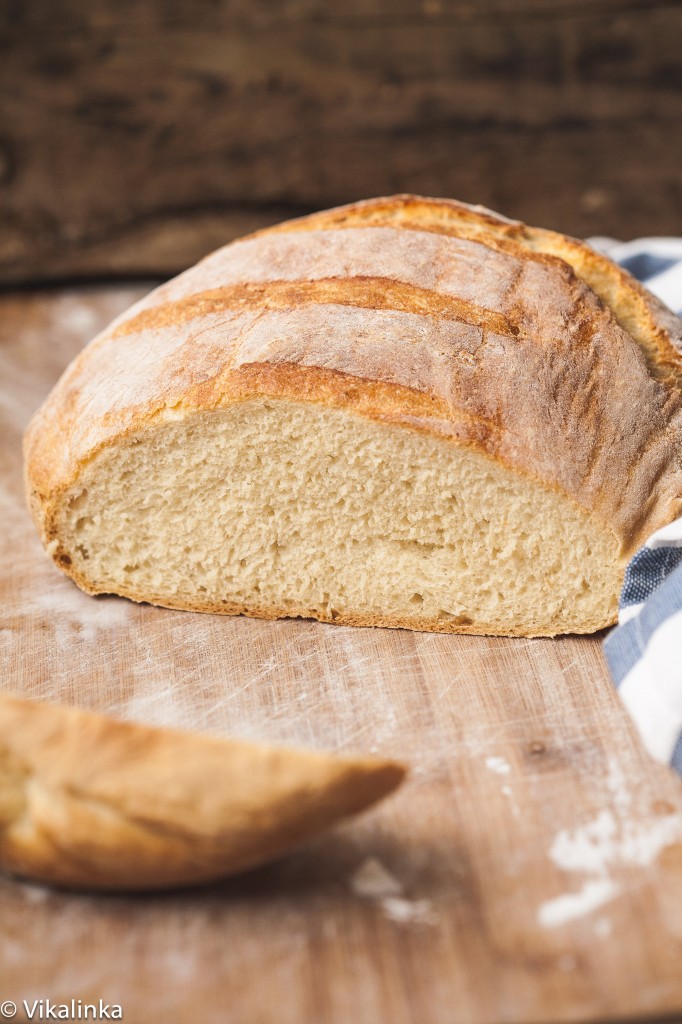 I'm fond of this recipe not only because I like the bread it makes but because it was my gateway into bread making. It convinced me that the time to make a loaf was time well spent. I've now explored many other bread recipes over the years.
I gave it a try because I wanted bakery fresh bread without having to leave my house. The kind of loaf that springs back when you gently push on it instead of collapsing, with chewy crust and loads of flavour.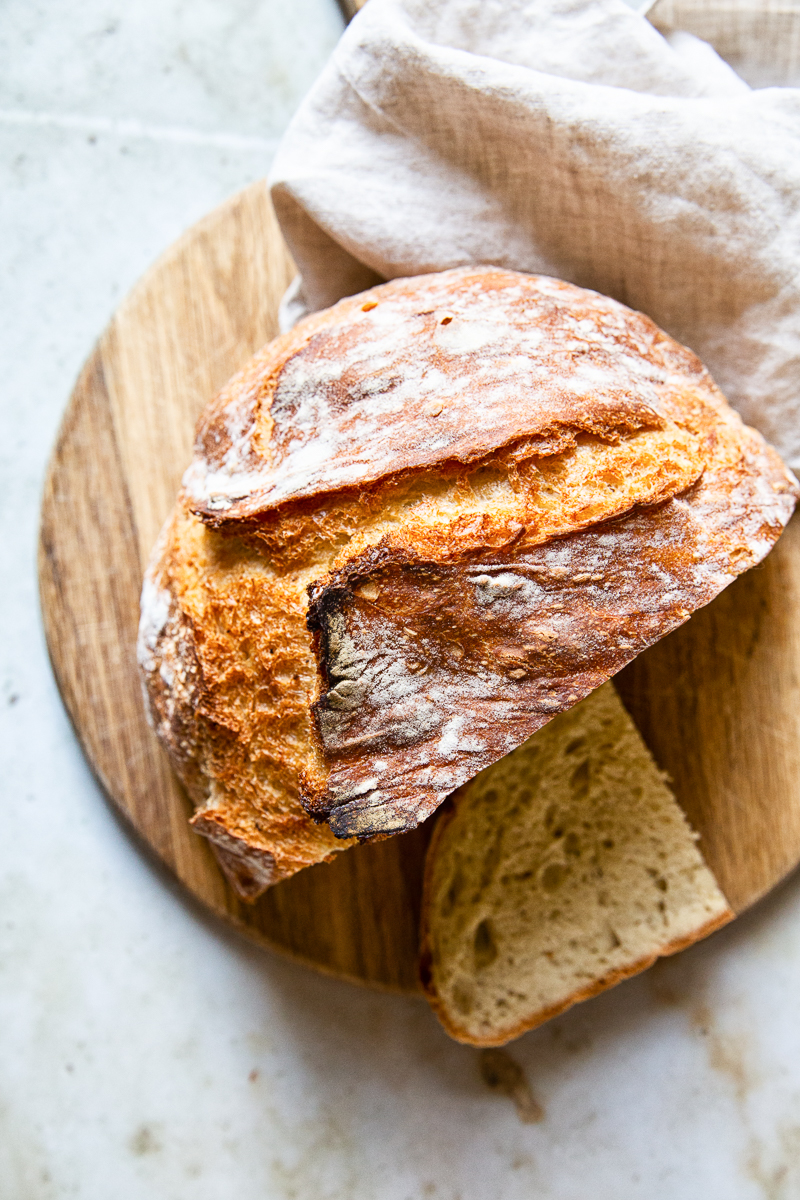 Making the bread
I tested out a couple of recipes including the famous dutch oven bread recipe and a skillet bread recipe before making a version of my own with a crust I could be proud of.
For my version of Dutch oven bread, I've combined the two methods to create one all my own. It's become the bread we go to so often at home because it gives great results in a short amount of time.
I also changed the original recipe by adding more salt and reducing the amount of flour. I also increased the oven temperature from 350F to 500F.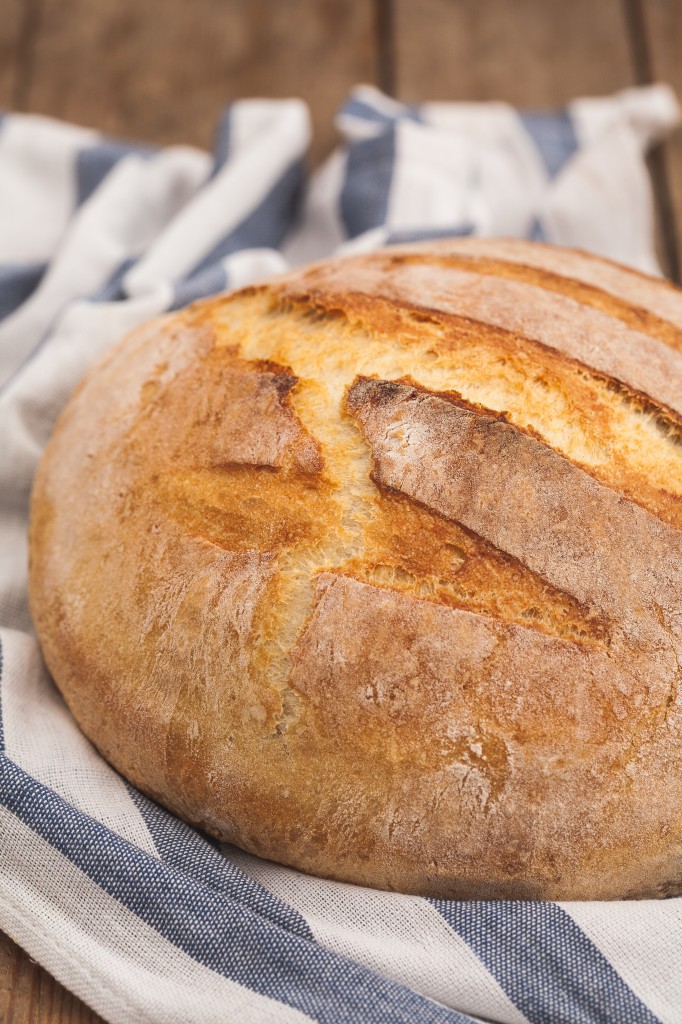 The bread we got as a result of that experiment was mind blowing. I overheard my kids talking later which brought a smile to my face, "That's the best bread she's made!"
Pillowy soft but quite substantial with a thick crust, just the way… aha aha… I like it! The bread was so delicious I would happily make it my dinner, nothing else required.
Dukkah spice mix
Even so, a good dip is still appreciated. My kids are all about bread and butter. I, on the other hand, love my bread dipped in extra virgin olive oil with a bit of balsamic vinegar.
Or dukkah spice, an aromatic Egyptian side dish consisting of a mixture of herbs, nuts and spices.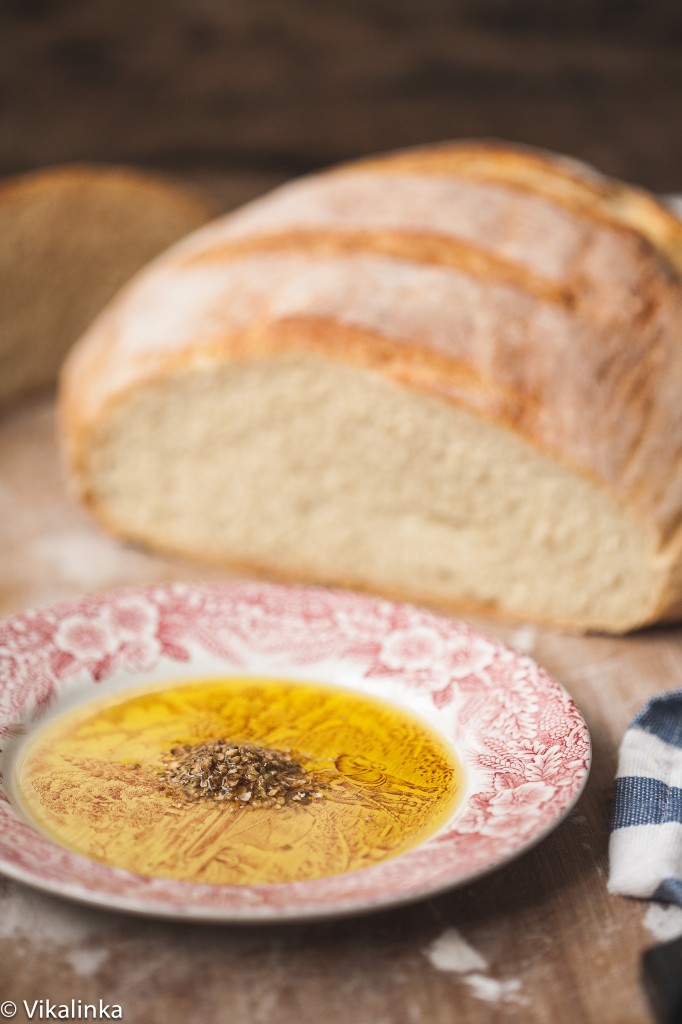 You can buy it in grocery stores like I did but it's much tastier if you make your own. I used already made mix and wanted to open up the flavours a bit more.
So I put a handful in my mortar and took a pestle to it until I could smell the warm and aromatic mixture filling the room.
The dip is as simple as could be. Just pour some good quality extra virgin olive oil in a small plate, sprinkle with some sea salt and dukkah spice. Then dip and dip and dip some more.
More bread recipes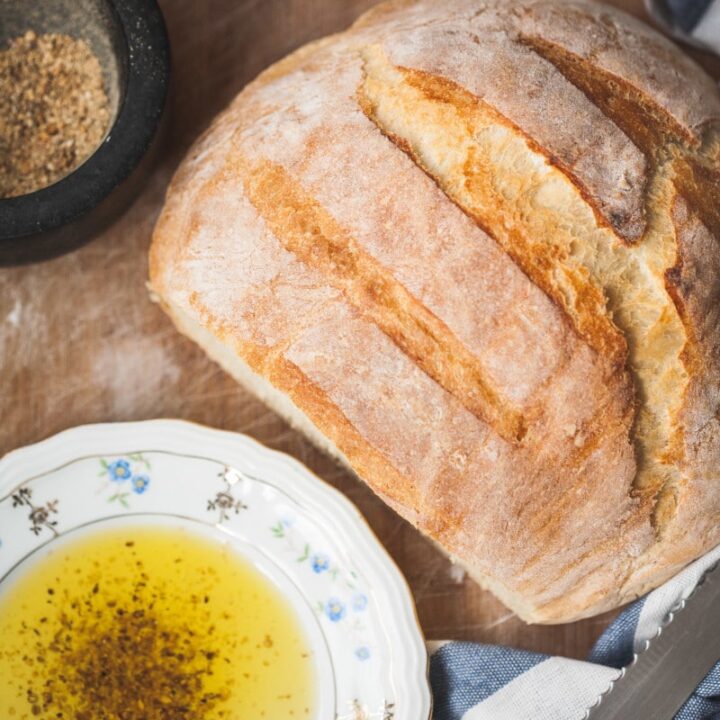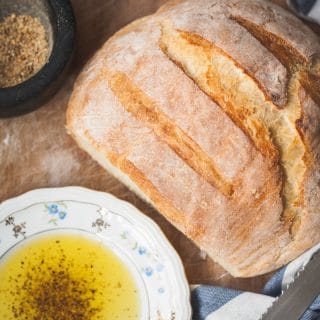 Dutch Oven Bread
Makes a 2 lb loaf of bread
Ingredients
1

package/ 7 gr- active dry yeast

2

cups/500ml lukewarm water

¾

tbsp

sea salt

4

cups/480g bread flour I used Canadian flour)
For the dip
olive oil

sea salt

dukkah spice
Instructions
Mix warm water and yeast in a small bowl. In the bowl of a stand mixer combine flour and salt. Add the water and yeast mixture to the flour and mix until the dough comes together with a hook attachment or by hand. Cover with a tea towel and let it rise for one hour in a warm place.

After one hour preheat the oven to 500F/260C with the dutch oven, including the lid, in it.

Remove the dough on a floured surface and shape it into a ball by tucking the corners in like an envelope. Put it on a tea towel (or parchment paper, seen notes) seam side down, sprinkle with more four and cover with another tea towel and let it rise for 30 minutes.

Take the dutch oven out. It would have been warming in the oven for 30 minutes by then and will be blazing hot. Carefully lift your dough and put it in the dutch oven, cover with the lid and bake for 20 minutes. Take the lid off and bake for additional 10 minutes.

Let it cool which will also allow the crust to develop. Before serving, pour some olive oil in a shallow plate and sprinkle with some sea salt and dukkah spice.
Notes
You can place your shaped dough on a piece of parchment paper, then pick it up by the opposite side of the paper and lower it into the Dutch Oven.
Full disclosure: I don't use parchment paper and my bread never sticks to the Dutch Oven.
Nutrition
Calories:
228
kcal
Carbohydrates:
46
g
Protein:
8
g
Fat:
1
g
Saturated Fat:
1
g
Polyunsaturated Fat:
1
g
Monounsaturated Fat:
1
g
Sodium:
659
mg
Potassium:
71
mg
Fiber:
2
g
Sugar:
1
g
Vitamin A:
1
IU
Vitamin C:
1
mg
Calcium:
12
mg
Iron:
1
mg