Do you ever wonder about all the hype brought on by the Dutch oven bread? Is it real and should you try your hand at bread baking? Read on!
I was wondering that myself, and here is what I found. It is real and it's easy. Just mix flour, yeast and water and let the magic happen. No kneading, no hard work.
For more bread recipes, check out my No Knead Farmhouse Bread.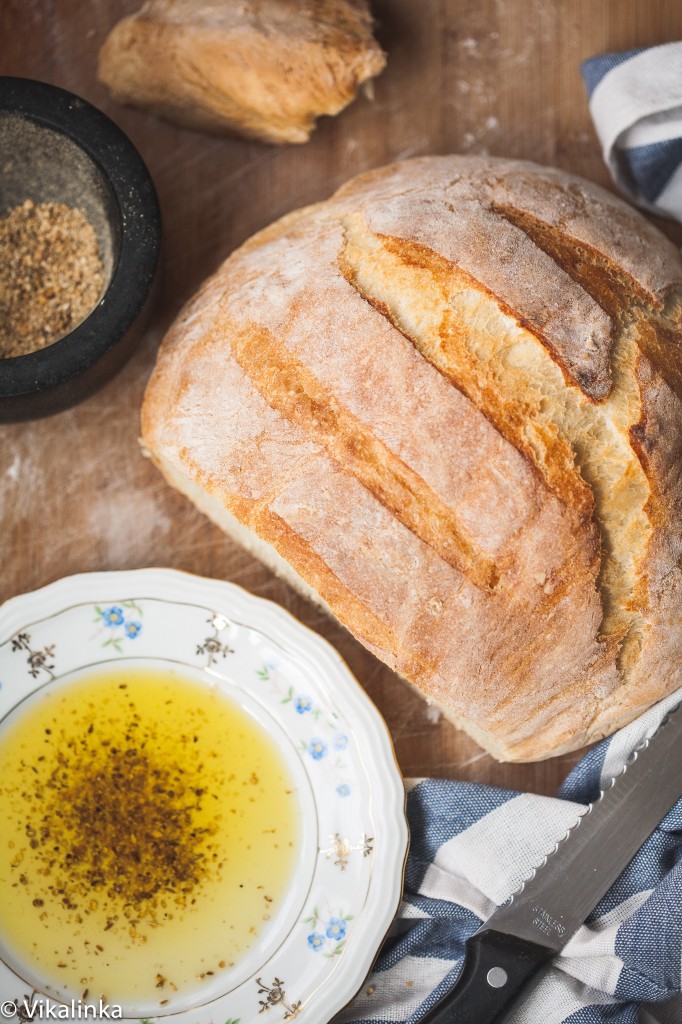 It was raining and hailing outside. I had company coming over and a roast dinner in mind with all the extras. One thing that was non-negotiable on the menu, besides the roast itself, a good and hearty loaf of bread.
The kind that springs back when you gently push on it instead of collapsing, with chewy crust and loads of flavour. Unfortunately, the "non-negotiable" part was delayed to be purchased "for later" and then the onslaught of rain came.
Although I'd lived on the Wet West Coast of Canada for 9 years and now in England for 3 I still can't stand the rain. There was just no way I was getting out for a loaf of bread and no way I was giving up my original dinner menu plan.
So I headed over to my Pinterest Bread board and decided to make my FIRST ever loaf of bread. That's right, my bread baking spree was brought on by laziness and an overall dislike for getting my hair wet. The last one is not even a joke.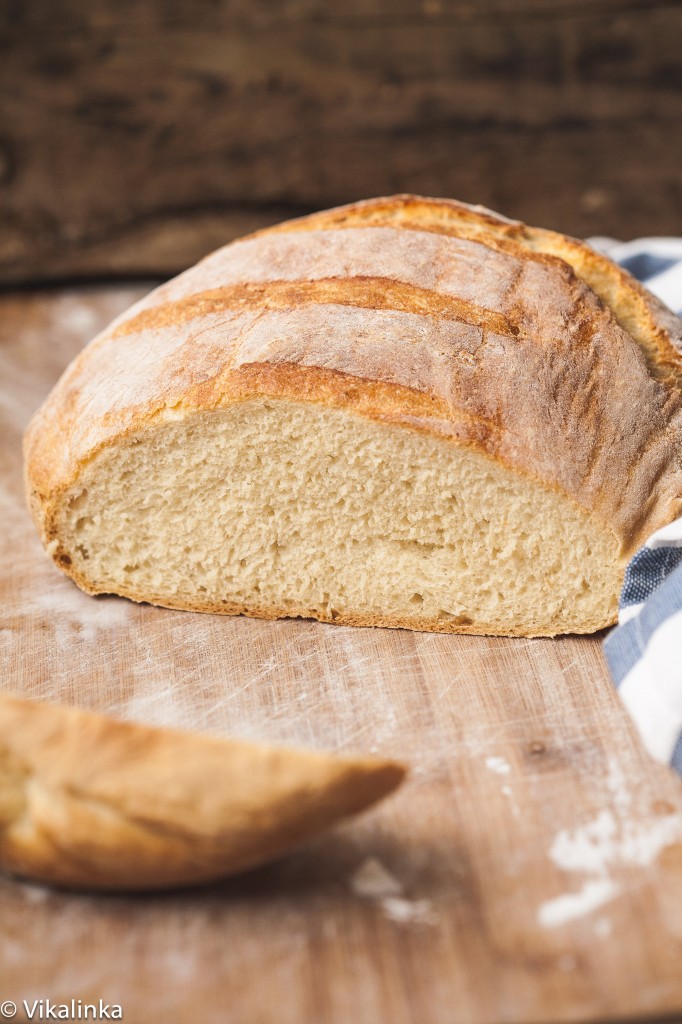 I chose the recipe that claimed that the dough required no kneading and was ready in 2 hours. Brilliant! 2 hours is all I had.
In the end was I was extremely pleased with the end result. However, the bread was lacking that thick chewy crust that is my favourite part in any bread.
So the next day I tried the famous dutch oven bread recipe and got the crust I wanted.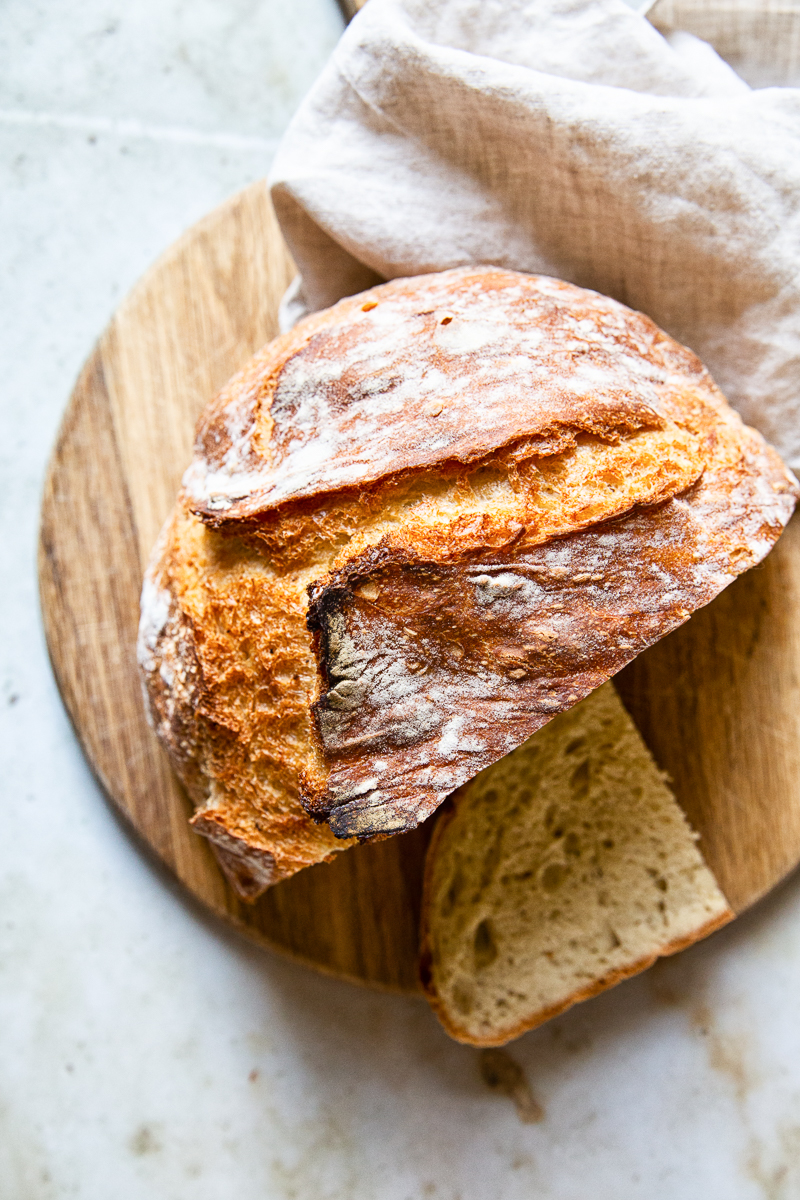 How do I make Dutch oven bread?
So naturally the next step was to combine the quick recipe and the method of baking and make loaf number 3 – a pretty risky step for a non-experienced bread baker but experimenting in the kitchen is what I do.
I also changed the original recipe by adding more salt and reducing the amount of flour, also increasing the oven temperature from 350F to 500F.
The bread we got as a result of that experiment was mind blowing. I overheard my kids talking later which brought a smile to my face, "That's the best bread she's made!"
Pillowy soft but quite substantial with a thick crust, just the way… aha aha… I like it!
That bread was so delicious I would happily make it my dinner, nothing else required.
Well, maybe a dip of sorts too. My kids are all about bread and butter. I, on the other hand, love my bread dipped in extra virgin olive oil with a bit of balsamic vinegar.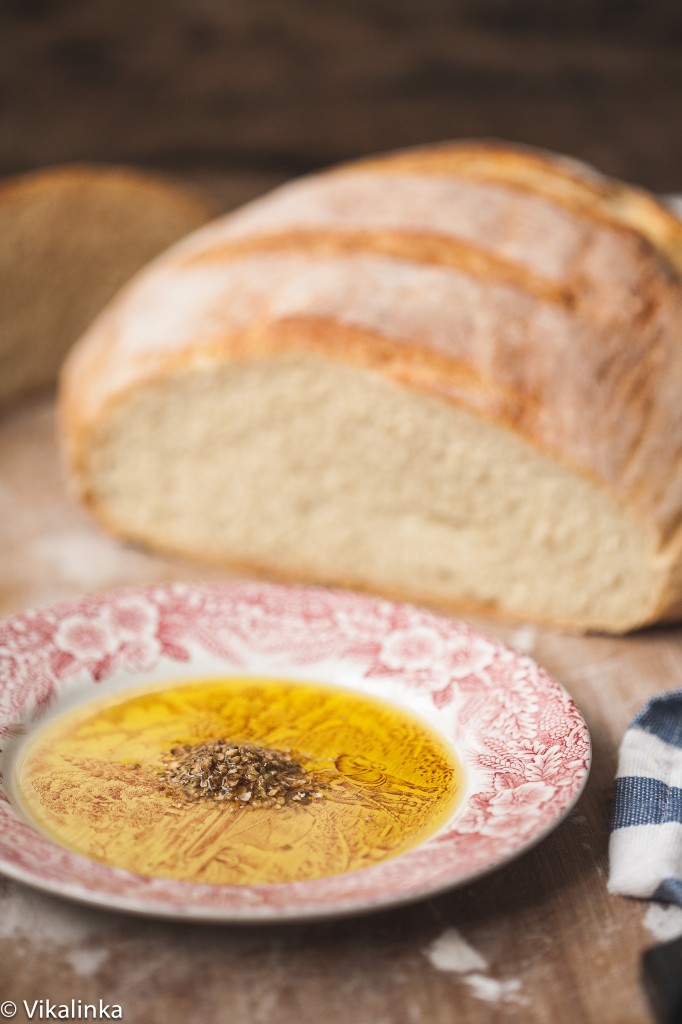 Or dukkah spice, an aromatic Egyptian side dish consisting of a mixture of herbs, nuts and spices.
You can buy it in grocery stores like I did but it's much tastier if you make your own.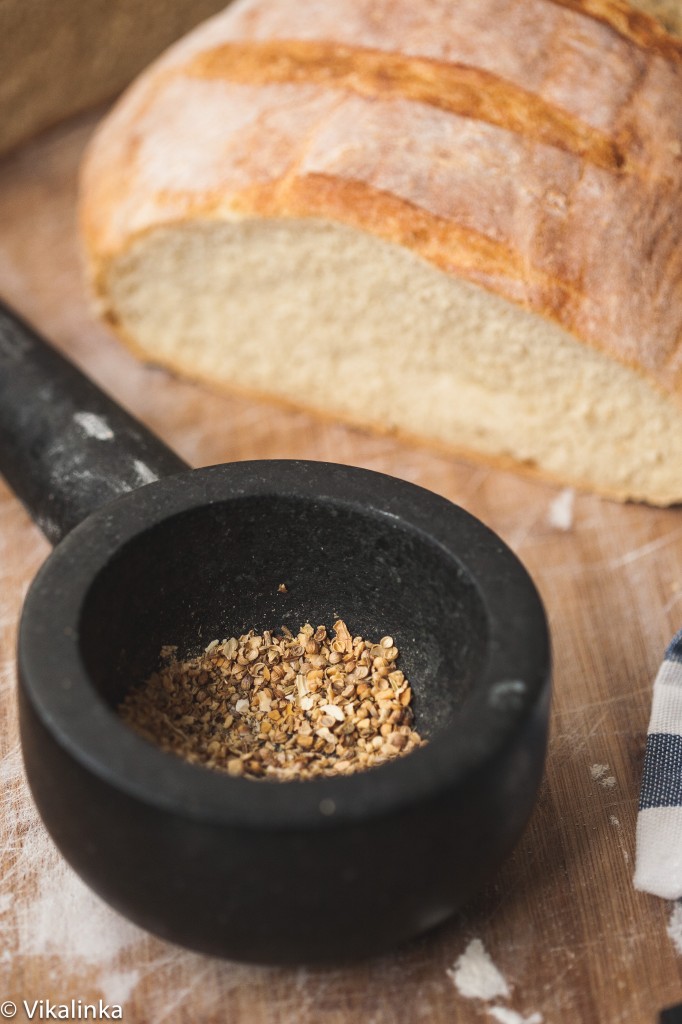 I used already made mix and wanted to open up the flavours a bit more.
So I put a handful in my mortar and took a pestle to it until I could smell the warm and aromatic mixture filling the room.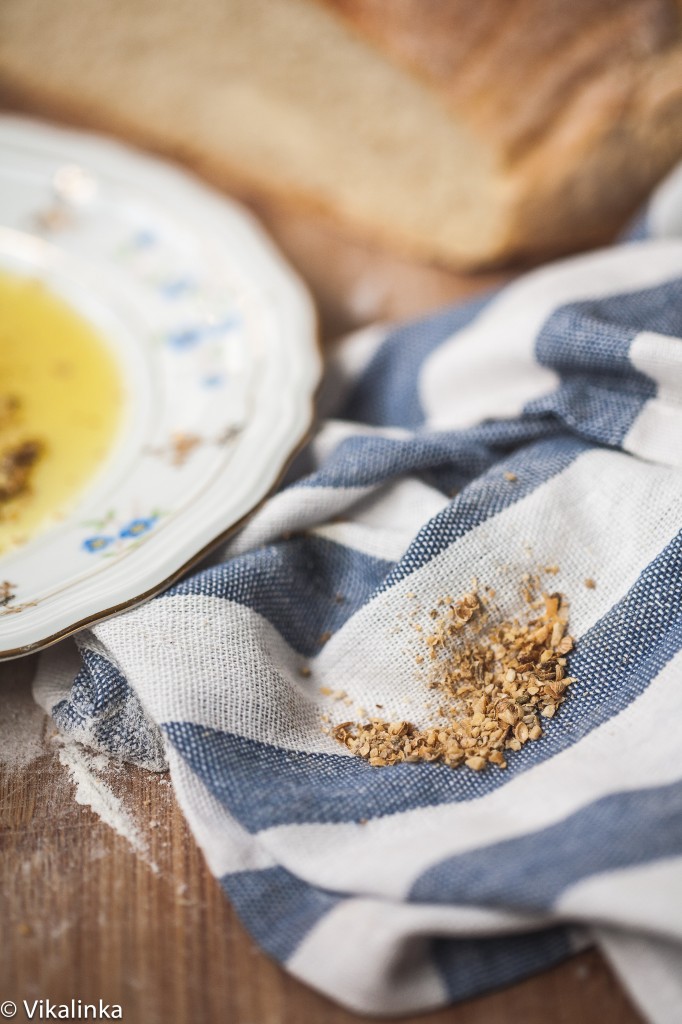 The dip is as simple as could be.
Just pour some good quality extra virgin olive oil in a small plate, sprinkle with some sea salt and dukkah spice. Then dip and dip and dip some more.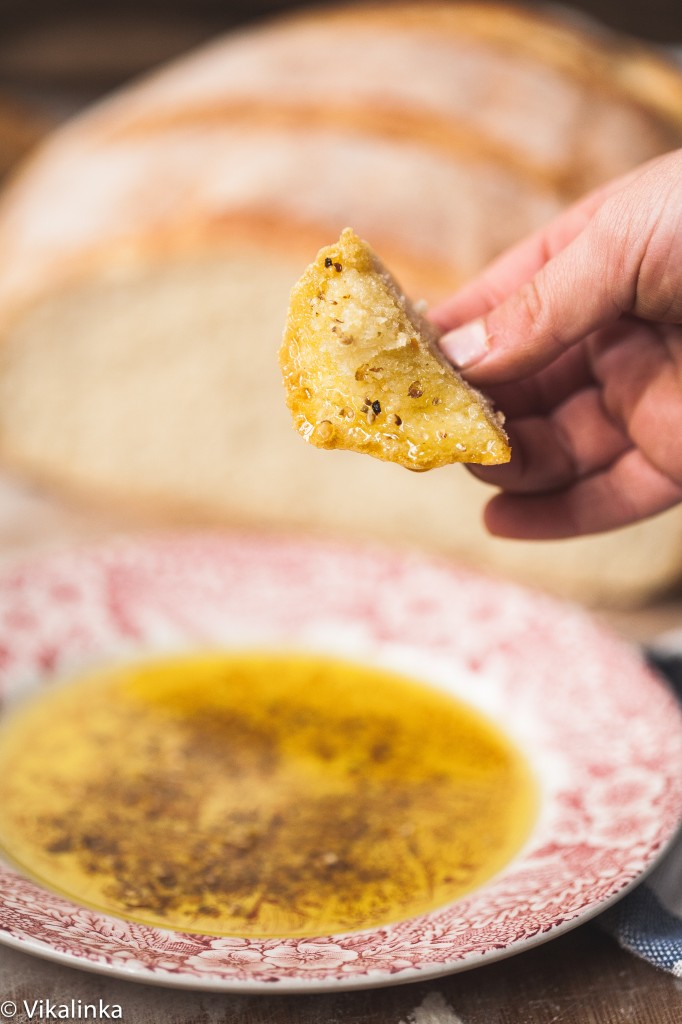 More Bread Recipes to Try: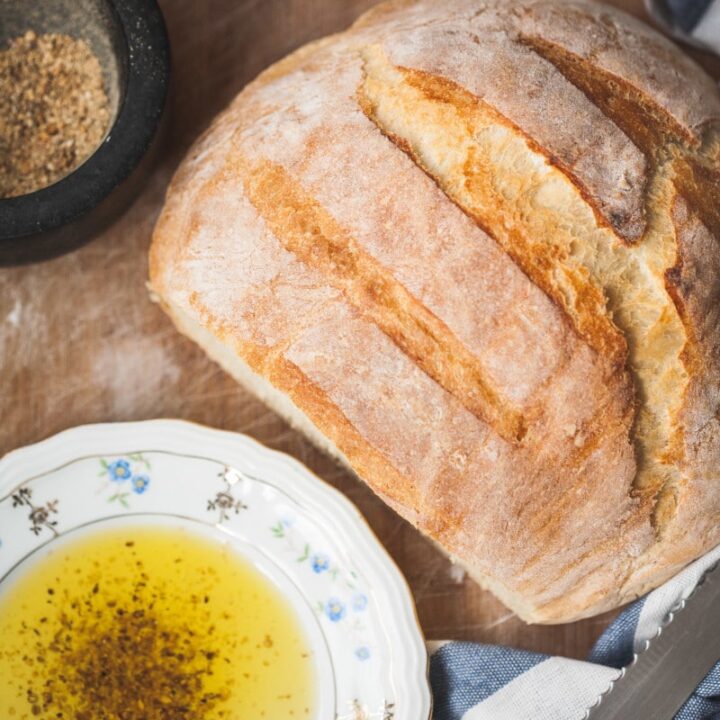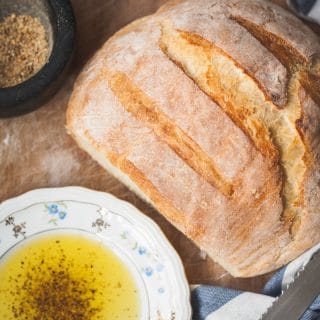 Ingredients
1

package/ 7 gr- active dry yeast

2

cups/500ml lukewarm water

¾

tbsp

sea salt

4

cups/480g bread flour I used Canadian flour)
For the dip
olive oil

sea salt

dukkah spice
Instructions
Mix warm water and yeast in a small bowl.

In the bowl of a stand mixer combine flour and salt.

Add the water and yeast mixture to the flour and mix until the dough comes together with a hook attachment or by hand.

Cover with a tea towel and let it rise for one hour in a warm place.

After one hour preheat the oven to 500F/260C with the dutch oven, including the lid, in it.

Remove the dough on a floured surface and shape it into a ball by tucking the corners in like an envelope.

Put it on a tea towel (or parchment paper, seen notes) seam side down, sprinkle with more four and cover with another tea towel and let it rise for 30 minutes.

Take the dutch oven out. It would have been warming in the oven for 30 minutes by then and will be blazing hot.

Carefully lift your dough and put it in the dutch oven, cover with the lid and bake for 20 minutes.

Take the lid off and bake for additional 10 minutes.

Let it cool which will also allow the crust to develop.

Before serving, pour some olive oil in a shallow plate and sprinkle with some sea salt and dukkah spice.
Notes
You can place your shaped dough on a piece of parchment paper, then pick it up by the opposite side of the paper and lower it into the Dutch Oven.
Full disclosure: I don't use parchment paper and my bread never sticks to the Dutch Oven.