Tangy and fragrant spring rhubarb topped with fluffy oaty biscuits in this simple and delicious rhubarb cobbler. An everyday winner!
Not a fan of rhubarb? Take a look at my Italian Plum Cobbler!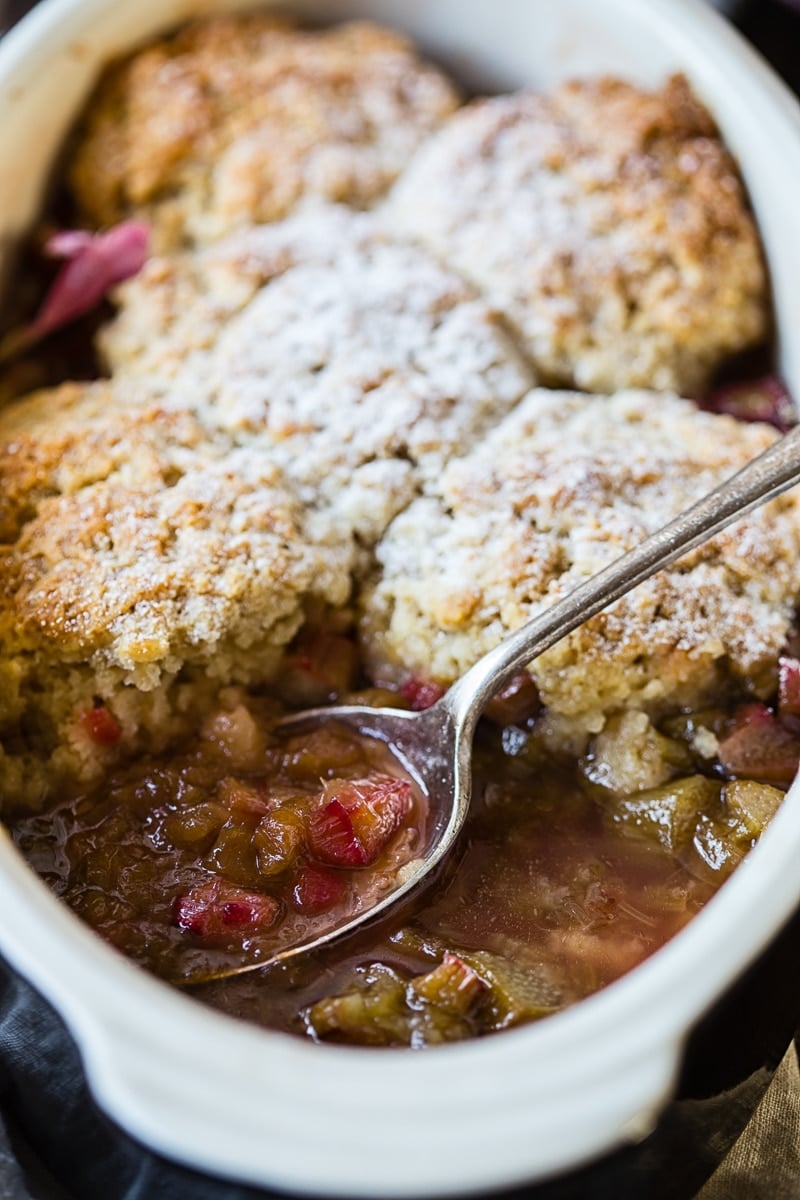 All my friends know I am a rhubarb fanatic, quite literally. I snap it up as soon as the first bundles appear in shops and I go on cooking and baking it until nothing is left!
This time I was pleasantly surprised as some rhubarb came to me via a friend's allotment. "I've got something for you", she said as we were settling into our chairs with our coffees at the local Costa. Then she pulled up freshly cut rhubarb and I couldn't be happier!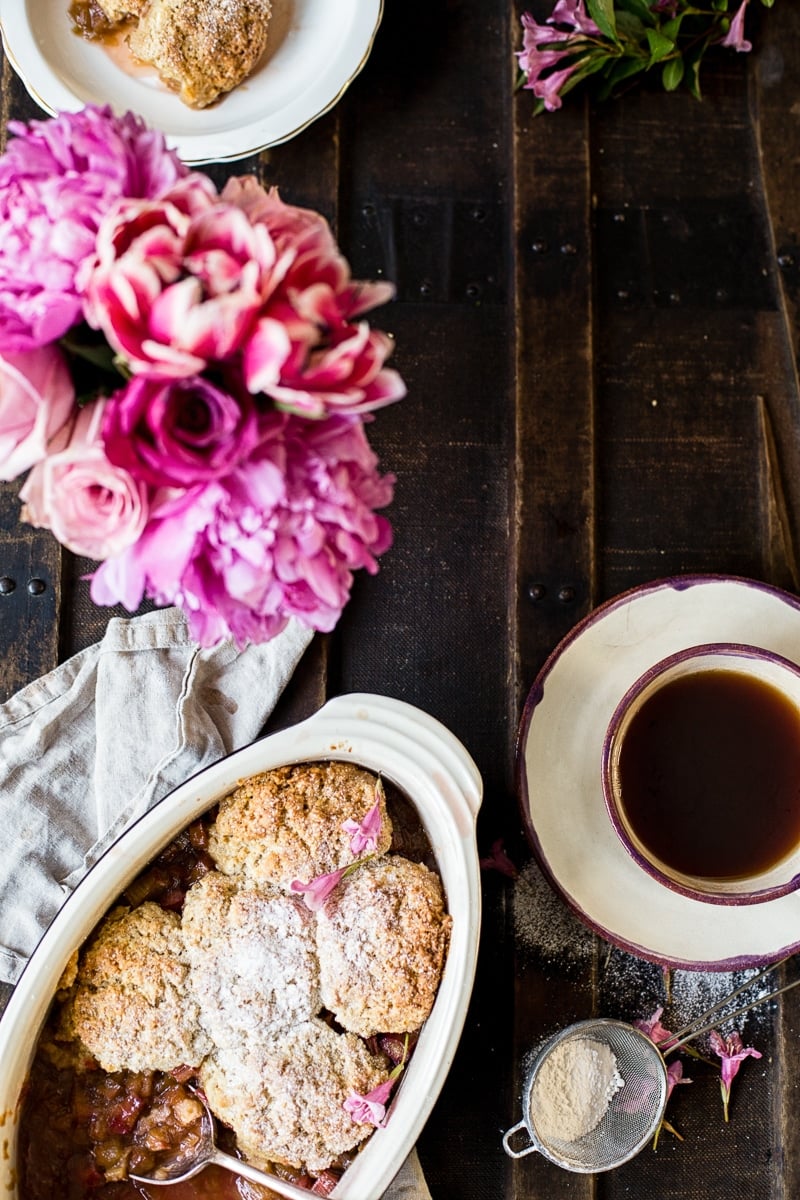 Rhubarb Recipes
Rhubarb has always been connected to my grandmother in my memories. She was the one who grew it in her garden next to flowers and used it in a million different ways in the kitchen.
One of my husband's favourite ways to eat rhubarb is in a form of a cobbler. He is all about pies, crumbles and cakes. And lucky for him I have rhubarb cooked into every type of dessert imaginable.
My personal favourite is this Roasted Rhubarb Bakewell Tart, an English classic with my own twist. It takes a little time to prepare but it's worth.
This simple Rhubarb Cake Sharlotka is typical Russian sponge cake with bits of rhubarb. It's easy and takes barely any time at all.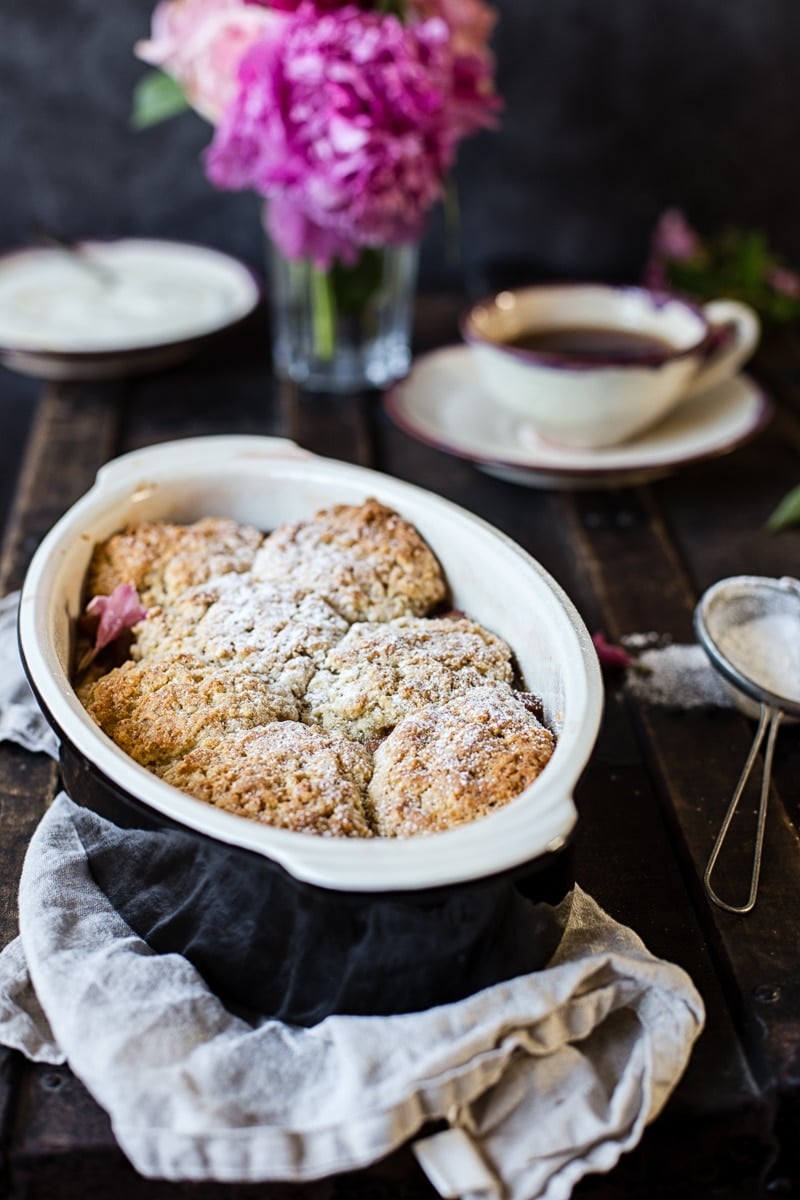 I quite often combine rhubarb with any type of berries I happen to have at the moment. What berries do is add a burst of beautiful colour to the crumble.
Take a look at this rhubarb strawberry crisp for example. Rhubarb itself tends to lose its beautiful shade of pink when cooked but it tastes just as delicious.
This time however, I decided to use rhubarb alone to showcase its delicate flavour without strawberries or blackberries taking away from this gorgeous vegetable!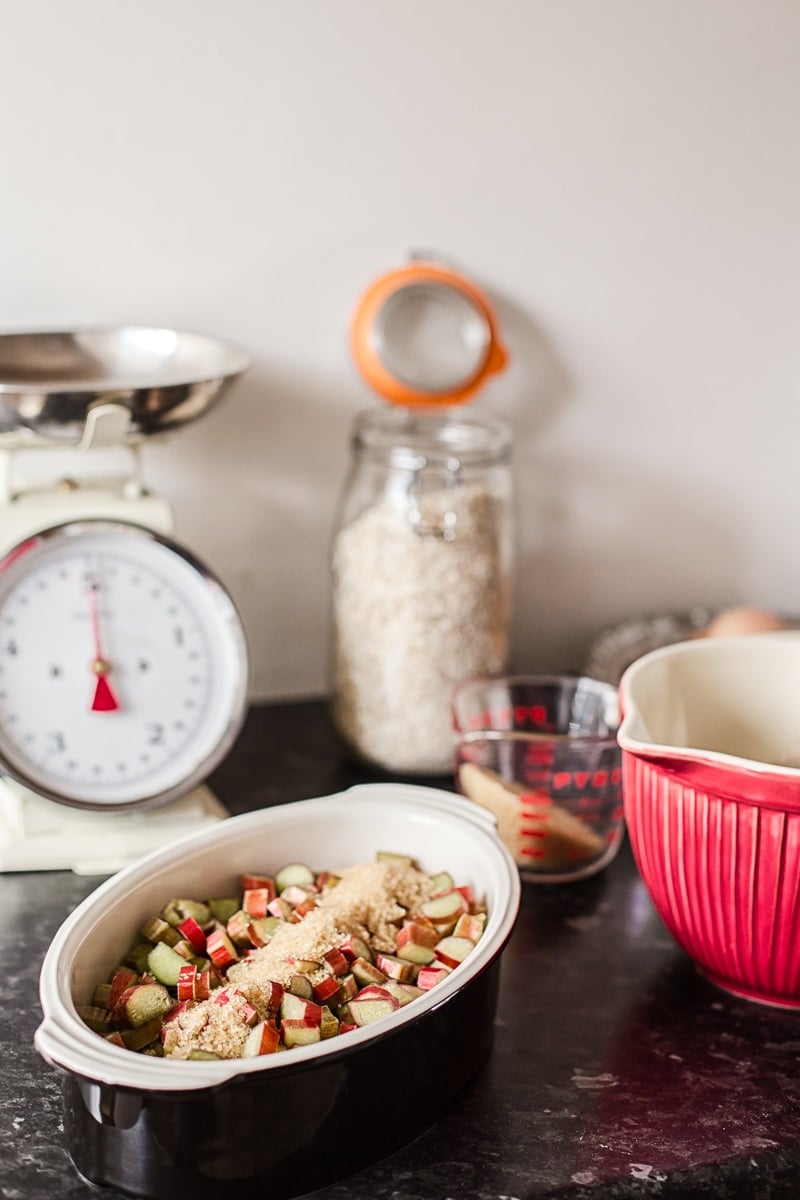 Recipe Tips and Notes
Use forced rhubarb if you want to it to keep its colour after the rhubarb has been cooked. Forced rhubarb is deep coral colour. It is also sweeter and more tender than regular rhubarb. I wasn't able to find it, so the rhubarb in photos is not forced rhubarb.
I used raw Demerara sugar for its gorgeous caramel-like taste and large crystals. Use Turbinado sugar if you are in the US. You can substitute with light brown.
I didn't use flour or cornstarch to thicken the rhubarb but 1-2 tbsp could added for a thicker filling.
Serve with ice cream, whipped cream or our delicious rhubarb curd!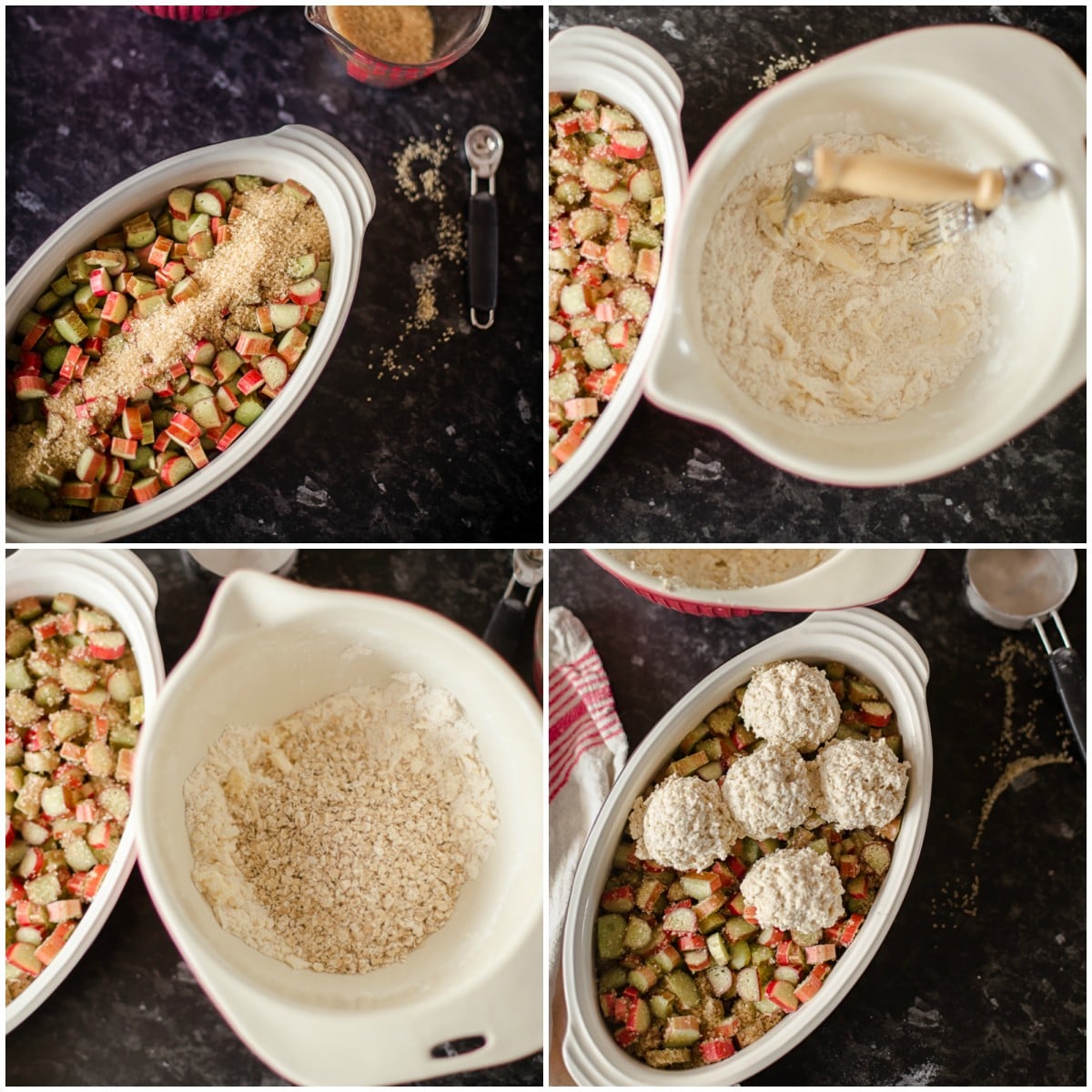 More Rhubarb Recipes to Try:
This recipe was originally published in 05/2017. Updated and republished in 05/2021.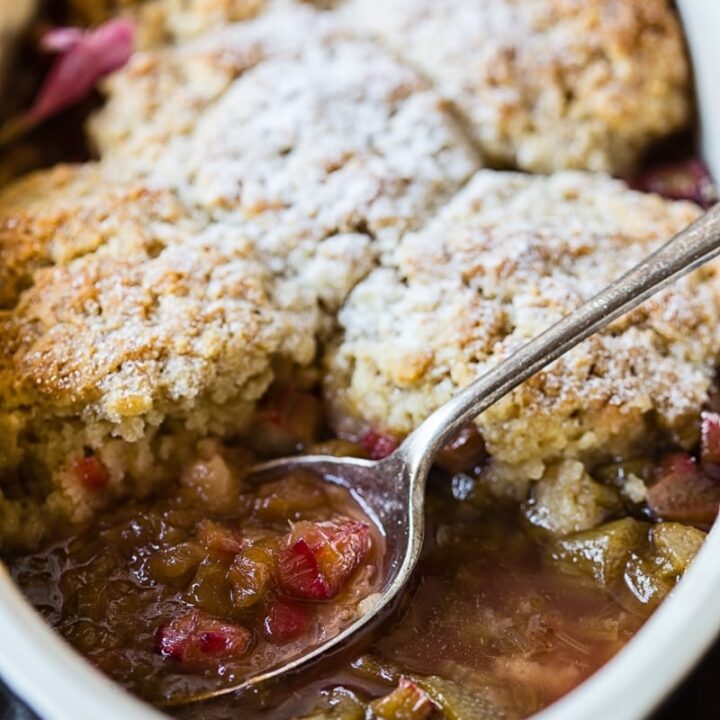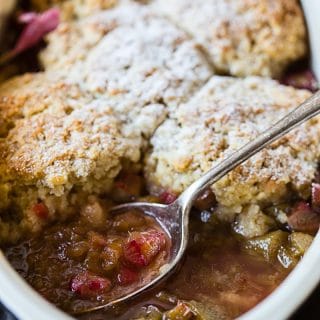 Rhubarb Cobbler
Tangy and fragrant spring rhubarb topped with fluffy oaty biscuits in this simple and delicious rhubarb cobbler.
Ingredients
5

cups

/500g fresh rhubarb cut into ½ inch pieces

1

cup

/200g demerara/turbinado sugar

1

cup

/140g flour

1 ½

tsp

baking powder

¼

cup

/50g demerara/turbinado sugar

¼

tsp

salt

⅓

cup

/113 g butter

½

cup

/ 50g rolled oats

not instant

⅔

cup

/150 ml whole milk
Instructions
Preheat the oven to 375F/190C

Put diced rhubarb in a 2 Quart baking dish or a deep cast iron skillet and pour sugar over, stir to combine.

For the topping, mix flour, baking powder, sugar and salt. Cut in butter until the mixture is crumbly, then add oats and combine everything together, add milk and stir until just moistened.

Drop spoonfuls on the rhubarb mixture leaving spaces here and there. Bake uncovered for 50 minutes until the rhubarb is cooked and the top is golden and crusty.

Serve with ice cream, custard or whipped cream.
Nutrition
Calories:
392
kcal
Carbohydrates:
69
g
Protein:
5
g
Fat:
12
g
Saturated Fat:
3
g
Cholesterol:
3
mg
Sodium:
234
mg
Potassium:
482
mg
Fiber:
3
g
Sugar:
44
g
Vitamin A:
599
IU
Vitamin C:
8
mg
Calcium:
172
mg
Iron:
2
mg