If you like a rhubarb pie as much as I do, you need to make my rhubarb slab pie that feeds a crowd or one greedy individual!
For big rhubarb fans…try this Roasted Rhubarb Bakewell Tart. Absolutely heavenly!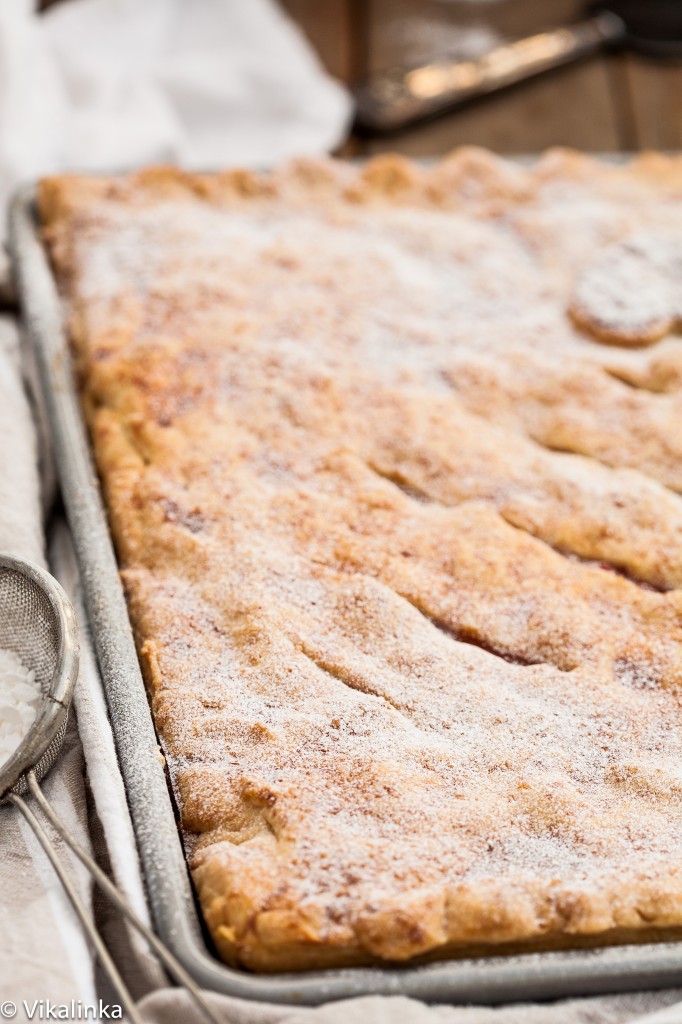 My husband has been requesting pies a lot lately. I've been quietly ignoring those requests. The strategy worked for a while but then I got close to a revolution on my hands. The man loves his pies.
For some reason pies seem like a lot of work. Everything from making pastry to preparing that filling seem so labour intensive.
But not so if you use pre-made pie pastry and choose the easiest fruit to work with. Also, making your pie into a slab pie helps a lot.
Less work, more pie. It's a win-win situation. However, if you feel like spending some quality time in the kitchen I've got the flakiest and the tastiest (read comments under the post) pie crust recipe posted.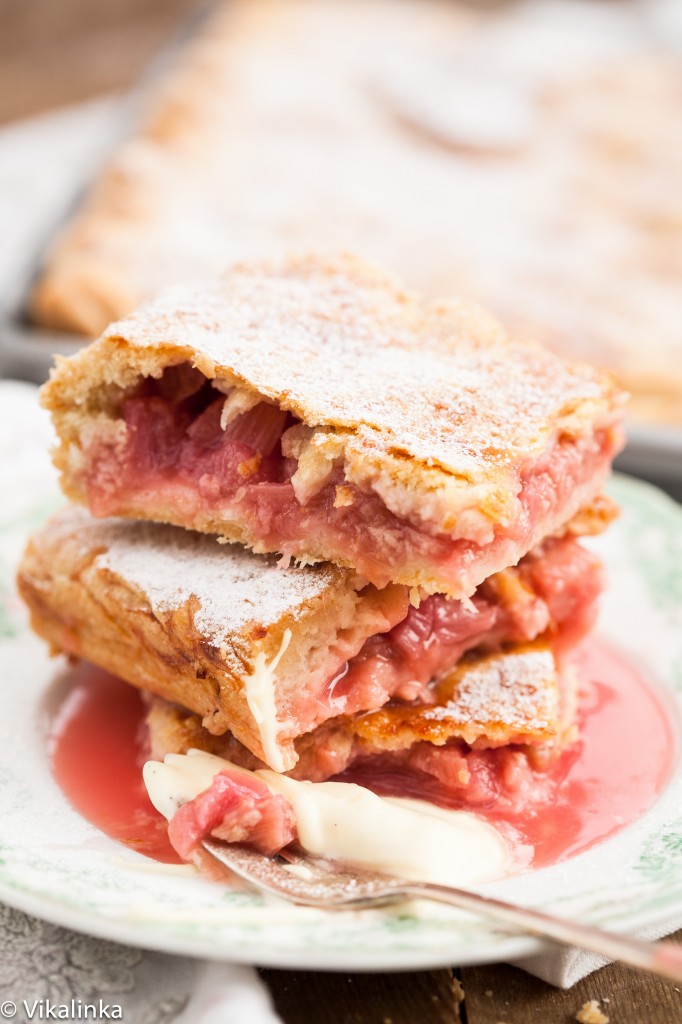 Rhubarb Recipes
By the easiest fruit/vegetable I mean "rhubarb"- tastes like fruit but is in fact a vegetable. Just chop it up, toss with some sugar and you are golden.
Rhubarb and I go way back, we are both Russian in origin, therefore I favour it in my kitchen quite a lot. I even baked the most traditional Russian cake Sharlotka and instead of using apples, I used rhubarb.
Rhubarb is often mixed with strawberries or other berries in desserts but I quite like the pure taste of it, so I decided to leave it alone and let it shine in my rhubarb pie.
Another example of its beauty is in this Rhubarb Cobbler.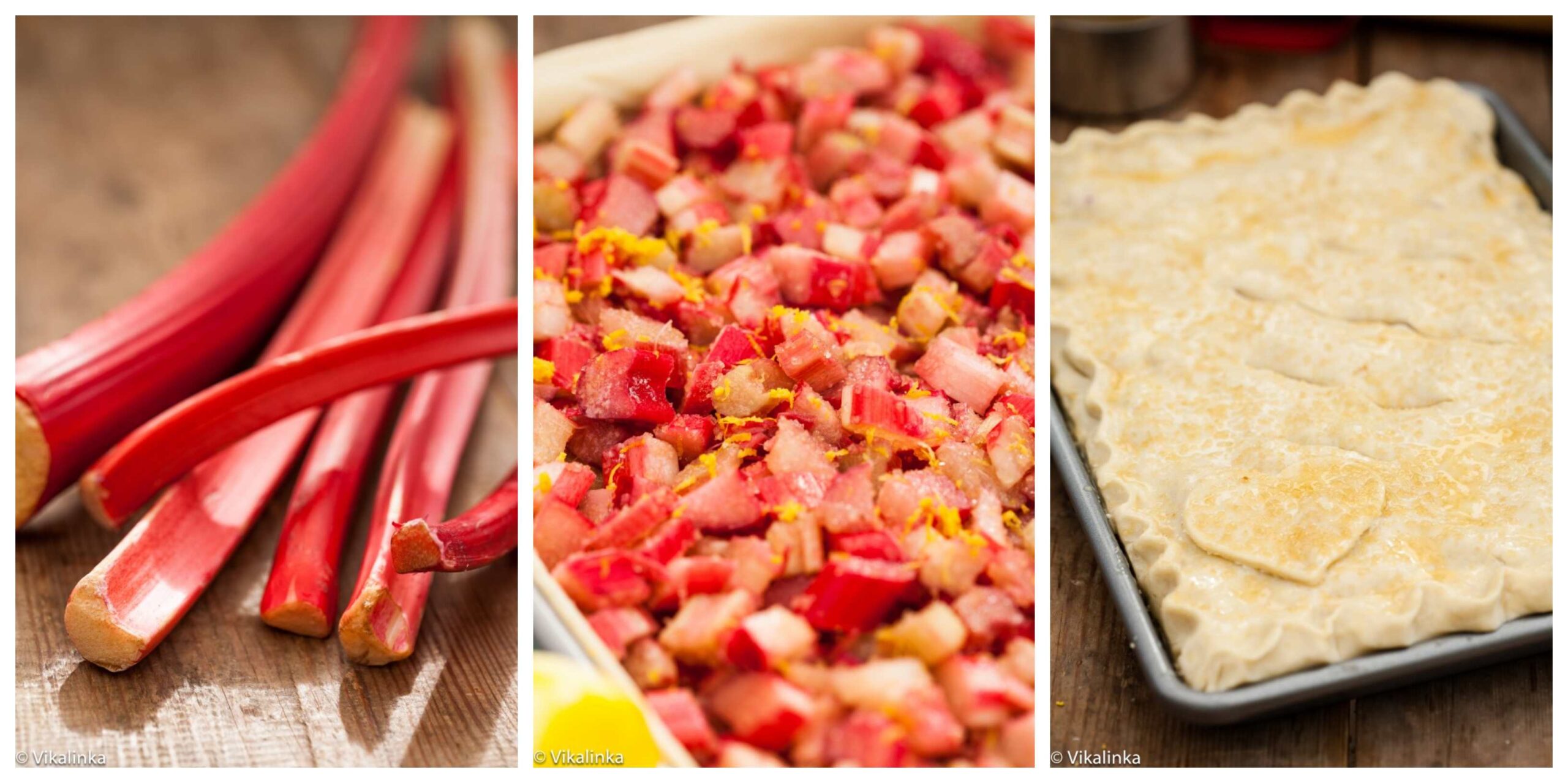 How To Make Rhubarb Pie
The lengthy pie making task I was avoiding for a few weeks was done in no time, 20 minutes to be exact-from the beginning to the end, not counting the oven time.
I bought my pastry already rolled into big rectangles. All I had to do was fill them with chopped rhubarb mixed with sugar, flour and lemon zest and pinch the edges, so not a drop of tasty filling would spill out.
Then brush it with a bitten egg and sprinkle with some Demerara/Turbinado sugar for extra prettiness. Pop it in the oven for 45 minutes, then dig into it straight away or wait for it to cool if you have that kind of self-control. I don't.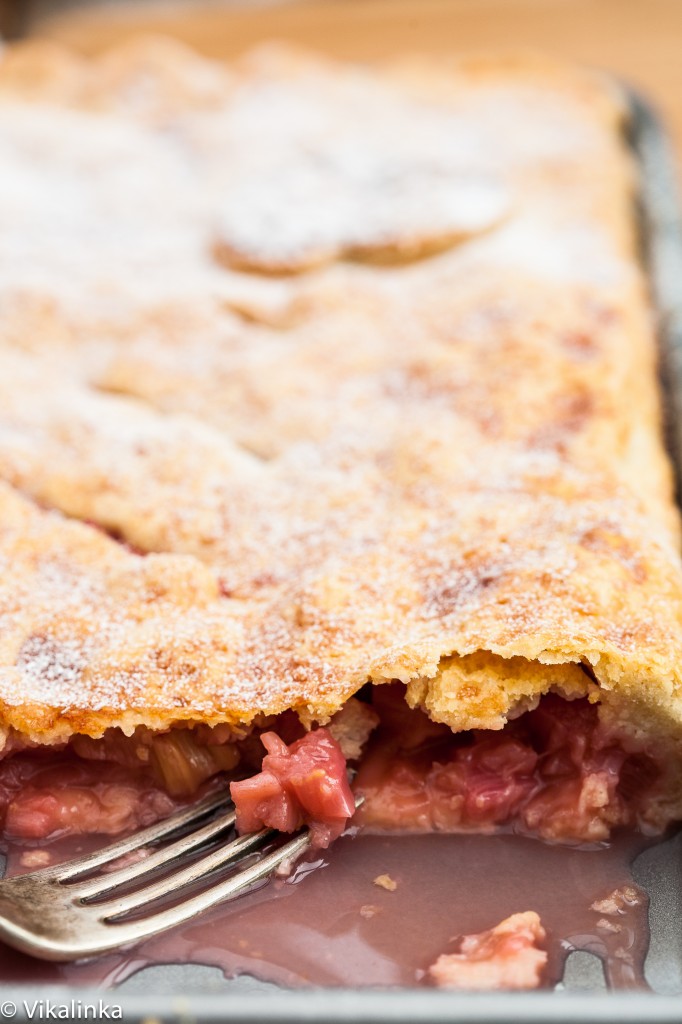 Do I have to pre-cook rhubarb for the pie?
No, you don't! Just dice the rhubarb into small enough pieces and they will cook perfectly inside the pastry while the pie is baking. Like I said this recipe is so easy.
More Rhubarb Recipes We Love:
This recipe was originally published in 02/2014. Updated and republished in 04/2020.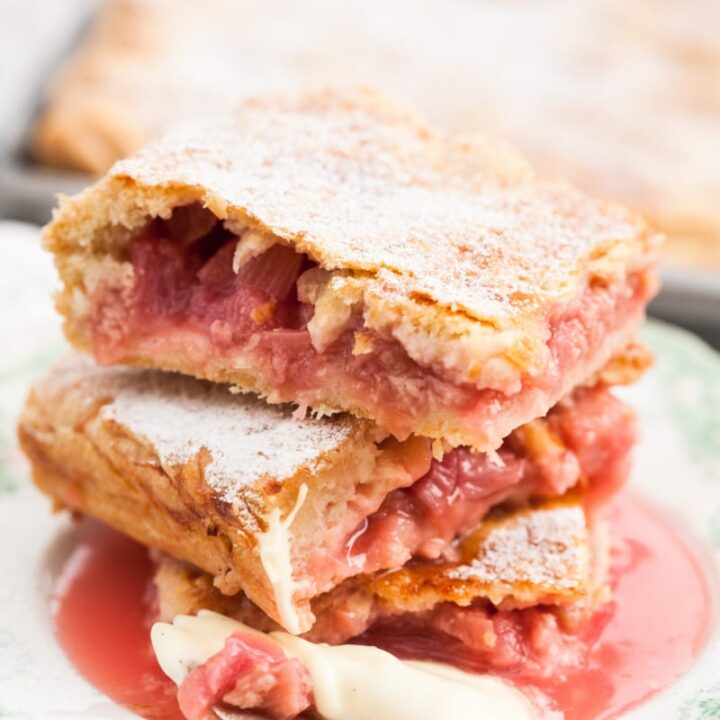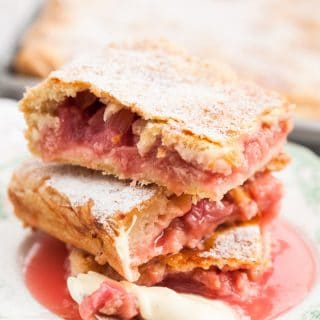 Rhubarb Slab Pie
Classic rhubarb pie made easier!
Ingredients
800g/8 cups

fresh rhubarb

chopped

200g/1 cup

sugar

1

lemon, zest

1

tbsp

flour

1

egg

1

tbsp

Demerara/Turbinado sugar
Instructions
Preheat the oven to 400F/200C

Chop the rhubarb into ¼ inch pieces and toss it with sugar, flour and lemon zest.

Roll out your pastry to fit the size of your pan. I used 9"X13" shallow pan. You should have two rectangular sheets, the bottom one slightly bigger than the bottom one.

Line the bottom of the pan with the first pastry sheet so the edges come up the sides of the pan and fill it with the rhubarb, sugar and flour mixture.

Cover with the top pastry sheet and crimp the edges. (You can cut various designs with cookie cutters if you have leftover pastry to decorate the top.)

Brush with lightly beaten egg, cut slits on the top for the pie to vent and sprinkle with a tablespoon of demerara/turbinado sugar.

Put in the preheated oven and immediately turn the temperature down to 180C/350F and bake for 45 minutes until the crust is golden and the filling is bubbling through the slits. Let the pie cool for 1 hour before serving. (This helps with the filling to be less runny.)

Serve with whipped cream or ice cream.
Nutrition
Calories:
535
kcal
Carbohydrates:
74
g
Protein:
7
g
Fat:
24
g
Saturated Fat:
7
g
Cholesterol:
20
mg
Sodium:
370
mg
Potassium:
380
mg
Fiber:
4
g
Sugar:
28
g
Vitamin A:
132
IU
Vitamin C:
9
mg
Calcium:
106
mg
Iron:
3
mg