If you are a lemon curd fan, you need to make this rhubarb curd ASAP! It's easy, delicious and crazy refreshing!
For another take on refreshing rhubarb flavours, try a Rhubarb Moscow Mule!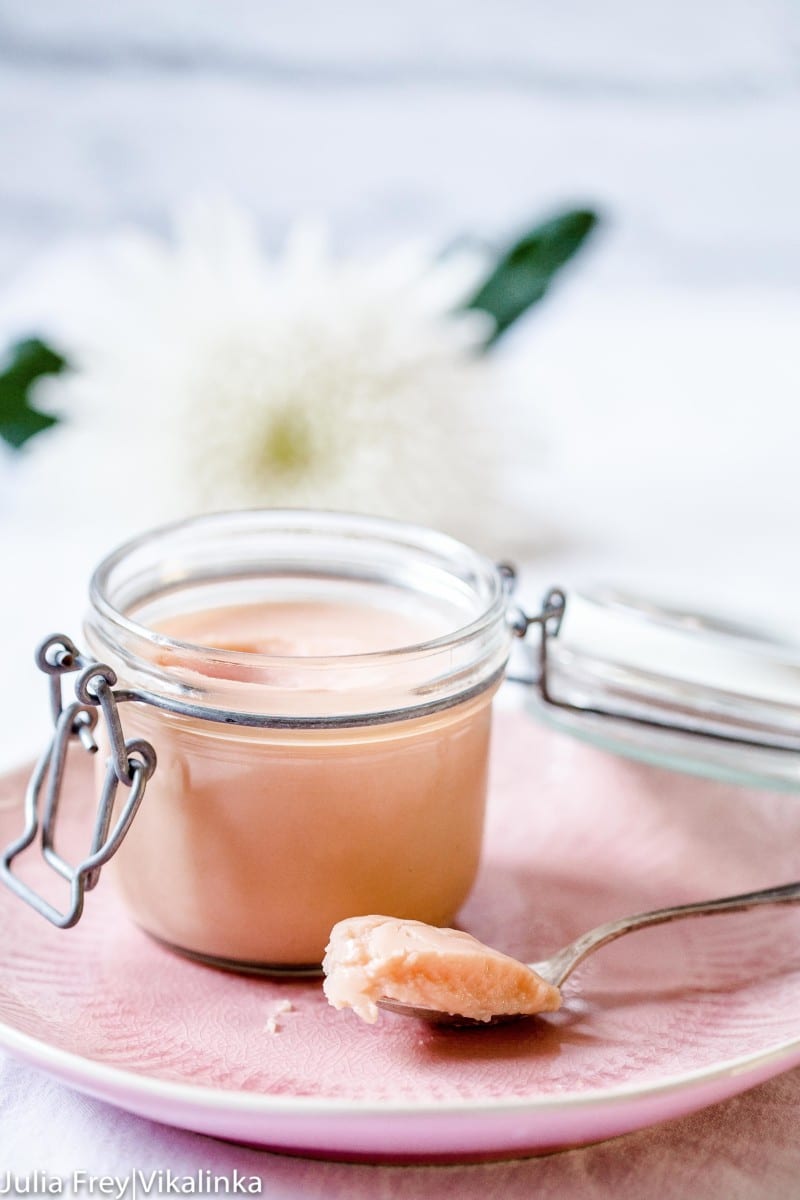 Every year when rhubarb is in season I buy loads and loads of these tart and fragrant shoots and cook them and bake with them in so many different ways. You can see it for yourselves in Rhubarb recipes on my blog!
Along with my son and lovely mother-in-law, I am also a huge lemon curd fan. England does curds so well and they are easy to find in all sorts of shops.
The only problem I have with curds is that they are impossible to resist eating by the spoonful. That is exactly what I did when I made this rhubarb curd and that act of indulgence didn't even make me feel guilty.
It made me feel happy because this rhubarb curd is something very special.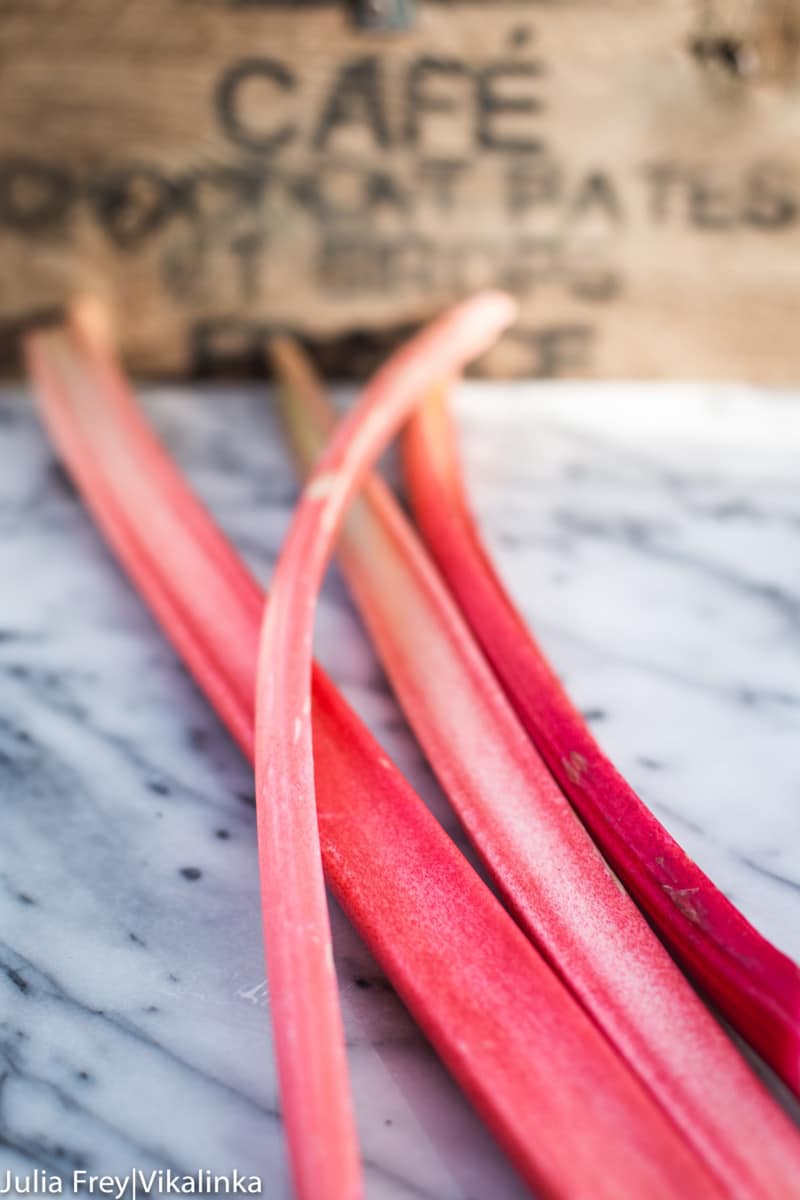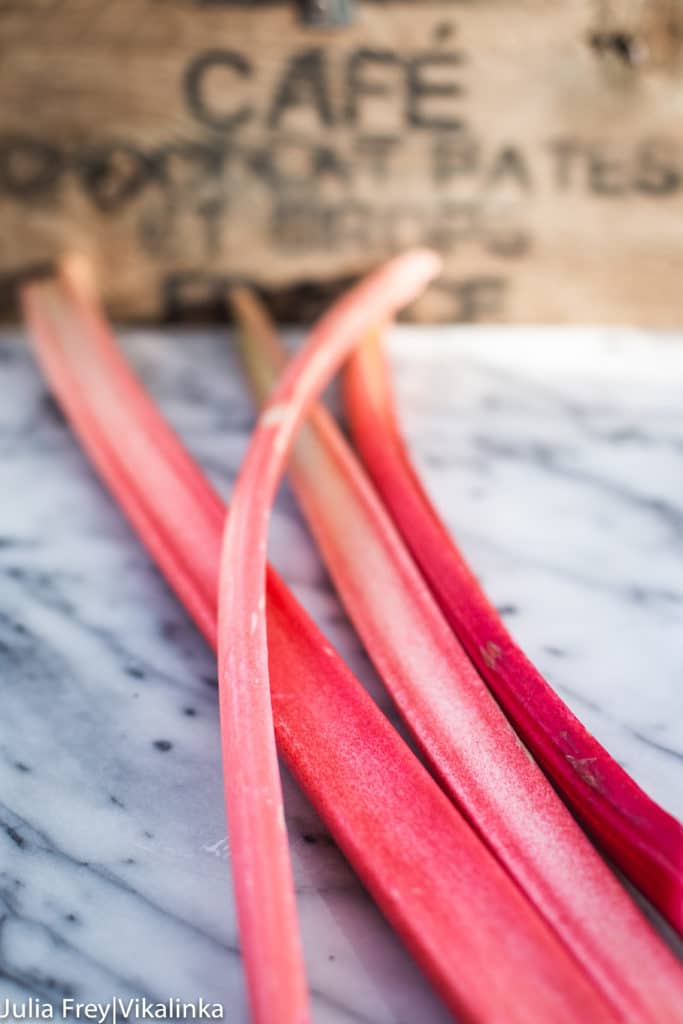 Making rhubarb curd
You'd be surprised how easy and quick curd making is!
As I was used to seeing various curds priced quite highly in shops, I assumed making them was a lengthy and complicated process. In reality it only takes about 30 minutes of hands-on time.
It's much easier to do if you have a food processor. This makes the task of getting the juice out the rhubarb and making a mixture of other ingredients quicker and simpler.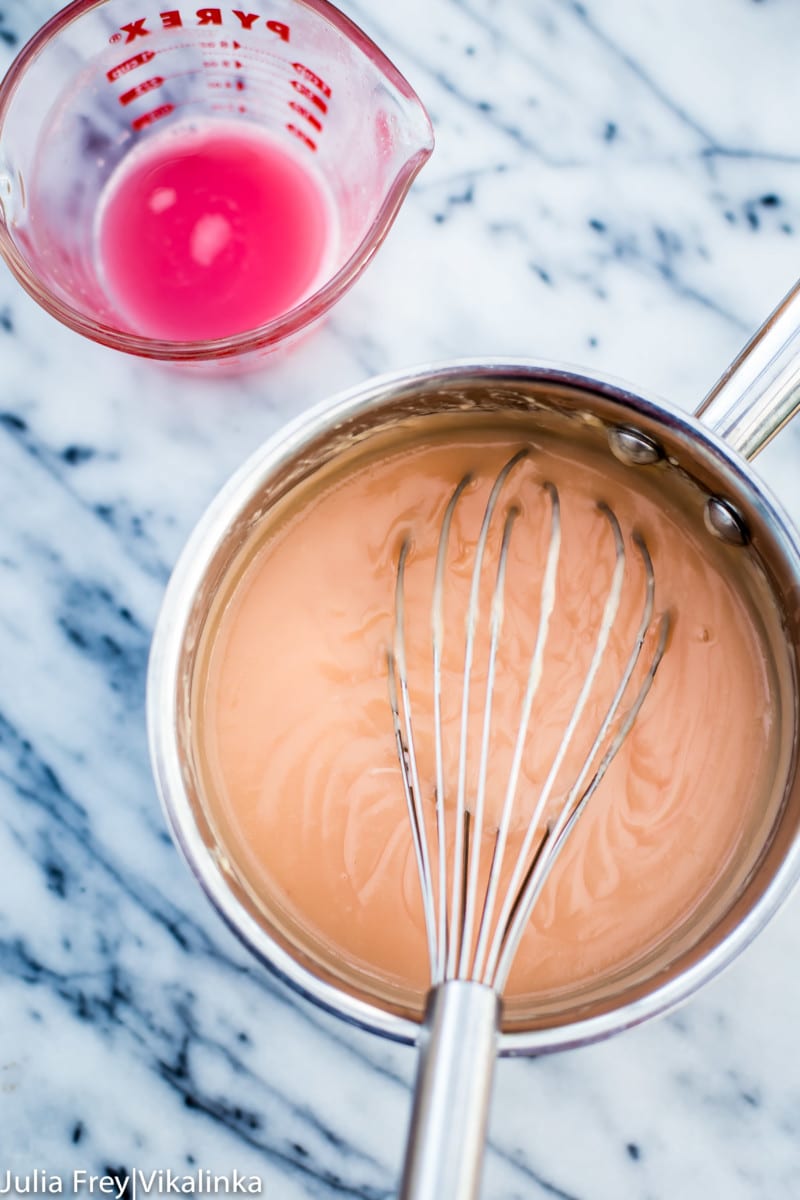 Once the ingredients are ready, it's just a matter of heating them together in a saucepan until it has the right consistency. Although it is tempting, do not turn the heat up to make it go faster! The results are not good!
Enjoy this delicious rhubarb curd dolloped on scones, pancakes, crumpets or spread on toast!
Or bake a delicious vanilla sponge cake and fill your layers with this luscious rhubarb curd and you won't be disappointed!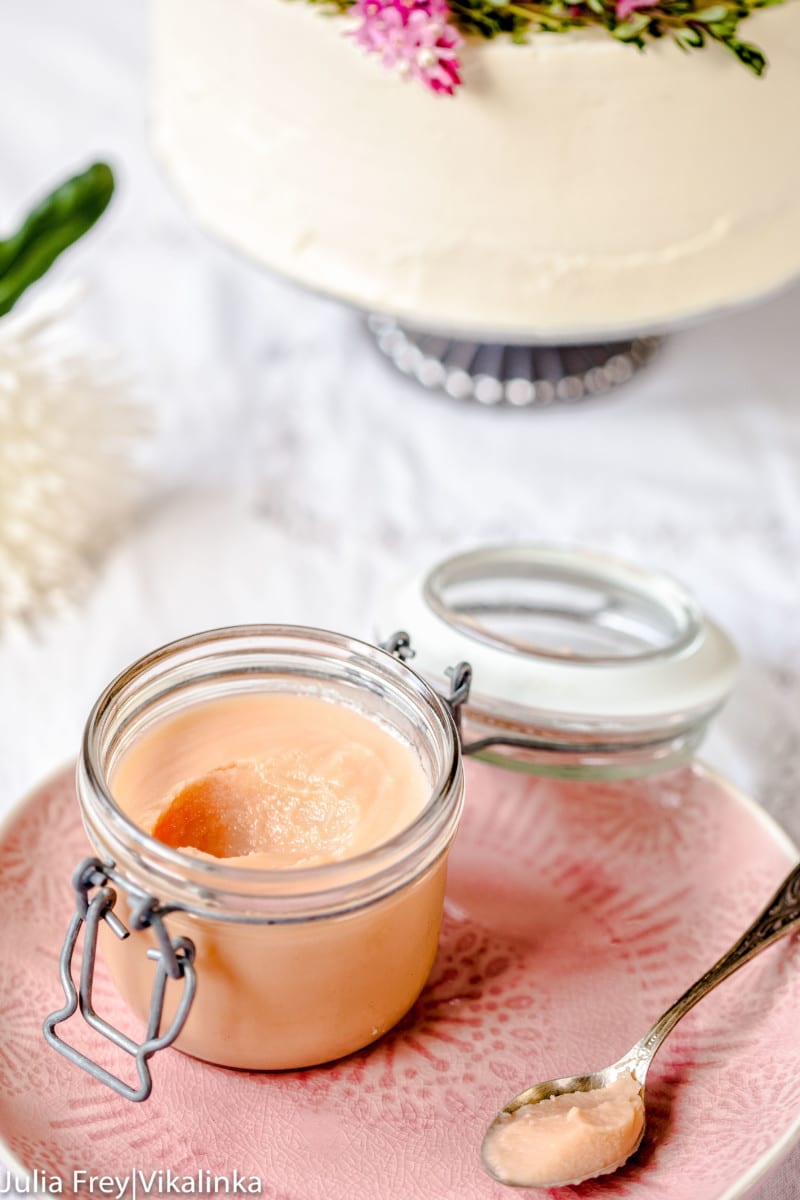 Recipe tips and tricks
Using a food processor makes this recipe far easier than if you do everything by hand.
Warm the ingredients over low heat only. Although it is tempting to turn the heat up to make it go faster, this will cause curdling and make it impossible to get a velvety texture.
To make sure the curd is as smooth as possible, put it through a fine sieve before chilling. Although this step is not essential, it will will remove any leftover lumps.
Rhubarb curd is delicious with pancakes, toast or cakes.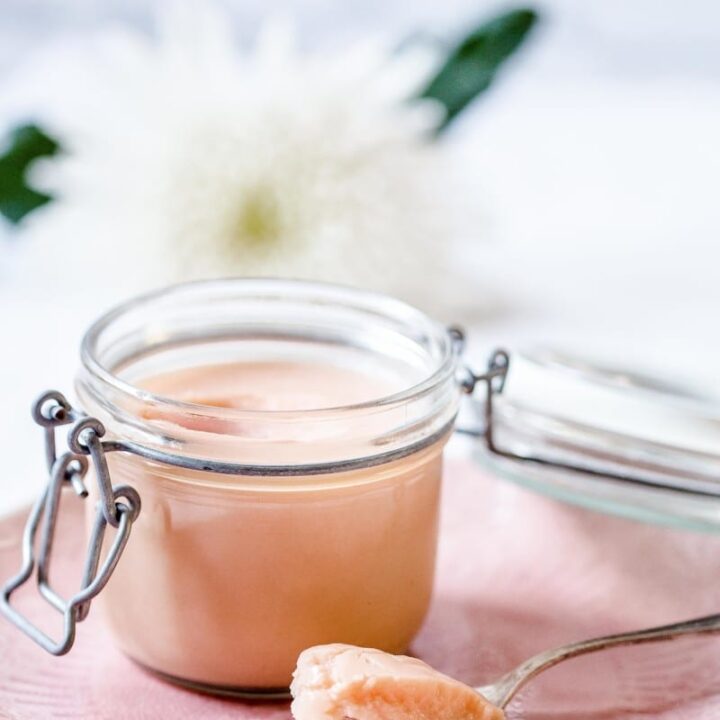 Rhubarb Curd
Velvety homemade curd using rhubarb.
Ingredients
400

g/4 long stalks rhubarb

3

eggs

large

170

g/ ¾ cup unsalted butter

cubed

3

tsp

cornflour/corn starch

150

g/ ¾ cup caster sugar/ granulated sugar

a drop of pink colouring

optional
Instructions
Wash and cut rhubarb stalks in 2″ sections, put them in the bowl of a food processor and process until then turn into a pulp. Push it through a fine sieve with a spoon to extract all the juice, then discard the pulp. You should get about 300 ml/ 1 ¼ cup of rhubarb juice.

In a food processor or blender mix eggs, sugar and cornflour/corn starch until you have a homogenous mixture with no lumps remaining. Alternatively you can do this step by hand using a bowl and a whisk.

In a saucepan combine 1 cup of rhubarb juice, egg, sugar and corn starch mixture and cubed butter, set the pan over low heat and star cooking it while stirring with a whisk the entire time until butter melts and the curd thickens. Do not turn the heat up to speed up the process or the eggs will turn into scrambled eggs and the curd go lumpy!

Take off the heat when the curd is the consistency of thick sour cream. You may push it through a fine sieve again to ensure there are no lumps and the curd is silky smooth. Add the remaining rhubarb juice to increase the tart flavour of the rhubarb and a drop of pink food colouring if desired as the curd loses its colour when cooks!

Chill in the fridge for at least 3 hours or overnight. The rhubarb curd will thicken when chilled.
Notes
This recipe makes approximately 600 ml/ 2.5 cups of rhubarb curd.
Nutrition
Calories:
262
kcal
Carbohydrates:
45
g
Protein:
8
g
Fat:
8
g
Saturated Fat:
4
g
Polyunsaturated Fat:
1
g
Monounsaturated Fat:
2
g
Trans Fat:
0.2
g
Cholesterol:
36
mg
Sodium:
43
mg
Potassium:
2457
mg
Fiber:
15
g
Sugar:
16
g
Vitamin A:
1074
IU
Vitamin C:
68
mg
Calcium:
736
mg
Iron:
2
mg