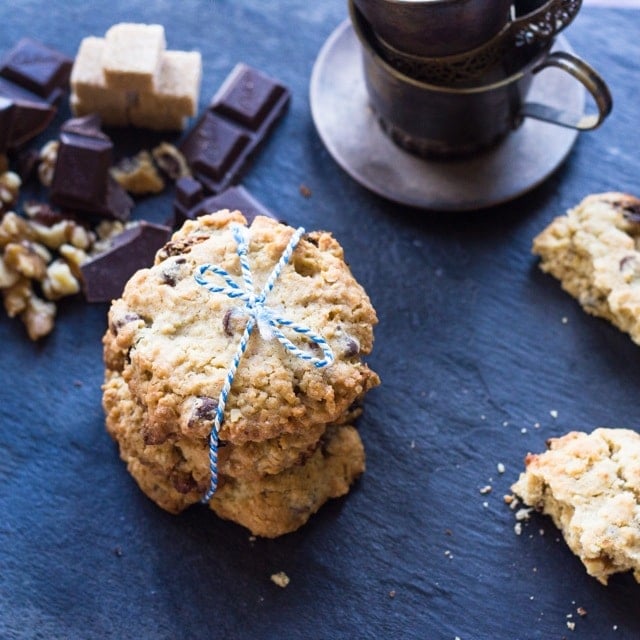 After last week's insane schedule of teaching, being a mom and a wife with a 4 hour daily commute to work thrown into the mix I needed to de-stress. Well, first of all, I needed to sleep and then, I needed to head to my kitchen and get lost in the world of food. The world where everything makes sense. So yesterday's, today's and possibly tomorrow's posts all come from ONE day of cooking!
I love my work, I love being a teacher but every time I am away from my kids I feel so torn up and even anxious about missing out on their valuable life experiences. When my super busy week was over I wanted to spoil them with freshly baked homemade cookies. It might come as a surprise but I don't bake too often and when I do I prefer making muffins and quick breads, so cookie making is truly special. This Cowboy Cookies recipe came to me via unknown school fundraiser recipe book that I lost a long time ago as a result of our globetrotting tendency but the recipe stayed with me and became a favourite in our family.
This cookie is reminiscent of a morning granola or so I tell myself when I am tempted to grab it and eat it first thing in the morning. All joking aside, each cookie is chock full of earthly goodness-oats, walnuts, raisins, dark chocolate and coconut! In fact, as soon as I am done writing this I will indulge in a hot cuppa and one of those tasty delights!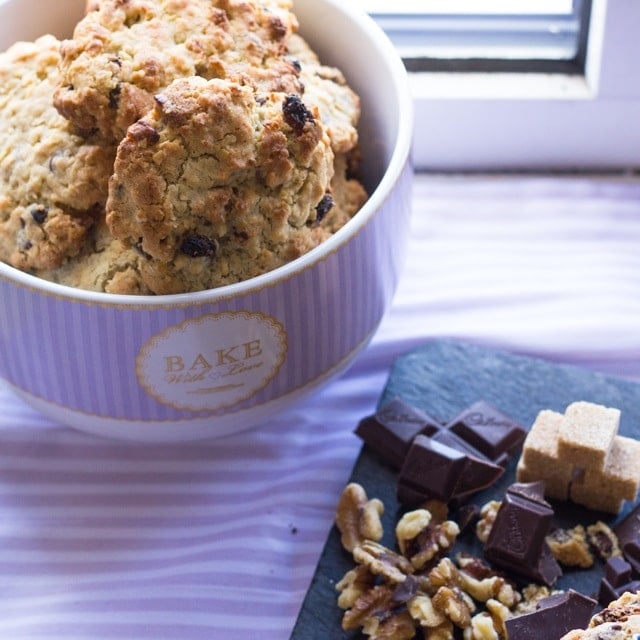 Ingredients:
Flour- 2 cups

Old Fashioned Oats (not quick or instant)- 2 cups
Baking Soda- 1 tsp.
Baking Powder- ½ tsp.
Salt- ½ tsp.
White Sugar- ½ cup
Brown Sugar- ¾ cup
Butter- 1 cup/250 gr
Eggs- 2 large
Vanilla- 1 tsp.
Semi-Sweet Chocolate Chips- ⅓ cup
Walnuts- ⅓ cup
Raisins- ⅓ cup
Coconut- ⅓ cup
Method:
Preheat your oven to 350 F/180 C. Line your baking trays with parchment paper.
Mix first 5 ingredients- flour, oats, baking soda, baking powder and salt in a large bowl.
Beat butter and both sugars until blended, add eggs and vanilla continue beating for 2-3 more minutes. You can use electric mixer or an old fashioned wooden spoon. Both work like magic.
Add dry ingredients to the butter and egg mixture and mix well, now add all the yummy things that make this cookie so great-chocolate chips, walnuts, raisins and coconut. At this point I just get right in there with both hands as I find mixing a cookie dough with a spoon nearly impossible but if you mastered it go for it!
Scoop each cookie with a spoon, using ¼ cup of dough and drop it on your baking tray spacing them 2″ apart as the cookies will get bigger as they bake. Bake at 350 F for 12-15 minutes.