These white chocolate chunk cookies are made even tastier with a delicate flavour of green matcha tea. Add a few red M&Ms and you can't find cookies looking more festive than these naturally coloured beauties!
These are so delicious with homemade chai tea latte.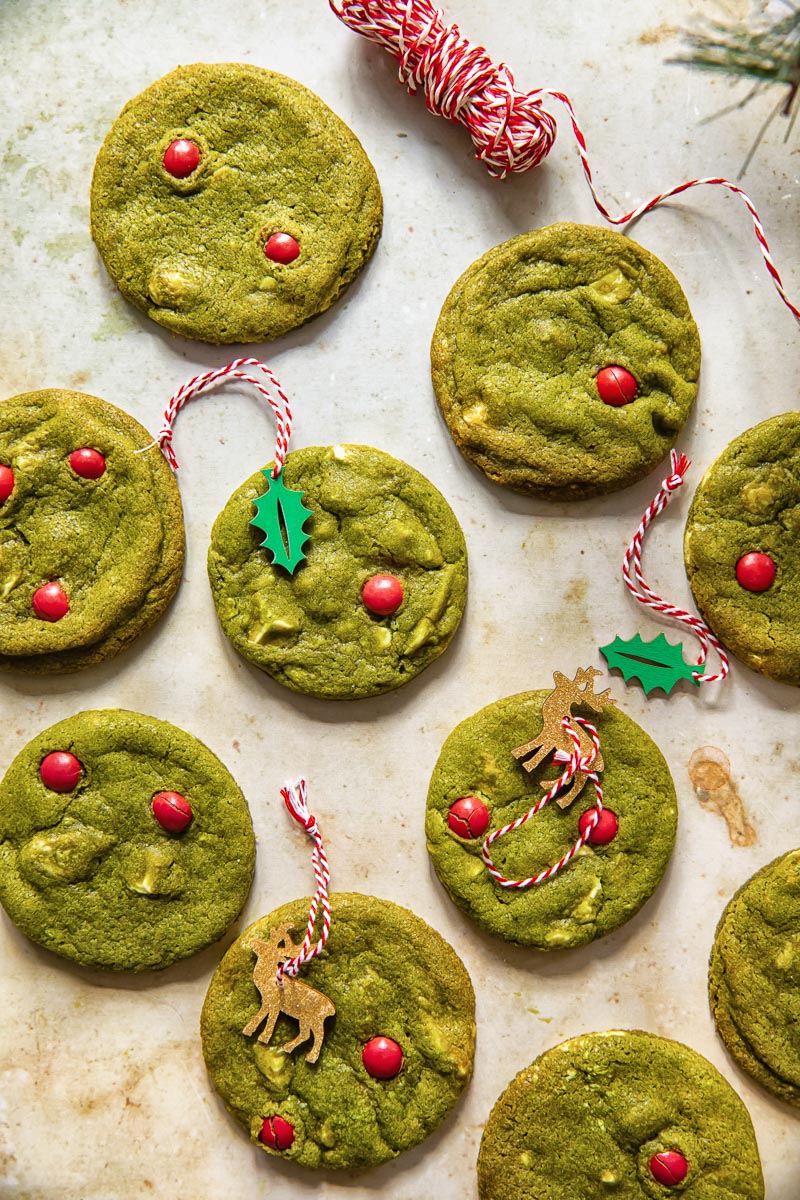 It's hard to argue that red and green have become unofficial colours of Christmas. And although I don't decorate my house in that colour scheme, I always associate them with the holiday.
So when my daughter became determined to develop the best chocolate and matcha cookies for Vikalinka, I immediately imagined them in my Christmas recipe collection.
It's not to say you can only make them at Christmas time because these chewy chocolate chip cookies, delicately scented with green tea, are an absolute delight. A perfect companion for your cup of coffee and a good book.
White chocolate chunks balance out the sharpness of the green tea in such a lovely way. These cookies never become cloyingly sweet no matter how many of them you eat in one sitting!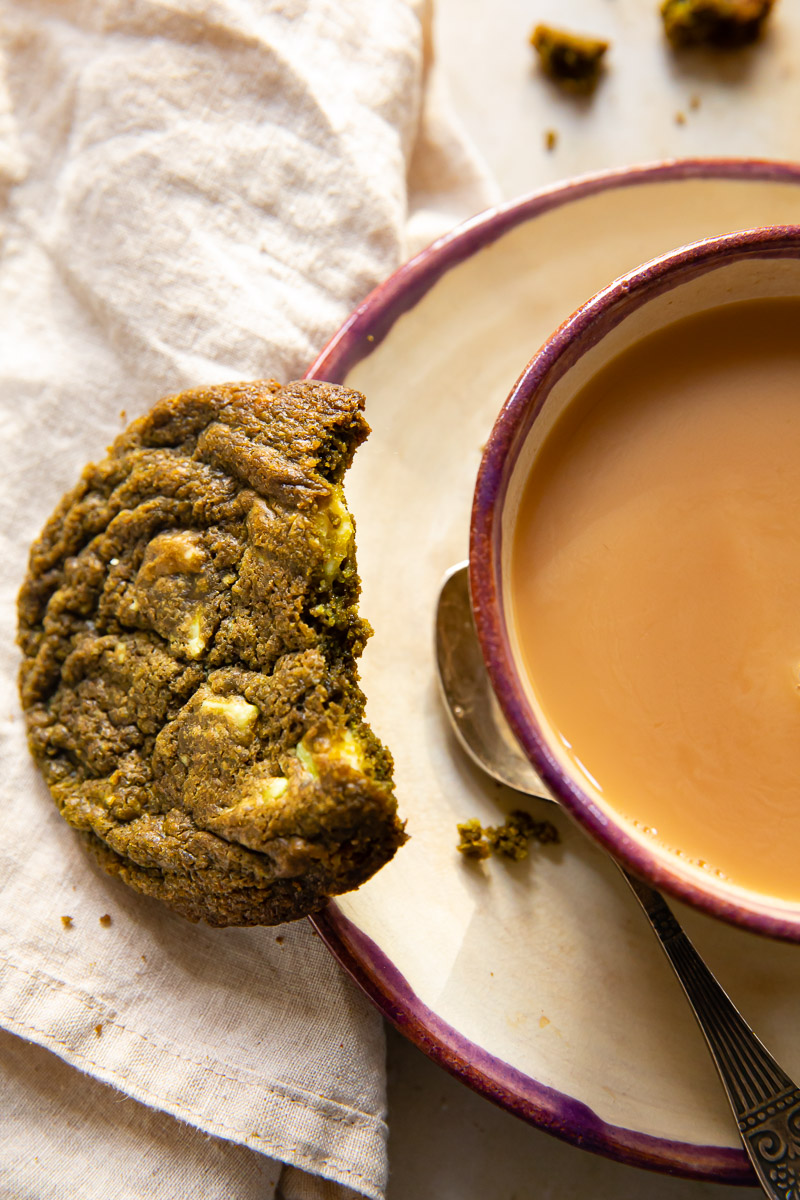 What is Matcha?
You are probably familiar with Matcha Latte, the brilliantly green milky concoction, young and pretty influencers show off in their Instagram feeds. You might even drink it yourself. Not me!
I prefer coffee or black tea. This recipe, however is the brainchild of my child, my 16 year old daughter to be exact. She is the baker in the family and it's time her creations make it to this website.
Why bake with matcha you might wonder. Well, apart from its incredibly vivid and beautiful green colour, it gives your baked goods a distinct but mild green tea flavour. With that not only are you getting a delicious flavour but also antioxidants that come with green tea.
If you are not familiar with matcha, you might be confused where to find it and what to buy. Don't worry it's relatively easy to find these days, which is by the way is made by blending a special type of green tea into a powder.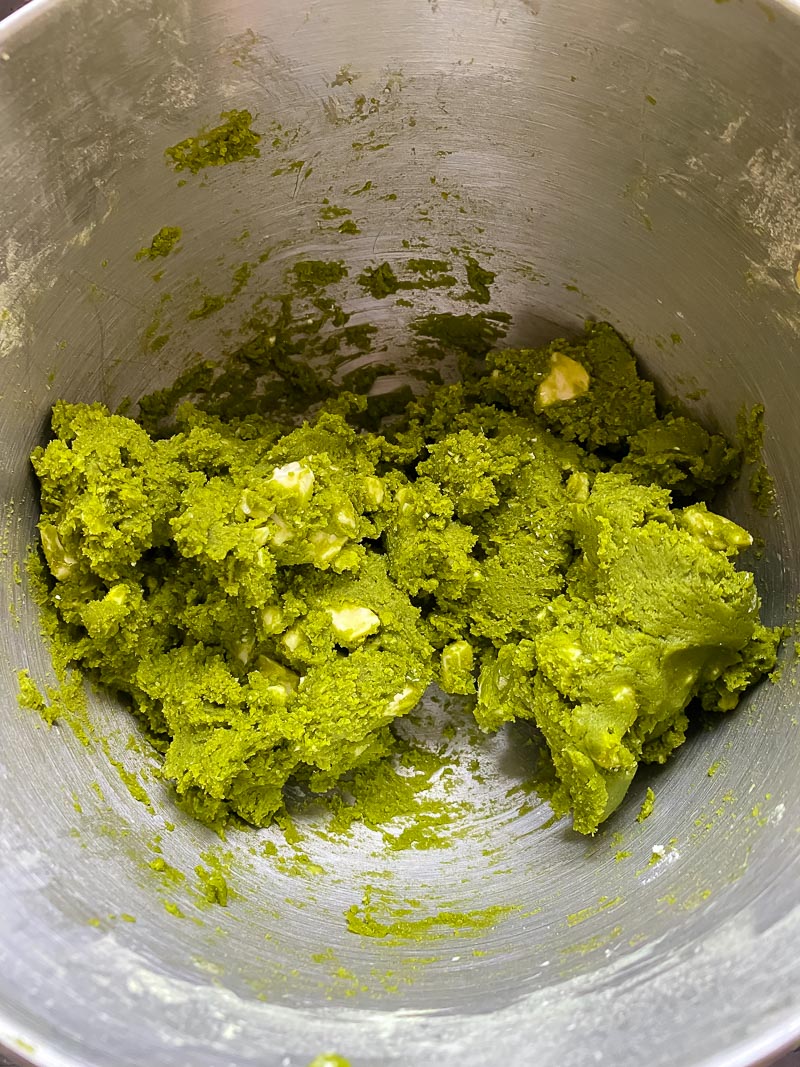 Matcha powder comes in three grades. Ceremonial, used for making tea, is the highest and most expensive grade. It is also the most vibrant. Then comes the premium grade and finally, the culinary grade.
For this recipe, I used premium grade matcha powder as I find the culinary grade to be a bit dull in colour and too sharp and sometimes bitter in taste.
You can buy matcha powder in specialty tea shops or online. I buy mine on Amazon.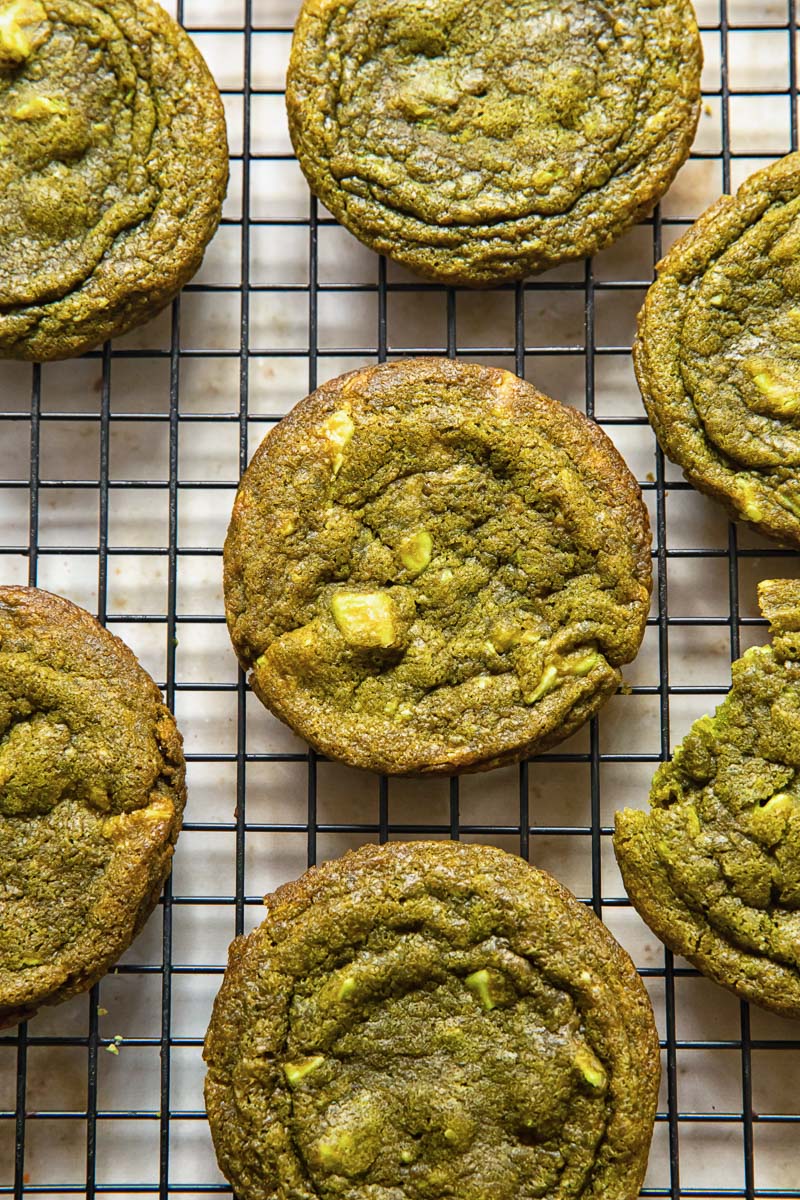 How to Preserve Green Colour
As green as this powder is, it tends to turn brown when it gets baked. Here is what we learned from working with it. Your cookies will look their best/greenest on the day they are baked. The colour will fade a bit the following day. The taste however, will not change.
If you chill your cookie dough in the fridge overnight, this will also affect the vibrancy of your cookies. In short, the green colour will be the most brilliant in the beginning of the process. The picture of the cookie dough above shows it right after mixing.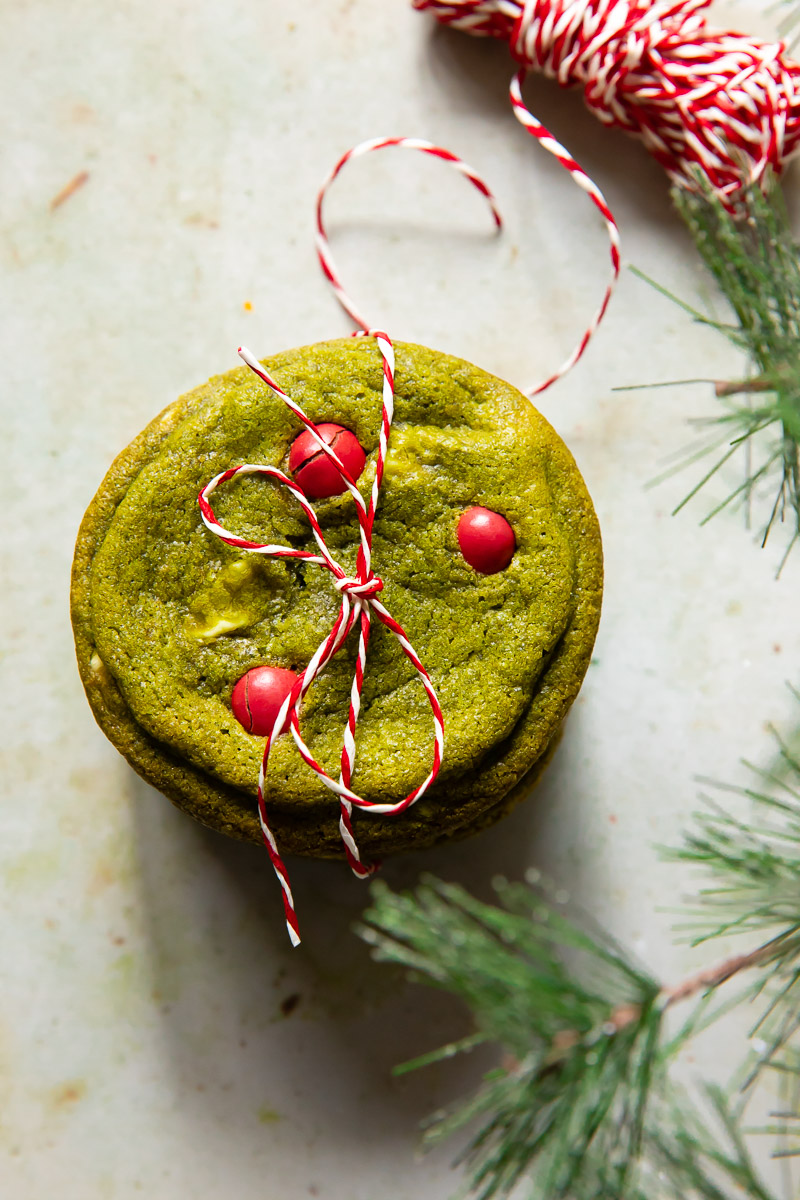 Recipe Tips and Notes
Make sure your eggs and butter are at room temperature. They will incorporate better this way.
Plan to bake the cookies the same day you make the dough as it will lose its vibrant green colour if left in the fridge overnight.
Use easy release stainless steel ice cream/batter scoop for even-sized cookies.
Your cookies will lose its vibrant green colour after a day but the taste will be unaffected.
Popular Christmas Cookies to Try: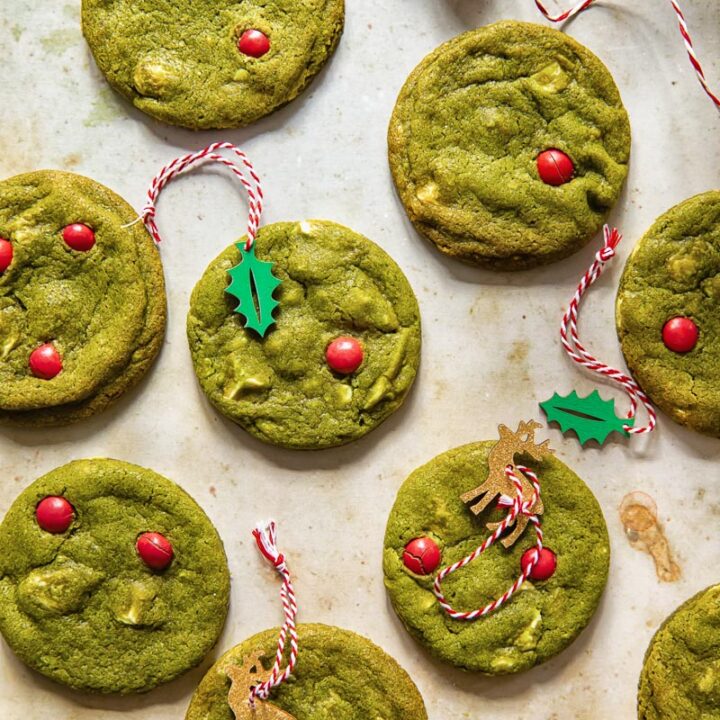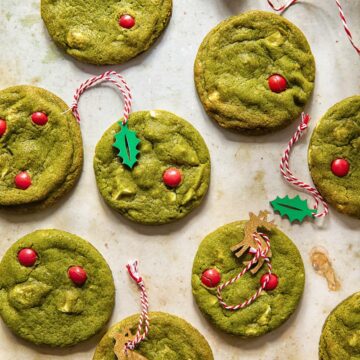 White Chocolate Matcha Cookies
These white chocolate chunk cookies are made even tastier with the addition of the delicate flavour of green matcha tea.
Ingredients
250g/1 ¾ cups

all purpose/plain flour

1

tsp

baking soda

1

tbsp

cornstarch/(cornflour)

½

tsp

salt

2-2.5

tbsp

premium matcha powder

185g/3/4 cup

unsalted butter

room temperature

150g/3/4 cup

white sugar

100g/1/2 cup

light brown sugar

1

egg

large

1

egg yolk

2

tsp

vanilla

250g/1.5 cups

white chocolate chunks

I used chopped white chocolate bar

100g/0.5 cup

red M&Ms or Smarties
Instructions
Whisk together the flour, baking soda, salt, cornstarch and matcha. To the bowl of a stand mixer add brown sugar, white sugar and room temperature butter, beat with a paddle attachment until light and fluffy for a minute.

Add room temperature egg yolk, a whole egg and vanilla. Beat until smooth and fully combined. Add the dry ingredients to the mixing bowl and beat until dough forms. Mix in chocolate and let the dough rest in the fridge for 30 minutes. (The colour will begin to fade if you rest it longer.)

Preheat the oven to 180C/ 50°F. Line baking sheets with silicone mats or parchment paper. Scoop out equal portions of dough, about 6-8 cookies per pan, then flatten them with the palm of your hand.

Bake in a preheated oven for around 10 minutes or until the edges are golden. Remove from the oven and let them cool on the pan until firm for about 5 minutes. Then transfer to a cooling rack to continue cooling. Continue the process until all cookies are baked.
Nutrition
Calories:
263
kcal
Carbohydrates:
33
g
Protein:
3
g
Fat:
13
g
Saturated Fat:
8
g
Polyunsaturated Fat:
1
g
Monounsaturated Fat:
3
g
Trans Fat:
0.3
g
Cholesterol:
37
mg
Sodium:
132
mg
Potassium:
61
mg
Fiber:
1
g
Sugar:
23
g
Vitamin A:
340
IU
Vitamin C:
0.1
mg
Calcium:
41
mg
Iron:
1
mg