These gorgeous palmier cookies only require 3 ingredients and the easiest Christmas cookies you will make!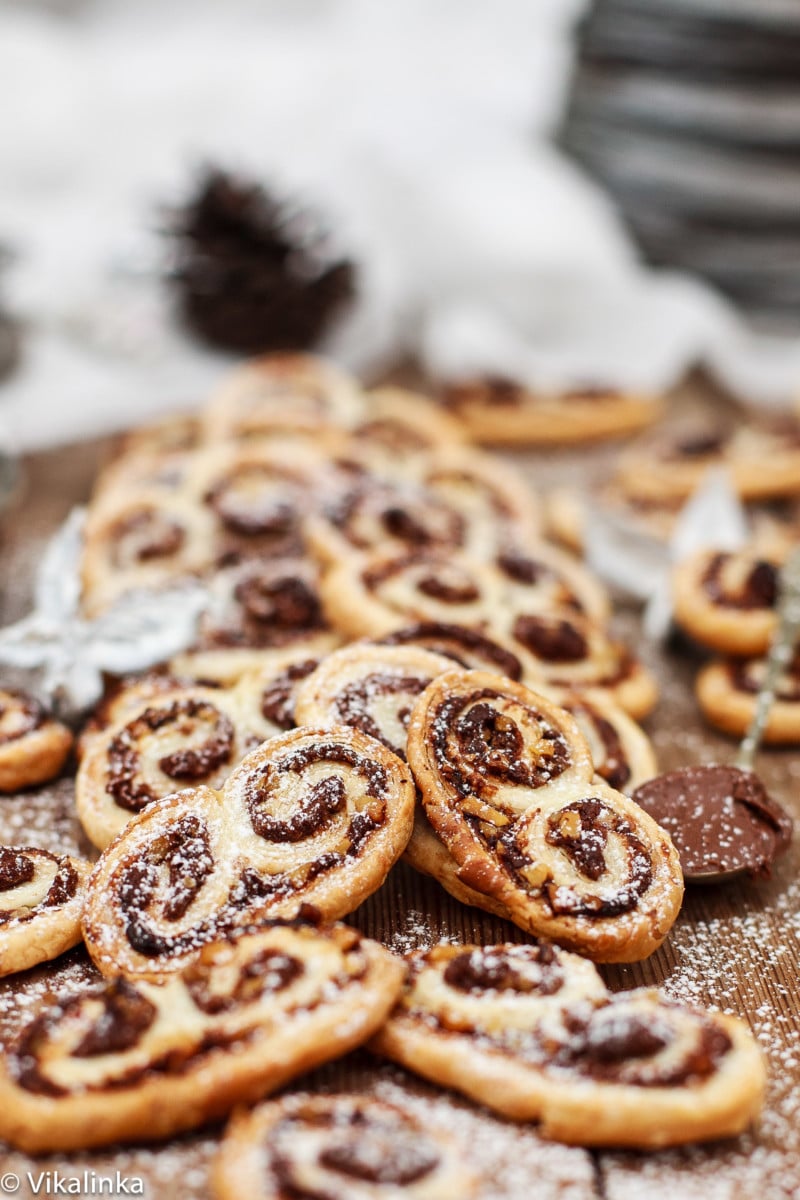 I surprised my kids a couple of days ago by picking them up from school and instead of bringing them home taking them out for some hot cocoa and a tour of Christmas lights.
When I triumphantly announced my plan to them my son looked at me with a sour face and mumbled, "But I want to go home and play xbox." It was obvious more Christmas spirit was needed.
Moods quickly changed when the first sight of glittery lights appeared and everyone forgot what the argument was about.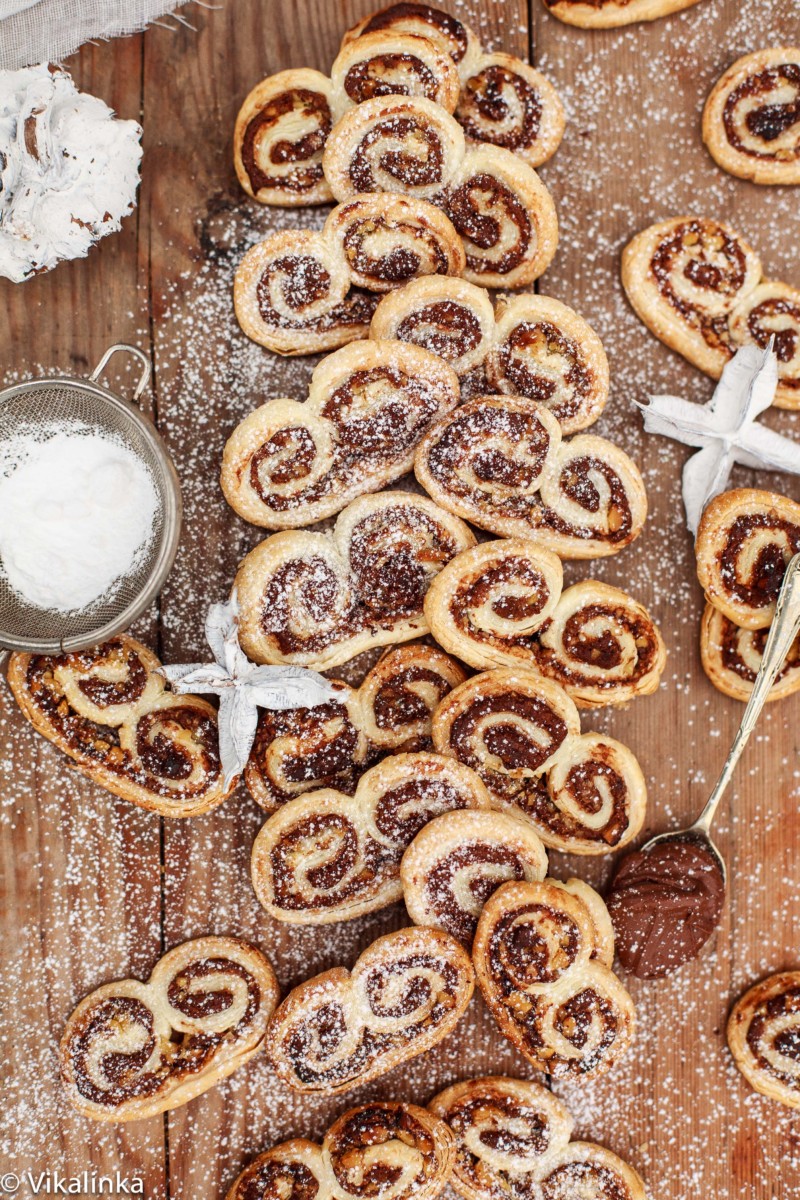 Then we walked into a French bakery with all its Christmas aromas and a gorgeous display of treats, the names of which were nearly impossible to pronounce even with a University French minor in my pocket. It was also the place where my children demonstrated their refined taste and ordered a giant chocolate cookie.
My eyes, however, were drawn to beautifully wrapped Palmiers. "What a gorgeous Christmas present they would make!" I thought to myself and then I remembered a leftover puff pastry in my fridge.
I came home, made dinner and then made these nutella and hazelnut palmiers. Easy enough to do because they only require 3 ingredients and 15 minutes of hands-on time.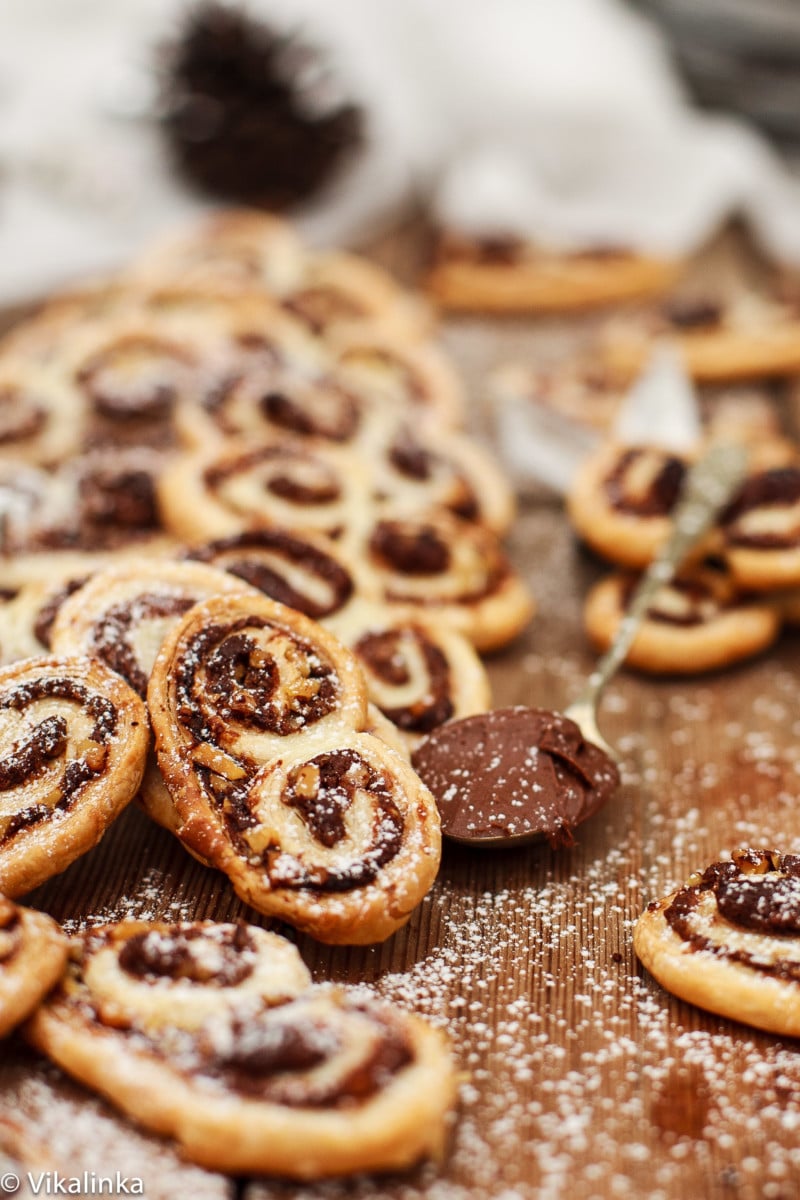 How do you make Palmier cookies?
All you need is a sheet of pre-made puff pastry. All butter pastry is the best choice here. A jar of Nutella and a handful of chopped hazelnuts.
Spread the nutella and hazelnuts over the puff pastry.
Roll it up from the opposite ends until they meet in the middle.
Slice them into individual cookie and bake!
Then you can either eat them and sip on your coffee served in tiny cups while imagining yourself in beautiful Paris. Or you can give them as Christmas gifts!
They are light, crispy and, did I mention, filled with Nutella!!
More Christmas treats: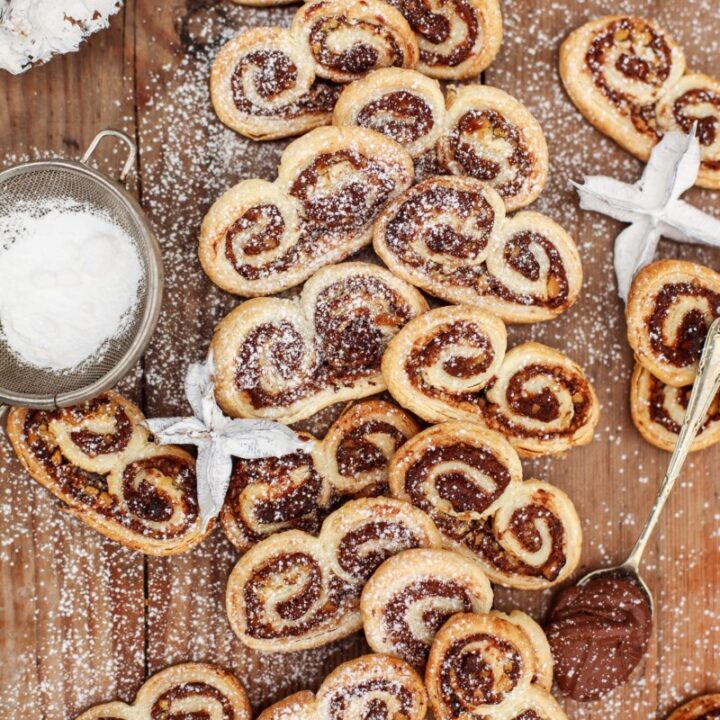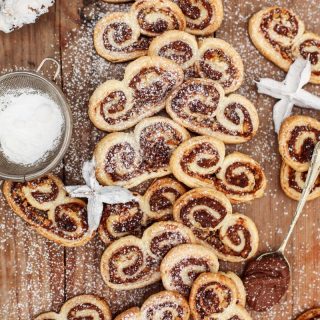 Nutella and Hazelnut Palmiers
These gorgeous palmier cookies only require 3 ingredients and the easiest Christmas cookies you will make! Makes 30 cookies
Ingredients
Puff pastry

pre-made- 1 sheets/320gr

Nutella- 4-5 tbsp.

Hazelnuts

finely chopped- ⅓ cup

Powdered sugar for dusting
Instructions
Put your sheet of puff pastry on a parchment lined cookie sheet.

Spread nutella on your puff pastry sheet with a spatula in a thin layer.

Sprinkle with chopped hazelnuts all over.

Start rolling tightly from one side and reach the centre, repeat the same on the other side until you reach the centre. If you roll from a long side you will have mini palmiers like I did but if you roll from a short side you will end up with large palmiers.

Cover it with a plastic wrap and refrigerate for 30 minutes.

Preheat oven to 425F/220C.

Take your roll out of the fridge and slice into ½" thickness.

Place palmiers 2" apart on a cookie sheet and bake for 15 minutes until golden.

Cool on a wire rack, then dust with powdered sugar before serving.