These overnight pillow soft and fluffy rolls are filled with chocolate Nutella, then topped with a luxurious vanilla glaze. Perfect breakfast or brunch treat!
Take a look at our Cinnamon Buns if you can't get enough of sweet rolls!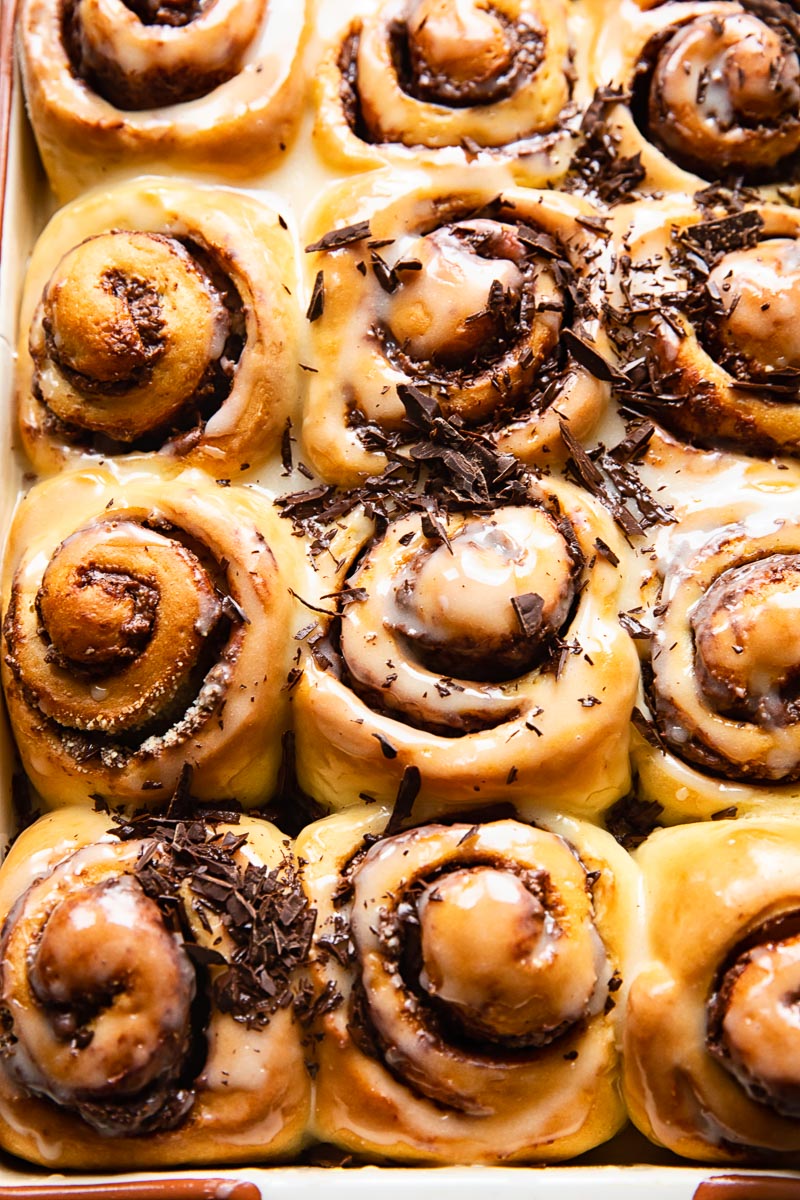 If you are the kind of person, who wakes up happily at the thought of having your coffee with a side of a sweet treat, this recipe is for you.
These chocolate rolls are overnight, no-knead, pillowy soft bits of heaven. My son actually does a happy dance when he eats one. They are that good.
If you are not a fan of store bought Nutella, you can make your own chocolate almond spread at home. Alternatively, it's easy to turn these into cinnamon rolls. Just swap out cinnamon, sugar and butter filling for Nutella.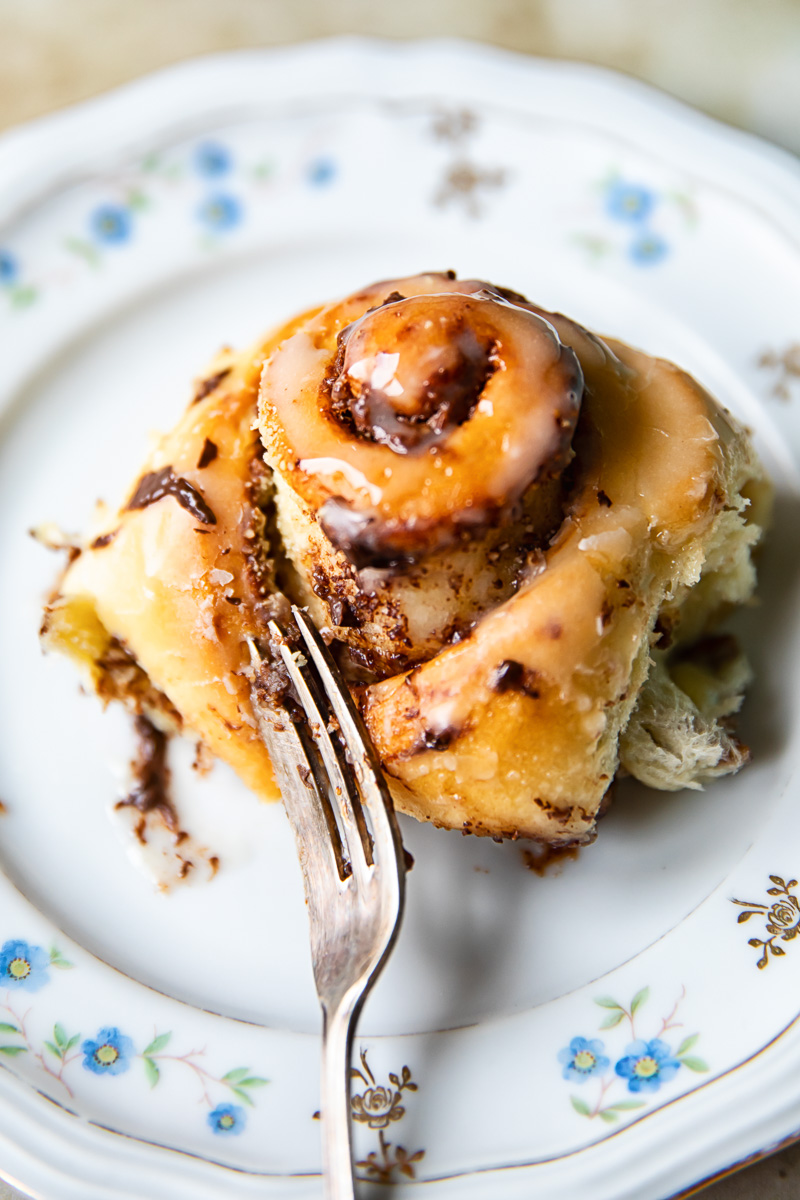 Why this recipe works
These rolls are quite special. One of the reasons they work so well for a special breakfast or brunch is because the dough rises overnight in your refrigerator.
So you can split two tasks of making the dough the night before and letting it proof while you sleep and assembling them in the morning.
This way you can delight your family with warm out of the oven rolls. Nothing beats that!
These rolls are obviously not something you'd whip up every day but they work a treat for special occasions like birthdays and holidays.
Recipe Top Tips
As I mentioned earlier, this recipe can be broken into two stages to make it easier and more approachable.
This particular dough recipe doesn't actually require kneading for it to produce stellar results. So if you don't have a stand mixer, just give it a quick mix and let it rise overnight in your fridge.
Don't be tempted to leave it on your kitchen counter unless your house is extremely cold. Otherwise the dough will overproof, which will result in a poor rise in the oven and sour taste.
You will know your dough has risen appropriately when it triples in volume as you can see in the photos above.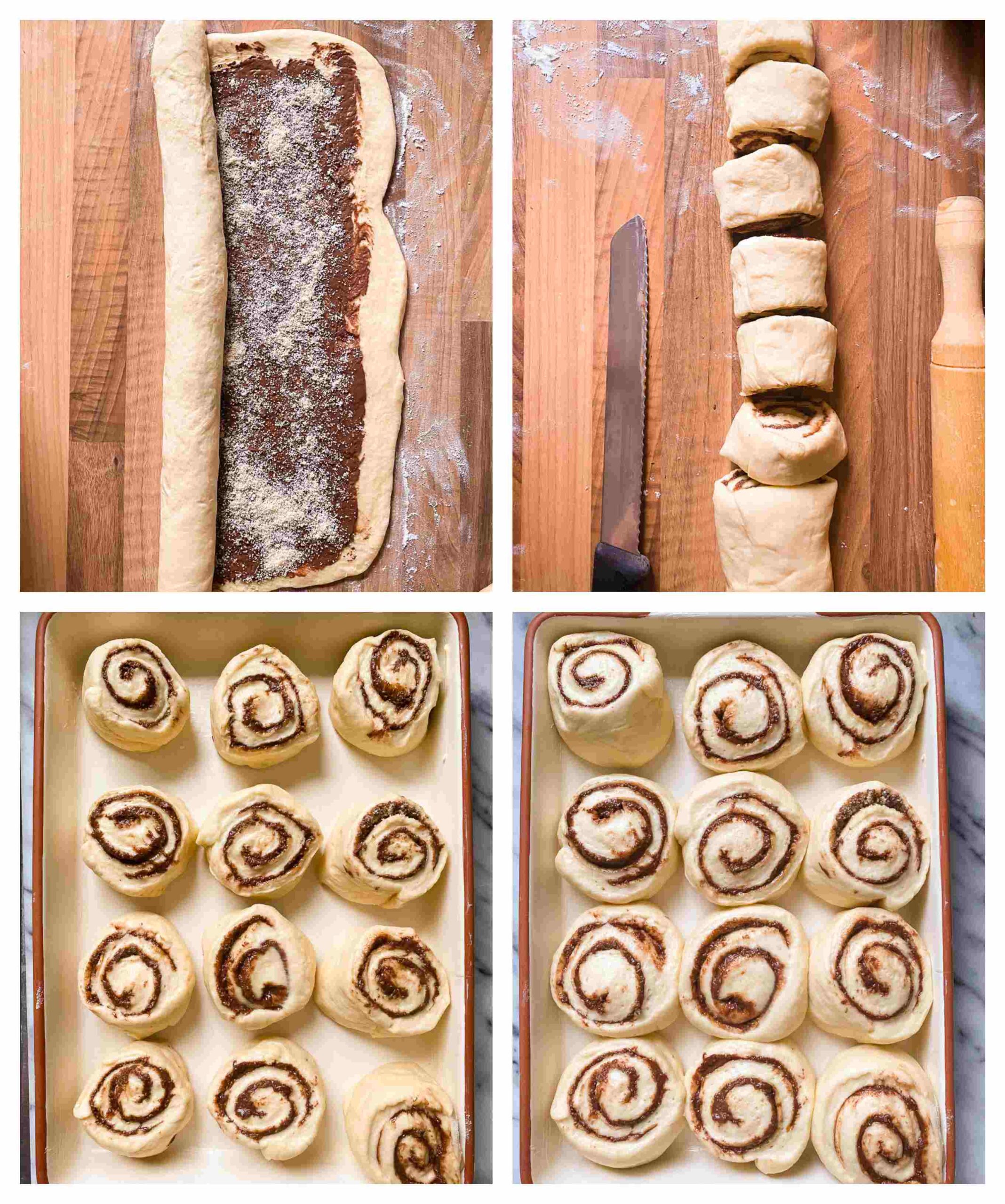 Shaping your dough into actual rolls is nothing to stress over. All you have to do is to roll it out into a large rectangle approximately 18X12 inches. It doesn't have to be perfect. It's baking, not a geometry class.
Since this recipe is for 24 rolls. You will split the dough into two and rolls out 2 large rectangles.
Make sure your work surface and your rolling pin are both dusted with flour to prevent sticking.
To ensure even and easy spreading of Nutella I pop it in a microwave for about 30 seconds to loosen it up slightly.
On top of the chocolate spread I also sprinkled my dough with ground almonds for extra flavour. This step is optional but highly recommended.
The best way to cut your rolled dough is with a serrated knife to prevent the rolls from being smashed down. Alternatively you can use a thread or a floss, which also works great for this purpose.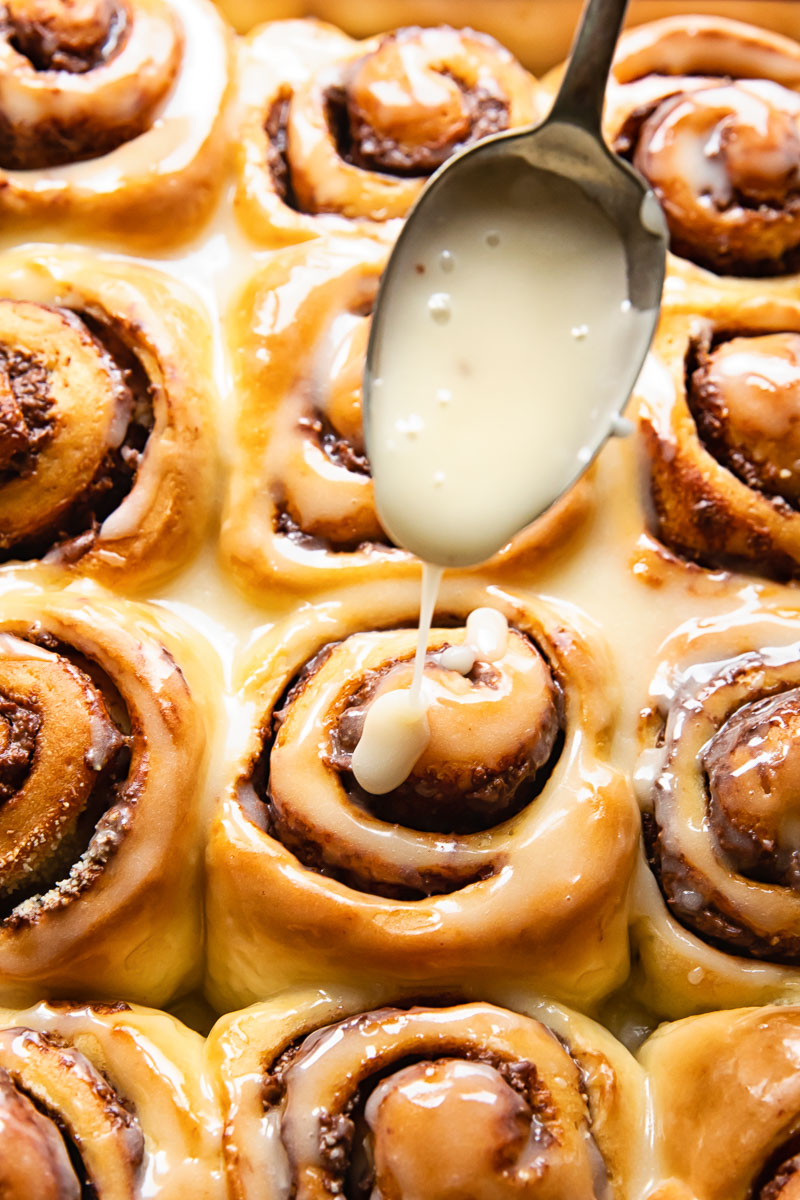 Vanilla Sugar Glaze
I am not the one for super sweet sauces and glazes but this vanilla bean sugar glaze is necessary!!! Just a thin coating gives a glorious shine and a divine sugar hit!
You can also use cream cheese frosting if that is your preference. You will need a half of this cream cheese frosting recipe to cover 24 rolls.
To add more drama I also sprinkled my rolls with a bit of chopped dark chocolate.
If you a different combination of flavours, how about the maple cream cheese icing I used with cinnamon rolls?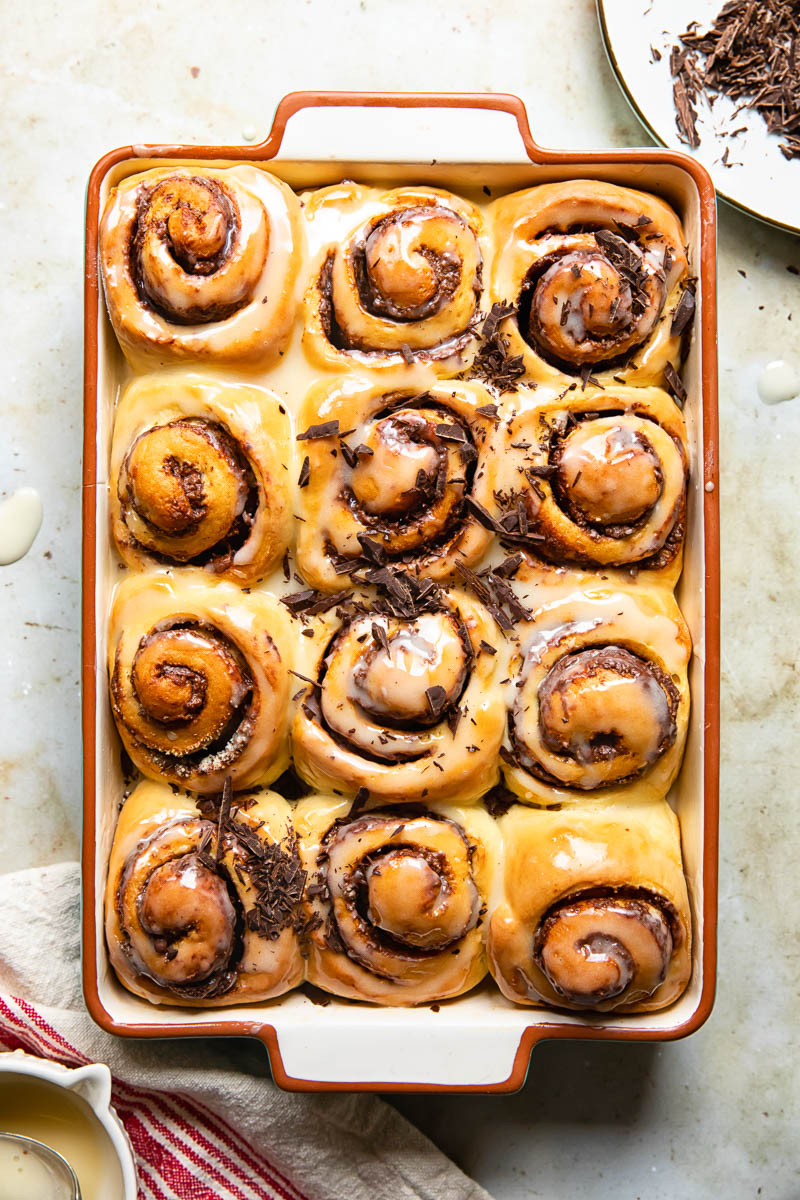 Storage suggestions
As with all baked goods, these rolls are best on the day they are made. However, they will keep soft until the following day. If you don't think you will finish them in 2 days, the best way to store the rolls is in the your freezer.
If you want to preserve the freshness, I recommends wrapping them up in plastic and placing the rolls in an airtight container. They will last in your freezer for 4-5 weeks.
More Sweet Treat Recipes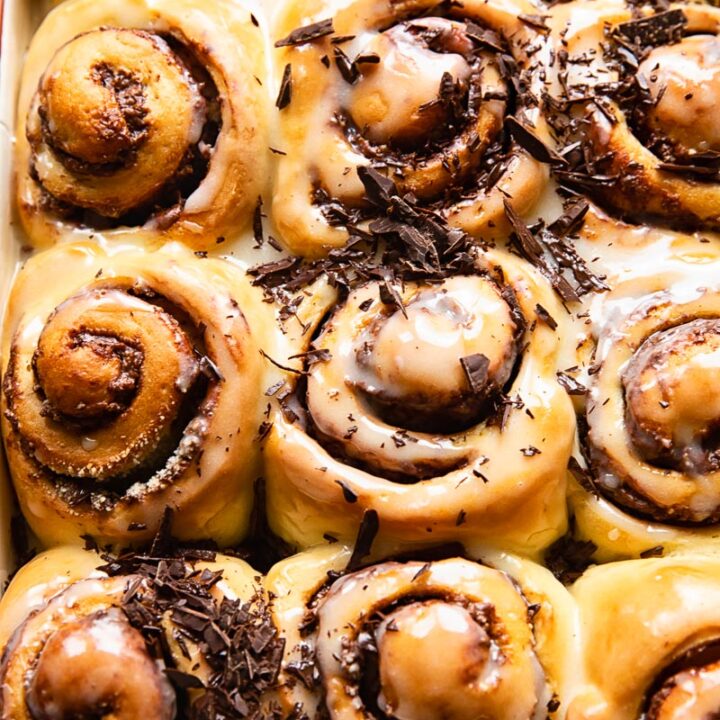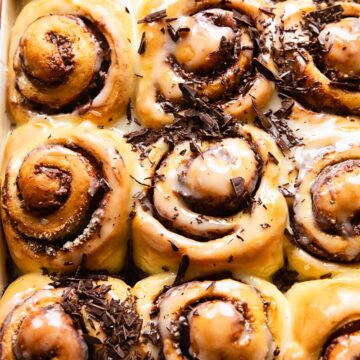 Chocolate Almond Rolls with Almond and Vanilla Bean Glaze
Makes 24
Ingredients
For the dough
14g/2

packages

¼ ounce each active dry yeast

375ml/1.5

cups

warm water

110° to 115°

2

eggs

large

125g/0.5

cup

butter

softened

100g/0.5

cup

sugar

2

teaspoons

salt

800g/5-¾

cups

bread flour or all-purpose flour
For the filling
150g/1/2

cup

Nutella

divided

50g/1/2

cup

Ground Almonds

divided
For the glaze
150g/3/4

cup

icing sugar

4

tsp

whole milk or half and half

1

vanilla bean or vanilla

50g/1.5 oz

chocolate

chopped
Instructions
In a small bowl dissolve both packages of yeast in warm water. Let it sit for a couple of minutes.

In a large bowl combine egg, butter, sugar, salt, yeasted water and 3 cups of flour. Mix until well combined.

Add the rest of the flour to make very soft dough. Mix quickly but do not knead. The dough will be sticky. Cover with plastic wrap and leave overnight in the fridge.

In the morning turn out the dough on a well-floured surface and divide into two, roll into balls. Cover one ball with a tea towel to prevent drying out while you working on the other one.

With a rolling pin roll the dough into a rectangle 18X12″, spread with ¼ cup of Nutella leaving ½″ border and sprinkle with ¼ cup of ground almonds.

Roll tightly starting from the long side. Pinch seam to seal and place on a cutting board seam side down. Slice into 12 pieces and arrange them on a well-oiled 13X9 baking pan. Cover with a tea towel and let it rise for 1 hour in a warm place. Repeat the same process with the remaining dough. Bake in the preheated oven at 375 F/ 190C for 25 minutes.

While the rolls are baking prepare the glaze. Split a vanilla bean lengthwise with a sharp knife and scrape out vanilla seeds. In a small bowl mix icing sugar with milk, almond extract and vanilla bean seeds. Drizzle over warm out of the oven rolls. Sprinkle with chopped chocolate if desired.
Nutrition
Calories:
262
kcal
Carbohydrates:
40
g
Protein:
6
g
Fat:
9
g
Saturated Fat:
5
g
Trans Fat:
1
g
Cholesterol:
25
mg
Sodium:
241
mg
Potassium:
78
mg
Fiber:
2
g
Sugar:
15
g
Vitamin A:
152
IU
Vitamin C:
1
mg
Calcium:
22
mg
Iron:
1
mg