These cinnamon rolls with maple flavoured cream cheese icing are a special treat you can easily make at home. No need for a bakery trip.
And if really don't want to fuss over yeasted dough, try our Puff Pastry Cinnamon Rolls. Even easier and they definitely satisfy the craving!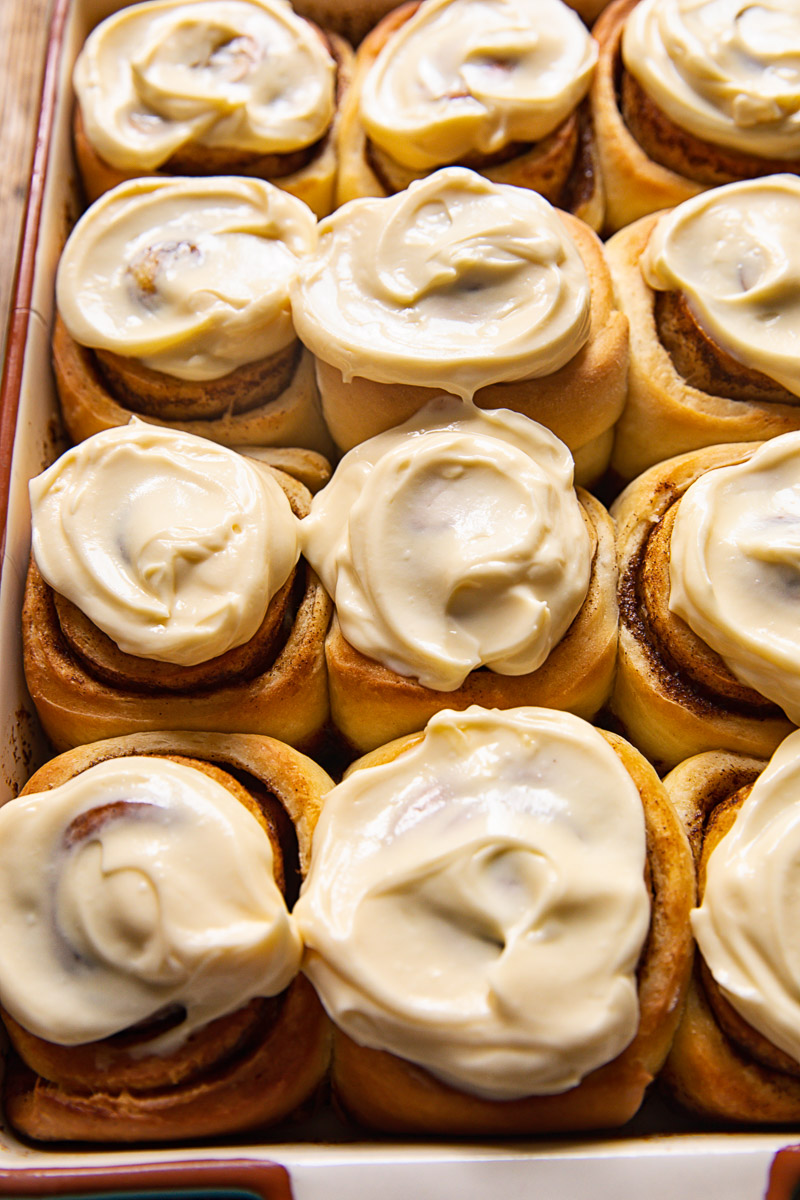 My kids never seem to tire of cinnamon rolls. I am guessing the reason for this enthusiasm is I only make them for special occasions like Christmas morning and Easter. Occasionally, I will bake a batch if I am retesting a recipe.
I don't make cinnamon rolls all the time simply because I want to keep them special. Sneaky? Perhaps but that is every mother's prerogative. I want to be the type, who always has delectable treats only a sweet request away. As a mum of teens and I am always planning on ways to lure them back once they move out!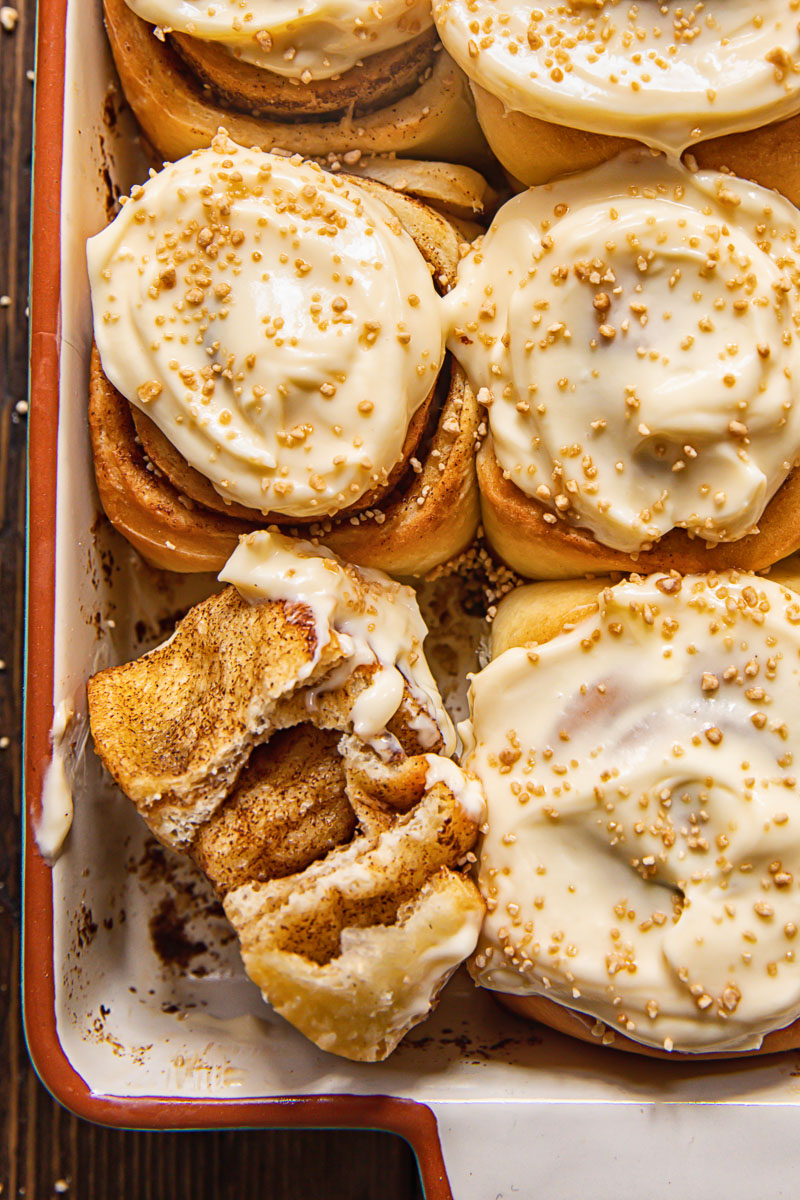 Enriched Dough
What makes sweet rolls so delicious is the enriched dough they are made from. Basic bread dough is lean. It contains flour, water, yeast and salt. That's it. Nothing else is needed to make a delicious loaf with soft crumb and chewy crust.
Buns and rolls are different. On top of the basic dough we add sugar and fat, in the form of butter or oil. That is why it called "enriched". Fat and sugar make the dough extra soft… buttery even!
The same enriched dough recipe could be used for sweet and savoury rolls. For example my twisted cinnamon buns use the same formula as garlic butter rolls. The only difference is reduced amount of sugar in the latter and the topping.
So the good news is once you master the basic enriched dough recipe, you can create a huge variety of treats!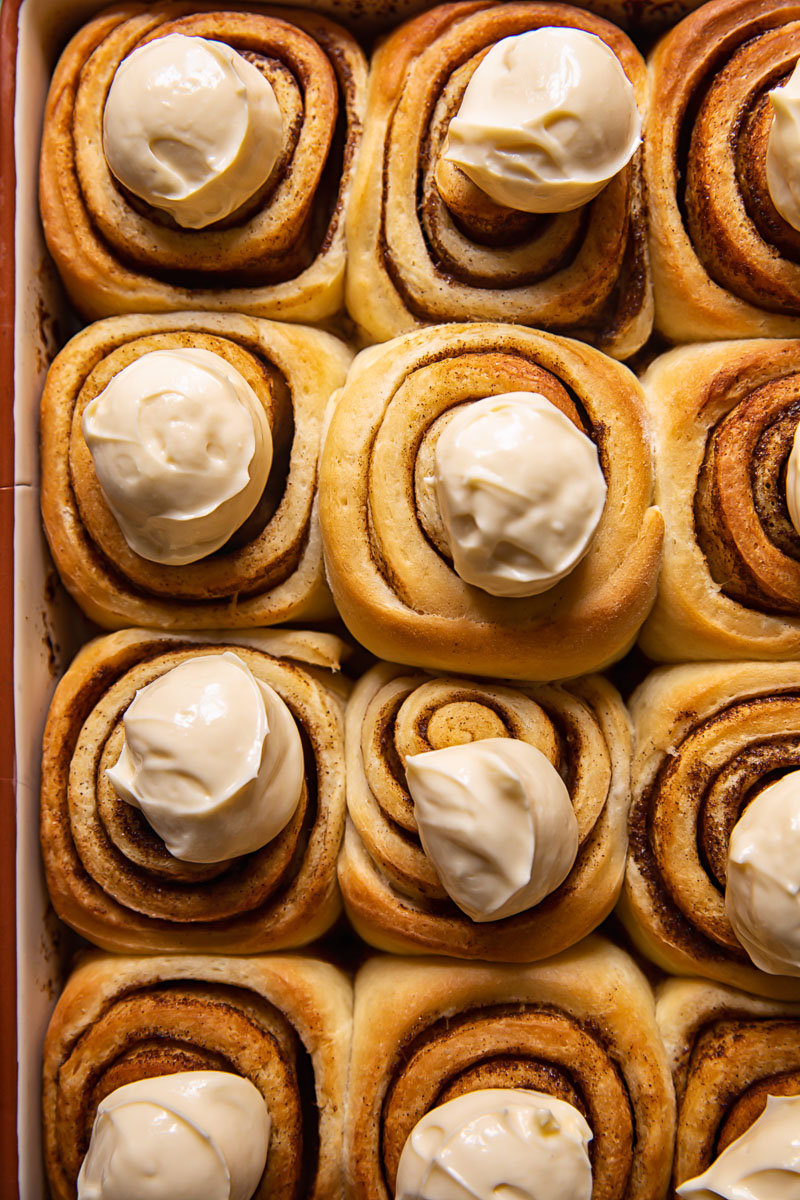 The Icing Recipe
Sweet rolls are traditionally topped with either a sugar glaze or cream cheese icing. I love them both if I am honest but whatever you choose will slightly alter the end result.
If you decide to cover your delicious cinnamon rolls with a simple glaze, they will be perfectly suitable for an indulgent breakfast.
However, maple cream cheese frosting, the recipe for which I am sharing here, puts your rolls almost into a dessert category. Impossibly delicious and very decadent.
For my puff pastry cinnamon rolls I use store bought salted caramel sauce, which another enticing idea.
I also sprinkled mine with maple sugar a friend brought from Canada. Triple yum.
Recipe Tips and Notes
This recipe can be made overnight or on the same day. If you wish to break it into two stages, mix the dough one day, then shape the rolls the following morning. If you wish to stick with the overnight method, I wrote about it in detail in this recipe for Chocolate Rolls.
This particular dough recipe doesn't actually require kneading for it to produce stellar results. So if you don't have a stand mixer, just give it a quick mix and let it rise overnight in your fridge.
Don't be tempted to leave it on your kitchen counter unless your house is extremely cold. Otherwise the dough will overproof, which will result in a poor rise in the oven and sour taste.
If you make the entire recipe on the same day, allow to rise for 1.5 hours to 2 hours depending on the temperature of your house. You will know your dough has risen appropriately when it triples in volume.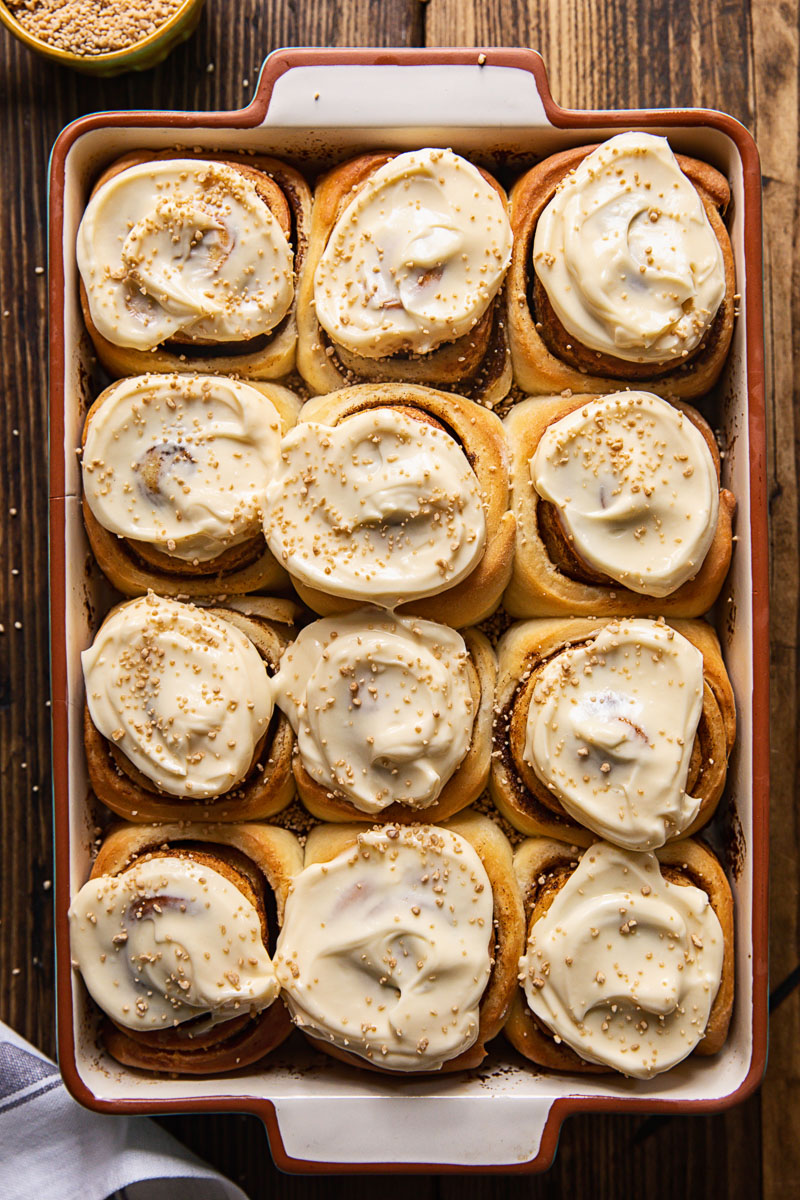 Prepare the filling by mixing softened butter with brown sugar and cinnamon. I want to stress that your butter should be so soft, it would be extremely easy to spread over the dough. If there is any resistance at all, you might tear your dough.
Shaping your dough into actual rolls is super easy too. All you have to do is to roll it out into a large rectangle approximately 18X12 inches, then spread the filling over the sheet of dough.
The best way to slice the giant roll into 12 smaller rolls is by using a serrated knife. Alternatively you can use a piece of thread.
After you shape your dough into rolls, arrange in a baking pan, cover with a tea towel or cling wrap and allow to rise for 30-40 minutes. Only after that you can bake them.
Finally, allow the rolls to cool completely before you spread the icing on them. Otherwise it will melt. And use real maple syrup for the best taste.
More Sweet Bakes: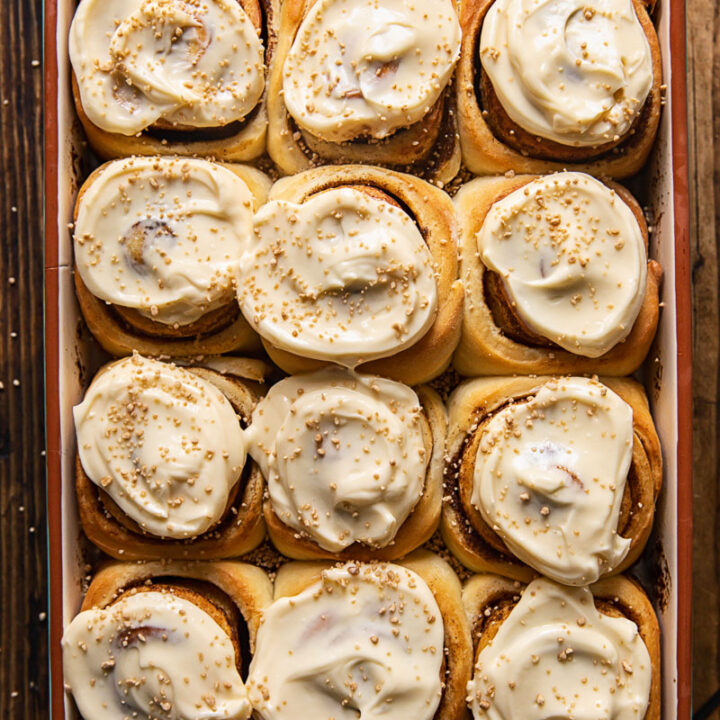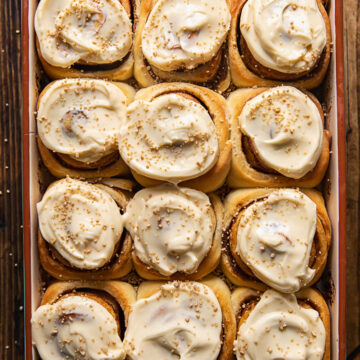 Cinnamon Rolls with Maple Cream Cheese Icing
These cinnamon rolls with maple flavoured cream cheese icing are a special treat you can easily make at home.
Ingredients
7g/1 tbsp

active dry yeast

220ml/1 cup

warm water

110F to 115F

1

egg

large

60g/1/4 cup

butter

melted

50g/1/4 cup

granulated sugar

1

tsp

salt

400g/3 cups

all purpose flour or bread flour
For the filling
1

tbsp

cinnamon

4

tbsp

brown sugar

100g/1/2 cup

butter

very soft
For the maple glaze
50g/1/2 cup

icing/powdered sugar

125g/4 oz

cream cheese

softened

2

tbsp

butter

softened

3

tbsp

real maple syrup

1

tbsp

maple sugar for decoration

optional
Instructions
In a small bowl dissolve yeast in warm water. Let it sit for a couple of minutes to get frothy. In a large bowl combine 1 egg, melted butter, sugar, salt, yeasted water and 2 cups of flour. Mix until well combined. Add the rest of the flour to make very soft dough and knead for about 3 minutes. Cover with plastic wrap and leave to rise for 1.5 hours or until the dough triples in volume.

Make the filling while the dough is rising. Mix the softened butter with brown sugar and cinnamon, set aside till needed.

Once the dough is sufficiently proved, turn it out on a well-floured surface. With a rolling pin roll the dough into a rectangle 18X12", then spread the cinnamon filling with an offset spatula or a flexible plastic spatula leaving ½" border. Roll tightly starting from the short side to get many layers in your rolls. Pinch the seam to seal and place on a cutting board seam side down. Slice into 12 pieces and arrange them on a well-buttered 13X9 baking pan. Cover with a tea towel and let it rise for 30-40 minutes in a warm place. Bake in the preheated oven at 375 F/ 190C for 25 minutes. Then take out of the oven and allow the rolls to cool completely before icing them.

While the rolls are cooling make the icing by combining the cream cheese, butter, icing sugar and maple syrup in a food processor or with a hand blender. Top room temperature rolls with dollops of the cream cheese icing, then spread with the back of a spoon while making a swirl. Sprinkle with maple sugar if using.
Nutrition
Calories:
339
kcal
Carbohydrates:
41
g
Protein:
5
g
Fat:
17
g
Saturated Fat:
10
g
Polyunsaturated Fat:
1
g
Monounsaturated Fat:
4
g
Trans Fat:
1
g
Cholesterol:
58
mg
Sodium:
336
mg
Potassium:
81
mg
Fiber:
1
g
Sugar:
16
g
Vitamin A:
554
IU
Vitamin C:
1
mg
Calcium:
37
mg
Iron:
1
mg