Once you try my recipe for the easiest and tastiest apple turnovers, you will never be tempted by the store bought ones! Freshness is everything when it comes to pastry!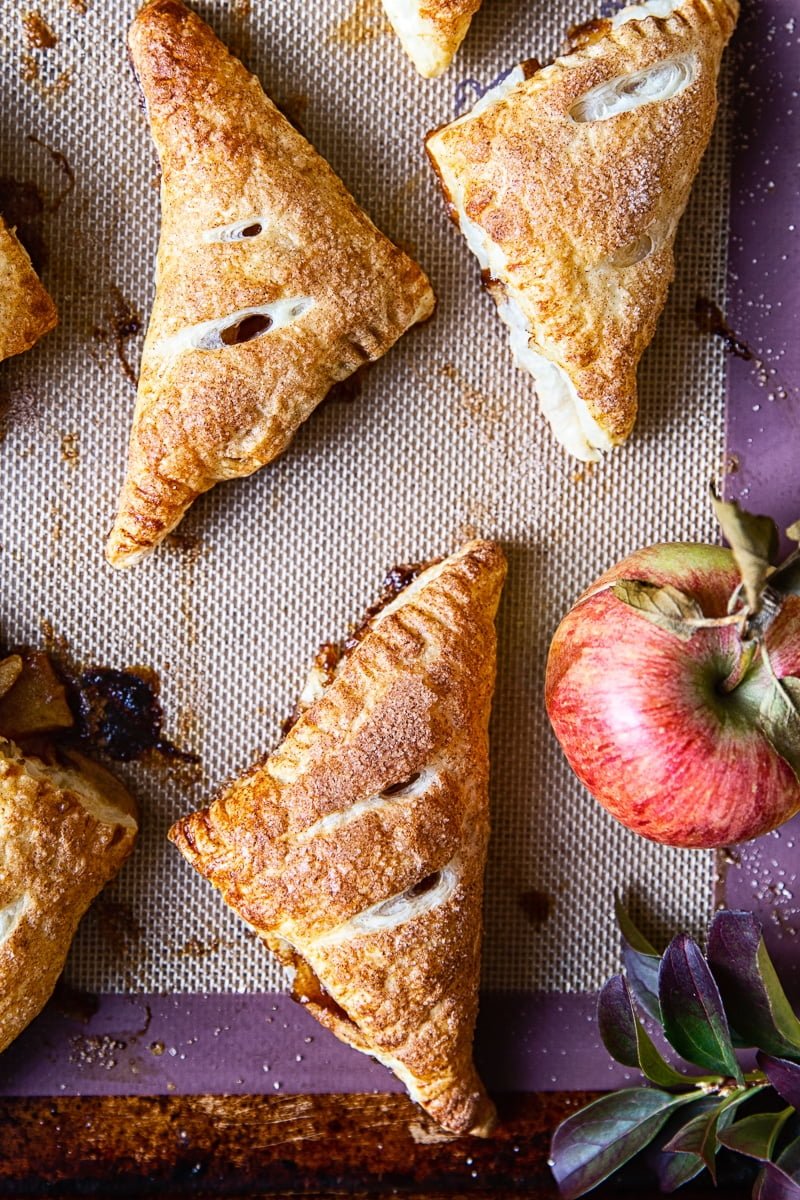 Our favourite grocery store sells apple turnovers all year round, not just in the autumn. And my kids have a weak spot for them. Ah who am I kidding? So do I! They are also very reasonably priced, so we often grab a few for our afternoon tea.
That went on for a while until I stumbled upon one unfortunately underbaked batch. The pastry was pale and soft but interestingly enough what it also revealed is horribly under seasoned apples inside.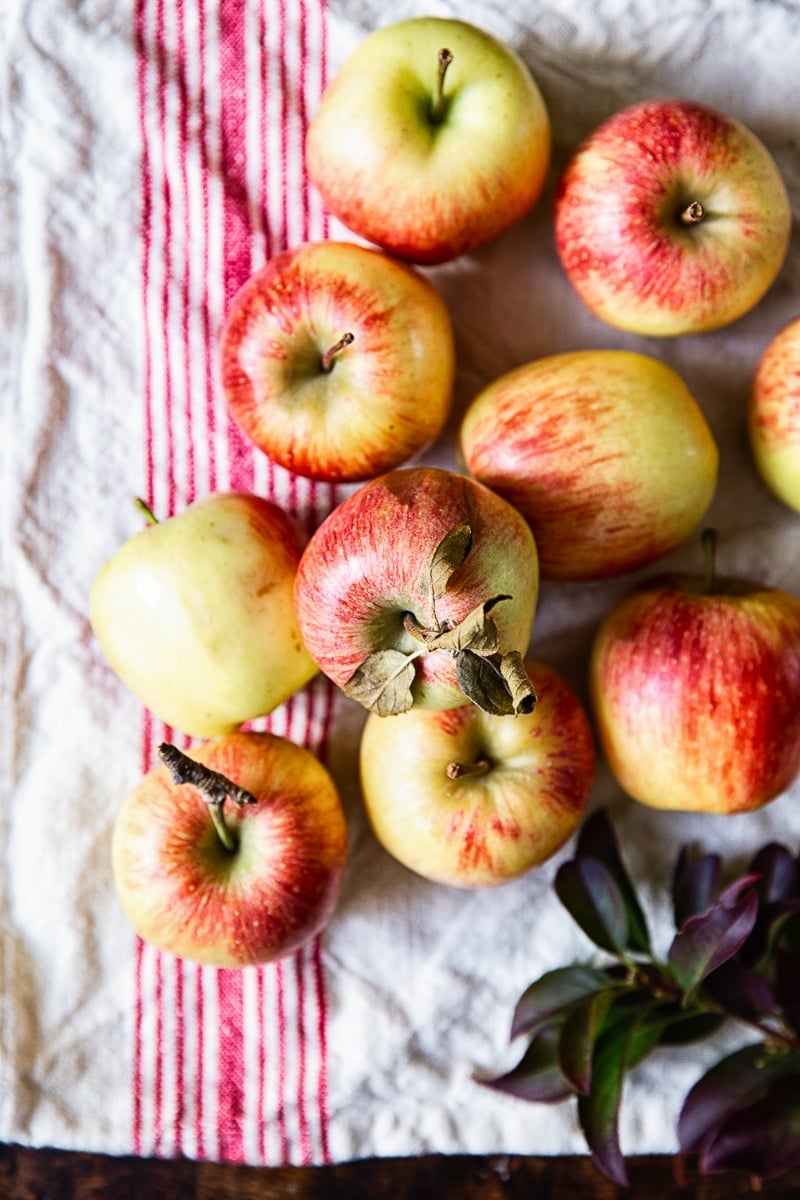 I mean the apples were sweet but that's about it. No cinnamon or nutmeg. None of that deliciousness that enhance the flavour of apples.
What goes into apple turnovers?
So I thought to myself. What is stopping me from making my own apple turnovers? It's just a bit of puff pastry and apples.
But what I will also add is cinnamon, nutmeg and brown sugar to make the most seductive apple filling! I will also dust my apple turnovers with cinnamon sugar for the fragrant, golden crust!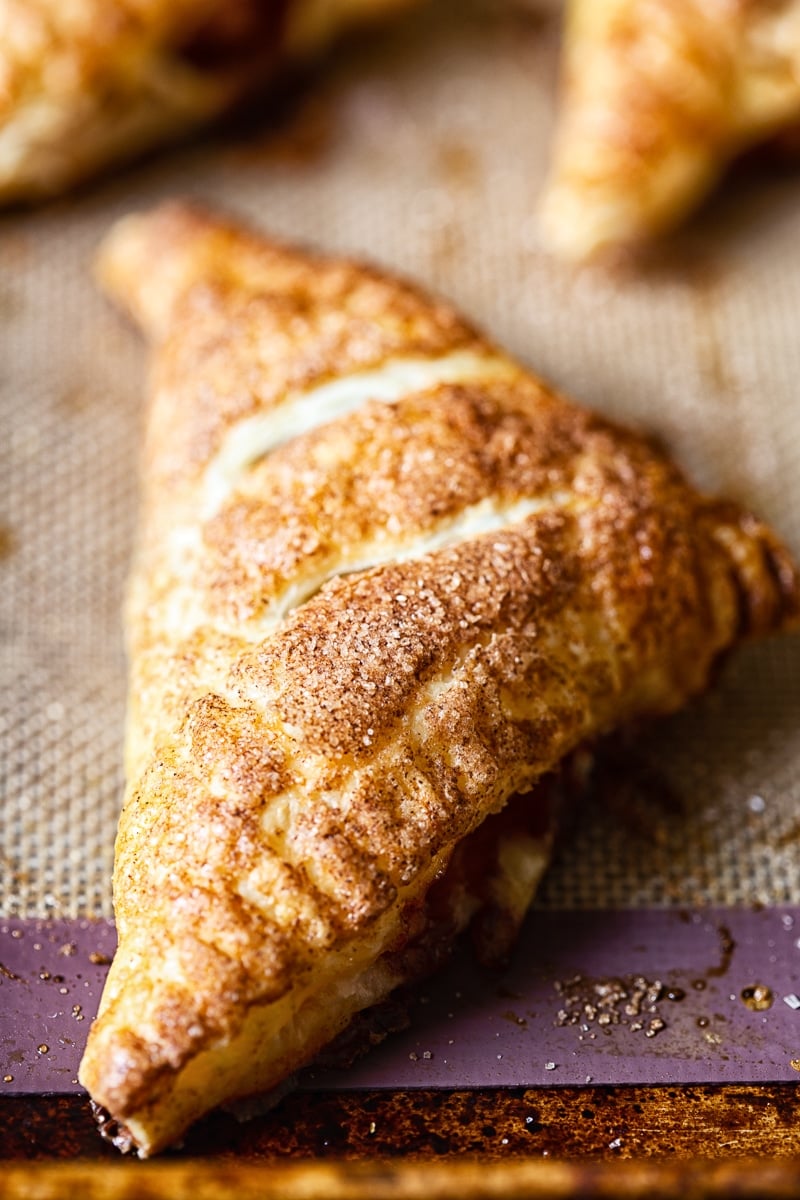 I was so taken with the thought of making them I went grocery shopping immediately. Two stores and no puff pastry in any of them!
That is bad luck.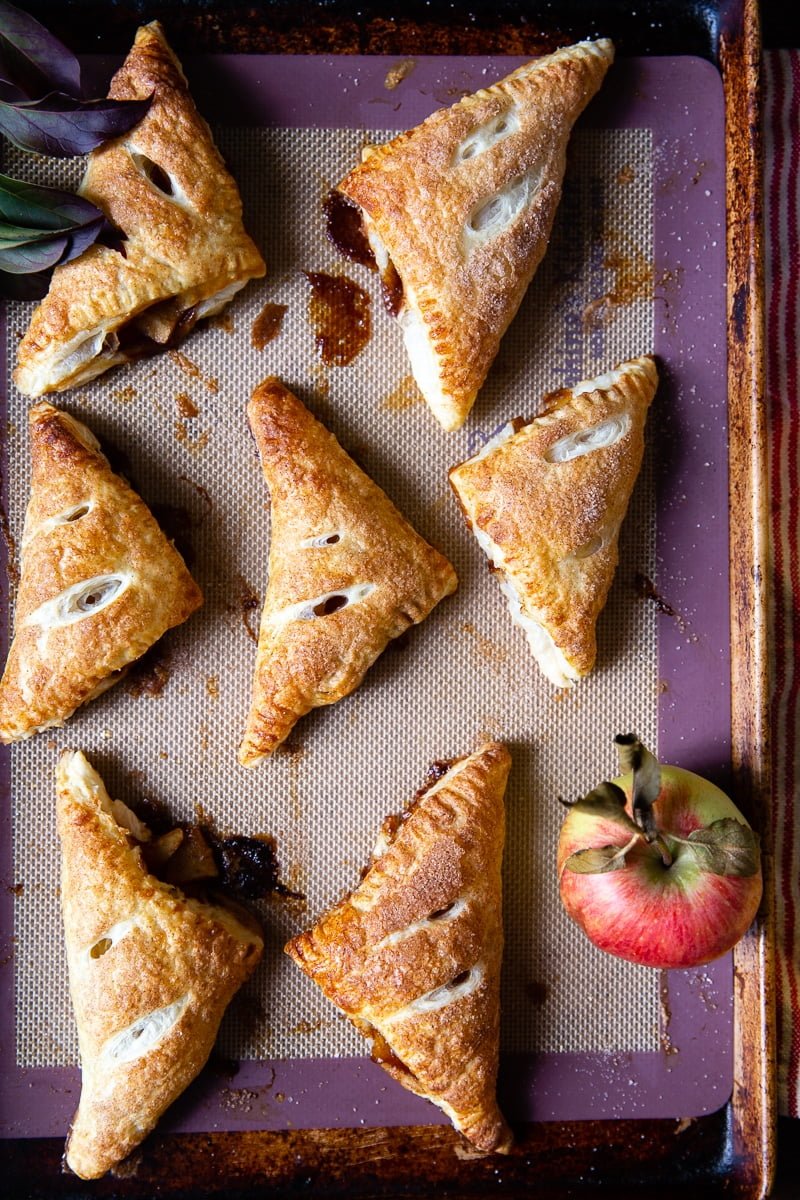 Anyway, long story short I eventually found the puff pastry I needed and here is the result. As I expected they are extremely easy to make. You know how the saying goes. As easy as apple pie.
Well these apple turnovers are much easier than an apple pie.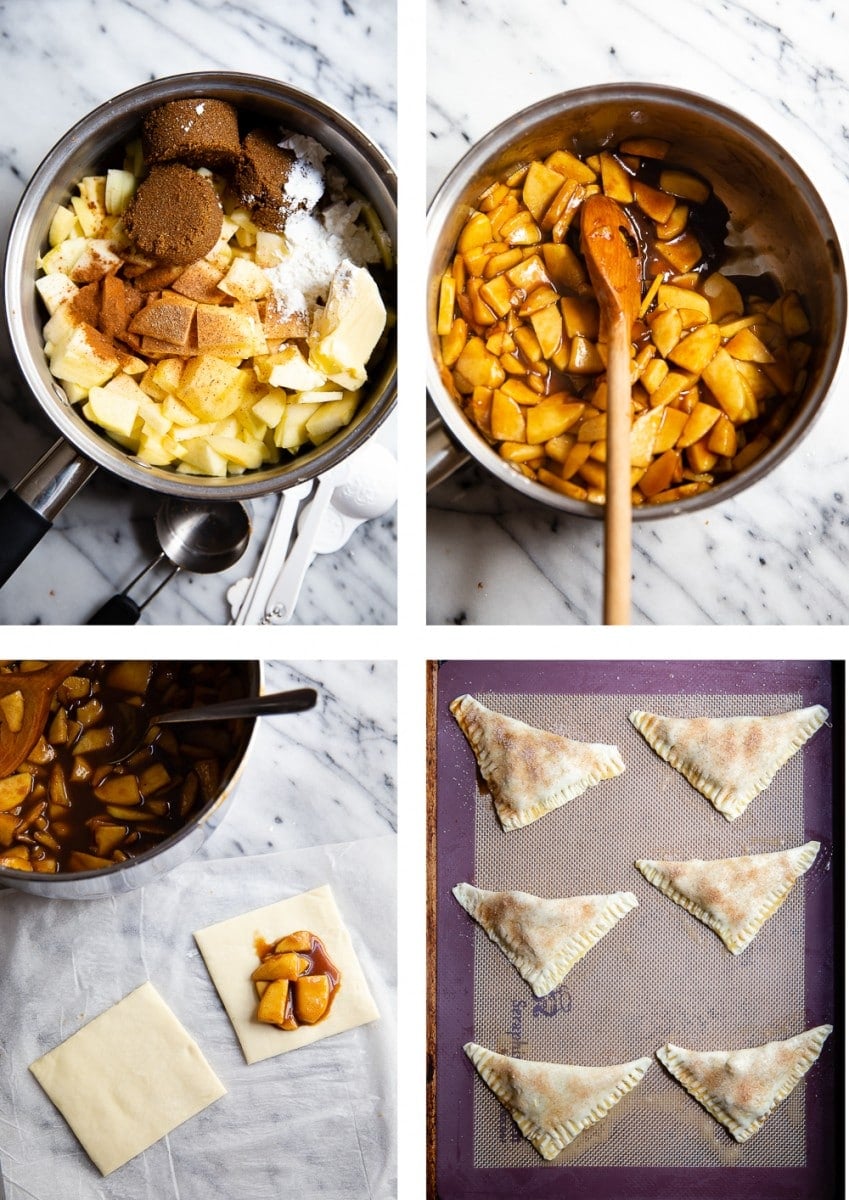 How do you make apple turnovers with puff pastry?
Since the main obstacle to pie making is the crust, it is easily avoidable when making turnovers because we use pre-made puff pastry.
You can certainly make your own but I don't see the point, especially when high quality all butter puff pastry is available at reasonable price. Even better if it's pre-rolled, it really cuts down on your own work.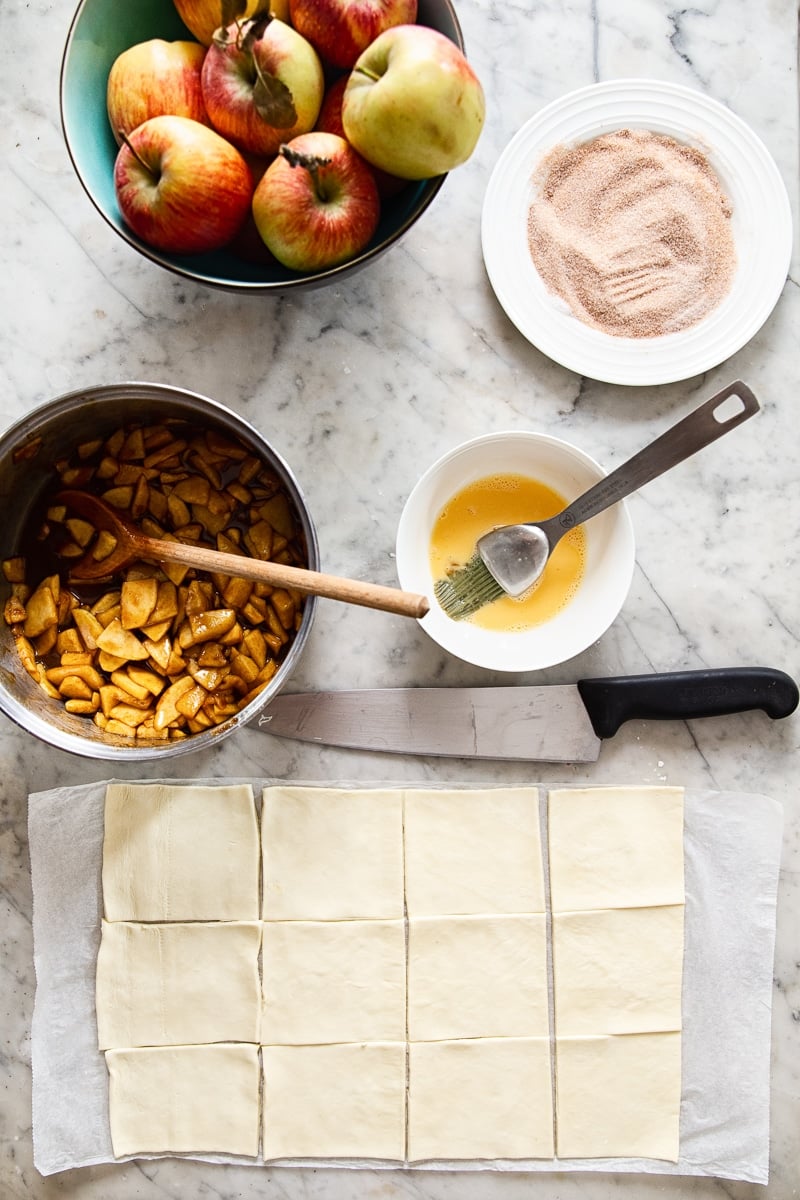 How do I make the filling for apple turnovers?
Unlike an apple pie, that could be filled with raw apples, apples for the turnovers have to be cooked first. That is necessary due to a shorter time in the oven, which doesn't provide enough time for them to cook all the way through.
It's also quite important to peel them first and slice into smaller and thinner pieces.
Flavour your apples with any spices you fancy. I've used cinnamon and nutmeg for mine.
Don't forget to use a bit of cornstarch to keep the apple juices at bay.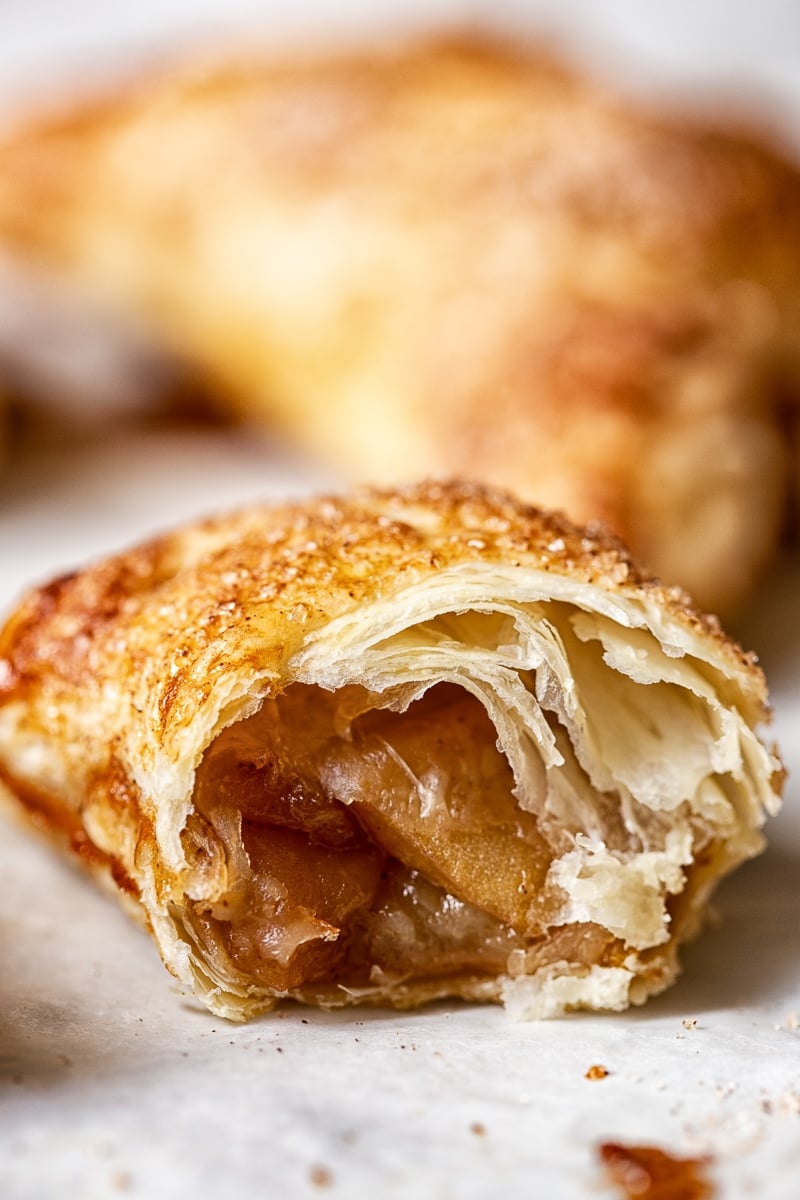 Do I need to refrigerate my apple turnovers?
Once cooked your apple pastries are safe to keep at room temperature for a couple of days if they are around for this long. Mine never are!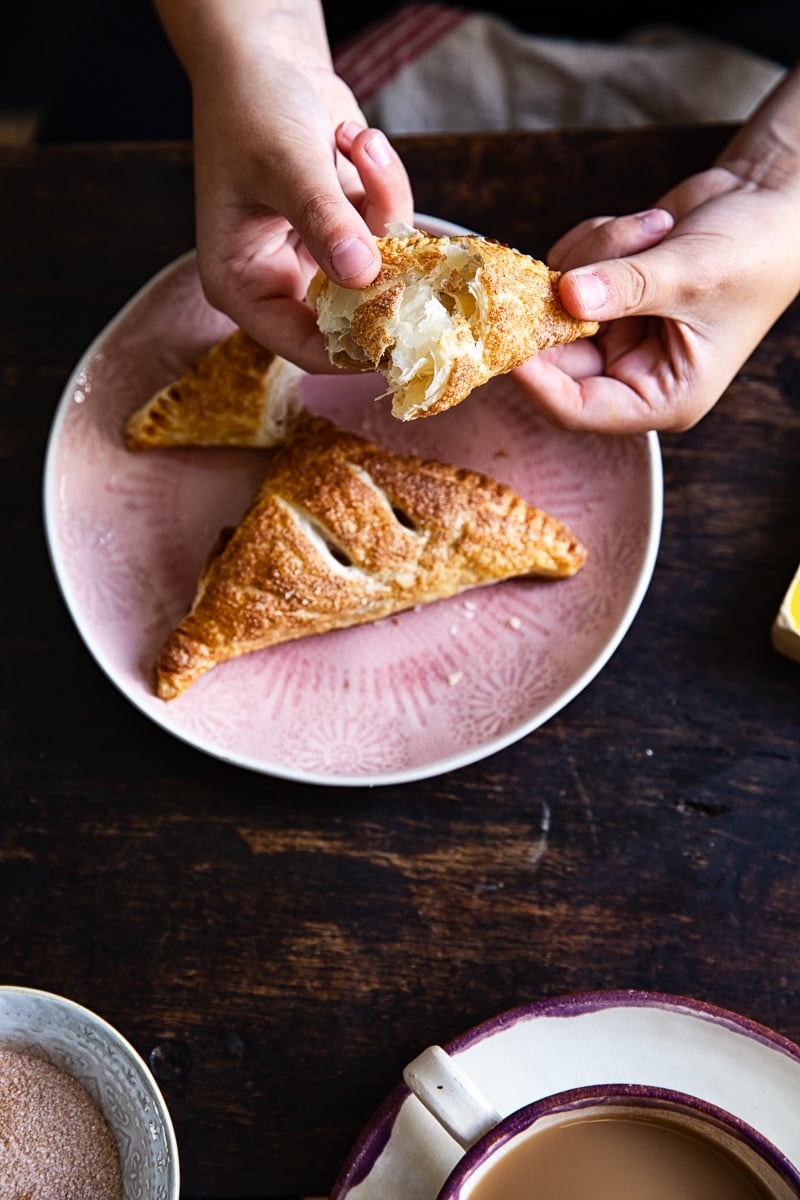 If you have lots of apples and are looking for more recipes, here are my favourites:
Apple Spice Streusel Cake with Salted Caramel Drizzle
Or something savoury like French Chicken Casserole a la Normande with Apples
If you make any of these dishes, tag @vikalinka in your Instagram snaps, so I could see your creations!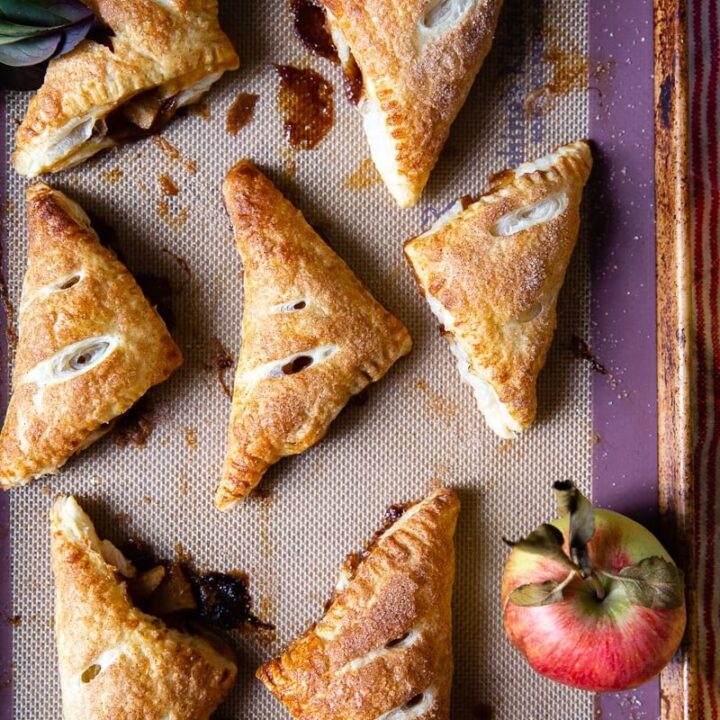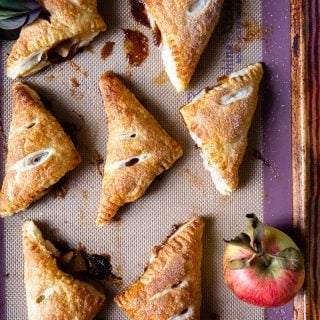 Apple Turnovers
These homemade apple turnovers dusted with cinnamon sugar are simply irresistible. Makes 24 apple turnovers.
Print
Pin
Rate
Ingredients
6-7

apples

peeled, cored and sliced thinly

150g/3/4cup

brown sugar

1

tsp

cinnamon

½

tsp

nutmeg

4

tsp

corn starch

70g/1/4cup

butter

2X375g

packages

pre-made puff pastry

1

egg

4

tbsp

caster sugar

2

tsp

cinnamon
Instructions
Preheat the oven to 200C/400F. Take the puff pastry out of the fridge at least 30 minutes before working with it.

Peel the apples, core them and slice them quite thinly and then cut the slices into smaller chunks. In a saucepan combine the apples, brown sugar, butter, cinnamon, nutmeg and corn starch.

Cook over low heat while stirring to avoid burning for 10-15 minutes until apples are tender but not falling apart, and the juices from the apples are thick from corn starch. A spoon should leave a trail on the bottom of the pan when stirring.

Take the apples off the heat and cool completely.

In a small bowl mix the caster sugar and cinnamon. Set aside.

Unroll your puff pastry sheet and cut into 12 squares. Put about 2 tbsp of the apple filling on one corner of a pastry square. Avoid getting too much liquid on your pastry.

Then take the opposite corner of the square and fold over to form a triangle. Pinch the sides and then crimp with a fork. Repeat until all pastry squares are filled.

Repeat with another sheet of puff pastry.

Arrange apple turnovers on a parchment paper lined, rimmed baking sheet. Brush with a beaten egg all over, and especially the seams. Then sprinkle with cinnamon sugar and slash each pastry with a sharp knife twice.

Bake in the preheated oven for 25 minutes or until golden and puffed up. You might need to bake all apple turnovers in batches depending on the size of your oven.