Once you try my recipe for the easiest and tastiest apple turnovers, you will never be tempted by the store bought ones! Freshness is everything when it comes to pastry!
Looking for a savoury way to cook apples? Try this French Chicken Casserole a la Normande with Apples!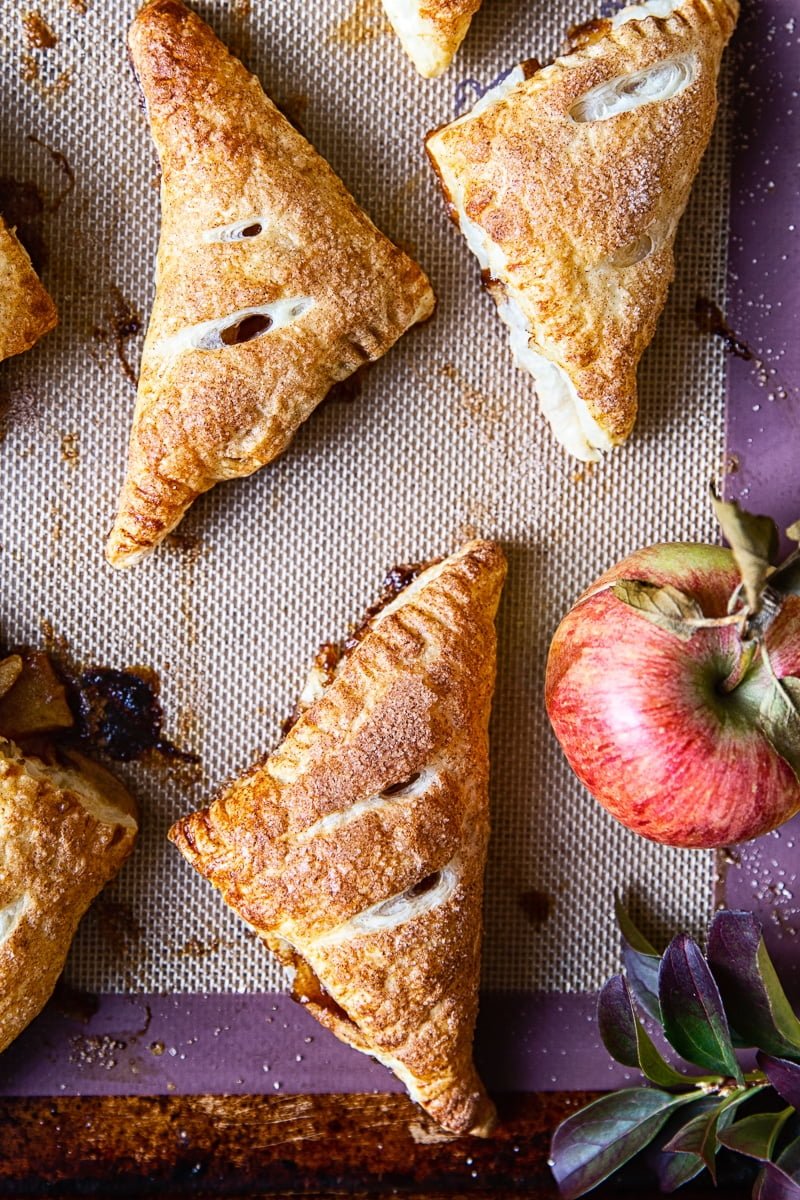 Our favourite grocery store sells apple turnovers all year round, not just in the autumn. And of course my kids have a weak spot for them, begging for one every time we walk by.
Ah who am I kidding? So do I! To make the temptation even stronger, they are very cheap, so we often grab a few to go with our afternoon tea.
That went on for a while until I stumbled upon one unfortunately underbaked batch. The pastry was pale and soft but what it also revealed was horribly under seasoned apples inside.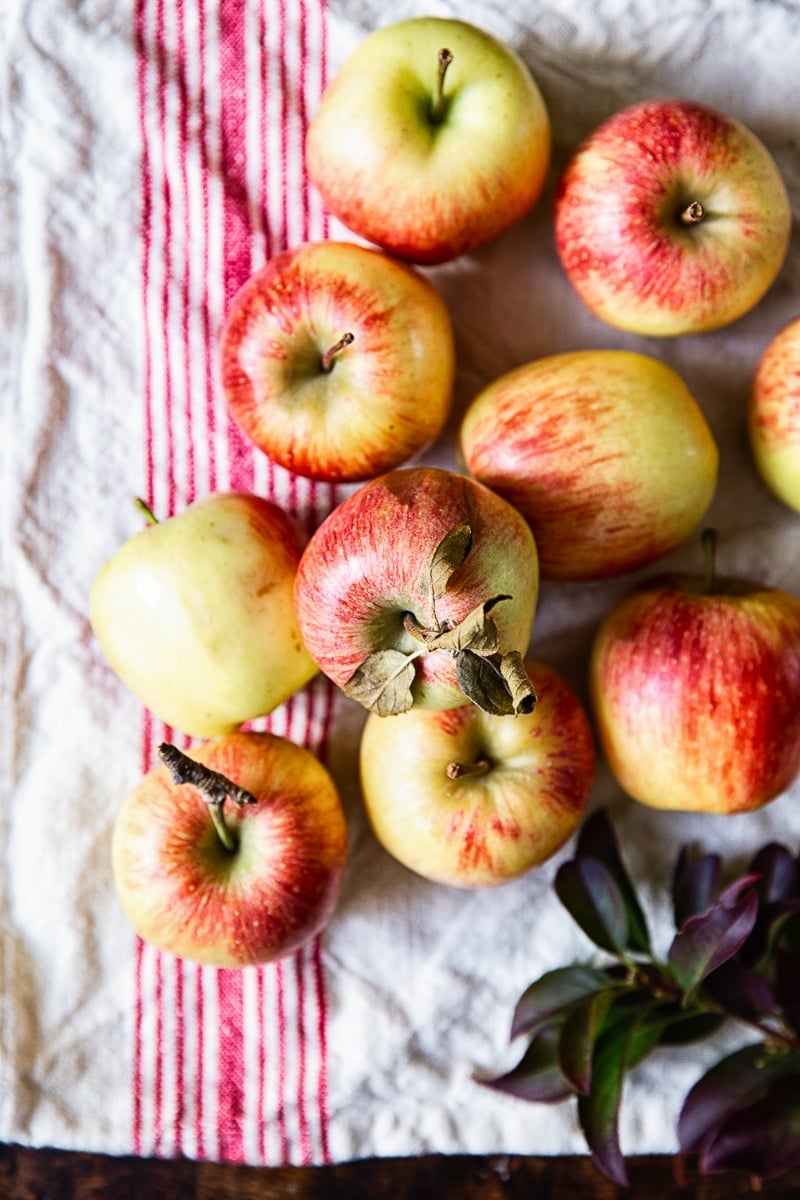 I mean the apples were sweet but that's about it. No cinnamon or nutmeg. None of the delicious spicing that enhances the flavour of apples.
Adding flavour
So I thought to myself. What is stopping me from making my own apple turnovers? It's just a bit of puff pastry and apples.
But what I will also add is cinnamon, nutmeg and brown sugar to make the most seductive apple filling! I will also dust my apple turnovers with cinnamon sugar for the fragrant, golden crust!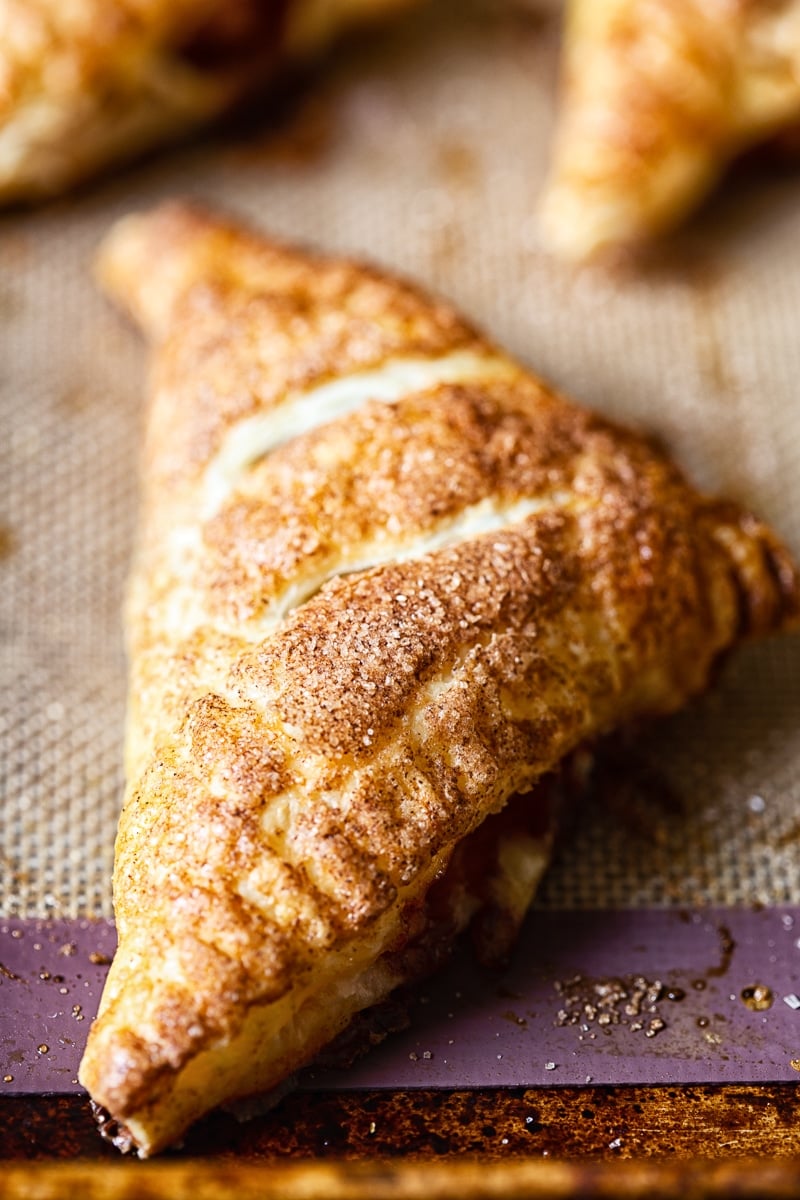 There is a reason why cinnamon and nutmeg are the perfect pairing for apples and found over and over again in apple baking recipes. The hint of bitterness in nutmeg and warmth of cinnamon balance perfectly with the sweetness of apples.
While cinnamon and nutmeg form the basis for the spicing of these turnovers, brown sugar plays no small part in the final flavour. Brown sugar not only adds more moisture to baking, it also adds a deeper, caramel taste that I find far more satisfying.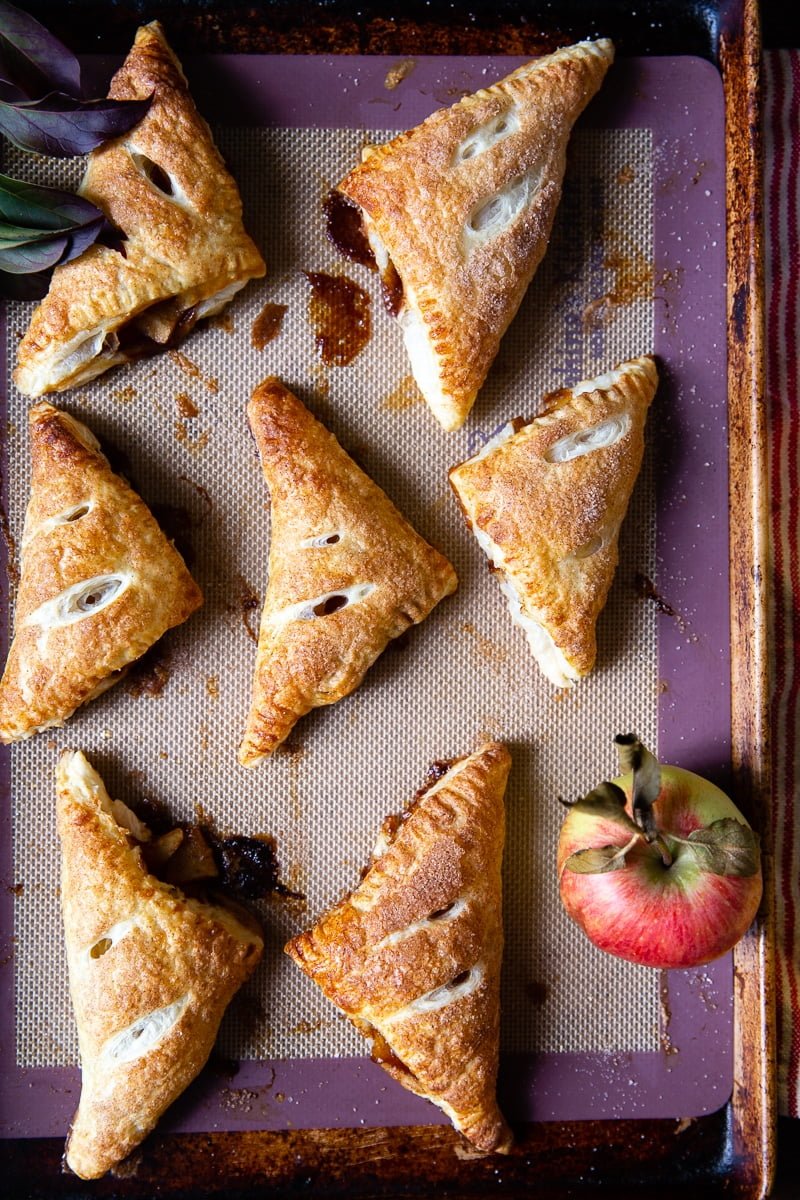 Apple turnovers with puff pastry
As much as I am happy to put the effort into making the apple filling perfect, the crust is a different matter. I've found that a good quality pre-made crust can be a fantastic timesaver without compromising on taste or flakiness.
You can certainly make your own but I don't see the point, especially when high quality all butter puff pastry is available at reasonable price. Even better if it's pre-rolled. It really cuts down on your own work.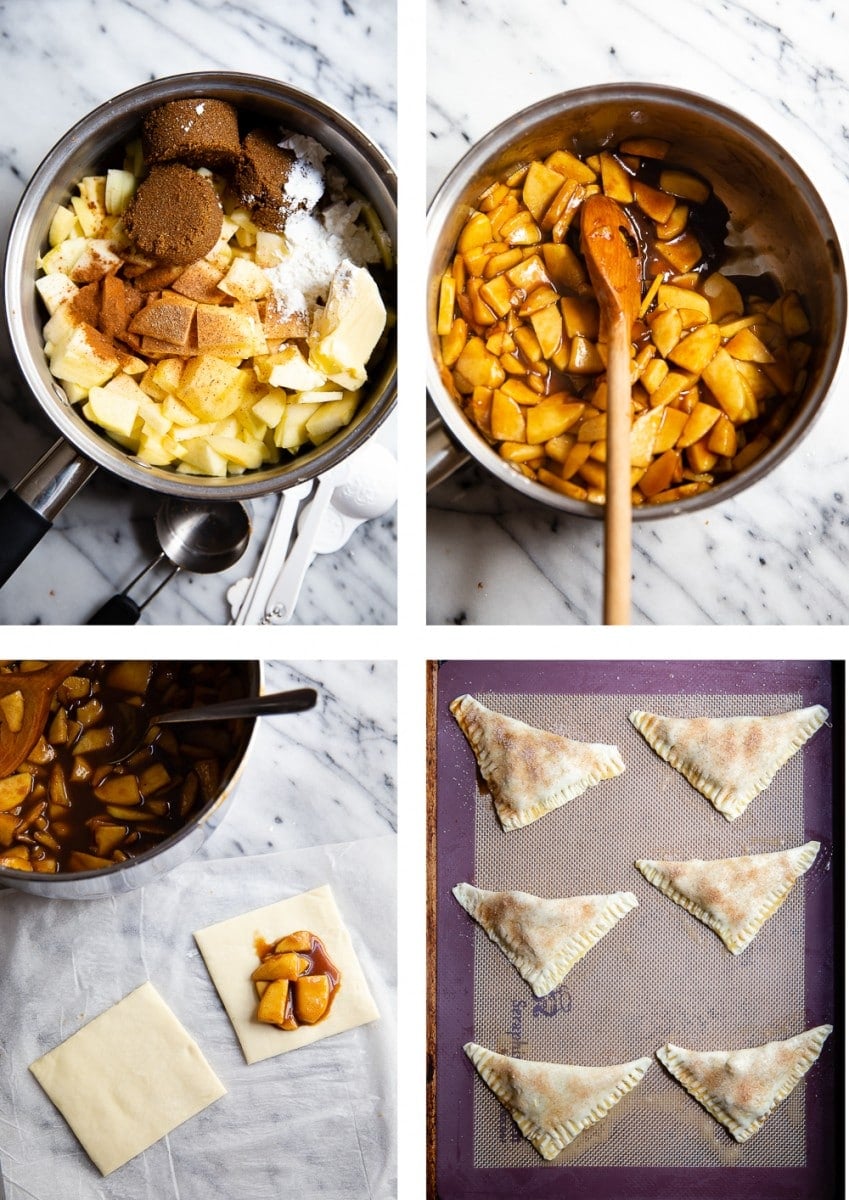 Making the filling
Unlike an apple pie which be filled with raw apples, apples for turnovers are best when cooked first. That is necessary due to a shorter time in the oven, which doesn't provide enough time for them to cook all the way through.
It's also quite important to peel them first and slice into smaller and thinner pieces.
Flavour your apples with any spices you fancy. As mentioned, I've used cinnamon and nutmeg for mine. Don't forget to use a bit of cornstarch to keep the apple juices at bay.
From this point, it is just a matter of assembling. Don't add too much of the filling to the pastry as you don't want them to be bursting. And crimp the sides carefully with a fork so they don't open when baked.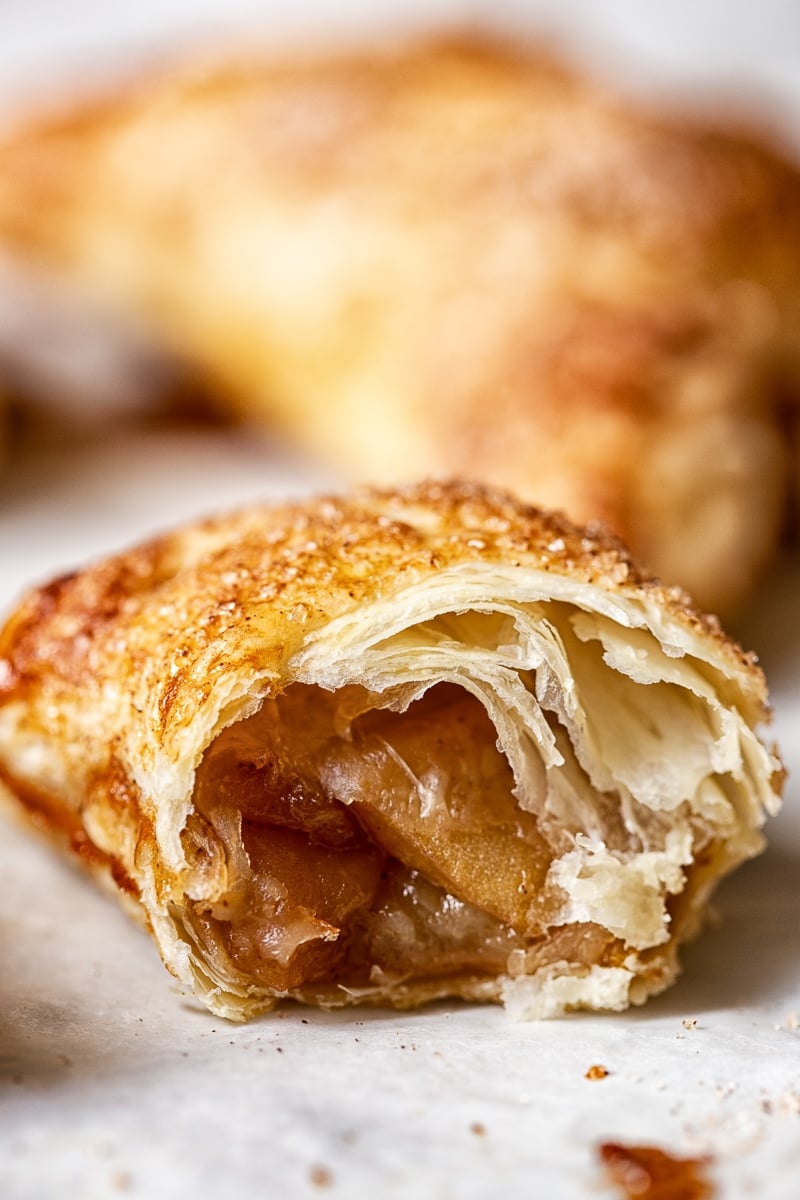 Recipe tips and notes
Make sure the puff pastry is taken out of the refrigerator thirty minutes before use. It should be pliable enough to work with. But be careful that it doesn't warm up too much or it will not flake as it should. If it does warm too much, return it to the fridge before use.
Cook the apple filling before adding to the puff pastry to ensure they are evenly baked and tender. They can be added raw if you prefer apples to be crunchy.
Once cooked your apple pastries are safe to keep at room temperature for a couple of days. Store in an airtight container. Although keeping them is possible, the pastry will not be as light and flaky as when freshly baked. They are best eaten on the same day they are baked.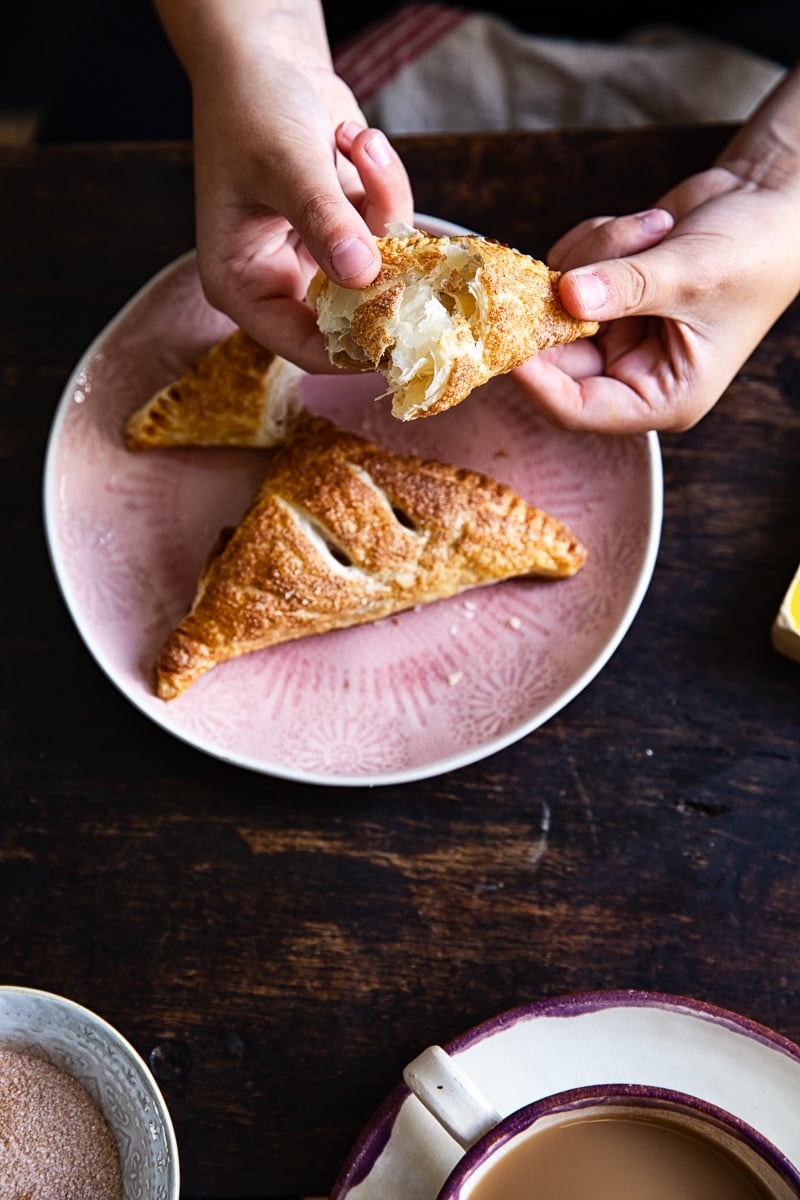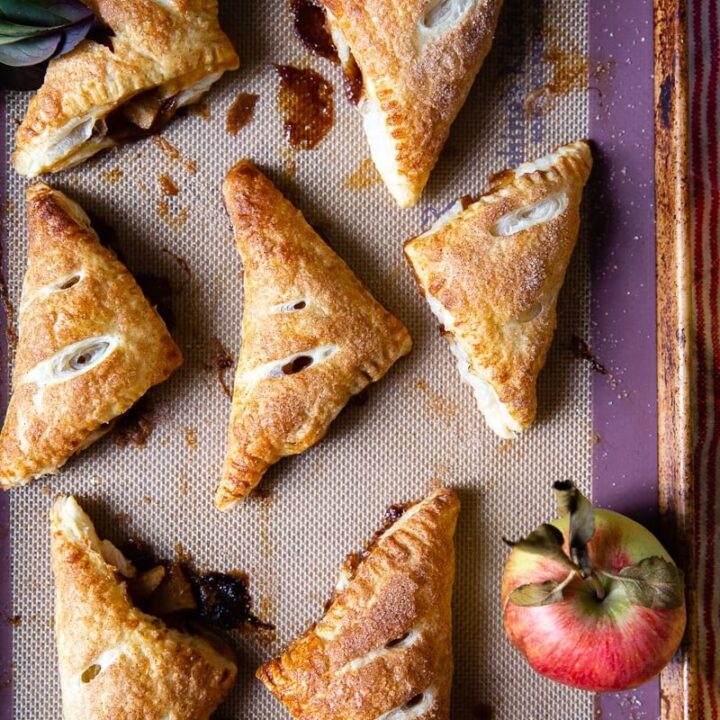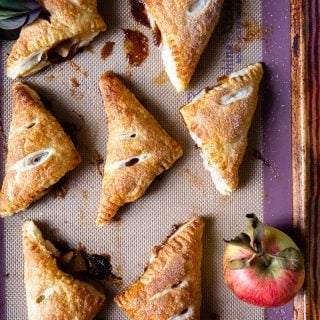 Apple Turnovers
Homemade apple turnovers dusted with cinnamon sugar.
Ingredients
6-7

apples

peeled, cored and sliced thinly

150

g

/ ¾cup brown sugar

1

tsp

cinnamon

½

tsp

nutmeg

4

tsp

corn starch

70

g

/ ¼cup butter

2x

375g

packages of pre-made puff pastry

1

egg

4

tbsp

caster sugar

2

tsp

cinnamon
Instructions
Preheat the oven to 200C/400F. Take the puff pastry out of the fridge at least 30 minutes before working with it.

Peel the apples, core them and slice them quite thinly and then cut the slices into smaller chunks. In a saucepan combine the apples, brown sugar, butter, cinnamon, nutmeg and corn starch.

Cook over low heat while stirring to avoid burning for 10-15 minutes until apples are tender but not falling apart, and the juices from the apples are thick from corn starch. A spoon should leave a trail on the bottom of the pan when stirring. Take the apples off the heat and cool completely.

In a small bowl mix the caster sugar and cinnamon. Set aside.

Unroll your puff pastry sheet and cut into 12 squares. Put about 2 tbsp of the apple filling on one corner of a pastry square. Avoid getting too much liquid on your pastry. Then take the opposite corner of the square and fold over to form a triangle. Pinch the sides and then crimp with a fork. Repeat until all pastry squares are filled. Repeat with another sheet of puff pastry.

Arrange apple turnovers on a parchment paper lined, rimmed baking sheet. Brush with a beaten egg all over, and especially the seams. Then sprinkle with cinnamon sugar and slash each pastry with a sharp knife twice.

Bake in the preheated oven for 25 minutes or until golden and puffed up. You might need to bake all apple turnovers in batches depending on the size of your oven.
Notes
This recipe makes 24 apple turnovers.
Nutrition
Calories:
506
kcal
Carbohydrates:
58
g
Protein:
5
g
Fat:
29
g
Saturated Fat:
9
g
Polyunsaturated Fat:
3
g
Monounsaturated Fat:
15
g
Trans Fat:
0.2
g
Cholesterol:
26
mg
Sodium:
203
mg
Potassium:
161
mg
Fiber:
3
g
Sugar:
26
g
Vitamin A:
217
IU
Vitamin C:
4
mg
Calcium:
31
mg
Iron:
2
mg