This dulce de leche apple pie is a fun and delicious twist on the classic. And the mini apple cutouts, which make the top crust, are simply gorgeous and easy to make than a regular crust!
If you are a fan of apple desserts, why not give our simple Apple Turnovers a go!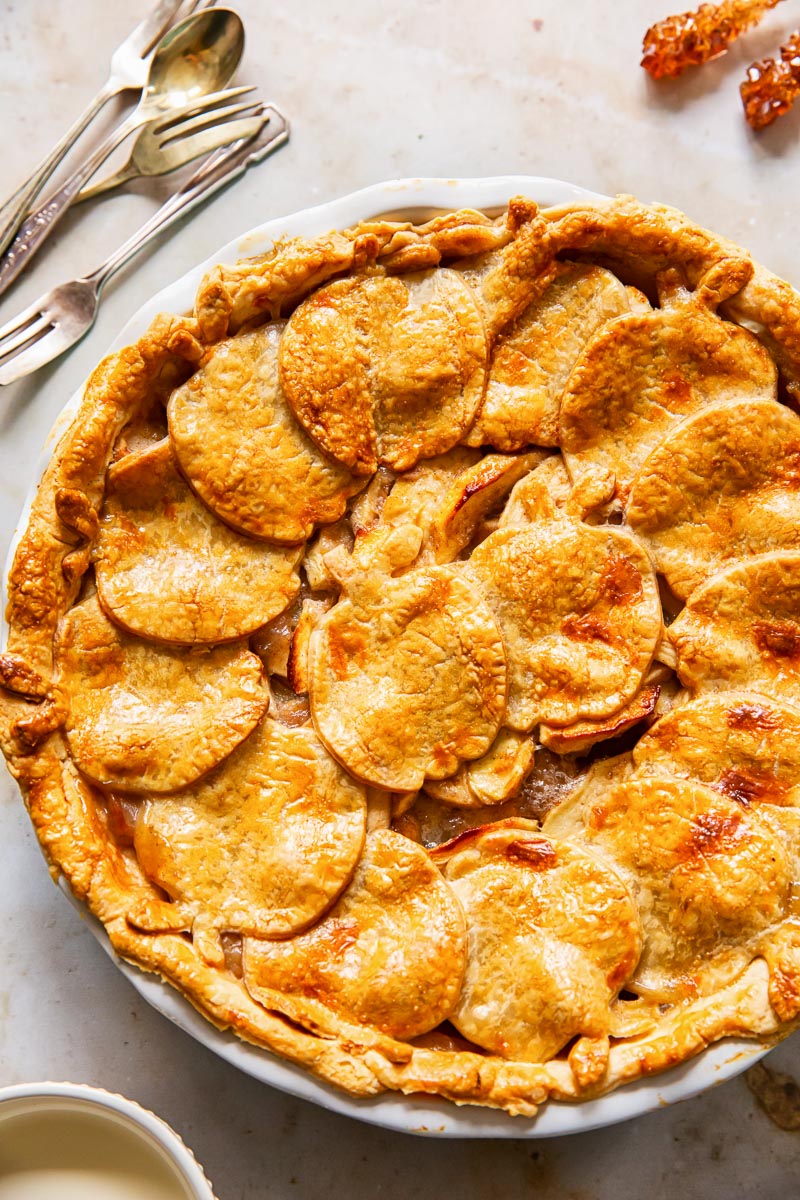 My mother-in-law is famous for her pie crust recipe, which is called "No Fail Crust Recipe". Her pies are so tasty and the crust is so flaky my late father-in-law used to request a birthday pie instead of a birthday cake.
I used to call her every time I was about to make a pie because I'd displace that piece of paper where I wrote the recipe down.
I did it for years until she finally revealed to me that her famous recipe is in fact the Tenderflake pie crust recipe. The one that comes printed on the box. For those of you who are not Canadian, Tenderflake is a major Lard producer in Canada, and evidently the creator of the BEST pie crust.
Pie Crust Recipe with Lard
The recipe they came up with is quite unique as it has a bit of vinegar in it and creates the flakiest pastry I've ever seen or eaten. As you break into your pie crust you can literally see layers upon layers. It's phenomenal.
On another note, as much as I am a firm believer in butter, you just can't beat lard when it comes to light and delicate pie pastry! Lard has its uses and pastry making is definitely one of them.
If you really don't like lard or are not able to source it, you can substitute with shortening.
So the recipe I am about to share makes 3 X 9 inch double crust pies, which serves me just right. I usually make one pumpkin pie and one apple pie for the holidays, and freeze the rest of the pastry for my delicious chicken pot pie.
As you probably see from the pictures above I didn't just make an ordinary apple pie. Not only does it have dulce de leche added to the apples but it also features a BEAUTIFUL top crust.
Don't worry it's not difficult to make, in fact it's easier than a regular method and I will show you exactly how I did it.

Pastry Making Top Tips
Although every recipe states it, it is important to reiterate that overmixing is a cardinal sin of pastry making. Just bring everything together and leave it. If you think you have a perfectly shaped pastry, you've done too much already. Even if the pastry looks raggedy, you will still have to roll it out and by then it will just perfect.
Ice water prevents the lard, or any fat you use, from melting under the warmth of your hands. Another important thing to remember is we want to keep little pea-sized bits of lard embedded into the pastry. They are the ones responsible for flaky layers.
After you make the pastry, don't forget to chill it for 20 minutes before working with it.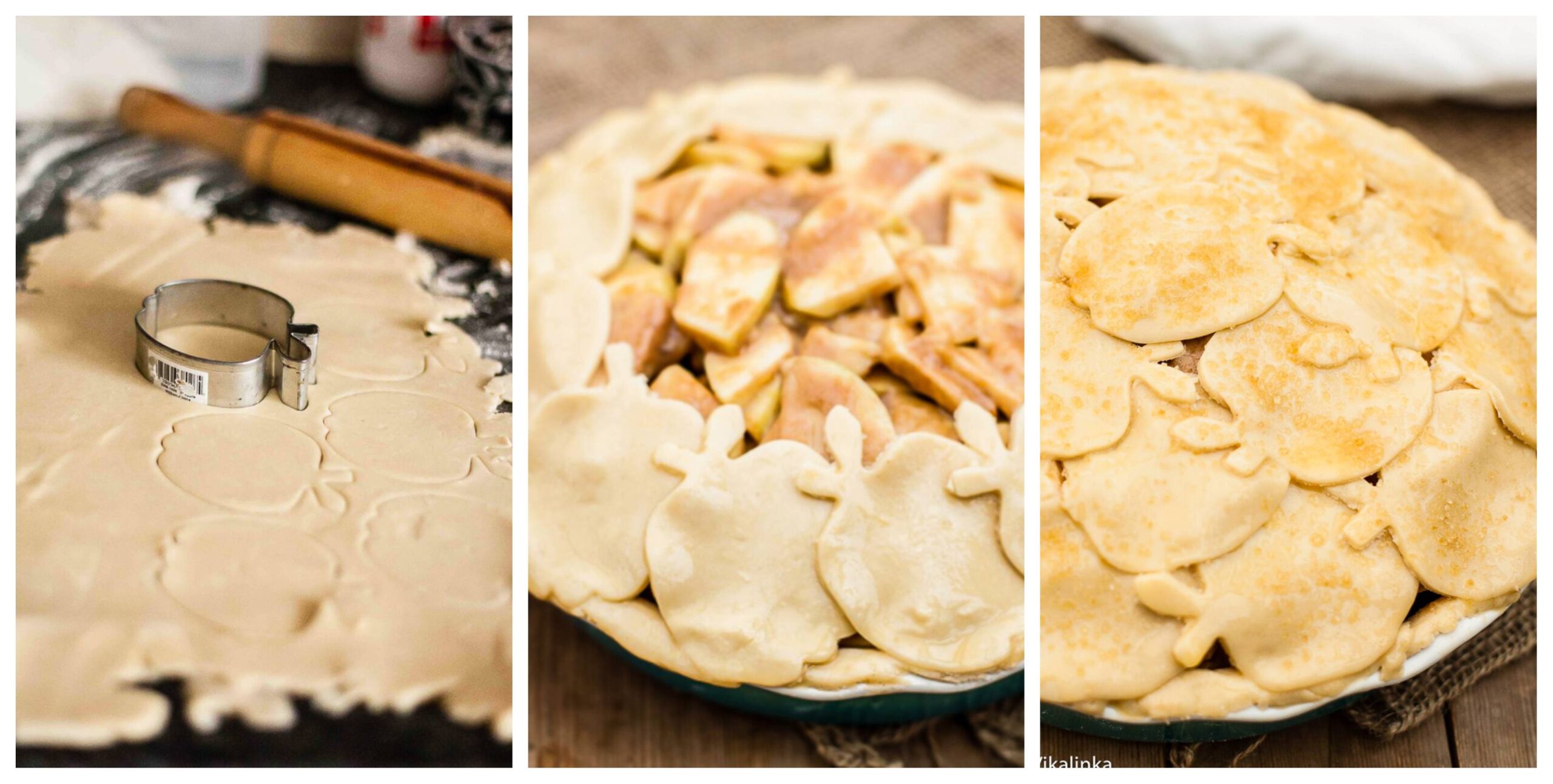 Apple Pie Filling
It's no secret that the end result will largely depend on the apples used. So let's do it right! Don't worry you can use almost any apples for a pie. However, you might need to adjust the recipe depending on their sweetness and texture of your apples.
If your apples are very ripe, it will take less time to cook. The opposite is true if the apples are hard. In this case, loosely cover your pie with aluminium foil and continue baking until the apples are tender all the way through. (Test with a knife for doneness, they should pierce easily).
The amount of sugar will depend on the sweetness of your apples. Mine were very green and very tart, so I used ⅔ cup/120g sugar plus ½ cup/125ml dulce de leche, which was the right call.
However, you might need less sugar than I did, so ALWAY taste your apples before you put them into your pie.
What is dulce de leche?
Dulce de leche tastes very similar to caramel, and in fact could be used interchangeably in recipes. It is made by slowly cooking milk and sugar together until it forms into a thick and dark amber substance.
Boiling a can of sweetened condensed milk produces the same results. It is incredibly delicious and very indulgent. You can use store bought dulce de leche. Carnation brand Caramel is readily available.
This apple pie recipe will also work if you choose to omit the dulce de leche. Simply increase your amount of sugar to 1 cup/200g.
Serving Tips
Once your pie is baked. Cool it for several hours.
If you are impatient like me and cut into it too early, it will be very runny. Waiting a bit longer allows for the juices to thicken, so you don't end up with an apple soup at the bottom of your pie plate.
Serve with vanilla ice cream or whipped cream and drizzled with a tablespoon of dulce de leche. I am sure I don't have to tell you how indulgent it tastes. Pure heaven.
Can you see all the crumbs? I tell ya the flakiness of this pie crust is incredible!
This recipe was originally published in 10/2013, updated with a new text and photos in 10/2020.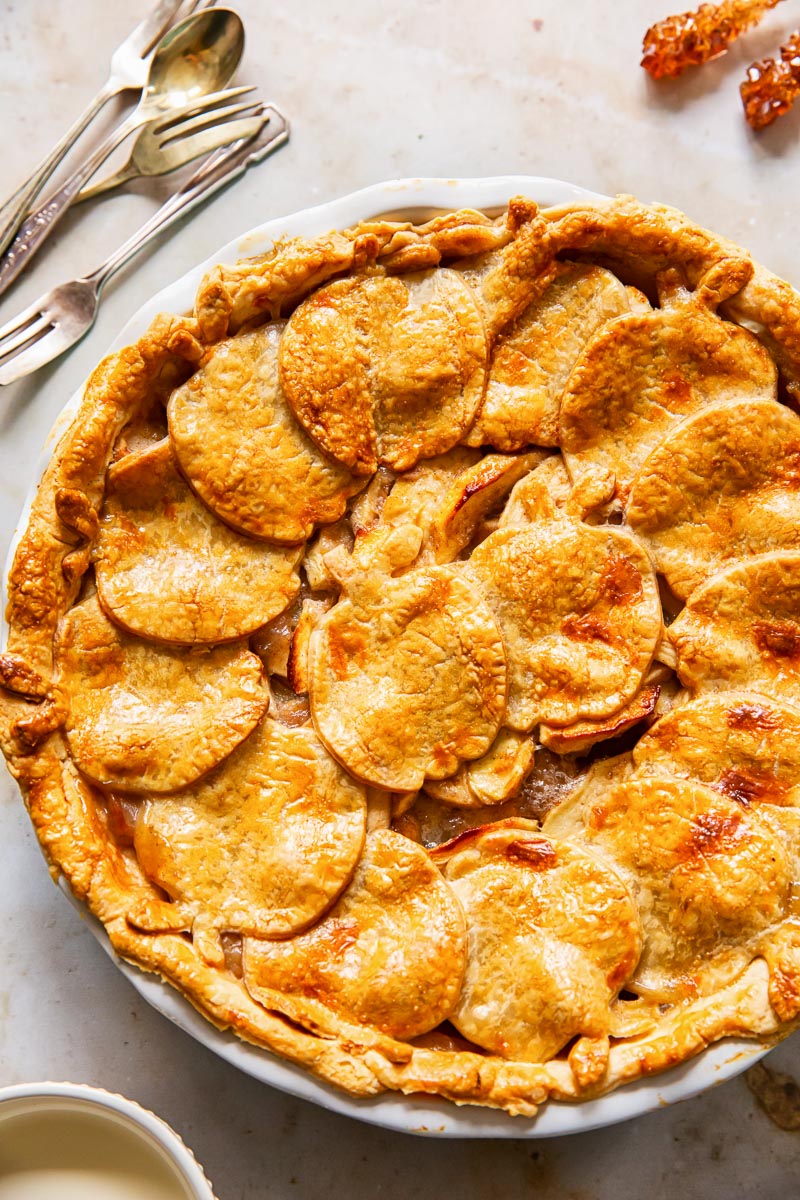 Ingredients
For the pastry
5 ½ cups/660g

all purpose flour

2

tsp

salt

1lbs/454g

lard

1

tbsp

vinegar

1

egg

ice water
For the apple filling
6

apples

firm and large

⅔ cup/130g

white sugar

see notes

1 ½

tsp

cinnamon

125ml/1/2

cup

dulce de leche/Carnation caramel

see notes

¼cup/30g

flour

1

egg for brushing

beaten
Instructions
For the pastry
This recipe makes enough for 3 double crust pies. Mix together flour and salt. Cut in lard with pastry blender until mixture resembles coarse breadcrumbs. In a measuring cup (250ml) combine vinegar and egg. Add ice water to make 1 cup. Gradually stir liquid into flour and lard mixture. You might need to add a little more cold water to make the pastry dough come together. Do not overmix.( If you think you have a perfectly shaped dough you've probably gone too far.)

Divide into 3 equal parts, and press them into disks, wrap them in plastic wrap and put in the refrigerator to chill or a freezer if you are intending to use the other two pie crusts later.
For the apple filling
Peel and core your apples and slice them thinly. In a large mixing bowl combine sliced apples, sugar, cinnamon, flour and dulce de leche. Make sure dulce de leche evenly coats the apples.
To assemble and bake the pie
Preheat your oven to 400F/200C. Take 1 out of the 3 chilled pastry disks out of the fridge. The bottom crust needs more pastry than the top. To make the bottom crust roll out ⅔ of the pastry on a floured surface into a circle big enough to fit into a 9 inch pie plate.

Drape it on a rolling pin and carefully transfer the pie crust into a 9 inch pie plate. Make sure your pie crust hangs over the edges a little bit, which will help to bring the bottom and the top crust together. Fill your pie crust with the apple mixture.

To prepare the top crust roll out the remaining pastry on a floured surface and cut out little shapes with a pastry/cookie cutter. (I used an apple cookie cutter but you can you use anything you love, that fits the autumnal theme, or just little rounds will do.)

Brush the pastry, that covers the rim of your pie plate, with an egg wash. Start placing the little pastry cutouts on the outer row making sure they are connected to the edges of the bottom crust, overlapping them slightly and brushing each circle with an egg wash. This will ensure that individual cutout "apples" stick to each other. It will also give your pie an attractive shiny and golden finish. It's okay to leave little space betweens the pastry "apples" as it will act as slits and will allow the pie to ventilate while baking. Once you finished the first row, continue the same way until the whole pie is covered.

Put the pie in the oven on the lower rack and place a large baking sheet/pan to catch the drips from the pie to eliminate a lot of mess in the oven. Bake for 20 minutes, then reduce the temperature to 375F/190C and bake for 40-50 minutes until the crust is golden and the apples are soft.
Notes
Increase or reduce the amount of sugar depending on the sweetness of the apples used.
Use store bought Dulce de Leche or make your own by boiling a can of sweetened and condensed milk in water for 1.5-2 hours. Make sure the can is fully submerged in water all all times.
If your apples are very ripe, it will take less time to cook but it might take longer if your apples are hard. In this case, loosely cover your pie with some foil and continue baking until the apples are tender all the way through. (Test with a knife for doneness, they should pierce easily).
This apple pie recipe will also work if you choose to omit the dulce de leche. Simply increase your amount of sugar to 1 cup/200g.