Chicken pot pie with roasted pumpkin, cauliflower, carrots and a touch of roasted garlic swimming in a rich creamy gravy! It's definitely chicken pot pie time! Too much turkey leftover after a holiday meal? Make this pie with turkey!
Serve this chicken pie with our favourite Herb and Garlic Mashed Potatoes or Sweet Potato and Swede Mash.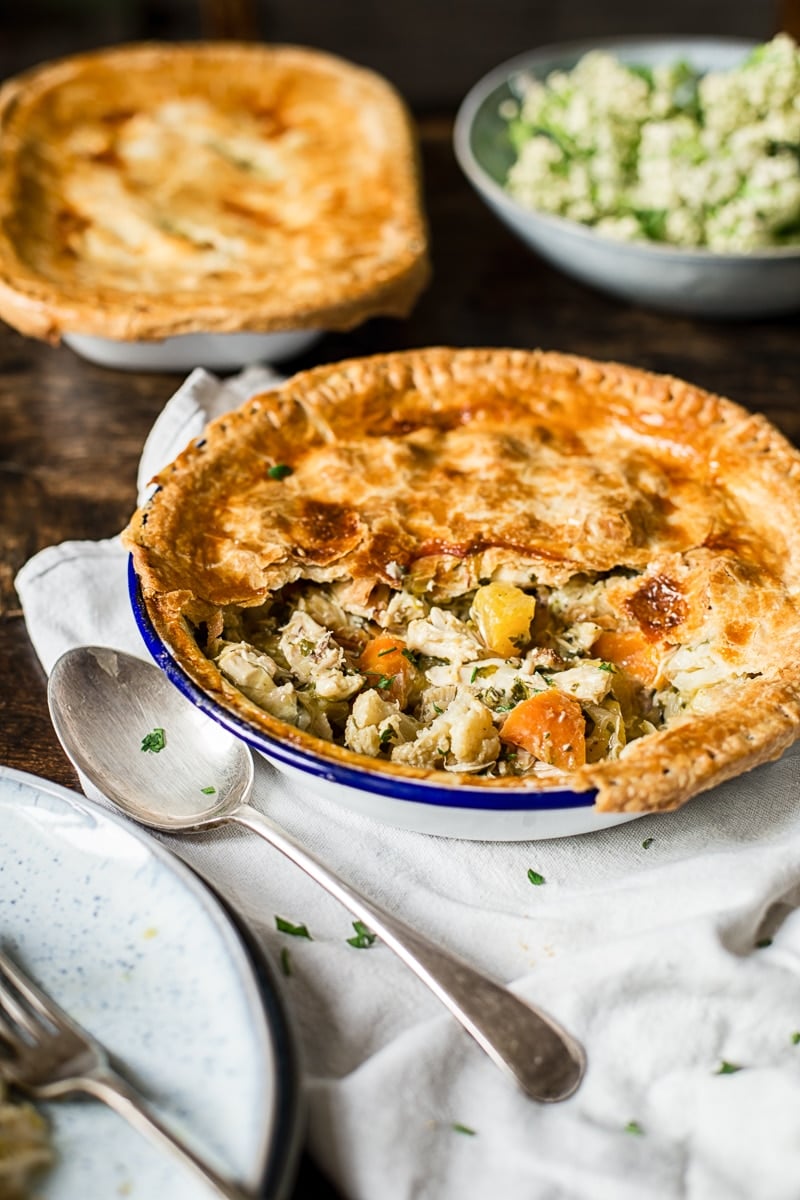 This chicken pot pie recipe idea came to me late at night while I was already in bed. It got me so excited I should have given up on sleep right there and then. All I wanted to do was get up and fire up the oven!
But I resisted and it was the right call because great things shouldn't be rushed.
Is it Chicken Pie or Chicken Pot Pie?
It depends on where you live. In the US chicken pot pie is a chicken pie that has only top crust vs a pie encased in a double crust.
In the UK all meat pies have top crust only. Different terminology. Same delicious food.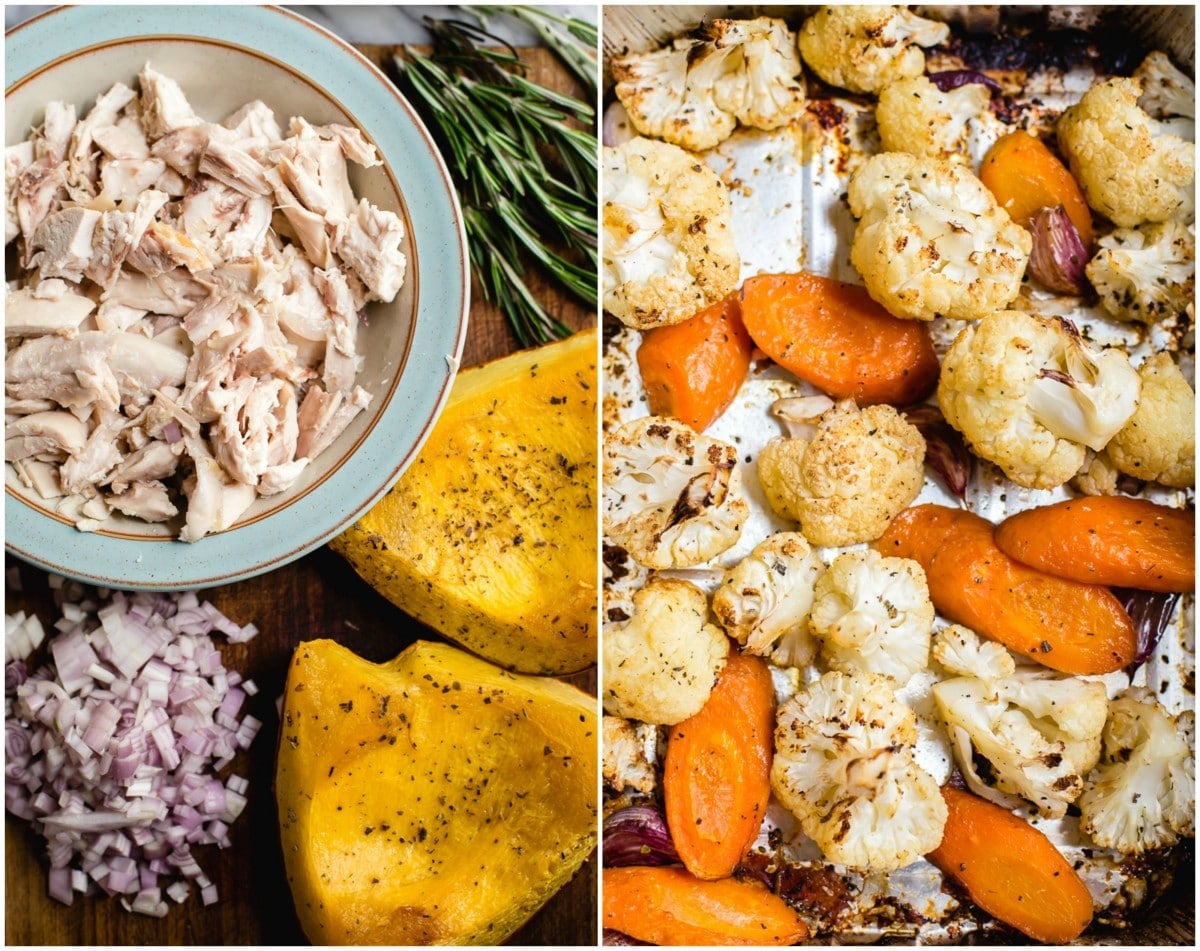 What ingredients are in it?
The classic filling for a chicken pot pie is cooked chicken mixed with carrots, peas and celery in a creamy gravy. All baked under a layer of flakey pie crust. It's homey and comforting. It's loved by many.
I decided to change things up just a smidge by adding hearty roasted vegetables like pumpkin, cauliflower and carrots. I also added garlic for more flavour! You can roast them up to two days in advance. That way you can speed up the process.
I also used pre-made pie crust for convenience.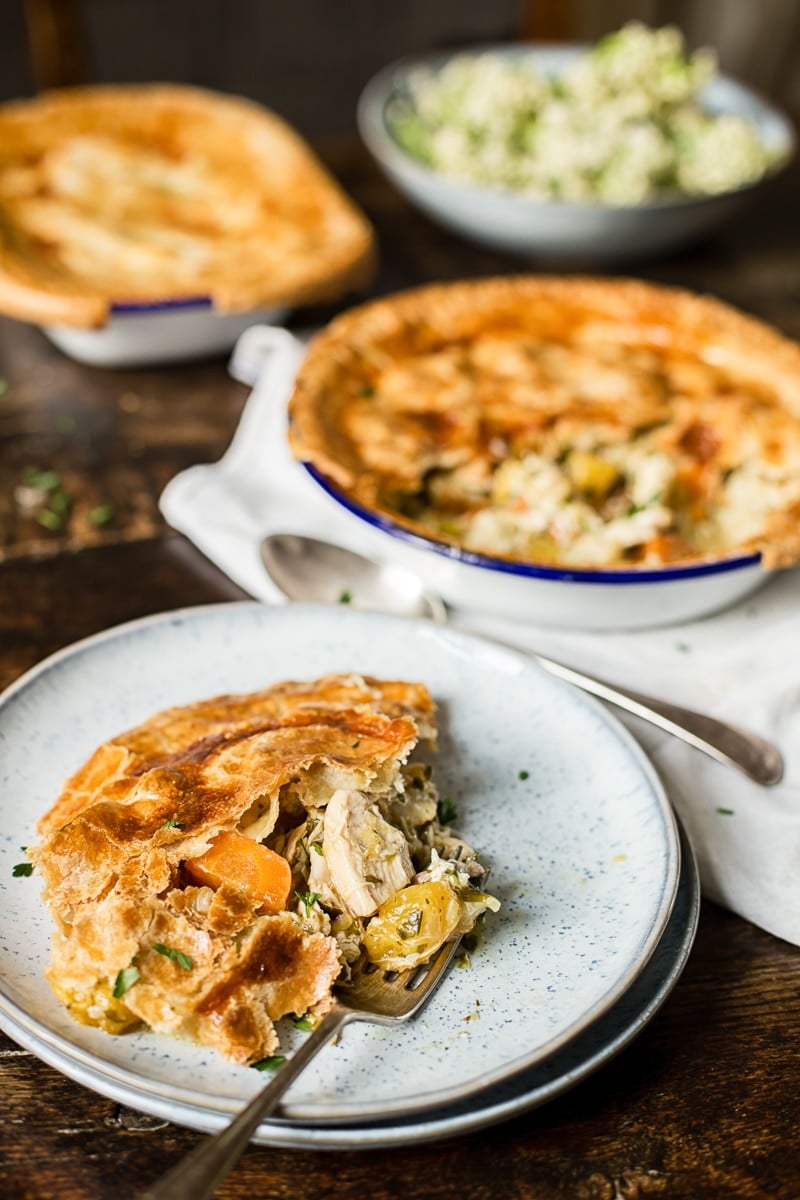 Why roast vegetables?
I know what you are thinking. Did I really HAVE to roast them? Couldn't I just boil or steam them? The answer is a big, fat YES.
Roasting pumpkin, cauliflower, carrots, onions and garlic with a bit of olive oil and sage adds so much flavour. Without roasting the flavours in this chicken pie are very mild.
And the last thing I wanted was for you to come back to me and say, "BLAND". I really try to avoid that!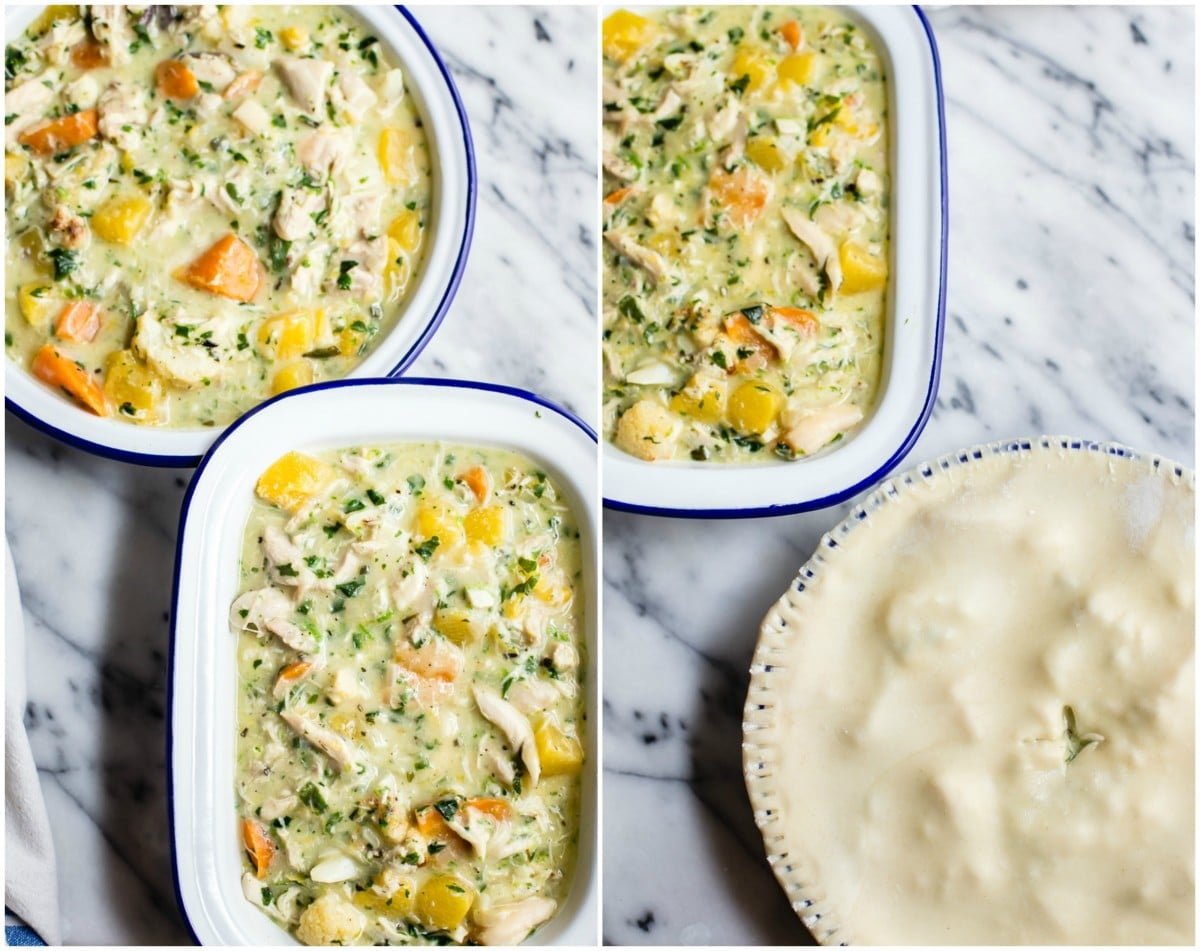 So I roasted loads and loads of vegetables and used some of them in these pies and saved the rest for future meals. Oh yeah, I also blended the roasted pumpkin and tucked it away for a pie. Yum!
What vegetables can I use in chicken pie?
The vegetables in this pie are variable of course. They depend on your personal preference and what you have in your fridge. I used what was in mine.
Besides carrots, pumpkin and cauliflower listed in this recipe, you can roast broccoli, butternut squash, parsnips, even potatoes!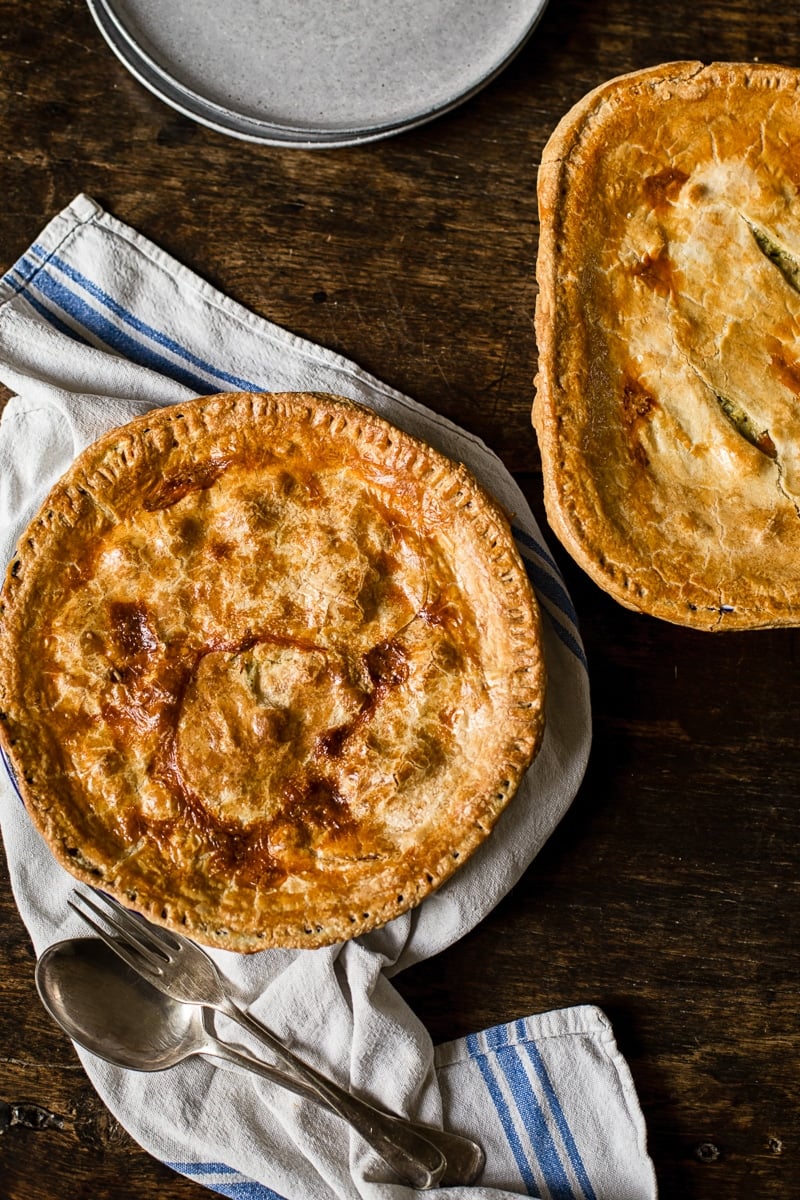 It was definitely the right call to roast that pumpkin as it added a lovely natural sweetness to the chicken pot pie filling!
What does Chicken Pot Pie with Roasted Vegetables taste like?
It tastes like a Thanksgiving dinner all rolled into one. It wasn't my intention, I simply used herbs and vegetables that made sense to me but that is exactly what I got.
This recipe would also be ideal for using your turkey and vegetable leftovers after Thanksgiving and Christmas because everything tastes better in a pie form!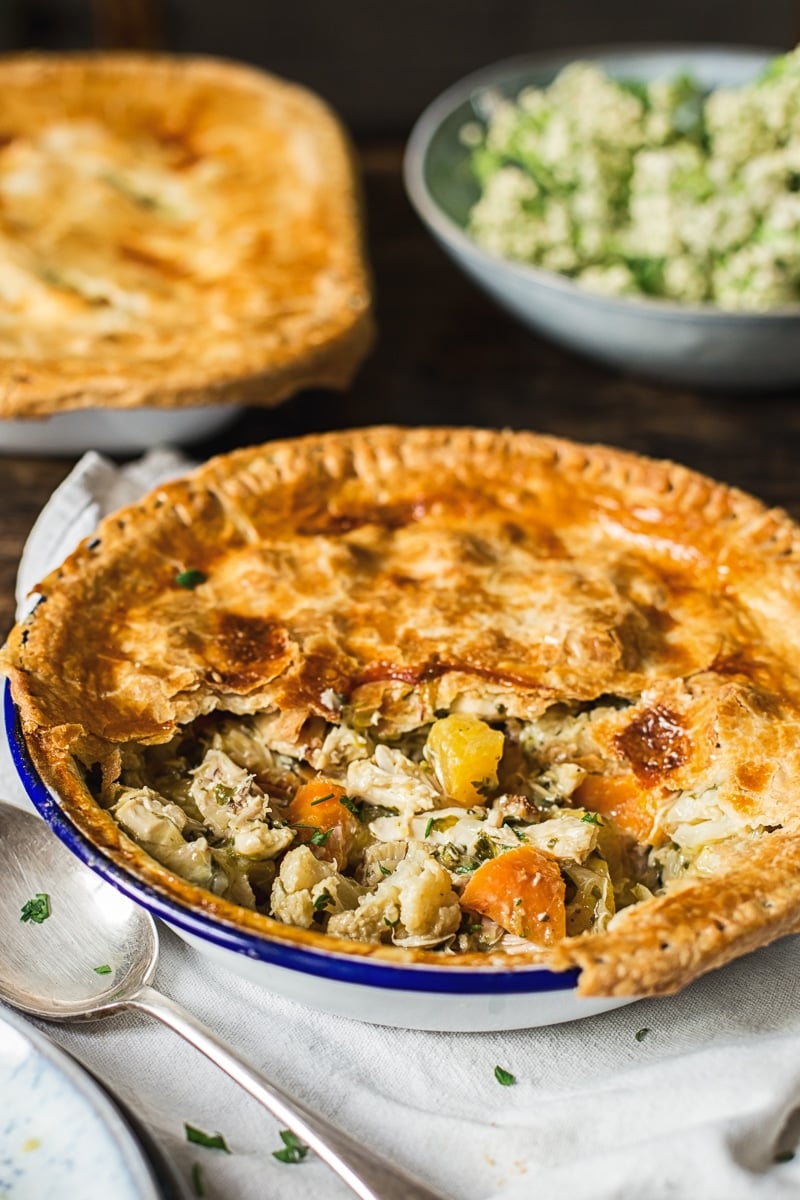 Can I freeze chicken pot pie?
Yes you can. You can freeze an unbaked pie right after assembling or you can bake it first, then cool completely and freeze in freezer bags. They will keep well in a freezer for up to 2-3 months.
To reheat a baked pot pie, preheat the oven to 350F/180C, shield the pastry with some aluminum foil and reheat for for 15-20 minutes.
How long does a cooked pie last in a fridge?
When refrigerated a cooked chicken pot pie will last for 2-3 days.
More leftover chicken or turkey recipes:
Recipe originally published in 11/2017. Updated with new text and republished in 11/2019.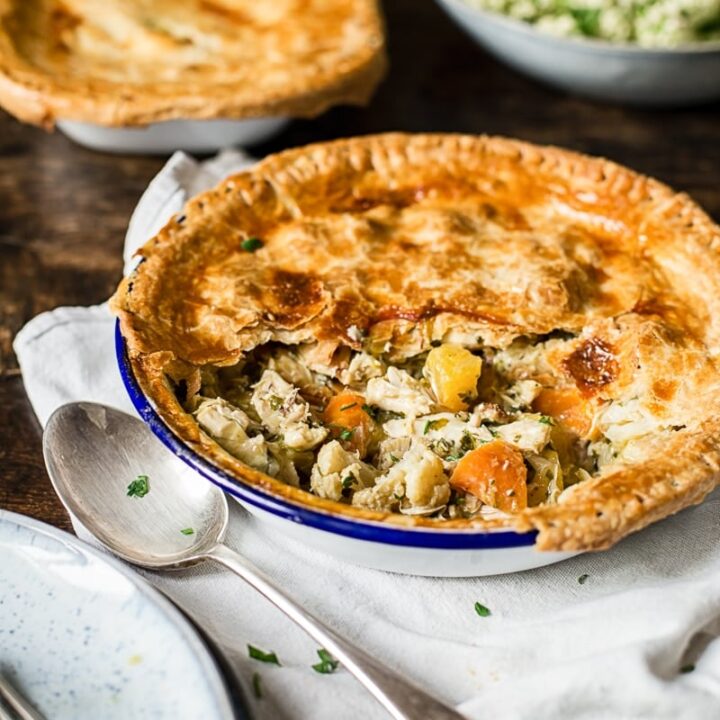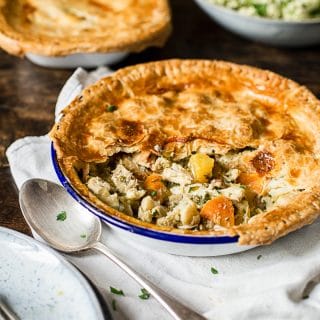 Sage Chicken Pot Pie with Roasted Harvest Vegetables
Chicken pot pie with roasted pumpkin, cauliflower, carrots and a touch of roasted garlic swimming in a rich creamy gravy!
Ingredients
½

small cauliflower

1

carrot

½

onion

5

garlic cloves

unpeeled

2

tbsp

olive oil

½

tsp

sage

dried

¼

small pumpkin or ½ of butternut squash

salt and pepper
For the chicken pot pie filling
1

tbsp

olive oil

2

shallots or 1 onion

chopped

4

sage leaves

chopped

1-2

rosemary leaves

chopped

2

cups

cooked chicken or turkey

2

cups/500ml chicken stock

2

tsp

cornstarch + 2 tbsp water

½

cup/125ml heavy/double cream

½

cup/2 cubes frozen spinach

salt and pepper to taste

premade pie crust for 2 small/8 inch pies

1

egg

beaten
Instructions
Preheat the oven to 400F/200C. Cut the cauliflower into florets, carrot into large pieces, pumpkin into 4 inch pieces, onion into quarters. Arrange on a baking sheet, season with salt and dried sage. Scatter unpeeled garlic cloves and drizzle with 2 tbsp of olive oil. Roast for 40 minutes. (You can do that step up to 2 days ahead)

While the vegetables are roasting, prepare the filling. Cook the shallots in olive oil on low heat until soft for 5-7 minutes, add the herbs and cook for 1 minute longer, then add chicken and stock, turn the heat up and bring to a boil, then add cornstarch to thicken it, then add the cream and take it off the heat.

When the vegetables are roasted and cooled, cut them into bite-sized pieces, peel the roasted garlic and mince it. Add the roasted vegetables to the chicken, mix and turn the heat on and bring the mixture to a boil, check for seasoning and add more salt if needed. Your liquid should have the consistency of a gravy. If it's too runny, add more cornstarch to thicken it.

Divide the chicken and roasted vegetable filling into two deep 8 inch pie plates and let it cool slightly. Then cover with a pie crust, press down with a fork into the rim of your pie plates to seal your pot pies. Brush with a beaten egg and cut little slits in the crust. Bake in a preheated oven at 375F/190C for 30 minutes or until golden and the filling is piping hot.