Time to take your classic mash up a notch by adding sweet and nutty celeriac to creamy potatoes with the rich, savoury taste of brown butter!
This is the perfect side for Classic Steak and Ale Pie!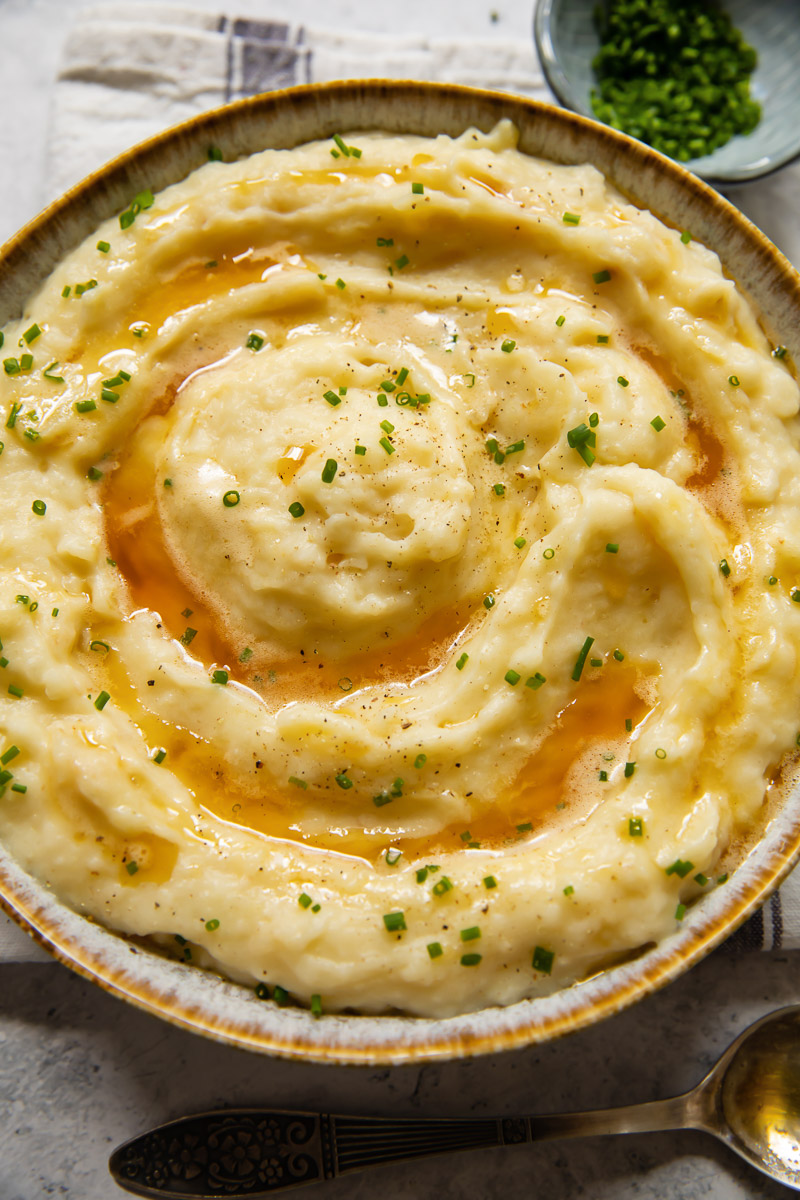 I love a good mashed potatoes, but even the classics need to be shaken up every once in a while!
This Celeriac and Potato Mash is just that, a twist on a standard mash with a little more lightness due to the fresh taste of celeriac.
Why you'll love it
I'm new to celeriac, also known as celery root, but have really enjoyed trying it out in a few different ways. It's quite a mild taste, with a celery-like freshness and slightly sharp, not unlike radish if not quite as potent. However, the sharp tastes disappears during cooking and turns into slightly sweet and a little nutty flavour.Apart from its unique taste, celeriac is chock full of vitamins and minerals. Some even call it superfood. It provides us with so much goodness our bodies need in cold winter months, when celeriac is at its best.
Because it has a reasonably strong taste, it is a fantastic addition to the more gentle flavours of mashed potatoes. The potatoes mellow out the celeriac without losing the peppery goodness.
The brown butter really does something special here as well. It adds a slightly sweet, caramel-like taste, as well as a little more umami to the dish. I've used brown butter elsewhere in both savoury (Brown Butter Mashed Potatoes) and sweet (Brown Butter Hazelnut Blondies) recipes.
It's a fantastic combination that blends the best features of each of the ingredients into one satisfying dish!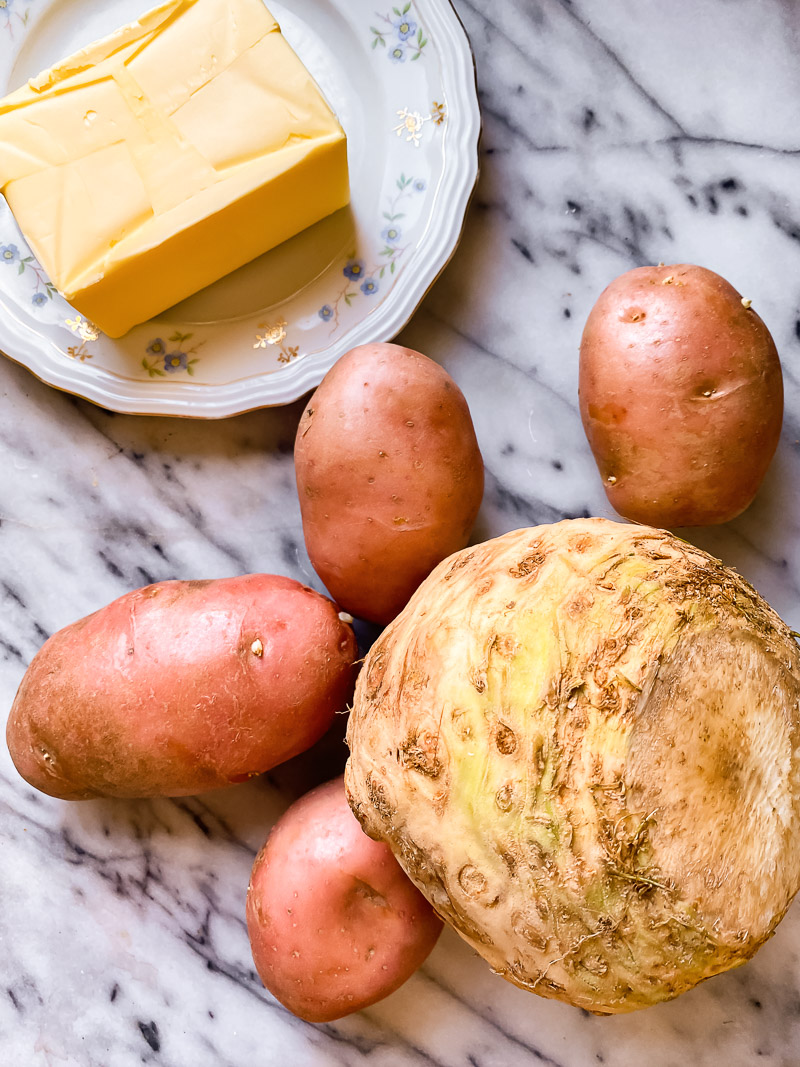 Serving suggestions
A delicious mash like this is best as a side to accompany a delicious main dish. The slight sharpness of the celeriac means that it is perfect alongside a bold red meat dish. Some of my favourites are:
Add a second side of roasted vegetables or a salad to make this a complete meal.
It also works perfectly with a meaty stew like Irish Beef Stew or Beef Goulash.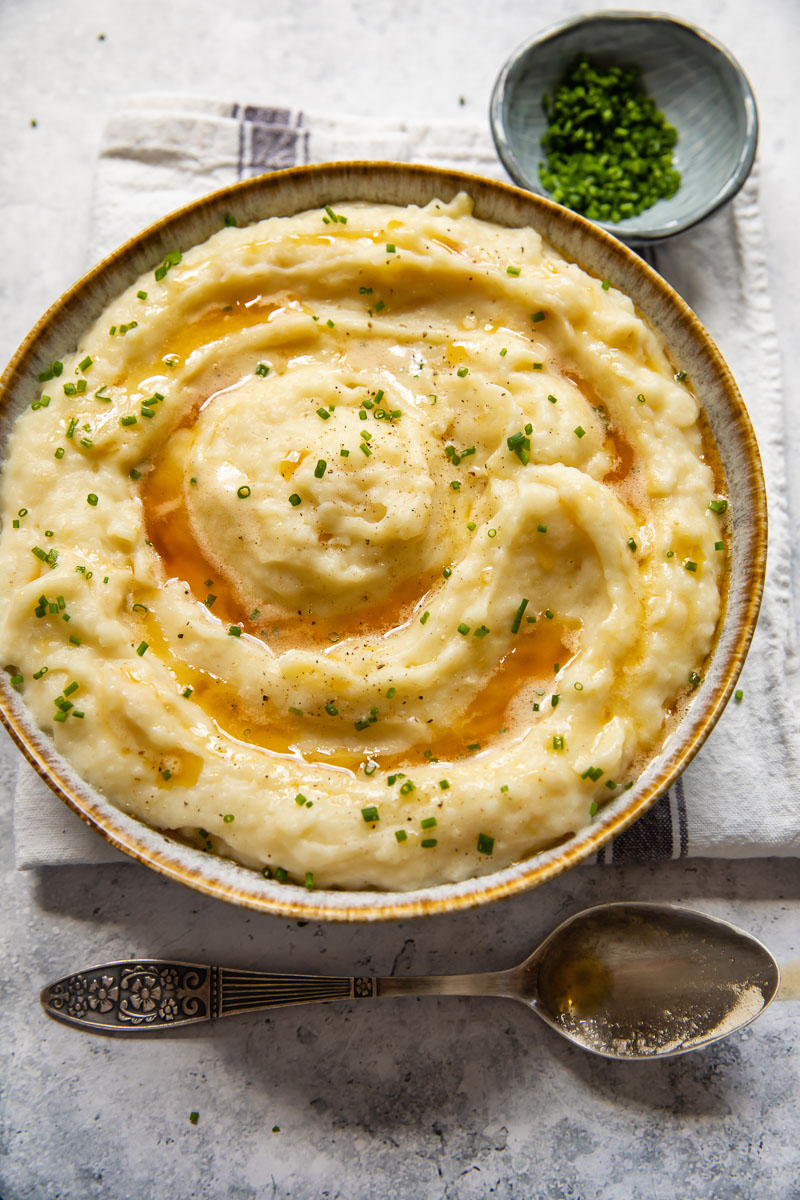 Leftovers and storage
Celeriac and potato mash stores really well in the fridge, where it can last for several days. Store it in an air tight container.
Reheating is simple as well. I find that the microwave will do just fine, although it can also be reheated in a pan over low to medium heat.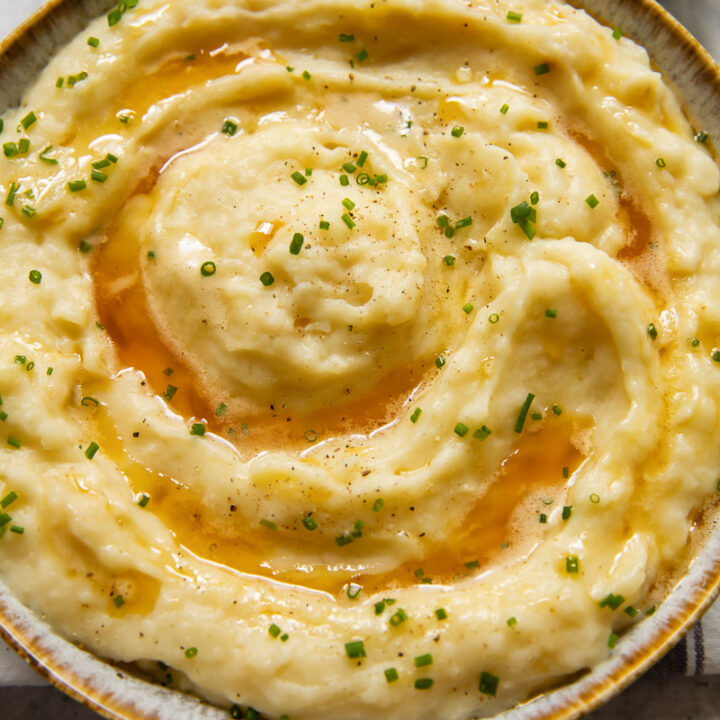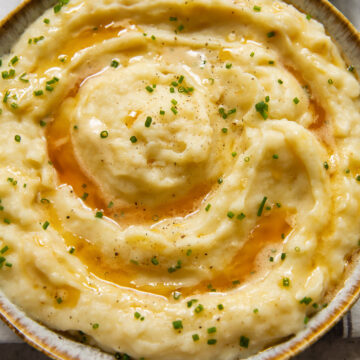 Creamy Celeriac and Potato Mash with Brown Butter
Sweet and nutty celeriac with creamy mashed potatoes and a rich brown butter taste.
Ingredients
750

g

/1 head celeriac

750

g

/4-5 starchy/floury potatoes

for mashing

80

g

/ ⅓ cup butter

4

tbsp

milk

Salt

to taste

Pepper

to taste

1

tbsp

chives

optional
Instructions
Peel and cut the celeriac and potatoes into cubes. Cook in a large pot filled with water for 20 minutes or until fork tender.

While the vegetables are cooking brown the butter. Add the butter to a small saucepan and start heating it over medium heat. The butter will go through several stages before it will turn into "brown butter", be patient and don't walk away from it. First your block of butter will melt, then it will turn frothy. Start stirring it once you see the foam, which will eventually go down and reveal brown, nutty smelling melted butter. Once you see that, take it off the heat and cool.

Drain the celeriac and potatoes and allow them to steam dry in a colander for a couple of minutes. Mash with a potato masher or using a potato ricer. Once the mash is smooth enough for your liking, pour in brown butter and milk, stir to combine. Then season with salt and pepper to taste. Sprinkle with chives before serving.
Nutrition
Serving:
6
g
Calories:
251
kcal
Carbohydrates:
34
g
Protein:
5
g
Fat:
12
g
Saturated Fat:
7
g
Polyunsaturated Fat:
1
g
Monounsaturated Fat:
3
g
Trans Fat:
0.4
g
Cholesterol:
30
mg
Sodium:
222
mg
Potassium:
921
mg
Fiber:
5
g
Sugar:
3
g
Vitamin A:
374
IU
Vitamin C:
35
mg
Calcium:
85
mg
Iron:
2
mg