Love home baking but bored of brownies? Give hazelnut blondies a try! Perfectly moist and chewy with the satisfying taste of white chocolate and hazelnuts, these are the baked treats you have been dreaming of!
For more warm, chocolatey goodness, try our Chocolate Fudge Cake!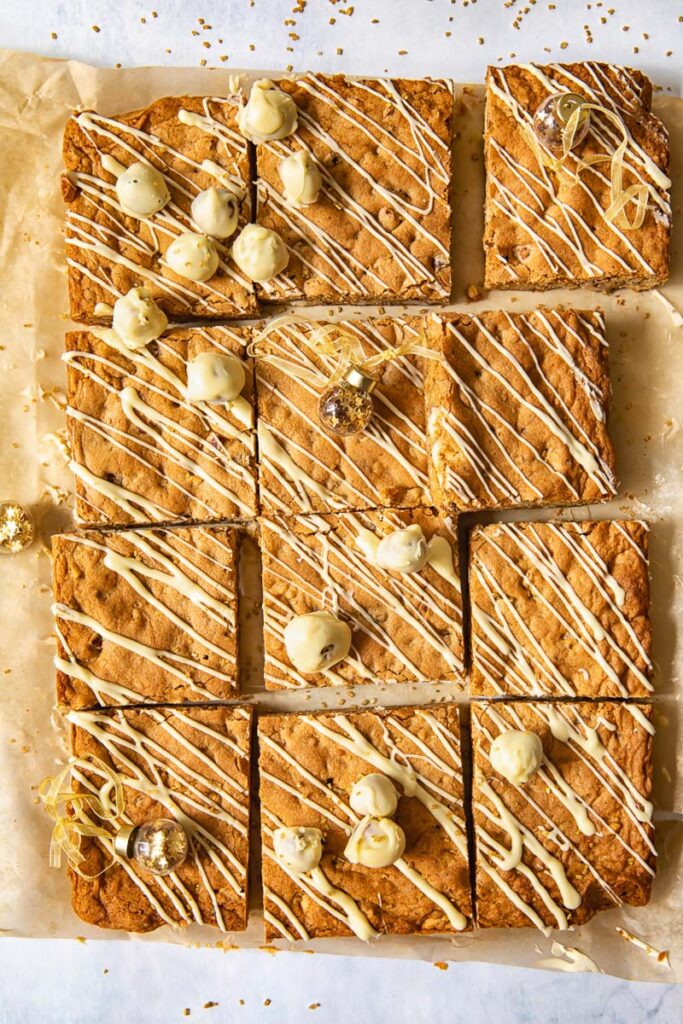 Warm and chewy baked goods like brownies or chocolate chip cookies have to be one of the most comforting treats to eat. So good, in fact, that we could all use another recipe in our collection!
And just one taste will make these White Chocolate Hazelnut Blondies a permanent feature in your kitchen. Perfectly chewy with a beautiful sweet and nutty flavour make these beauties a treat you'll want to come back to again and again!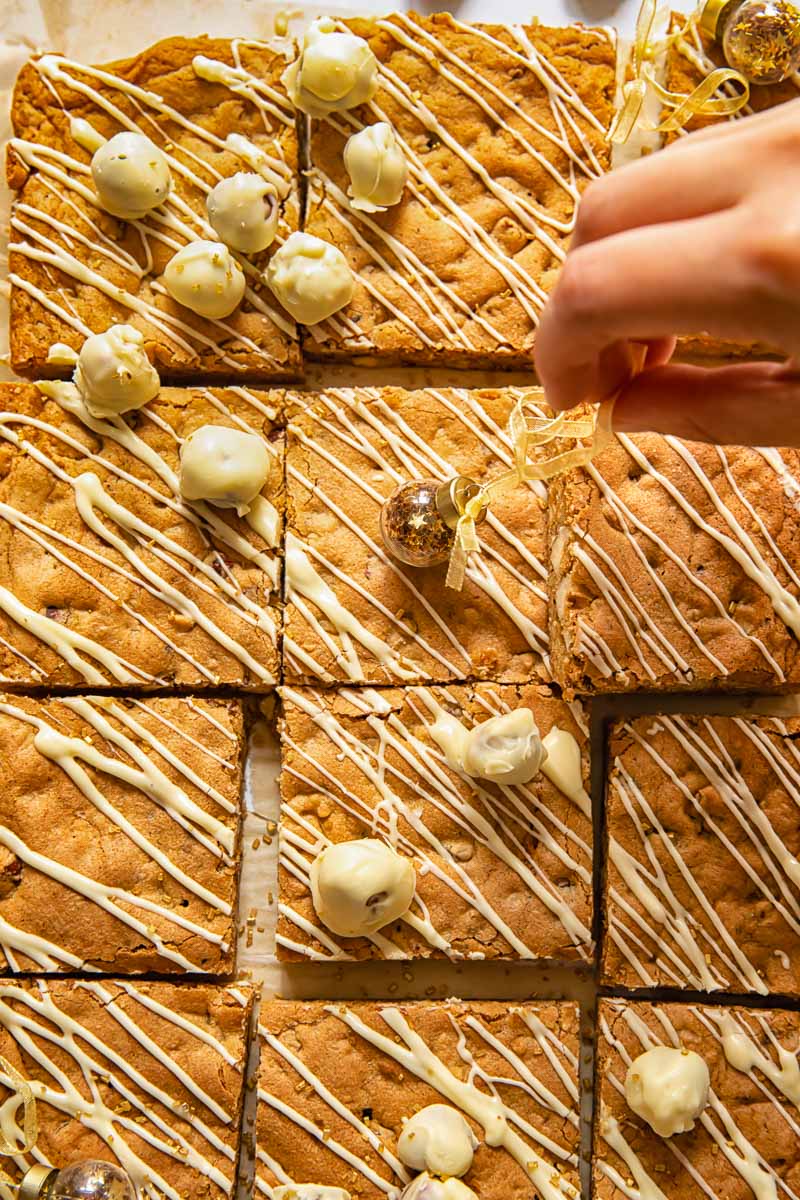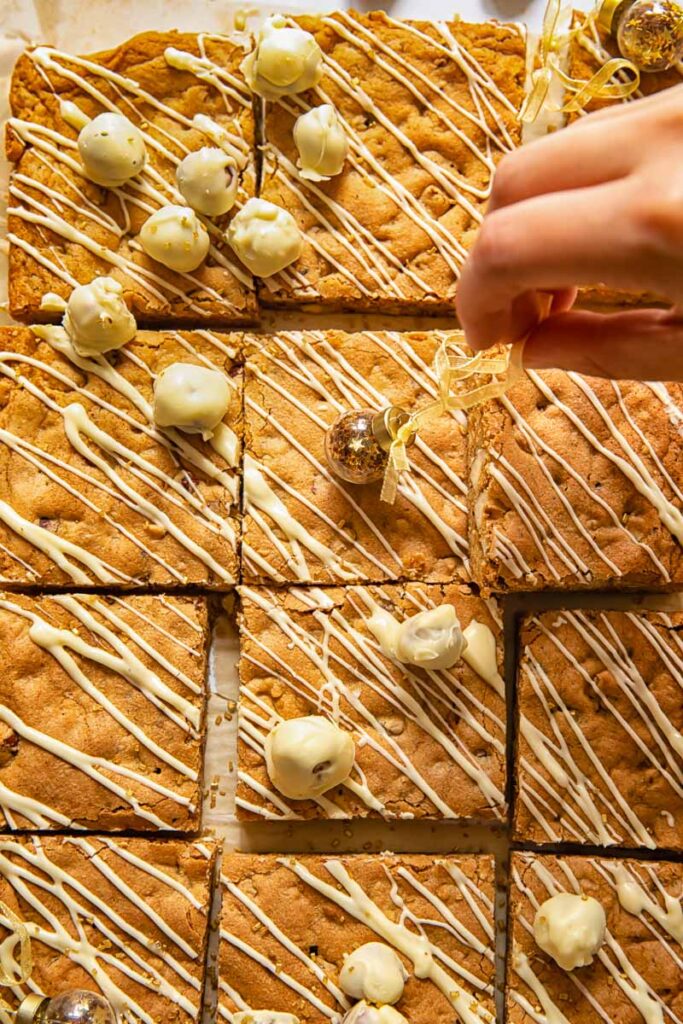 What are blondies?
Brownies may be legendary but blondies may have been invented first. The name comes from the light colour, which is probably no surprise.
They are, in many ways, like brownies in shape and texture. But they use vanilla and brown sugar to add flavour, rather than cocoa and chocolate. To me they taste predominantly of caramel thanks to the copious amount of brown sugar.
Why You'll Love Them
With all the tasty sweetness of a warm cake plus the chewiness we love from brownies, blondies are an underestimated treat. This recipe makes the most of fantastic hazelnuts, one of natures great gifts.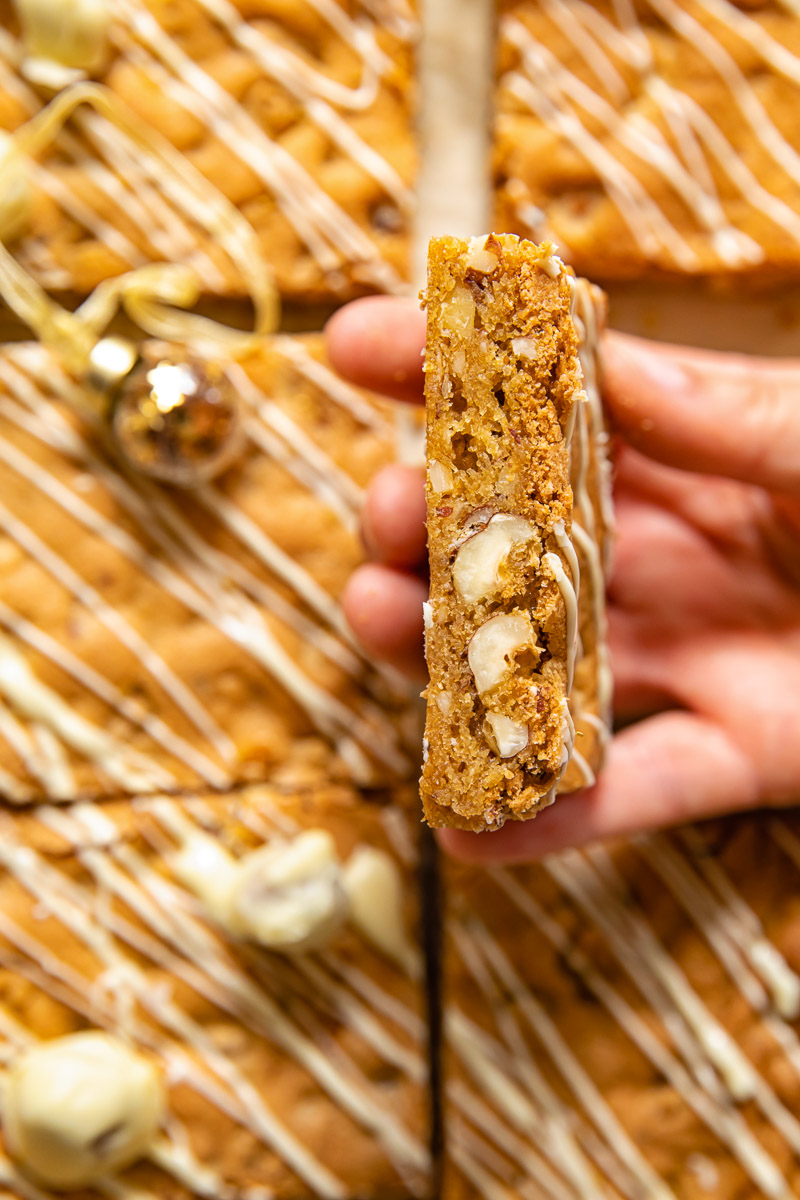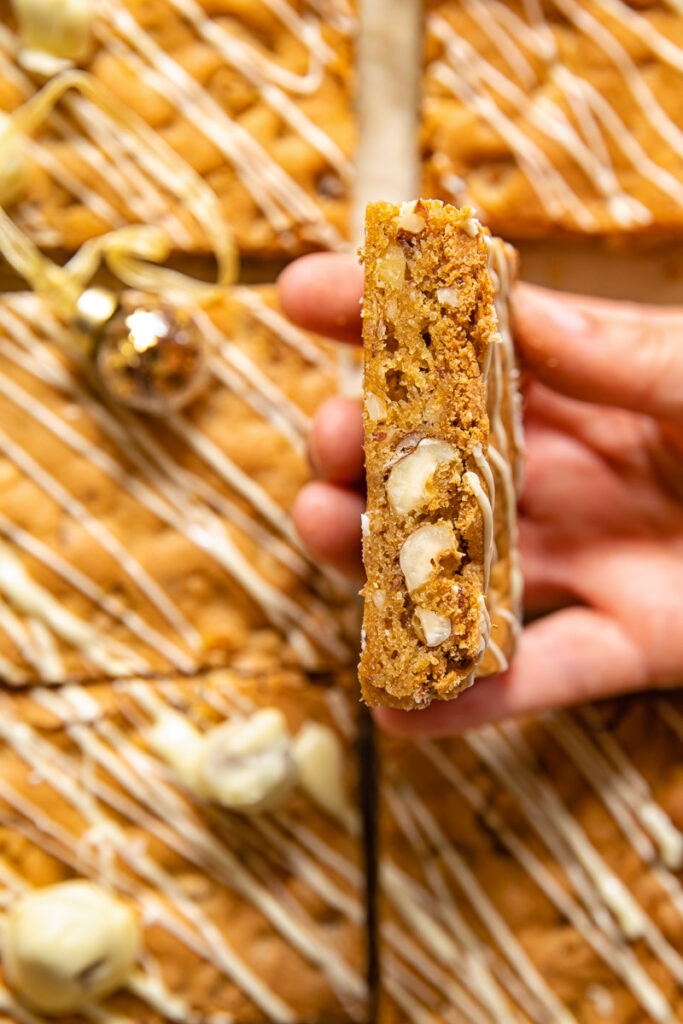 I would recommend this recipe for making with kids. It's always a great idea to introduce children to the kitchen early. It gives them a sense of confidence and teaches them to enjoy, rather than dread, time spent cooking.
Recipes like this one are perfect for making with kids. The ingredient list is short and the techniques are simple. It's a great place to start, and something you know they will love to eat!
Recipe Tips and Notes
Read carefully my tips on making brown butter aka "beurre noisette" in French. Once you master it, it will become your secret weapon in both sweet and savoury dishes. The taste of it is like nothing else and really compliments the hazelnuts in the recipe.
Be careful not to over bake the brownies. They will continue to firm up as they cool on the wire rack. Use a toothpick to test the brownies for doneness, and remove as soon as the toothpick comes out clean.
Many oven temperatures are less than exact, and not accurate to the built in gauge. I always recommend using an oven thermometer to ensure you are baking at the right temperature.
My biggest warning comes with melting white chocolate, which is notoriously temperamental! The safest way to do it is in a double boiler but you can successfully use a microwave if you are careful. I recommend doing so in several 30 second spurts. Take the chocolate out after each one, stir and put it back in the microwave until the white chocolate it runny. If you have only a couple of unmelted bits, leave them be. The residual heat will take care of them.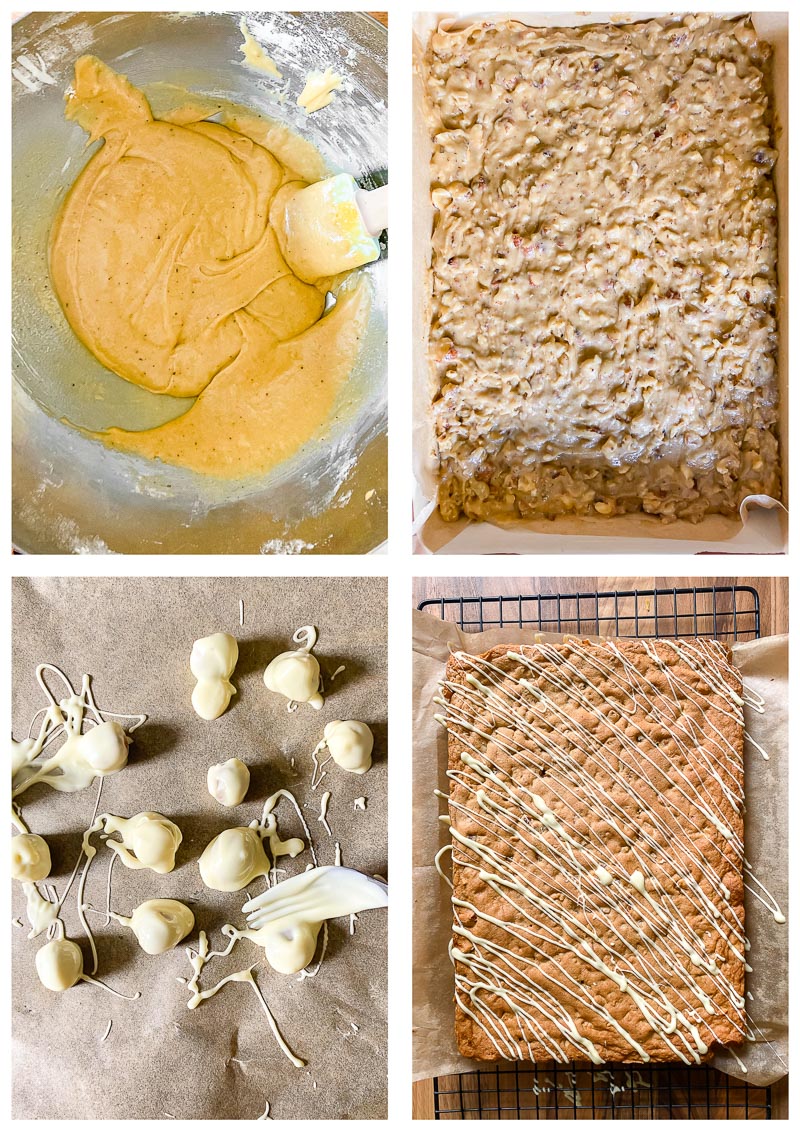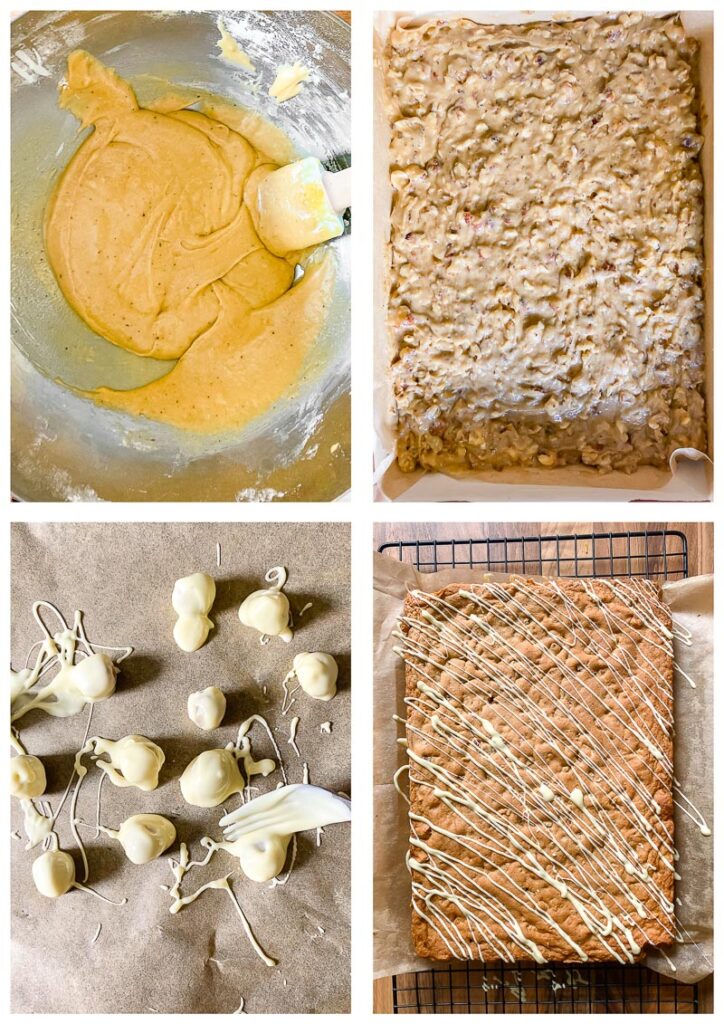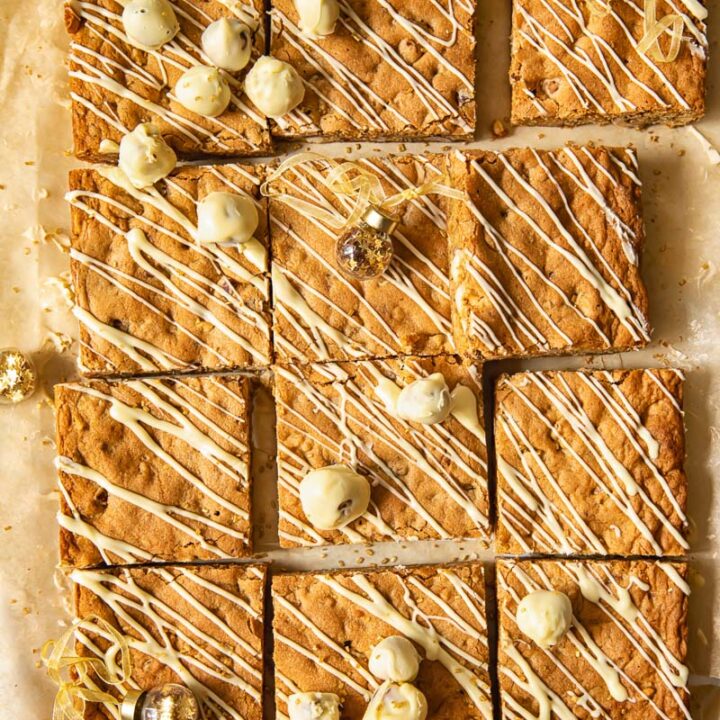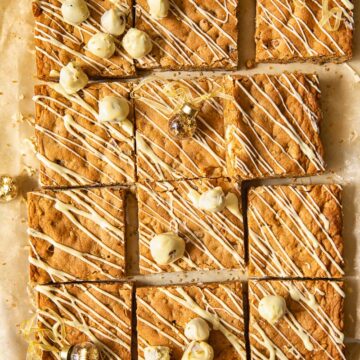 Hazelnut Blondies
Moist and chewy blondies with the satisfying taste of hazelnuts.
Ingredients
1

cup

/140g all-purpose flour

2

tsp

baking powder

1

tsp

salt

5

tbsp

salted butter

1 ¾

cups

/350g light brown sugar

2

tsp

vanilla extract

2

eggs

large

1 ½

cups

/195g hazelnuts

divided

100g/ 3.5oz

white chocolate
Instructions
Preheat oven to 350F/180C. Start by browning the butter. Add the butter to a small saucepan and start heating it over medium heat. The butter will go through several stages before it will turn into "brown butter", be patient and don't walk away from it. First your block of butter will melt, then it will turn frothy. Start stirring it once you see the foam, which will eventually go down and reveal brown, nutty smelling melted butter. Once you see that, take it off the heat and cool. Once your brown butter is at room temperature or close enough, mix in brown sugar, eggs and vanilla.

In a small bowl mix the flour, baking powder and salt, whisk together.

Mix flour mixture into sugar mixture until combined. Mix in 1 cup coarsely chopped hazelnuts and pour into a greased 13 x 9 inch baking pan. Spread batter evenly.

Bake for about 30 minutes, or until a toothpick inserted comes out clean, careful not to over bake, blondies will firm as they cool. Cool pan on top of a wire rack.

Melt the white chocolate in a double boiler or in a microwave in a few 30 second spurts as it burns very quickly. Check after each time, stir and put it back in the microwave for 30 seconds longer until the chocolate is runny.

Use ⅓ of the melted chocolate for drizzling over the blondies. You can do it with a spoon or transfer the chocolate into a small plastic bag (sandwich bag), then cut a tiny corner off and drizzle through the opening.

Dunk ½ cup whole hazelnuts in the remaining chocolate, make sure they are fully coated, then take them out with a fork and place on a piece of parchment paper and allow the chocolate to set until firm. Scatter the white chocolate covered hazelnuts all over your blondies before serving.
Nutrition
Serving:
12
g
Calories:
353
kcal
Carbohydrates:
47
g
Protein:
5
g
Fat:
17
g
Saturated Fat:
6
g
Polyunsaturated Fat:
2
g
Monounsaturated Fat:
9
g
Trans Fat:
0.2
g
Cholesterol:
42
mg
Sodium:
259
mg
Potassium:
259
mg
Fiber:
2
g
Sugar:
37
g
Vitamin A:
191
IU
Vitamin C:
1
mg
Calcium:
96
mg
Iron:
2
mg