If you want amazing, chocolaty, fudgy brownies, you need to melt chocolate into the batter. End of argument! These Turkish delight brownies are IT!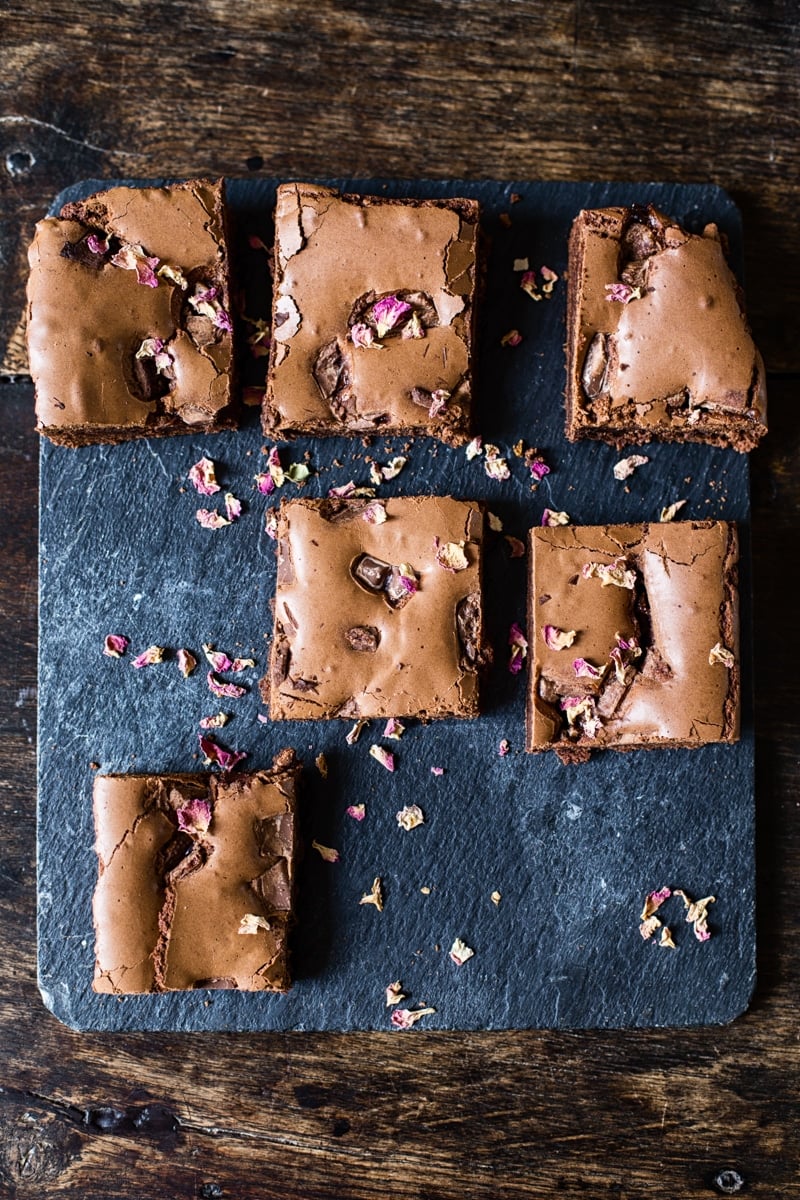 Unless you are from Turkey and have true and legit memories of Turkish Delight, the majority of us firmly associate the treat with Chronicles of Narnia, and the evil boy Edmund who betrays his family at the White Witch's promise of it!
Not me though. Images of said confection are connected to my brother's empty Turkish Delight box in his desk drawer, in which one day he decided to keep precious tropical fish that died in his care because his tender 10-year-old heart didn't allow him to flush them down the toilet like everyone else!
On that note, let's proceed to the subject of today's post. Turkish Delight Brownies aka the best brownies known to…me.
I am not going to convince you that what makes these brownies special is Turkish Delight bits because it's not. What makes them truly glorious is the amount of chocolate melted into the batter.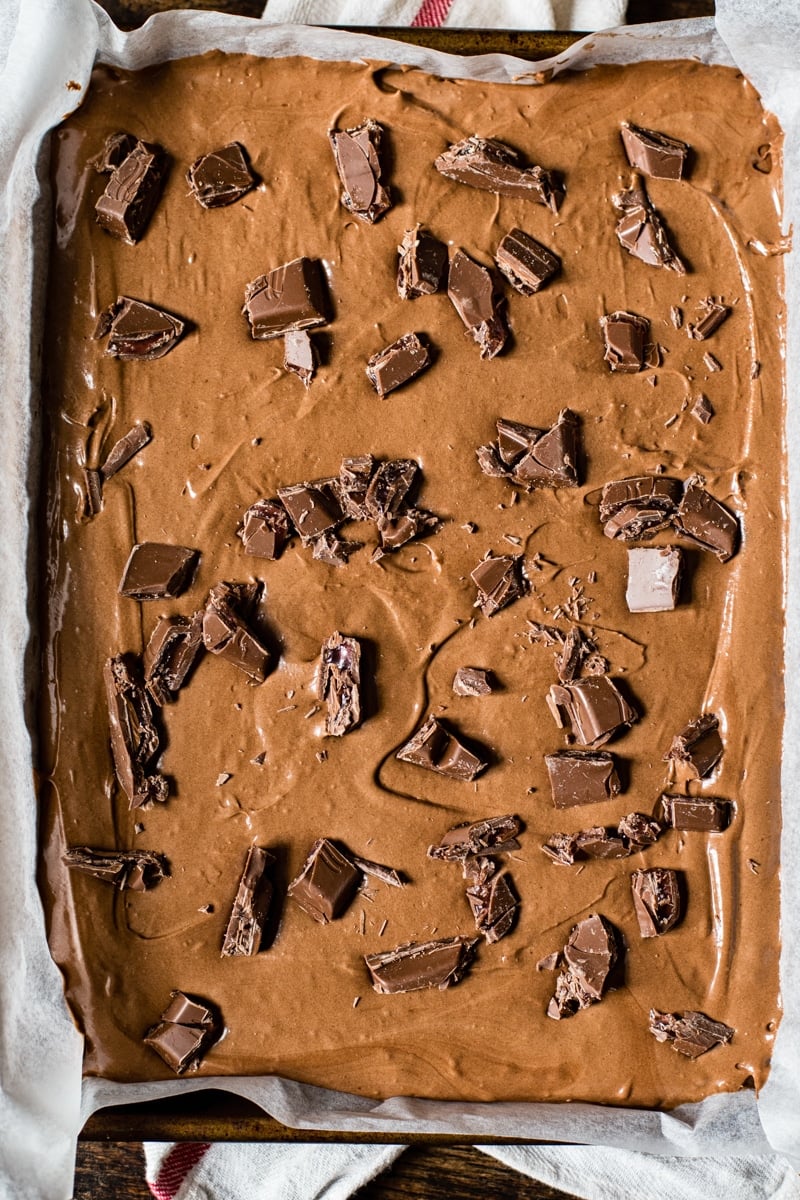 Do you know how many brownie recipes have no chocolate in them but only cocoa? Loads! And that is a travesty! How can you make your brownies fudgy if the essence of the fudgyness is missing?
Sadly there are many ways but none of them are half as delicious as putting real chocolate in and getting THIS as a result!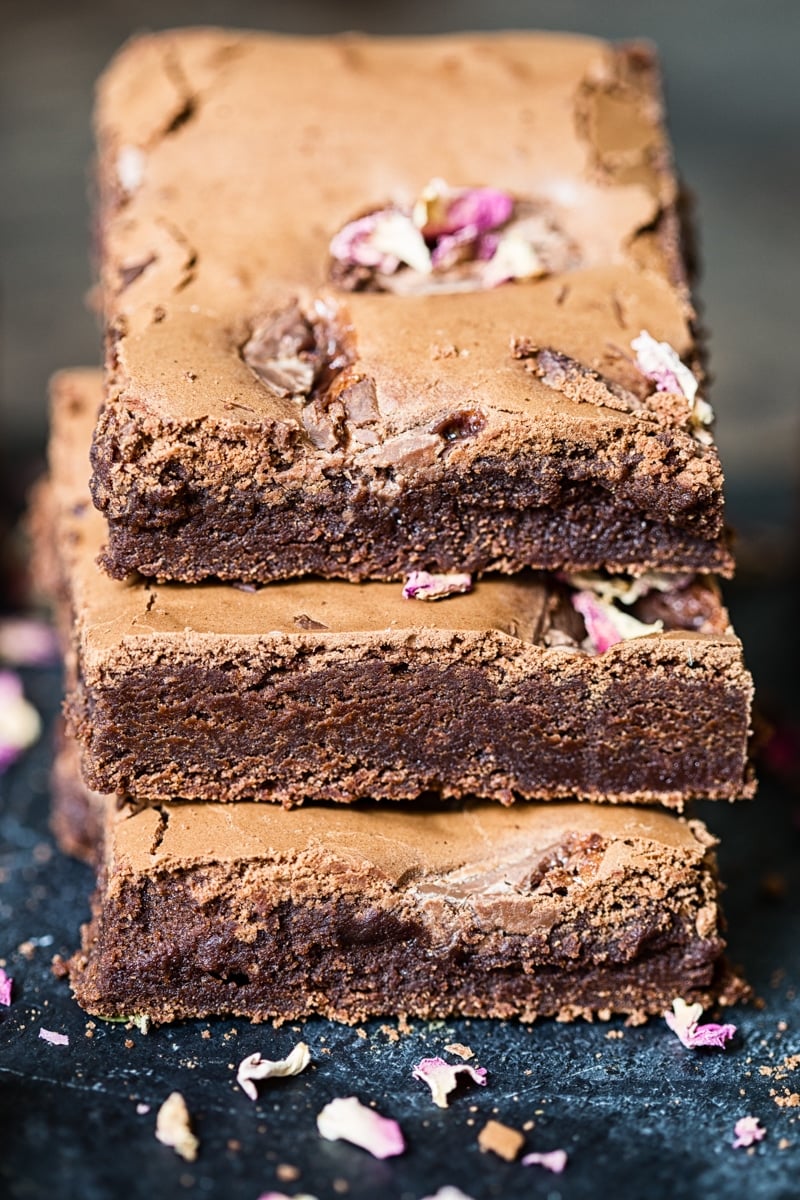 Goodness gracious, were they EVER amazing! I have to say that topping them with a chocolate bar filled with Turkish Delight was a stroke of a genius! Too self-congratulatory?
Perhaps but I make no apologies. Instead I am going to show you what they looked like up close…See those bits? Especially the one in the middle that's oozing that rose and honey fragrance? I was smitten and so were my guests!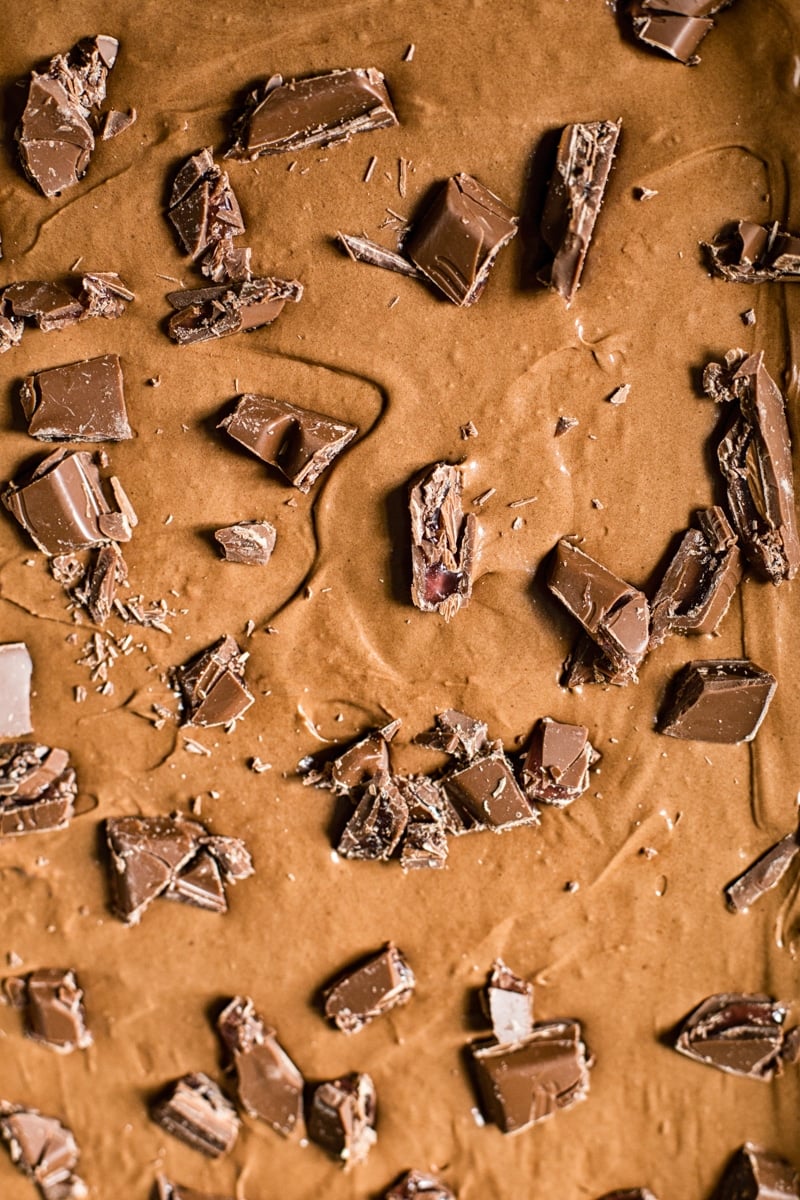 I was expecting friends for dinner when I made these brownies, and because of that I decided that we needed a lot of them like a 9X13 inch pan a lot! Not many recipes will give you quite as much. They will try to limit this goodness to 8X8. Not me. I am generous like that. Enjoy!
By the way, what you see in the first photo is only half the recipe because another half was eaten quickly and greedily the night before. I literally had to pull a piece out of my daughter's hand the next morning to be able to snap a few photos!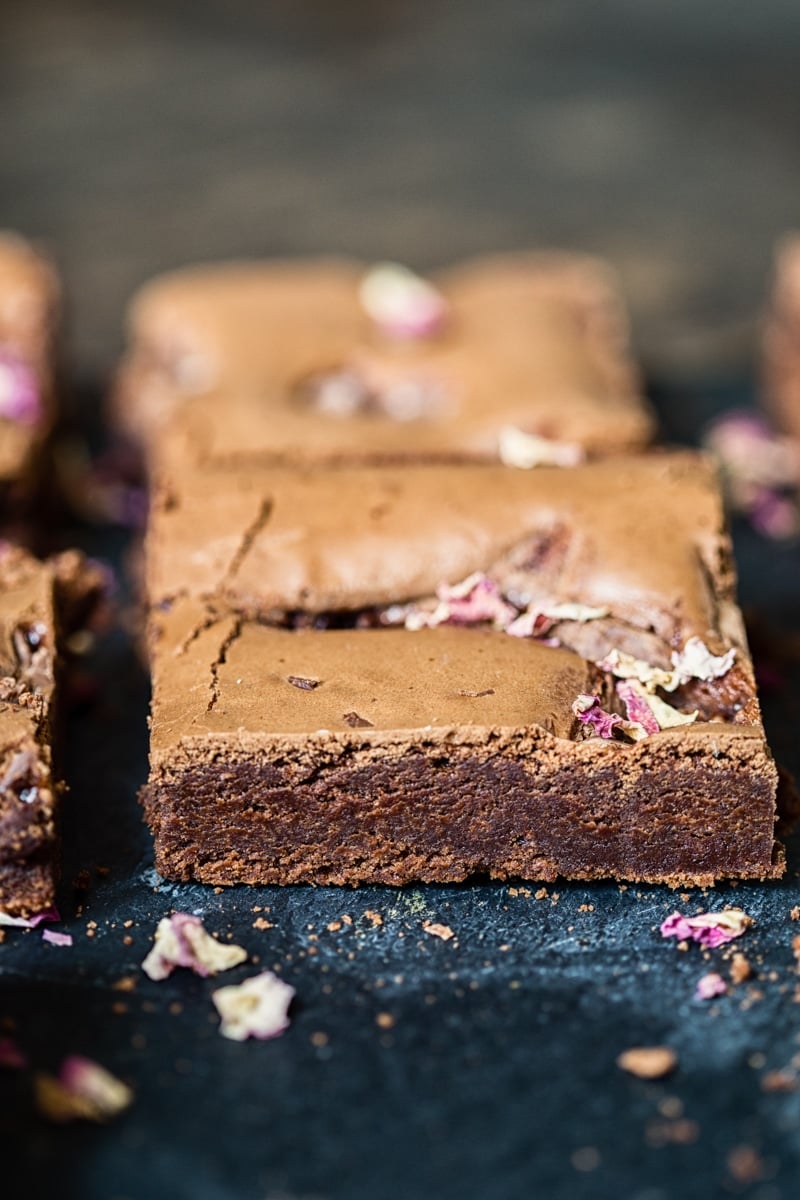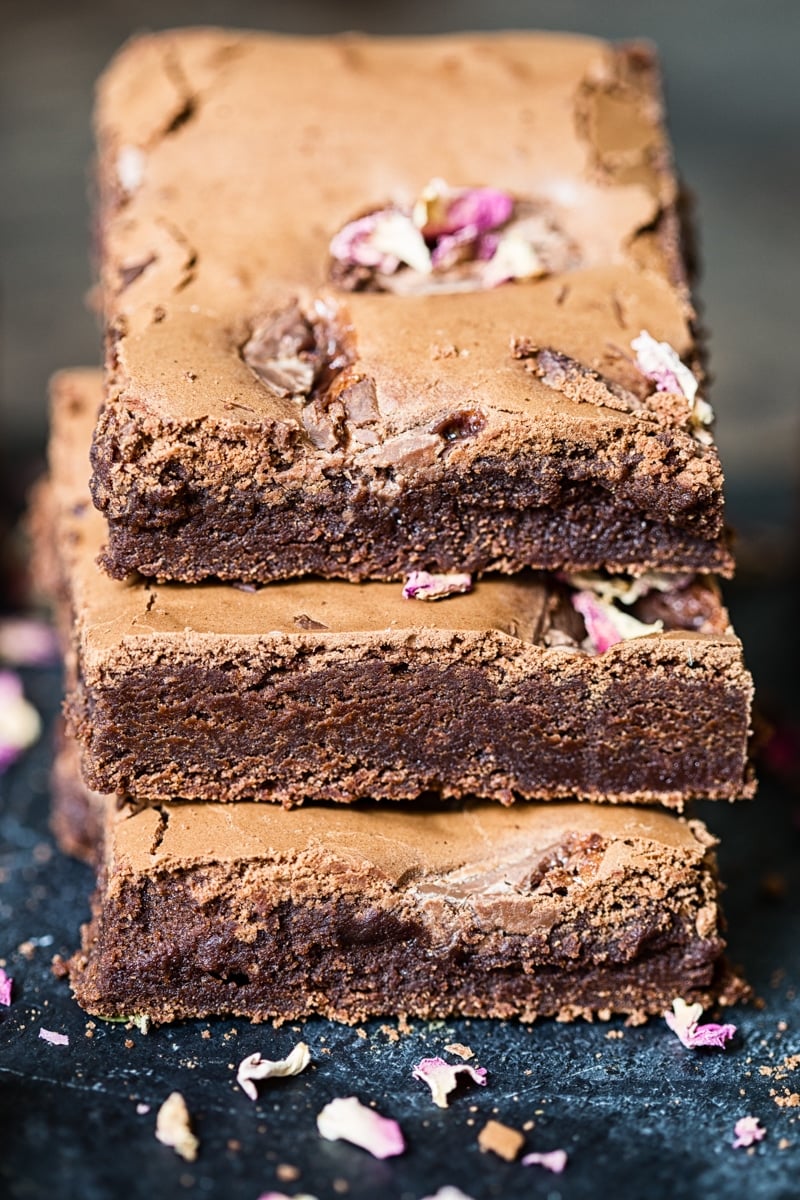 Ingredients
150

g/ ⅔ cup butter

300

g/ 10.5 oz/3 chocolate bars dark chocolate

4

eggs

300

g/ 1 ½ cups light brown sugar

150

g/ 1 ¼ cup all purpose flour

1 ½

tsp

baking powder

30

g/ ¼ cup cocoa powder

100

g/ 3.5 oz Turkish delight chocolate bar or any other chocolate
Instructions
Preheat the oven to 180C/350F

Line a 9X13 inch pan with parchment paper with the sides overhanging, which helps with easy and clean removal later.

Melt chopped chocolate with butter in a microwave for 30 seconds at a time, stir between melts thoroughly, then cool slightly.

In a large mixing bowl whip eggs and light brown sugar until the mixture is light and the sugar is completely dissolved, which contributes to the glossy brownie top.

Then add melted chocolate and butter, give it a quick mix with a hand mixer, then add flour, baking powder and cocoa and mix until the batter is smooth and well combined.

Pour in the prepared baking pan and top with chopped chocolate of your choice.

Bake for 20-25 minutes. Cool in the pan, then lift out of the pan. Cut into squares and serve.