These blackberry crumble bars are packed with jammy berries and a surprising ingredient that takes them to the next level!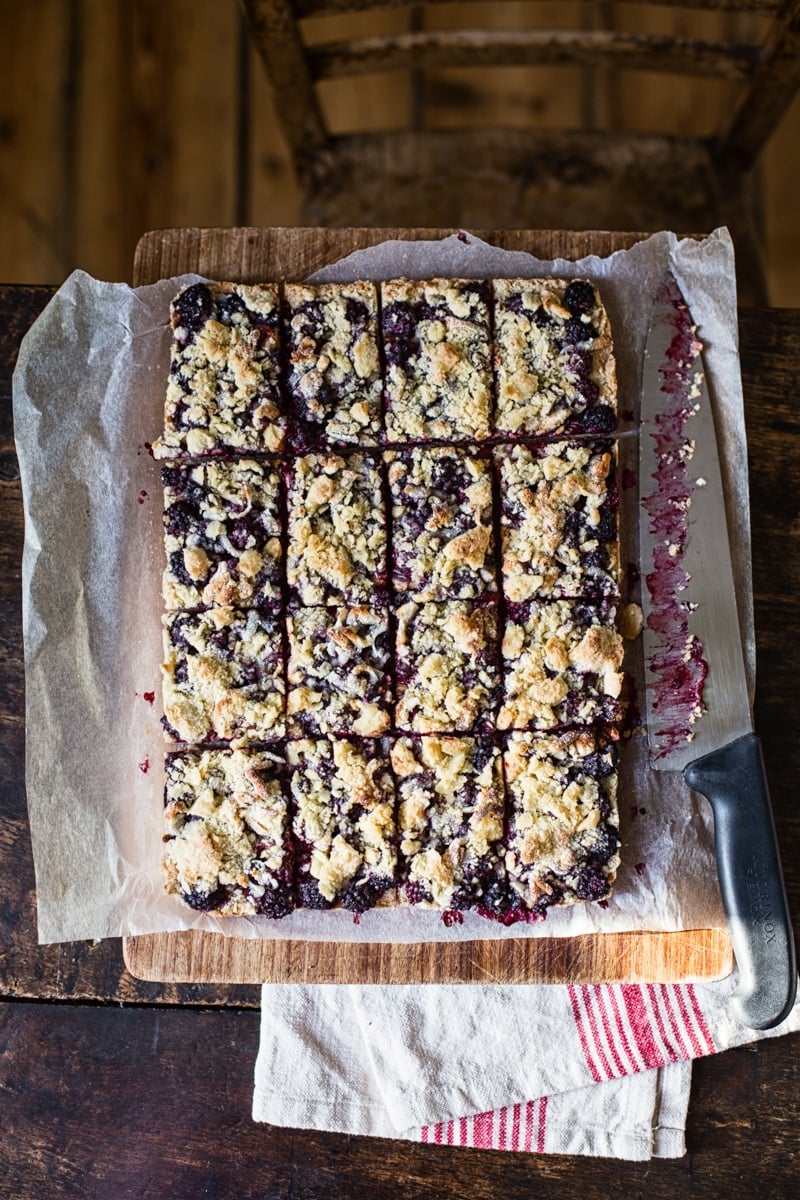 We are back from our holiday in Sweden and Norway, and for the first time in a long time I feel truly refreshed. Our time away was the most relaxing holiday we've had in years.
No agenda, no places to see. Just eat, sleep, hike and repeat. The slowest living possible. And let me tell you, our kids aged 11 and 13 also loved it! It really made me realise that it's not what we do when we are on holiday, it's the time spent together that they love!
Two weeks away from my blog was also beneficial to get my creativity flowing once again. I think it was essential in order to renew my passion for cooking, writing and photography. Often times holidays are seen as luxury in our day and age but I truly believe they are necessary for us to re-centre as individuals, as a family, as a couple.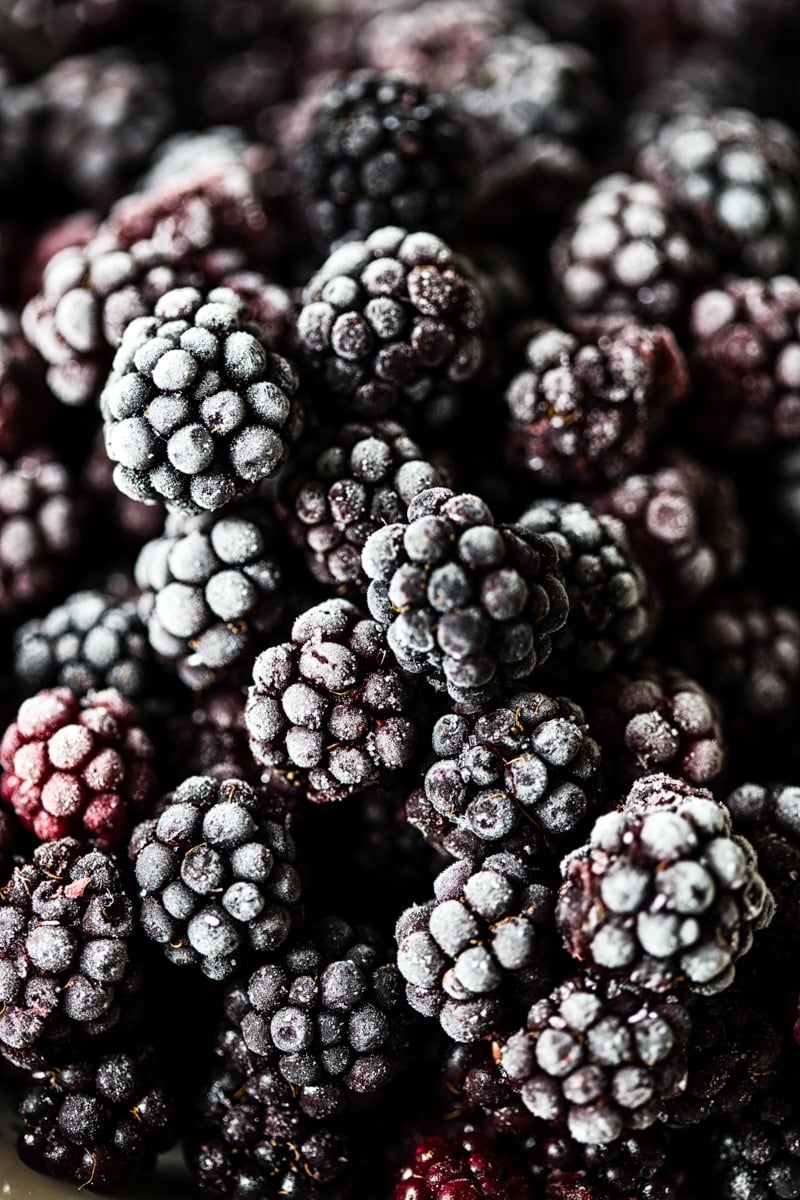 When I got back I was so pleased to see a lovely new cookbook was waiting for me at home. This book Wild Honey & Rye is written by a personal friend of mine and a fantastic blogger Ren Behan. Although Ren and I only met briefly in person, we got to know each other online and I was eagerly anticipating her writing debut.
Ren is a such a warm and lovely person and I was looking forward to reading her book. What got me even more excited is the new cookbook is a collection of modern Polish recipes!
You see Russian and Polish cuisine are culinary cousins. There is much cultural heritage that is shared between the countries. Many similar ingredients, many similar dishes. We are Slavic people.
My connection with Polish food goes even further. My mum comes from a beautiful city of Lviv in the Western Ukraine, which before WW2 was still a part of Poland.
I spent a big chunk of my early childhood living there with my grandmother surrounded by still present at the time strong Polish culture. My godfather is Polish. My husband's grandfather immigrated to Canada from Poland via the UK!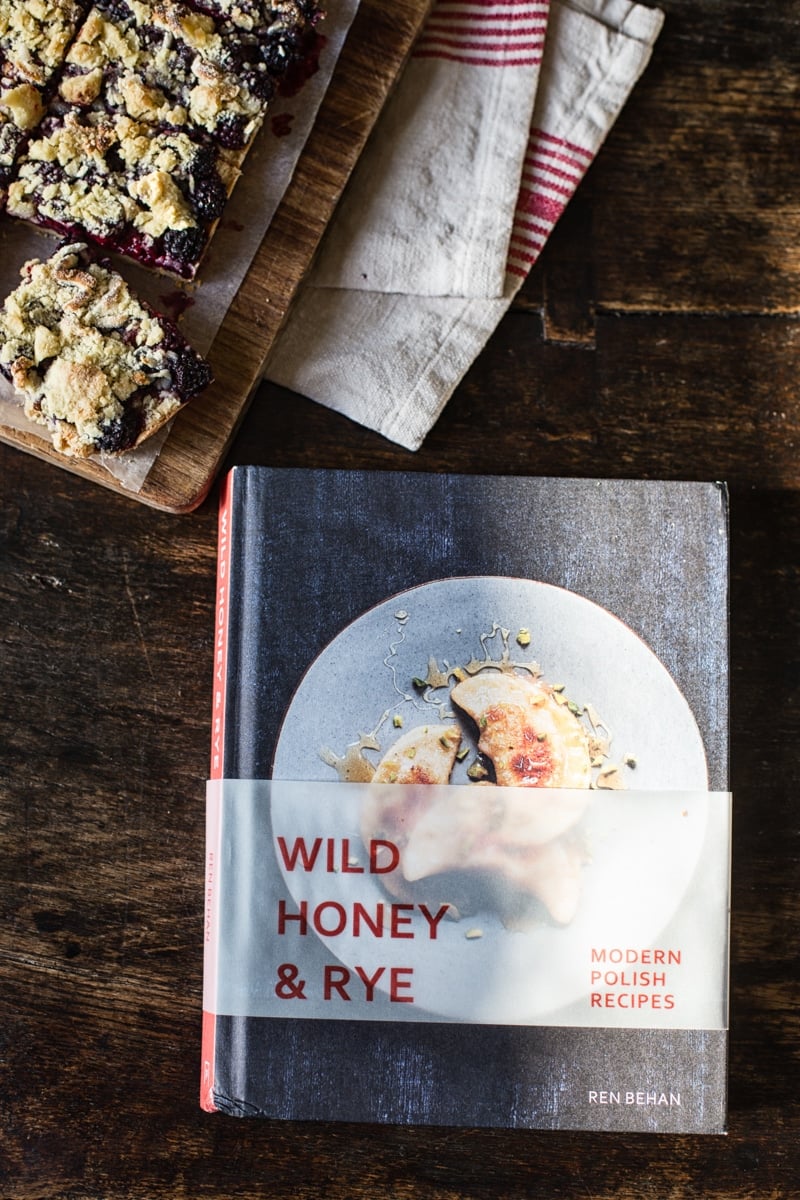 Polish food has always been a part of our diet. My grandma cooked it and so did my mum although I didn't really know it was Polish. It was just food we ate.
So it is not surprise that many recipes felt so familiar and comforting as I was reading through Ren's Wild Honey & Rye. It's truly difficult to trace origins of many well-known Slavic dishes.
There was so much movement through many Eastern European countries' borders, things got mixed up and although the political side of it is messy and painful, the culinary tradition definitely benefited from that.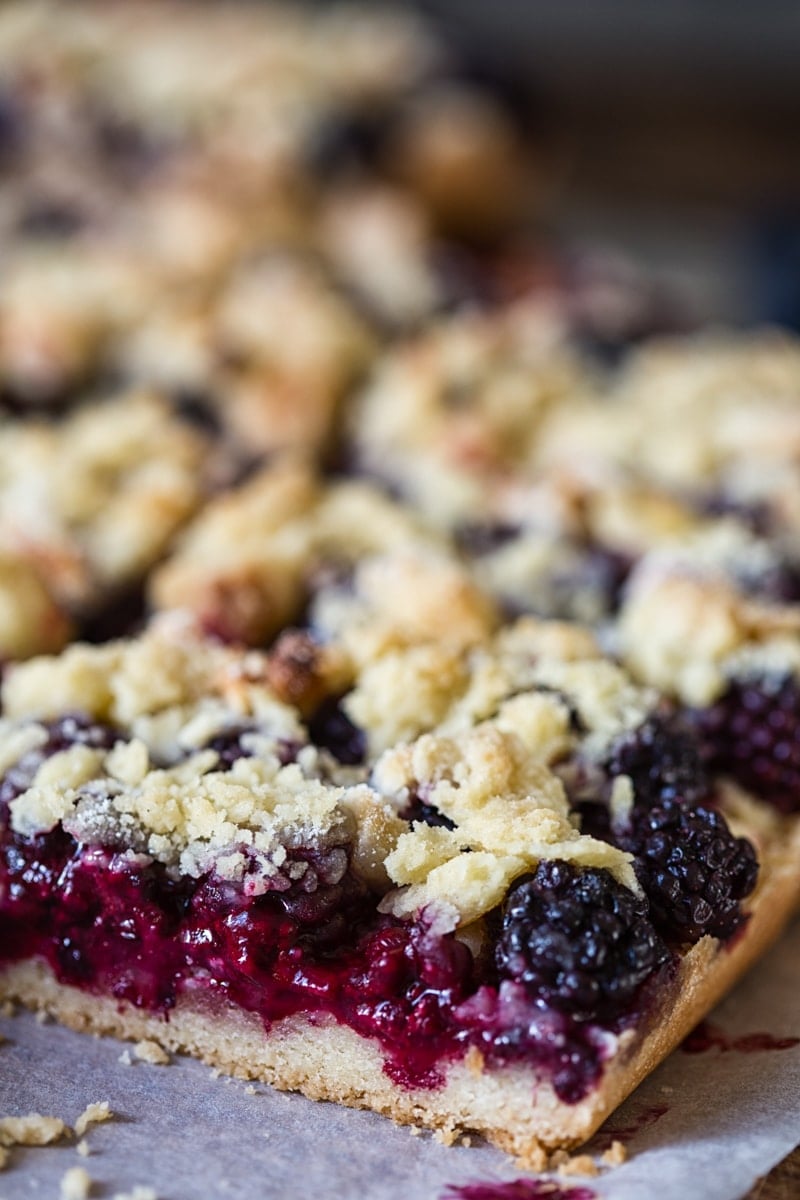 There are so many recipes in Wild Honey & Rye that I loved and so many titles brought a smile to my face as I was reliving my own childhood memories linked to those dishes.
I will always remember my granny making Scrambled Eggs with Polish Sausage (Jajecznica) for my brother and I. I liked her version better than mum's as she went heavy on butter.
Ren says one of the best way to cook New Potatoes is with Butter and Dill and I completely agree. We feasted on them almost daily in Sweden. So simple and absolutely sublime. They are even better if you pair them with Meatballs with Mushroom Sauce (Kotlety Mielone z Sosem Pieczarkowyn).
I bursted out laughing when I saw the Russian Salad Olivier. It's a salad you hate to love but no celebration goes without it!
I also loved how Ren took old Polish favourites and modernised them by streamlining the cooking process or making them lighter, less calorie-laden. Millet Kaszotto (a modern mix of kasha and risotto!) with Wild Mushrooms is a recipe I am looking forward to trying soon.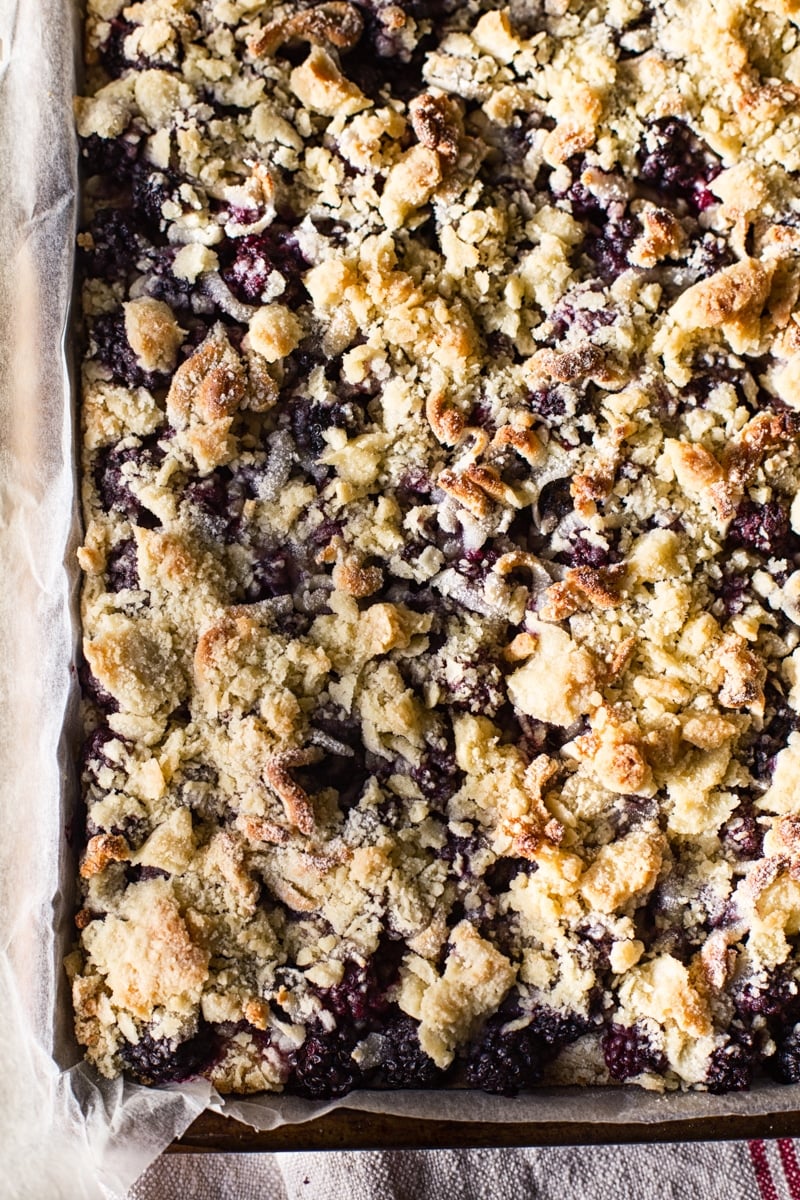 The recipe from Wild Honey and Rye I am sharing today is for Blackberry Crumble Bars. The original in the book is made with blueberries but the Polish name is 'z jagodami". Now I don't speak Polish but in Russian it means "with berries". I figured any seasonal berries will be a fair substitute.
What attracted me to the recipe is an unusual use of marzipan under the crumble layer. No sugar is added to the berries but they get sprinkled with grated marzipan, which does two things. It sweetens slightly tart blackberries and adds an extra crunch to the crumble topping. Brilliant!
My kids proclaimed these blackberry crumble bars the best they've tasted and I would have to agree. This is a quick, no fuss, delicious treat was made with minimum ingredients and seasonal berries, which is the essence of Polish cooking. Real, seasonal ingredients that are of the highest quality possible, sharp cooking skills taught at home and lots of love.
Foraging is also a big part of Eastern European tradition. Mushroom and berry picking is considered a national sport in countries like Poland, Ukraine and also Russia. The main reason I used blackberries is because I picked 15 lbs of wild blackberries earlier in August and froze them, so these blackberry crumble bars barely cost me anything to make! Thriftiness is also an Eastern European way! 🙂
For more modern Polish recipes get your own copy of Wild Honey & Rye by Ren Behan!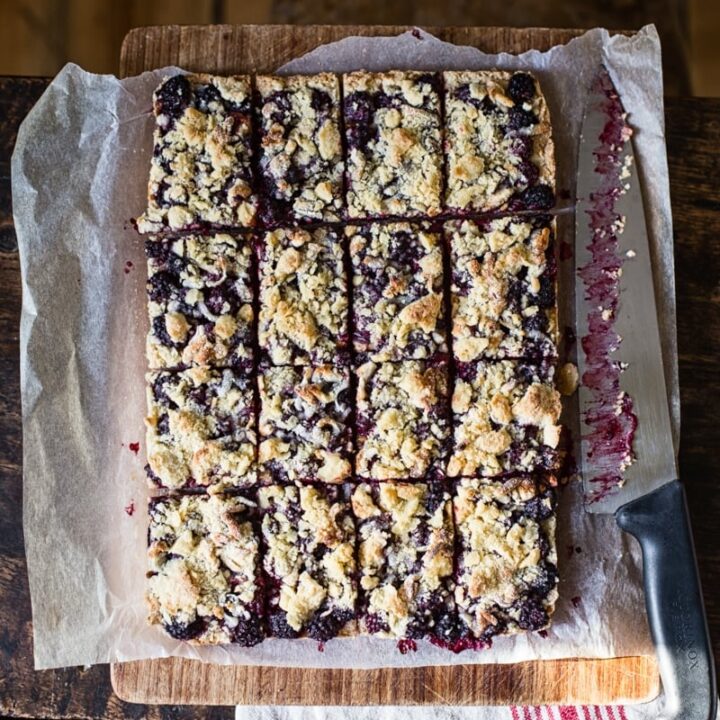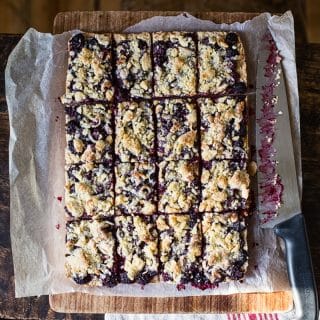 Ingredients
500

g/3 ½ cup fresh or frozen blackberries
For the pastry
250

g/2 cups plain

all purpose flour

150

g/1 ¼ cup icing sugar

125

g/1/2 cup unsalted butter

cold

pinch

of salt

2

egg yolks
For the crumble topping
50

g/1/2 cup plain

all purpose flour

50

g/1/4 cup unsalted butter

30

g/1/4 cup icing sugar

100

g/ ½ cup marzipan

grated
Instructions
Preheat the oven to 180C/350F. Line a 9 inX13 (or 9inX9in) in pan with parchment paper and set aside.

Put all the ingredients for the pastry in a food processor and pulse until well blended. Alternatively you can mix the pastry with fork. Tip the rough pastry/crumbs into the lined pan and press firmly with the back of a spoon to form the base. Prick with a fork and bake in the preheated oven for 15 minutes.

Meanwhile prepare the crumb topping by pulsing the ingredients in a food processor until butter is evenly distributed and the mixture resembles coarse crumbs.

Grate the marzipan, it's easier to do if it's slightly chilled.

Take the pan with the base out of the oven, spread the blackberries (no need to defrost them if using frozen), then sprinkle with grated marzipan and the crumb topping.

Bake for 20 minutes until golden. Let it cool in the pan, then cut into bars.