If you need dessert on the table within 45 minutes, this peach and blackberry tart is your answer!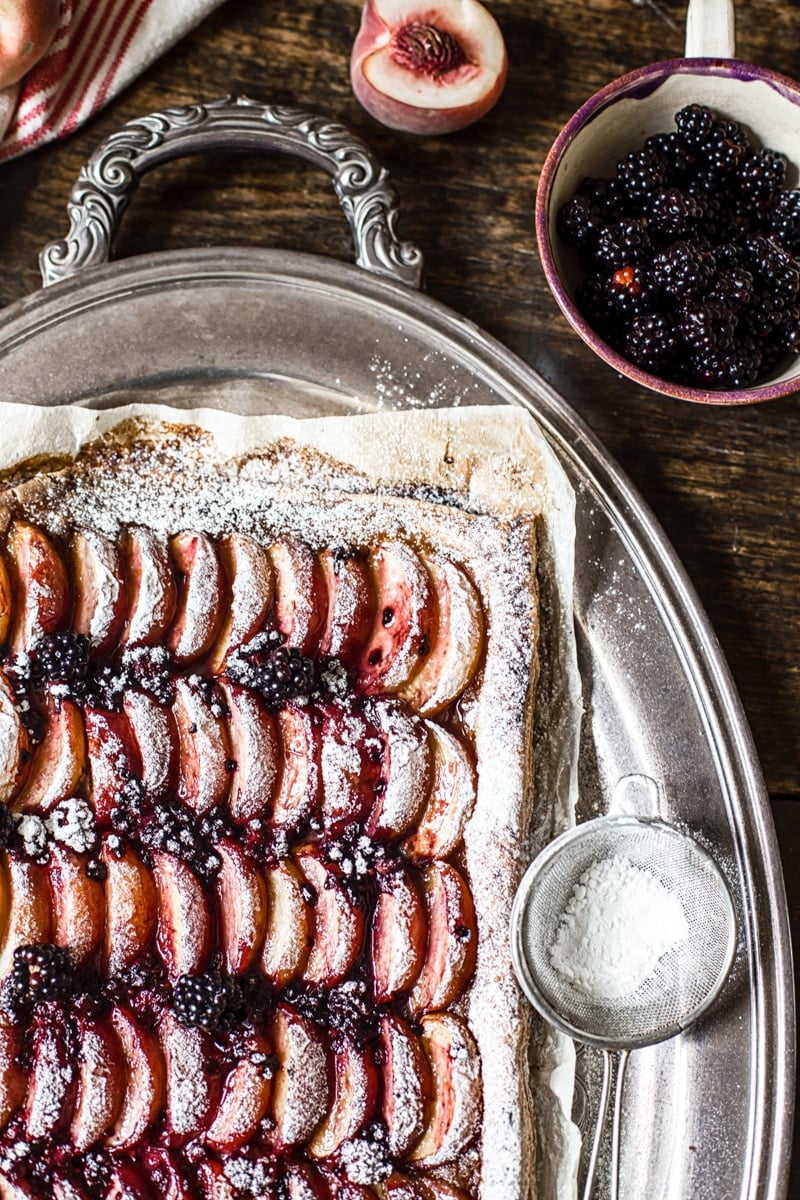 And the blackberry obsession continues! In the summer I like nothing more than a fruit filled dessert. The more fruit the better. I also don't like to have an oven on for too long.
Although I can't say we've been dying from the heat here in London, I still try to limit the oven time to a minimum. In fact I try to limit my time in the kitchen to a minimum.
This summer is the first summer in the last 6 years I don't have to commute to work. I still find it difficult to believe I turned my passion into a career. And although I've been working from home for six months now, I still have to remind myself that I am my own boss.
And if I need to take a day off for meeting an old friend briefly passing through London or hang out with my pre-teen daughter and talk about cats, bunnies, nail polish and secondary school, I CAN!! And I do. And it feels GREAT!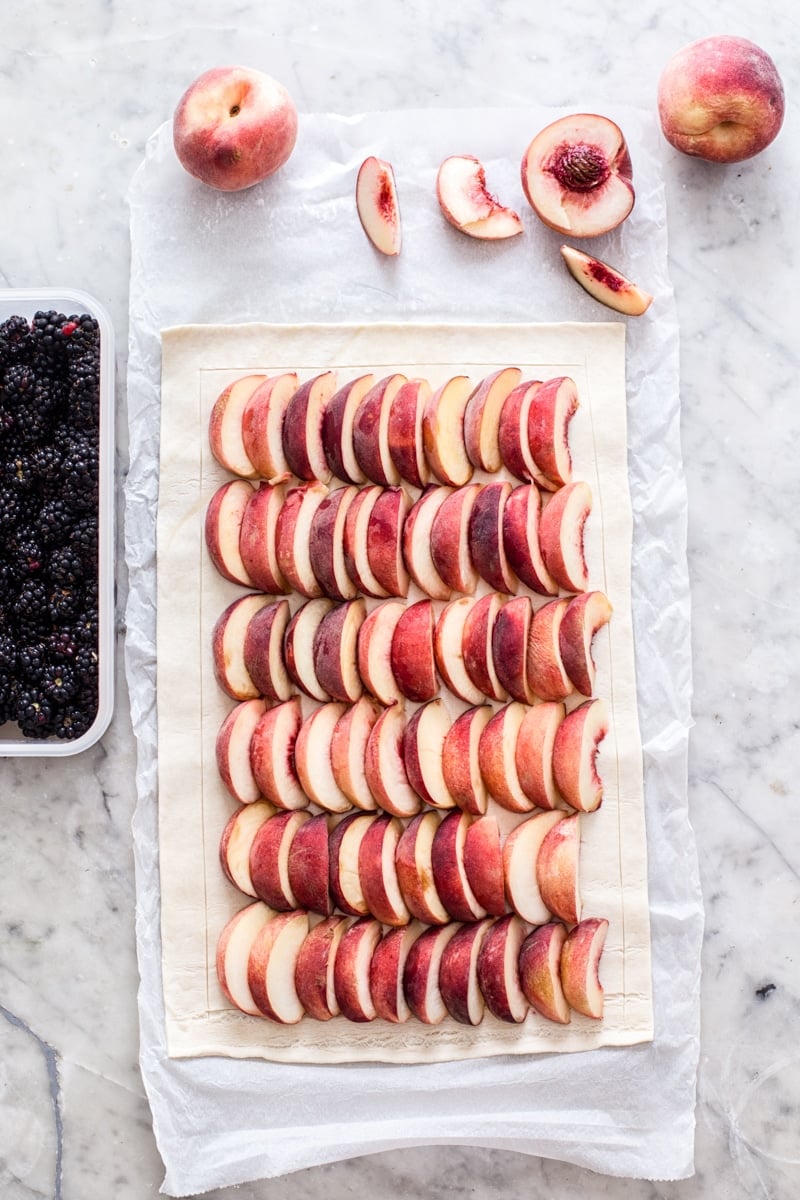 So please forgive me if things have been slower than usual here at Vikalinka. I've been enjoying my summer and my new slower and less crazed lifestyle a bit too much!
You see when I decided to quit my teaching job last Christmas I was at the end of my tether. Burned out by two-hour daily commutes, working and blogging while being a mum and a wife.
Anxiety attacks, poor sleep and a complete lack of free time and social life have pushed me into a corner and made me decide between teaching and blogging. I finally knew I couldn't have both.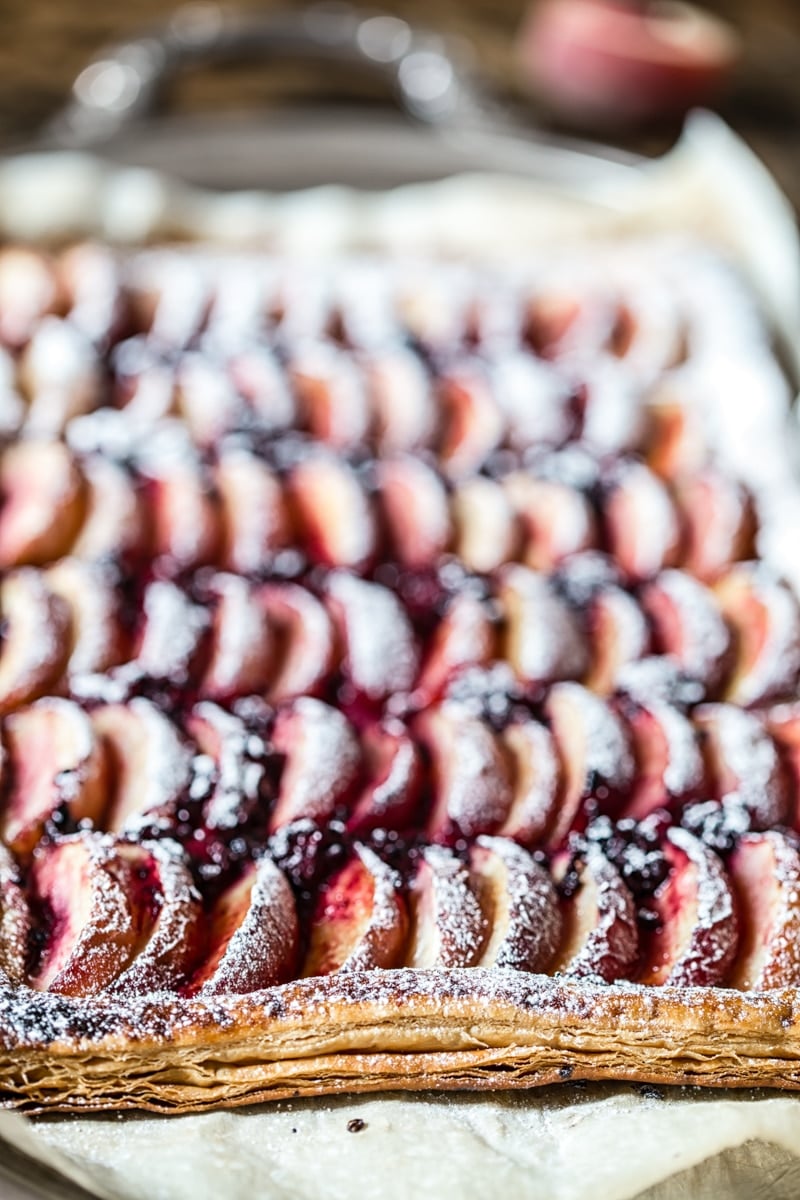 Blogging won out as you might've guessed by now and ever since that momentous decision I try to remind myself why I did it whenever the desire to get ahead, to do better than everyone else and push through the tiredness and work takes over again. I did it for my mental health and for my family, so I WILL spend time with my family.
This summer has been all about re-learning how to relax, be still, be in the moment whether it is with my husband or my children and not let the desire to succeed take over my life.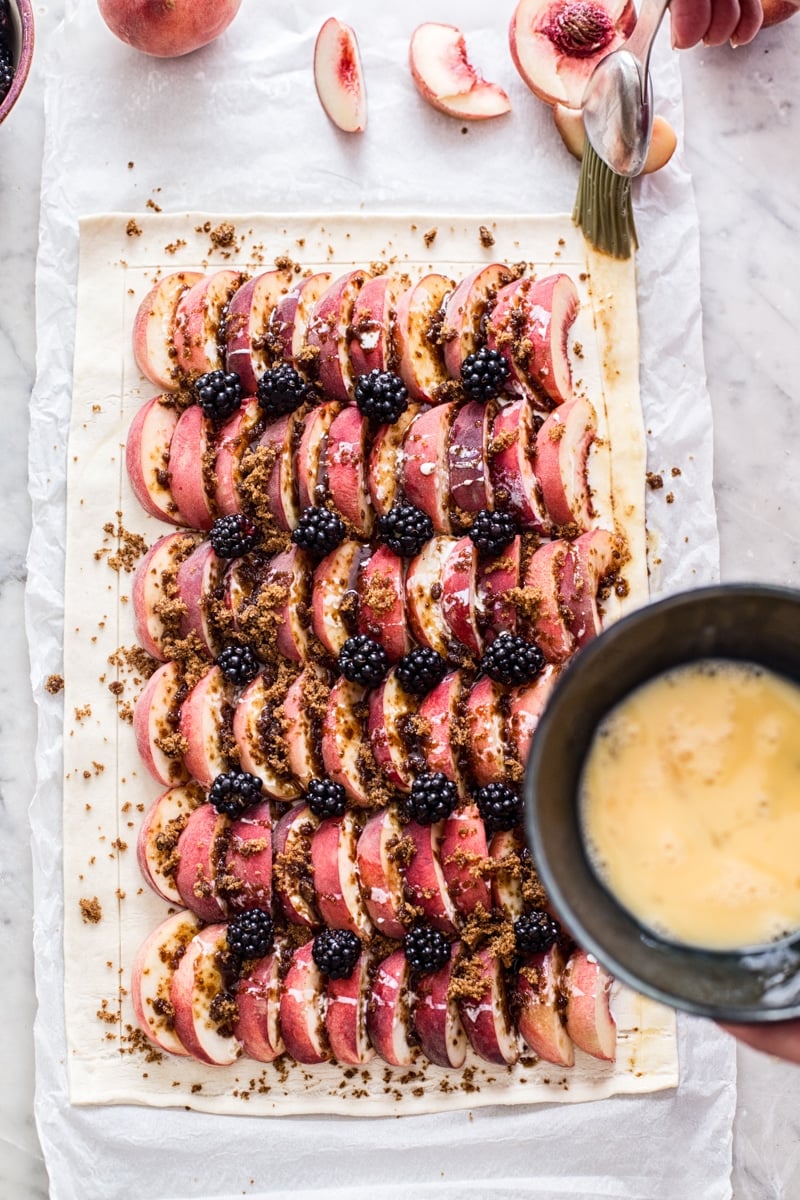 So this tart in a way is a metaphor for my life. It is the simplest and the most straightforward thing you will make this summer. All you need is best ingredients to make it great. The rest is not up to you.
Go ahead and choose ripe and sweet peaches, beautiful, jewel-like blackberries. Then buy all-butter puff pastry, a splash of cream and a handful of brown sugar! And that is all, my friends.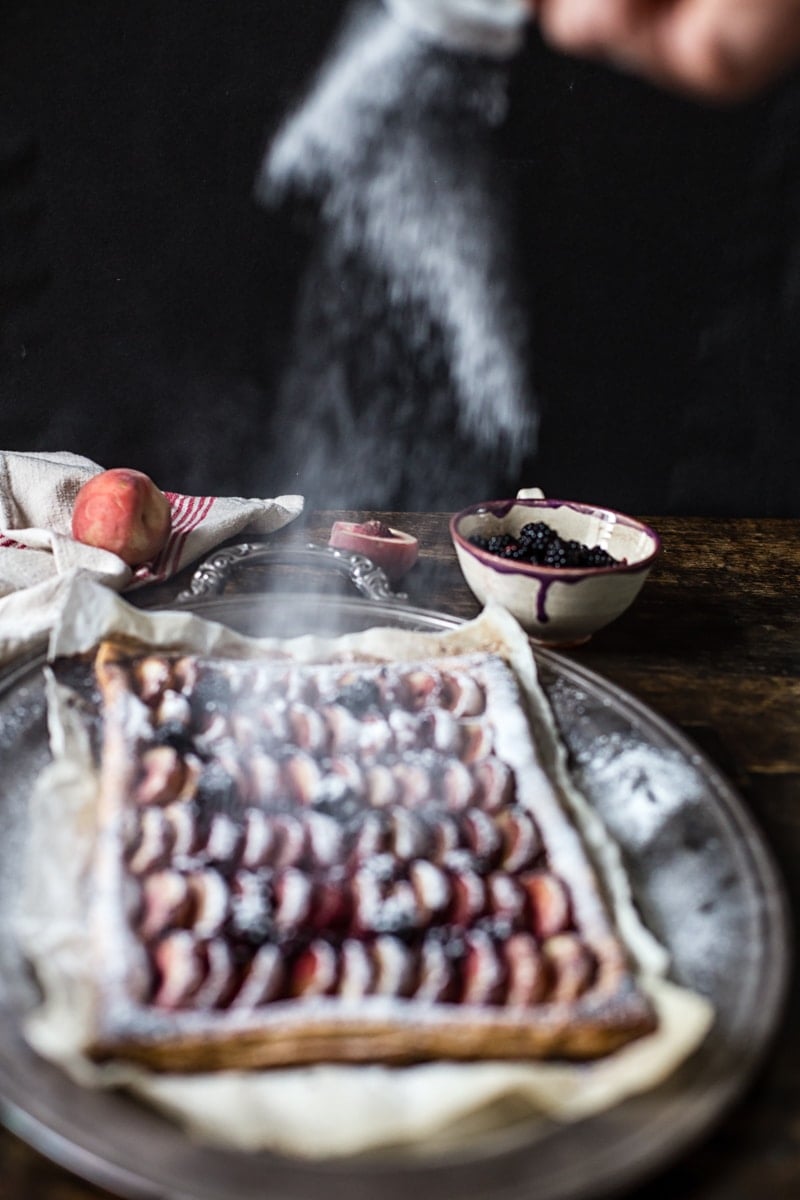 This incredible peach and blackberry tart has the crispiest crust that explodes into hundreds of flakes when you bite into it.
It is loaded with the best of the summer peaches and blackberries that have been caramelised in the oven after being sprinkled with cream and brown sugar.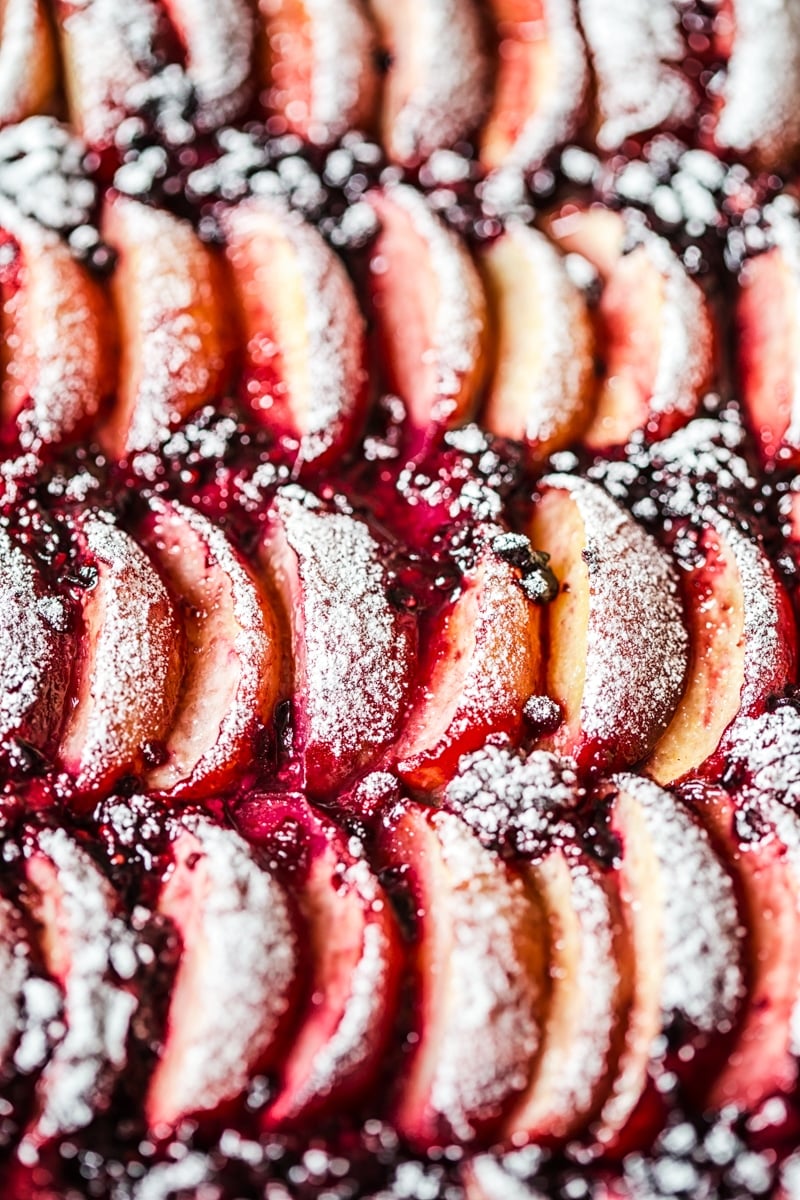 And when your puff pastry is golden and peaches and blackberries are done bubbling away in the oven, put your kettle on and set up a nice table to enjoy this summer goodness before it's over.
You deserve it!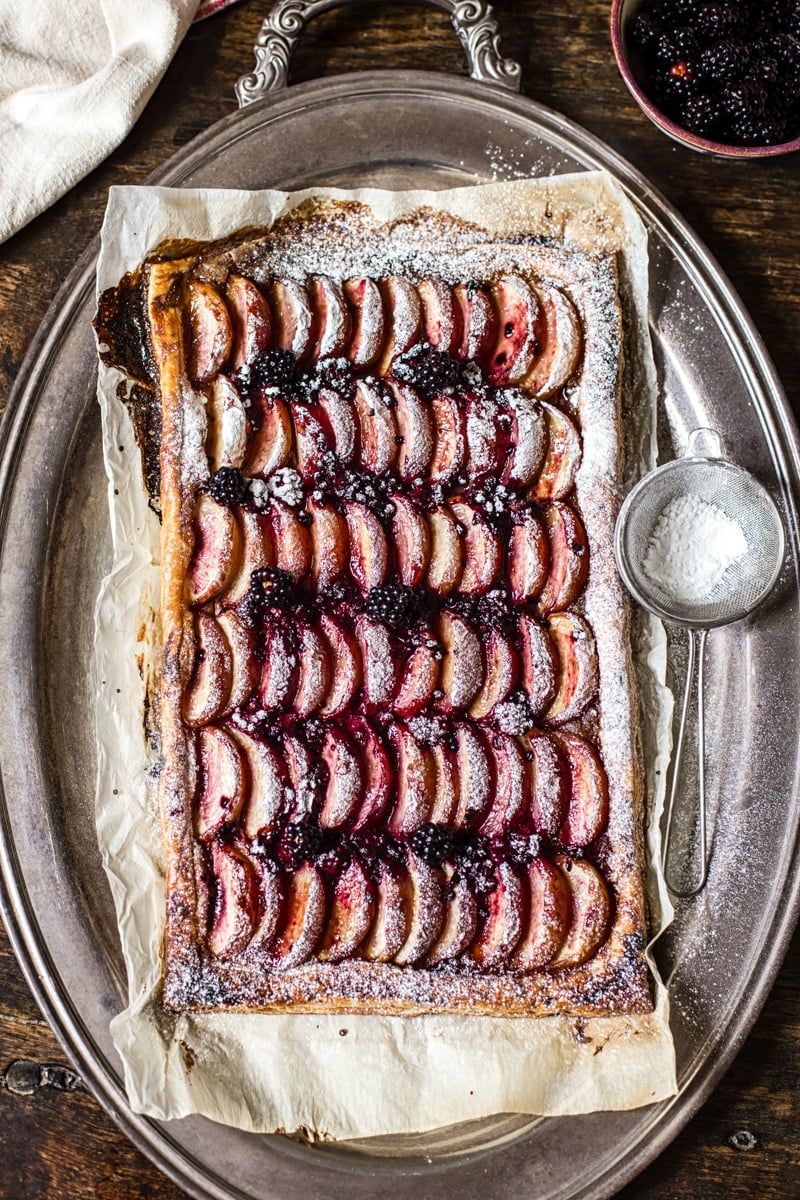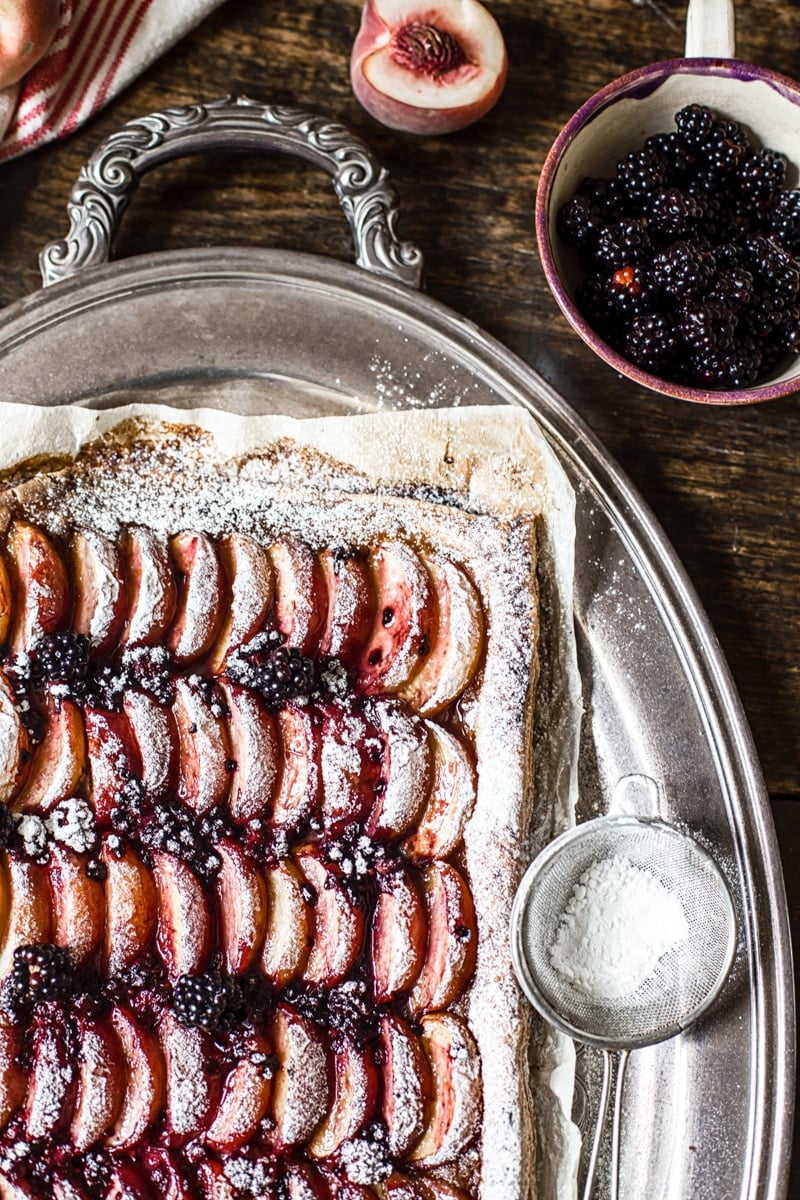 Ingredients
1

sheet/375g all-butter puff pastry

5-6

ripe peaches

sliced

50

g/1/3 cup blackberries

4

tbsp

double cream/whipping cream

4

tbsp

brown sugar

1

egg

beaten
Instructions
Preheat the oven to 190C/375F

Unroll the puff pastry sheet and leave it on parchment paper it was packed in. Score the sides of the rectangle with a sharp knife to create a 1-inch border. Arrange the peach slices in neat rows while leaving the borders uncovered.

Drizzle double cream over the peaches and scatter brown sugar, then top with blackberries.

Bake in the preheated oven for 35 minutes until golden.

Cool slightly, then dust with powdered sugar and serve.