This lemon ricotta cake is intensely lemony with a hint of blackberries that comes from the glaze. This easy cake recipe is delicious and looks quite impressive, especially when baked in a bundt pan.
If you are a fan of baking with ricotta, try our Lemon Ricotta Pound Cake with Cream Cheese Frosting.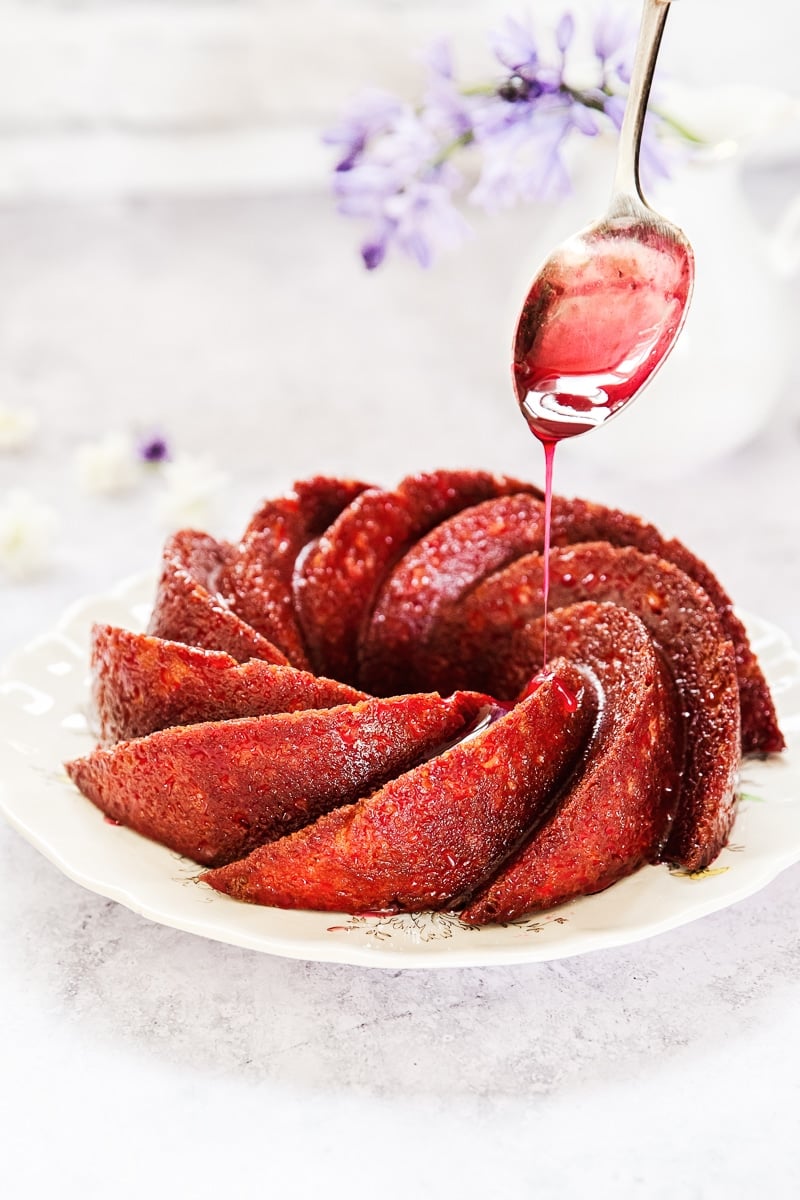 If you are looking to impress someone special in your life, this lemon ricotta cake with blackberry glaze is easy and dramatic looking!
Making a simple, everyday cake in a bundt pan adds so much visual appeal, it's difficult not to admire a creation like that! Drizzling a blackberry glaze over your lemon cake unfuses it with more exciting flavour as well as adds a gorgeous ruby hue.
Both my kids were very impressed when they got home and found this lemon ricotta cake on the kitchen table. My son said, "Wow it looks like a rose!"
And I think he is right on the money there. It does look like a rose, especially with that vibrant blackberry glaze on!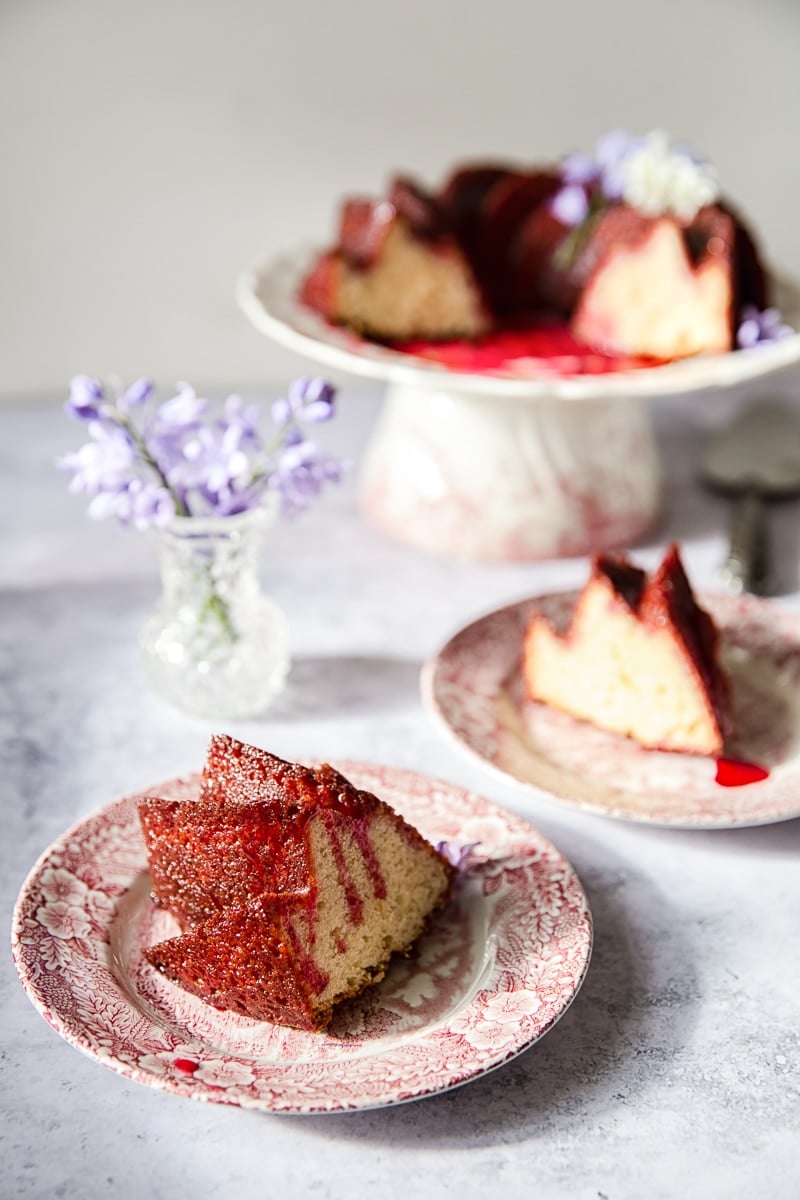 How do I make Lemon Ricotta Bundt Cake?
This cake happens to be one of the easiest ones to make. No multiple layers, no frosting or decorating. Anyone can bake it and it always comes out moist and delicious.
The recipe consists of the common cake ingredient like butter, eggs, sugar, flour as well as baking soda and baking powder for a light texture.
However, there is one more ingredients that makes all the difference.
What is the secret ingredient for moist cakes?
Without a doubt ricotta is the secret behind this showstopper. It adds richness and moisture to the cake without much effort.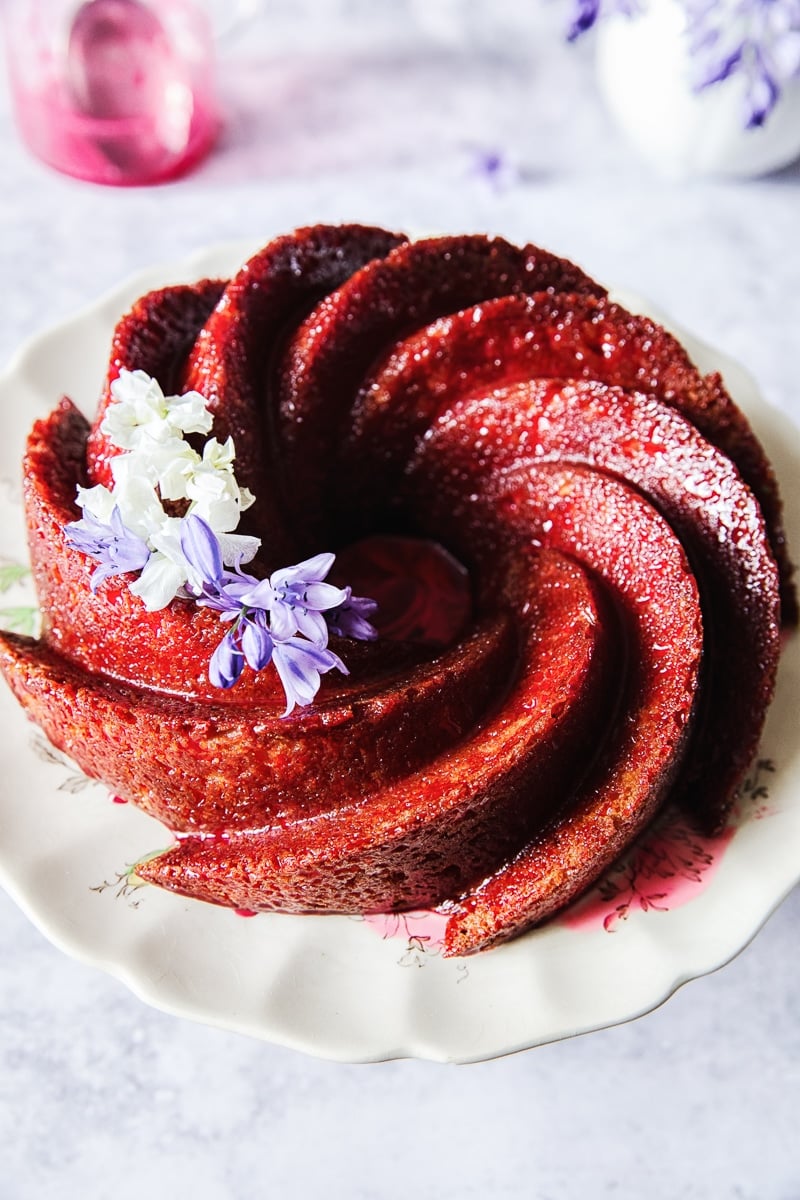 How do I make a blackberry glaze for a cake?
Making berry flavoured glazes are so easy and the best part is they taste natural and delicious.
Simply mash the blackberries with a fork and push the mashed berries through a sieve. Reserve the juice and discard the pulp and seeds.
Then combine the blackberry juice with icing sugar until smooth. Your blackberry glaze is done.
This method works with any berries you might have.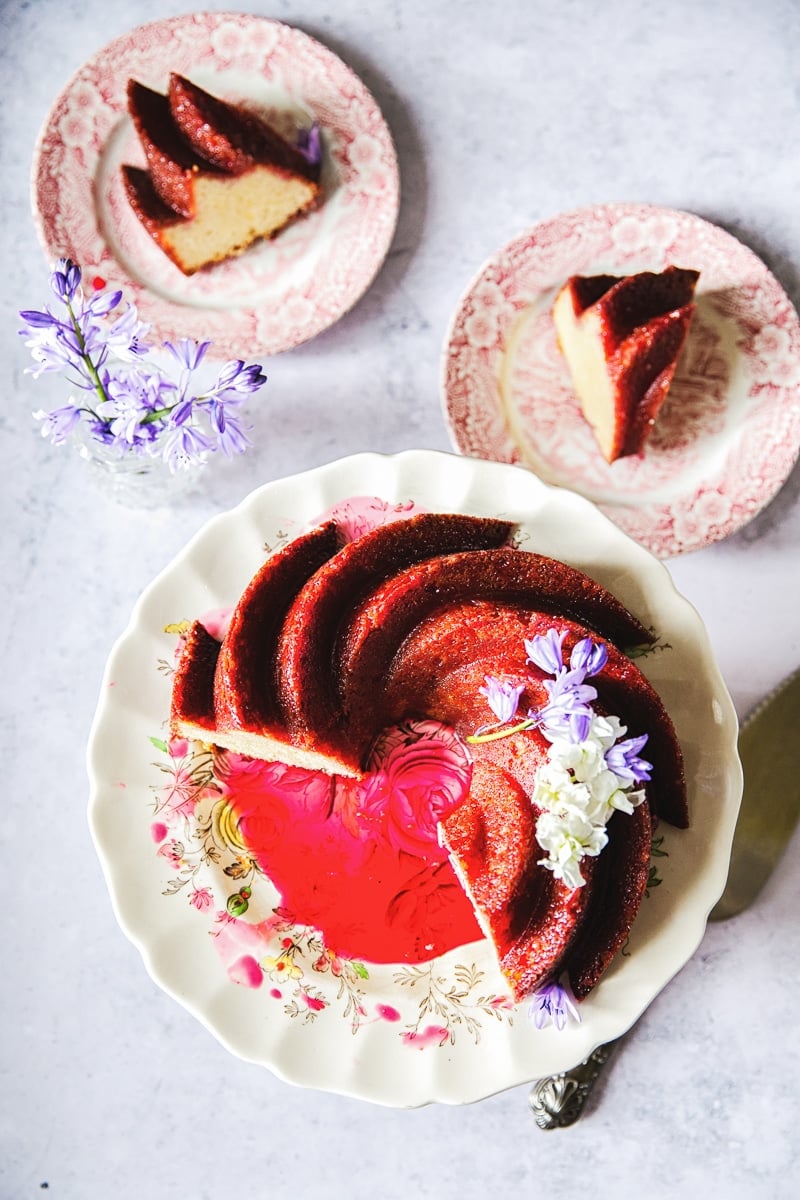 What does lemon ricotta cake taste like?
The cake is intensely lemony with a hint of blackberries that comes from the glaze.
The ricotta cheese gives it richness and moisture. Its buttery crumb is absolutely divine and the striking yellow flesh against the deep red blackberry glaze is so beautiful!
It is truly spectacular, as all ricotta desserts tend to be. You will feel so proud and accomplished serving it to your guests!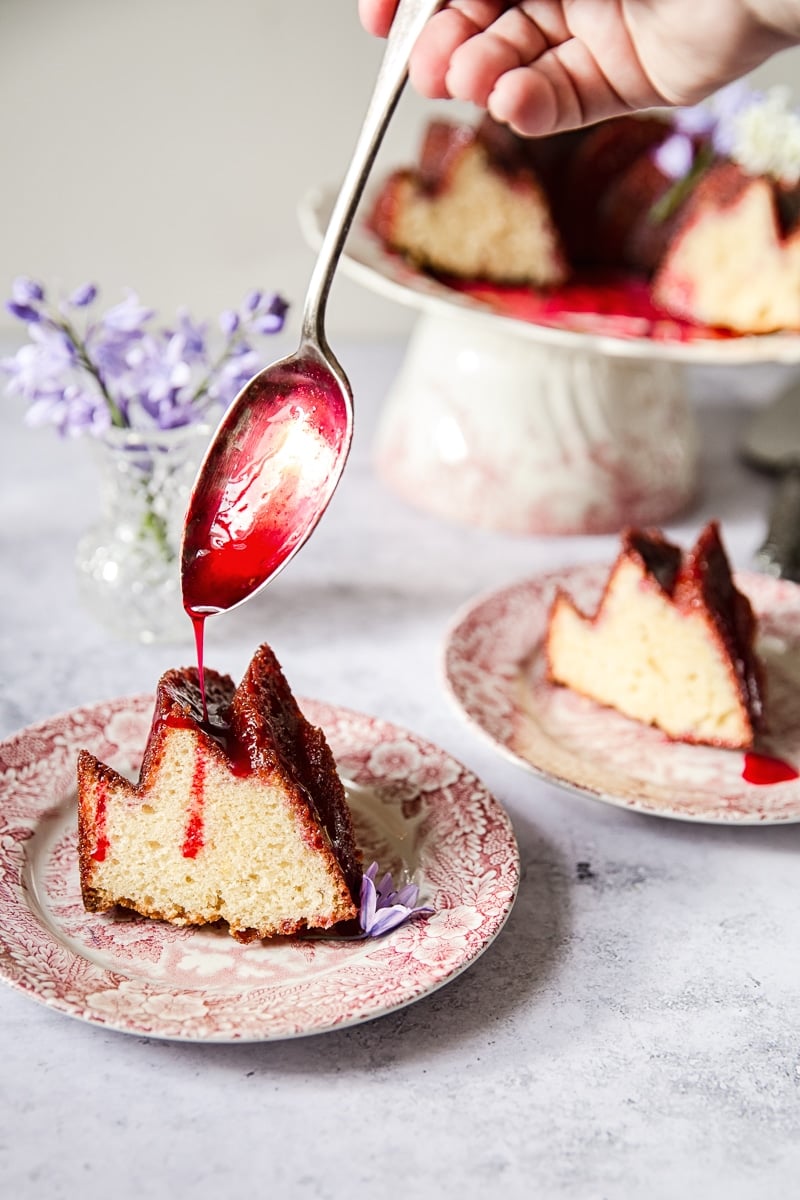 How to cook with ricotta cheese
I freely admit that I absolutely love cooking with ricotta. The flavour and texture that come from adding that magical cheese improve everything instantly whether it's a sweet or savoury dish.
If you are looking to try something easy and delicious, try Spinach Ricotta Pasta with Lemon Butter Chicken as a quick one pan dinner.Or this Almond Crepe Cake with Blood Orange Blossom Ricotta Cream.
Those two recipes show versatility of ricotta. In the first one it's cooked into a delicious savoury pasta sauce and in the second one it serves as a frosting for a cake!!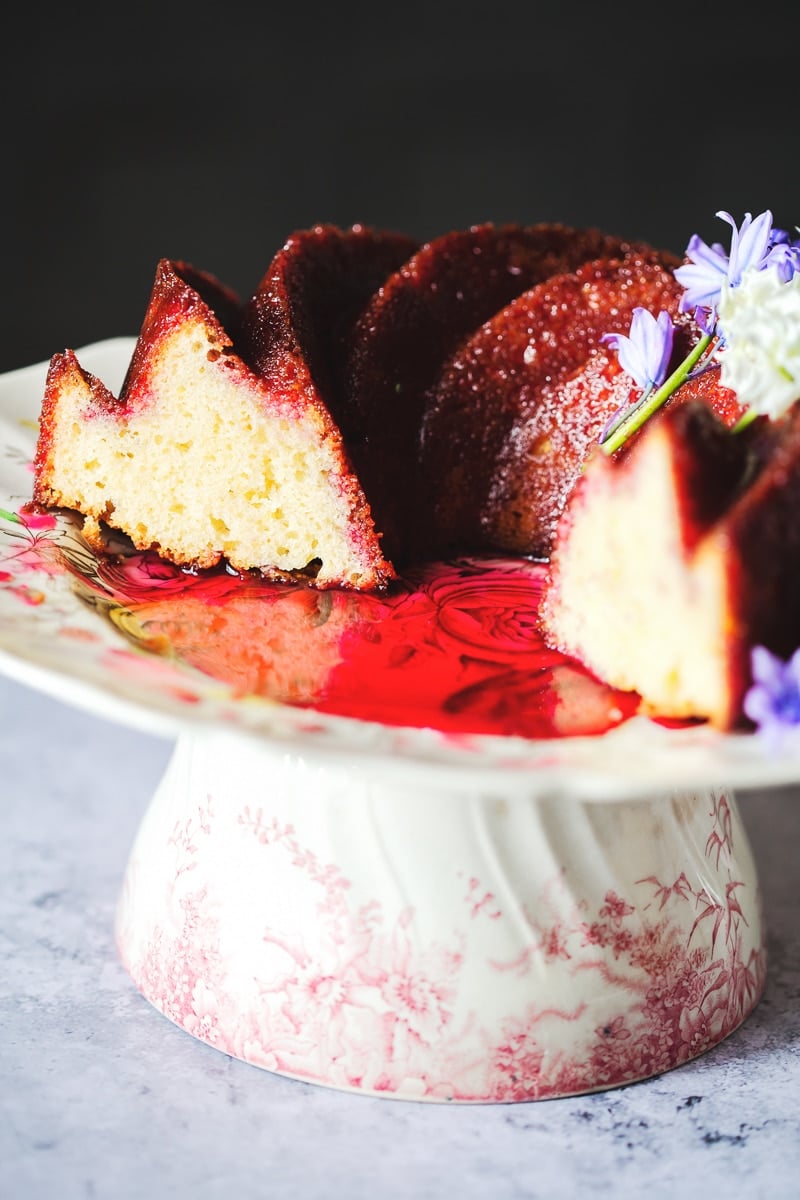 I hope I've convinced you to give this ricotta cake a go. I promise you won't be disappointed.
You can use any berries you have on hand for a glaze. I happened to have blackberries in the freezer but strawberries, raspberries or blueberries will work here beautifully.
More cake recipes with fruit and berries: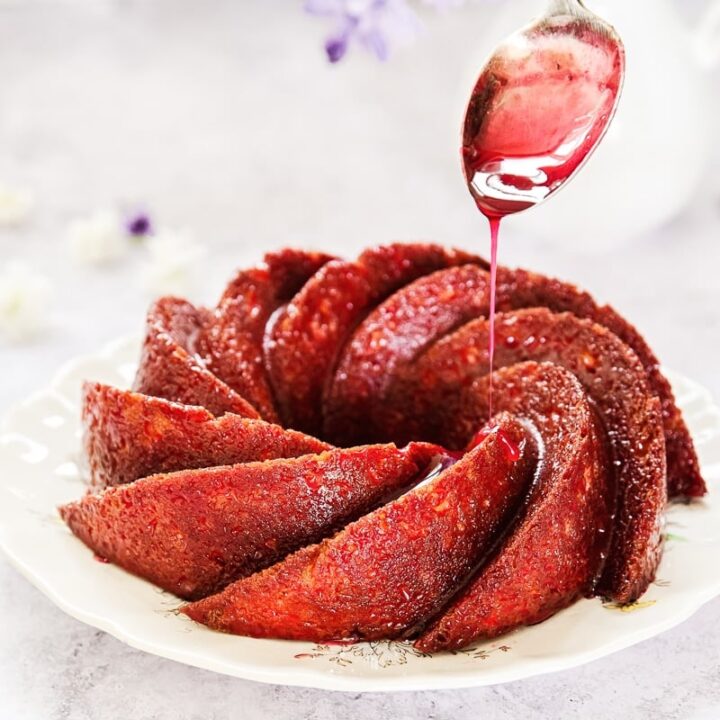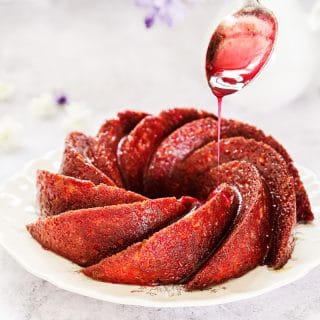 Lemon Ricotta Cake with Blackberry Glaze
Lemon Ricotta Cake with Blackberry Glaze
Ingredients
75g/1/3 cup

butter

softened

165g/2/3 cup

sugar

150g/1/2 cup

ricotta

drained

2

eggs

large

150g/ 1 ¼ cup

all purpose flour

1

tsp

baking powder

½

tsp

baking soda

¼

tsp

salt

1

lemon

zest and juice

1

tsp

vanilla
For the Blackberry Glaze
½ cup

blackberries

fresh or frozen and thawed

100g/1cup

icing sugar

60ml/1/4 cup

boiling water
Instructions
Preheat the oven to 170C/325F and grease the bundt pan.

Beat the softened butter with sugar until creamy on medium speed, add the ricotta and beat until well combined.

Add the eggs and vanilla and beat for a minute longer until well blended. Then add sifted flour with baking powder, baking soda and salt, mix with an electric mixer for another minute, then add lemon juice and zest, mix briefly and pour into the prepared bundt pan.

Bake for 55-60 minutes or until a tooth pick inserted in the middle of the came comes out clean and the cake is golden.

Take the cake out of the oven, let it cool in the pan for 20 minutes then turn it out on a wire rack and let it cool completely.

Once cooled brush with the blackberry glaze.
For the Blackberry Glaze
Mash the blackberries with a fork, then put them through a fine sieve. Reserve the juice and discard the pulp.

In a medium bowl combine the blackberry juice with icing sugar and boiling water, stir until the sugar is dissolved and the glaze is smooth.