Pasta tossed with creamy spinach ricotta sauce with a hint of lemon and garlic, then topped with lemon butter chicken breasts. This one pan dinner deserves all the praise. It scores 10 out of 10 on the delicious scale!
If you like this pasta recipe, you will also enjoy my Pesto Pasta with Grilled Chicken.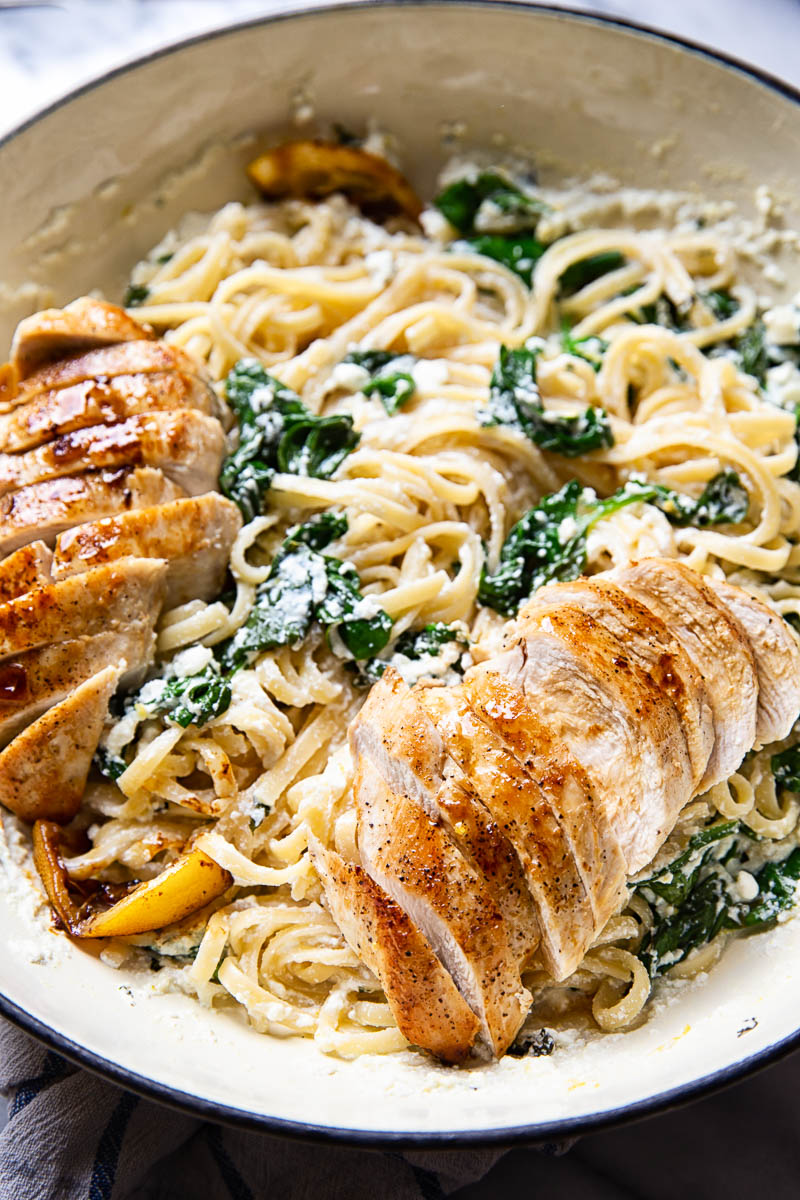 My son is a huge fan of spinach ricotta tortellini. So whenever I am short on time to cook dinner, I often pick up a package. This recipe for spinach ricotta pasta with lemon butter chicken came out of that deep love of his.
I wanted to create a homemade recipe that is easy and equally delicious because let's face it…I am not making homemade tortellini on a regular basis!
Spinach ricotta combination is absolutely classic. It has a mild and creamy taste making ricotta pasta popular with many. It is also quite healthy as ricotta is relatively low in calories but high in protein and spinach is a nutritional powerhouse.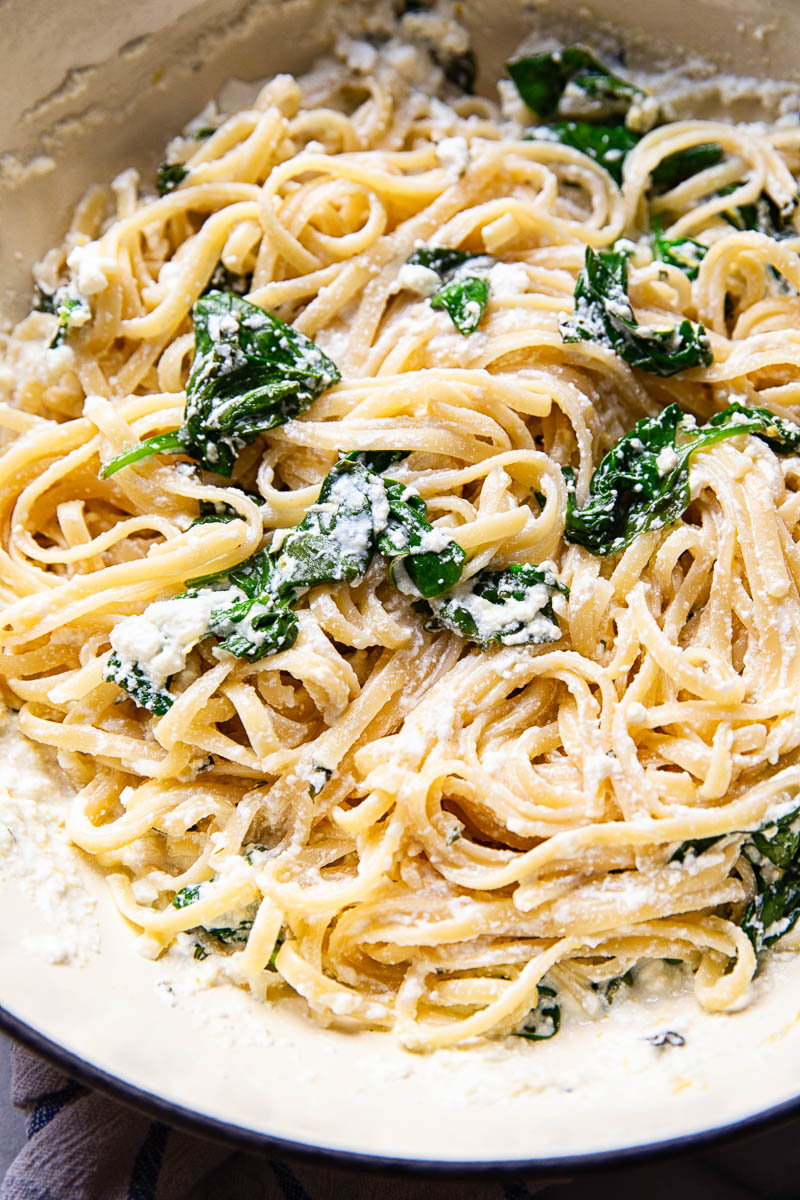 How do I make spinach ricotta pasta sauce?
This pasta sauce is so easy to make and what is even better it tastes creamy but doesn't have all the calories that come with heavy cream.
I've added a healthy portion of garlic, some lemon juice, chopped mint and basil to give this mild sauce a slightly more complex flavour.
All you have to do to whip up lemon ricotta pasta sauce:
Quickly saute sliced garlic in butter, then add lemon zest and lemon juice.
Add ricotta cheese and a splash of pasta water to loosen it, give it a quick stir.
Add fresh spinach, chopped mint and basil, cover with a lid and let the greens wilt for 2 minutes. Take the lid off, stir and add salt to taste. Voila! Your sauce is ready! Just add pasta and serve.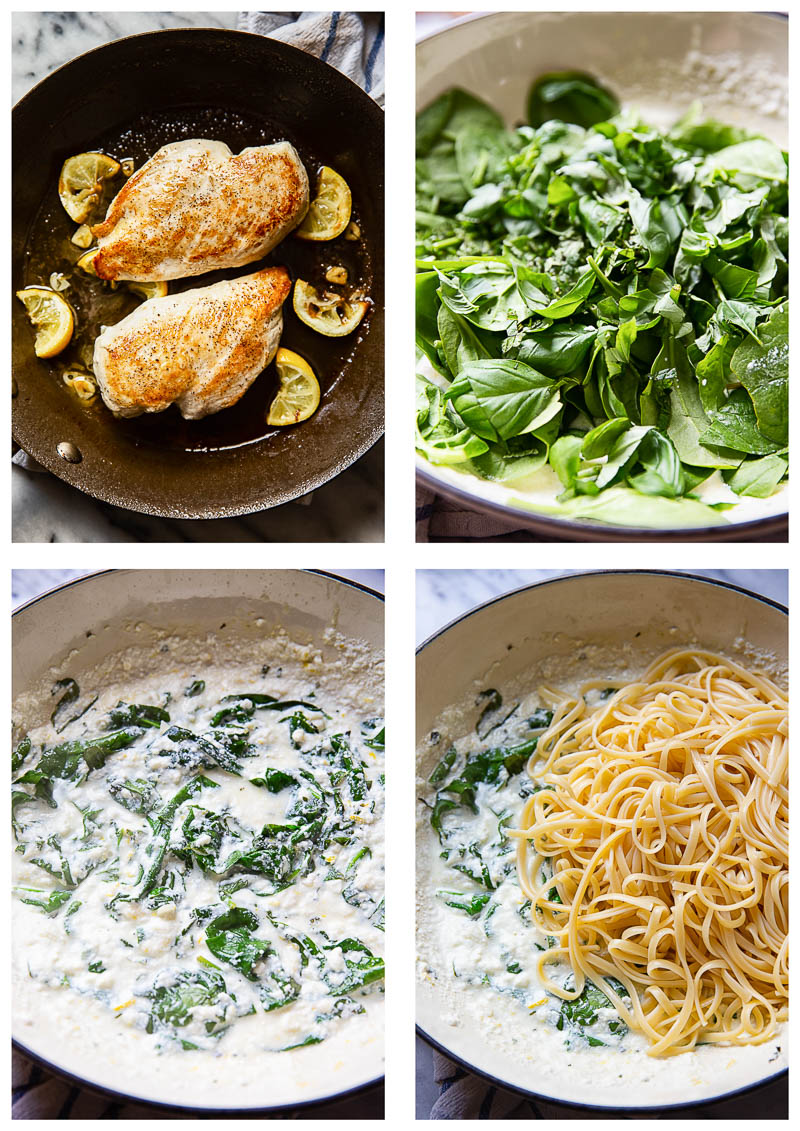 How do I make lemon butter chicken?
Once again this is the simplest recipe I could come up with. Adding chicken to this ricotta pasta is not at all necessary but highly recommended.
You can serve ricotta pasta vegetarian style or you can add this flavour chicken breast cooked in garlicky lemon butter sauce.
Sear seasoned with salt and pepper chicken breasts on both sides until golden.
Add a tablespoon of butter, juice of 1 lemon and a few lemon slices, cover the pan with a lid and cook on low for approximately 10 minutes, baste with juices a couple of times during the cooking time.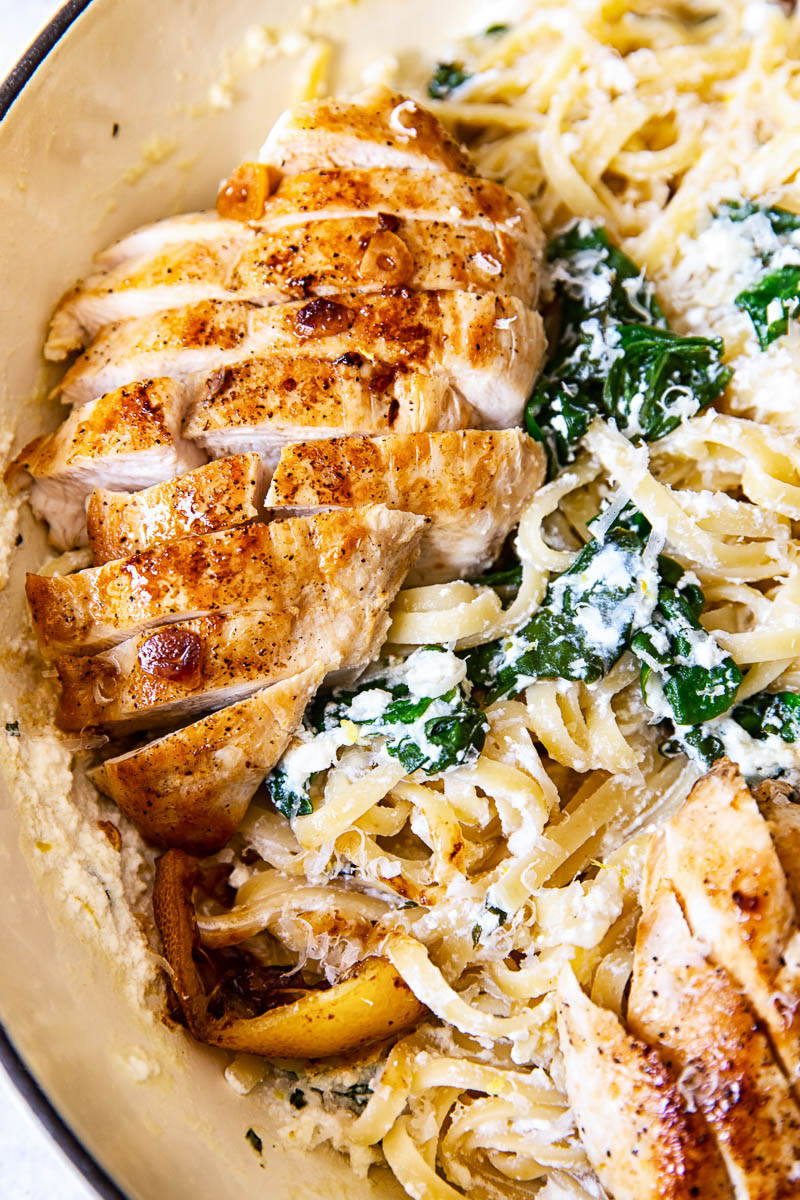 This lemon butter chicken is absolutely delicious on top of spinach ricotta pasta or on its own. You can use this chicken recipe with so many different sides or as a tasty add-on to your salads.
Tips for pan frying a chicken breast
Sear seasoned chicken breasts on high to get a beautiful golden colour.
Turn the heat down, add garlic, butter and lemon juice and continue cooking on low for a juicy interior for approximately 10 minutes. Turn the chicken breasts over once and baste them with the juices a couple of times for maximum flavour.
Remove the chicken breasts to a plate and keep warm until needed.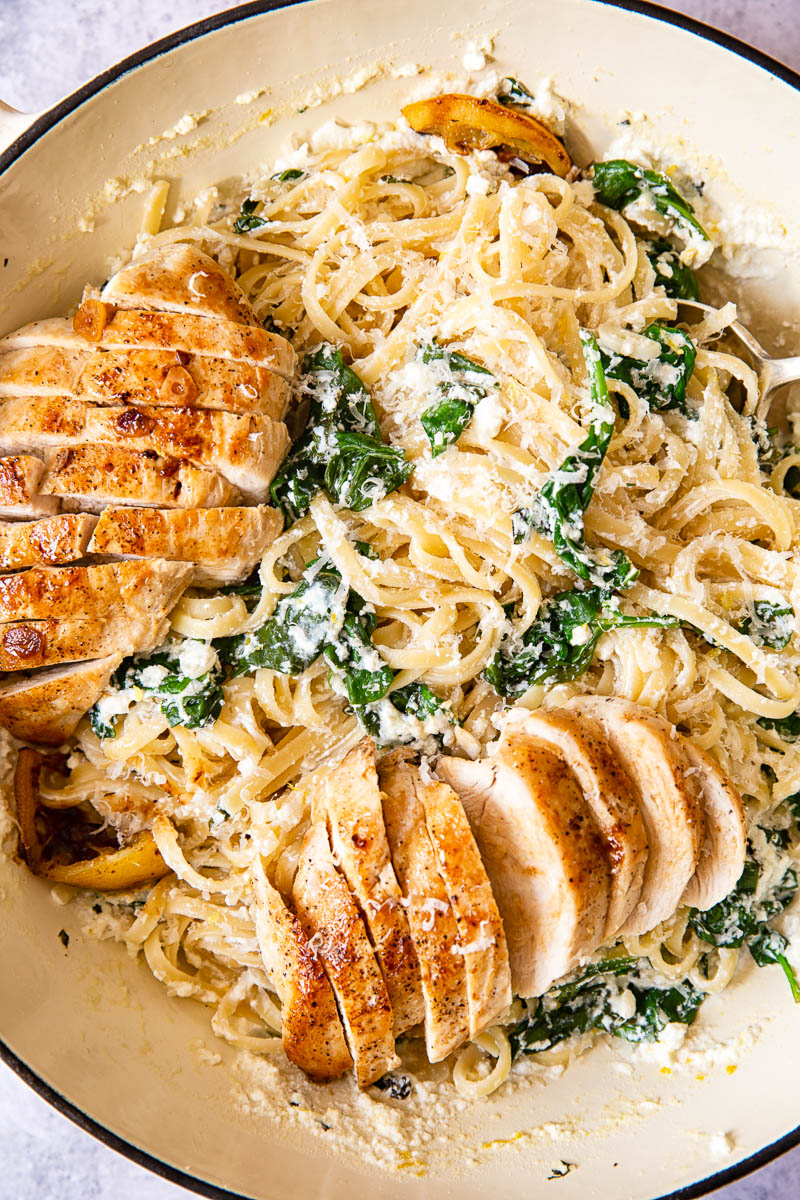 To finish up this spinach ricotta pasta, top with sliced lemon butter chicken breasts and sprinkle with a generous amount of freshly grated Parmesan cheese.
More ricotta recipes: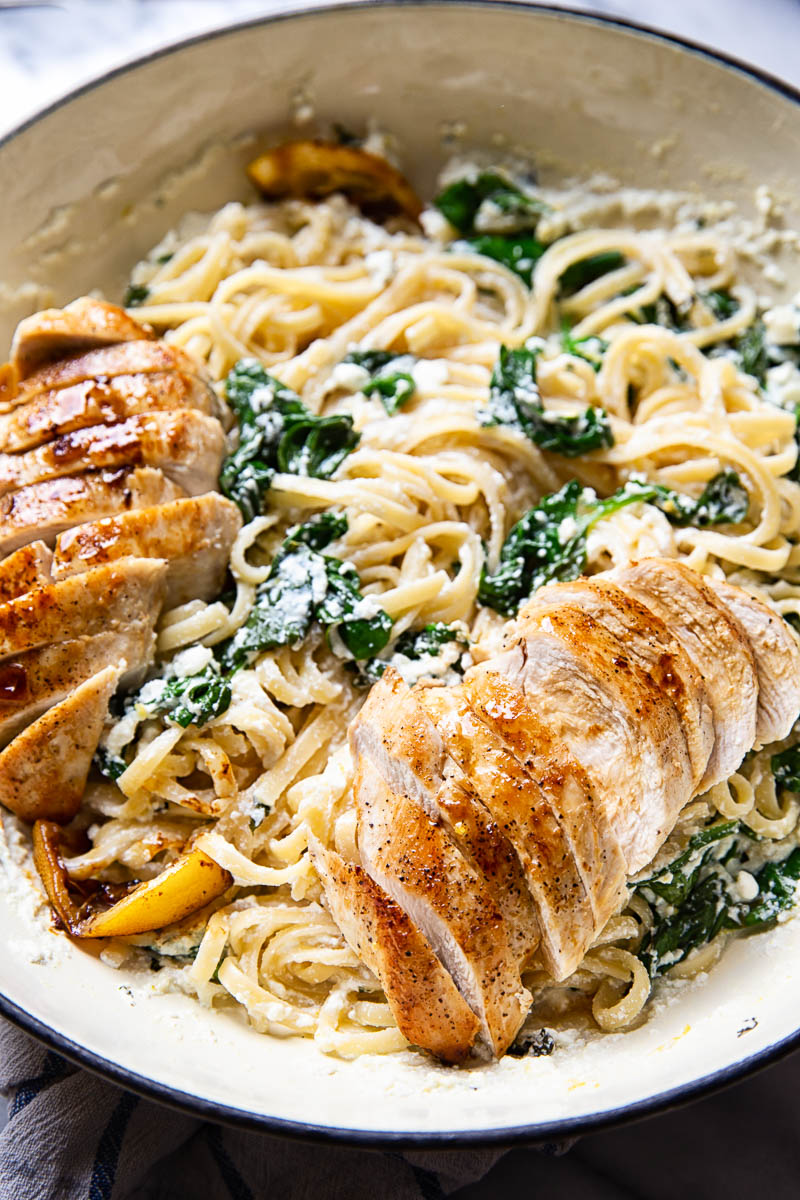 Ingredients
For the lemon butter chicken
1

tbsp

olive oil

2

chicken breasts

skinless and boneless

salt and pepper

1

tbsp

butter

1

clove

sliced garlic

1

lemon
For the spinach ricotta pasta
1

lbs

pasta such as linguine or your favourite

1

tbsp

butter

2

cloves

garlic

1

lemon, zest and juice

250g/1cup

ricotta cheese

125ml/1/2cup

reserved pasta water

100g/2cups

fresh spinach

1

tbsp

fresh chopped mint

or 1 tsp dried mint

2

tbsp

fresh chopped basil

or 2 tsp dried basil

salt

2

tbsp

grated Parmesan cheese for serving
Instructions
For the lemon butter chicken
Season 2 chicken breasts with salt and pepper on both sides. Preheat 1 tbsp of olive oil in a frying pan and sear the chicken breasts on each side until golden.

Lower the heat, then add butter, sliced garlic and let it cook for 30 seconds, then add lemon juice to the pan together with a few lemon slices and stir to combine. Cover the the pan and let the chicken breasts cook on low heat turning them over once and basting them with the juices a couple of times for approximately 10 minutes until no longer pink inside. Remove to a separate plate and keep warm till needed.
For the spinach ricotta pasta
Cook the pasta according to package directions in a large pot of salted water.

While the pasta is cooking melt 1 tbsp butter in a large pan, add sliced garlic and cook for 30 seconds on low heat, then add lemon zest and lemon juice, ricotta cheese and ½ cup of pasta water. (Just ladle some from your pasta pot.) Mix everything until the ricotta is well incorporated.

Add fresh spinach, chopped mint and basil, cover with a lid and let the greens wilt for 2 minutes. Then take the lid off and stir everything to combine, add salt to taste.

Drain the pasta and add directly to the pan with spinach ricotta sauce, toss to combine. Slice the lemon butter chicken and place on top of pasta. Sprinkle with grated Parmesan cheese and serve immediately.
Nutrition Facts
Spinach Ricotta Pasta with Lemon Butter Chicken
Amount Per Serving
Calories 766
Calories from Fat 207
% Daily Value*
Fat 23g35%
Cholesterol 121mg40%
Sodium 324mg14%
Potassium 844mg24%
Carbohydrates 91g30%
Protein 48g96%
Vitamin A 1770IU35%
Vitamin C 23mg28%
Calcium 229mg23%
Iron 2.6mg14%
* Percent Daily Values are based on a 2000 calorie diet.