If you haven't made a crepe cake before, now is definitely the time!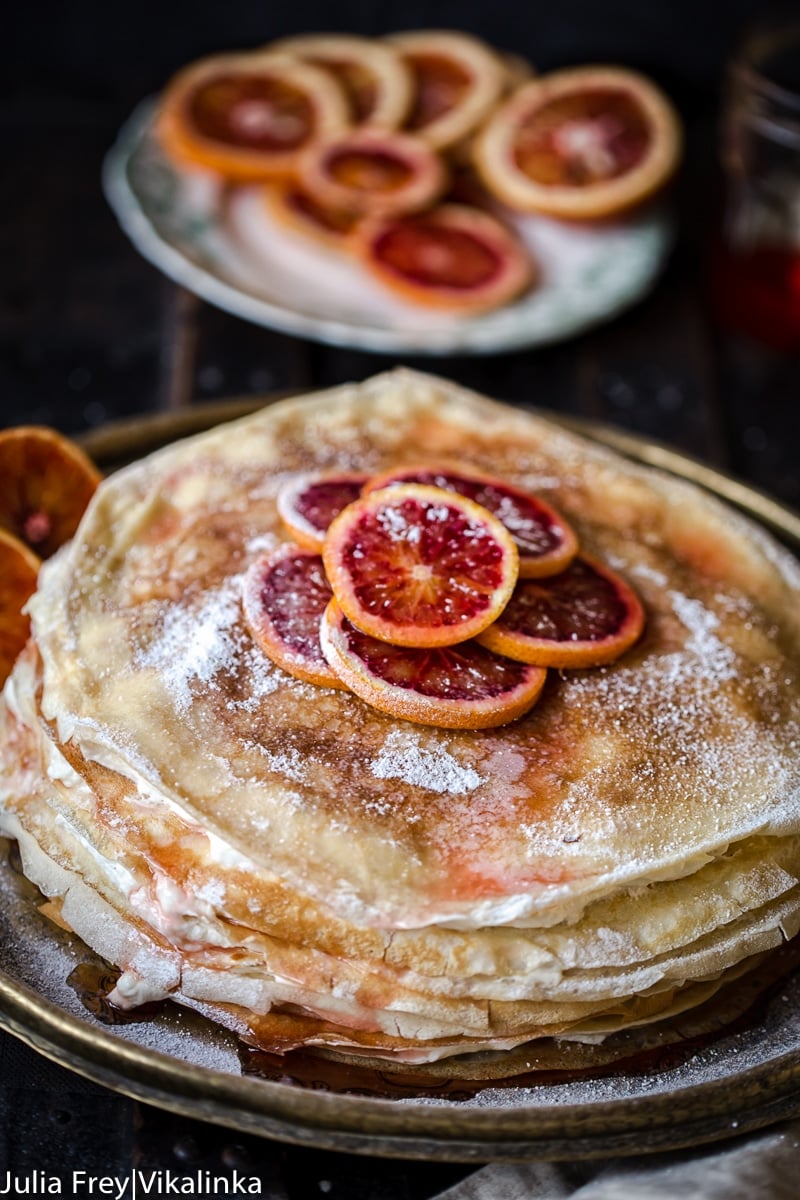 Ah Pancake Day!! Is it a holiday, is it yet another excuse to indulge? Who knows, and most importantly who cares, when you have a crepe cake filled with the most delicious blood orange blossom ricotta cream staring you in the face?!? Definitely not my crew! This crepe cake has been polished off so quickly at this point only sweet memories remain!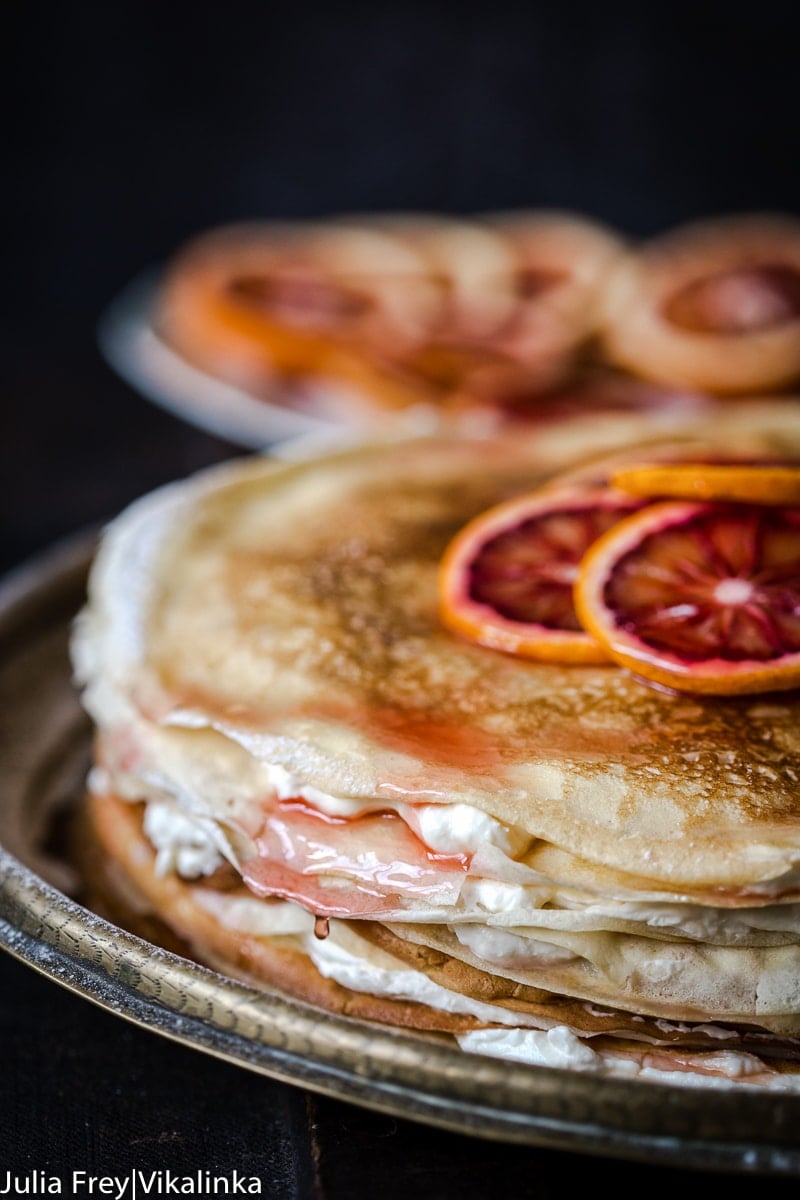 And wouldn't you too if had these paper thin crepes smothered with ricotta cream, drenched in a blood orange syrup and stacked sky high?? I have to admit I couldn't resist sinking my teeth into it as soon as I was done photographing it! I am so relieved Vika was home and I could share it with her, otherwise…dangerous!
Why so good you might ask? Well, it's not my first crepe cake and I have made crepes for as long as I remember. First with my mom as a little girl, then as a teenager on my own for the whole family, and I still make them for my family now. I have written about my mom's crepe recipe, as well as here and here.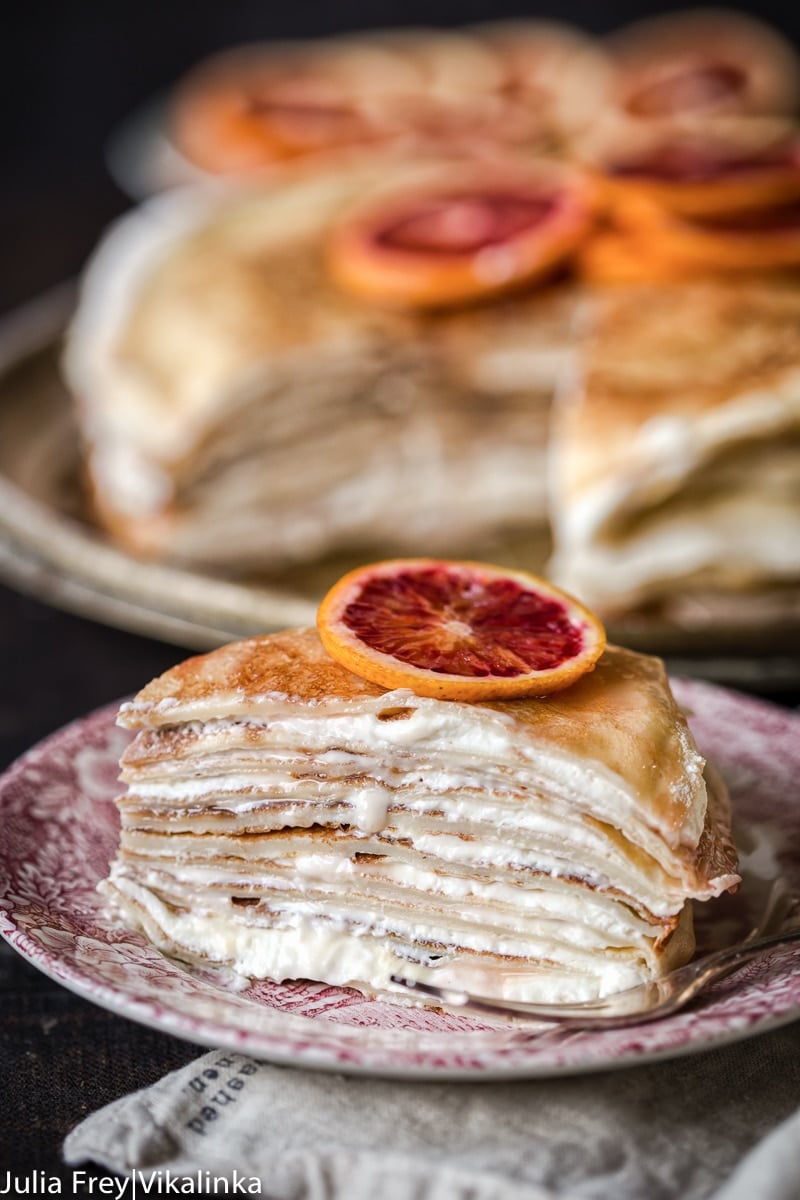 But this one is my favourite! I am often enthusiastic about a new creation but this crepe cake combines everything that I adore. Delicate almond- flavoured crepes and creamy ricotta, that's been hit with a bit of homemade blood orange syrup and orange blossom. You might even think it's too much, BUT it's not! All flavours dance together beautifully! You definitely need to make this crepe cake to find out for yourself. I was a little surprised by how much I loved it, considering I am NOT a huge orange fan, but blood oranges and almond flavour created something far more delicate than I could've expected.
Finally, you can just make the crepes and serve the blood orange blossom ricotta cream on the side! Less of a faff, same amazing taste!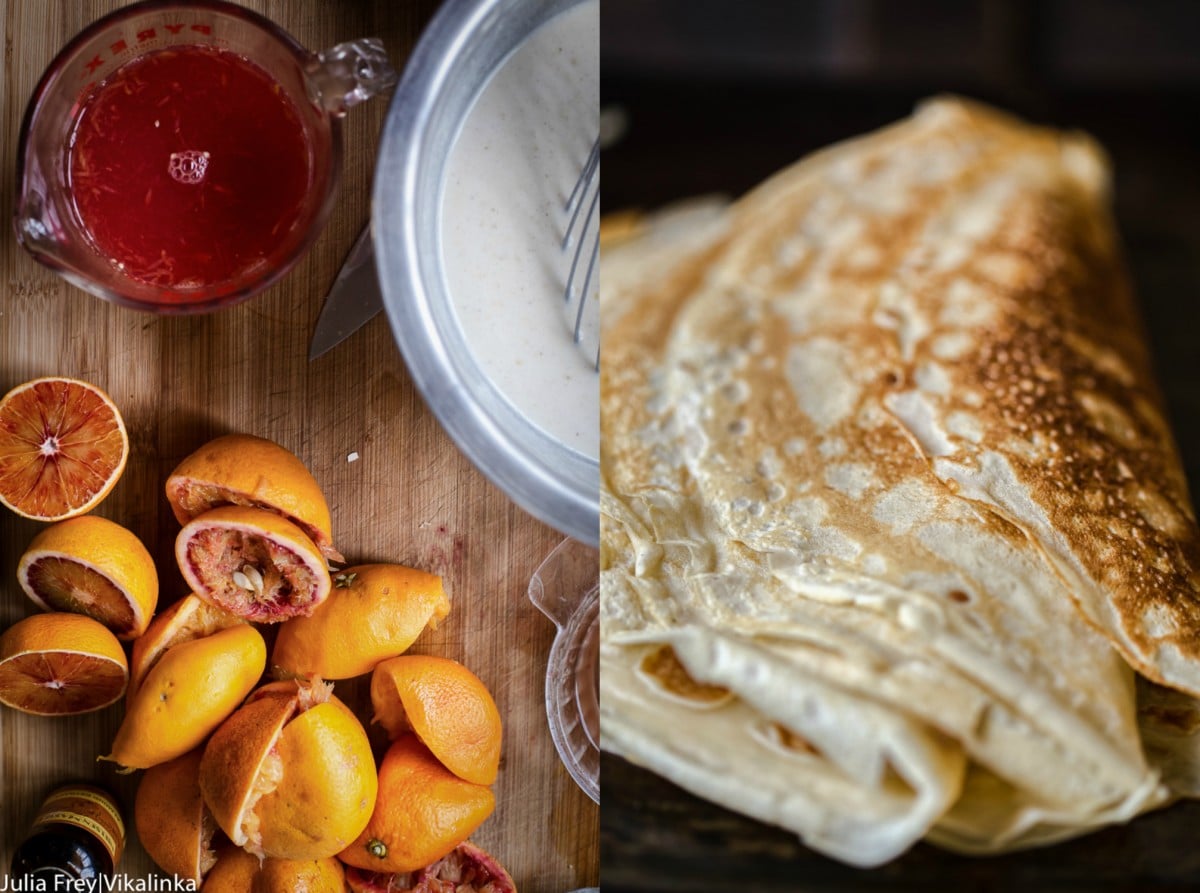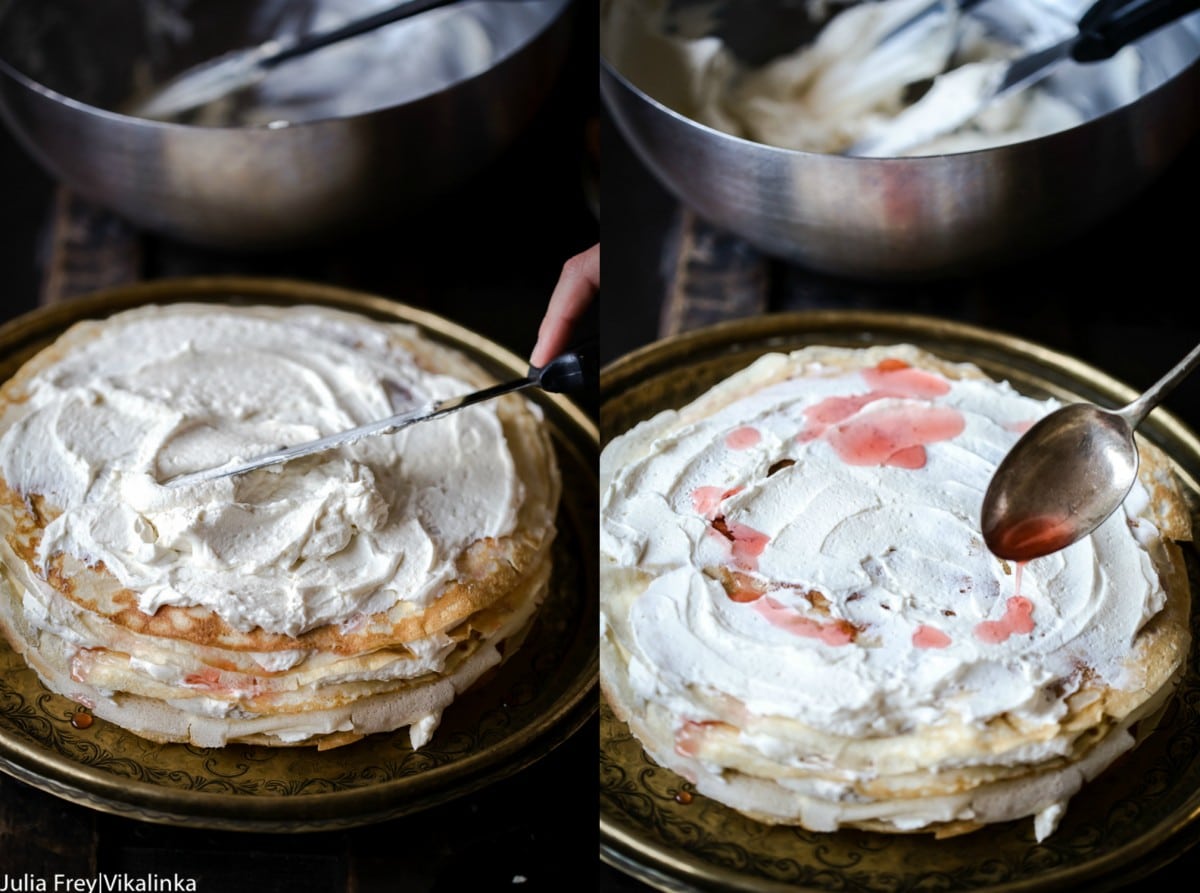 If you have never made crepes before, fear not, the crepe recipe I am sharing today has been tested by me and vouched for. Don't let glossy food magazines and Food Network shows lead you to believe crepes are the territory of skilled chefs or the French! Although the crepes and the French go together very well, it's not fair to say they invented them, as these paper thin pancakes exit in almost every country. Sweet or savoury!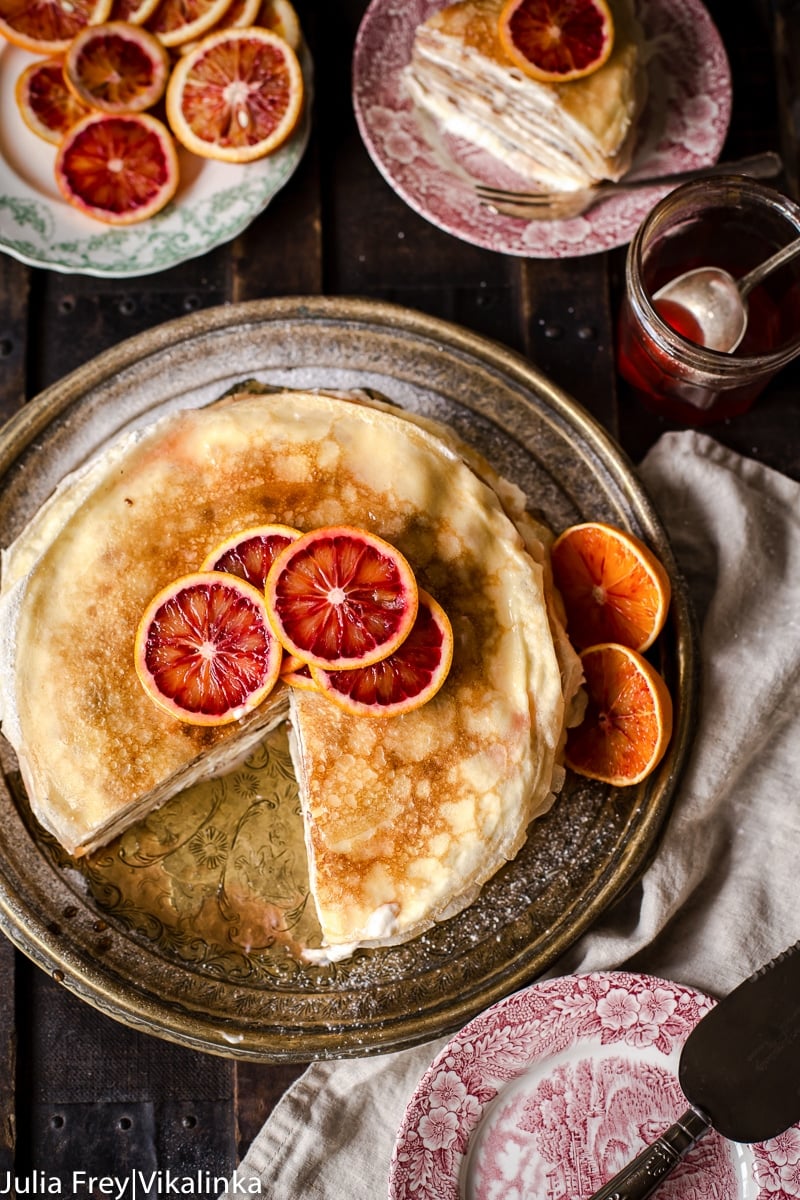 Here are a few tips on how to make better crepes
After you mix the batter, let it stand for 3o minutes. It helps to achieve a smoother batter and consequently smoother crepes.
Flavour your batter with either good vanilla or almond, or both! It elevates a humble pancake to something luxurious, worthy to be a cake! 😉
Heat your frying pan well before pouring the first crepe in.
Pour a little bit of oil in a small bowl, dip balled up paper towel in and rub all over the frying pan. Repeat between each crepe.
Finally for best results choose a heavy bottomed, well-seasoned cast iron frying pan or a good non-stick one and a thin edge spatula for flipping.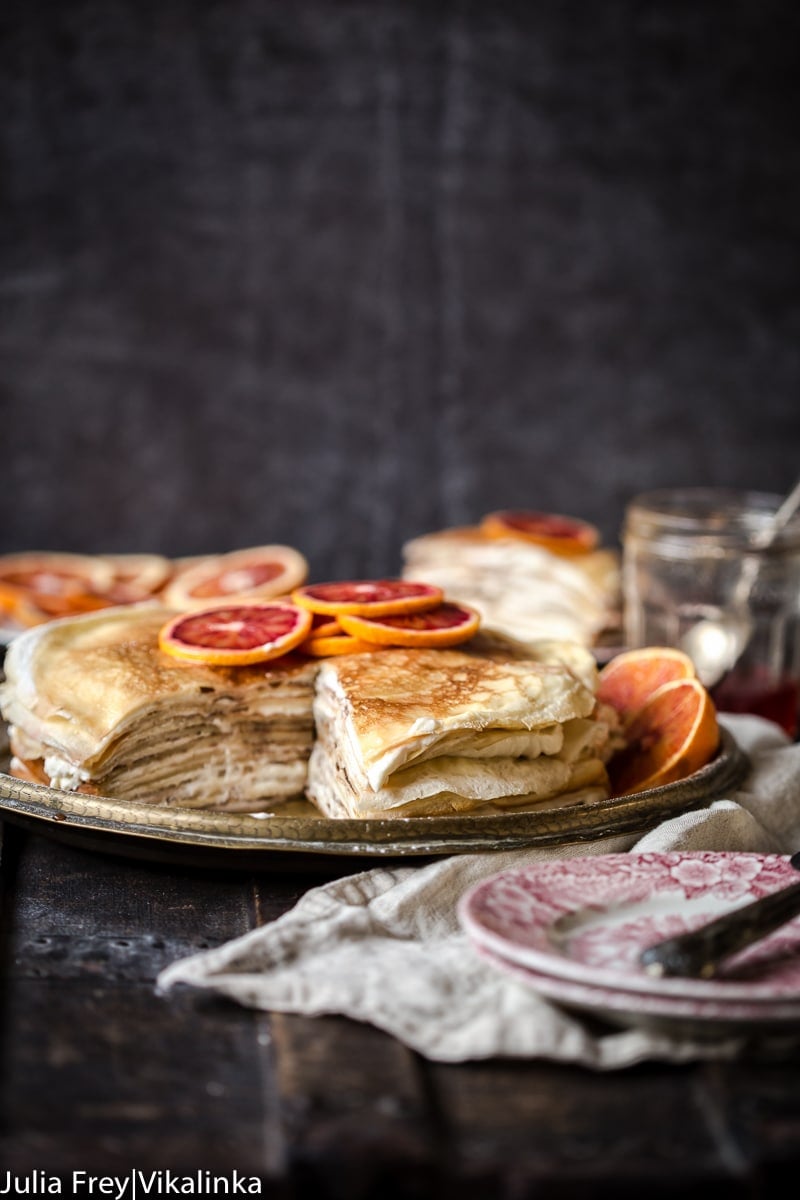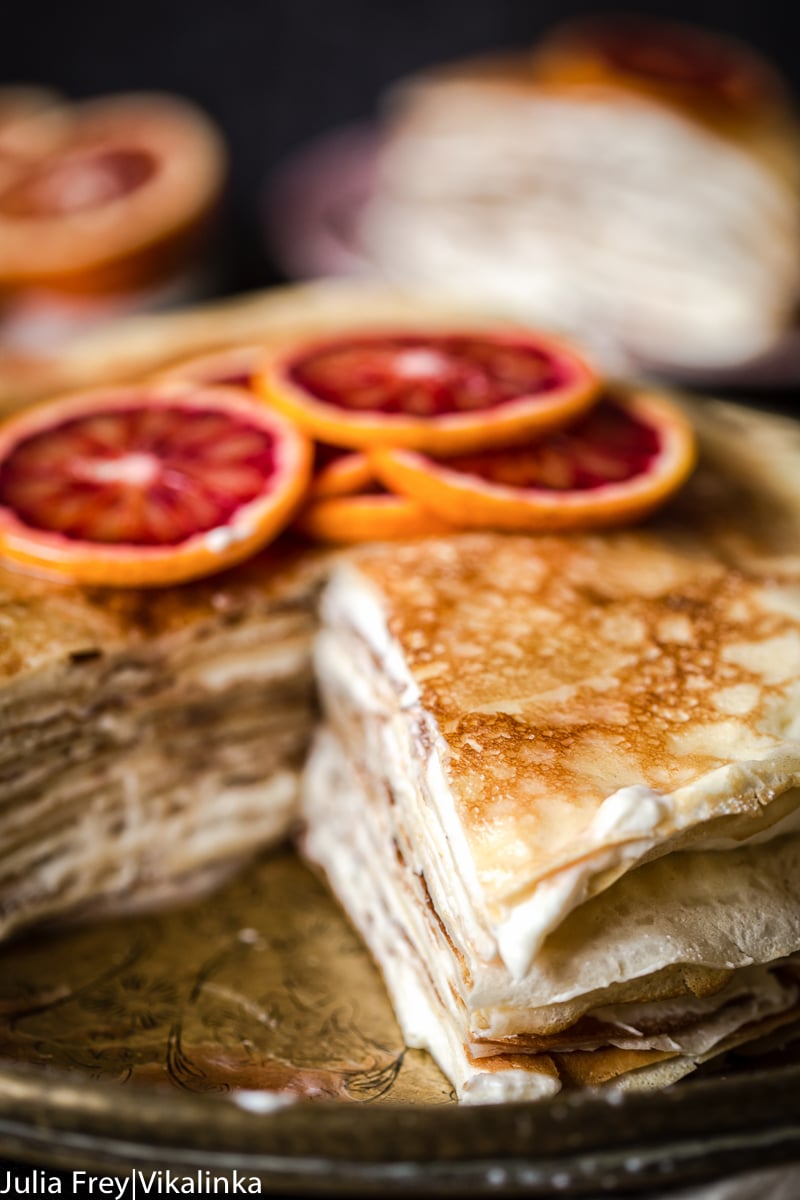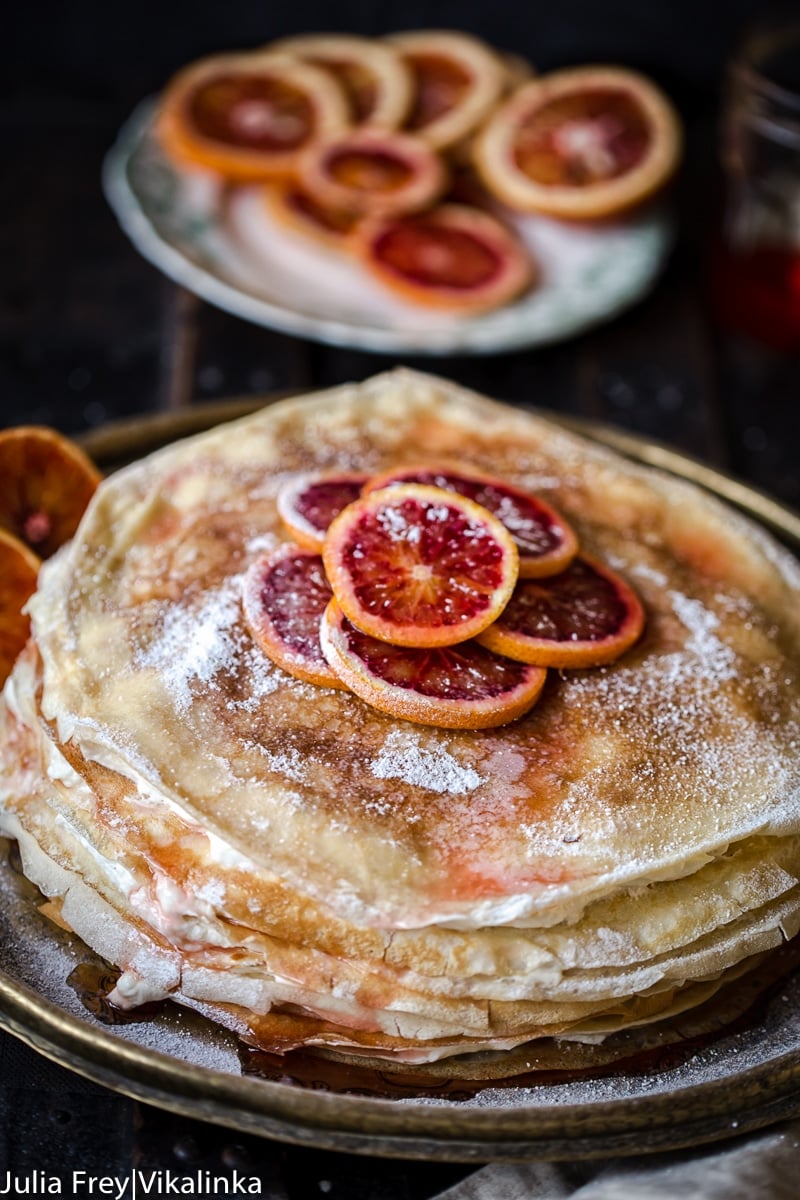 Ingredients
For the Blood Orange syrup
1

cup/250ml blood orange juice

freshly squeezed

1

cup/200g sugar
For the Almond Crepes
1 ½

cups/ 210 g all-purpose flour

3

tbsp/40 g sugar

½

tsp

baking powder

¼

tsp

salt

3

eggs

2 ¼

cups

/560 ml milk or soy milk

½

tsp

vanilla extract

½

tsp

almond extract
For the Blood Orange Blossom Ricotta Cream
2

cups/500g ricotta

¼

cup/ 4 tbsp blood orange syrup

1

cup/250 ml heavy/double cream

¼

cup/30g powdered sugar

1

tsp

orange blossom water

1

blood orange

sliced thinly

powdered sugar
Instructions
For the blood orange syrup
Juice the blood oranges and combine the juice with sugar in a saucepan, bring to a boil, let it bubble away for 5 minutes on medium heat.

Remove from the heat and let it cool completely. When cooled strain into a jar or a bottle.
For the crepes
In a large bowl combine flour, sugar, baking powder and salt. Crack eggs into the mixture and pour in 1 cup of milk. Mix everything with a whisk, then add remaining milk, vanilla and almond flavourings, mix well. Let it sit for 30 minutes.

Heat the frying pan on medium heat. (Read the tips on making better crepes in the post!!) Rub the frying pan with a little bit of oil and pour ⅓ cup of crepe batter in the pan, tilt the pan to let the batter run to the edges.

Cook each crepe until the surface looks dry, approximately 1 minute, then flip with a thin-edged spatula and cook for 20-30 seconds on the other side. Repeat until all better is gone. You will have 12 crepes if using an 9 inch/23 cm frying pan.

Stack crepes on top of each other and let them cool completely.
For the Blood Orange Blossom Ricotta Cream
Combine ricotta and blood orange syrup in a food processor and pulse for a few seconds for a smoother texture.

To a medium bowl add heavy/double cream with powdered sugar and orange blossom water, whip until stiff peaks form with an electric mixer.

Gently fold half of whipped cream into ricotta with a spatula, then fold in another half.
To assemble the crepe cake
Choose a pretty plate or a cake stand and place the first crepe on it, spread approximately ¼ cup of the blood orange blossom ricotta cream with a spatula, drizzle with 1 tbsp of blood orange syrup. Repeat until all crepes are gone.

Drizzle the top of the crepe cake with additional blood orange syrup, decorate with blood orange slices and refrigerate for at least 1 hour for the cream to firm up and for the cake to soak up all the flavours.

Dust with more powdered sugar right before serving if desired.

Note: Orange Blossom water is NOT the same as orange essence. Don't skip it as it adds a beautiful flavour and fragrance to the crepe cake.