These blueberry and limoncello cheese filled crepes aka blintzes are a perfect treat for a special breakfast or brunch. Everyone will enjoy them filled with delicious ricotta flavoured with Italian limoncello and topped with blueberries.
Can't get enough of crepes? Try my Almond Ricotta Crepe Cake!
Happy Pancake Day, friends! I am almost as excited as my kids who can barely wait to get home from school and fill their bellies with warm and tasty pancakes. Will you be eating pancakes tonight as well?
We usually indulge in cheese blintzes, which are traditional to the part of world I grew up in!
What is blintz?
Blintz is a nothing more but a thin pancake also known as a crepe. The biggest difference between a blintz and a crepe is the country of origin. We all associate crepes with France while blintzes come from Eastern Europe.
In Russia they are often served filled with sweet cheese and a side of jam or sour cream. Blintzes or blintzy, which is another variant of the Russian word "blini" are incredibly delicious and, although often served for a breakfast or brunch, could easily pass as dessert!
I was lucky enough to grow up eating them and inherit the best recipe from my mother. Now it's my turn to spoil my kids!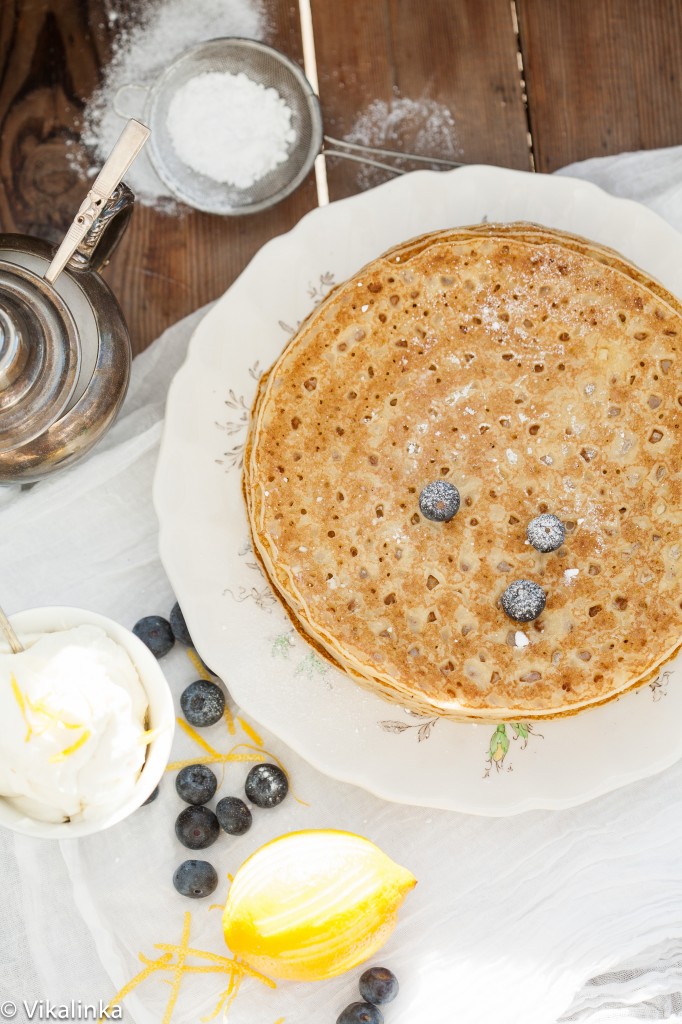 I have to admit we haven't always observed this tradition of Shrove Tuesday, the day before the great Lent begins, but it's such a big thing in England. EVERYONE, we know will be eating pancakes today.
It didn't take much convincing for us to jump on that bandwagon. And here we are as thrilled as ever in anticipation of mounds of pancakes or in our case sweet ricotta filled blintzes for dinner.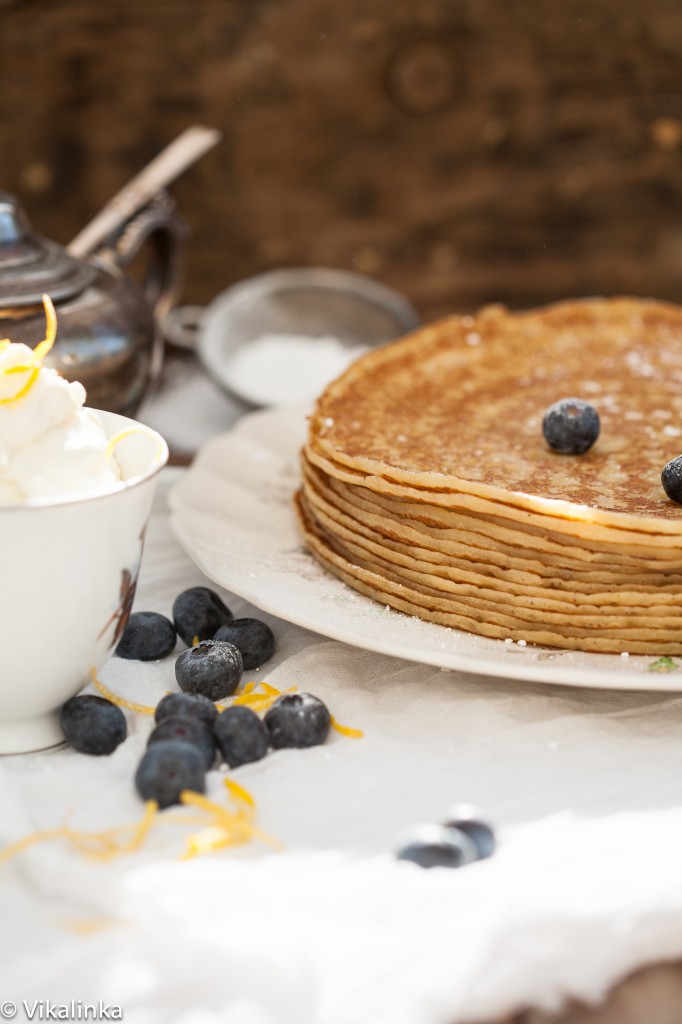 How to make blintzes
I couldn't miss this brilliant opportunity to share our favourite family crepe recipe aka Blini, filled with creamy farmer's cheese Tvorog or sometimes spelled Twarog.
I've written about this wonderful cheese before and shared my syrniki recipe made with it. This curd cheese is similar to ricotta in texture but slightly more tangy than its Italian counterpart.
The recipe for blintzes are very easy and not too different from a crepe or a pancake. The batter consists of flour, eggs, milk or buttermilk, a touch of oil or butter and a rising agent to keep your blintzes light and lacey. The consistency of the batter should be quite runny and similar to heavy cream.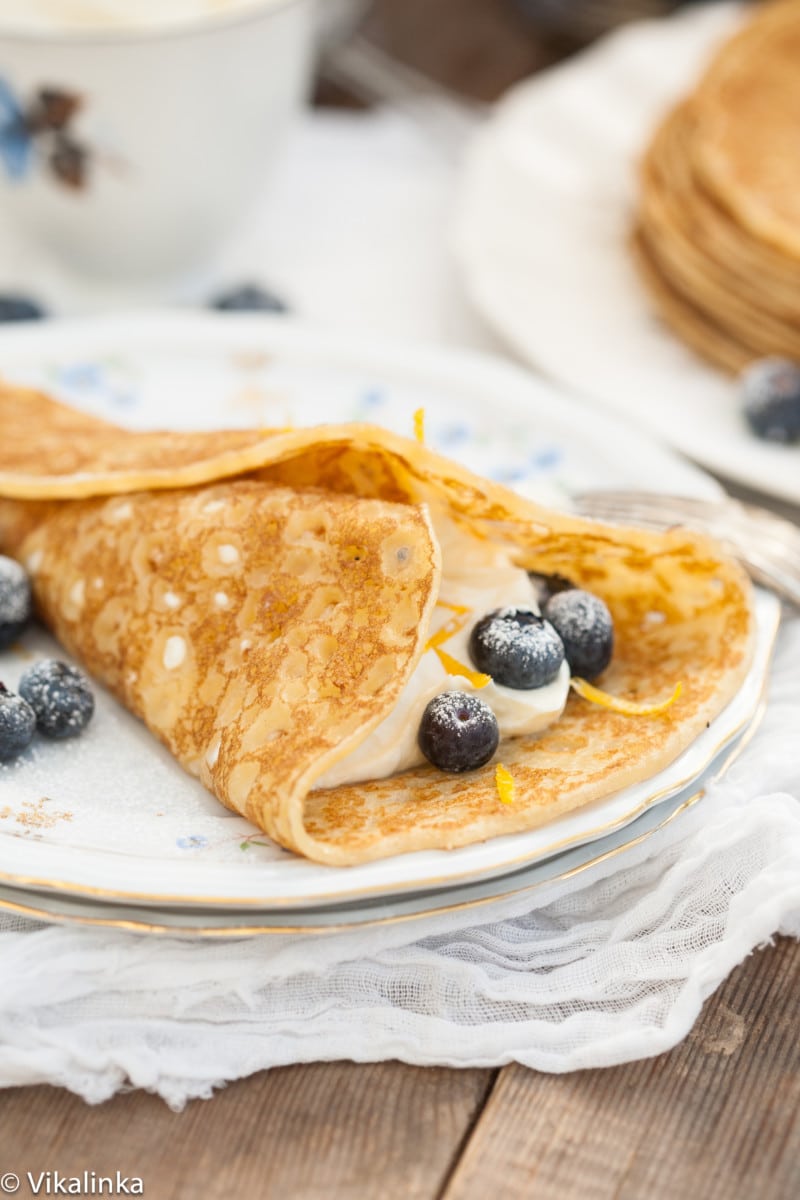 My tips for making best thin crepes
Add the wet ingredients gradually to keep the batter lump free or use a blender.
Use either a good non-stick frying pan or a well-seasoned cast iron pan for easy flipping.
Bunch up one sheet of paper towel, dip it in oil and rub the the frying pan with with between each crepe.
Do not flip a crepe until the top is dry.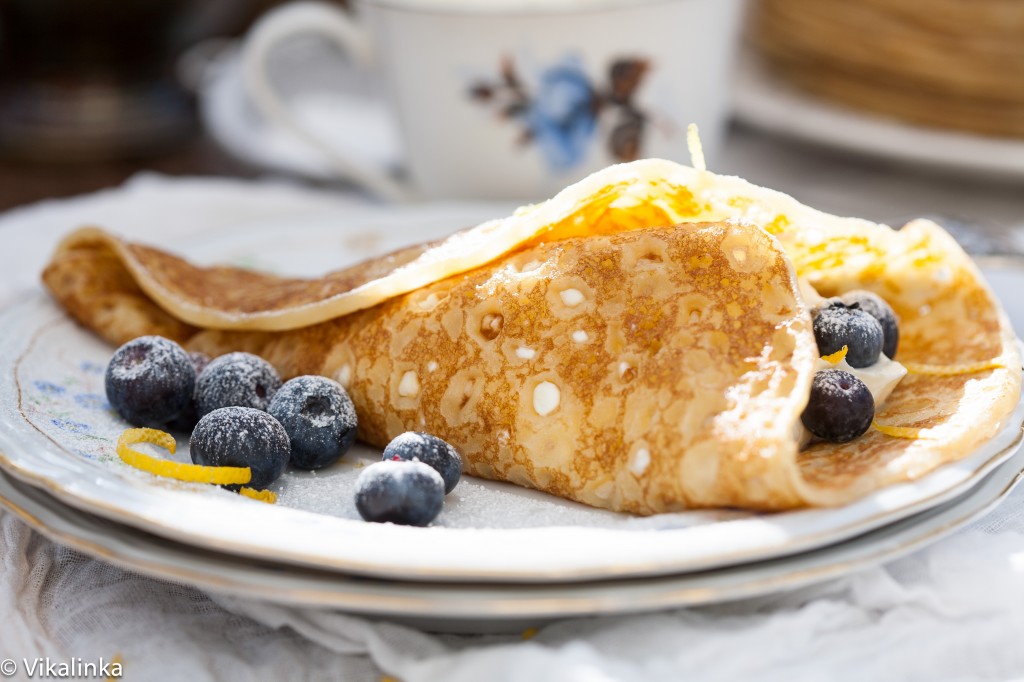 Sweet Cheese Filling
I've combined cheese with whipping cream, powdered sugar and a dash of Limoncello for my sweet cheese filling. Are you as obsessed with blueberries and lemons together? Such beauty I can barely stand it!
If you have difficulty locating farmer's cheese, ricotta or cream cheese will be fine substitutes.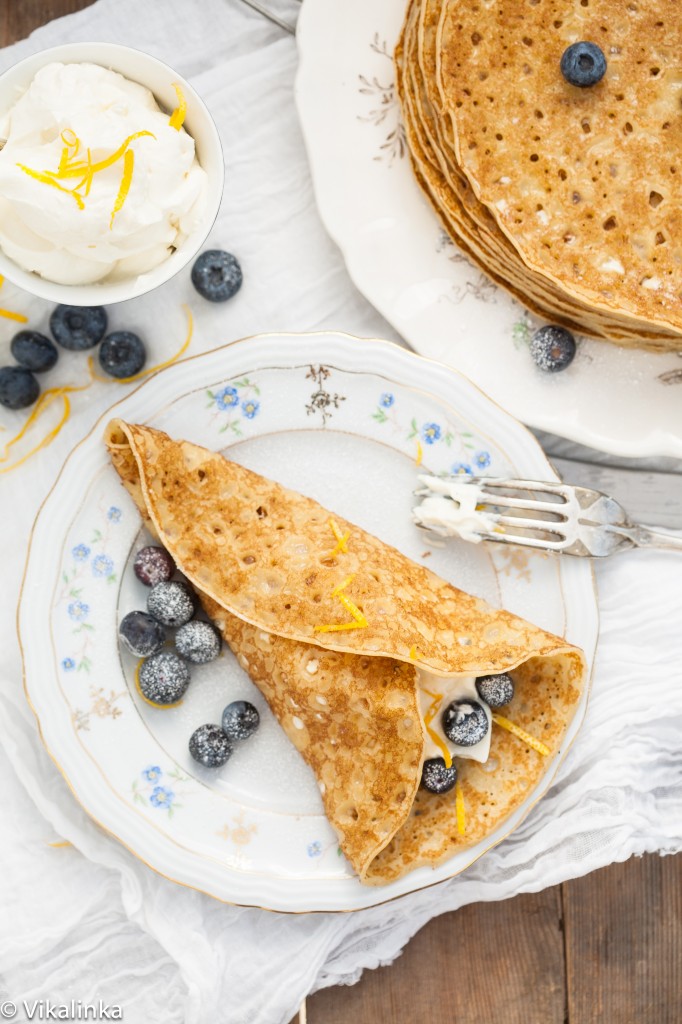 This recipe was originally published in 03/2014. Updated and republished in 02/2020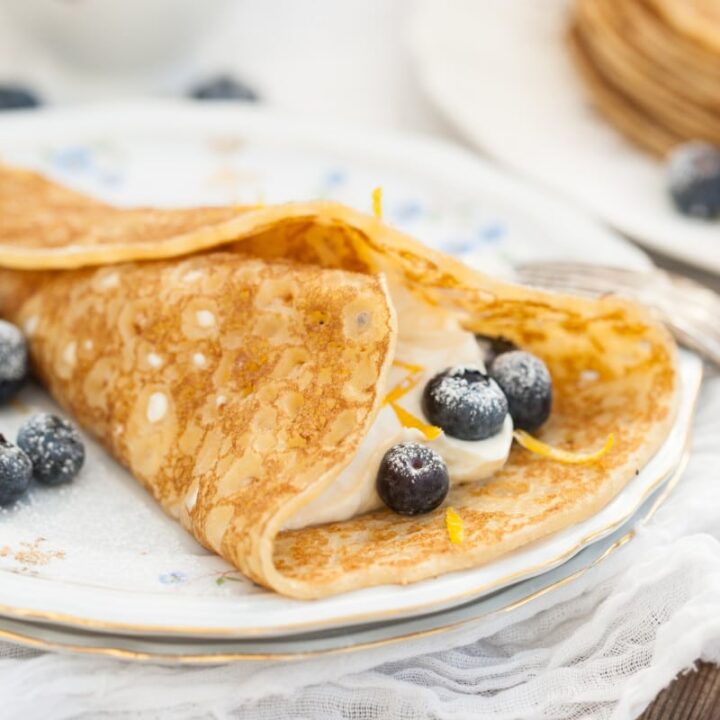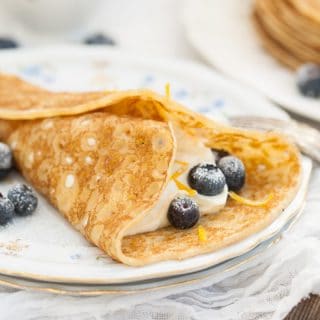 Blueberry and Limoncello Cheese Crepes
These blueberry and limoncello cheese filled crepes aka blintzes are a perfect treat for a special breakfast or brunch.
Ingredients
Crepes
220g/2 cups

all purpose flour

750ml/3 cups

buttermilk

125ml/0.5 cup

milk

2

eggs

large

3

tbsp

vegetable oil

0.5

tsp

baking soda

1

tbsp

sugar

1

tsp

salt
For the cheese filling
350g/1.5 cup

farmer's cheese or ricotta

0.5 cup

whipping cream

2-3

tbsp

icing sugar

1

tsp

vanilla

1

tbsp

Limoncello

1

cup

blueberries
Instructions
In a mixing bowl mix eggs, flour, 1 cup of buttermilk, baking soda, sugar and salt with a whisk.

When the mixture is smooth and has no lumps add remaining buttermilk and milk. The consistency should be the same as of heavy cream. Let stand for 20 minutes. You should see small bubbles on the surface of your batter.

Preheat your non-stick frying pan on medium heat and grease it with an odourless oil. ( I usually put some oil on a paper towel and rub the frying pan with it to ensure even coating.)

With a ladle or a measuring cup pour ½ cup of batter in the pan and tilt the pan slightly so batter runs to the edges forming a thin and round crepe. Cook it until batter looks dry, then flip with a spatula and cook for 2-3 more minutes.

Remove to a platter. Repeat with the next crepe and continue cooking until the batter is used.

Stack the crepes on top of each other.

In a food processor or a stand mixer combine cheese, whipping cream, icing sugar, vanilla and Limoncello until smooth.

Fill each crepe with Limoncello cheese filling and blueberries.
Nutrition
Calories:
518
kcal
Carbohydrates:
47
g
Protein:
17
g
Fat:
29
g
Saturated Fat:
18
g
Cholesterol:
127
mg
Sodium:
697
mg
Potassium:
351
mg
Fiber:
2
g
Sugar:
15
g
Vitamin A:
884
IU
Vitamin C:
2
mg
Calcium:
315
mg
Iron:
2
mg