Try my kefir pancakes if you are looking for a different recipe to up your breakfast game!
If you can't source kefir, check our Classic Pancake Recipe for fluffy and buttery pancakes served with maple syrup.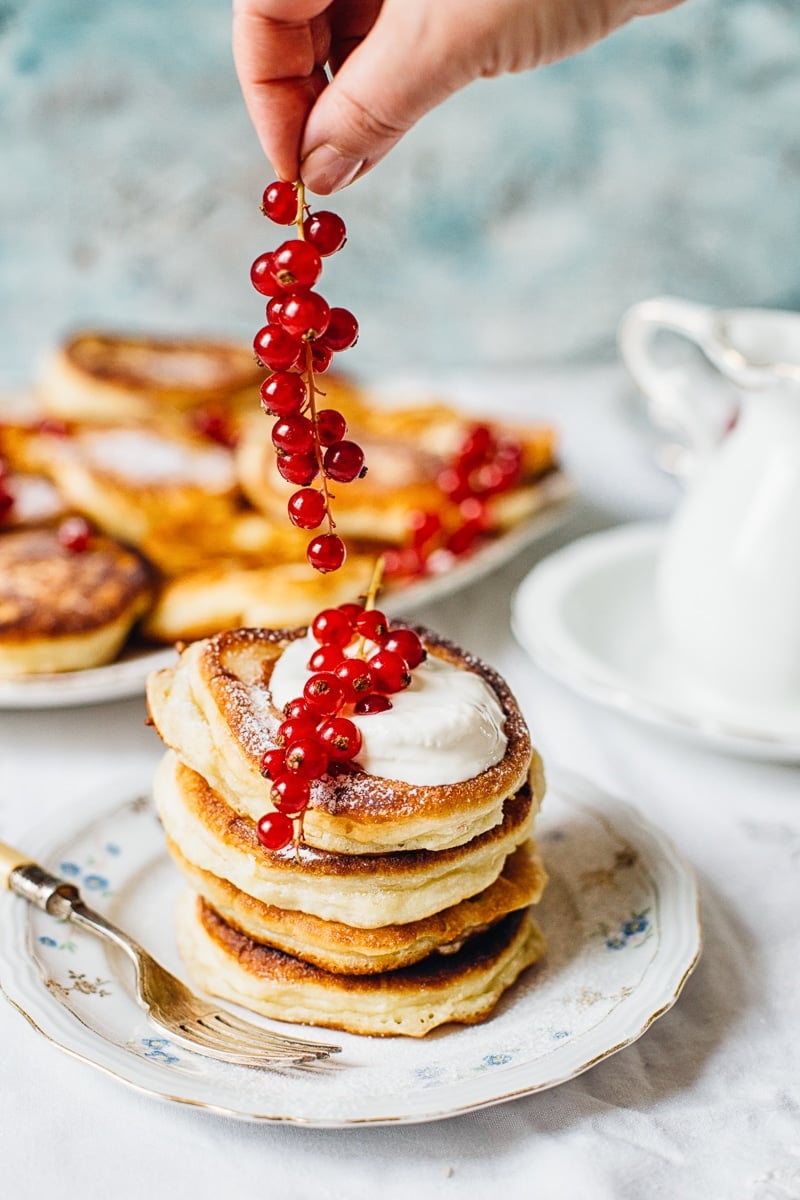 Russia is famous for her blini; thin and lacy crepes served with caviar or fruit preserves but fat and pillowy soft pancakes are little known outside of the country's borders.
It's a shame though because once you try my kefir pancakes aka 'oladi', you will find it hard to go back to your regular recipe. It's a promise!
What are oladi?
If I had to describe oladi, I would say they are somewhat of a cross between a pancake and a fritter. They are fried in a bit more oil than your standard pancakes, which puffs them up to almost a doughnut-like height!
The magic ingredient of course if the kefir, a fermented milk drink made with kefir grains, that has gained much popularity in recent years in the West but has been a staple in Russia for ages.
It's readily available in the UK and the US but could also be substituted with buttermilk.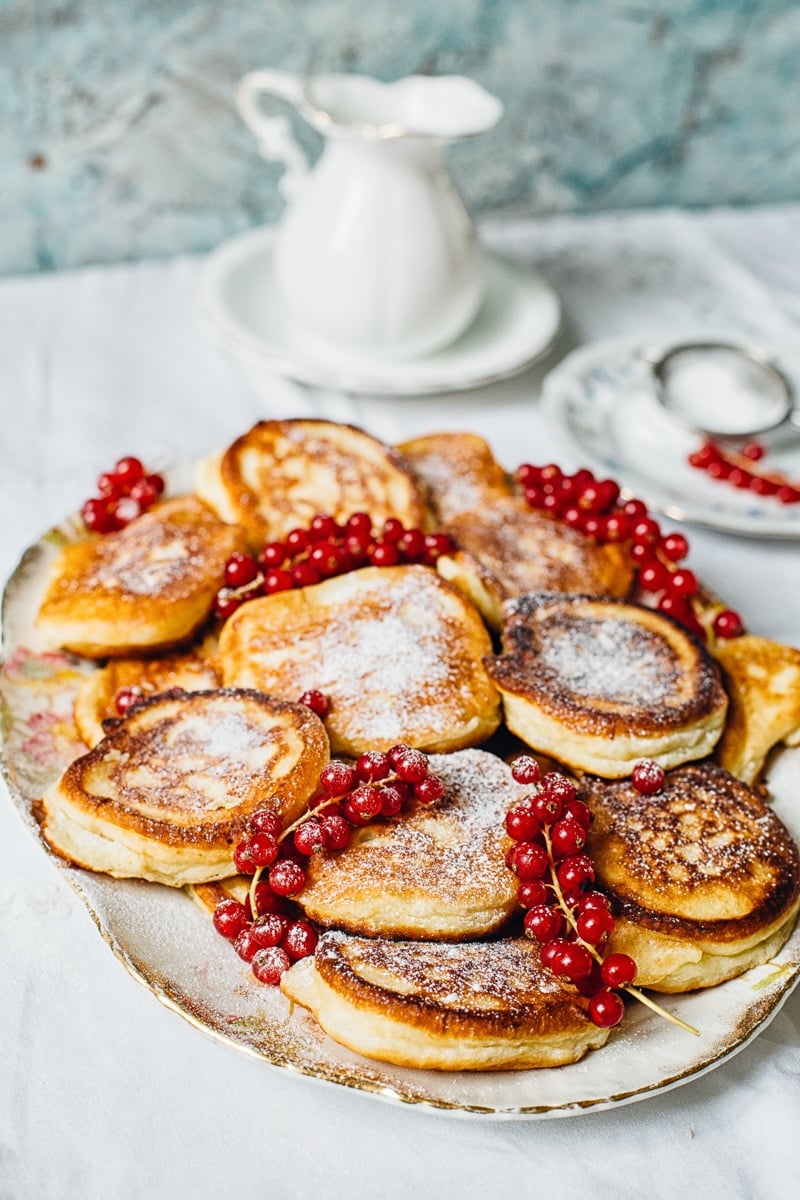 How do you make Russian pancakes?
Oladi are traditionally made with an addition of yeast, which makes them "grow' right in front of your eyes as soon as the batter comes in contact with hot oil.
They are incredibly delicious but more time consuming, as yeasted dough takes time to prove, not something you'd want to wait for in the morning!
So to cut corners one clever soul thought of using kefir and baking soda as raising agents instead, and the rest is history.
Kefir pancakes are more common in Russia nowadays than the traditional yeasted ones. A modern woman waits for nothing, not even delicious yeasted dough!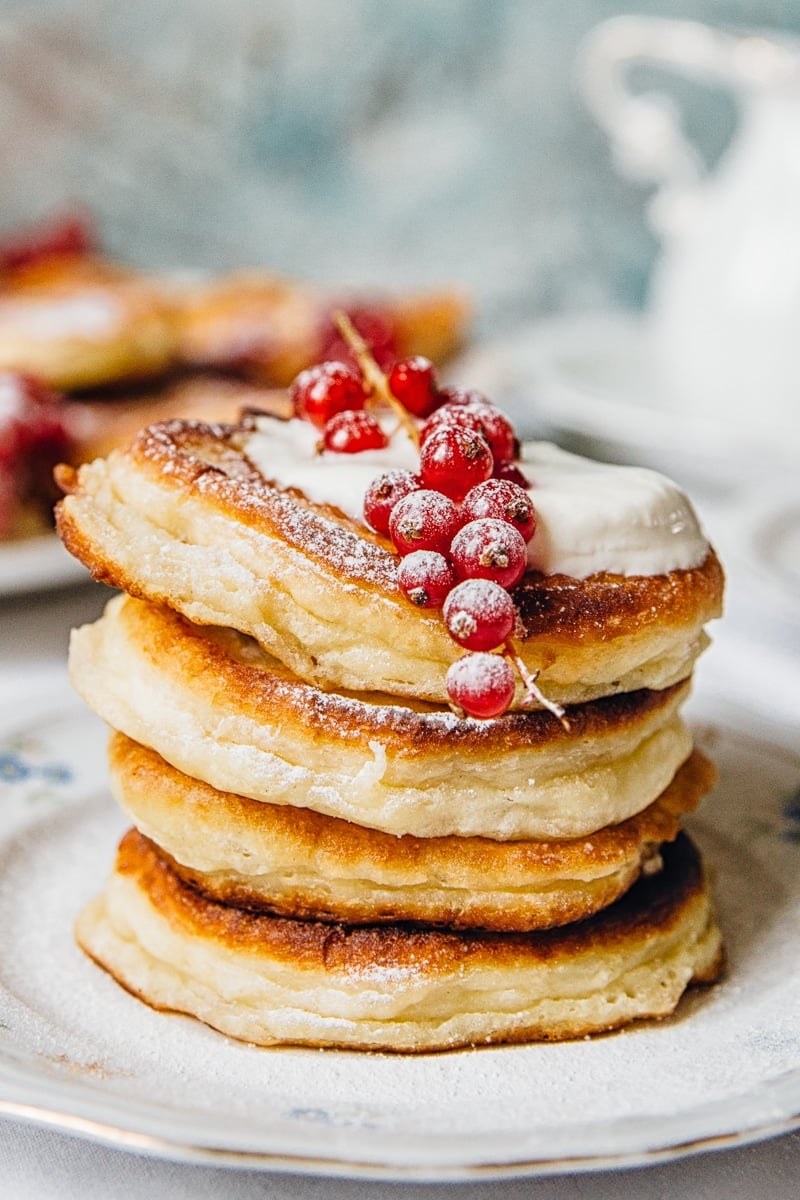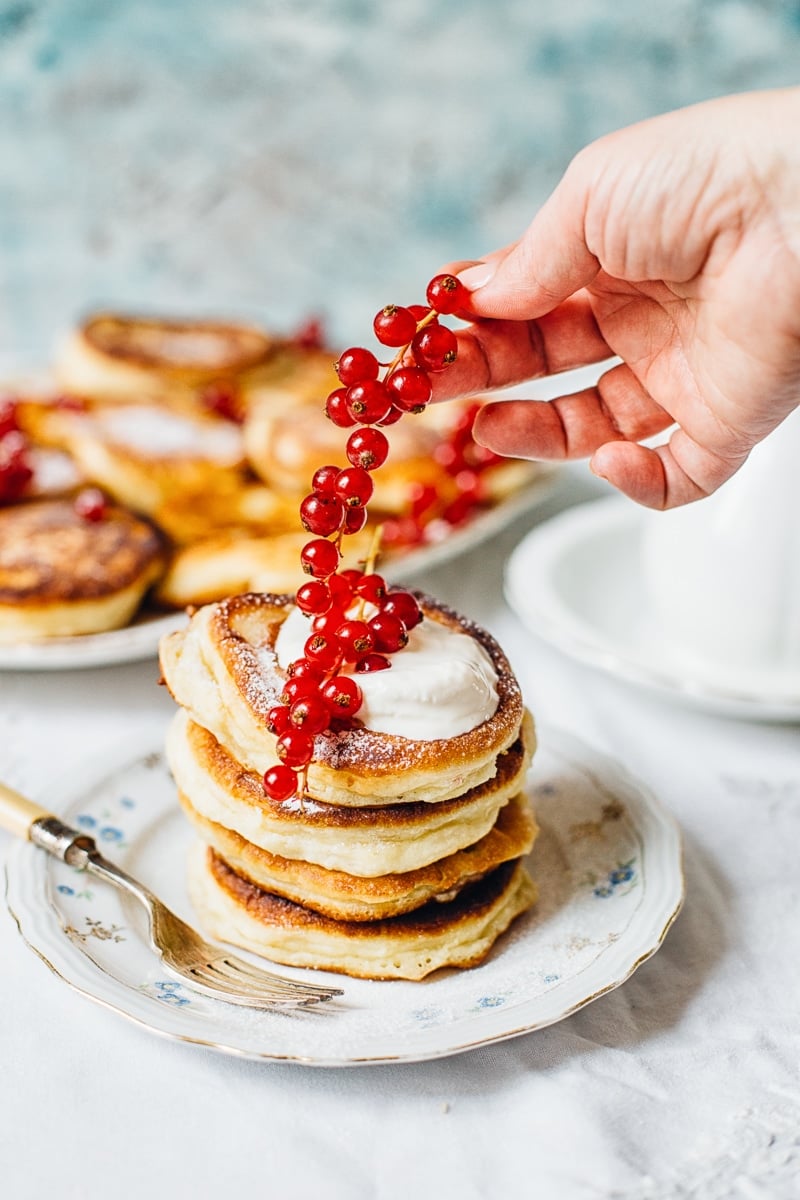 I hope you give these delicious kefir pancakes a go. They might look very similar to your regular pancakes but I assure you they have quite a unique taste!
What do you eat Russian pancakes with?
They are often served with smetana; Russian sour cream although calling it sour cream doesn't do it justice.
Smetana is a sweet tasting, silky smooth sauce that does belong on desserts while sour cream is a bit too tart and thick for delicate sweet creations! I did a side by side taste comparison when I made these oladi and was astounded by the difference.
If you have an Eastern European shop nearby, I would recommend getting real smetana and seeing it for yourself!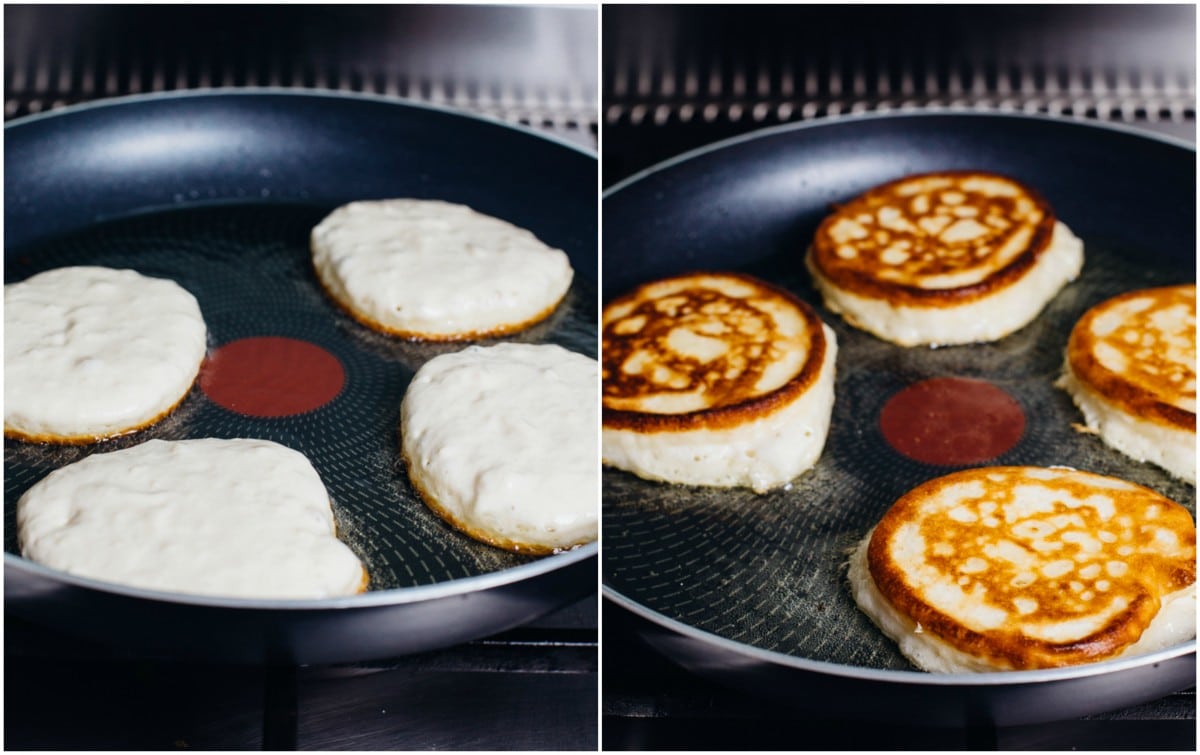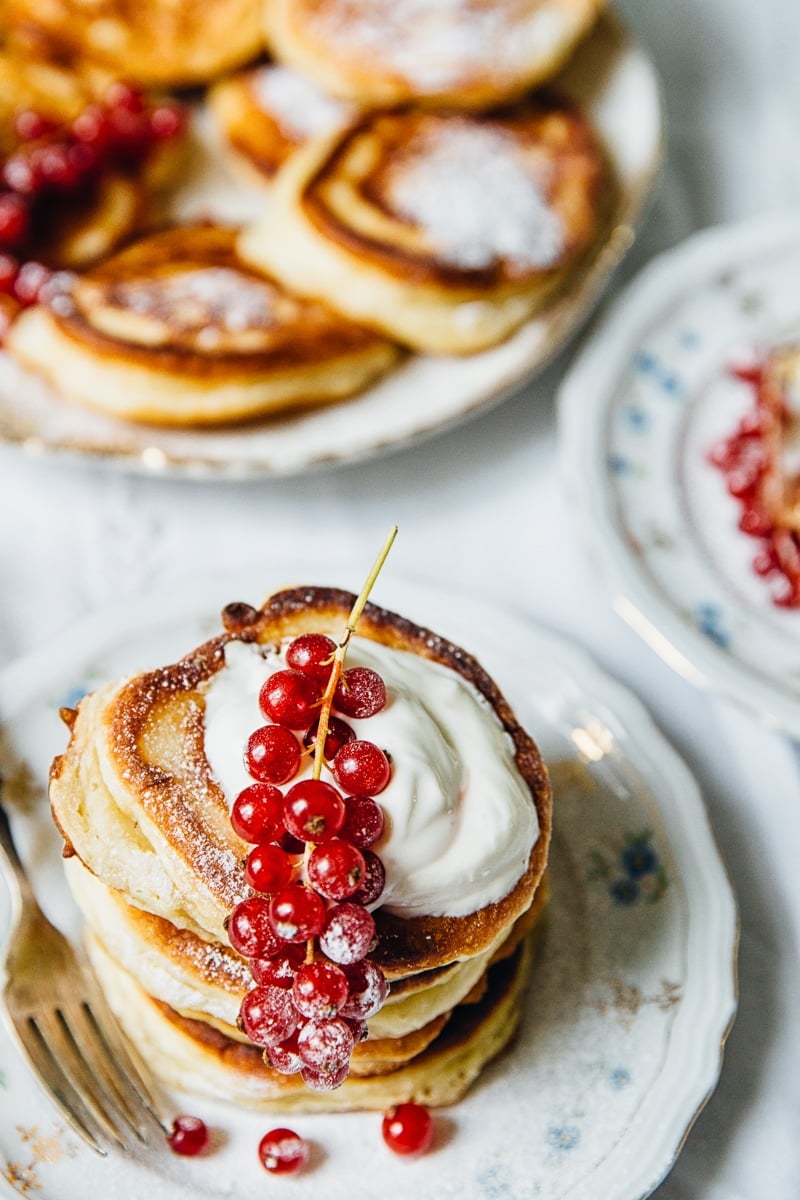 For more pancake and crepe recipes check out:
If you make any of these pancakes, I would love to see you creations! Tag @Vikalinka in your Instagram snaps!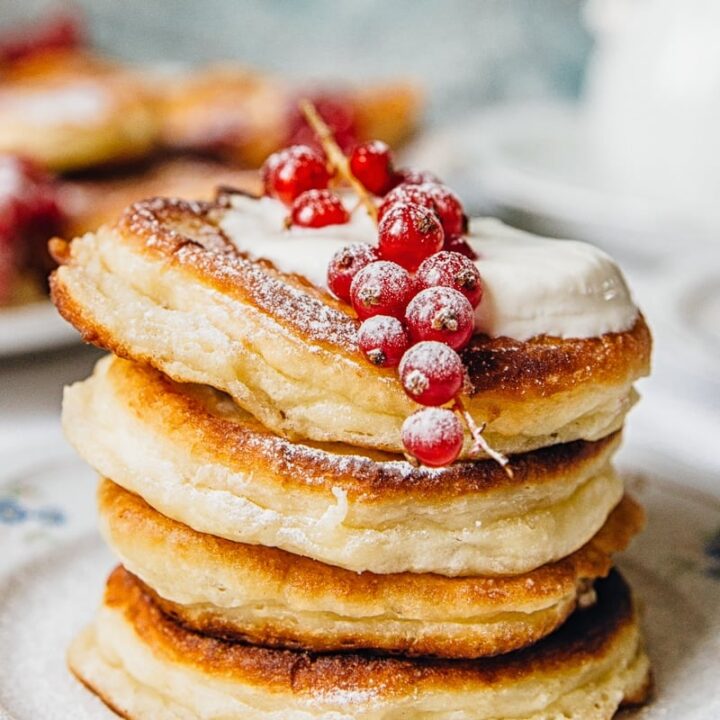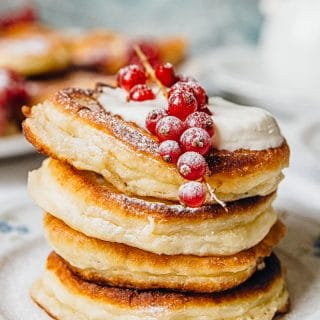 Ingredients
500

ml/2 cups kefir

plain

1

egg

2

tbsp

sugar

½

tsp

salt

350

g/2 ⅓ cup all purpose flour

½

tsp

baking soda

powdered sugar
Instructions
In a large bowl mix kefir, an egg, sugar and salt with a whisk.

In a separate bowl mix flour and baking soda. Add the wet ingredients to the dry ones and stir to combine. The batter will be thick!

Let it sit for 15 minutes without stirring.

Heat a non-stick pan with enough oil to cover the bottom of the pan up to 1 cm/1/3 inch deep. Drop kefir pancakes with a large spoon or a small ice-cream scoop into hot oil and fry on one side until golden and the batter is cooked halfway through, then flip carefully taking care not to splash hot oil. Use two spatulas if necessary. The pancakes will puff up as soon as you flip them over. Maintain medium heat to ensure each pancake is cooked all the way through as they are going to be tall. (Add oil throughout the frying process as needed.)

Serve dusted with powdered sugar, whipped cream or smetana/creme fraiche and fresh fruit.