These oatmeal pancakes are as delicious as they are nutritious. Serve them with whipped coconut cream and seasonal citrus fruit for a tropical twist! Give them a try and you will fall in love with this recipe.
Are you a pancake and a crepe lover? Why not give our Crepe Cake Recipe a try?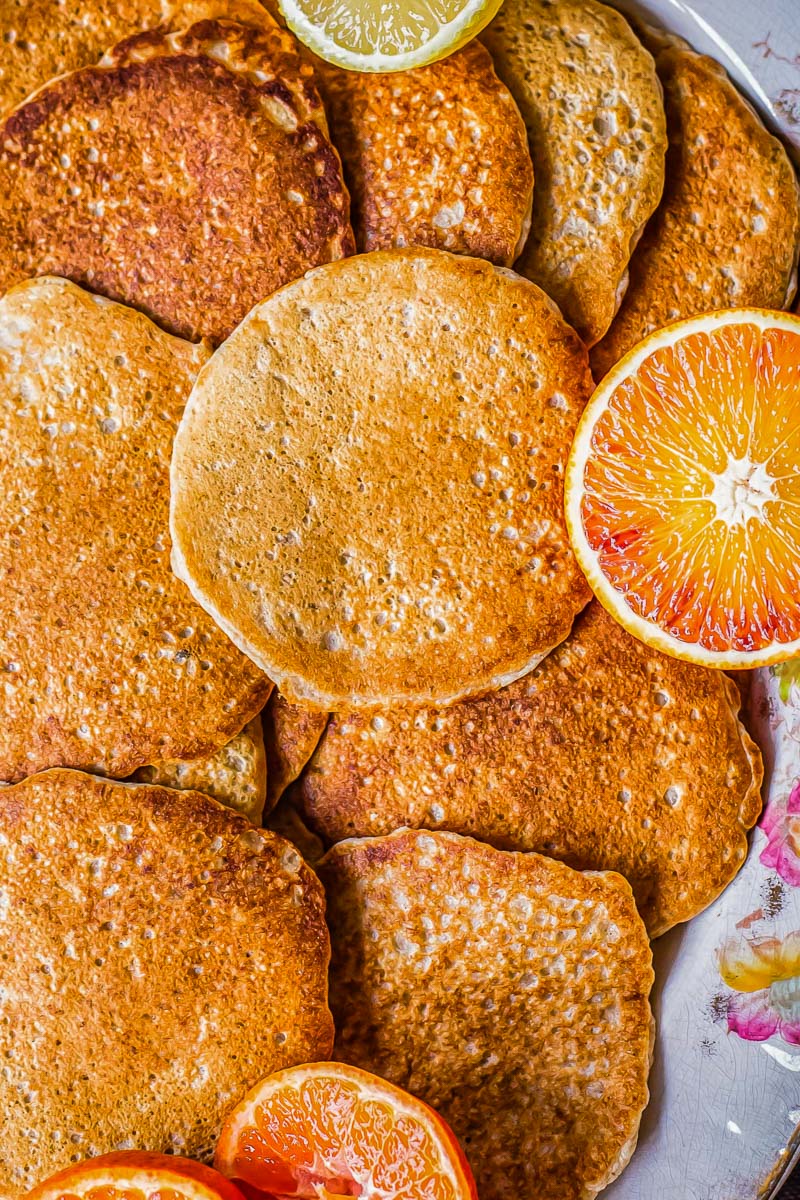 February is here and we are already planning our summer holiday because we simply cannot wait to feel the warmth of the sun and a sweet sea breeze on our skins again. Meanwhile I find happy oatmeal pancakes with a tropical twist help tremendously.
These oatmeal pancakes are not new to our family, they were regularly made in our house in those post pregnancy days for a much needed energy boost!
How to make oatmeal pancakes
The recipe for oat pancakes are very similar to a regular pancake recipe but it relies on oats rather than flour to make the bulk of the batter. The rest of the ingredients are the same. Milk, eggs, a small amount of wholewheat flour, sugar, oil and baking powder. I've also added bran for extra fibre.
I've played with the recipe and made a few adjustments over the years. Possibly the most important tweak was figuring out that processing rolled oats in a food processor or a blender in order to improve texture was extremely important.
That step helps achieving a coarse flour-like texture, which makes these oat pancakes taste just as delicious as regular ones. I've also added some wheat bran for extra fibre to make them a touch healthier.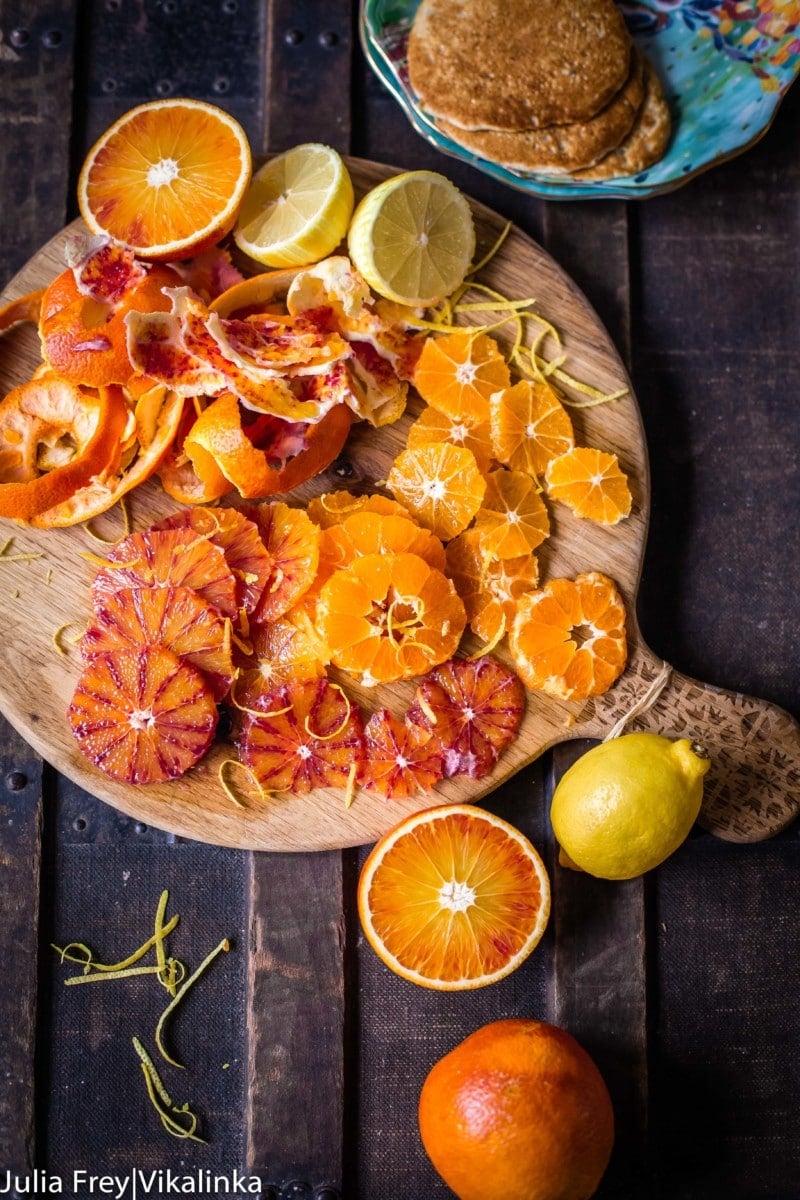 If you are following me and have been paying attention you would notice by now that my whole family has embraced a much healthier lifestyle as soon as 2016 came round, the linchpin of our New Year's resolutions.
We joined a gym and ditched bad carbs and sugar. The results have been super encouraging. Both Brad and I are already feeling much fitter and are reaching for smaller-sized clothes forgotten at the back of our wardrobes!
In my most recent recipe for Truffled Lentil and Kale "Risotto" I was sharing how much I miss carbs and especially bread but what Brad really misses is sugar! He's got a real sweet tooth!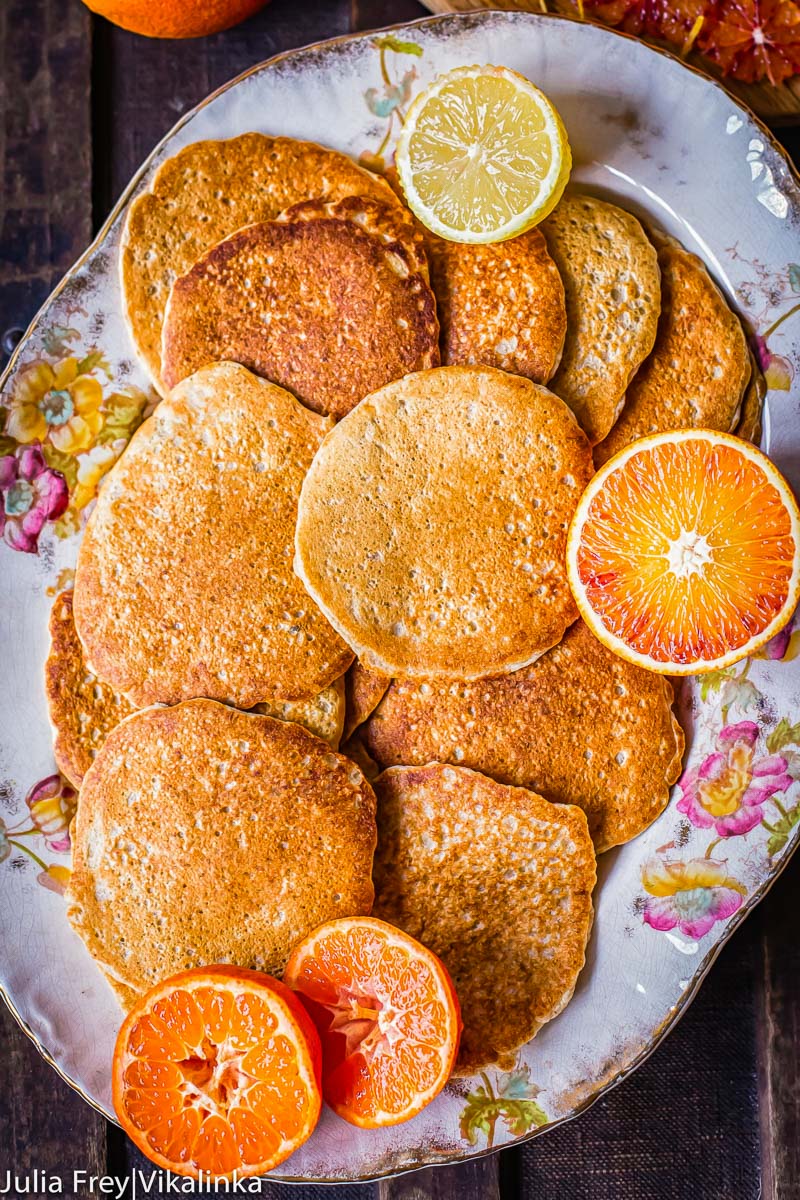 While Brad and I were quite satisfied with our new lifestyle kids are reluctant to get on board. Not that they need to lose weight!
The only problem was what to do with the Saturday morning pancake tradition we all enjoyed.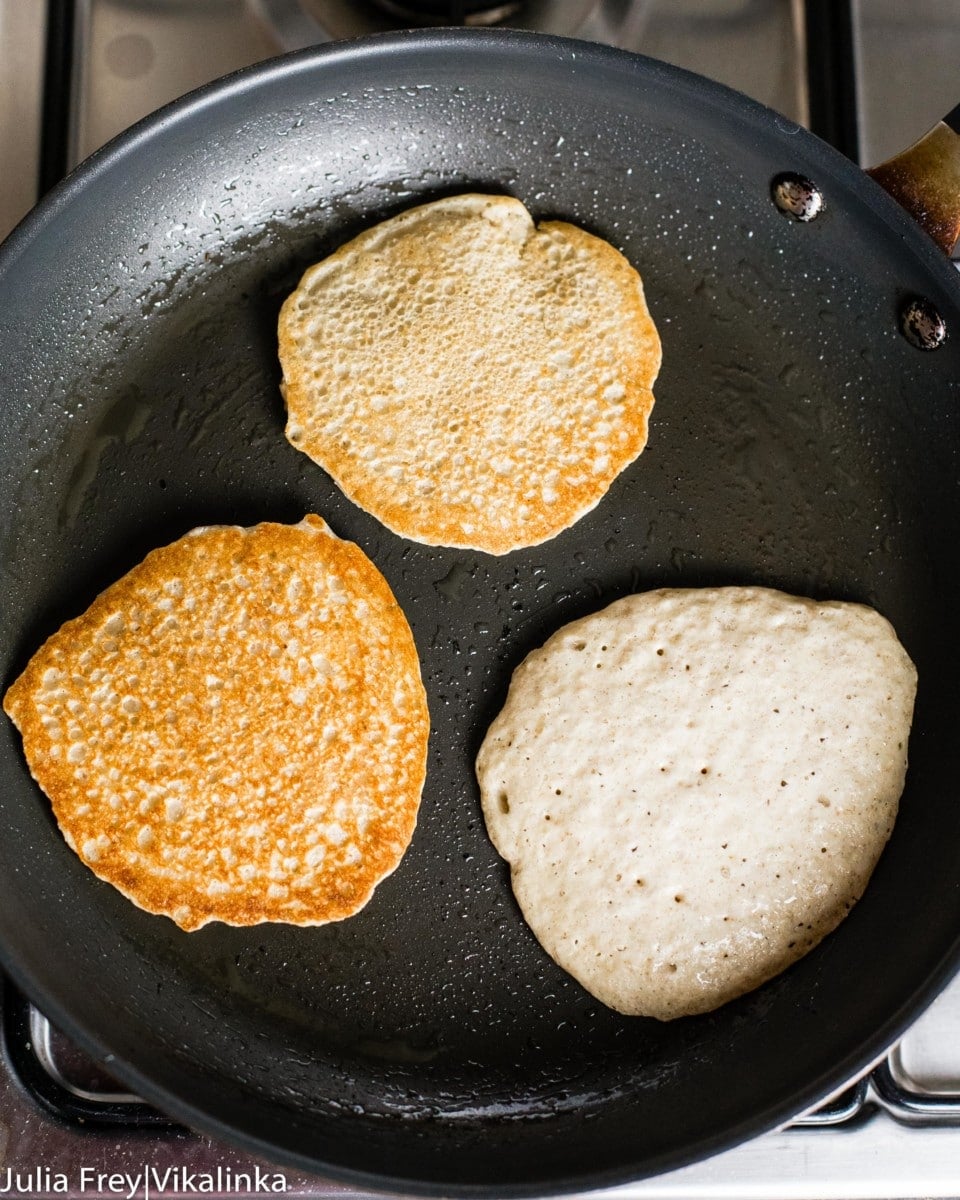 How healthy are oat pancakes?
You know how I mentioned we ditched bad carbs? Well, these oatmeal pancakes are made of all the right carbs. Rolled oats and just a ⅓ cup of wholewheat flour!
This recipe uses only 2 tablespoons of sugar and instead of dairy cream I whipped up coconut cream. I served these oatmeal pancakes with gorgeous blood oranges and tangerines.
The kids were more than happy. There is nothing more satisfying than seeing their first bite and then a huge grin followed by, "It's actually really GOOD!"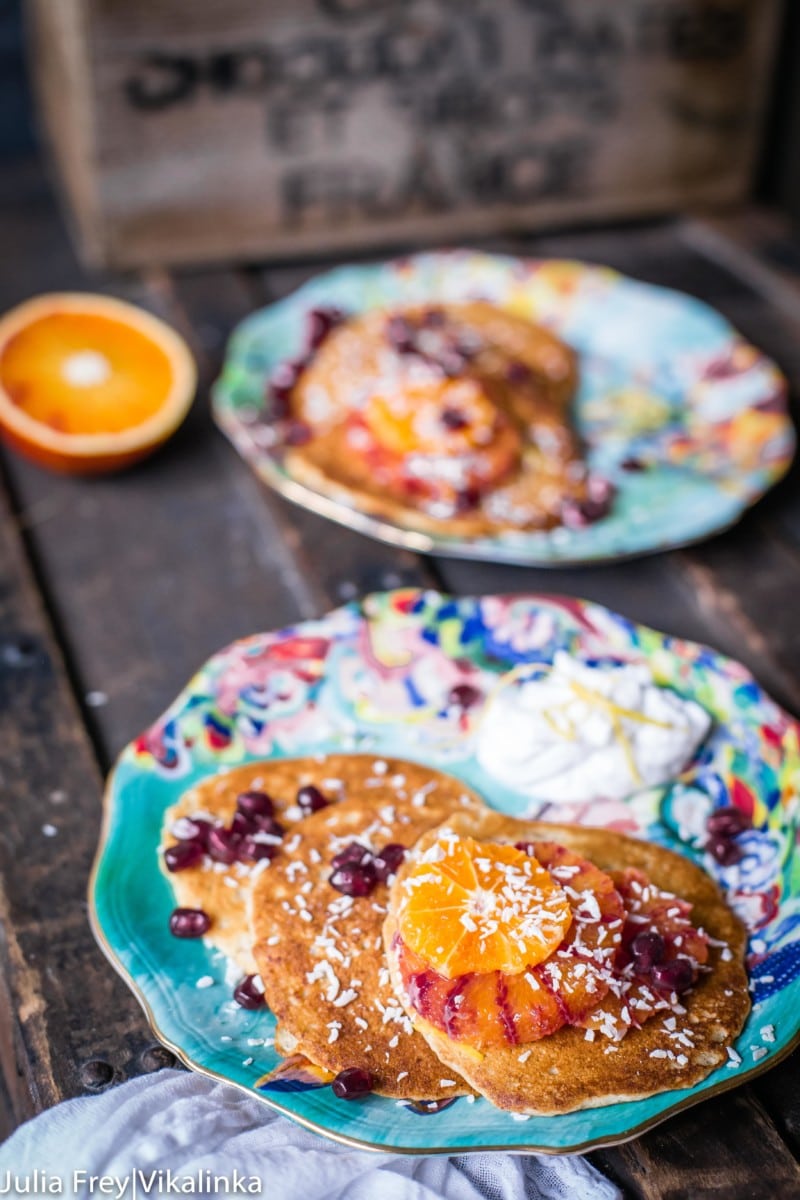 More favourite pancakes recipes:
This recipe was originally published in 02/2016, updated with new text and republished in 02/2020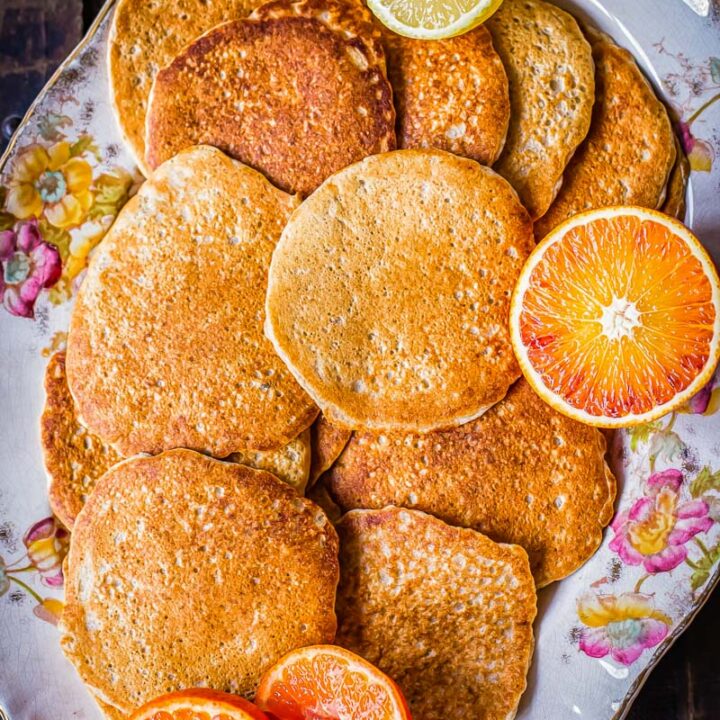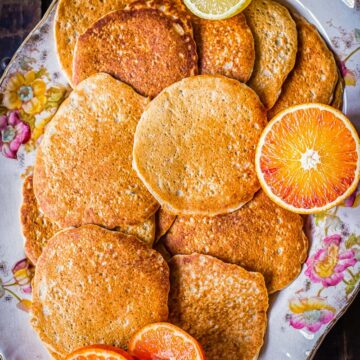 Oatmeal Pancakes with Coconut Cream and Blood Oranges
Makes 18 pancakes
Ingredients
For the Oatmeal Pancakes
1 ½

cups/135 g rolled oats

2

cups/ 500 ml skim milk or soy milk

1

egg

⅓

cup/ 45 g whole wheat flour

¼

cup/ 30 g wheat bran

1

tbsp

baking powder

2

tbsp

sugar

2

tsp

coconut oil plus more for cooking pancakes

melted

½

tsp

salt

1

tsp

vanilla extract
For the Coconut Whipped Cream
1

can of coconut milk

not reduced fat

2

tbsp

icing sugar
For the topping
2

blood oranges

peeled and thinly sliced

2

tangerines

peeled and thinly sliced

Unsweetened coconut flakes

optional

Pomegranate seeds

optional
Instructions
Put a can of coconut milk in the fridge the night before or at least two hours before whipping it.

Measure out rolled outs and pulse them in a food processor or a blender until they resemble coarse flour.

Mix with milk, whole wheat flour, wheat bran, sugar, melted coconut oil, sifted baking powder, salt, lightly beaten egg and vanilla extract. Set aside for 30 minutes.

Meanwhile open the can of coconut milk and carefully scoop out the hard coconut mass that is formed at the top of the can into a medium bowl. (Reserve the coconut water for another use.) Add icing sugar and whip with a hand blender for 1 minute until creamy and fluffy, put back in the refrigerator until ready to eat.

Preheat a non-stick frying pan on high heat, add ¼ tsp of coconut oil to the pan and spread it around with a brush or a paper towel.

Stir the pancake batter and scoop out ¼ cup of the pancake batter and cook over medium heat for 3 minutes on one side. When the pancakes are dry around the edges and bubbly on top flip them over and cook for another minute. Repeat until all pancakes batter is used. Stir your pancake batter each time you scoop another batch of pancakes to make sure the oats are even distributed. Keep warm until ready to serve.

Serve with whipped coconut cream and peeled and sliced blood oranges and tangerines. Sprinkle with coconut flakes if desired.
Nutrition
Calories:
336
kcal
Carbohydrates:
37
g
Protein:
9
g
Fat:
18
g
Saturated Fat:
15
g
Cholesterol:
29
mg
Sodium:
251
mg
Potassium:
643
mg
Fiber:
4
g
Sugar:
15
g
Vitamin A:
416
IU
Vitamin C:
11
mg
Calcium:
228
mg
Iron:
4
mg