Bust out your waffle maker and get let's get crazy with the toppings! Belgian waffles are universally recognised as the breakfast of celebration, so you need to make them celebration-worthy. Here's how to make the most golden, crunchiest, fluffiest wonder waffles ever!
And for the days when you're dialling it down these Buckwheat Pancakes are an understated and healthy alternative.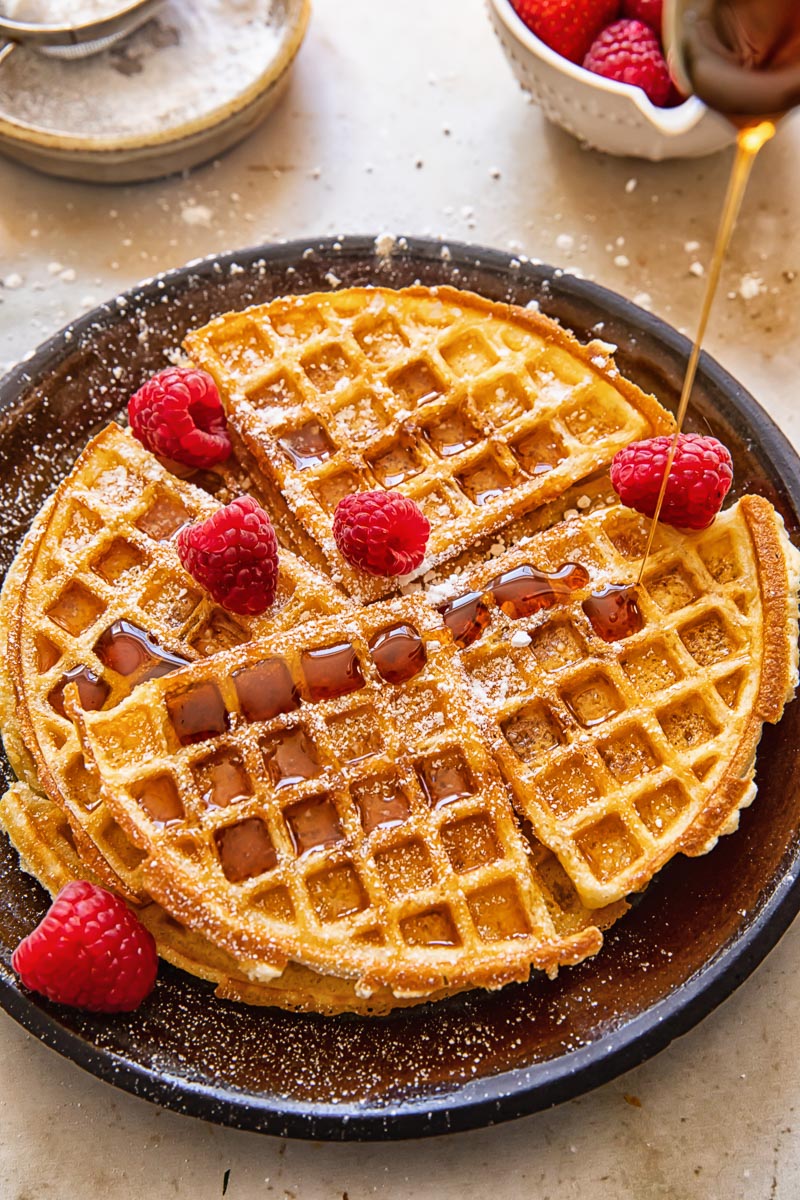 What are Belgian waffles?
The waffle's history can actually be traced back as far as Ancient Greece where it began life as a wafer-like disc and was given as a blessing. But that might call for a whole other blog post! Let's just say the modern day Belgian waffle has made a few journeys and undertaken a few recipe tweaks since then.
Belgian waffles exploded in popularity in the US in the early 1960s thanks to two Belgians on either coast. Selling for a dollar each, these signature waffles were thick and deep-grooved, with a crunchy golden shell and fluffy white inside. Slathered with peaks of whipped cream and strawberry slices, it's when the worldwide obsession began.
While the Belgians aren't the only waffle makers, the classic Belgian waffle is instantly recognisable by it mattress-like dimensions and perfect potholes for pooling sauces like chocolate, maple syrup or melting ice-cream *wipes away drool*.
Other varieties are Dutch; two penny-thin, dark waffle discs sandwiched together with a gooey caramel. Snack size and eaten on-the-go. Swedish; a delicate, thin, petal-shaped round that's crisp and light. Served with a dollop of cream and jam- a dainty afternoon tea delight!
And American. Modelled on the Belgian waffle, but usually made with buttermilk which yields a denser and less deep waffle. Anyone switching their waffle allegiances??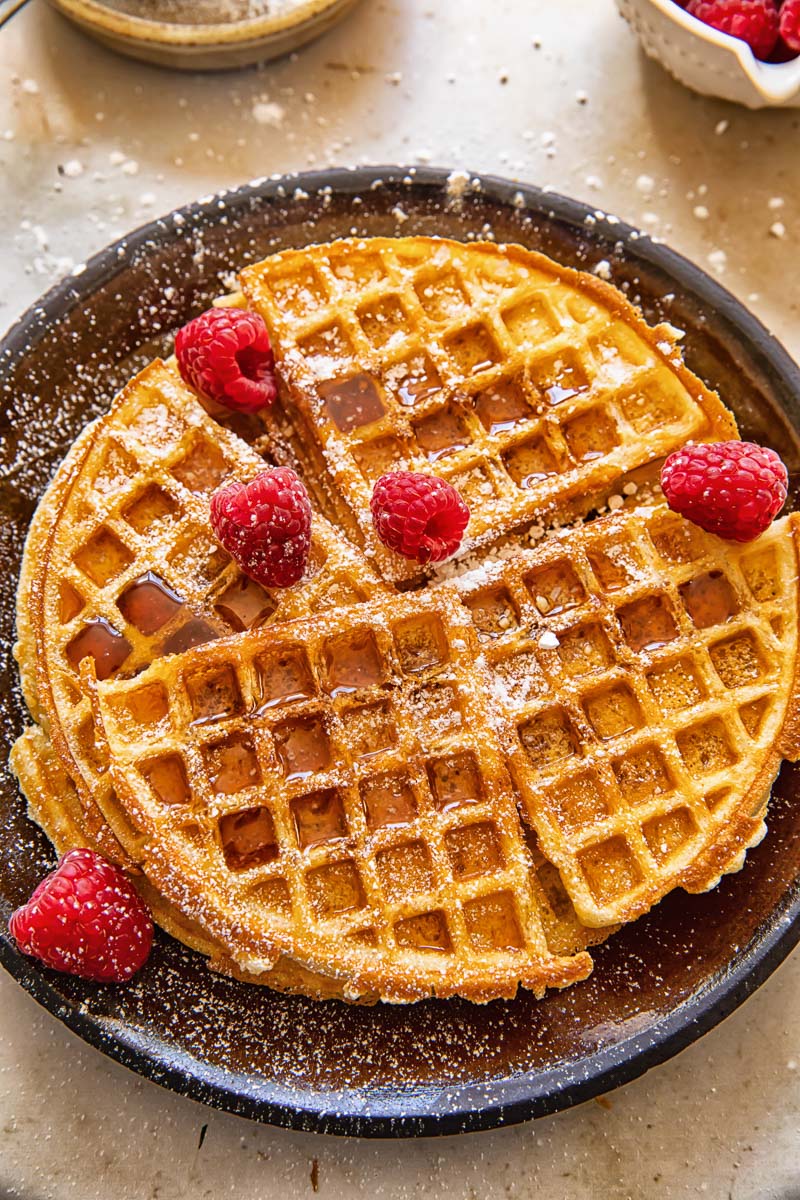 Waffle batter vs pancake batter
Such similar ingredients but such different results. Have you ever thought you could get away with making waffles using a pancake recipe? How did that go?
It's true, both are essentially made up of eggs, milk and flour, so you'd think the results would be the same, right? However, the waffle recipe includes some indulgent extras in the mix; sugar and butter, and a raising agent, while the pancake recipe (for European pancakes) is scant.
So what makes them so different? First, a good waffle calls for the separation of yolks from whites. Folding the whites into the batter adds air to create that famous pillowyness! Pancake ingredients are all whisked up together, relying on the whisking to create air bubbles, but the result can be, well, flat.
Second, the sugar and butter in a Belgian waffle recipe caramelise in the iron and is what ensures that golden crispiness that's so irresistible. European pancake recipes tend not to include sugar in the mix and while they do brown, they don't crunch.
Finally, on pouring the waffle batter will be thick and satisfyingly oozy meaning it won't flow out of your waffle maker! Pancake batter is runny and will flow to meet the edges of a frying pan in a perfect circle.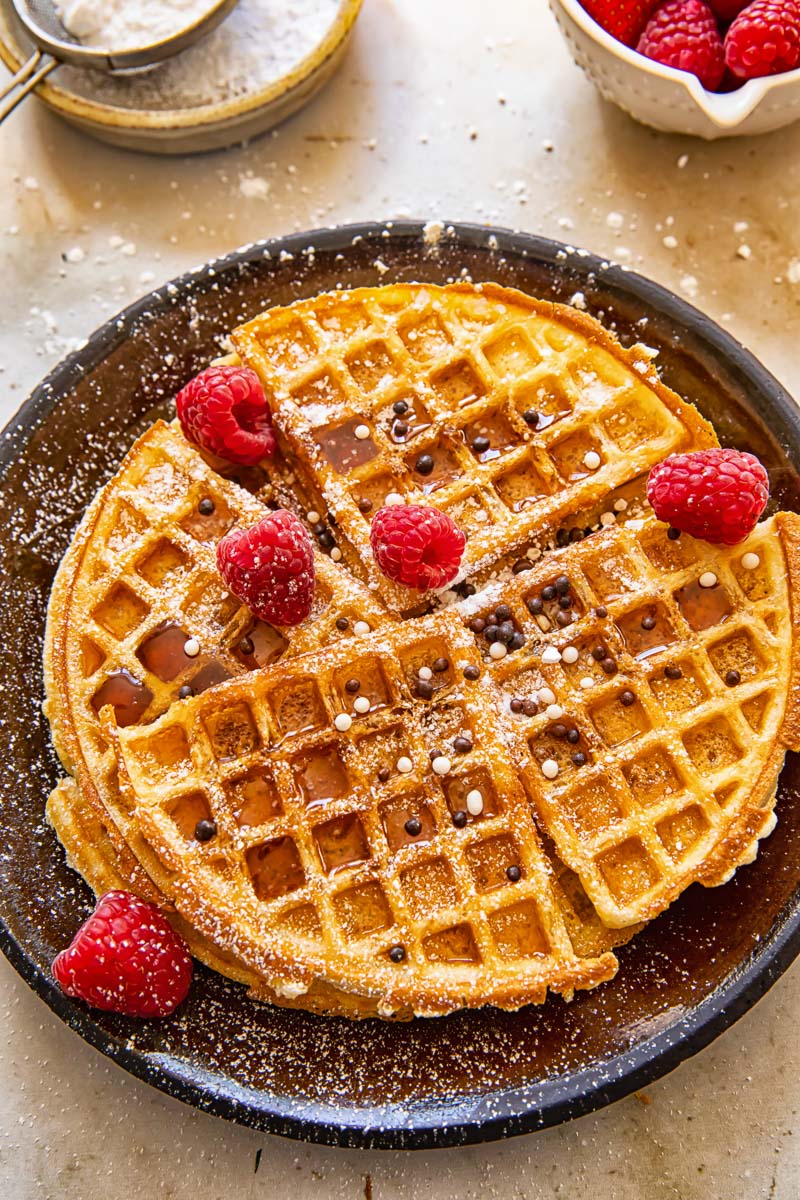 Various toppings
Things are going to get crazy here. Let's talk toppings. You can go sweet. You can go savoury. You can go sweet AND savoury. Whaaaaaaat? Yes, I said it. You can literally do whatever you like to the top of your waffle. There are no waffle rules!
But here are some of my faves in case you need some inspo:
The OG Belgian waffle topping; strawberries and whipped cream.

The healthy one: yoghurt, bananas and blueberries

The breakfast one: sausage, eggs and bacon.

The fancy one: poached eggs Benedict with hollandaise sauce and good ham.

The naughty one: fried chicken, avocado, salsa and sour cream.

The dessert one: waffle ice cream sandwiches
And if you're going to go totally wild, add maple syrup and/or ice-cream to any of the above. There's no judgement in this waffle game.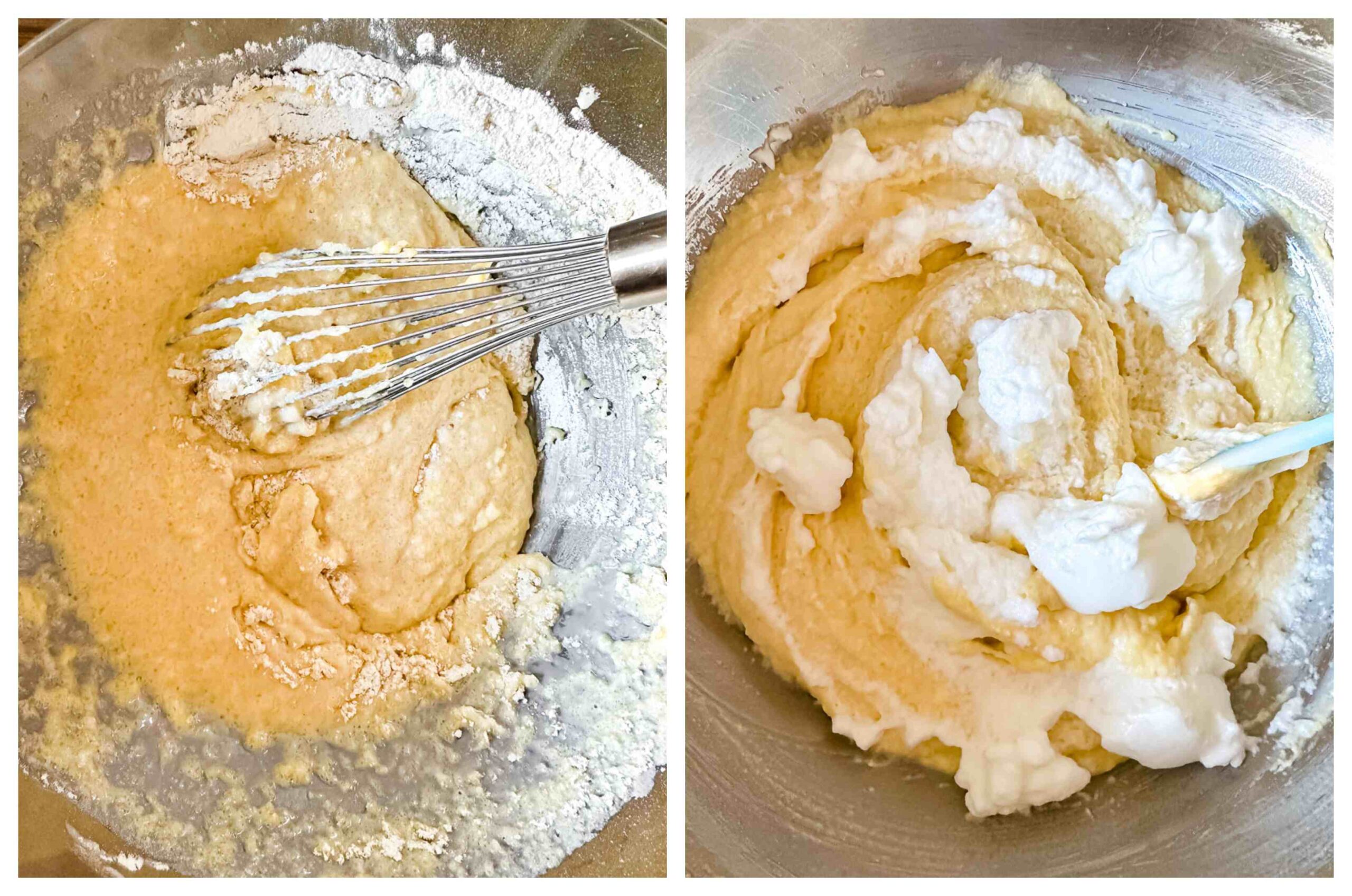 Recipe tips and notes
Yes, you do have to separate the egg yolks from the egg whites! If you want the signature crunchy outside and fluffy inside that is.

If you are a waffle-lover, it's worth investing in a top of the range waffle maker. It makes all the difference, and I know because I have tried them all in search of the ultimate machine.

Your waffle iron must be hot, hot, hot when you pour in the batter. I would also recommend doing a test waffle and then adjusting the setting for a lighter or darker finish.

No-one wants a lukewarm, flabby waffle so don't forget to heat your oven to keep those first babies toasty while you crack on with the rest.
Storage and leftovers
Leftovers??? I don't think so! But Belgian waffles are great to batch cook and freeze so you can skip the prep for the next time. Cook the waffles first until just cooked, but not crispy. Allow to cool and then stack with baking parchment to separate. I tend to do them in pairs or threes. Put the pairs in a freezer bag and they'll keep in the freezer for up to 3 months.
To reheat, no need to defrost, space them out on a baking tray and put in a preheated oven at 175C for 15 minutes or until the edges start to turn crispy. Some suggest toasting them in the toaster, but that takes some trial and error before getting it right!
More breakfast recipe ideas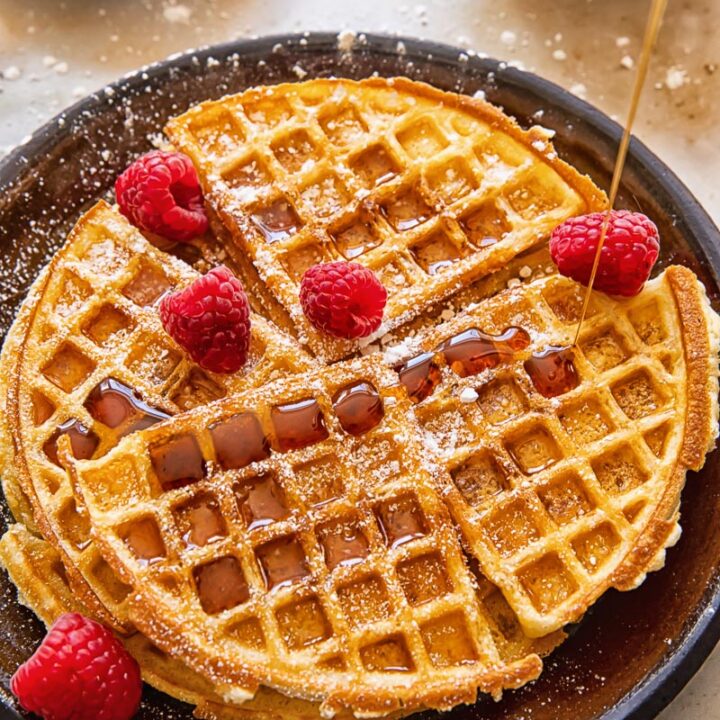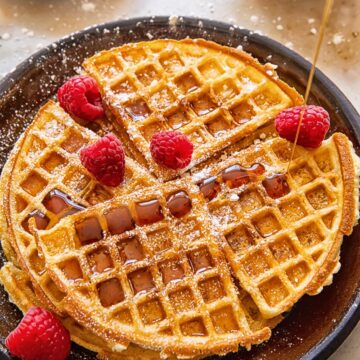 Belgian Waffles
Here's how to make the most golden, crunchiest, fluffiest Belgian waffles ever plus ideas for glorious toppings.
Ingredients
250g/2 cups

plain/all purpose flour

150g/3/4 cup

granulated sugar

3.5

tsp

baking powder

2

large eggs

separated

350ml/1.5 cups

whole milk

250g/1 cup

melted butter

1-2

tsp

vanilla
Instructions
Separate egg whites from egg yolks. In a large bowl mix flour, sugar and baking powder. In another bowl, lightly beat egg yolks. Add milk, butter and vanilla and mix well.

Stir the wet mix into dry ingredients. Beat egg whites until stiff peaks form with an electric mixer, then fold into batter.

Preheat the waffle maker. Brush with oil for easy removal. Add approximately ½ cup of batter to a preheated waffle iron. Adjust the amount depending on the size of your appliance after the first waffle. Bake in a preheated waffle maker until golden. Makes approximately 10 waffles.
Nutrition
Calories:
608
kcal
Carbohydrates:
61
g
Protein:
8
g
Fat:
38
g
Saturated Fat:
23
g
Polyunsaturated Fat:
2
g
Monounsaturated Fat:
10
g
Trans Fat:
1
g
Cholesterol:
151
mg
Sodium:
315
mg
Potassium:
401
mg
Fiber:
1
g
Sugar:
28
g
Vitamin A:
1218
IU
Calcium:
200
mg
Iron:
2
mg