Try my buckwheat pancakes to bring variety to your breakfast repertoire! Delicious, nutritious and naturally gluten-free, these pancakes will start your day off right.
For classic pancakes, take a look at this recipe.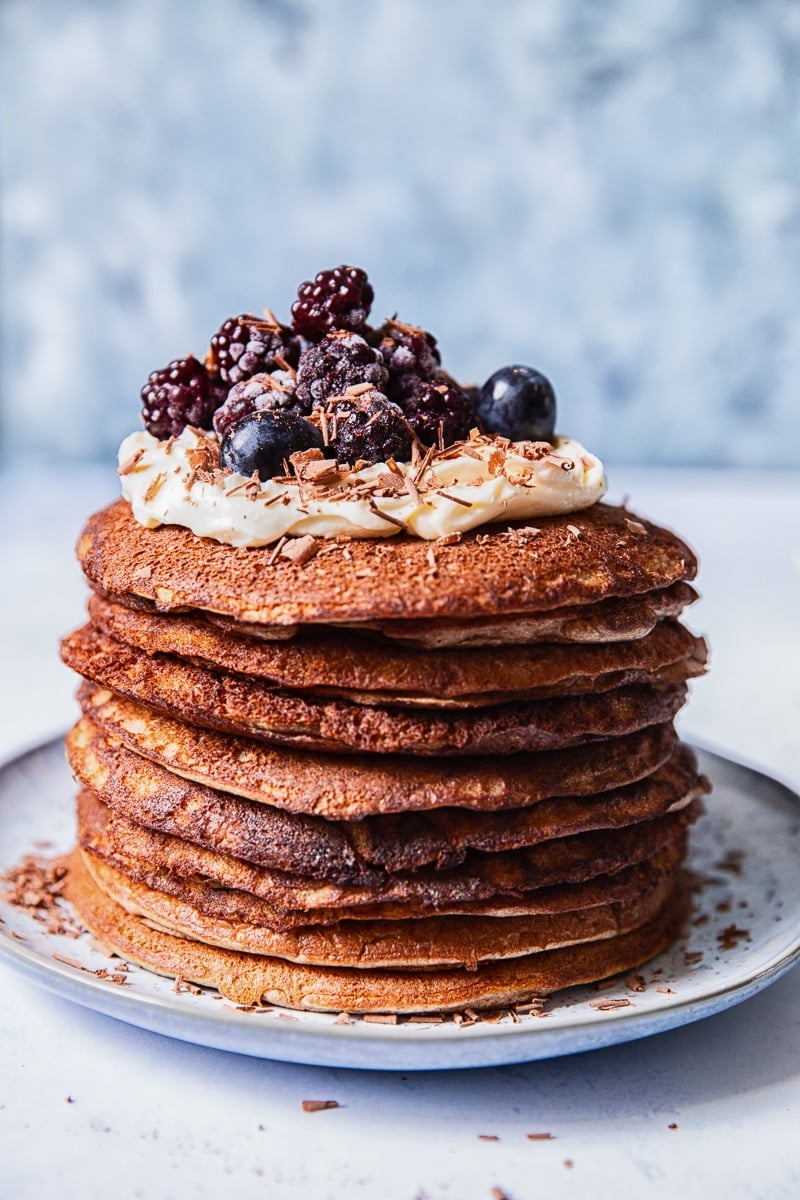 I've been meaning to share my favourite buckwheat pancake recipe for a long time but seeing that I have a long list of recipes to share, it had to wait.
Thankfully I finally got around to it, and I hope you will love them as much as my family does. Because if you do, you will get to enjoy something that tastes good and has incredible nutritional benefits.
Recipe Ingredients
My buckwheat pancakes are made entirely out of buckwheat flour, no wheat flour added, which makes them naturally gluten free.
Of course, that is not the only reason they are good for you. Buckwheat flour is a unique source of protein, carbohydrates, vitamins and minerals. It is in fact not a grain but a fruit related to wild rhubarb, which makes this recipe suitable for grain free diets.
I have written about buckwheat quite a bit on my blog already as I am a big fan where I share more about this wonderful fruit. This post How Do I Eat Buckwheat goes more in depth about its health benefits.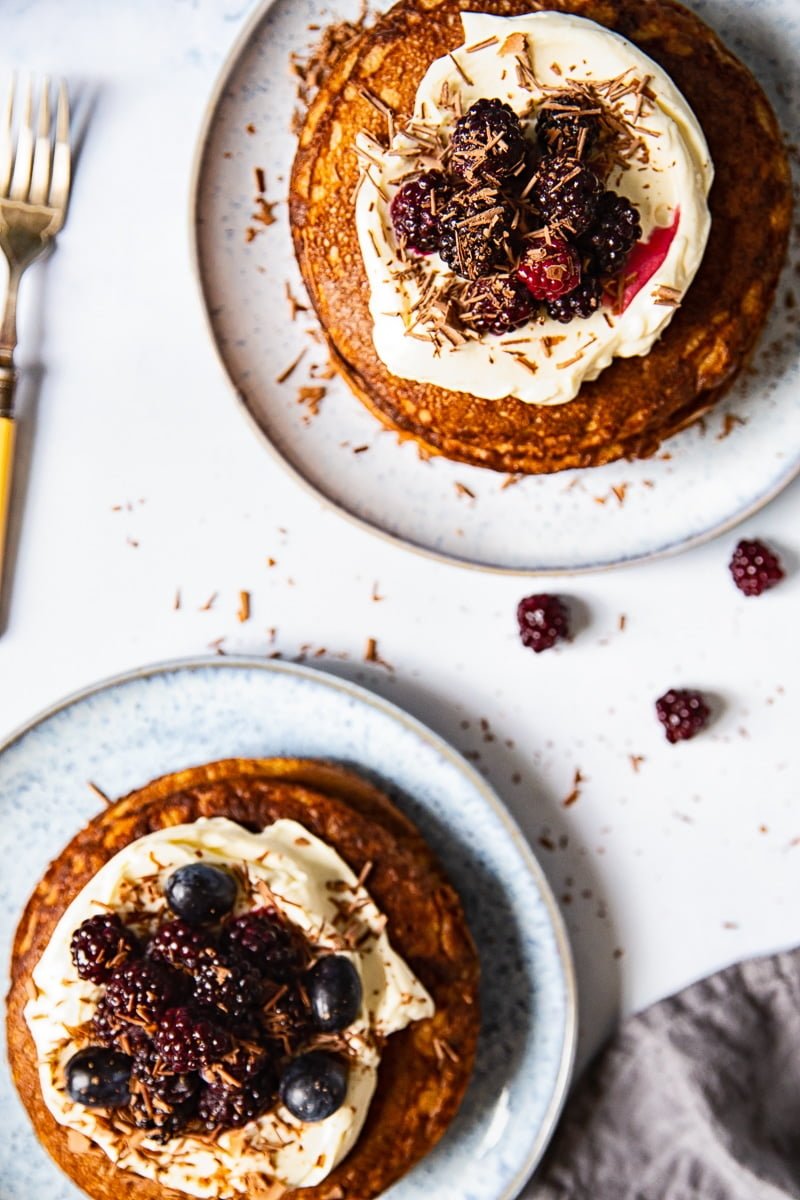 The Taste
You might be thinking health benefits aside, the taste of buckwheat flour is not to everyone's taste. And I can agree with that.The flour gives the pancakes quite a pronounced nutty taste. It also makes them dark in colour. This might turn some people off.
The good new is that buckwheat taste is acquired, and the more you are exposed to it, the more you love it!
However, if you struggle to adjust at first, look for light buckwheat flour. It is lighter in colour and flavour.
Recipe Tips and Notes
Use light buckwheat flour, which is made by grinding the buckwheat groats without the husk. As you can guess, the husk is responsible for that distinct buckwheat taste.
Use vanilla and lemon zest in your pancake recipe to brighten and lift the heavy buckwheat taste.
Use fresh fruit and chocolate shavings as toppings to balance out the pronounced taste of the buckwheat flour. You will need a very small amount of heart healthy dark chocolate to turn these healthy pancakes to seem very indulgent. As a bonus you will discover that dark chocolate and buckwheat flour are a match made in heaven.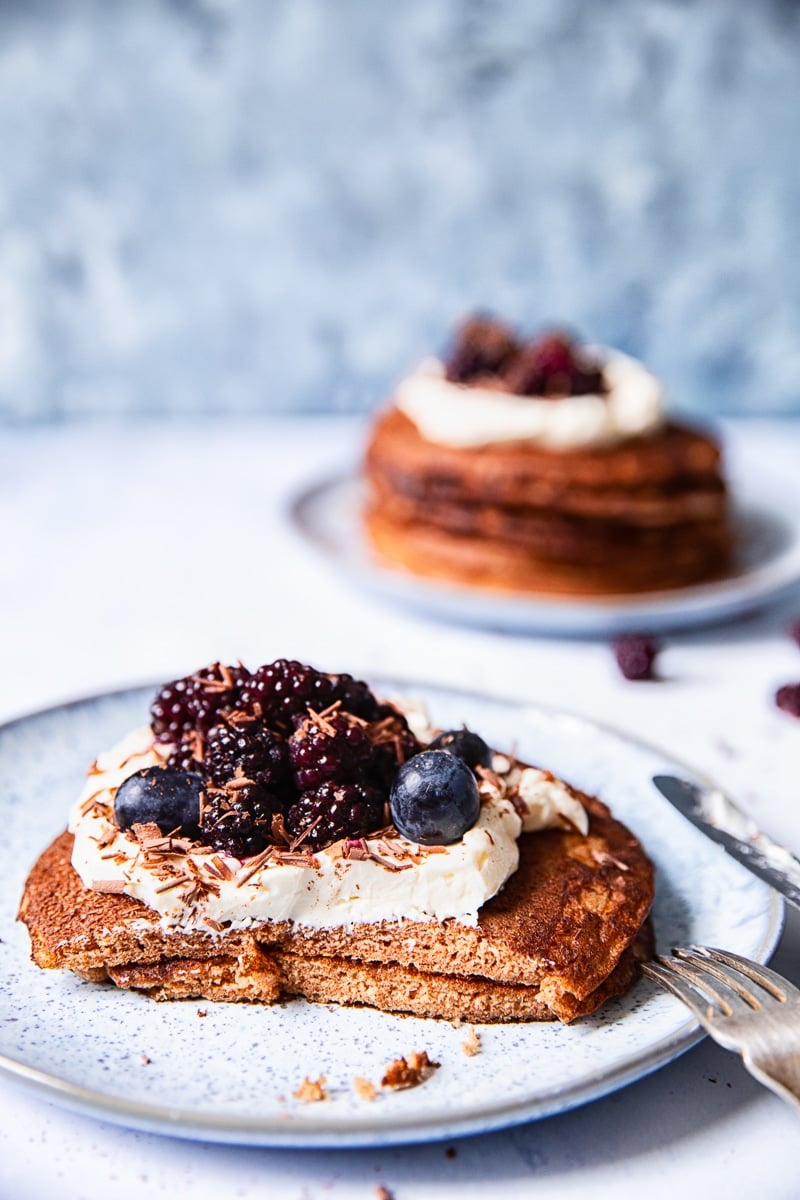 Storage and Leftovers
If you are lucky enough to have any leftovers, these pancakes can be stored in the fridge for up to 2 or 3 days. Reheat by microwaving or toasting them in a toaster and serve with the usual toppings.
You can also freeze these pancakes for up to 2 months. Layer the cooled pancakes between the sheets of waxed paper in a sealable container and freeze until needed.
Favourite Pancake Recipes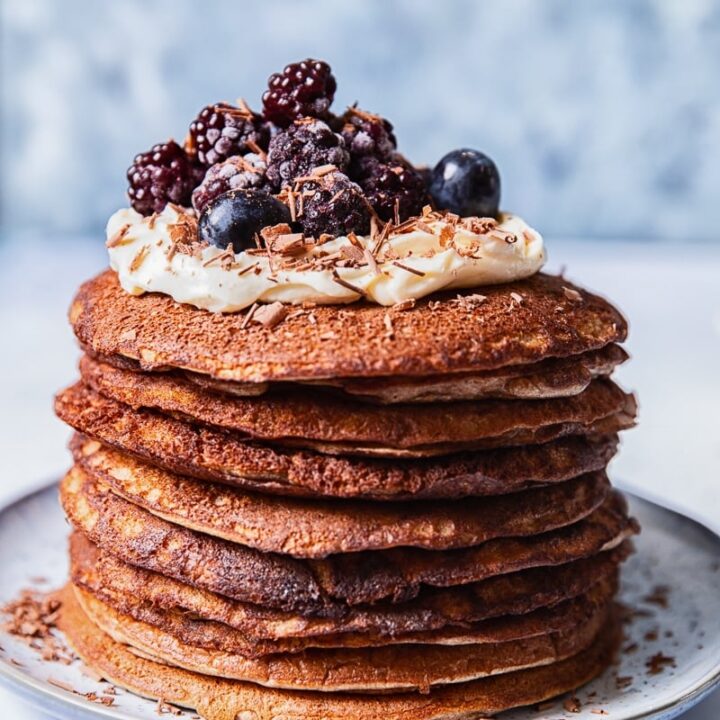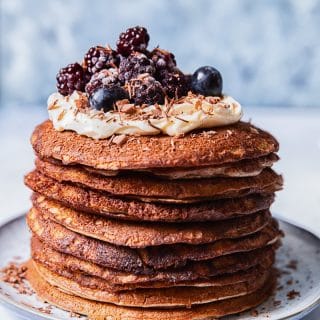 Buckwheat Pancakes
These buckwheat pancakes are everything you'd want your pancakes to be. Delicious, light, fluffy and naturally gluten free!

Ingredients
2

eggs

2 cups/500ml

milk

2

tsp

vanilla

1

lemon

zest only

2 cups/250g

light buckwheat flour

½

tsp

salt

3

tsp

baking powder

1

tsp

baking soda

3

tbsp

sugar

4

tbsp

butter

melted
Instructions
In a large bowl combine eggs, milk, vanilla and lemon zest with a whisk.

Then add ⅓ of the flour and mix well to avoid lumps, add the rest of the flour and other dry ingredients and mix. Then add melted butter and mix the batter until well combined.

Cook pancakes on a hot non-stick frying pan in 1 tbsp of oil over medium heat. Pour a ladleful in the middle of the pan and let it cook until you see bubbles form and the surface of the pancake is dry, then flip and let it cook for 1 minute longer. Repeat until all batter is used. ( Add more oil to the frying pan by 1 tbsp as needed.)

Serve the pancakes with whipped cream and fresh fruit or any other topping of your choice like yogurt, honey, maples syrup, crushed nuts, etc.
Notes
The recipe makes 12/8 inch pancakes.
Nutrition
Calories:
305
kcal
Carbohydrates:
40
g
Protein:
9
g
Fat:
13
g
Saturated Fat:
7
g
Cholesterol:
83
mg
Sodium:
952
mg
Potassium:
467
mg
Fiber:
4
g
Sugar:
11
g
Vitamin A:
450
IU
Vitamin C:
9.6
mg
Calcium:
160
mg
Iron:
2.1
mg