Not a fan of sweet breakfasts? Try this wholesome savoury buckwheat porridge for breakfast then!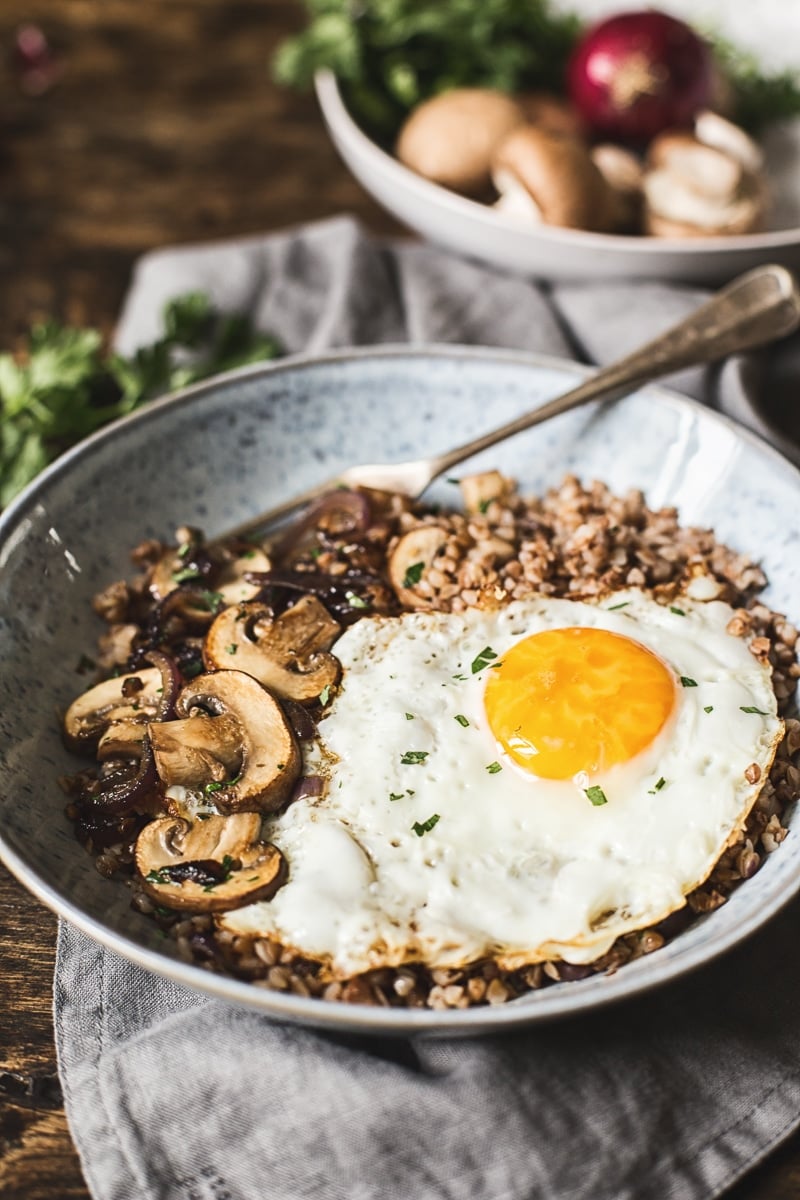 Buckwheat is my comfort food. It's the taste of childhood. Memories of sitting in a tiny, sun-filled kitchen and slurping on a warm and fluffy buckwheat kasha drowned in cold milk are one of my earliest. I still remember the contrast of temperatures, which made it somehow more exciting for a five-year-old me!
Sentimentality aside, buckwheat is a nutritional powerhouse and deserves to be a staple in everybody's pantry. If you are not familiar with this super food here are just a few facts:
Buckwheat is not a grain
Buckwheat is naturally gluten-free
It is high in essential nutrients
Buckwheat contains resistant fibre, which helps with lowering blood sugar and weight loss
The list can go on and on. The bottom line is buckwheat is crazy healthy, guys but it is also delicious! I know what you are thinking. I grew up eating it and have developed a taste for it but my husband didn't and he LOVES it and so do my children!
Buckwheat comes in three main forms-groats (raw and roasted), the latter you can see in the photos above, then there is buckwheat flour and noodles. They all contain nutritional benefits but groats more than the others. Makes sense…whole food and all.
The main places that sell buckwheat are health food stores, which sell raw buckwheat groats, Eastern European stores and Amazon. The buckwheat you see in photos here comes from an Eastern European store. It is roasted, and therefore darker in colour. Apart from a deeper colour, roasting groats also gives them a richer, more complex taste as well as a firmer texture. It also significantly cuts down on the cooking time.
In my opinion, it's really worth tracking down an Eastern European store and get your buckwheat there or order online.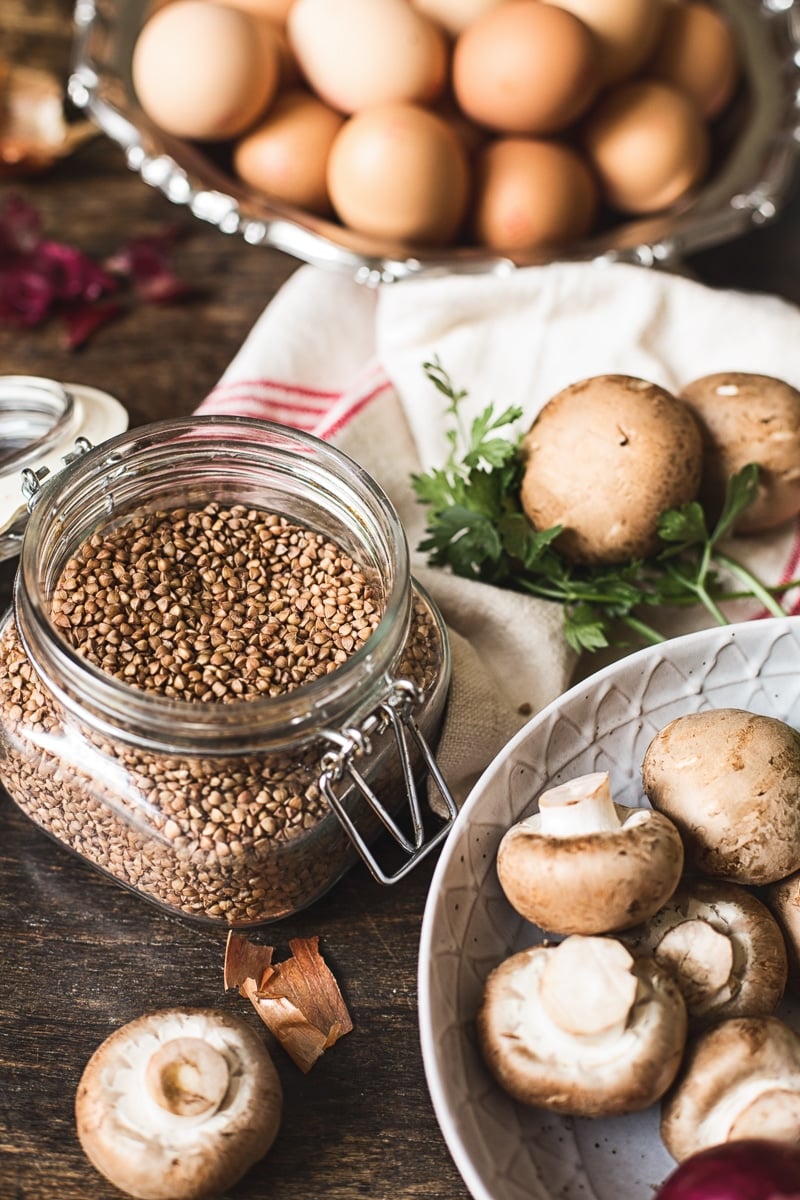 When I was little I used love buckwheat porridge aka "kasha" with milk but now I prefer a more savoury version. And that is why I created this savoury buckwheat breakfast bowl. Caramelised onions, sauteed mushrooms and topped with a fried egg. Pure bliss.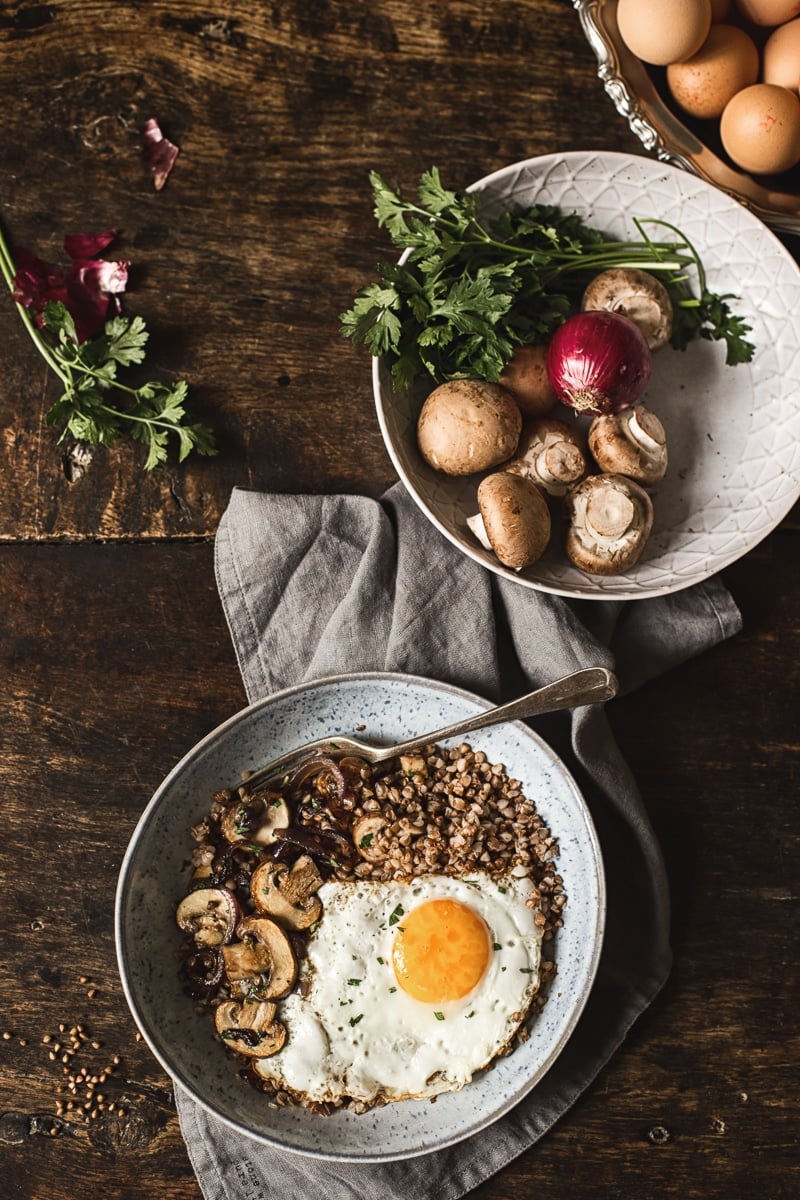 By the way, buckwheat is not only for breakfast. It is great as a side dish instead of rice or potatoes, as a stuffing, my mum used to stuff a roast chicken with mushrooms and buckwheat, or as a main. I often mix some buckwheat with ground beef or pork, in a fried rice style and serve it for dinner.
But…if you are looking for other ways to eat this amazing superfood check out my Honey and Buckwheat Soda Bread for some inspiration.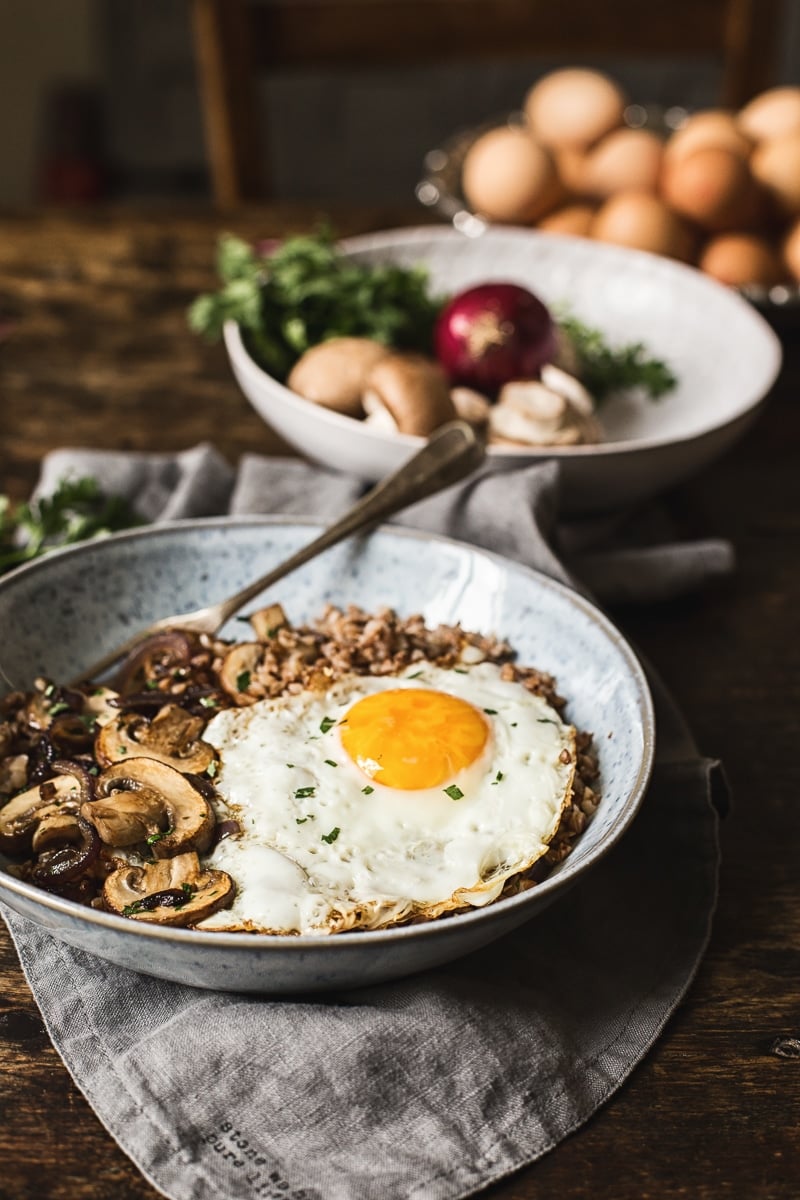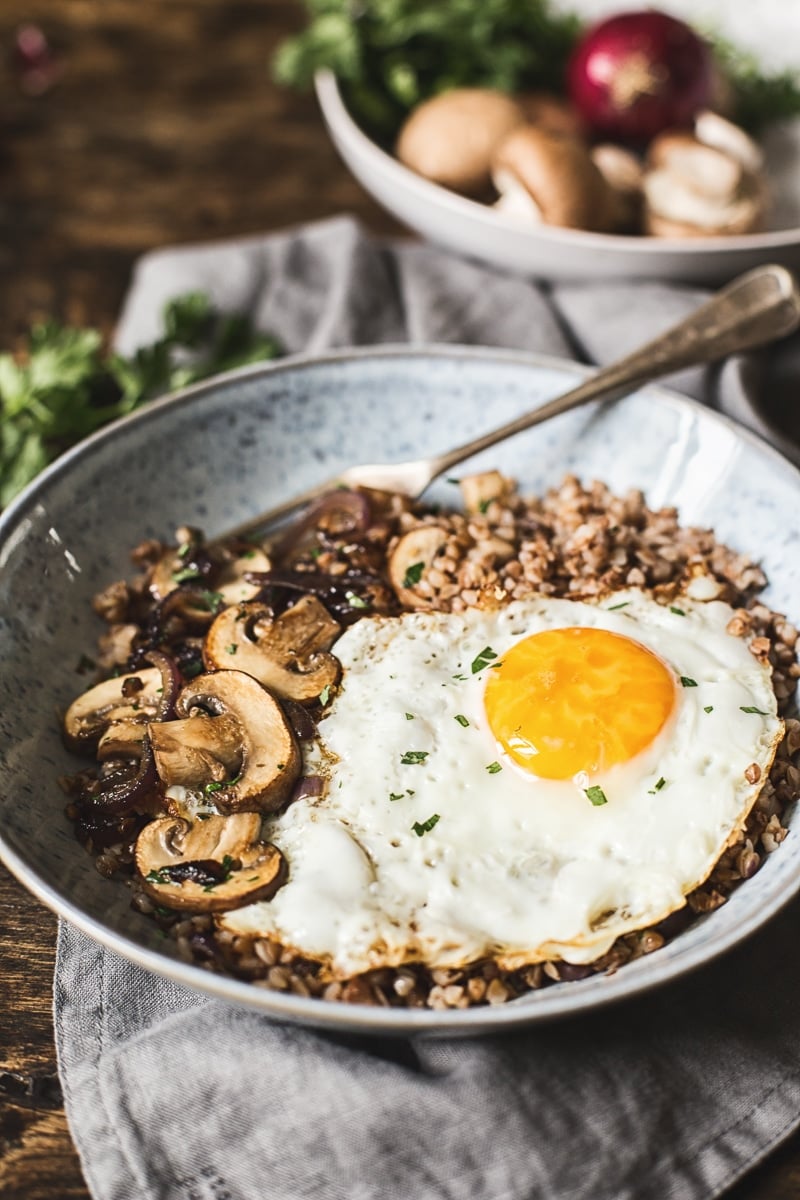 Ingredients
2

cups

toasted buckwheat groats

4

cups

water

salt

a pinch

2

tbsp

butter

1

onion

large

8-10

chestnut mushrooms

pepper to taste

2-3

sprigs flat leaf parsley

leaves only

1

egg

per person
Instructions
Rinse your buckwheat groats and transfer it a medium pot, add water and salt and cook for 15 minutes until the groats are soft and the water is evaporated. Take it off the heat, cover the pot with a lid and let it stand for additional 10-15 minutes

Meanwhile slice the onions and mushrooms. Put a large frying pan on high-medium heat and when it's hot add butter, onions and a pinch of salt. Salt will draw moisture out of the onions which will help with caramelising process. Fry them slowly, stirring once in a while and not letting them burn. Once your onions look wilted and darker in colour, add mushrooms and chopped parsley and sauté them for 5 minutes adding salt and pepper to taste.

Now add the buckwheat and mix everything together, cook for 2 more minutes to bring all the ingredients to the same temperature and allow for the flavours to meld, taste for seasoning.

In a separate frying pan, fry the eggs and top each portion with an egg.
Nutrition Facts
Savoury Buckwheat Breakfast Bowl
Amount Per Serving
Calories 378
Calories from Fat 81
% Daily Value*
Fat 9g14%
Cholesterol 56mg19%
Sodium 83mg4%
Potassium 625mg18%
Carbohydrates 65g22%
Protein 14g28%
Vitamin A 280IU6%
Vitamin C 2.7mg3%
Calcium 42mg4%
Iron 2.3mg13%
* Percent Daily Values are based on a 2000 calorie diet.