Up your breakfast game by making a delicious millet porridge with honey glazed plums. This ancient naturally gluten-free whole grain is just waiting to be re-discovered!
If you have a little more time in the morning, why not add our homemade Spiced Chai Latte to your wholesome porridge! So warm and cozy.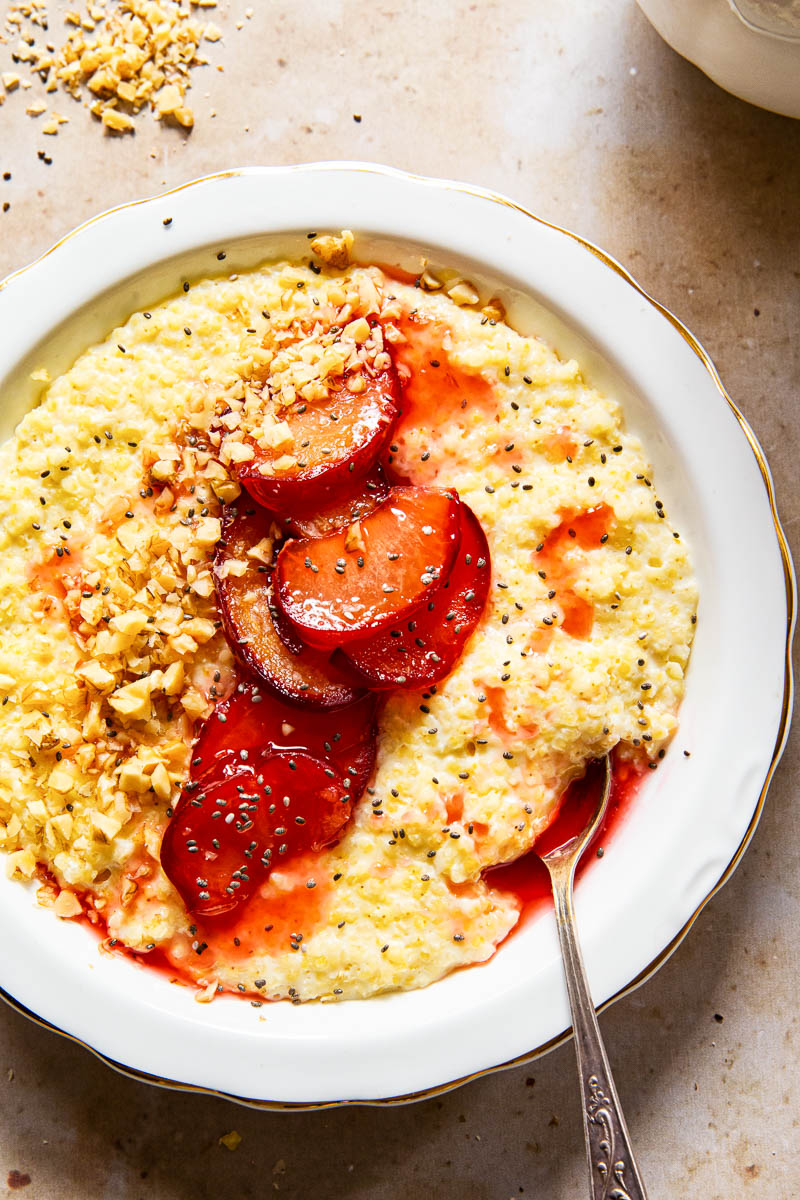 We keep hearing from all kinds of reputable sources that breakfast is the most important meal. However it's hard to treat it as one simply because we are all so busy in the morning!
Great news is this millet porridge could be made ahead and simply warmed up when needed.
What is Millet?
Millet is technically a seed but it behaves like a whole grain when cooked. It is absolutely chock full of nutrients. Millet is especially high in fibre, even higher than oats since it is not processed.
It is naturally gluten free, so if you are following a gluten-free diet, add this delicious grain to your pantry.
At first glance millet looks a little bit like couscous but they have a different taste and texture when cooked. That being said some types of couscous could be made from millet.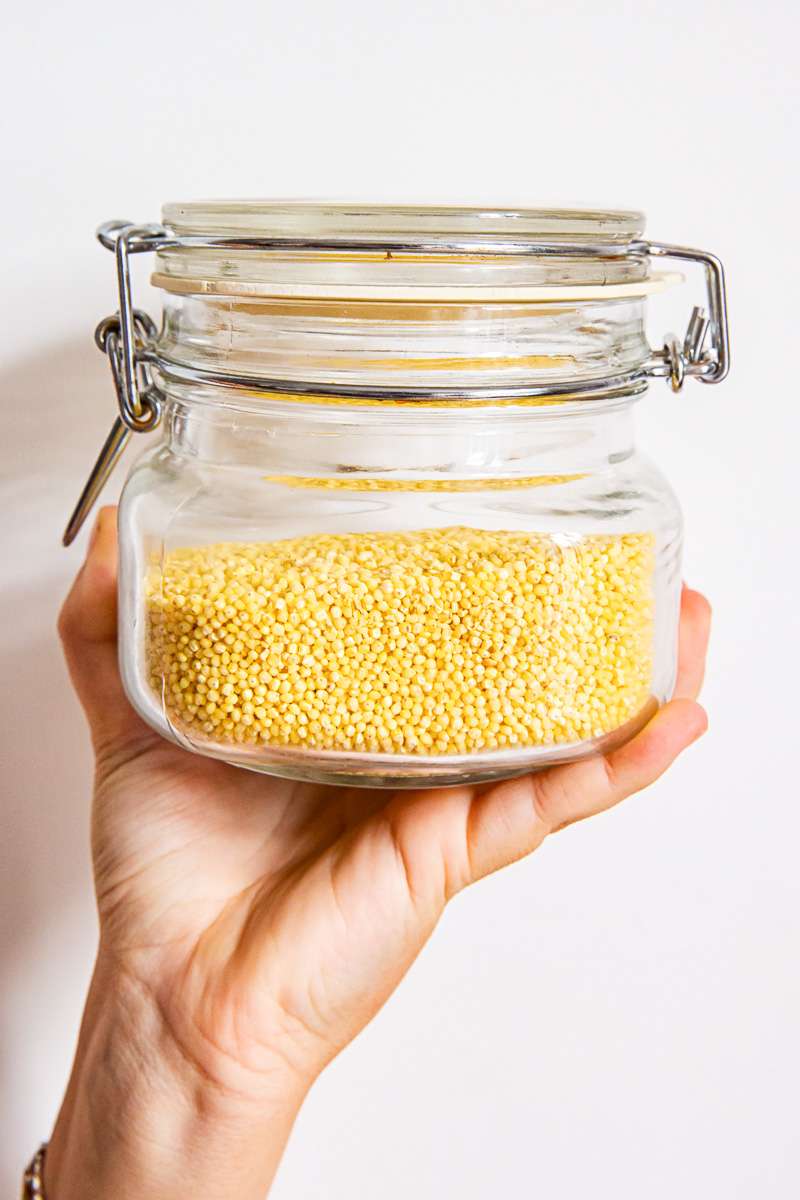 Millet Recipes
Millet is incredibly versatile. It could be creamy like mashed potatoes or have more texture to resemble rice depending on how it's cooked.
It is also suitable for both sweet and savoury dishes. Hot or cold. This Summer Goodness Salad is an example of millet being used cold in a savoury dish.
Millet you see in the photo above and what I am referring to here is unprocessed. However puffed millet, which could be added to muesli or granola or millet flour for gluten free baking are also available.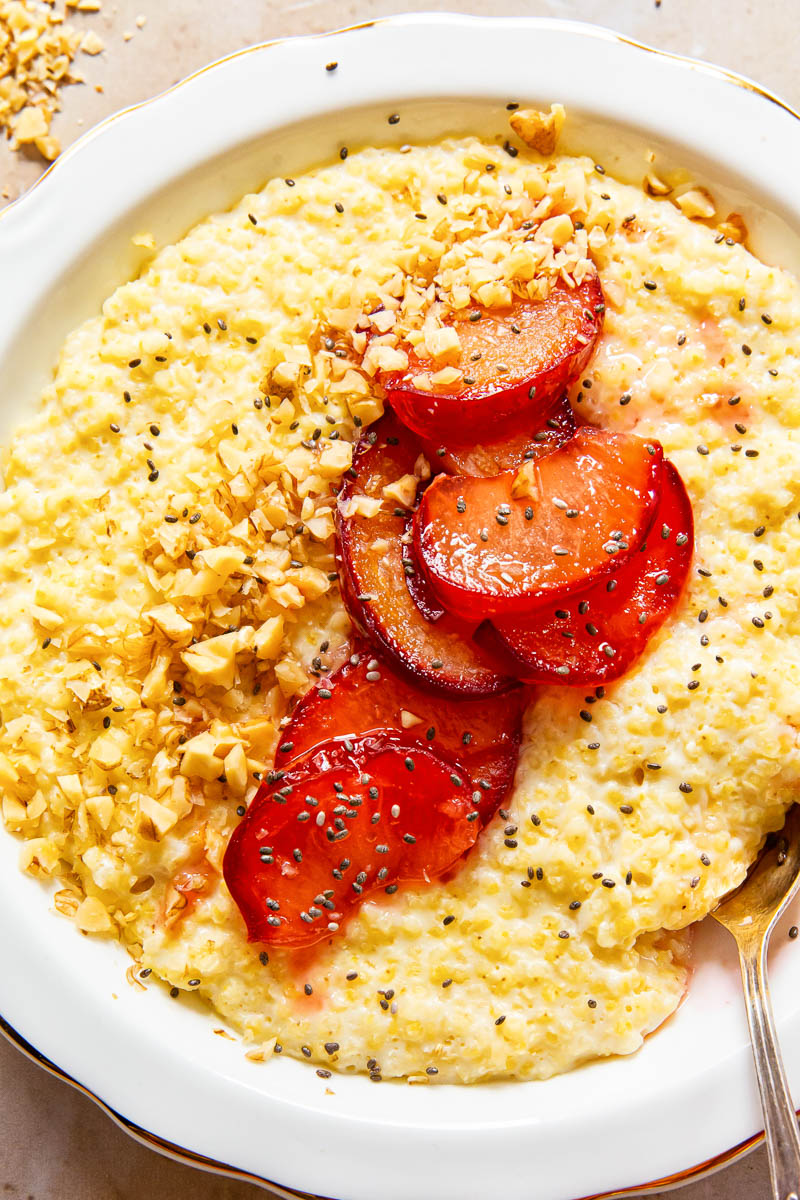 How to Cook It
Cooking millet is very similar to rice and takes about 15 minutes on average. It needs to be cooked in liquid and the amount of liquid will determine the texture of the finished product.
If you wish to serve millet as a rice substitute, use 1 (millet) : 2 (liquid) ratio. For example 1 cup/200g of millet per 2 cups/450ml water or stock. For a creamier consistency of mashed potatoes or polenta go with 1 : 3 ratio.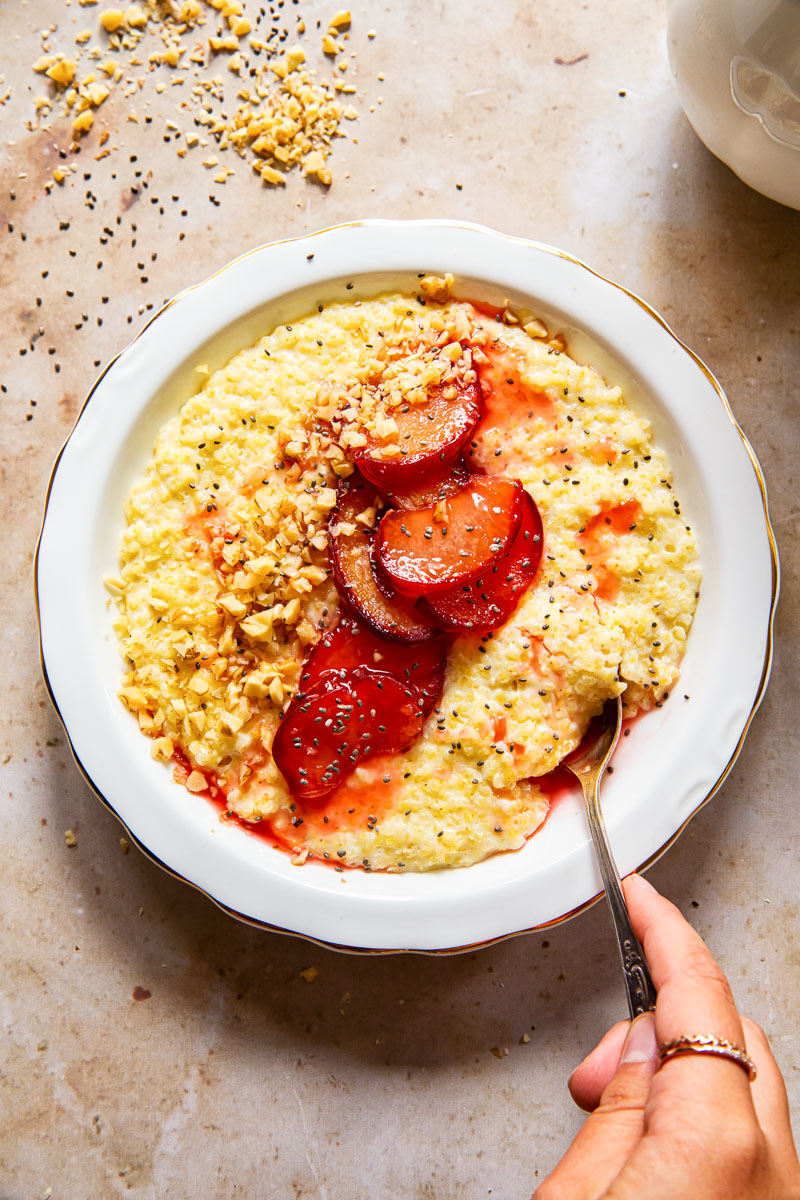 Millet Porridge
Millet porridge or "kasha", as it is also called, is an example of a sweet dish, which every child in Russia grew up on or any grain kasha for that matter. I personally couldn't stand the sight or smell of it when I was little.
As an adult, however, I appreciate their health benefits as well as the taste, and thankfully so do my teenage children!
It is cooked in milk with a bit of brown sugar added. You can use dairy or plant based milk. I grew up on cow's milk but nowadays I love making millet porridge with coconut milk as most of my family is lactose intolerant.
It is best when served with some sort of fruit. For this recipe I cooked under-ripe plums with a touch of honey for about 5 minutes just to soften them and topped my porridge.
Just imagine sinking your spoon into hot and creamy blend of wholesome grain, milk and brown sugar, topped with ripe and juicy honey plums! That's what your mornings should be made of.
In the summer fresh berries are absolutely the best topping though. Sprinkle your porridge with a teaspoon of chia seeds and chopped walnuts and your health factor just got bumped up by a thousand….scientifically speaking.
Joking aside, adding nuts or chia seeds is entirely optional but passionately recommended!
More Grain based Breakfast Ideas:
This recipe was originally published in o4/2015. Updated with new information and photos in 09/2020.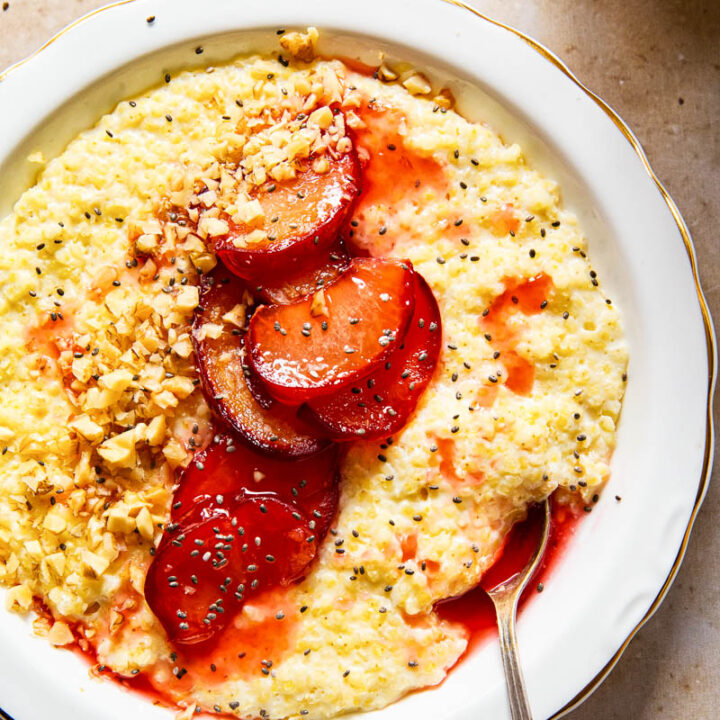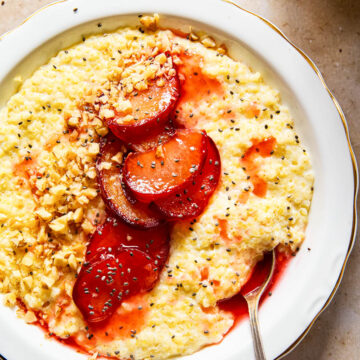 Millet Porridge with Honey Glazed Plums
Up your breakfast game by making a delicious millet porridge with honey glazed plums. This ancient naturally gluten-free whole grain is just waiting to be re-discovered!
Ingredients
200g/1

cup

millet

600ml/3

cups

milk

you can used any milk you like-soy, almond, coconut

2

tbsp

brown sugar or more to taste

a pinch of salt

4

plums

2

tbsp

water

2

tsp

honey

2

tsp

chia seeds

optional

2

tbsp

chopped nuts

walnuts, almonds or your choice
Instructions
In a medium pot combine millet, milk, sugar and salt and bring to a boil.

Turn the heat down to a low and simmer for 15 minutes stirring once in a while until the grain is tender. Check on your porridge half-way through to make sure it hasn't gone dry and add a splash of milk or water if needed to keep it loose and creamy.

Meanwhile remove the stones from the plums and slice them thickly. Then put them in a small saucepan with water and honey, cook over medium heat while stirring for 5-7 minutes until they are softened but still hold their shape and the liquid turned into a glaze.

Serve the millet porridge topped with honey glazed plums and sprinkled with some chia seeds or chopped nuts if desired.
Nutrition
Calories:
387
kcal
Carbohydrates:
61
g
Protein:
12
g
Fat:
11
g
Saturated Fat:
4
g
Cholesterol:
15
mg
Sodium:
70
mg
Potassium:
421
mg
Fiber:
6
g
Sugar:
23
g
Vitamin A:
471
IU
Vitamin C:
6
mg
Calcium:
200
mg
Iron:
2
mg