Warm and comforting, this chai latte is an ideal drink to curl up with in colder month. A unique blend of aromatic spices of cinnamon, ginger, star anise and cardamom gives this delicious hot drink a soothing quality when we need comfort most.
If you are looking for something sweet to go with your chai latte, this Apple Spice Cake is the perfect companion!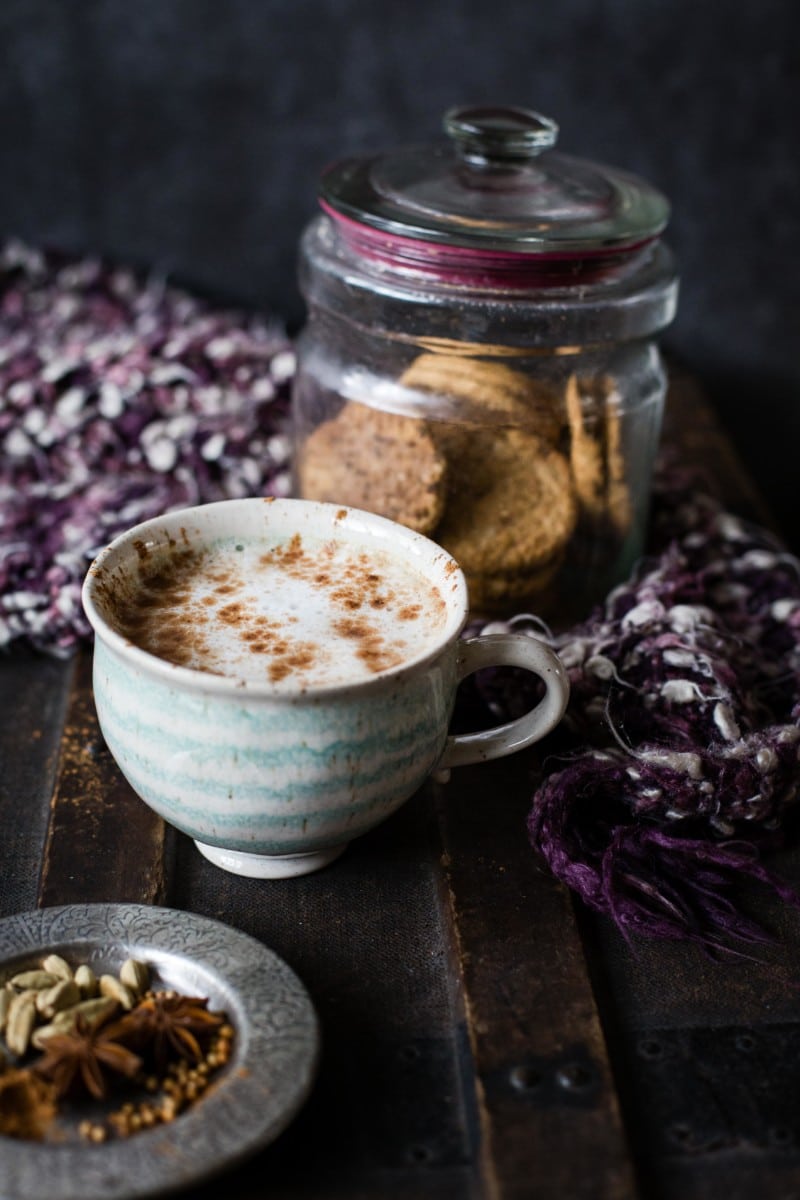 As much as I love changing seasons, I seem to struggle to be ready for them. I've spent the last two weeks wearing a nice thin summer jacket, which has been inadequate for chilly autumn evenings and the London fog.
Having been caught out yet again by less-than-pleasant temperatures, I'm ready for a hot drink. And so much better if it is something outside of my normal drinks.
I absolutely adore coffee and black tea but once in a while I get bored with the usual stuff. And I feel like I need something else to make things exciting. The answer is Chai Tea Latte.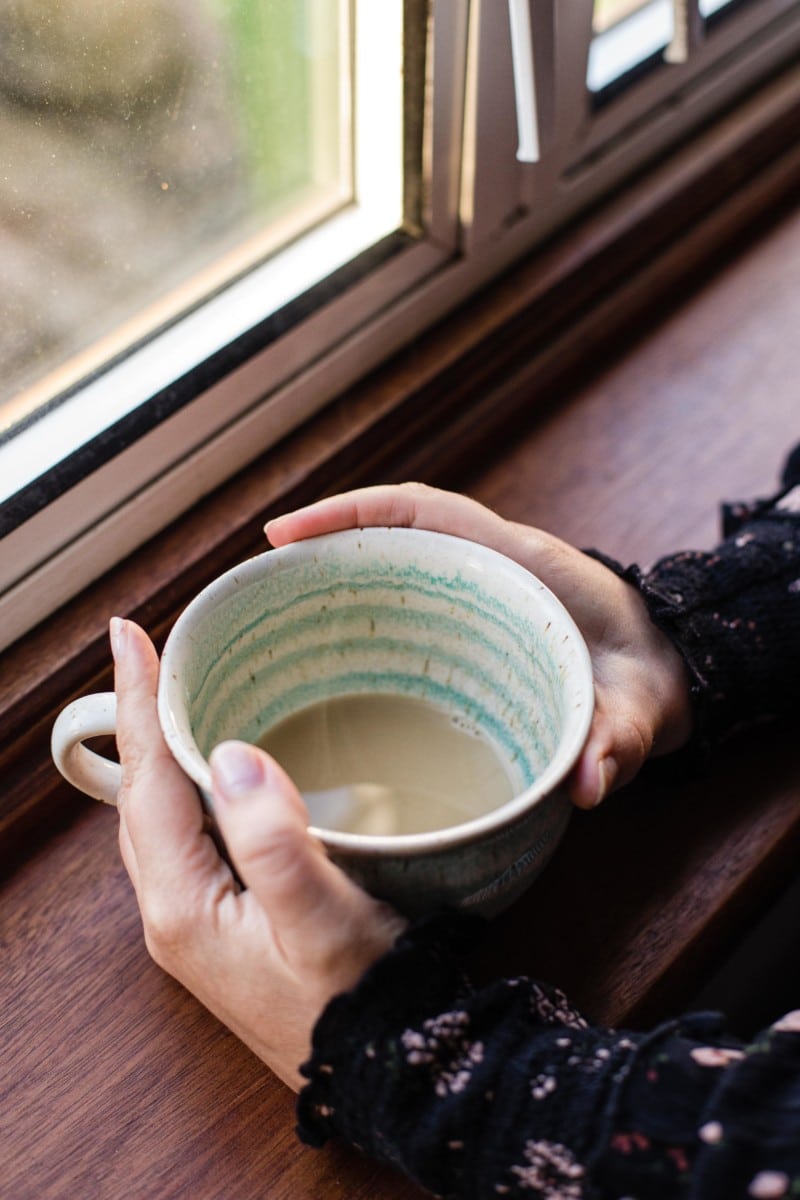 What is chai latte made of?
This delicious drink is combination of black tea steeped in hot milk but the main element that gives chai latte its distinct taste is the spices. It is also usually served quite sweet.
Various proportions of warm and aromatic spices like cinnamon, cardamom, star anise and ginger are the ever present ingredients in chai latte. Sometimes black peppercorns and cloves are also added.
Where is chai from?
The drink itself originates in India, where it's called masala chai (aka spiced tea) or simply chai but is also drunk in Nepal.
Nepal is where my husband spent a year in his 20s and brought the love for this delicious drink home.
How do you make chai tea at home?
In Indian and Nepal every family has their own favourite recipe. And that recipe will largely depend on personal taste.
Here is our favourite spice mix that goes into chai latte. Cinnamon, star anise, cardamom and ginger. All spices are whole and the ginger is raw. This way you get the most fragrant and delicious chai!
All you have to do is to combine cinnamon stick, star anise, cardamom pods and a couple of slices of ginger in a pot with water and bring to a simmer over low heat. This is the step of flavour infusion.
Then I add loose tea but good quality tea bags will also work and milk, bring everything to a boil and immediately take it off the heat. Leave your chai latte to steep for 3 minutes. That's how long it takes for proper tea to steep according to tea masters.
Then strain into a cup, add sugar or any other sweetener to taste and enjoy. I don't have a sweet tooth but even I agree that chai tea latte is best sweet!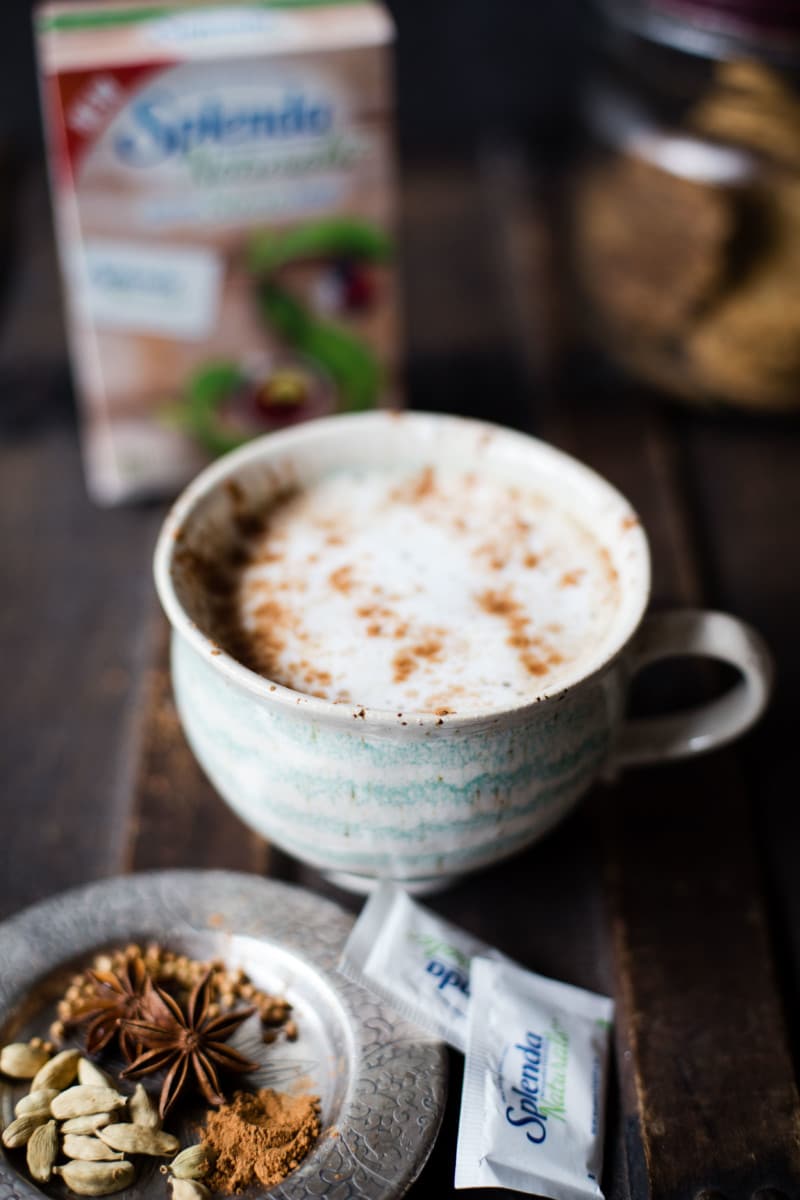 Wonderful Cake and Sweet Recipes to enjoy with your chai latte:
Originally published in 10/2016. Updated with new text and recipe ingredients and republished in 10/2019.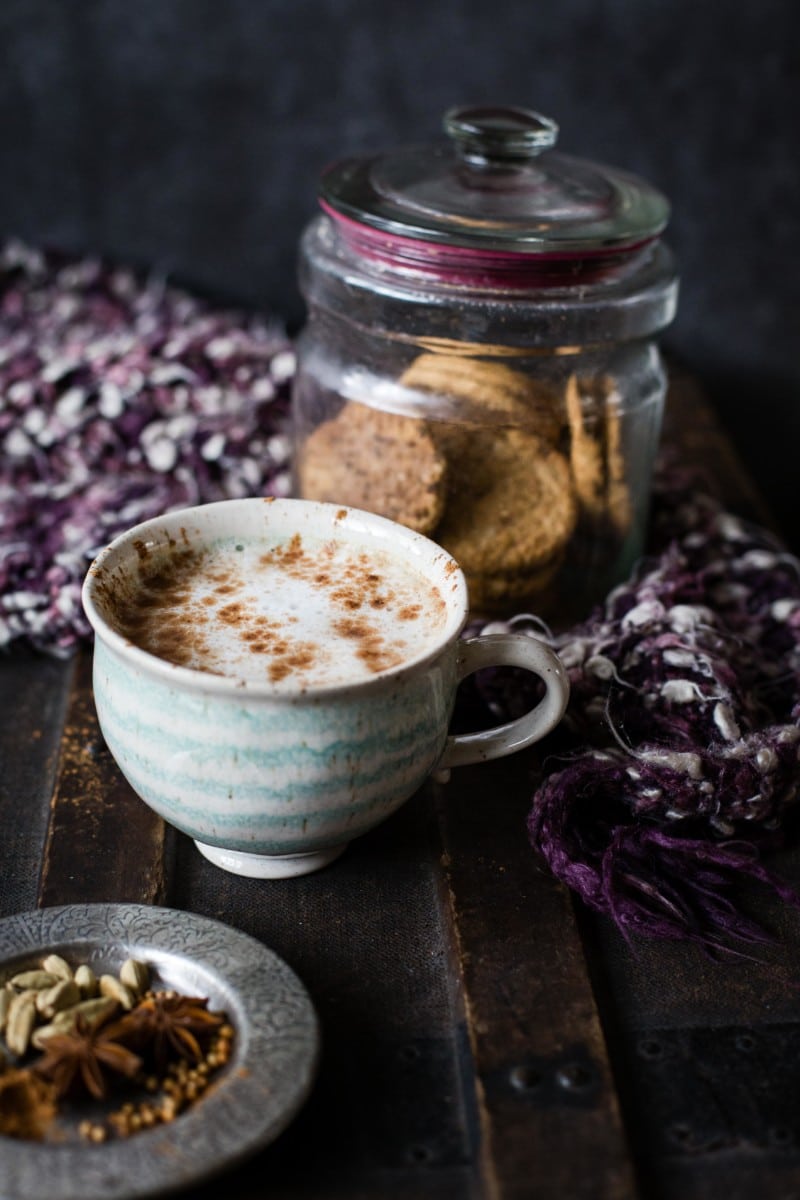 Ingredients
2

cups

water

1

cinnamon stick

2

star anise

4

cardamom pods

slightly crushed

2

slices

of ginger

2

tbsp

loose black tea

good quality

2

cups

milk, whole milk or skimmed milk

sugar or sweetener to taste
Instructions
In a small saucepan combine water, cinnamon stick, star anise, cardamom pods and ginger and bring to a slow simmer, add tea, milk and bring it to a boil, take it off the heat and let it steep for 3 minutes.

Strain through a fine sieve and add sugar to taste

Enjoy it with a bit of frothed milk on top and a sprinkle of cinnamon.
Nutrition Facts
Chai Tea Latte
Amount Per Serving
Calories 179
Calories from Fat 72
% Daily Value*
Fat 8g12%
Cholesterol 24mg8%
Sodium 119mg5%
Potassium 367mg10%
Carbohydrates 19g6%
Protein 8g16%
Vitamin A 395IU8%
Vitamin C 1mg1%
Calcium 323mg32%
Iron 1mg6%
* Percent Daily Values are based on a 2000 calorie diet.