These incredible puff pastry pear tarts coated with salted caramel take less than an hour to make and look like they came out of a patisserie shop. They make a delicious autumnal dessert that will wow your friends and family!
If you love the idea of fruit baked into puff pastry, take a look at another seasonal favourite Apple Turnovers.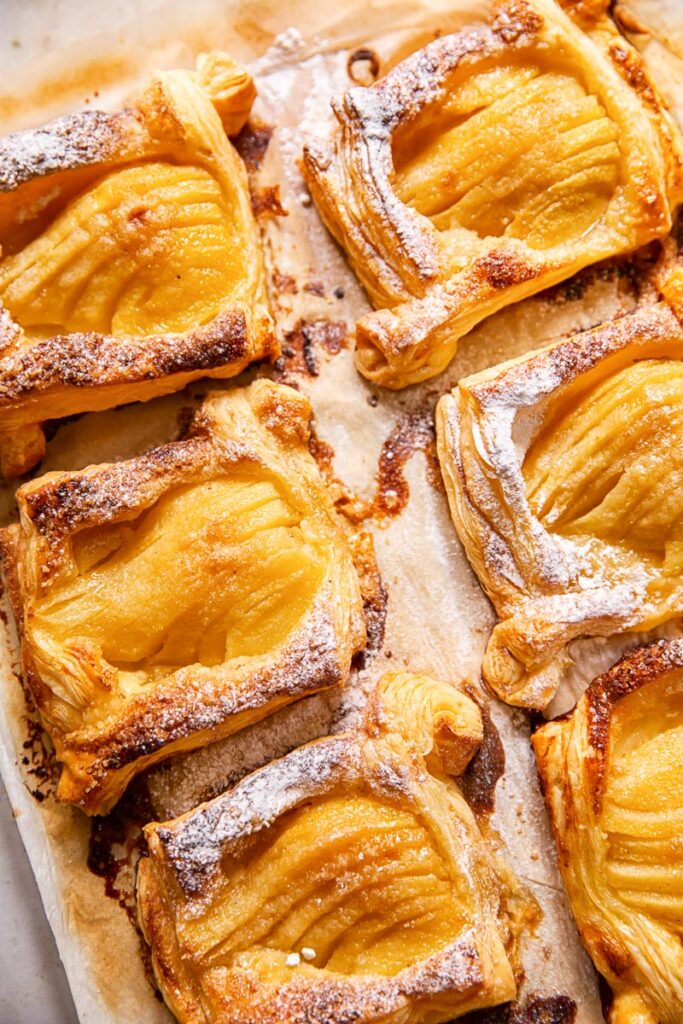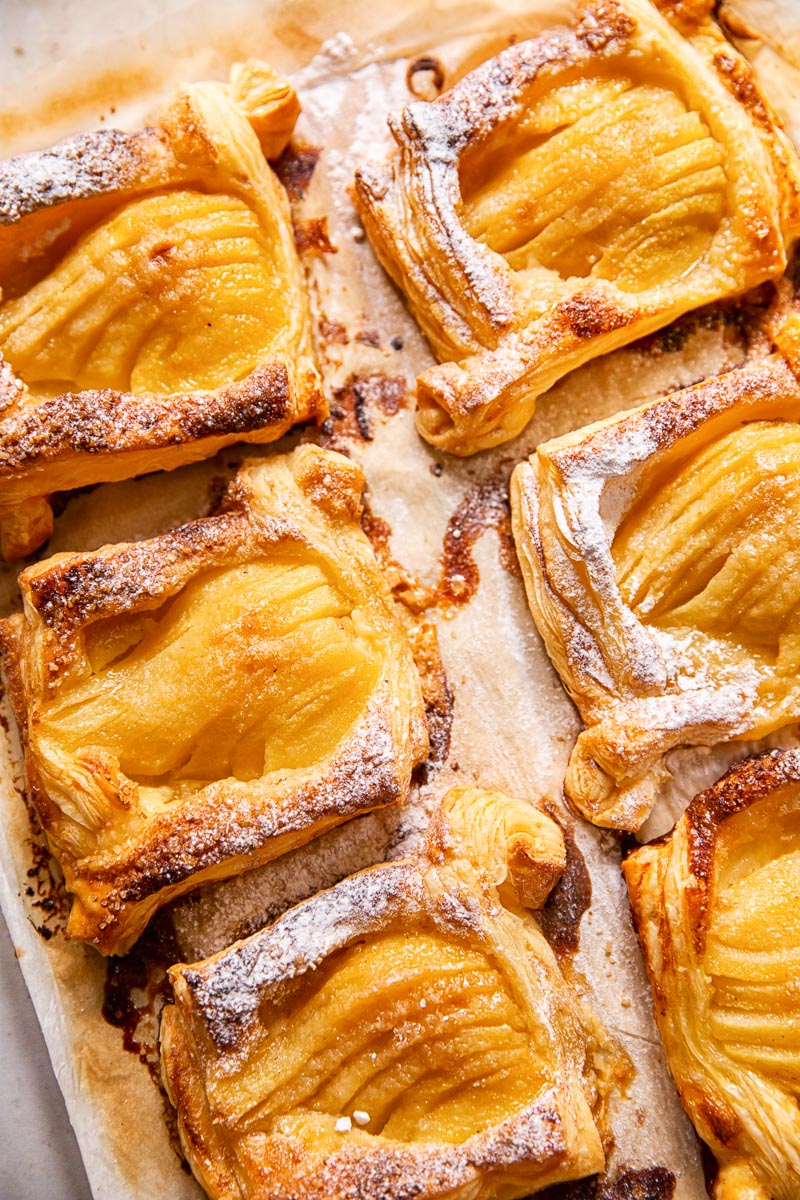 I love the vibe of an European style bakery, with stylish pastries and decedent cakes. I'm in awe of the craftsmanship, skill and creativity it takes to make anything so beautiful and delicious.
It's the sort of thing I dream of recreating in my own humble kitchen. These elegant Salted Caramel Pear Tarts, with flaky pastry and sweet pear in a stylish package, would not look out of place in the finest bakery.
They are so lovely and tasty, no one would ever guess that they are also incredibly easy to make! And you can make them so quickly there is no need to get up at the crack of dawn and get baking!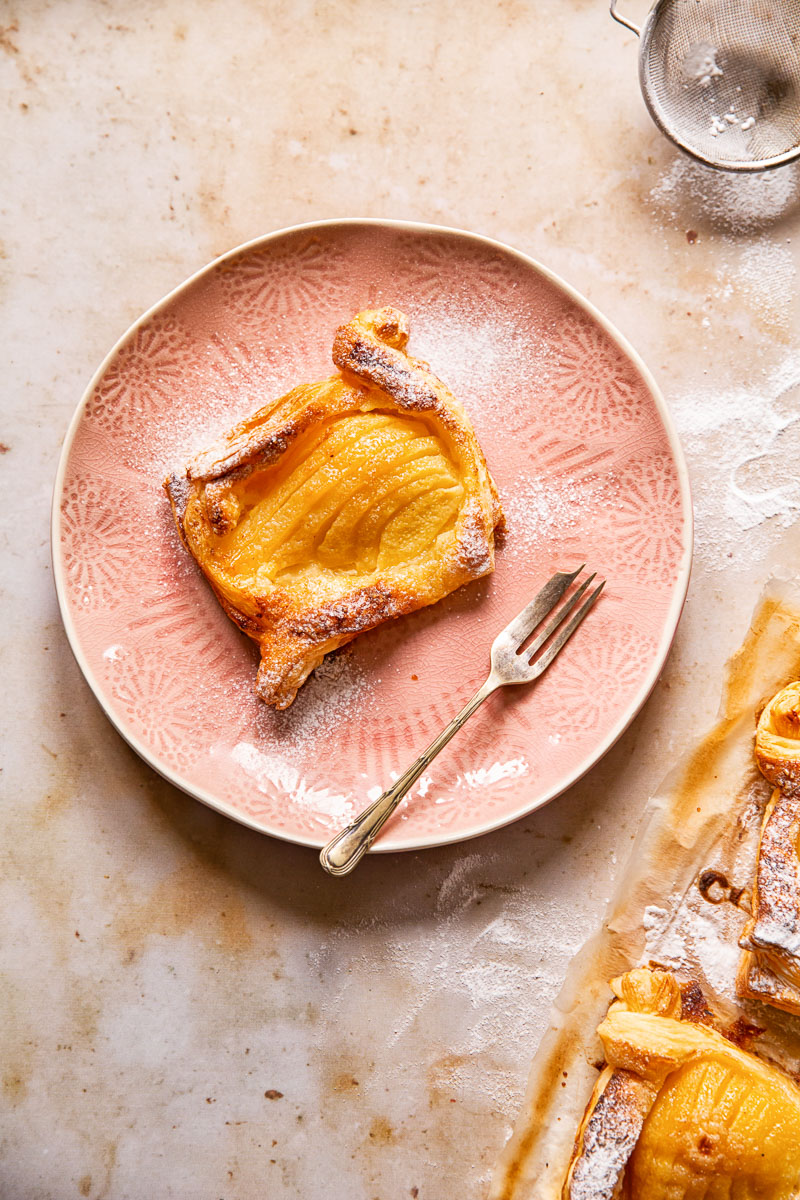 Pear Tart Recipe
These delectable pear tarts took me a total of 40 minutes to make, and only 10 minutes of hands on time. Take a look in the recipe card for a step-by step video tutorial on how you can do the same. Then you can surprise your friends and family at your Thanksgiving feast with these lovely beauties!
This puff pastry dessert is beautiful and delicious despite the simplicity of preparation. I also love that it uses a very ordinary fruit like pear and turns it into a real star!
I love pears in season and use them for many bakes. This Spiced Pear Baked Oatmeal is an excellent way to start a day!
I've used prepared and already rolled puff pastry, which made the whole process pure joy. All you really need to do do is assemble the tarts – kind of like doing a bit of craft, actually.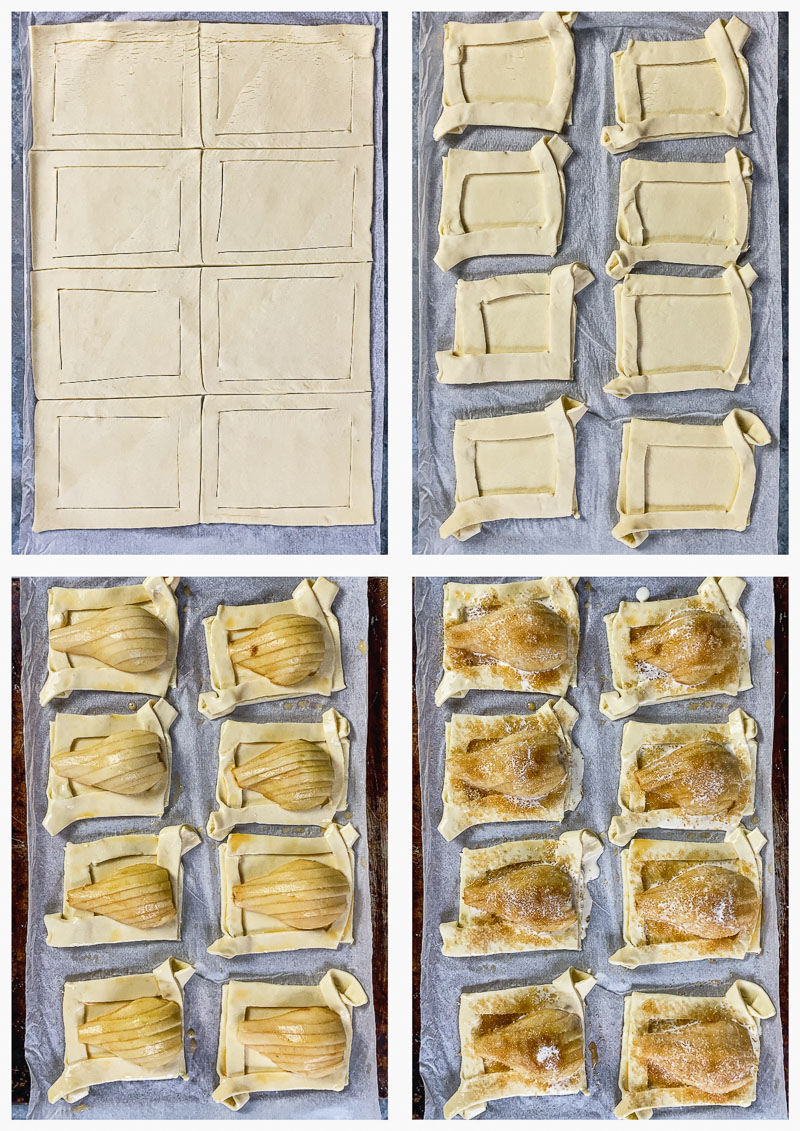 How to Make Them
This is the least fussy dessert recipe but it tastes divine. Once you know how to fold them, the rest is up to the ingredients to make these tarts irresistible.
The secret is to use pre-rolled puff pastry. Not only does this cut out a lot of time and effort, it ensures that the thickness of the pastry is consistent and the tarts bake an even pace.
The tarts have an elegant look to them, but no advanced techniques are needed to achieve this for yourself. Start with two L-shaped slits on opposite corners then fold over and you have it. Take a look at the video or photos if you are uncertain.
You'll want to brush the pastry with egg wash to get a lovely golden crisp. Once the pastry is prepared, add the pears, sugar and cream and you are ready to bake.
What Pears to Use
I am not very particular on what variety of pears you use. Anything that happens to be in your fruit basket or local supermarket will do. I used Conference pears simply because they are small and readily available in my area.
One thing to mention is to make sure your pears are ripe as the tarts only spend 30 minutes in the oven, which is not long enough for hard pears to cook. They should also be small in size.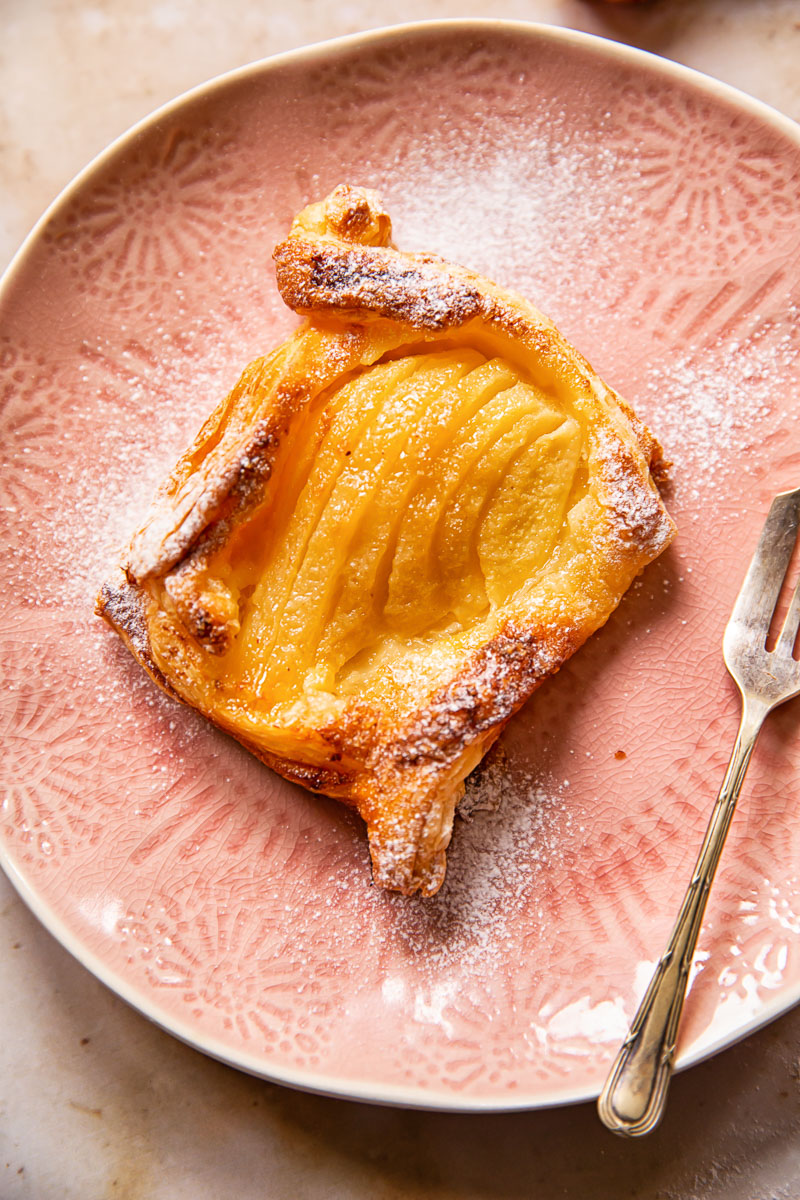 Sea Salt Caramel
Now onto the salted caramel topping. It sounds intimidating but in reality is very simple to make for this particular recipe.
All you have to do is to sprinkle brown sugar, heavy cream and sea salt over the pears before baking. And they turn into salted caramel in the oven without you doing a thing! Genius.
The purpose of salt in caramel is the same as in anything else – it's there to enhance the flavour and bring out lots of nuance that would otherwise go unnoticed. It adds an extra dimension to the caramel and makes the whole thing pop.
This recipe produces a pear tart with a delicate taste. They are not too sweet. I've served mine dusted with powdered sugar.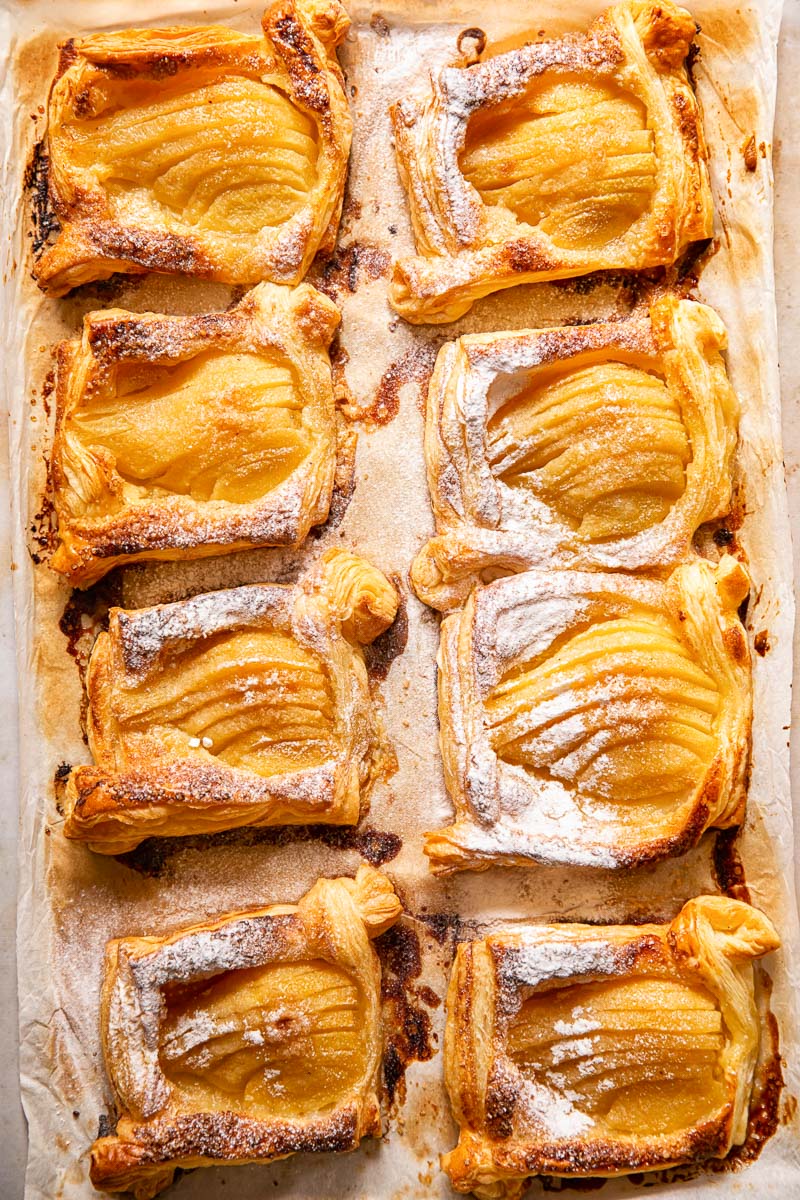 Recipe tips and notes
Choose all butter puff pastry to get the flakiest texture and best flavour.
Because the tarts don't spend a lot of time baking, make sure to use ripe pears or they may not cook all the way through.
You want to take the puff pastry out early enough that isn't too cold when you try to roll it out. If it is too cold, cracks will develop as it unrolls. However, butter will melt into other layers if it is left out for too long, preventing you from getting the best results and making it harder to work with. Taking it out 20 minutes before use is likely best. If it is left out for too long, simply place it back in your fridge for 30 minutes.
These tarts are most delicious shortly after they are baked although they will easily last a day. So if you want to make them a day ahead, it's not a problem!
More easy puff pastry dessert recipes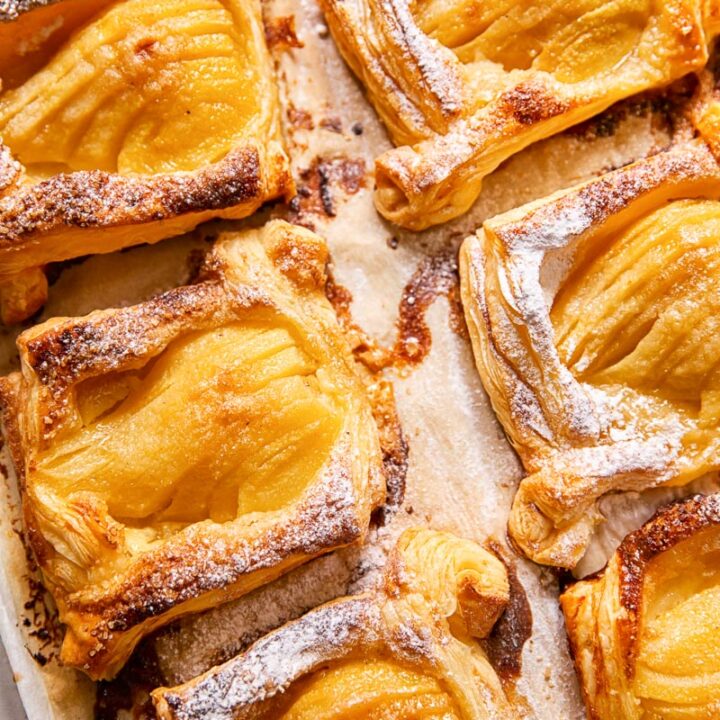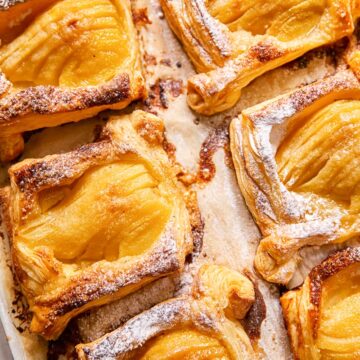 Salted Caramel Pear Tarts
These incredible puff pastry pear tarts coated with salted caramel take no longer than half an hour to make and look like they came out of a patisserie shop.
Ingredients
375

g

/13 oz all butter puff pastry

1

egg

beaten

4

ripe pears

small or medium

8

tsp

Demerara (brown) sugar

8

tsp

double/heavy cream

no half and half

1

tsp

coarse sea salt
Instructions
Preheat your oven to 375F/190C. Line a baking sheet with parchment paper. Roll out your puff pastry. If you are using a block, dust your work surface with some flour and roll out a rectangle ¼″ thick. Divide your rectangular shaped puff pastry into 8 small rectangles. With a sharp knife, cut an "L" into 2 opposing corners, don't cut all the way but leave a ½-inch in two corners. Brush with the beaten egg. Pick up the cut corners of the pastry, cross them over each other (one over, one under) and lay them flat (now on opposite sides). Brush the tops of the pastry with the egg wash and put the prepared pastries in the refrigerator to chill.

While the pastry is chilling, prepare the pear filling. Peel the pears and split them in half lengthwise, core them, and slice in ¼″ slices.

Take the pastry shells out of the fridge and set them on your work surface, place one pear half in the centre of each tart. Then sprinkle with a teaspoon of brown sugar and a teaspoon/5ml of double cream per tart, then add a pinch sea salt on top. Bake in the preheated oven for 30 minutes or until pears are soft and pastry is golden.
Nutrition
Calories:
350
kcal
Carbohydrates:
39
g
Protein:
5
g
Fat:
20
g
Saturated Fat:
6
g
Cholesterol:
27
mg
Sodium:
418
mg
Potassium:
139
mg
Fiber:
3
g
Sugar:
13
g
Vitamin A:
125
IU
Vitamin C:
4
mg
Calcium:
19
mg
Iron:
1
mg