If you are a cheesecake fan, you definitely need my cheese Paskha recipe! It's the prettiest and most fragrant no-bake cheesecake ever!
For another Easter cheesecake, take a look at our Lemon Curd Cheesecake or feel free to explore our Easter recipe collection.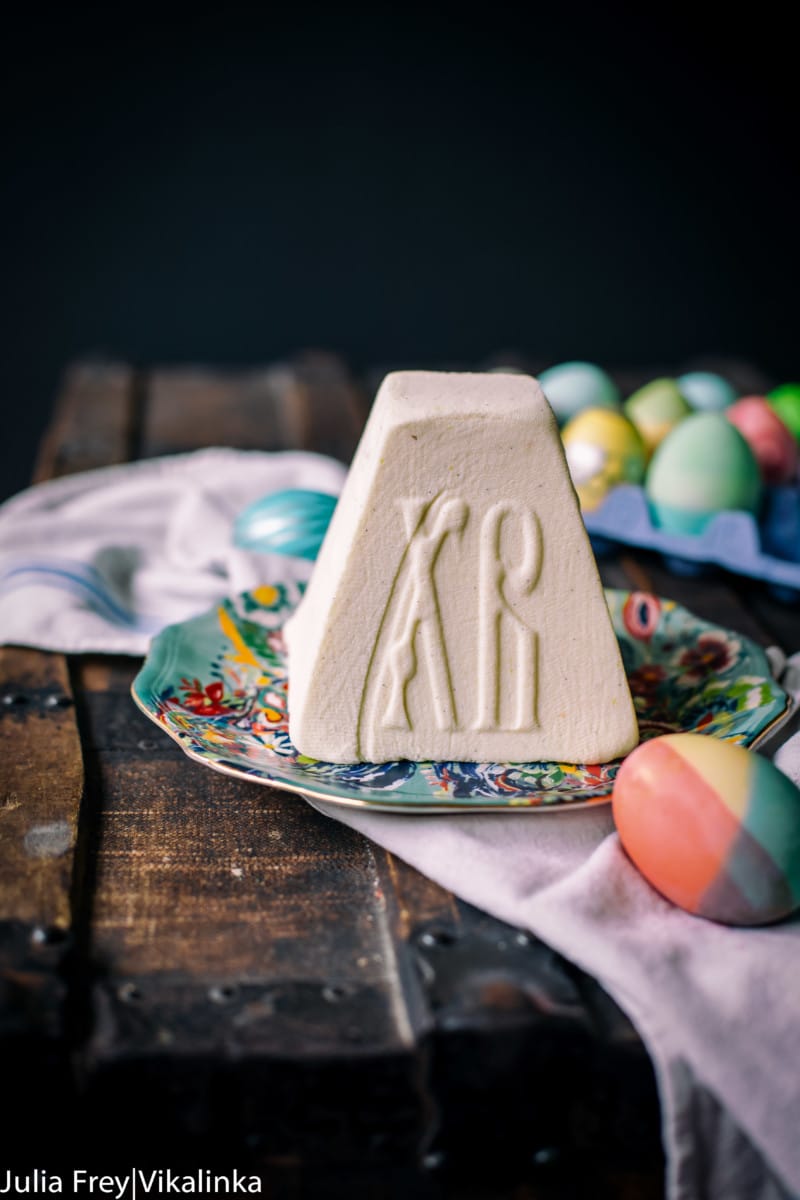 I've been sharing so many sweets lately, which is not really me but when an occasion like a major holiday or a birthday call for it I have to oblige. Hence, a slew of cakes and other desserts have been appearing on Vikalinka.
This sweet cheese pugging Paskha, aka no bake cheesecake, I am sharing today is not known in this part of the world but very traditional for Russia and Ukraine during Easter holiday, which is happening this Sunday.
That's right religious holidays are on a slightly different schedule in Orthodox church. I made this pudding a few weeks ago for Easter but I thought it would be fitting to share it now when it will be enjoyed by those celebrating according to the Orthodox calendar.
What is Paskha?
If I had to describe it in one word, I would say paskha or sometimes spelled as Pashka is a no bake cheesecake.
What is so cool about this dessert is the mold it's made in, which gives it this unusual shape. The mold is traditionally made out of wood and not so easy to come by nowadays.
I've wanted to make and blog this recipe ever since I started Vikalinka but I didn't know where to look for the mold. This year Brad did a search for me and found this plastic one, which he ordered from Ukraine.
It worked absolutely beautifully! It's also more practical than a wooden one for rainy England where things tend to go moldy! (Pun intended)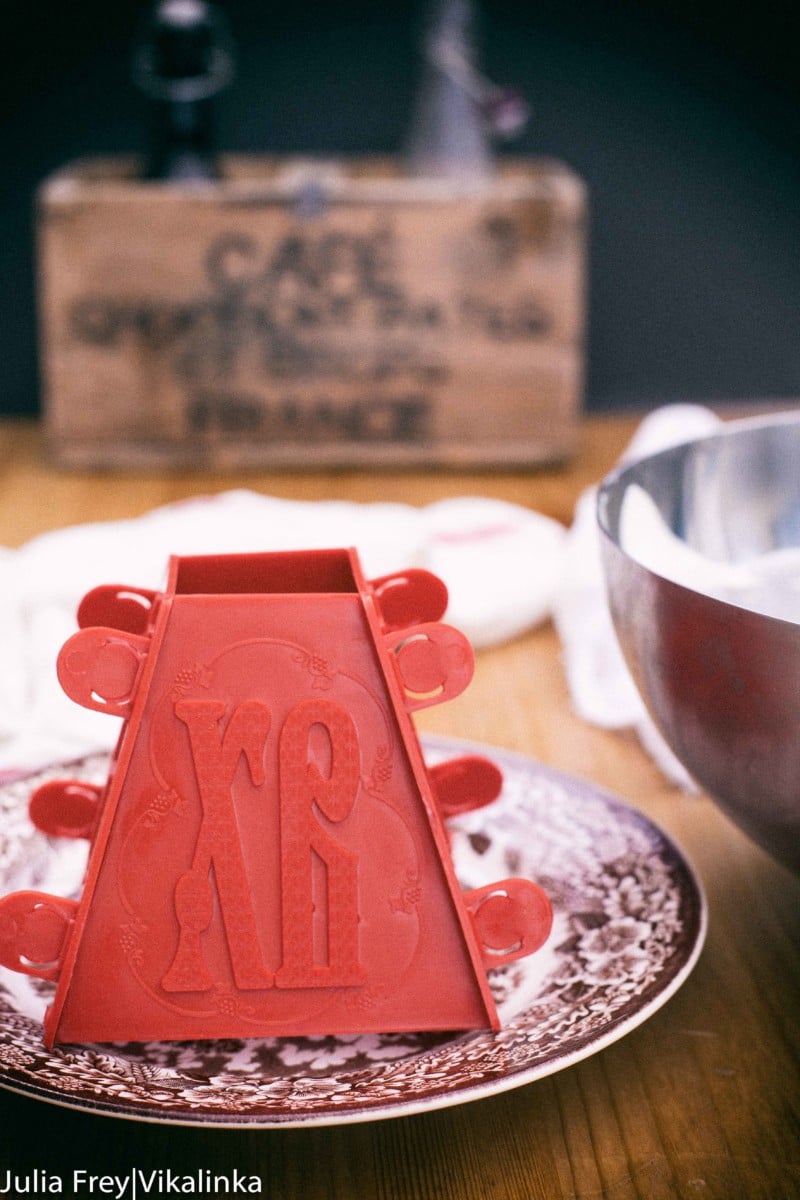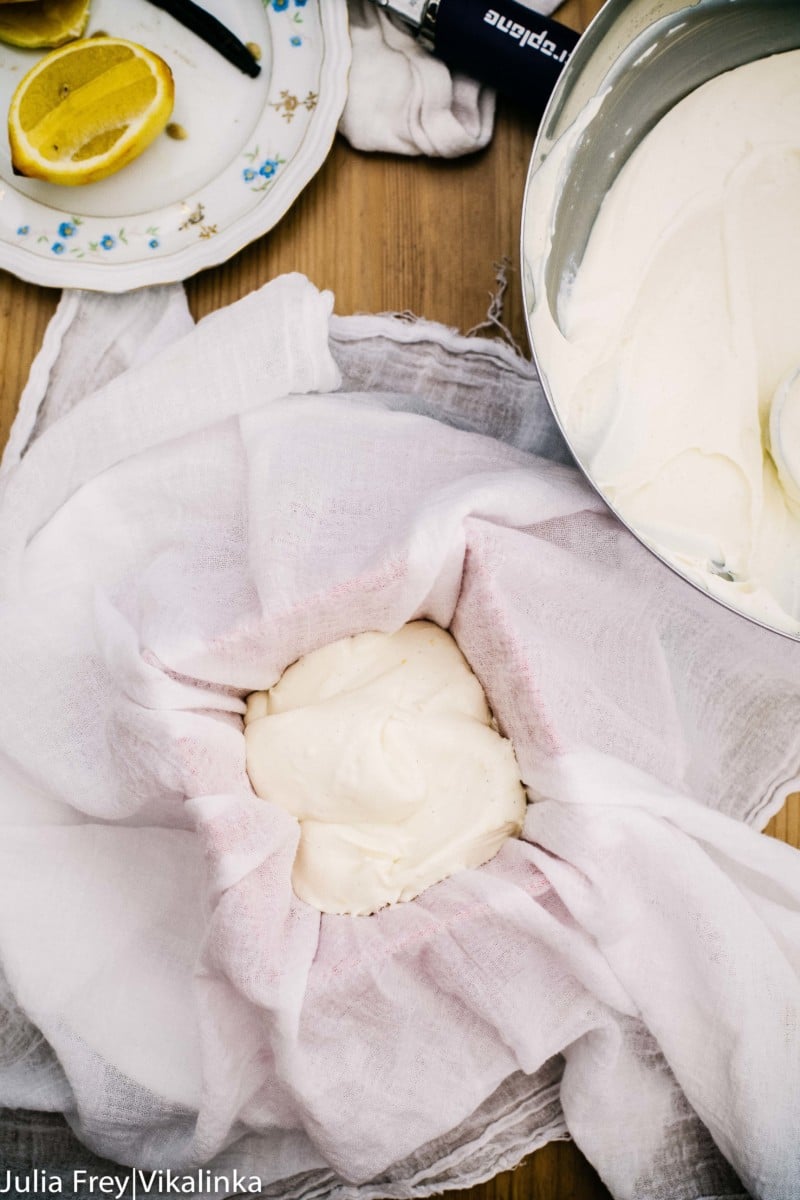 How do you make Paska?
Traditionally this cheese pudding is made with a blend of farmer's cheese, called Tvorog in Russian, fresh eggs, sugar and dried fruit and nuts. I however, modified the recipe by omitting the eggs for food safety reasons and ditching dried fruit and nuts for "we hate them" reasons.
Okay I don't hate all dried fruit and I definitely don't hate nuts but I don't like them in baked goods. I also think the texture of this cheese pudding, which is like a cheesecake, clashes with fruit and nuts.
To compensate for those ingredients I added vanilla bean, creme fraiche and lemon zest and juice. We absolutely loved the result, served with blackcurrant preserves my Paskha still tasted very authentic and crazy delicious!
What is farmer's cheese or tvorog?
If you are not familiar with farmer's cheese you should definitely give it a go. It's very similar to Italian Ricotta but has slightly bigger curds and a little bit of a tang.
In the UK it could be purchased in Sainsbury's, Tesco and any Polish, Lithuanian or Russian shops.
It also very easy to make at home and you can find the recipe for Tvorog on this lovely blog Natasha's Kitchen.
Enjoy!!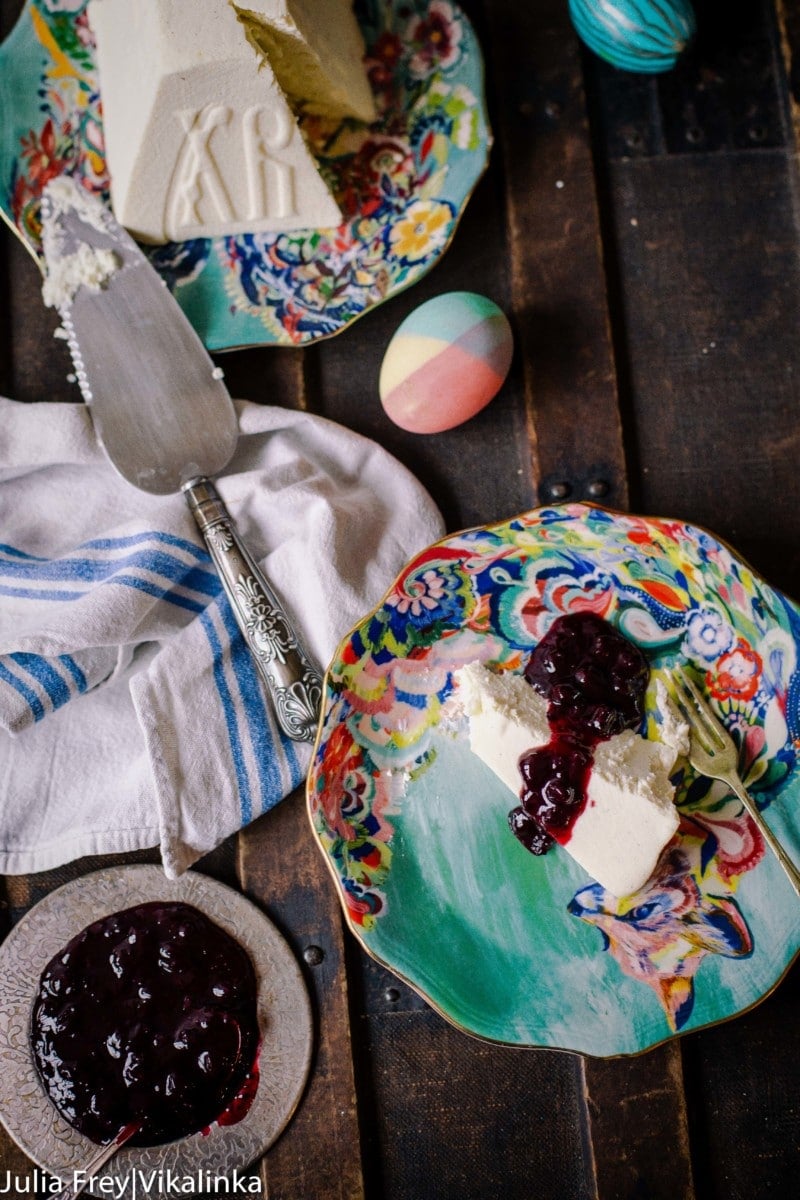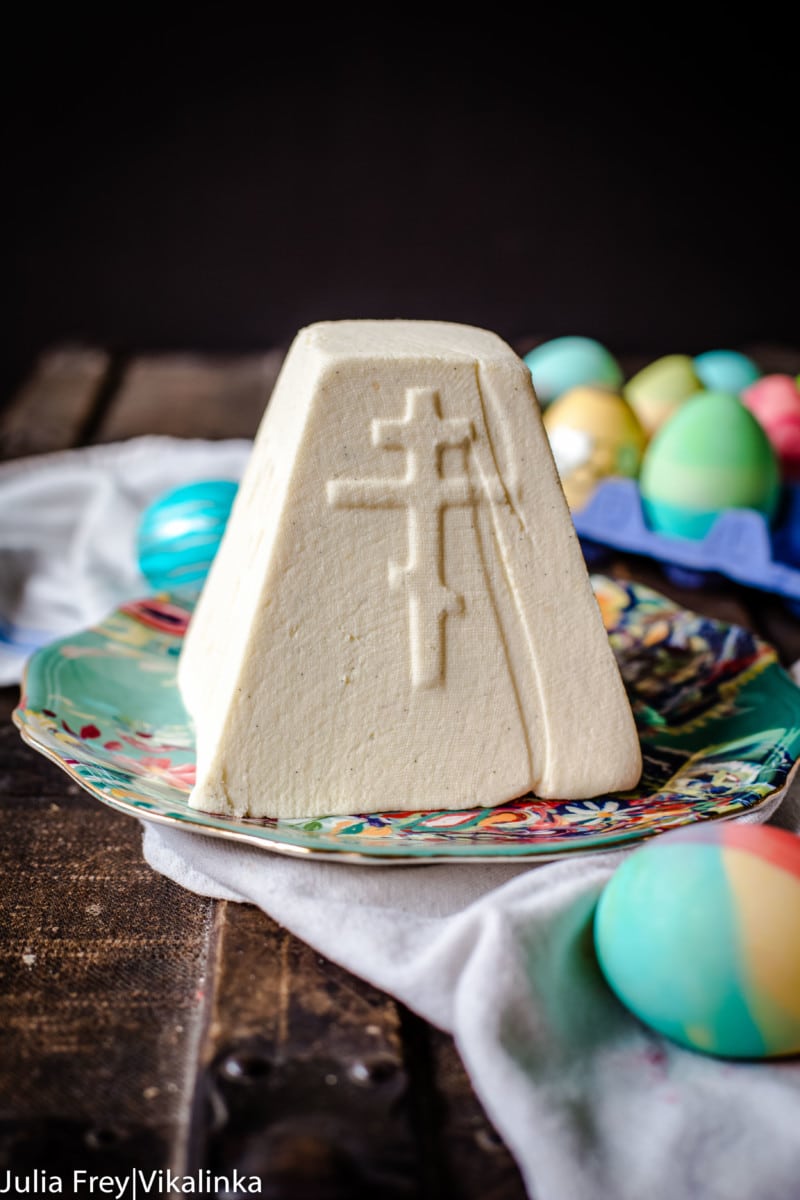 More Russian Easter recipes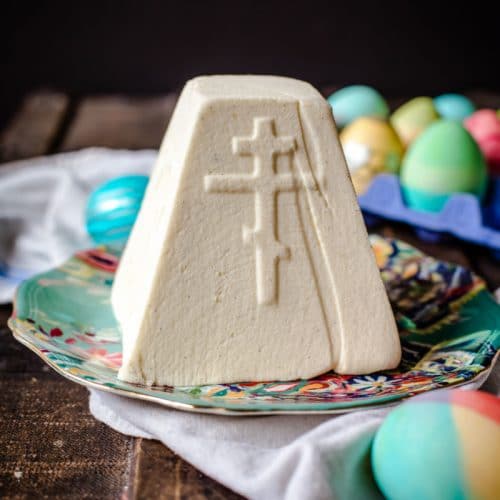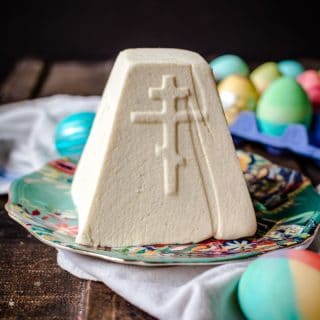 Sweet Cheese Pudding 'Paskha'
Traditional Russian no-bake Easter Cheesecake
Ingredients
3

lbs

farmer's cheese Tvorog

175

ml/ ¾ cup creme fraiche

150

g/ ⅔ cup unsalted butter

300

g/ 1.5 cup sugar

1

vanilla bean

seeds scraped out

1

lemon

zest and juice
Instructions
Zest a lemon and juice it, split the vanilla bean and scrape out seeds.

In a food processor combine farmer's cheese, creme fraiche, softened butter, sugar, vanilla bean seeds and zest and juice of one lemon. Process until silky smooth.

Turn the Paskha mold upside down and set inside a bowl, line it with cheese cloth so the ends are long enough to cover the bottom of the mold. Transfer the cheese mixture into the mold, pack it tightly to avoid air bubbles.

Cover the top with cheese cloth and set a plate on top of, which then should be weighed down with something heavy like a mason jar filled with water.

Refrigerate for at least 10 hours. When the cheese pudding is ready to be unmolded you should see some liquid from farmer's cheese at the bottom of the bowl. This means the cheese pudding is sufficiently drained and will be able to hold its shape.

Uncover the base of cheese pudding from the cheese cloth and place a plate directly on top of cheese, then invert the cheese pudding while still in the mold onto a serving plate, gently pull the mold off the cheese pudding and then remove the cheese cloth.

Serve with any fruit preserves and whipping cream if desired.