Prepare a traditional English trifle for dessert this Christmas. A true showstopper, that is made using mostly cupboard staples. Easy yet impressive recipe to make ahead.
You can also try our Blueberry Limoncello Trifle if you prefer a different flavour combination.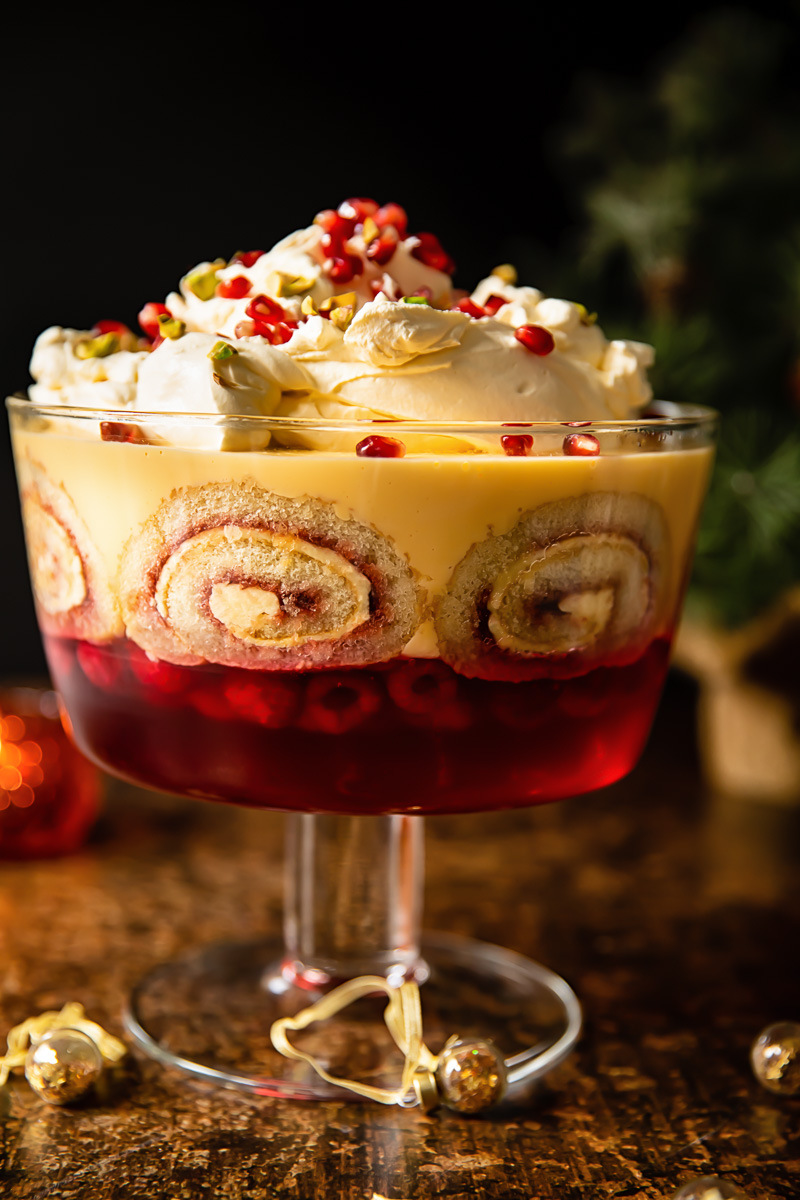 It's impossible to imagine a Christmas dinner in England without a festive trifle at the end of it. Some families eat it on Christmas day and others on Boxing day…either way the trifle always makes an appearance.
Although this was not my tradition growing up I learned how to appreciate it from my English granny-in-law, who often treated us to a trifle whenever we came to visit. Any time of the year!
Traditional Recipe
If you are expecting the traditional recipe, you might be surprised to find out that such recipe does not exist. The truth is there is no one universal recipe for a trifle, and in my opinion, that is the beauty of it. Trifle is highly variable and every household has their favourite version.
However, there are certain rules by which a proper English trifle is made. Let's break them down. There should be at least 3 layers. The most canonic ones are cake, fruit/jelly (or Jell-O in the US), thick custard and whipped cream.
Some argue that jelly doesn't belong in a traditional trifle but cookbook records show its use as early as in the 1700s. I personally love using jelly in trifles because its light texture and fruity flavour counterbalance the rich custard and whipped cream.
As long as you have some sort of cake, custard and whipped cream arranged in layers you are on the right track. By using these classic components you can play with flavours and adjust them to your personal taste.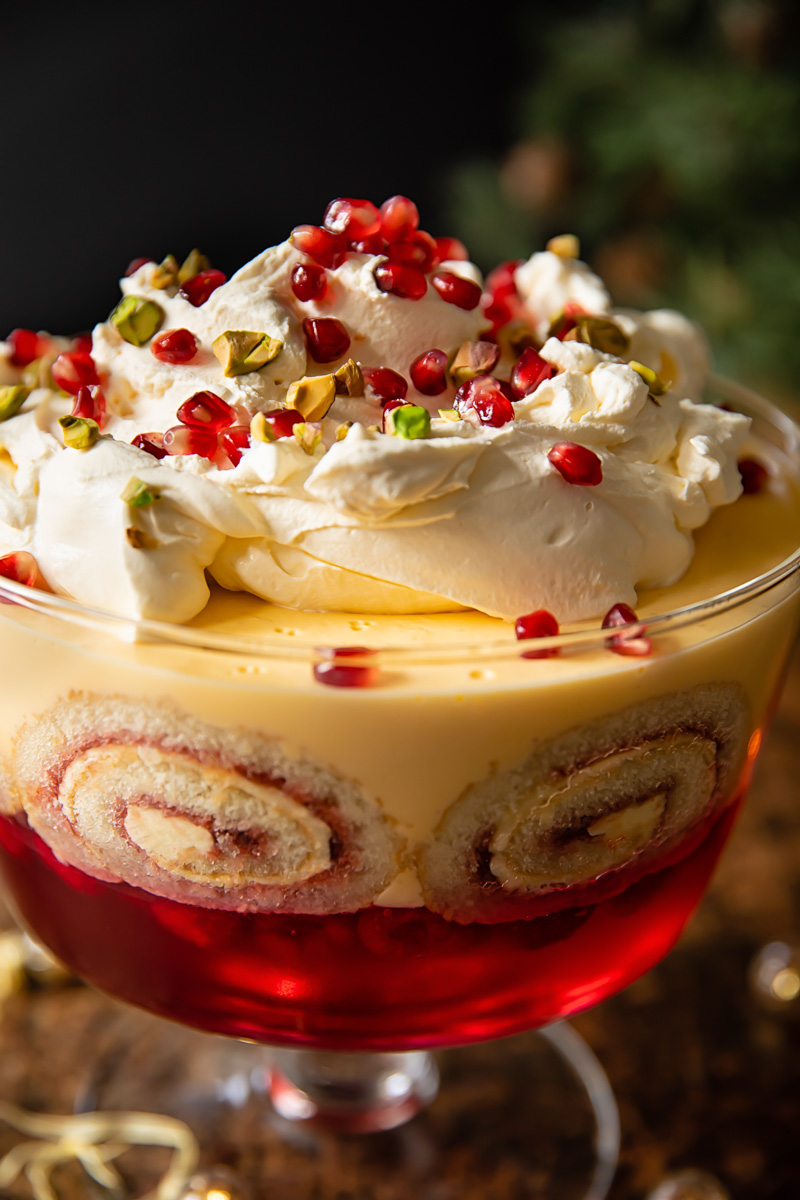 Why you've love it
Apart from its divine taste, there are two main reasons you will love this trifle.
First of all, it's an easy yet very beautiful looking dessert, that requires only assembling. No baking is necessary. And while custard seems like a difficult thing to make, it is not if you use ready made custard powder.
Secondly, trifle needs time to put together. While it's not difficult, it takes time for the layers to set. You have to give it several hours before moving to the next layer. This turns trifle making into a stress-free experience.
A trifle is always made in advance. Believe it or not the one you see here was made 2 days before it was photographed. It's an ideal holiday dessert since you don't need to do anything on the day of the big meal.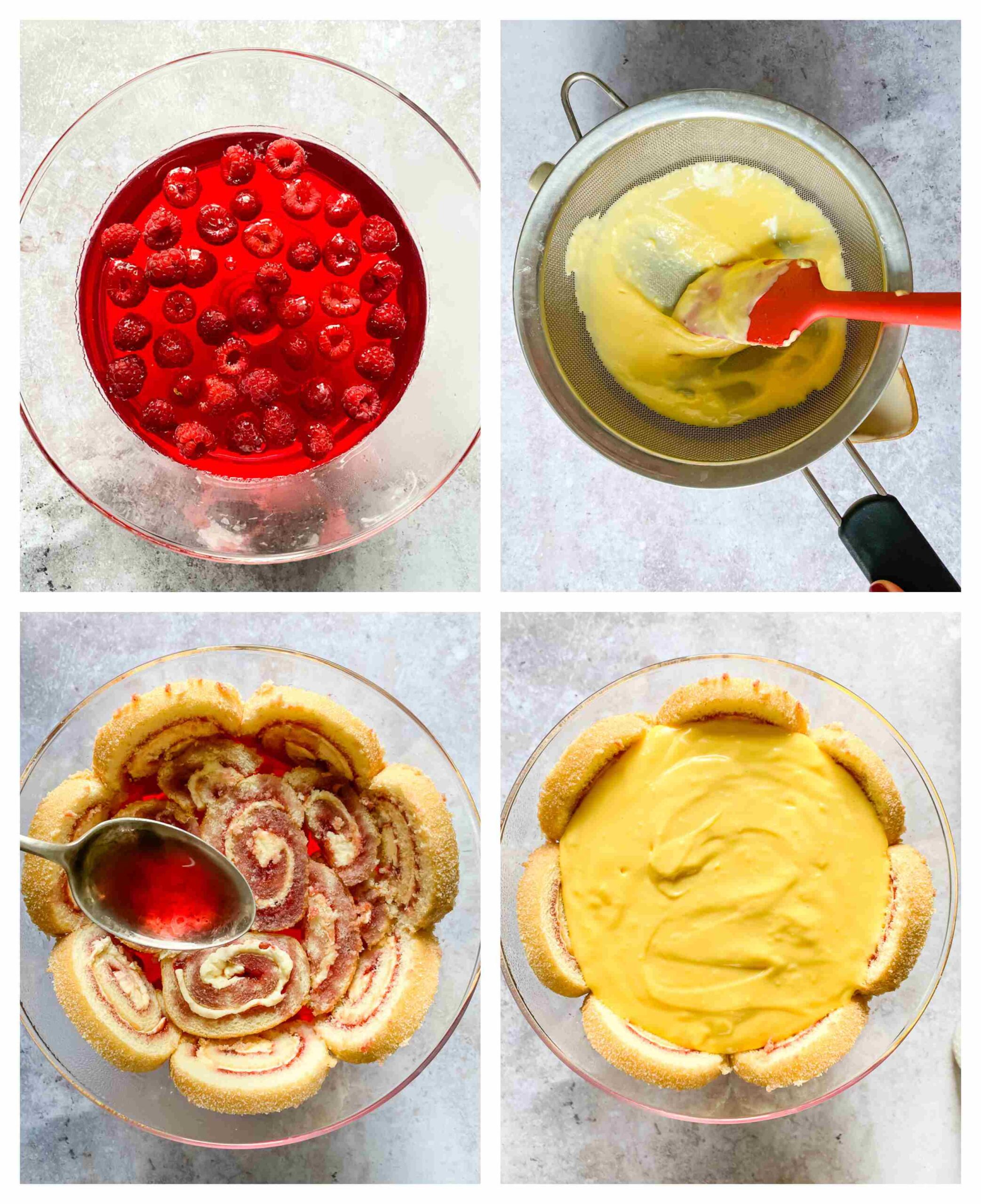 Easy Trifle
While trifle making can look intimidating at first glance it doesn't need to be. Since you are not baking anything all you need is patience to assemble this dessert. The biggest tip is to wait till the first layer sets before moving to the next one.
There are many flavours and textures, that are happening in a trifle, which makes it a very exciting treat to eat. I would advocate for making custard and jelly from scratch IF they were the only things served but NOT here!
There is no shame in using packaged jelly and custard powder when it comes to making your holiday dessert fuss free! However, let me share with you my tips that make them taste as if they were made from scratch.
Once you have them mastered, you can experiment with less traditional flavour combinations, like I did with Pumpkin Mousse Trifle!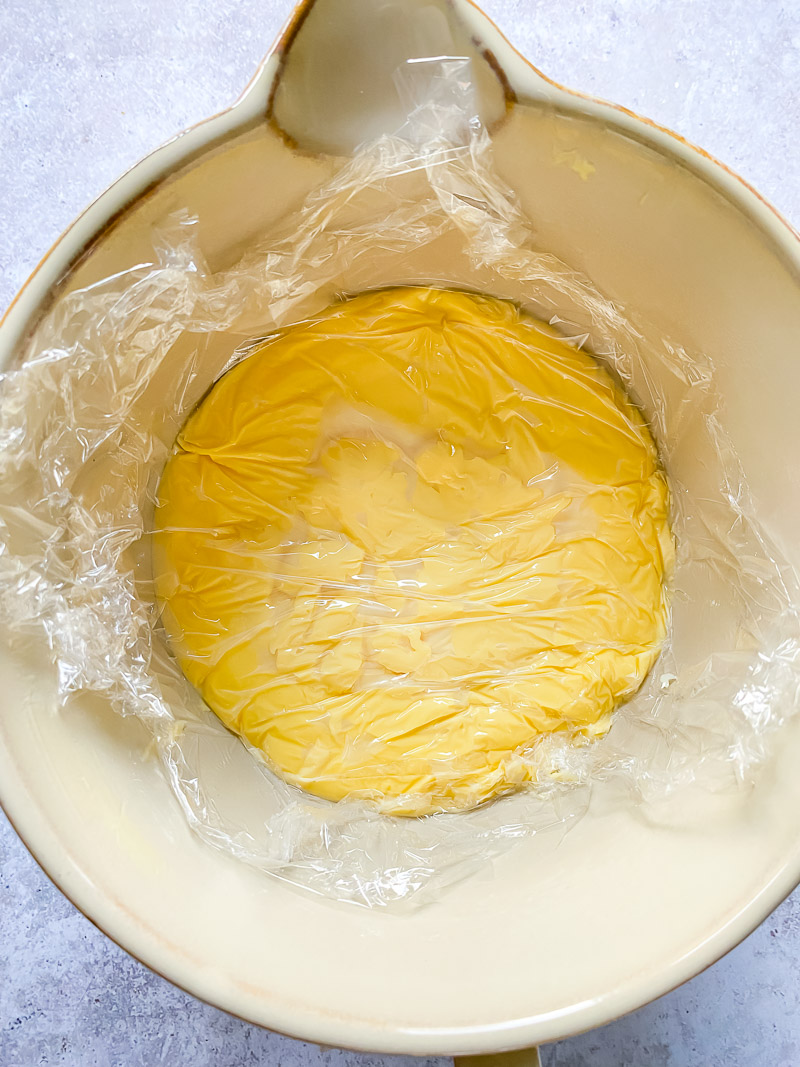 Recipe Tips and Notes
It's best to start on this trifle at least one day before you plan to serve it. It takes at least 5-6 hours for the jelly (Jell-O) to set.
Feel free to use packaged jelly (Jell-O) but do add fresh fruit to enhance the flavour. I used raspberry jelly and fresh raspberries but strawberries will work just as well.
To avoid the fresh fruit sinking to the bottom, chill the jelly in the fridge for 1 hour until it's thick and syrup, then add the berries. They will float and not sink.
Traditionally sherry is used to soak the cake in trifles. Some people avoid it altogether. I used raspberry flavoured liqueur Chambord to compliment the raspberry flavour of the cream sponge roll.
I replace a quarter of the milk required for the custard with double cream or heavy cream. And this trick makes it taste rich and luxurious. Just as delicious as if it was made from scratch.
I also prefer my custard to be a little firm, so it keeps the layers well, so I add an extra tablespoon of the powder to achieve that.
Cool the custard for 15 minutes with plastic wrap covering the top of it to avoid skin forming. Then pour the custard over the cake layer. Your custard should be pourable consistency, so it would flood every little crevice created by the sponge roll. If you wait too long, the custard will start to set and you won't achieve the same look.
After that you can cover the top of the trifle bowl with plastic wrap in refrigerate overnight or up to 24 hours.
Finally, whip the double or heavy whipping cream and decorate with pomegranate seeds and pistachios right before serving.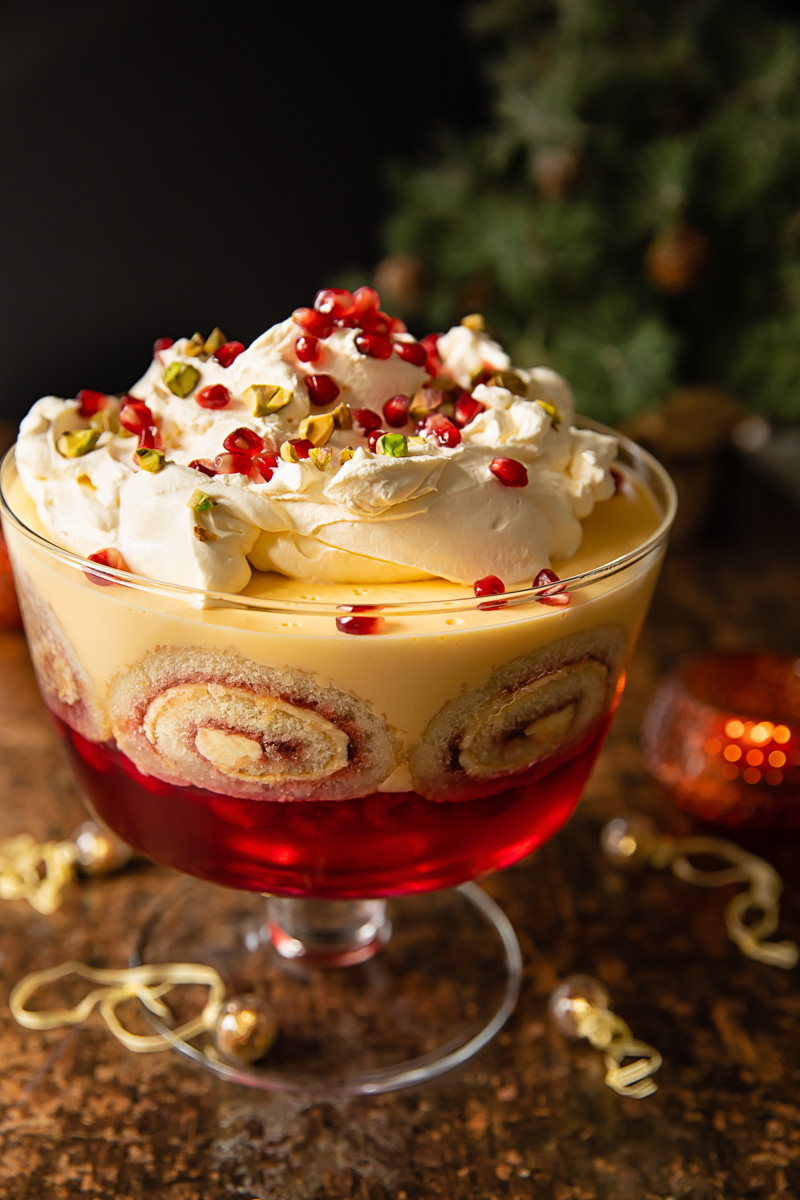 Substitutions
While custard powder is a staple in the UK and Canada I realise some might struggle to find it. In this case feel free to use vanilla pudding.
Frozen berries can be used instead of fresh. Reduce the amount of water you add to the jelly/jell-o to account for that.
Using lady fingers or pound cake in the US are just as traditional as using sponge rolls although I do love the look of sponge rolls in my trifles!
Other delicious things like jam or lemon curd could be used in trifles to create more flavours and layers.
Traditionally alcohol, such as sherry or flavoured liqueurs, is an essential ingredient in English trifle but I understand it can be an issue for some. In this case, replace it with flavoured syrup.
Favourite Christmas Treats to Try: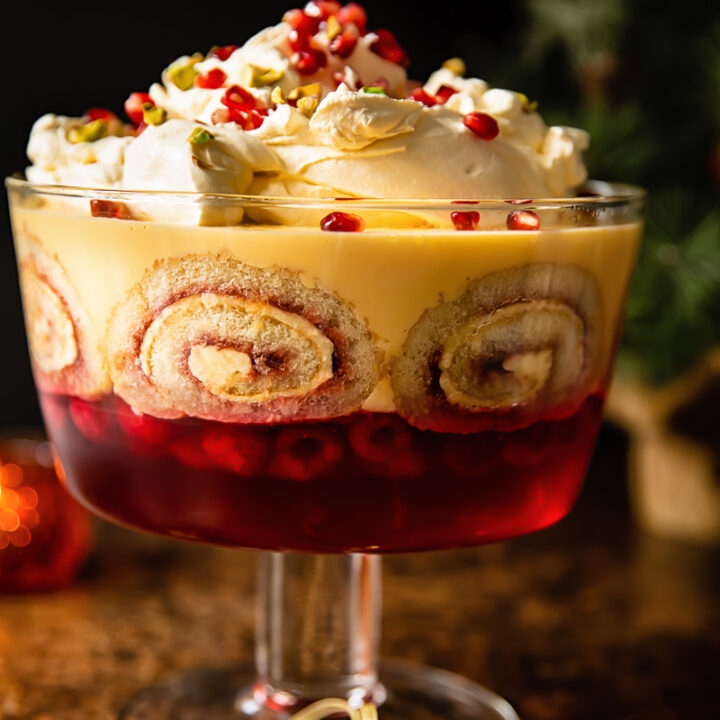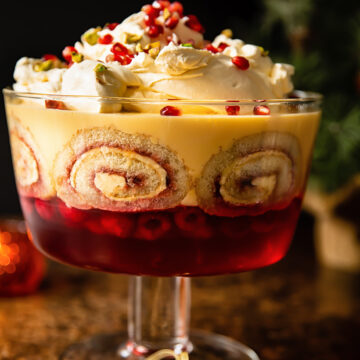 Easy English Trifle
Prepare a traditional English trifle for dessert this Christmas. A true showstopper, that is made mostly using cupboard staples.
Ingredients
135g/ 2 cups

raspberry jelly(Jello-O)

I used Hartley's Raspberry jelly. In the US, use raspberry flavoured jell-o

125g/1 cup

fresh raspberries

can use frozen but reduce the amount of water added to the jelly

500g/17 oz

raspberry or strawberry cream sponge roll

1.5 UK pints/3.5 US cups

whole milk

can use plant based milk

0.5UK pint/0.5 US cup

double cream/heavy whipping cream

can use plant based cream

6

tbsp

heaping tablespoons Bird's custard powder

6

tbsp

white sugar

2

tsp

vanilla

400ml/1.5 cups

double/whipping cream

4

tbsp

icing(powdered) sugar

1

tsp

vanilla

4

tbsp

pomegranate seeds

2

tbsp

pistachios
Instructions
Make the jelly (jell-o) according to package instructions and pour in the trifle bowl, allow to cool for about 20 minutes, then put in the fridge for 1.30 minutes. Take out of the fridge, the jelly will have turn thick and syrupy at this point, drop the raspberries in and return to the fridge until fully set for 4-5 hours.

Make the custard according to package instructions. Cook over low heat while stirring with a wire whisk the entire time to avoid lumps. Once the custard is thick push it through a sieve for a smoother texture. (If your custard has gone lumpy, blend it in a blender or use an immersion blender). Put plastic wrap directly on the surface to prevent skin forming and cool lightly for about 15 minutes.

Meanwhile, slice the sponge roll and arrange along the sides of the trifle bowl as well as covering the bottom of the raspberry jelly. You might need to cut some pieces for a tighter fit. Sprinkle the raspberry liqueur all over the bottom pieces of the cake but not the side pieces.

Pour the custard over the cake until it reaches the top of the trifle bowl. It should completely cover the sponge roll pieces all the way to the top and flood the space between the side pieces. Allow to come to room temperature, then chill in the fridge for a couple of hours.

Whip the double/heavy cream with icing sugar until soft and floppy and spoon over the custard. Decorate with pomegranate seeds and pistachios or fresh raspberries.
Notes
You will need:
1 pint of jelly or 2 cups of Jello-O made to package instructions
2 pints of custard made to package instructions
It doesn't affect the final result if your amounts are slightly different as US and UK pints are not the same. The main thing is to follow package instructions for both jelly and custard to ensure they set properly.
Nutrition
Calories:
495
kcal
Carbohydrates:
62
g
Protein:
8
g
Fat:
25
g
Saturated Fat:
14
g
Polyunsaturated Fat:
1
g
Monounsaturated Fat:
6
g
Cholesterol:
143
mg
Sodium:
403
mg
Potassium:
324
mg
Fiber:
1
g
Sugar:
41
g
Vitamin A:
1011
IU
Vitamin C:
4
mg
Calcium:
200
mg
Iron:
2
mg