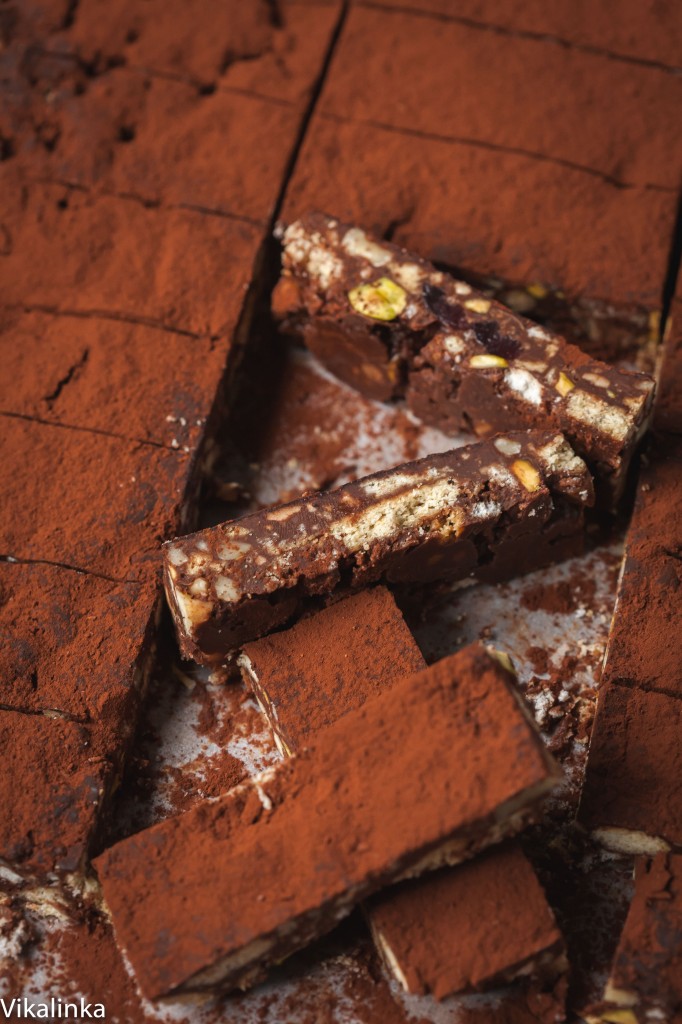 Have you started your Christmas baking yet? Don't worry…I haven't either and what I've got here is not baking at all. It literally took me just 15 minutes of mixing everything in a bowl, then throwing it in a pan, waiting for a few hours and then…ahh bliss.
These bars are my take on ever present in England Fridge Cake and an untimely instalment of my British Fridays. Fridge Cake is pretty similar to Rocky Road bars minus the marshmallows. Also, here is a fun tidbit for you, Brits call anything baked cake-layer cakes, cupcakes, cakey squares…you name it. Unless they are cookies, then they call them biscuits but only the ones from shops. If you bake them at home and they happen to be of a chocolate chip variety they call them cookies. Crystal clear, right?
It was my first attempt at making these and I wasn't sure what to expect because let's be honest these bars are not my typical thing. I got a quick bite when I was cutting them for the pictures and WOWEE! They might not be the most sophisticated thing you've ever seen but they are fabulous!!
They taste like the most decadent chocolate bar you will ever eat. From what I understand there are no hard rules when it comes to ingredients. Basically, you can put anything you like in them which I did-dark chocolate, biscuits, crushed meringues, pistachios, walnuts and just a few glace cherries.
Enjoy!!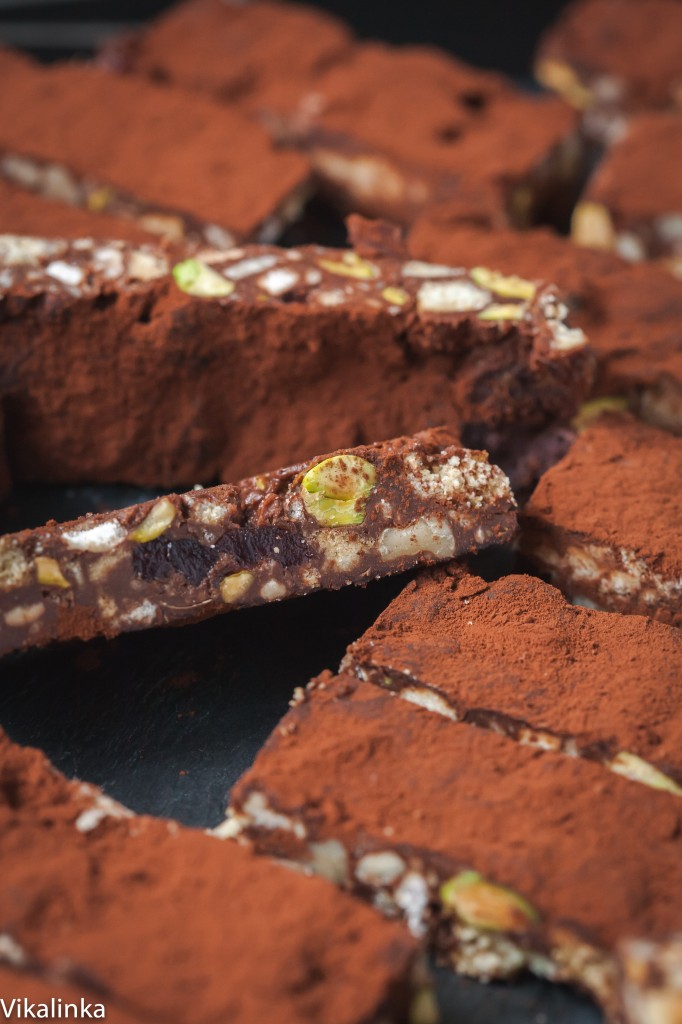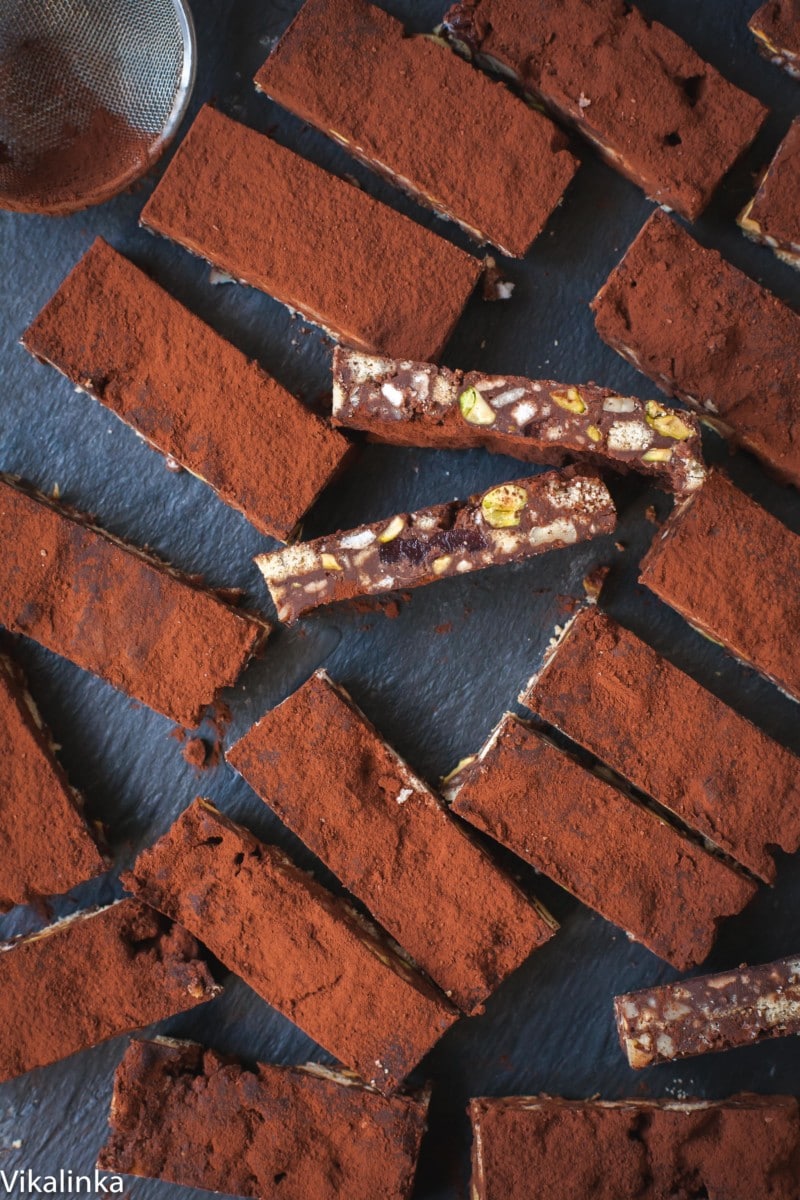 Ingredients
200

g/7 oz digestive biscuits or any other plain biscuits/cookies

broken

110

g/1 cup g whole walnuts

roughly chopped

110

g/1 cup pistachio nuts

peeled

10

glace cherries

halved

2

ready-made meringue nests

crumbled

150

g/2/3 cup unsalted butter

1

tablespoon

golden syrup or corn syrup

200

g/7 oz- dark chocolate

70% cocoa solids, chopped

cocoa powder
Instructions
Mix broken into pieces biscuits, walnuts, pistachios, glace cherries and crumbled meringues in a large bowl.

Melt chocolate, butter and golden syrup in a double boiler over low heat until just melted, stir to combine.

Pour the chocolate mixture into the bowl with biscuits and nuts and gently stir to combine.

Turn the mixture out into a parchment lined 9X9 pan and level.

Put in the fridge for 2-3 hours to set.

Dust with cocoa powder, cut into bars and serve.

Keep in a cool place.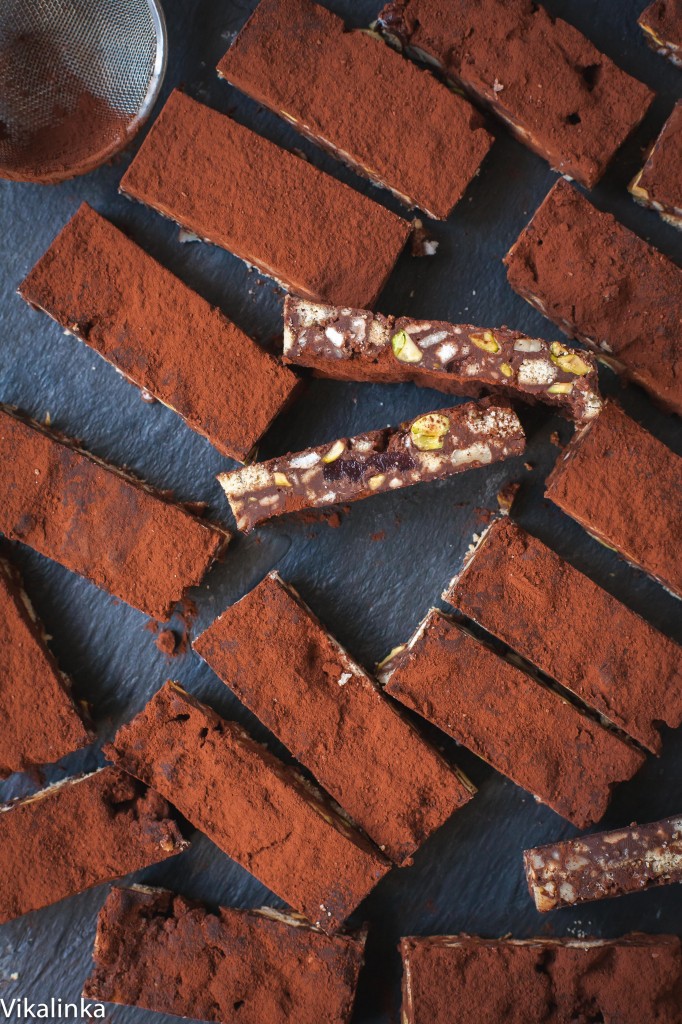 *Recipe adapted from Jamie Oliver.