These no bake chocolate fridge cake bars come together in 20 minutes and couldn't be easier to make. Cut you cake into little Christmas trees for a delicious festive treat!
Or take a look at our Christmas Baking Recipe Collection for more ideas.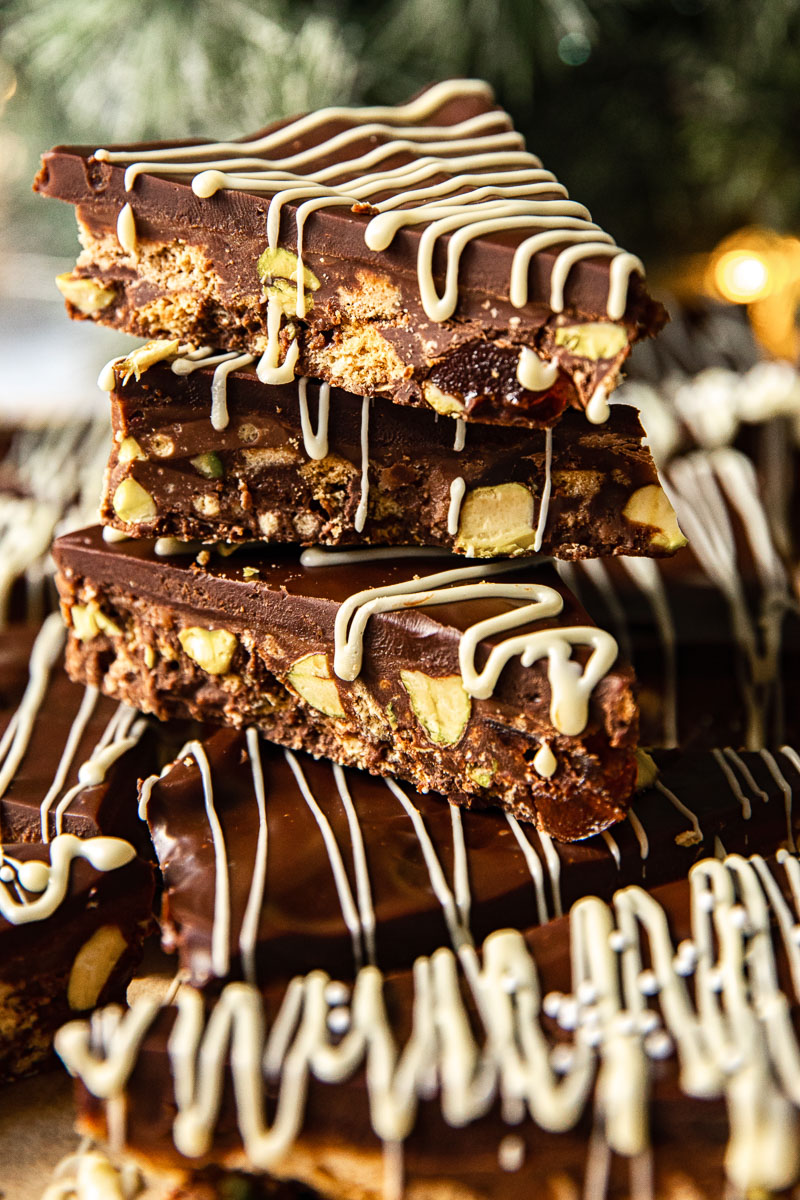 Have you started your Christmas baking yet? Don't worry…I haven't either, and what I've got here is not baking at all.
It literally took me just 15 minutes of mixing everything in a bowl, then throwing it in a pan, waiting for a few hours and then…ahh bliss.
These bars, which resemble little Christmas trees are my take on the ever present in England Fridge Cake.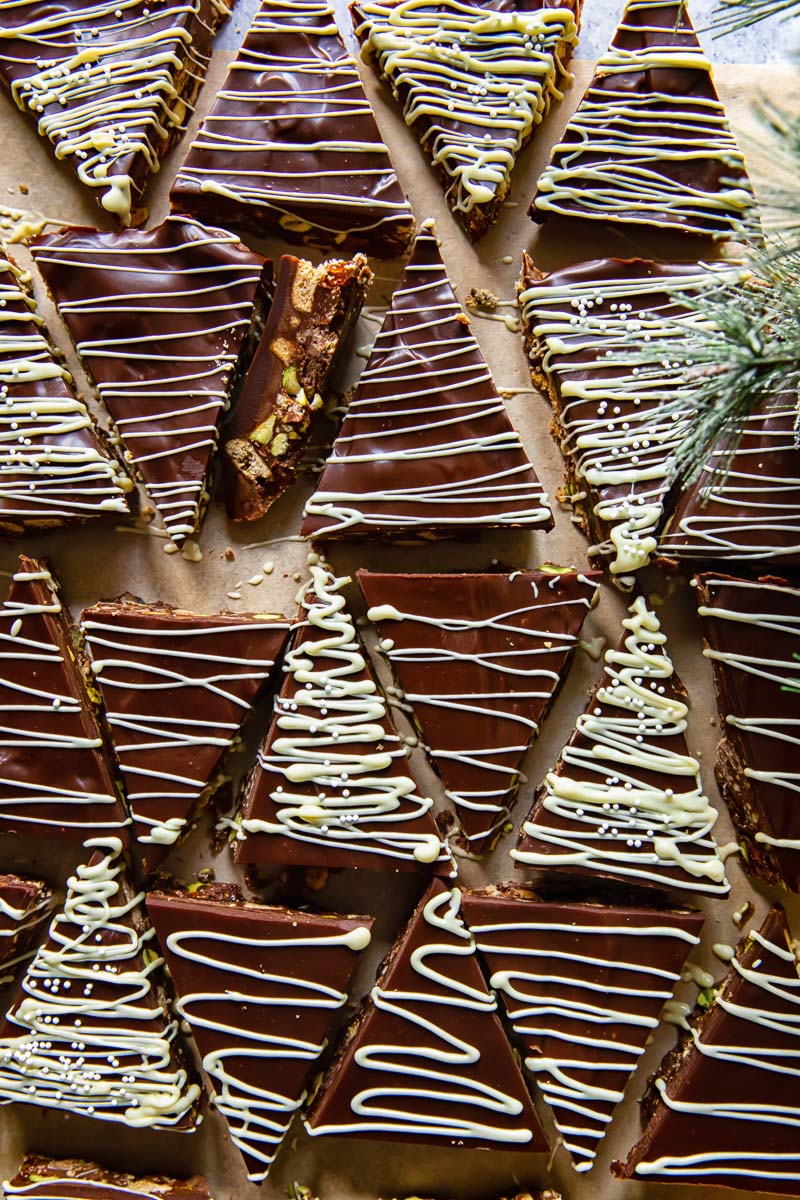 What is Fridge Cake?
Fridge Cake is pretty similar to Rocky Road bars minus the marshmallows. Also, here is a fun tidbit for you. Brits call anything baked cake-layer cakes, cupcakes, cakey squares…you name it.
Unless they are cookies, then they call them biscuits but only the ones from shops. If you bake them at home and they happen to be of a chocolate chip variety they call them cookies. Crystal clear, right?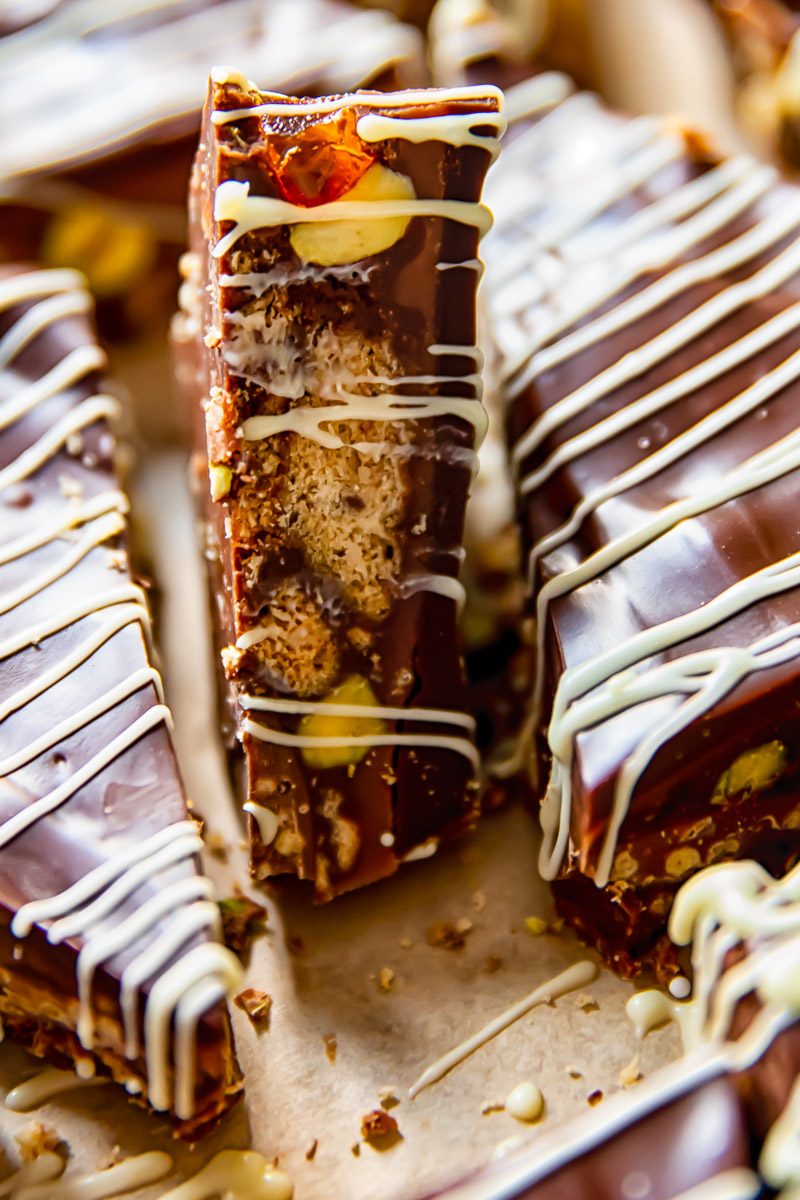 When I made these for the first time I wasn't sure what to expect because let's be honest these bars are not my typical thing.
I got a quick bite when I was cutting them for the pictures and WOWEE! They might not be the most sophisticated thing you've ever seen but they are fabulous!!
They taste like the most decadent chocolate bar you will ever eat. From what I understand there are no hard rules when it comes to ingredients. Basically, you can put anything you like in them, which I did.
Dark chocolate, digestive biscuits, pistachios, maltesers and just a few glace cherries. I thought the combination of red cherries and green pistachios was particularly Christmassy.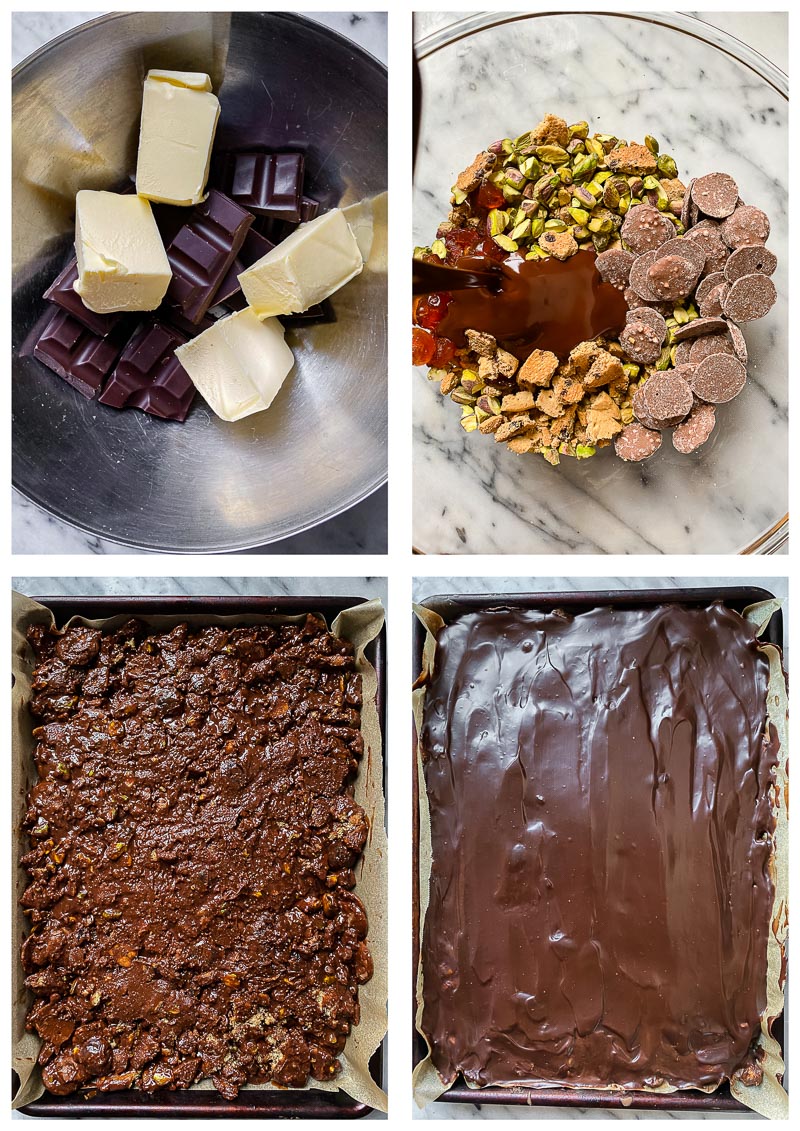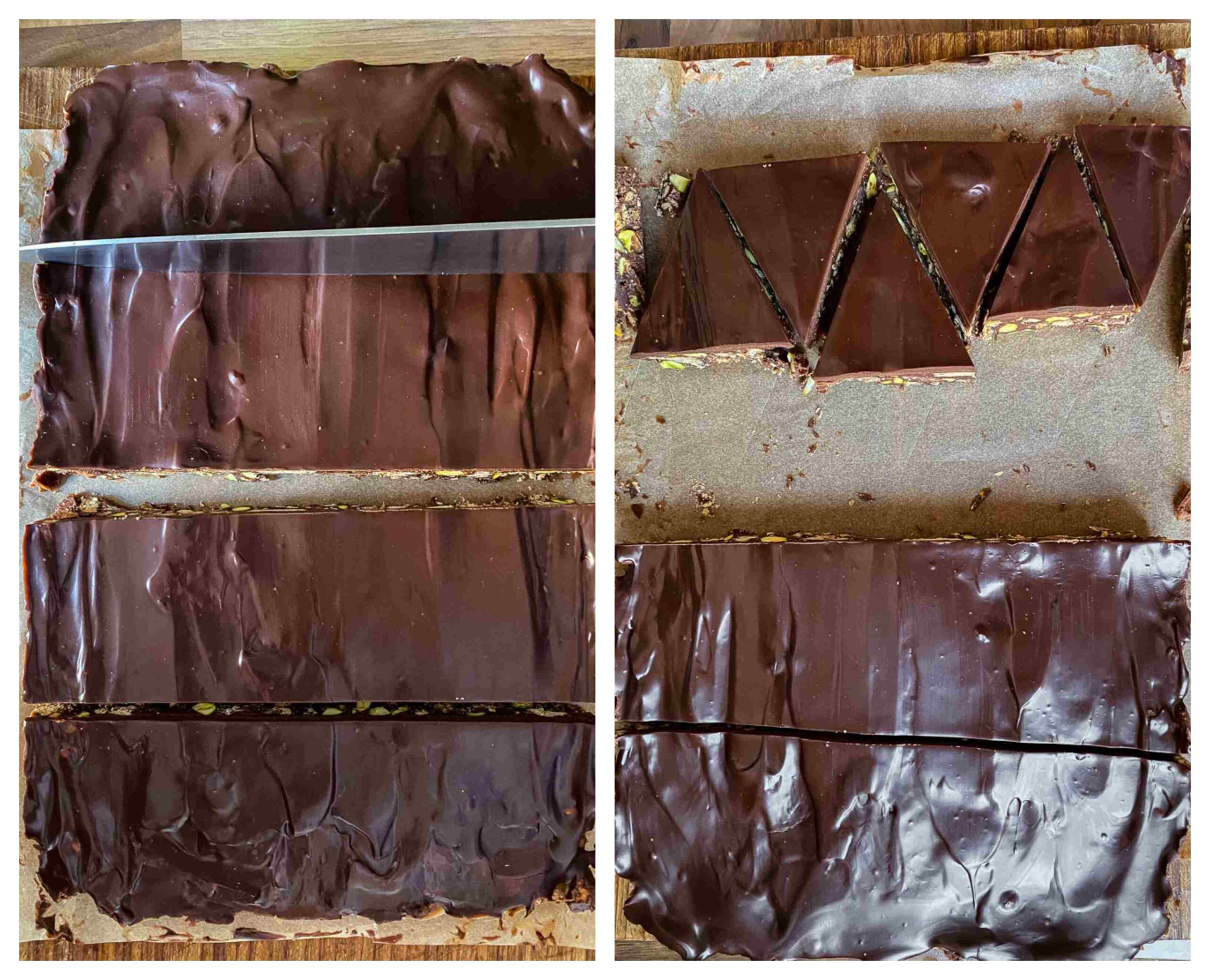 Typically fridge cake is simply cut into squares. But since we are doing a Christmas edition, I thought adding another layer of chocolate ganache to make the cake smoother on top would be appropriate.
Then I cut it into little triangles to resemble Christmas trees, which I drizzled with white chocolate to look like twinkling lights! Just a little extra step to make them look fit for the season.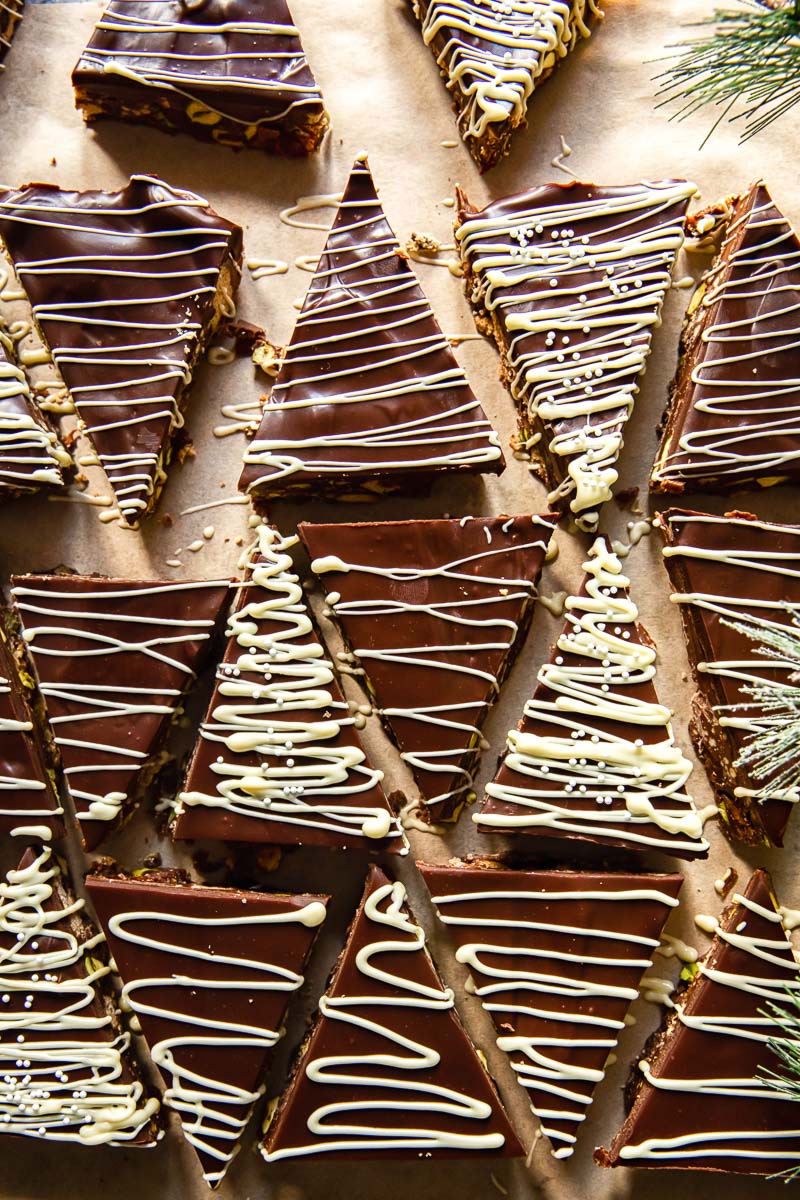 Recipe Tips and Notes
Line the pan with either parchment paper or cling film for easy removal. This part is crucial for neat looking bars.
Use either dark or milk chocolate, both will work.
Add the ganache glaze after the fridge cake has set.
Favourite Christmas Treats to Try: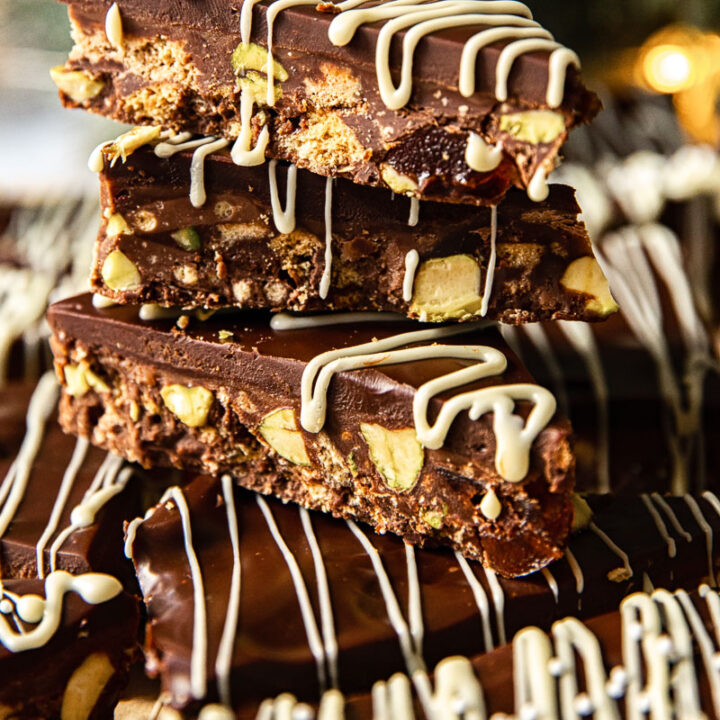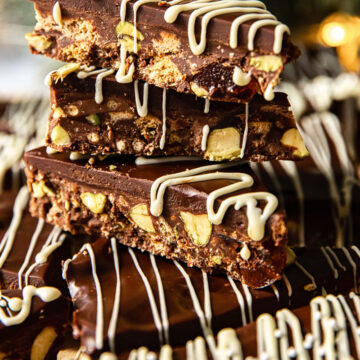 No Bake Fridge Cake Bars
No bake chocolate cake bars made with chocolate, digestive biscuits, pistachio nuts and more!
Makes 18-20 bars
Ingredients
200g/7 oz

digestive biscuits or any other plain biscuits/cookies

broken

100g/1 cup

pistachios

10

glace cherries

halved

150g/2/3 cup

unsalted butter

1

tablespoon

golden syrup or corn syrup

200g/7 oz

dark chocolate

70% cocoa solids, chopped

100g

maltesers buttons or regular

or you favourite chocolate bar, chopped
For the Glaze
200g/7 oz

dark chocolate

200ml/1 cup

double/heavy cream

50g/2 oz

white chocolate for drizzle

melted
Instructions
Mix broken into pieces biscuits,pistachios, glace cherries and maltesers buttons in a large bowl.

Melt chocolate, butter and golden syrup in a double boiler over low heat until just melted, stir to combine. Pour the chocolate mixture into the bowl with biscuits and nuts and gently stir to combine.

Turn the mixture out into a parchment lined 9X13 inch pan and level. Put in the fridge for 2-3 hours to set.

Heat the double/heavy cream in a saucepan until nearly boiling, then pour it over chopped dark chocolate, let it sit for a couple of minutes, then stir to combine. Pour the ganache over the chilled fridge cake and spread evenly with an offset spatula. Let it cool, then chill in a fridge for at least an hour.

Take the fridge cake out of the pan and peel the parchment paper off. Cut into thirds crosswise, then take each individual strip and cut into triangles to resemble Christmas trees.

To decorate, melt the chopped white chocolate until runny. The easiest way is to melt it is in the microwave in 30 second spurts to prevent it from burning. Stir after 30 seconds to see if it's fully melted. Pour in a small plastic bag and snip a corner off, then drizzle over the Christmas trees. You may also use sprinkles before the chocolate is set. Keep in an airtight container in a fridge or freezer.
Nutrition
Calories:
326
kcal
Carbohydrates:
25
g
Protein:
4
g
Fat:
24
g
Saturated Fat:
12
g
Polyunsaturated Fat:
2
g
Monounsaturated Fat:
7
g
Trans Fat:
1
g
Cholesterol:
32
mg
Sodium:
71
mg
Potassium:
240
mg
Fiber:
3
g
Sugar:
14
g
Vitamin A:
372
IU
Vitamin C:
1
mg
Calcium:
40
mg
Iron:
3
mg