Chocolate cake truffles dipped in chocolate and sprinkled with freeze dried strawberry dust or dried rose petals. A sweet little bite of these cake truffles is all I want after my Valentine's Day dinner!
If you are a sweet truffle fan, take a look at my Baileys Truffles.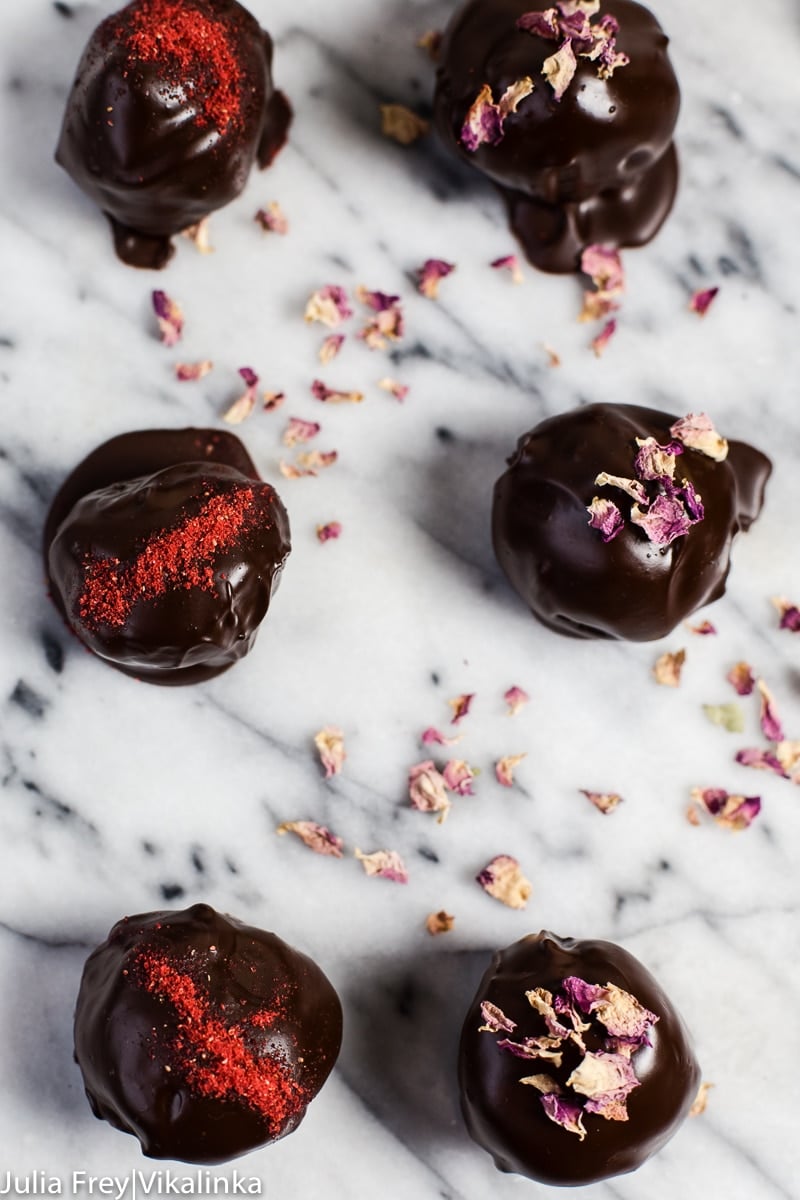 So let's talk about Valentine's Day desserts. I usually have grand plans and, even if I don't make one myself, I buy something spectacular.
The thing is though by the time we are done with our starters, bubbly and a main course I am feeling pretty full, so stuffing myself with a piece of cake doesn't seem very appealing all of a sudden.
Let's just be honest for a minute here. Valentine's Day dinner is not just a date, it's a MEGA date and feeling bloated is just not an option!!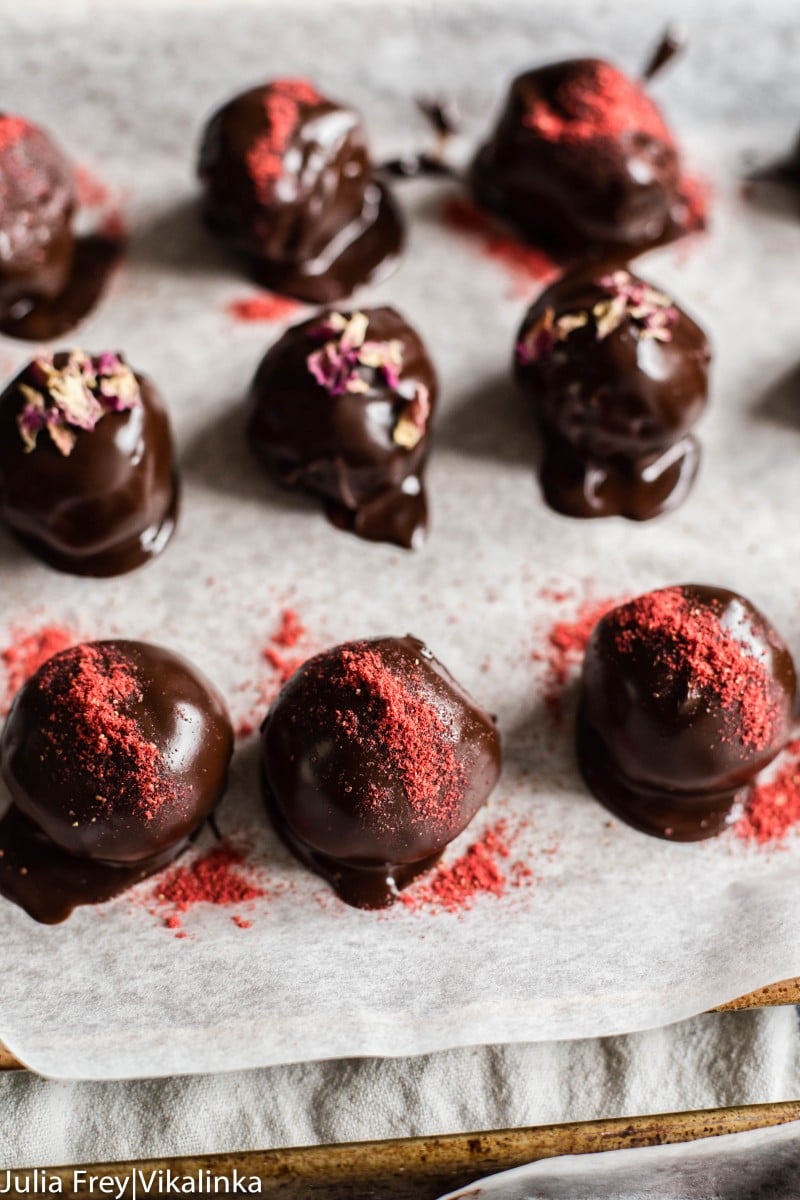 That being said, we all want a sweet little bite to finish off a delicious dinner, so that is when these chocolate cake truffles come to the rescue.
What are cake truffles?
These little chocolate bites, sometimes also called cake balls, might look luxurious but they have a very humble origin. They are made from a mixture of cake crumbs and frosting and the concept was developed in commercial bakeries.
The bakers were desperate to use up day old cakes and cake scraps to increase their profit margins, so they came up with this idea. Simple and genius.
I grew up eating similar little pastries that are called 'Kartoshka' in Russian. Funny name actually, Google it if you are curious what it means and let me know in comments! 😉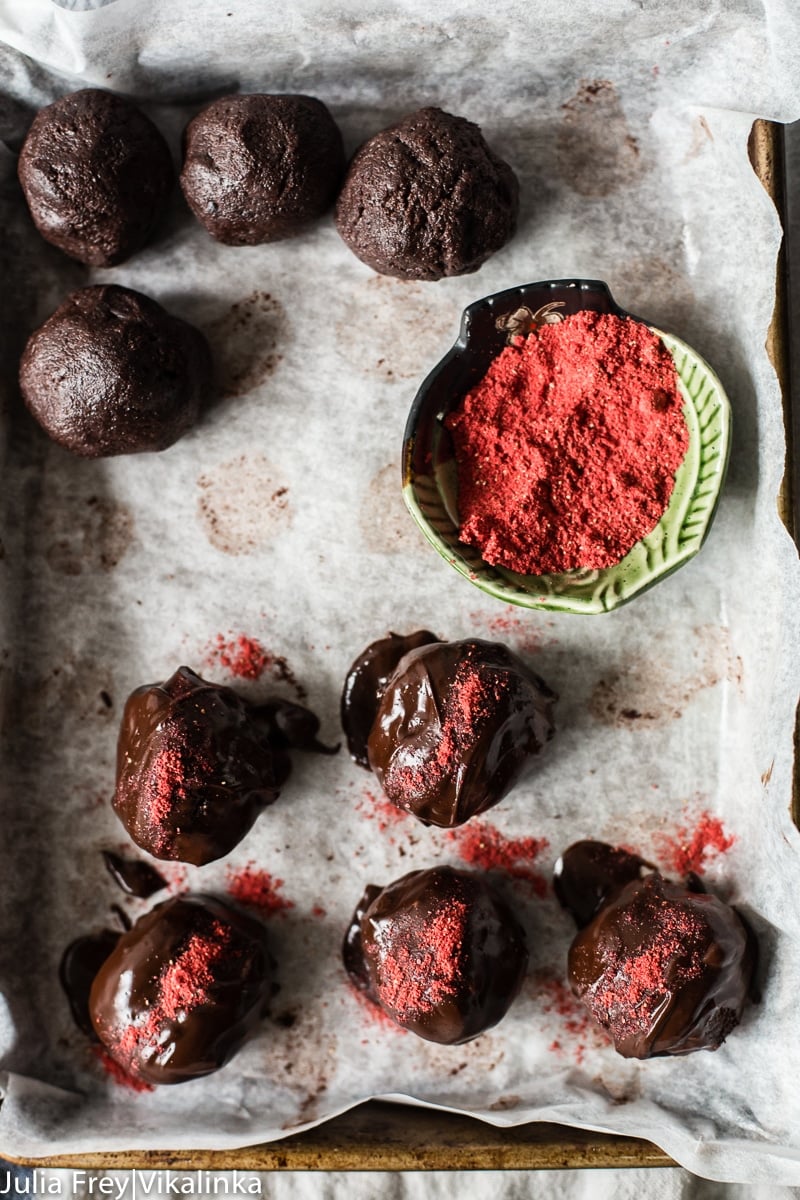 I still remember buying one of those incredibly cheap cake truffles once a week from a little tea house/bakery near a bus stop on my way home from a speed skating practice.
Ha! I just realised how incredibly Russian this sentence sounds!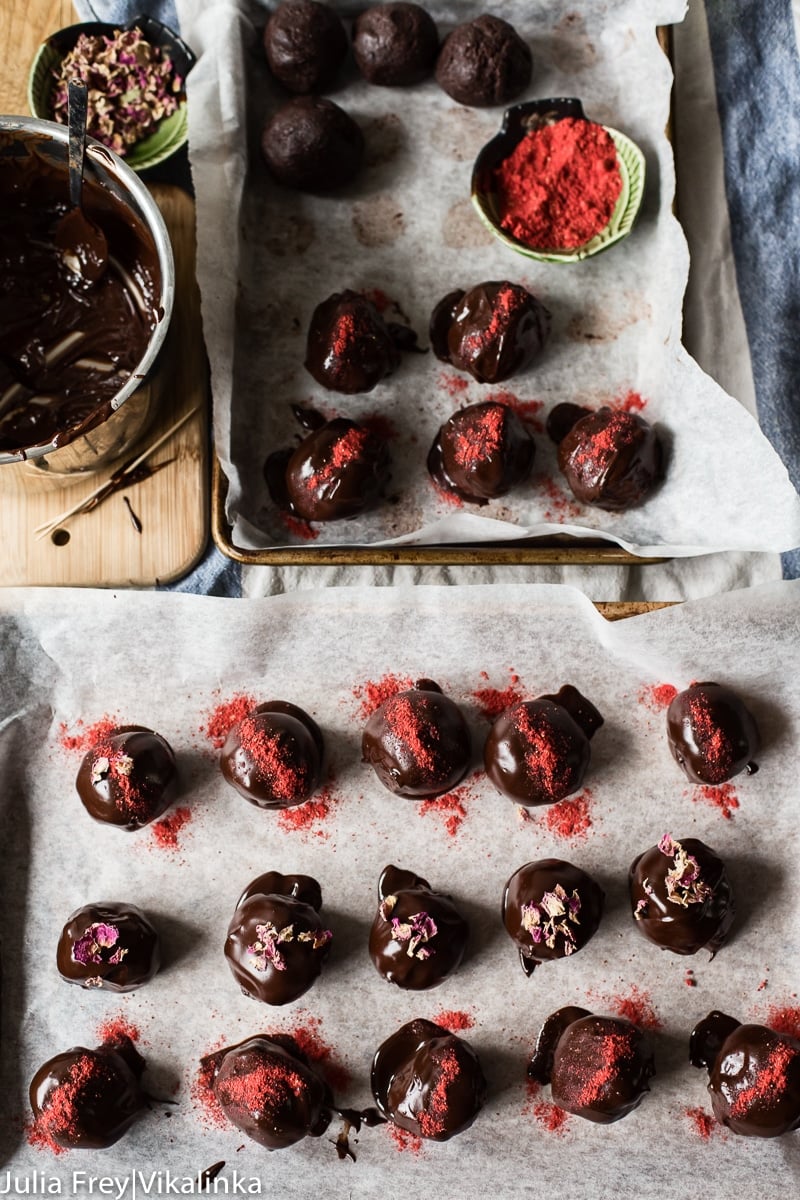 How to make chocolate cake truffle balls
Traditionally these chocolate cake truffles are made from a plain white sponge and a standard Russian buttercream, then rolled in cocoa powder.
For the Valentine's Day though, I decided to use my favourite chocolate cake recipe and dip them into melted chocolate instead of cocoa, then dust with a bit of freeze dried strawberry powder.
My kids were the first taste testers and they both commented on how much they loved the strawberry dusting on top. It gives truffles just the right balance of the fresh strawberry taste and a rich chocolate flavour!
If you want to make these even more kid friendly, put them on sticks, decorate with colourful sprinkles and call them cake pops!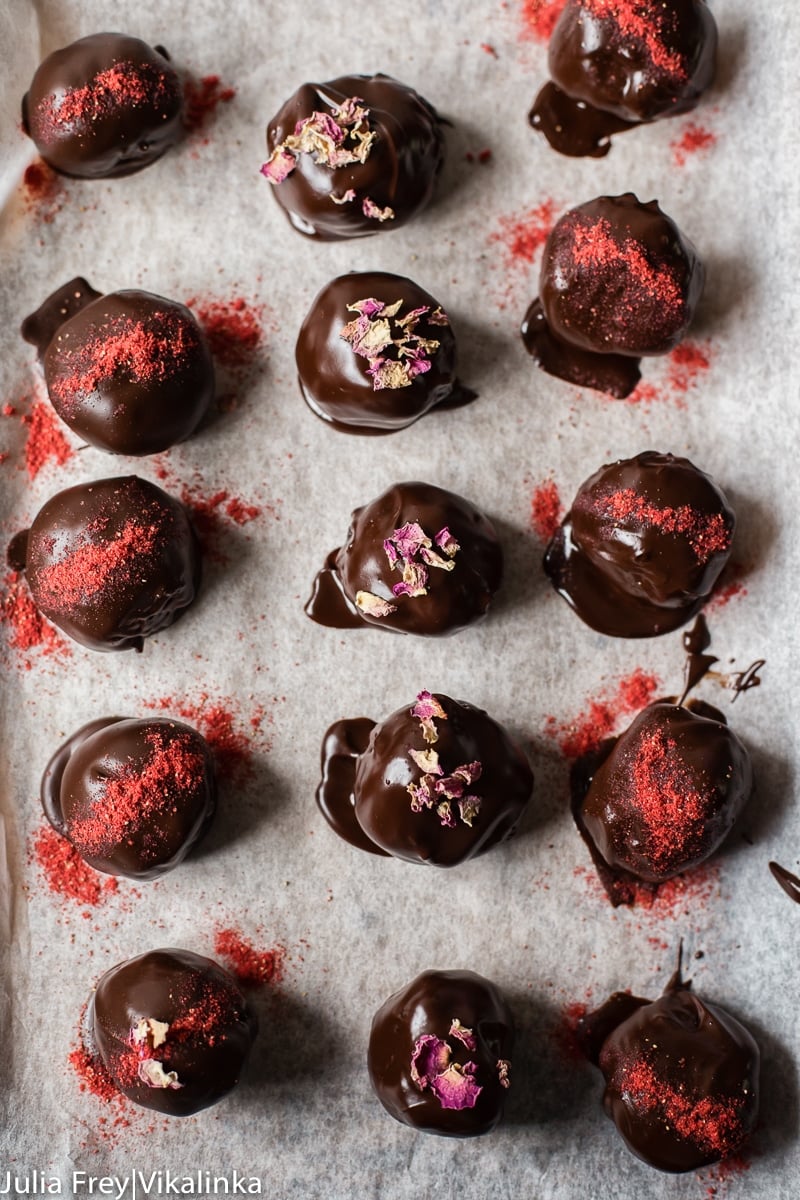 Can I freeze them?
This amazing recipe makes 20 chocolate cake truffles, so quite a lot for just the two of you! Luckily, they freeze beautifully, which is what I am planning on doing.
What I also love about this recipe is how easy it is, even children would be able to roll these little beauties!
I hope I gave you some Valentine's Day inspiration.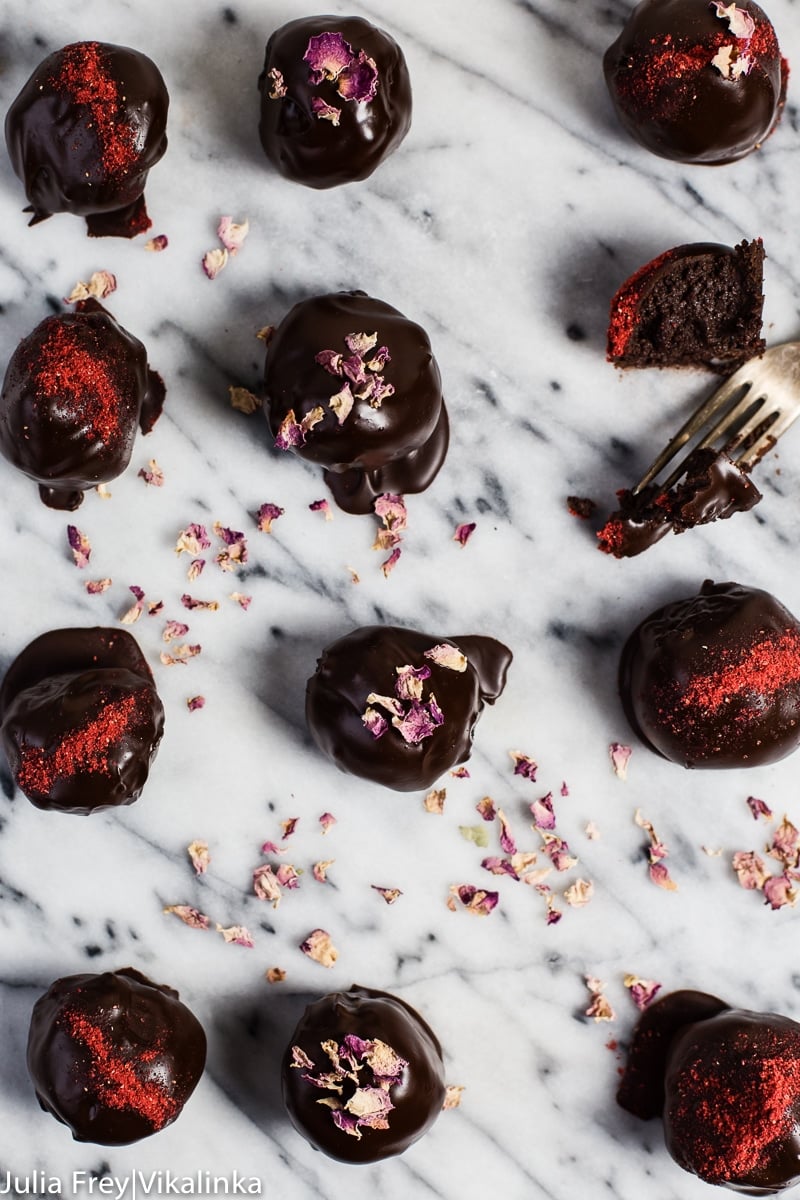 More Valentine's Day dessert recipes:
Recipe originally published 02/2017. Updated and republished in 02/2020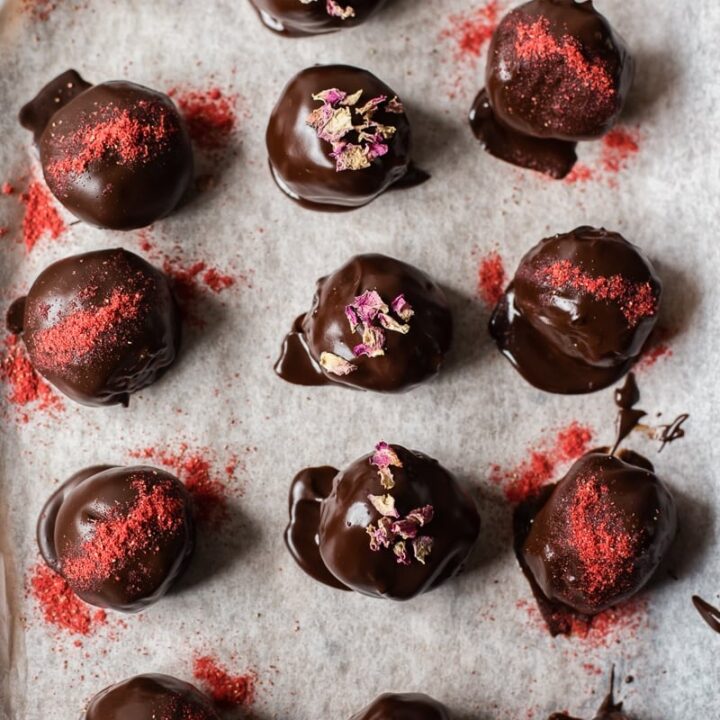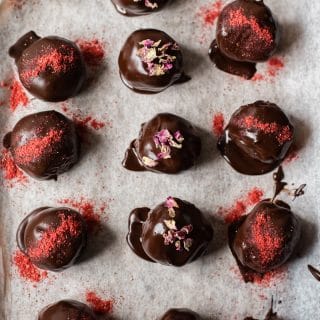 Chocolate Cake Truffles
Chocolate cake truffles dipped in chocolate and sprinkled with freeze dried strawberry dust dried rose petals.
Ingredients
For the Cake
220g/1 ¾

cups

Flour

300g/1 ½

cups

Sugar

90g/3/4

cup

Cocoa

1 ½

tsp

Baking powder

1 ½

tsp

Baking soda

1

tsp

Salt

2

Eggs, large

250ml/1

cup

Milk

125ml/1/2

cup

Vegetable oil

2

tsp

Vanilla
For the frosting
300g/1 ½ cups

Butter

1X397g/1 ¼ cup

Sweetened Condensed Milk

2

tsp

Vanilla

2

tsbp

Rum or rum flavouring

optional to add to the cake/frosting mixture
For the Chocolate Glaze
300g/10.5 oz

Dark Chocolate

120g/1/2 cup

Butter

2

tbsp

freeze dried strawberry powder

2

tbsp

dried rose petals

optional
Instructions
For the cake
Preheat oven to 350F/180C

In a large mixing bowl combine sifted flour and cocoa, sugar, baking powder and baking soda and salt. Add eggs, milk, oil and vanilla and beat on medium speed for 2 minutes.

Pour into a 9X13 rectangular pan. Bake at 350F/180C for 50 minutes or until the cake tester comes out clean. Cool in the pan.
For the frosting
In a medium bowl whip softened butter. (The butter should be soft but still hold shape) Add sweetened condensed milk and vanilla and whip until well combined. If you frosting separates, which sometimes happens if the water content of the butter is too high, don't worry it will still work in the recipe. Alternatively, you can use 1 ½ cups of prepared frosting.
For the Chocolate Cake Truffles
Once the cake is cooled, crumble it with your fingers directly in the pan.

In a large bowl combine cake crumbs with the frosting and rum if using until you have a homogenous mass.

Using a small ice cream scoop measure out 20 golf ball-sized truffles, roll them into balls and place on a parchment lined cookie sheet, refrigerate for 1 hour to firm them up.
For the chocolate glaze
In a double boiler or a thick bottomed saucepan melt chopped chocolate with butter over very low heat.
To assemble the chocolate cake truffles
Dip each truffle into the chocolate glaze using a fork and a spoon, place each truffle on a parchment lined cookie sheet, sprinkle with freeze dried strawberry powder before the chocolate glaze is set.

Refrigerate to set.
Nutrition
Calories:
470
kcal
Carbohydrates:
44
g
Protein:
6
g
Fat:
32
g
Saturated Fat:
21
g
Cholesterol:
70
mg
Sodium:
388
mg
Potassium:
295
mg
Fiber:
3
g
Sugar:
30
g
Vitamin A:
625
IU
Vitamin C:
1
mg
Calcium:
105
mg
Iron:
3
mg
Happy Valentine's Day!! xo
Julia and Brad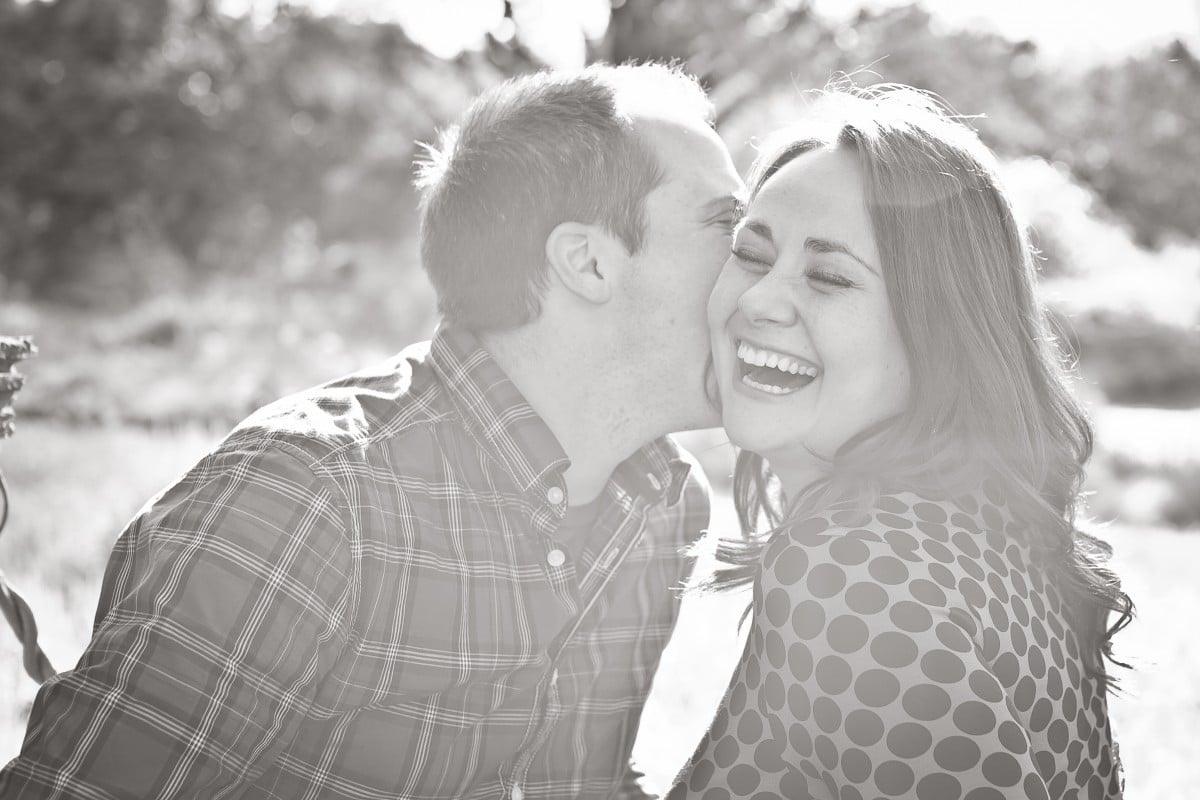 Photo credit: Noemi Photography