This Chocolate Orange Hazelnut Tart is the most indulgent bit of chocolate heaven that could easily crown your holiday table. No professional pastry chef skills required!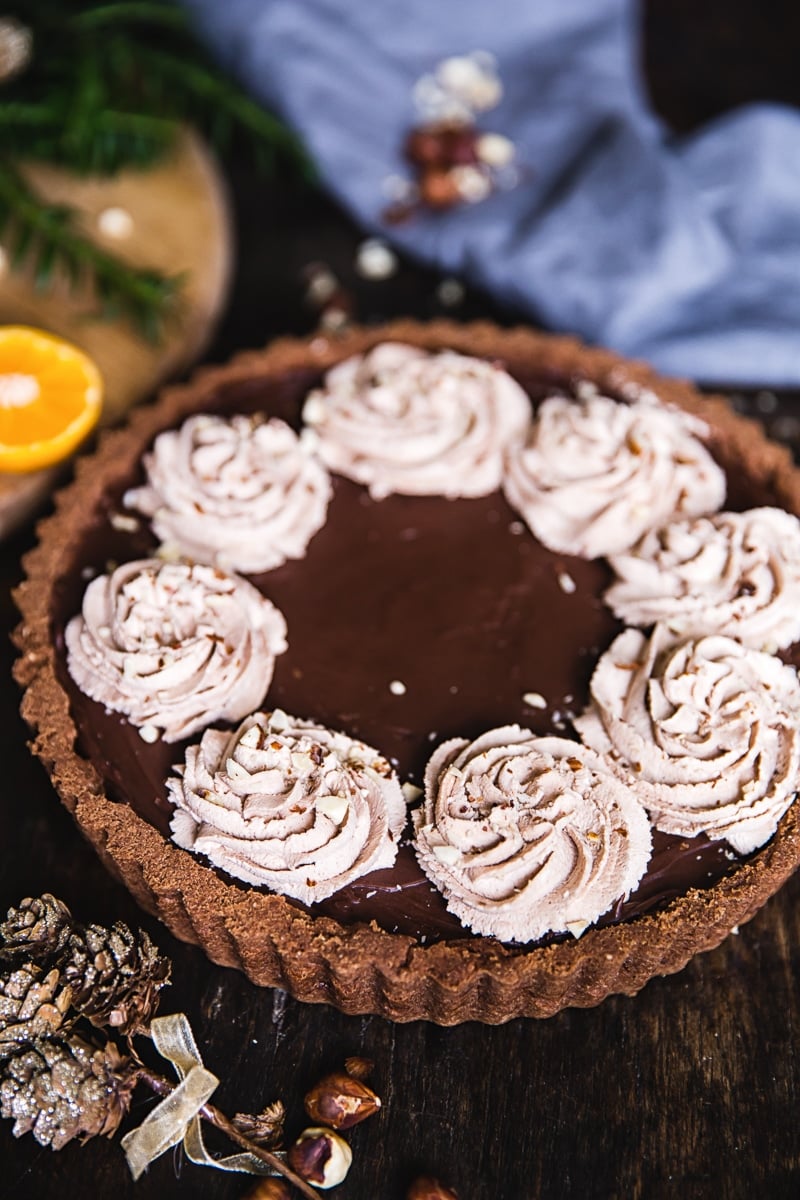 (This post is sponsored by Hotel Chocolat. All opinions remain my own!)
Everyone has their special childhood memories of Christmas. For some it's all about presents, for others the memories are firmly attached to Christmas pudding but for me Christmas time is synonymous with a good quality assorted chocolate box.
My parents always had one or two locked away in their liquor cabinet. I think the fact that it was locked with a key, although the key was always there in the keyhole, and the walls were lined with mirrors that glistened in a true 70s fashion made those chocolate boxes look even more desirable, magical even!
In the mind of a five-year-old, it looked a bit like this.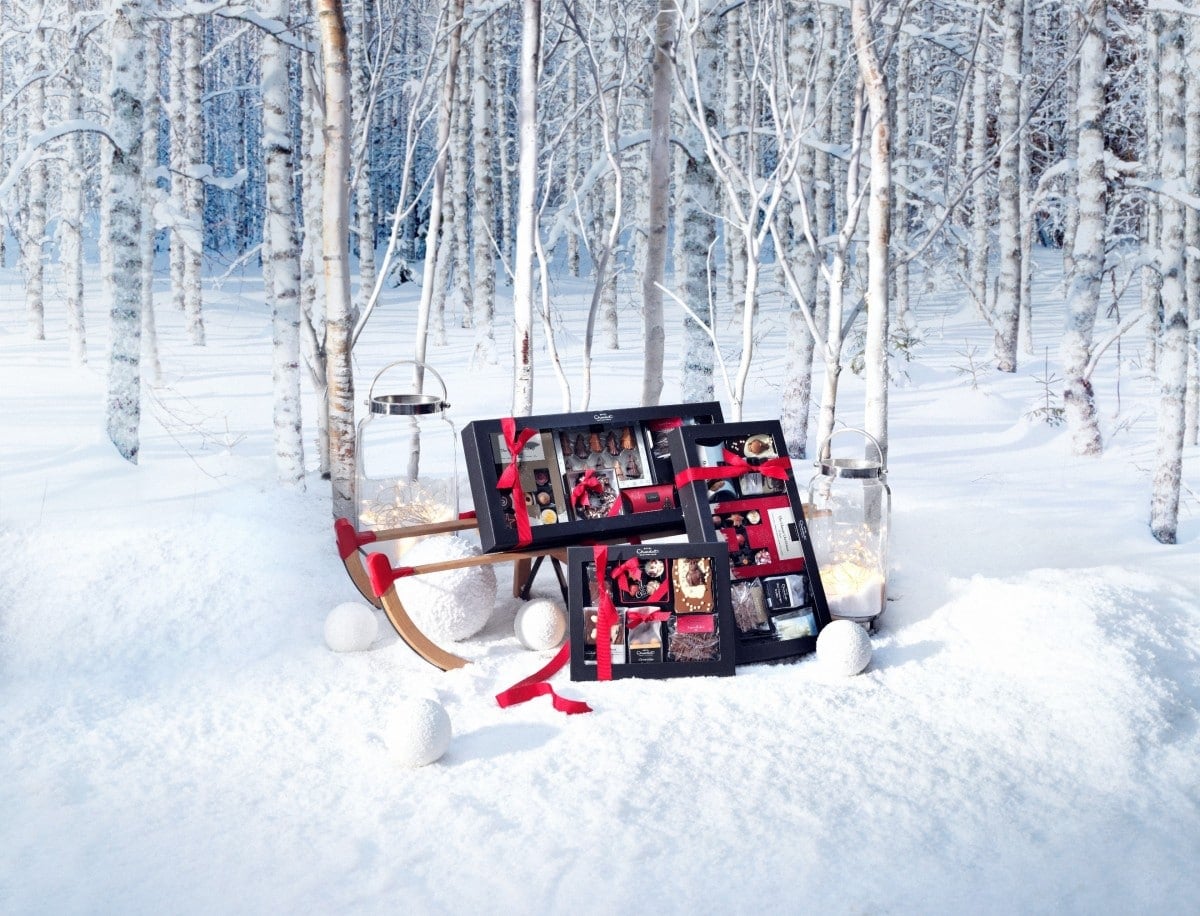 Without giving it much thought or even realising it, I carried the tradition into my own family, and I know I am not the only one. Whether we are buying a present for our Secret Santa, school teacher or our loved one, a box of delicious chocolates is what we most often turn to, don't we! They are a fail proof gift and especially when it comes to Hotel Chocolat.
I know I don't have to convince anyone in their superior taste and incredible variety. Hotel Chocolat is the little shop of choice whenever we need our chocolate fix. After all, who hasn't run in for a small but luxurious treat while waiting for a train home! You know what I am talking about, right?!! 😉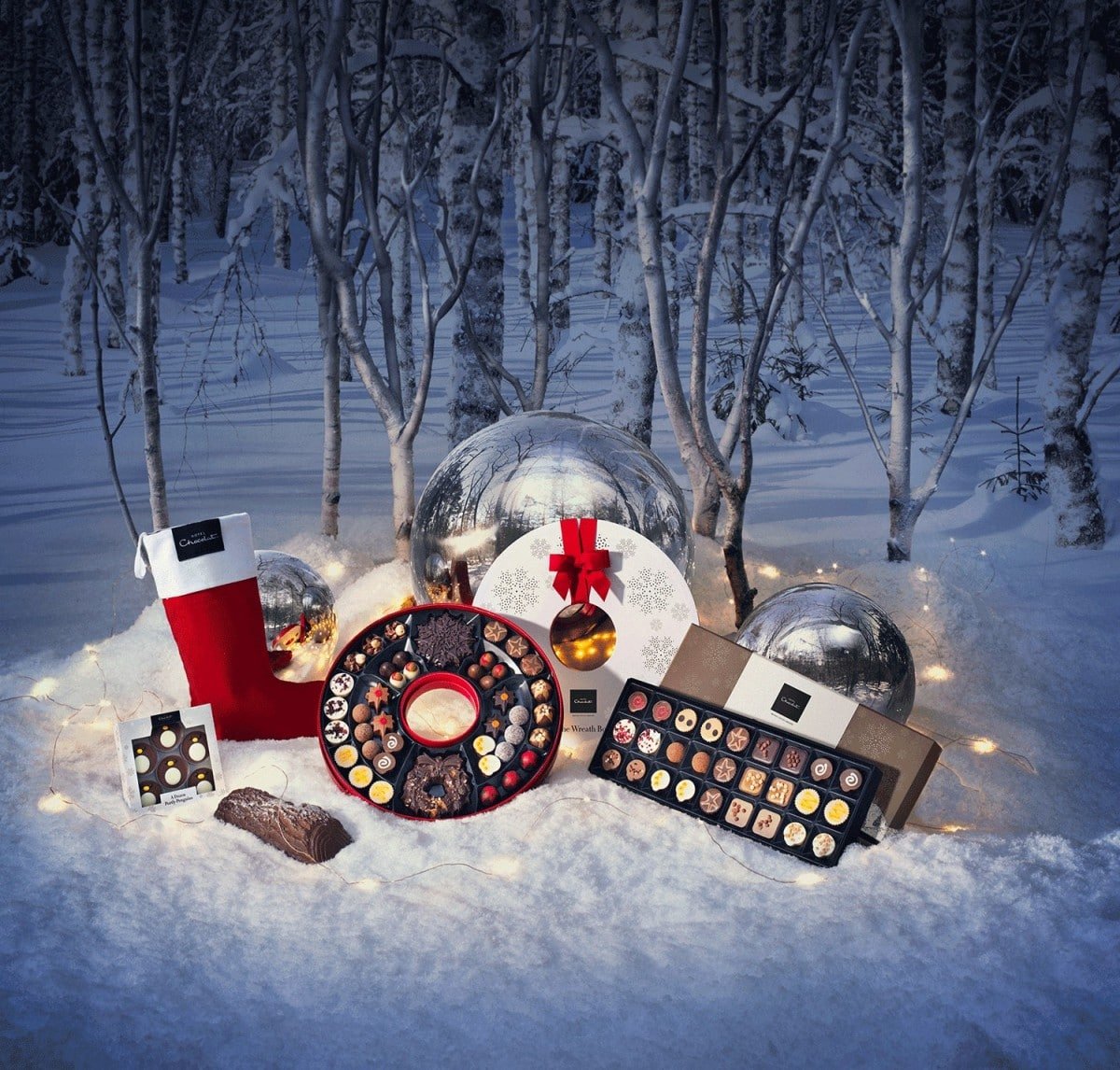 This year I was lucky to be able to preview one of the gift boxes-Classic Christmas Sleekster. One thing I have to say is those chocolates are absolutely sublime and every one of them is different!
So many flavours for every taste. Each of us picked their favourite. Our girl went for White Reindeer, which brought sweet memories of our summer holiday in Northern Sweden.
Our boy picked Simple Milk Bauble as his favourite, its blend of milk chocolate and caramel milk presented as a whipped cream truffle sang to his chocolate loving soul.
My hubby loved Christmas Mess and I went crazy for Orange and Walnut!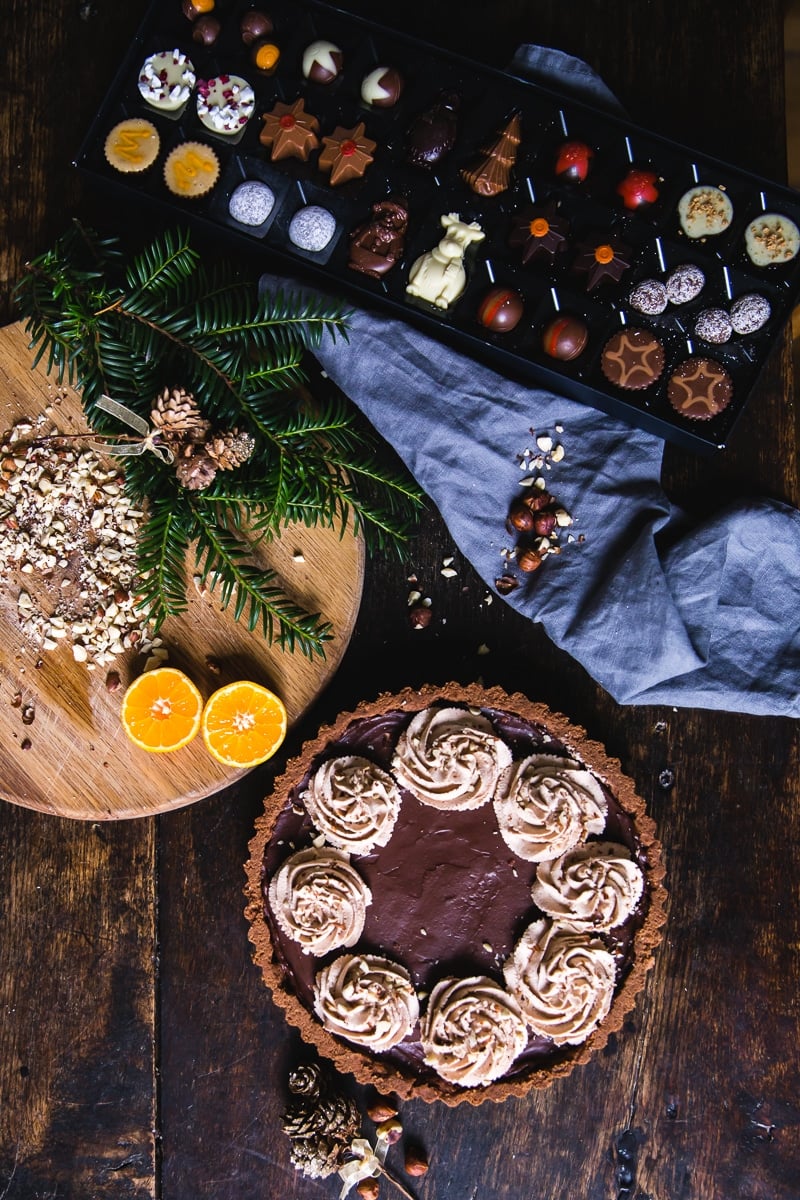 I loved it so much that I decided to make a tart inspired by the taste of Hotel Chocolat! This Chocolate Orange Hazelnut Tart is my attempt to turn my favourite chocolate into a luxurious Christmas dessert that could be shared with everyone I love!
I really love spreading this goodness around and let me tell you… was it ever a huge hit with my guys!. Mitchell tried to eat two pieces in one night. I know he is a growing boy and everything but seriously!!!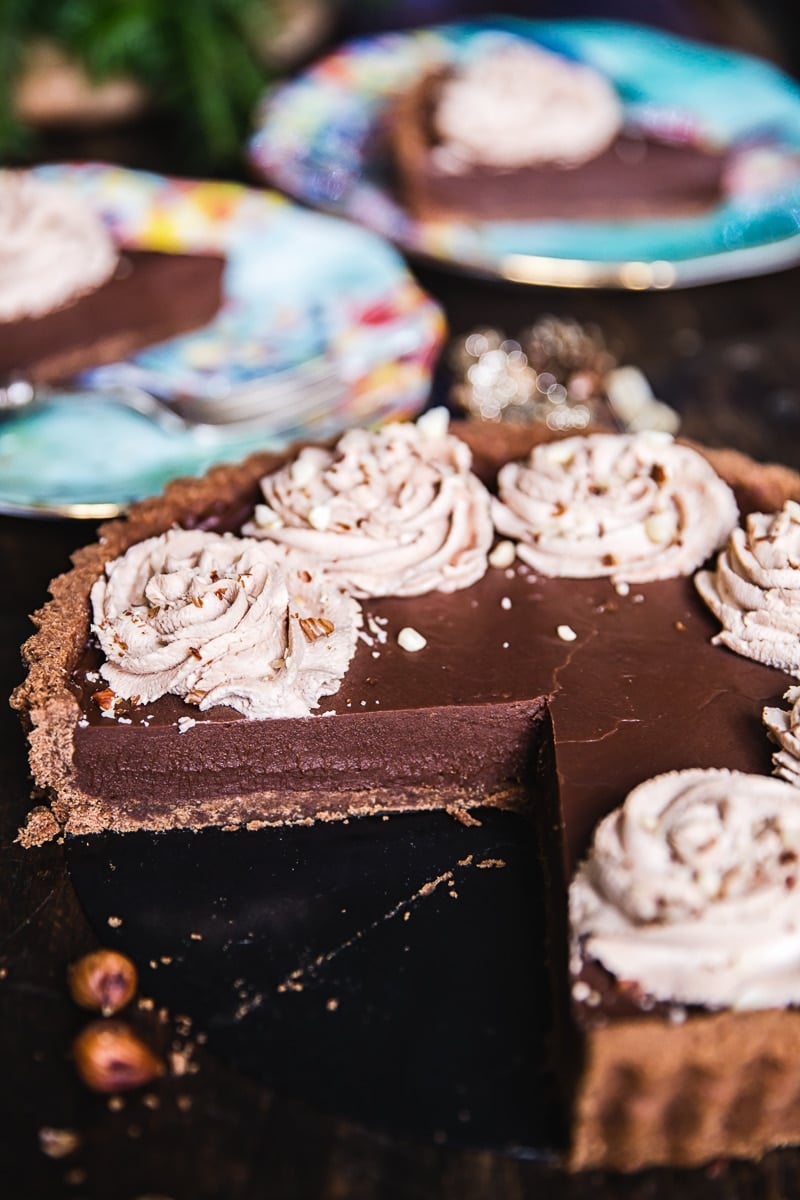 This chocolate orange hazelnut tart is not for the faint-hearted. Chocolate and hazelnut pastry holds a creamy chocolate filling with hazelnut spread and generous lashings of orange liqueur.
It is then decorated with chocolate hazelnut cream rosettes. I lack the words to describe this beauty. You will have to make it and see for yourself!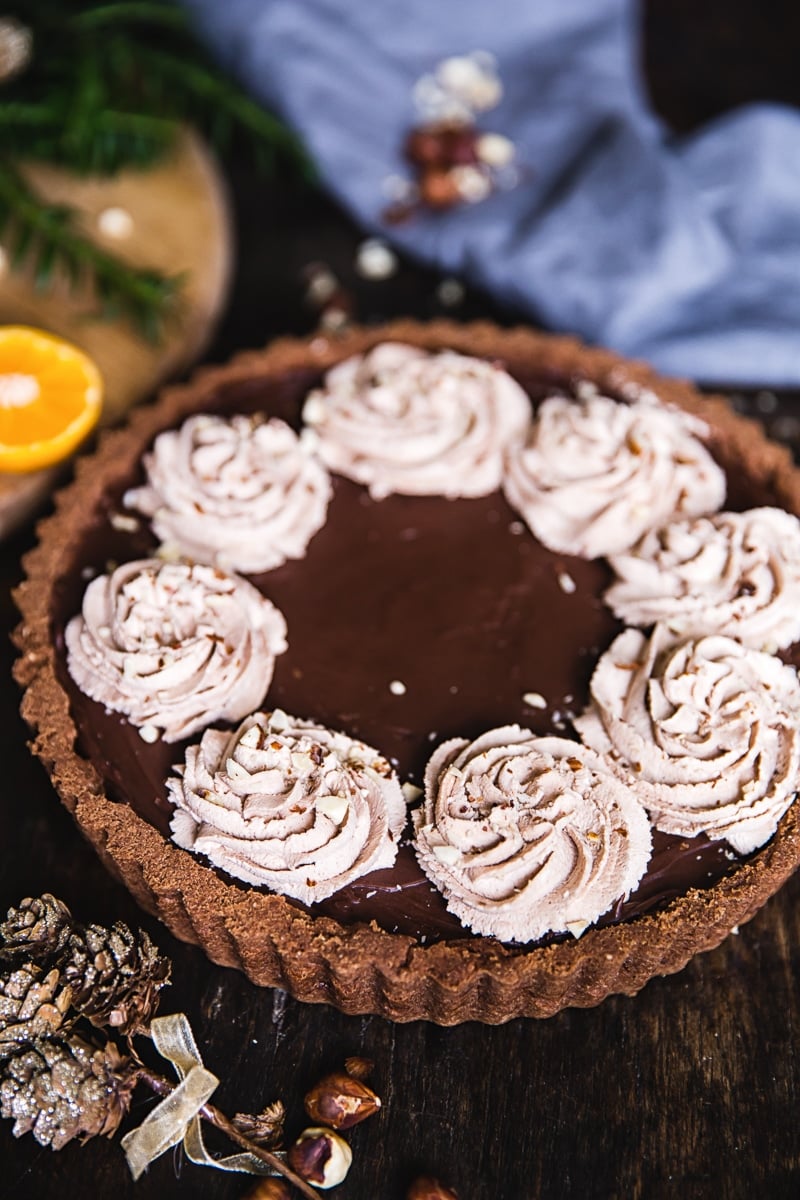 Total Time:
1
hour
5
minutes
Ingredients
For the chocolate hazelnut tart
85

g/ 1/3 cup butter

chilled and cubed

150

g/1 1/4 cup flour

35

g1/3 cup finely ground hazelnuts

3

tbsp

cocoa

65

g/1/3 cup brown sugar
For the chocolate orange filling
200

ml/3/4 cup double cream/whipping cream

250

g/8oz good quality dark chocolate

chopped (not chocolate chips)

65

g/1/4 cup mascarpone

6

tbsp

chocolate hazelnut spread like Nutella

2

tbsp

Cointreau or orange flavouring
For the chocolate hazelnut cream rosettes
250

ml/1 cup double cream/whipping cream

65

g/1/4 cup mascarpone

2

tbsp

chocolate hazelnut spread

1

tbsp

chopped hazelnuts for decoration

optional
Instructions
For the chocolate hazelnut tart
Preheat the oven to 180C/350F. In the food processor combine all tart ingredients and pulse until a pastry ball forms around the blade. Alternatively you can make it by hand in a large bowl but cutting the butter into the dry ingredients until the mixture resembles crumbs. Then form the pastry on a floured surface and roll it out to fit an 8 inch tart tin with a removable bottom. Chill the pastry in the fridge for 30 minutes.

Then line the inside of the tart with parchment paper and fill with baking beans. Bake blind for 20 minutes, then remove the baking beans and parchment paper and check for doneness. Bake for 5 minutes longer if necessary. Remove from the oven and cool completely.
For the chocolate orange filling
Heat the double/whipping cream until it bubbles around the edges but not boils yet. Pour over chopped chocolate, cover with a lid for a minute, then uncover and stir with a whisk until smooth, add mascarpone, chocolate hazelnut spread and orange liqueur, stir until well combined.

Pour into the chilled tart and put in the fridge to set for at least one hour.

When the tart is set, whip the double/whipping cream until soft peaks form, then add mascarpone and chocolate hazelnut spread and whip for another minute until it's pipeable consistency.

Load a piping bag fitted with a star tip and pipe rosettes around the edge of the tart or spread it and swirl with a spatula. Sprinkle with chopped hazelnuts.

Keep in the fridge but remove at least 30-40 minutes before serving to allow the chocolate come to a room temperature for maximum flavour.