This chocolate truffle cake is the perfect cake for any celebration! Silky smooth truffle layer sits atop a chocolate cake layer, you will only want a small slice of this indulgent dessert to satisfy your cravings! Add edible gold leaves for more drama!
Looking for another Christmas dessert idea? Take at this showstopper Honeycomb Crunch Chocolate Cake.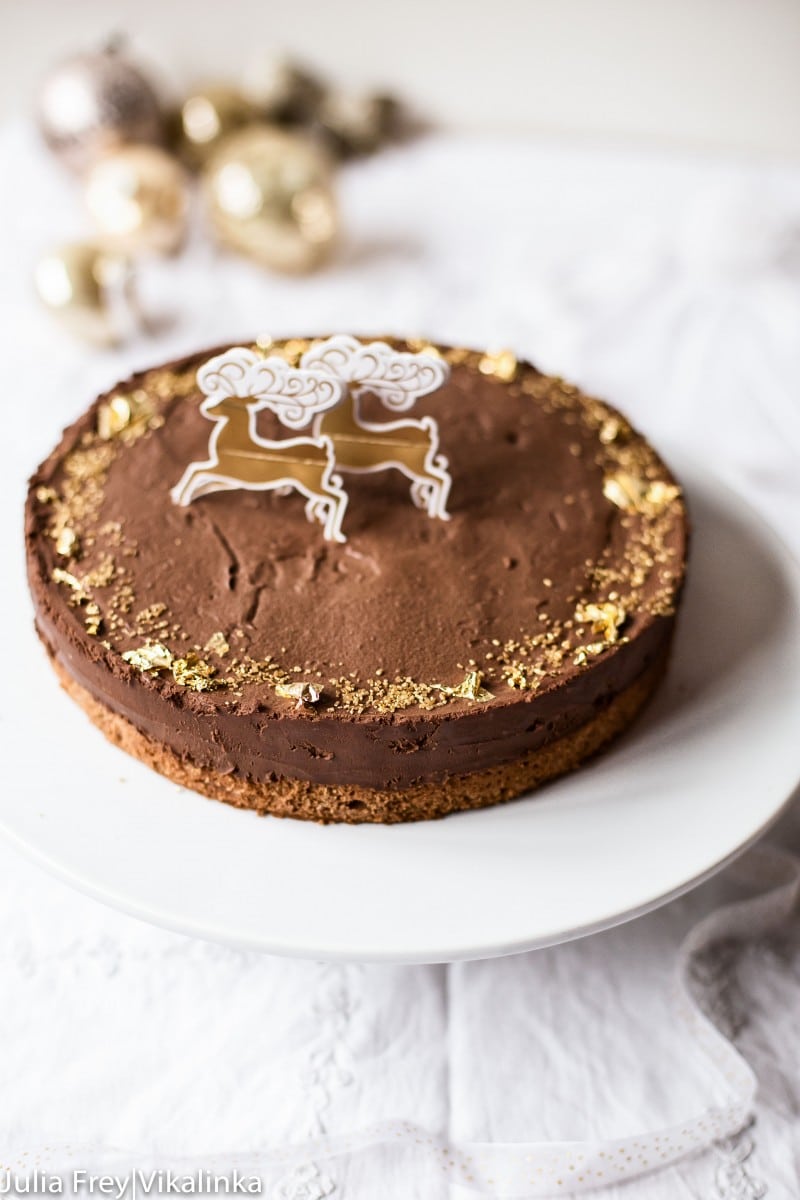 We are closing in on Christmas, which means the pressure is on to get everything planned and ready to go. High up on the priority list is putting together some gorgeous Christmas bakes!
I've wanted to make this cake as soon as I posted my White Christmas Truffle Cake last Christmas. My desire got even stronger when the cake became insanely popular with you, my friends.
So what you have here is the reverse White Christmas Truffle Cake. It is Dark Chocolate Truffle Cake and it is glorious!!
I treated this chocolate truffle cake to a splash of brandy and gold leaves for decoration. It's Christmas and everything deserves a touch of glitz and glamour!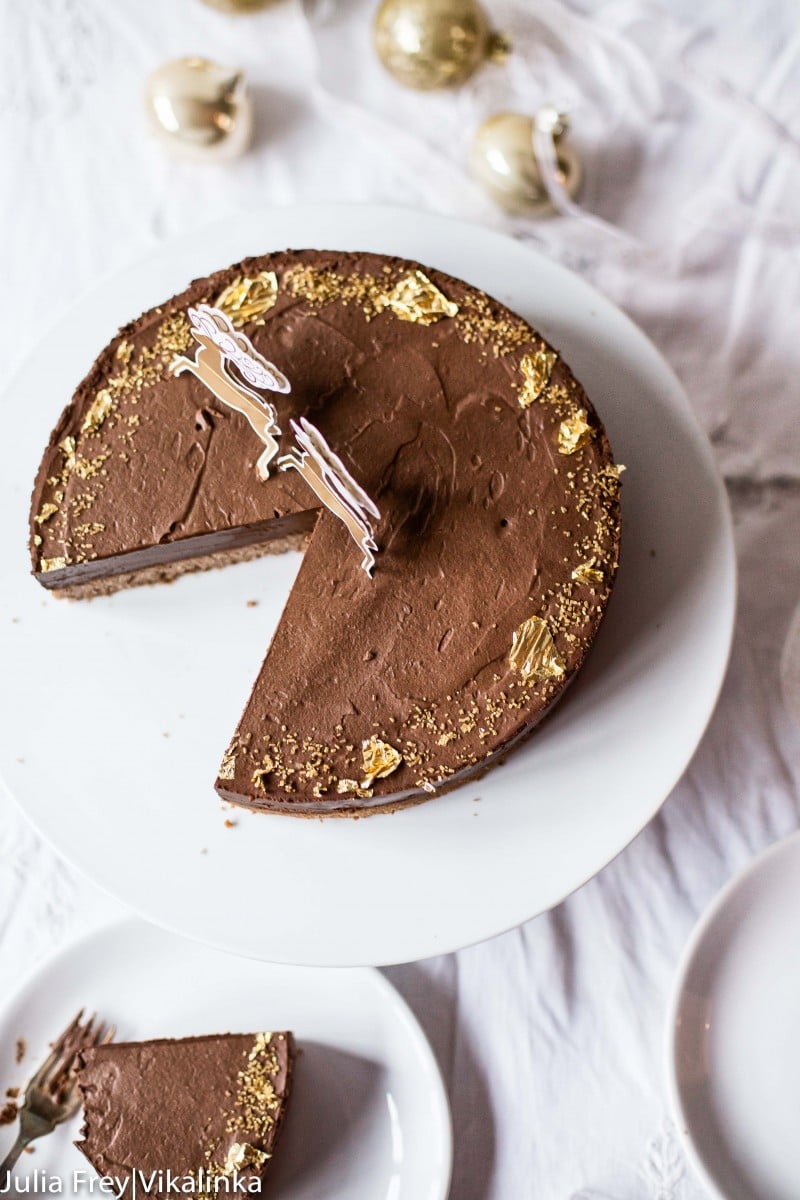 Tips for working with edible gold leaves
As I was carefully placing very thin and delicate edible gold leaves on this chocolate truffle cake with tweezers, I was realising the task was more intricate than I had first expected.
The gold leaves tear easily and stick to fingertips, so using a good pair of tweezers is essential for this job.
Edible gold can come in sheets or flakes. For this recipe, look for the flakes so they can be added with a minimum of fuss.
Working with edible gold leaves takes a bit of practice to get familiar with its tendencies. But once you get the hang of it you'll have a great way to add glamour to your baking!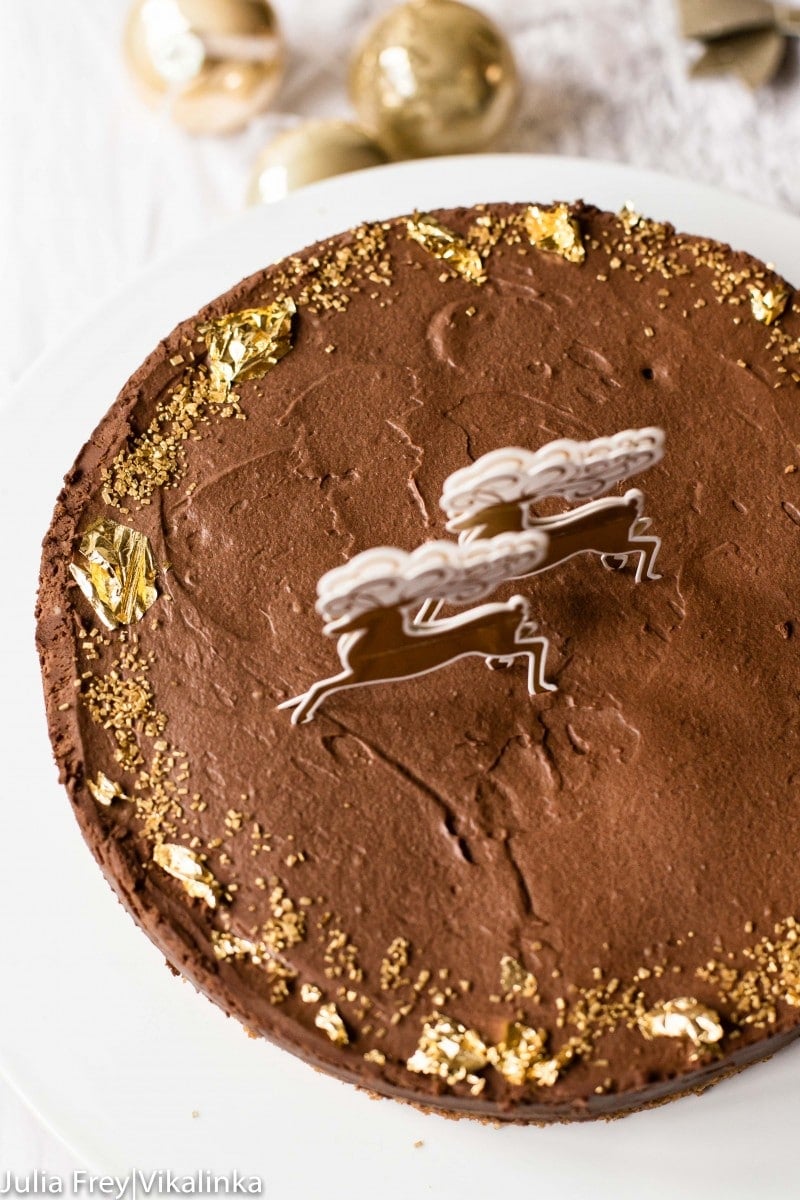 How to make Chocolate Truffle Cake
Making of the chocolate sponge is very straightforward. Simply follow the instructions and you will ace it. Adding the truffle layer is the trickiest part of this cake.
What I learned from making this cake is the dark chocolate layer sets firmer than the white one, probably due to it being less creamy.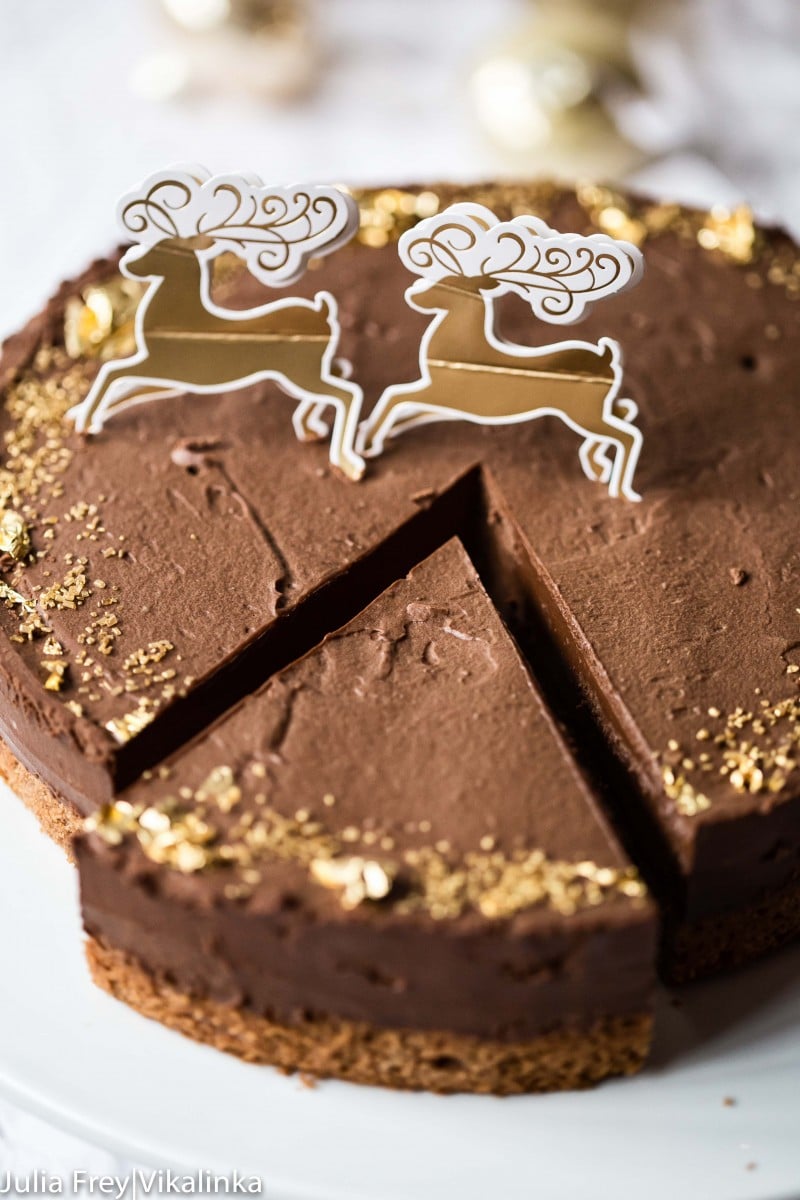 If you want the truffle layer to be very smooth and firm, you have to mix mascarpone into the chocolate and cream mixture when it's completely cool. Whip it with an electric mixer until the mixture is quite thick and still. It should not be runny. Also, overbeating will result in mascarpone splitting, which will give you a grainy texture.
If you would like a bit more help in making this cake, check out a series of short videos on my Facebook page, where you can see what the process is like!! That's a first for me and I found talking while cooking so difficult!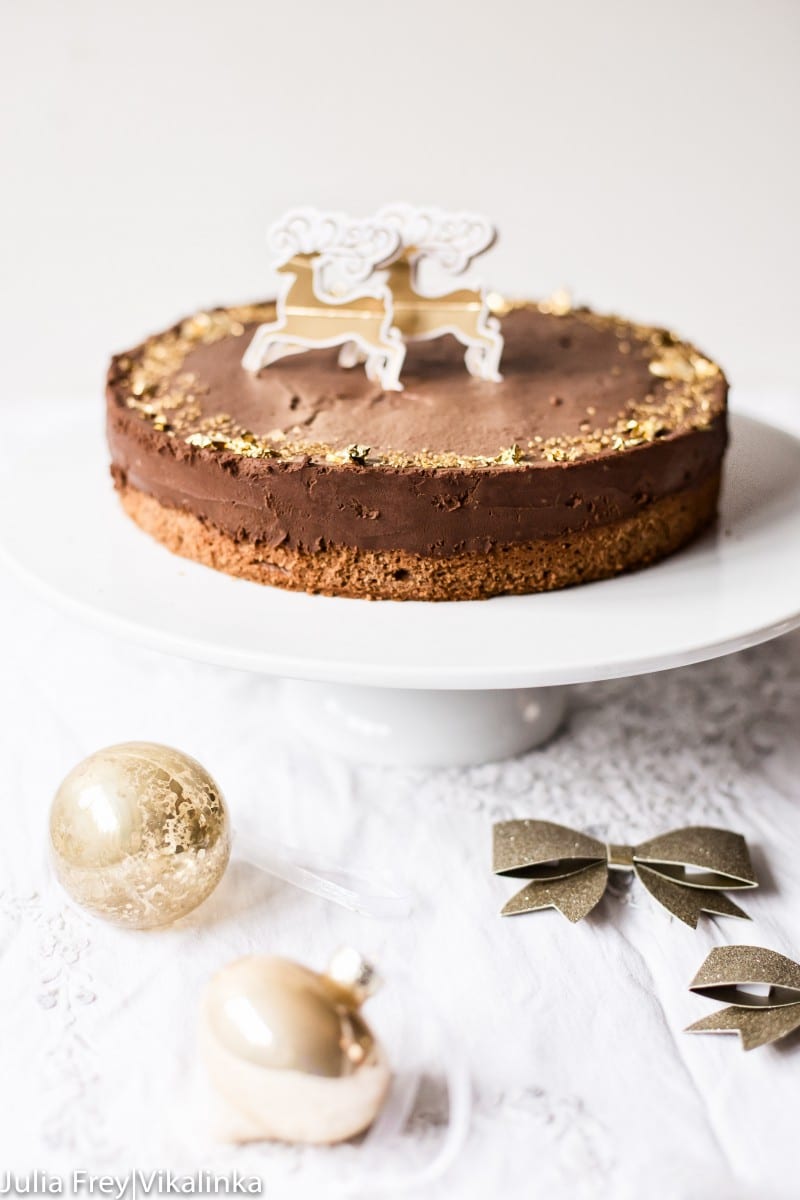 Favourite chocolate cake recipes: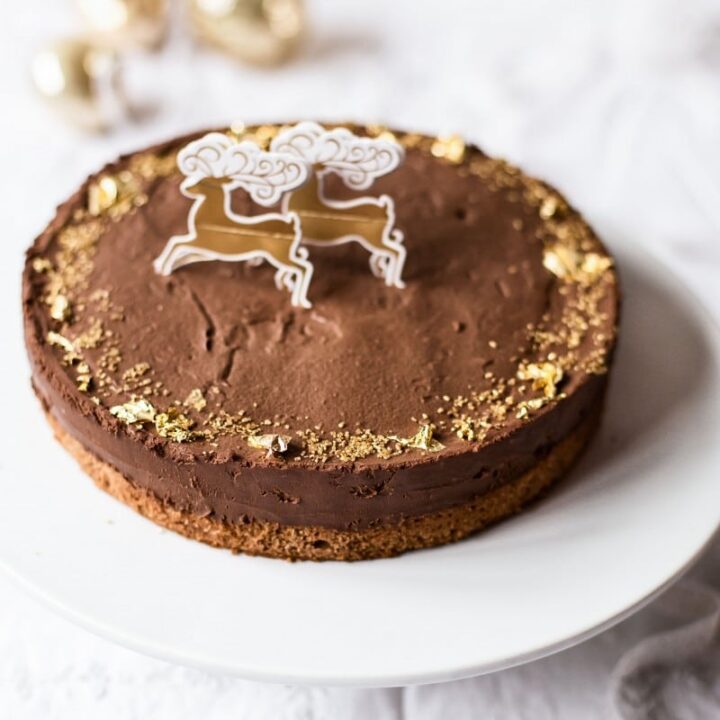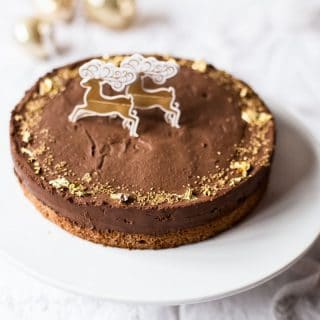 Chocolate Truffle Cake
Silky smooth truffle layer sits atop a chocolate cake layer, you will only want a small slice of this chocolate truffle cake to satisfy your cravings!
Ingredients
For the Cake Layer
⅓

cup/ 85 ml Guinness or other stout

2

tbsp

strong black coffee

½

cups/ 115 gr unsalted butter

⅓

cup/ 4 ½ tbsp unsweetened cocoa powder

1

cup/ 150g all purpose flour

1

cup/225 g sugar

⅔

tsp

baking soda

½

teaspoons

salt

1

large egg

1½

tsp

pure vanilla extract

½

cup/125 ml creme fraiche/sour cream
For the Chocolate Truffle Layer
1¼

cups/ 300 g double cream/heavy cream

I used 48% fat double cream

12

oz/350 g dark chocolate

chopped (measured by weight)

9

oz/250 g mascarpone or cream cheese

full fat only

2

tbsp

brandy

optional

Edible gold flakes and gold sanding sugar for decoration
Instructions
For the cake layer
Preheat the oven to 325F/160C.

Grease a 9" round cake pan and line the bottoms with greased parchment paper. Set aside.

In a saucepan heat stout, coffee and butter together until the mixture comes to a gentle simmer, add cocoa powder while whisking continuously to avoid lumps until smooth. Set aside to cool.

Blend flour, sugar, baking soda, and salt in a different bowl. Mix eggs, vanilla and creme fraiche with an electric mixer in bowl no 3.

Now check on your chocolate mixture and make sure it's cool enough to continue the process.

Add the chocolate mixture to the egg and creme fraiche mixture and blend them together. Add flour mixture a little bit at a time and beat on low speed until combined. Pour into the pan and level.

Bake in the preheated oven for 25-30 min. Always test your cake for doneness with a toothpick or a cake taster. Cool the cake in the pan for 10 minutes , then take it out and cool completely a wire rack.
For the Truffle Layer
Bring the cream in a saucepan to a boil and take it off the heat. Add chopped dark chocolate and stir with a whisk until the chocolate in melted and completely incorporated into the cream. Let the mixture come to a room temperature, mix in brandy if using.

Add mascarpone and whip with a hand mixer until smooth. If using cream cheese instead of mascarpone, whip the cheese until light and fluffy before adding cream and chocolate mixture and blending the ingredients together.

Put the sponge layer back in the springform. Pour the truffle mixture on top of the cake in the springform pan and chill in the refrigerator for at least for 2 hours or better overnight.

Hold a knife over hot water for a minute, then wipe it dry with a towel, run a hot knife along the sides of the cake to release it from the pan, then carefully unmold it and move to a cake stand.

Decorate with gold flakes and gold sanding sugar if desired.