This decadent chocolate cake is so luxuriously beautiful and delicious, you will feel like it came from a French patisserie! The classic flavours of chocolate and caramel come together with the satisfying crunch of honeycomb. To die for!
For a new twist on classic cake flavours, try this Spiced Pumpkin and Chocolate Cake!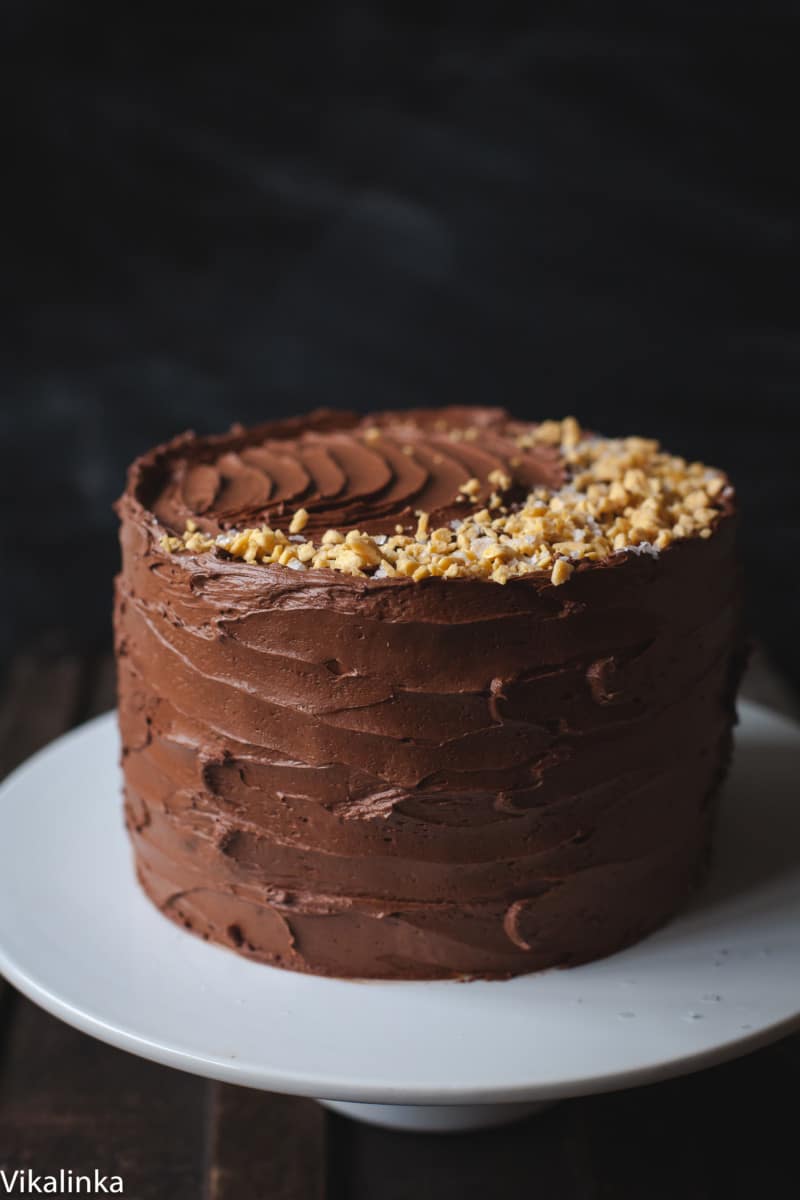 Flashy layer cakes are the sort of desserts that none of us are going to make very often. But when we do, it is worth putting in the extra effort to make then stand out as truly special.
That's why I came up with this decadent cake. It brings together two of my favourite flavours – chocolate and caramel – and adds in the satisfying crunch of honeycomb!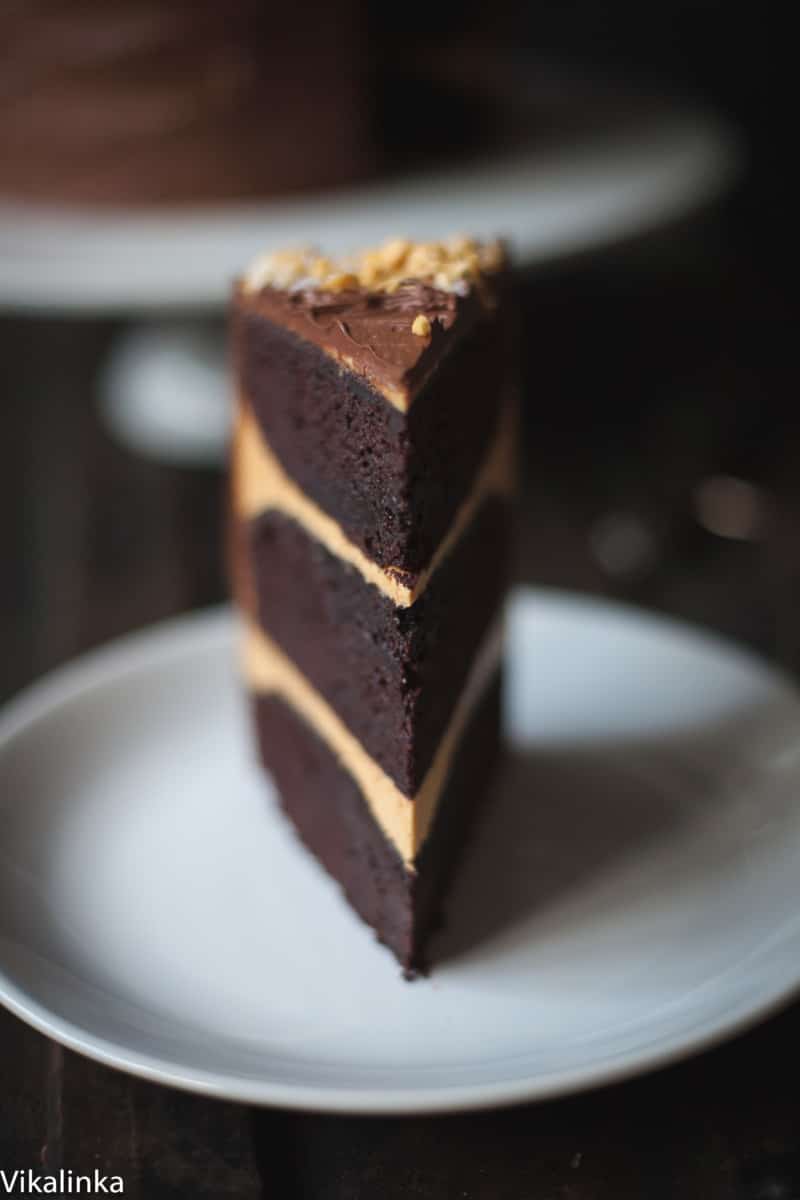 This cake works perfectly at all sorts of occasions. I have served it at birthday parties, at Christmas and when friends come over to say hello. A winner every time!
I kept the styling simple because it doesn't need to be flashy to look gorgeous! And it's the inside that will really make you catch your breath as the decadent black and brown layers are revealed with every slice!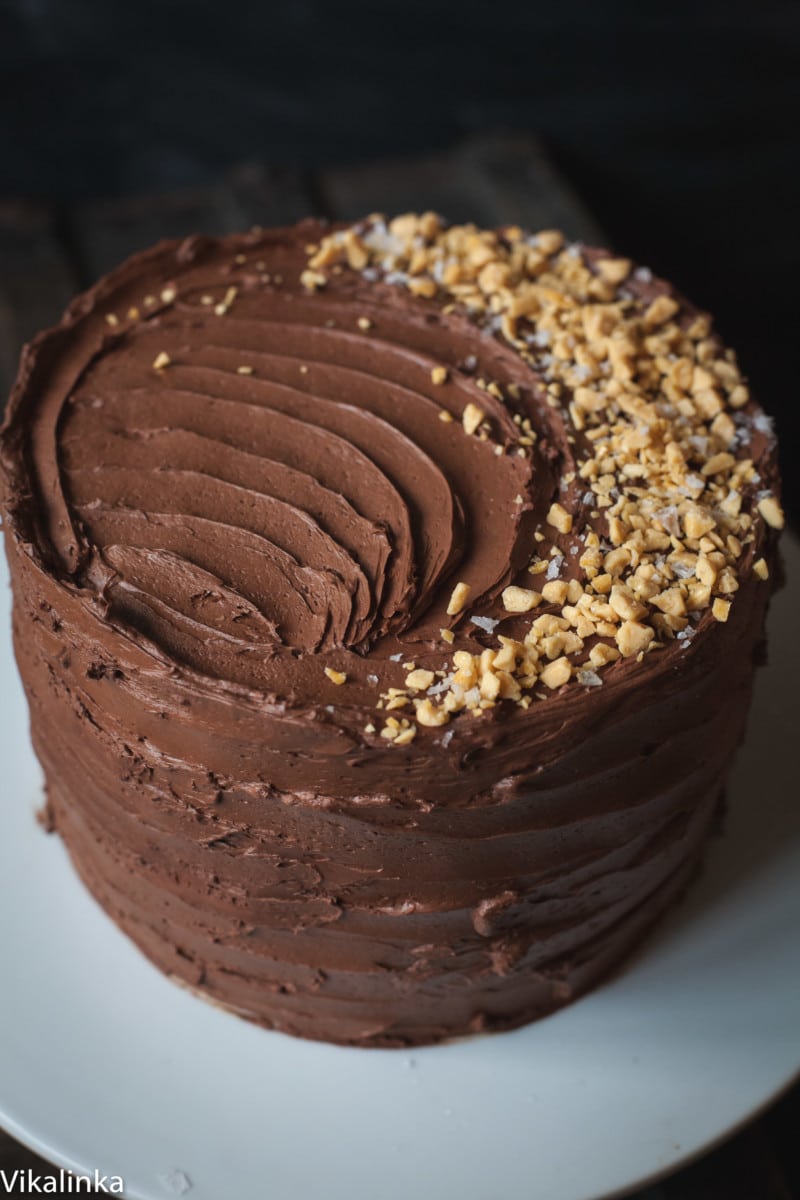 Honeycomb Crunch Chocolate Cake
I often struggle to know what cake to make. There are so many options, each bringing their own special something.
But for this cake, I knew I wanted to bring together my favourite sweet flavours and textures. That meant I needed chocolate and caramel in a cake that is moist with a bit of crunch.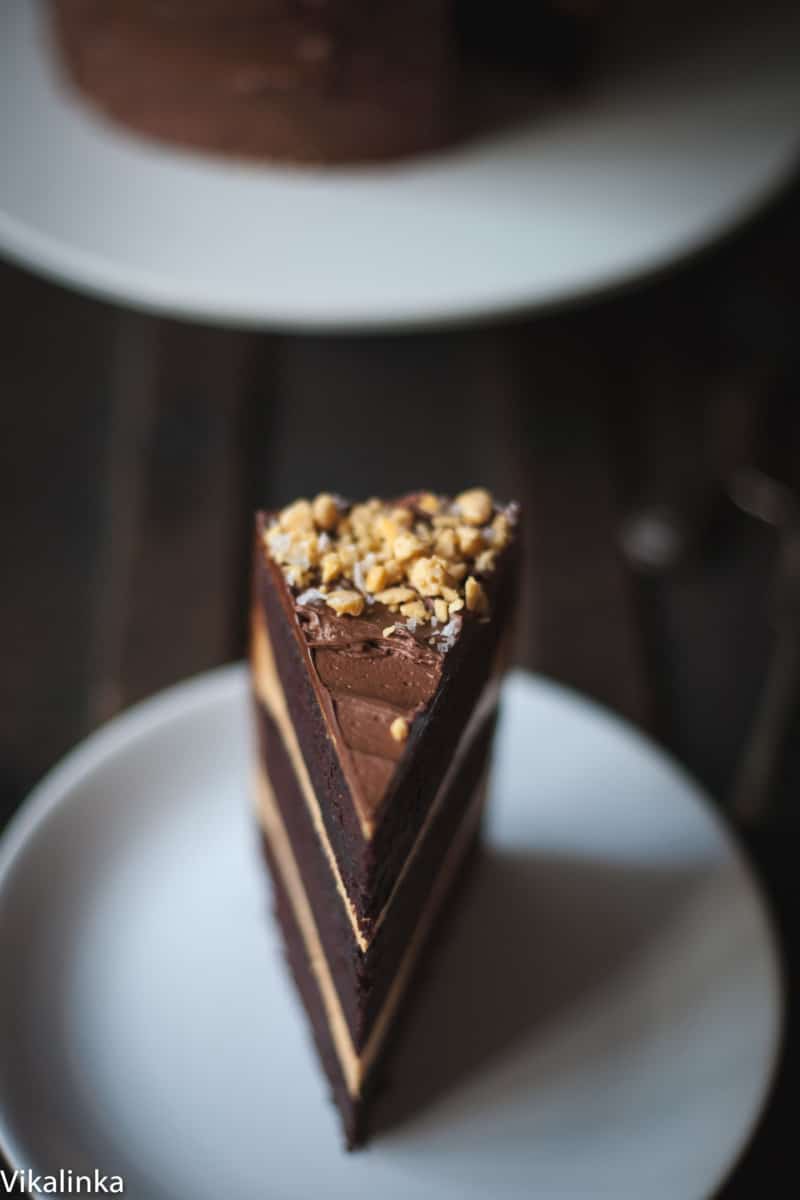 I started by making a chocolate stout cake, one of my favourite cake recipes. It produces dense chocolate sponge that stands up well to the rich caramel frosting.
The filling for this chocolate cake comes from my childhood, something every Russian child grew up with – caramel buttercream. A pinch of flaky Maldon salt gives it a modern update.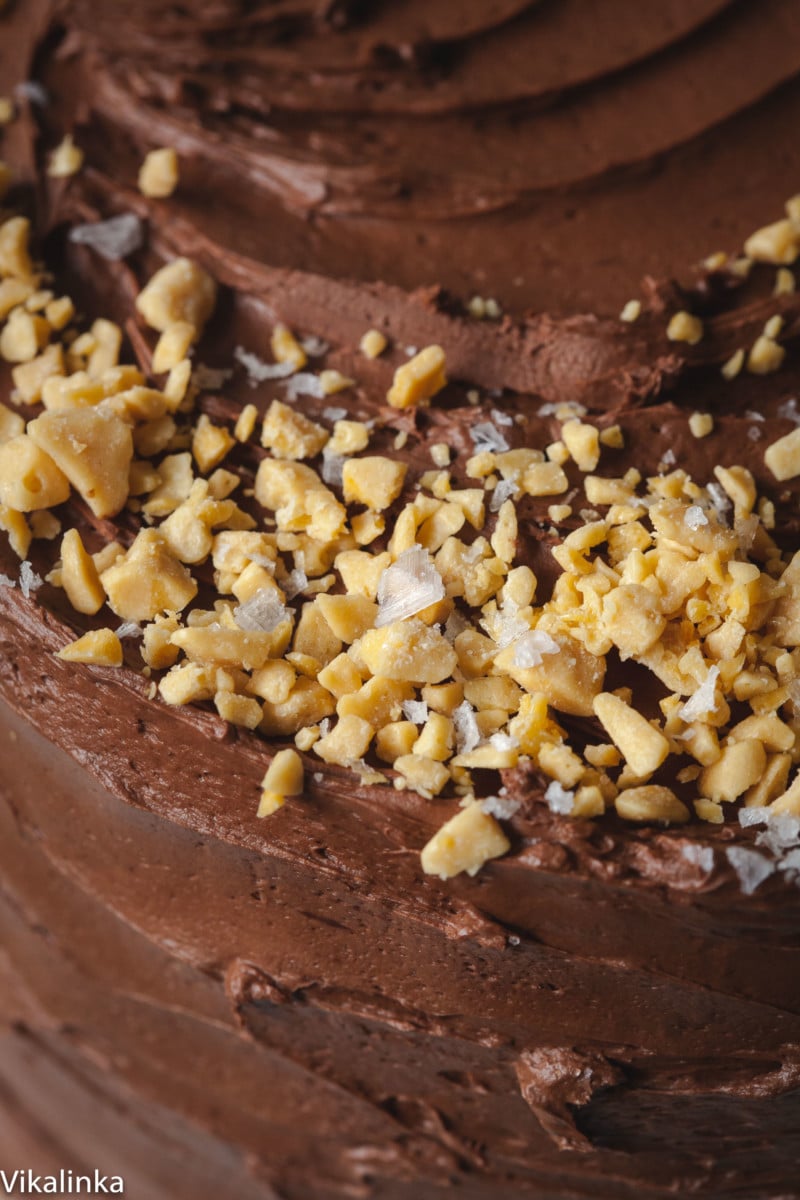 The much desired crunch comes from crushed honeycomb pieces, which are hard caramel bits, folded into caramel buttercream. Then I covered the entire chocolate cake into dark chocolate ganache and sprinkled with more honeycomb and salt flakes.
If honeycomb candy is not available in your supermarkets feel free to use Butterfinger bars. Although not exactly the same they will be a fair substitute.
How to make dulce de leche
Dulce de leche originated in Latin America as a confection made by heating sugar and milk together over several hours. It is an easily spreadable form of caramel and perfect for all sorts of sweet treats.
It is sometimes available ready made, which of course will save you a step. But if not, it is super easy to make your own with a can of sweetened condensed milk.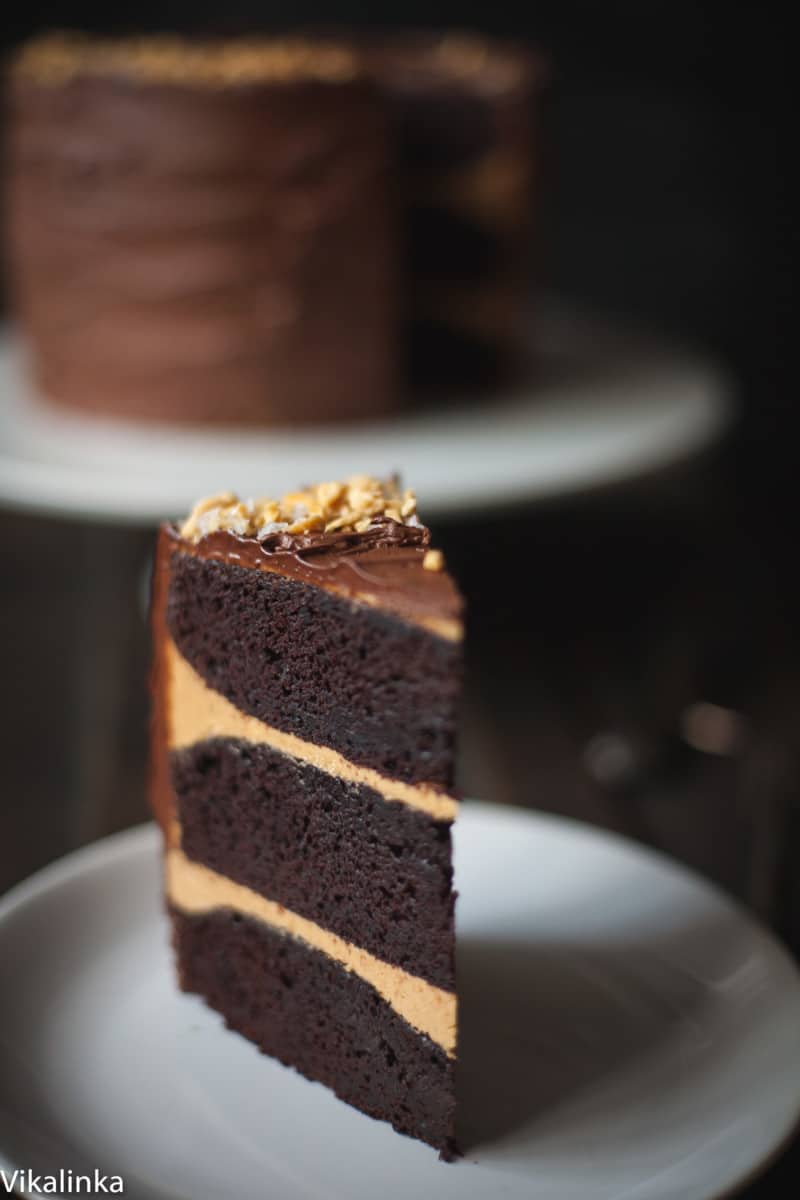 Take the label off the can of sweetened condensed milk and put it in a pot completely submerged in water. Bring it to a boil and continue cooking for 3-4 hours.
Make sure your can is completely covered in water throughout the duration of cooking or it will explode. Let it cool until it's ready to use.
When you open it you will discover that your old plain can of sweetened condensed milk got transformed into glamorous and silky dulce de leche!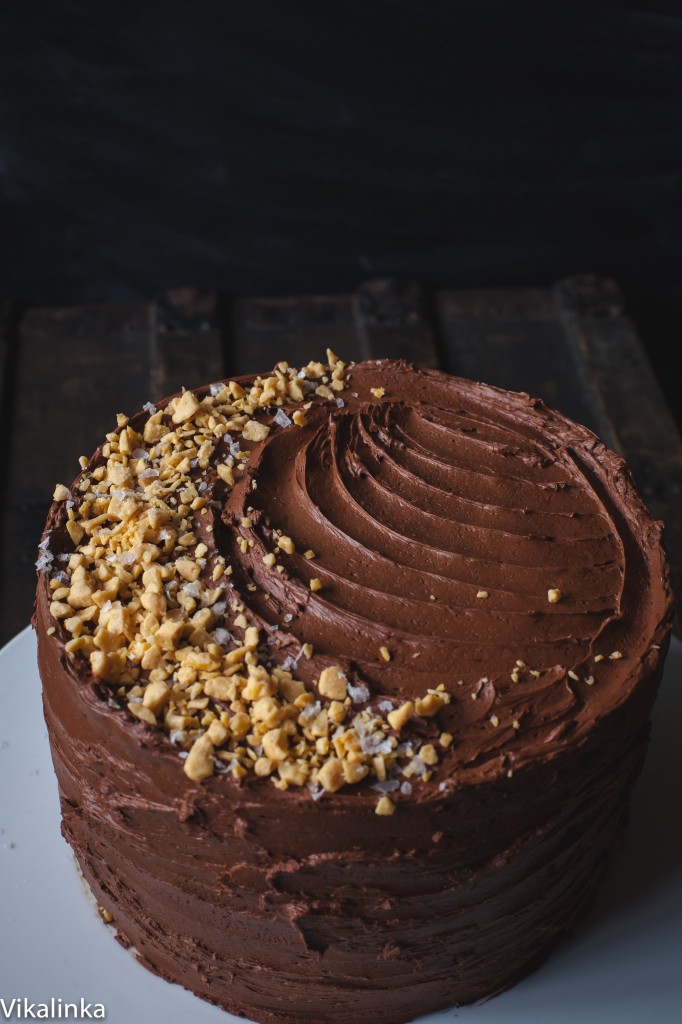 Salted caramel buttercream
The dulce de leche or caramel serves as the the base flavour for the buttercream icing. You'll want to use a stand mixer to make this as easy as possible.
In the bowl of the stand mixer, whip butter until it is light and fluffy, then tip in the dulce de leche or whatever caramel you are using. Throw in a pinch of flaky salt and keep mixing until it is all completely combined.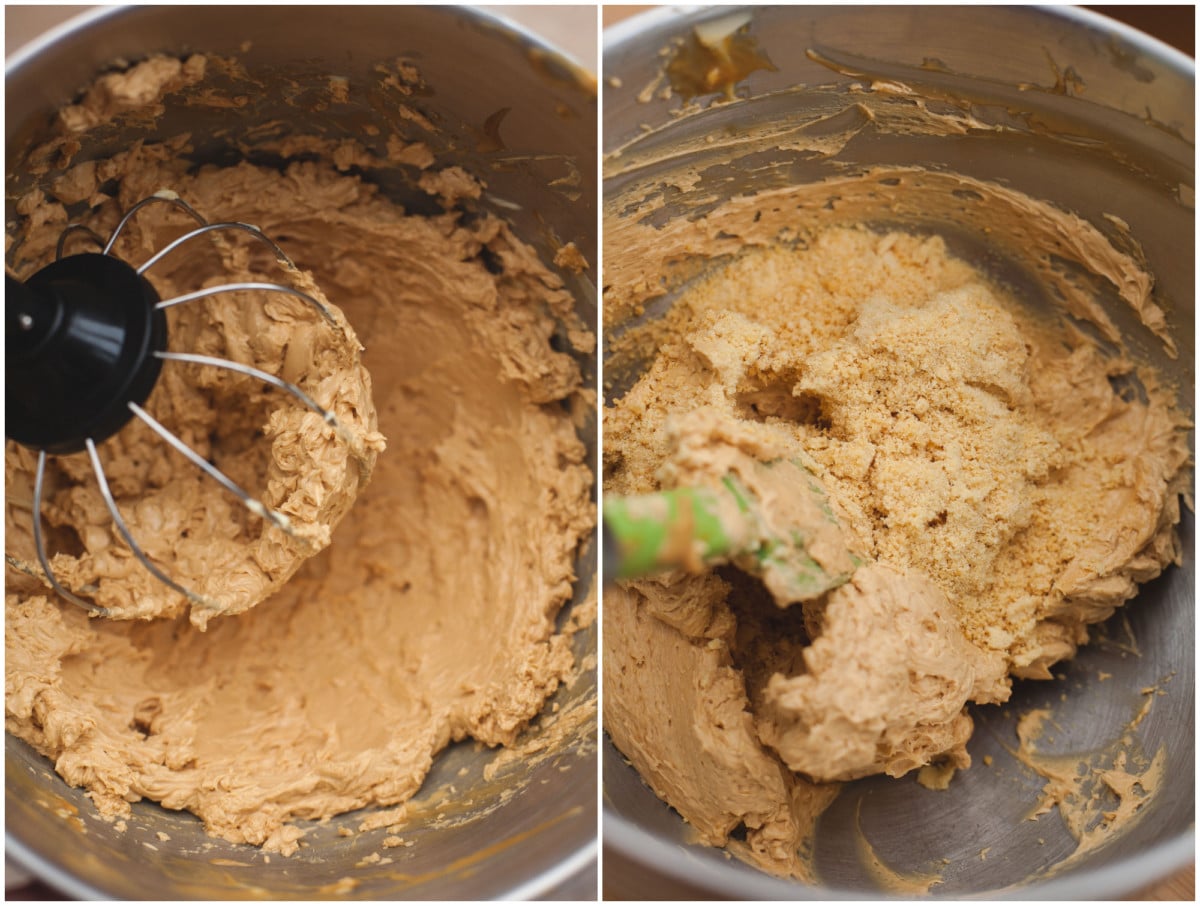 Now crush the honeycomb pieces in a food processor or wrap the honeycomb pieces in a clean tea towel and crush them with a rolling pin. Add the pieces to the salted caramel buttercream and fold them all together.
The buttercream icing can now be added between, on top and around the sides of the cake layers. The honeycomb pieces will add an amazing crunch to this cake!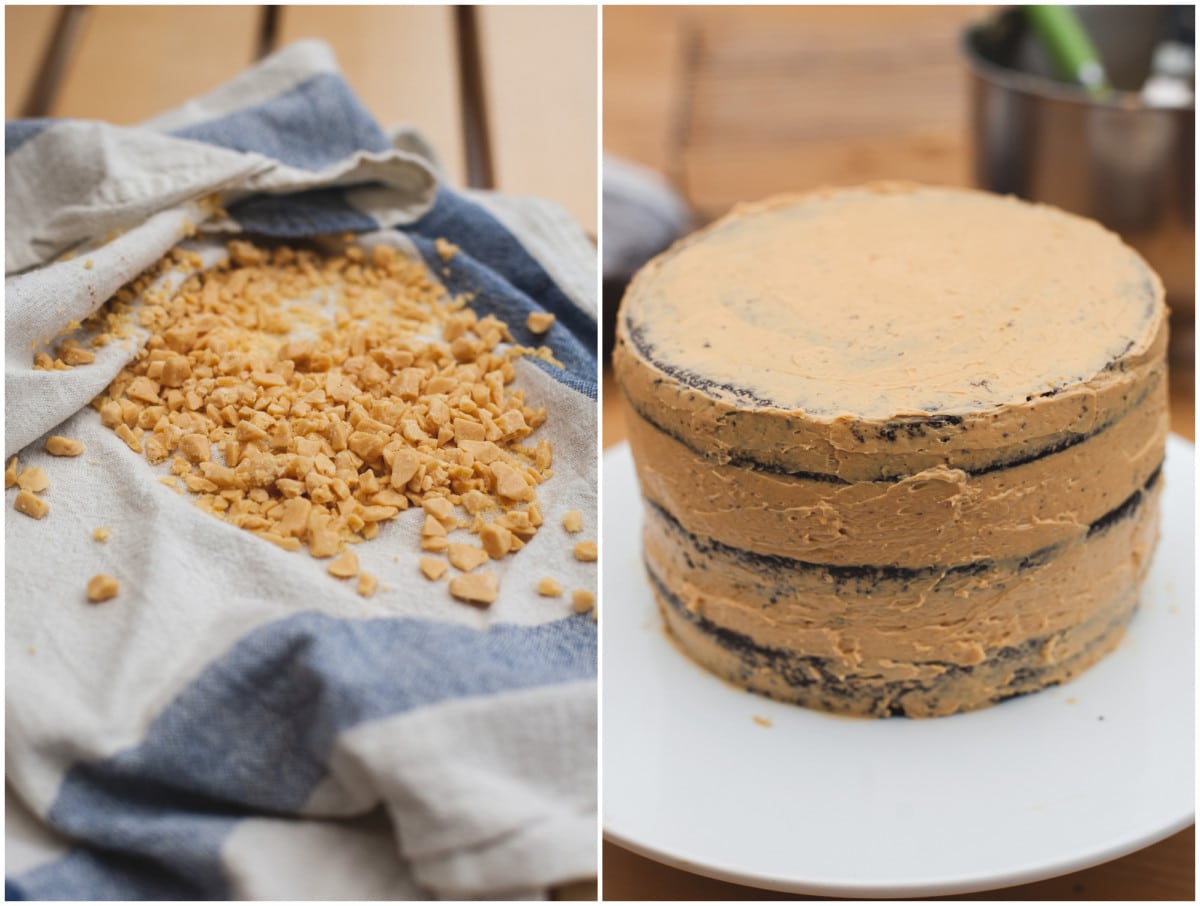 Recipe tips
If boiling a can of sweetened condensed milk, ensure it is completely covered with water at all times. Cans that are not covered by water may explode.
Flaky sea salt can be used as a substitute for Maldon salt.
Use unsalted butter for the buttercream. You will be adding flaky salt, so salted butter is unnecessary.
Leftover buttercream icing can be kept in the fridge in an airtight container for up to a week. Before reusing, let it come to room temperature and beat it to loosen the icing up again.
If you can't find honeycomb pieces, try crushing a Crunchie bar. Although not the same, this will approximate the same effect and flavours.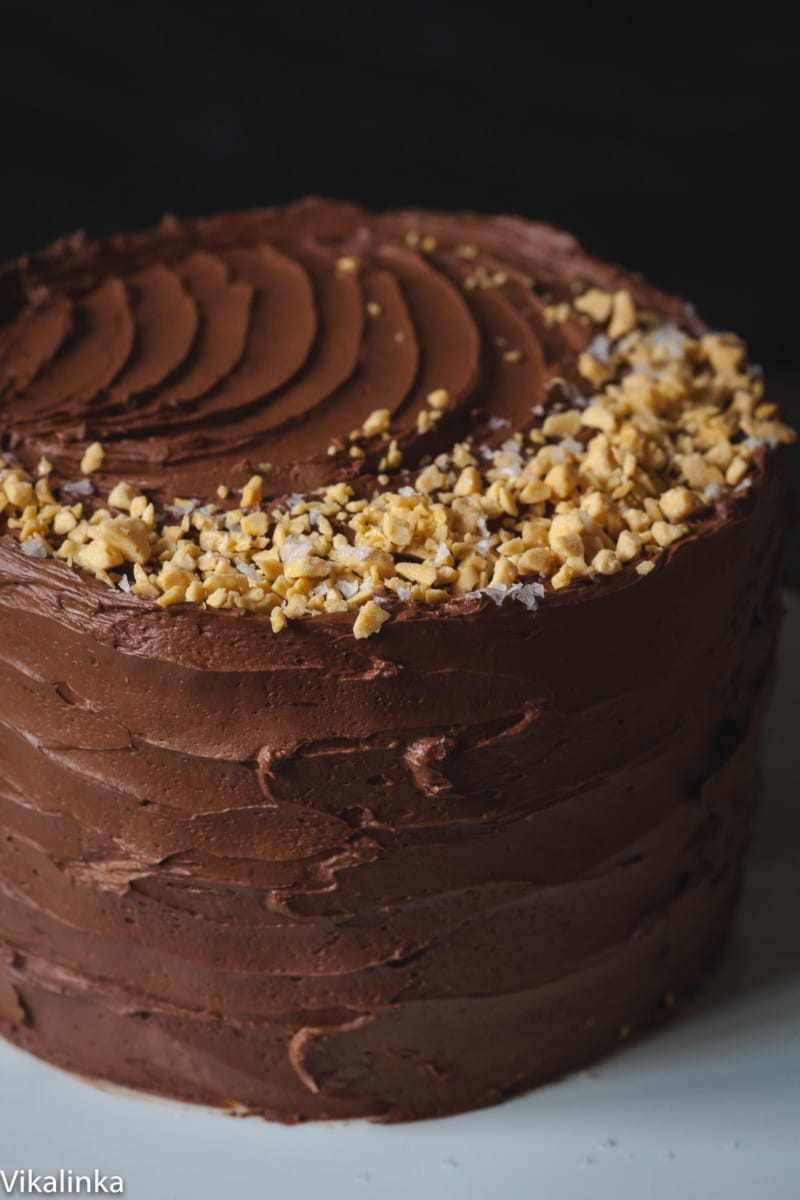 More chocolate cake recipes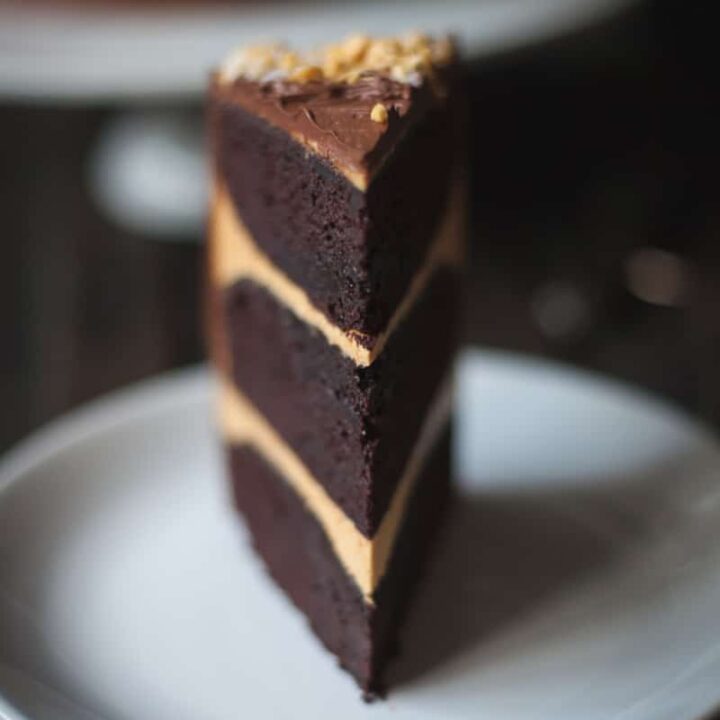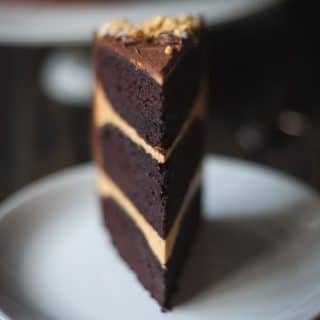 Honeycomb Crunch Chocolate Cake
Chocolate cake with salted caramel buttercream and honeycomb pieces, covered in dark chocolate ganache.
Ingredients
For the cake
¾

cup

/ 180ml Guinness or any other stout

¼

cup

/ 60ml strong black coffee

1

cup

/ 250g unsalted butter

¾

cup

/ 90 g unsweetened cocoa powder

2

cups

/ 280g all purpose flour

2

cups

/ 400g sugar

½

tbsp

baking soda

¾

tsp

salt

2

large eggs

2

tsp

pure vanilla extract

⅔

cups

/ 160g creme fraiche or sour cream
For the salted caramel buttercream
1.5

cups

/ 350g butter

softened

14

oz

/ 397g Carnation caramel or dulce de leche

1

Pinch

of Maldon salt

50

2

/ 2 oz crushed honeycomb
For chocolate ganache
1

cup

/225 ml whipping cream/double cream

½

lb

/ 225 g dark chocolate

chopped
For decoration
A handful of honeycomb pieces

A pinch of Maldon salt
Instructions
Preheat the oven to 350F/180C and butter 3 8″ cake pans and dust them with some flour to prevent the cakes from sticking.

In a large saucepan heat stout, coffee and butter together until the mixture comes to a gentle simmer. Add cocoa powder while whisking continuously to avoid lumps until smooth. Set aside to cool.

Blend flour, sugar, baking soda, and salt in a different bowl. Mix eggs, vanilla and creme fraiche with an electric mixer in bowl number 3.

Now check on your chocolate mixture and make sure it's cool enough to continue the process.

Add the chocolate mixture to the egg and creme fraiche mixture and blend them together. Add flour mixture a little bit at a time and beat on low speed until combined. Divide batter equally among the pans.

Bake cakes in the preheated oven for 30 minutes. (I baked mine one at a time.)

Remove the cakes from the oven and cool on a wire rack. (Once cooled I usually wrap my cakes in a plastic wrap and chill my cakes in the fridge overnight.)

Make salted caramel buttercream by whipping butter in a bowl of a stand mixer until light and fluffy and then adding prepared caramel or dulce de leche with a pinch of flaky salt until completely incorporated.

Wrap honeycomb pieces in a clean tea towel and crush with a rolling pin or process in a food processor. Fold in crushed honeycomb pieces into salted caramel buttercream.

(If Carnation caramel is not available in your supermarkets you can make your own by boiling a can of sweet and condensed milk in a pot of water for 3 hours.)

Fill the cake layers with salted caramel buttercream, then cover the entire cake with a crumb layer and chill in the fridge for 30-40 minutes.

Meanwhile, make a chocolate ganache. Bring heavy cream to a boil and take it off the heat immediately, then add your chopped chocolate into it and stir until melted! Cool it and whip it with an electric mixer until paler in colour and fluffy.

Cover the chilled cake with chocolate ganache and decorate with more honeycomb pieces and flaky salt.
Nutrition
Calories:
915
kcal
Carbohydrates:
78
g
Protein:
7
g
Fat:
68
g
Saturated Fat:
42
g
Polyunsaturated Fat:
3
g
Monounsaturated Fat:
18
g
Trans Fat:
2
g
Cholesterol:
195
mg
Sodium:
784
mg
Potassium:
261
mg
Fiber:
4
g
Sugar:
52
g
Vitamin A:
1911
IU
Vitamin C:
1
mg
Calcium:
69
mg
Iron:
3
mg